Enjoy Hustle-Free Ring Designing With Our WooCommerce Engagement Ring Builder
Step1: Refine your Setting
Create the Desired Engagement Ring Setting With WooCommerce Engagement Ring Builder
Give your customers the ability to design their Ideal Ring. Use the BYOR (Build Your Own Ring) setting to make their wedding proposals special. They are able to choose from a wide range of ring designs and settings. This covers styles such as Marquise, Solitaire, Pave, and Emerald. Different stone shapes like Round, Oval, and Heart. Also, metals include Platinum, Rose, White, and Yellow Gold.
Step2: Choose The Diamond
Select the Desired Diamond With Best WooCommerce Engagement Ring Builder
After Finalizing the design. It's time to select the perfect center stone. You can provide your consumers access to 20,000+ diamond selections. Thanks to our Diamond Marketplace inventory integration. Choose a diamond based on its size, shape, stone cut, color, and fashion. This smart feature not only pleases your customers but also allows you to display the diamond options without any extra expenses.
Step3: Relax and Admire
Sit Back and Admire your Beautiful Creation
Relish your unique diamond engagement ring design. We aim to help the clients make the right decisions together. having custom-designed ideal ring for you. Sit back, relax, and immerse yourself in the dazzling beauty of our creations. Each piece has been meticulously designed and crafted to capture the essence of elegance and grace, making it a true masterpiece that will stand the test of time.
Our Beautiful Jewelry Web Design Work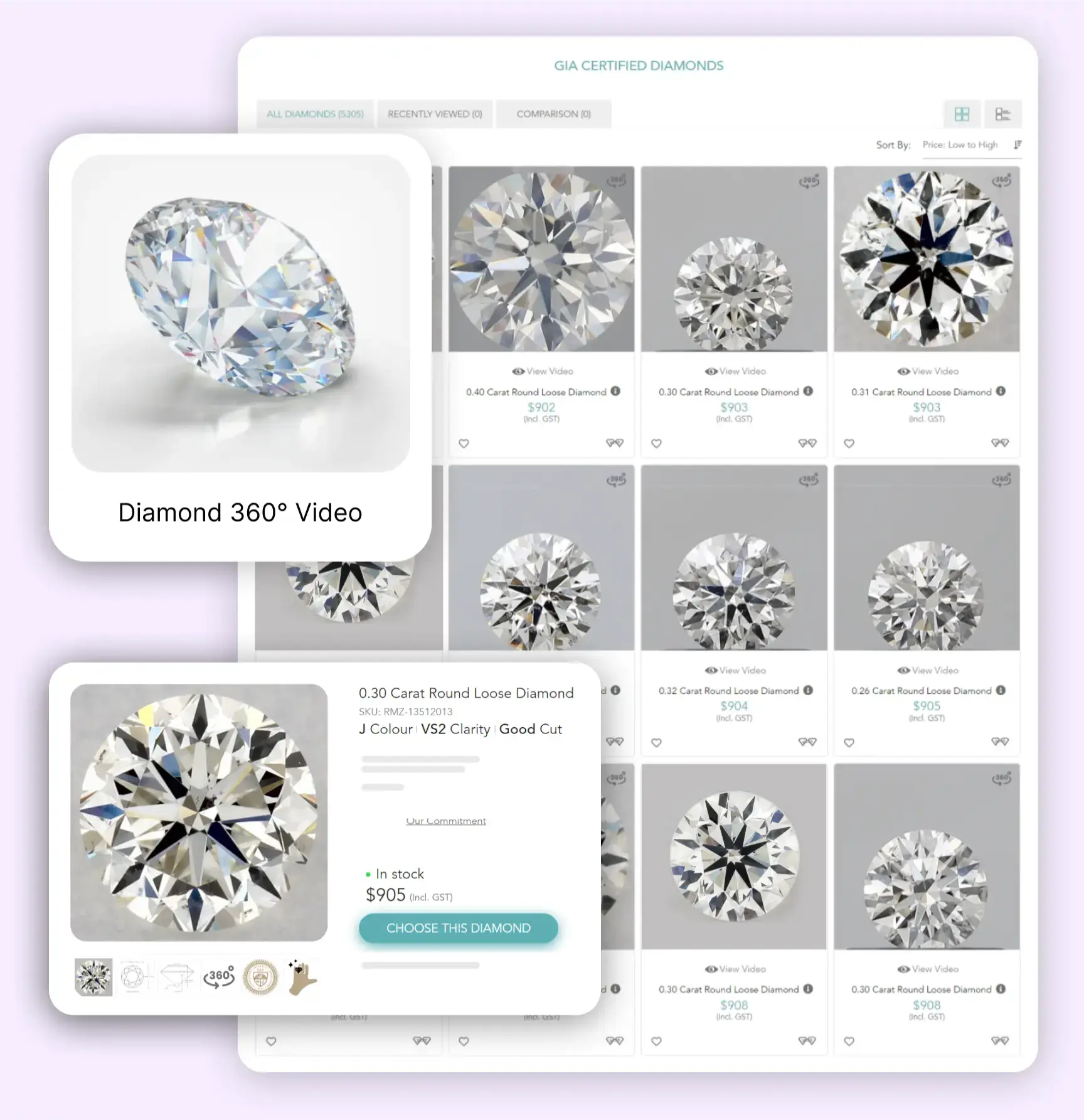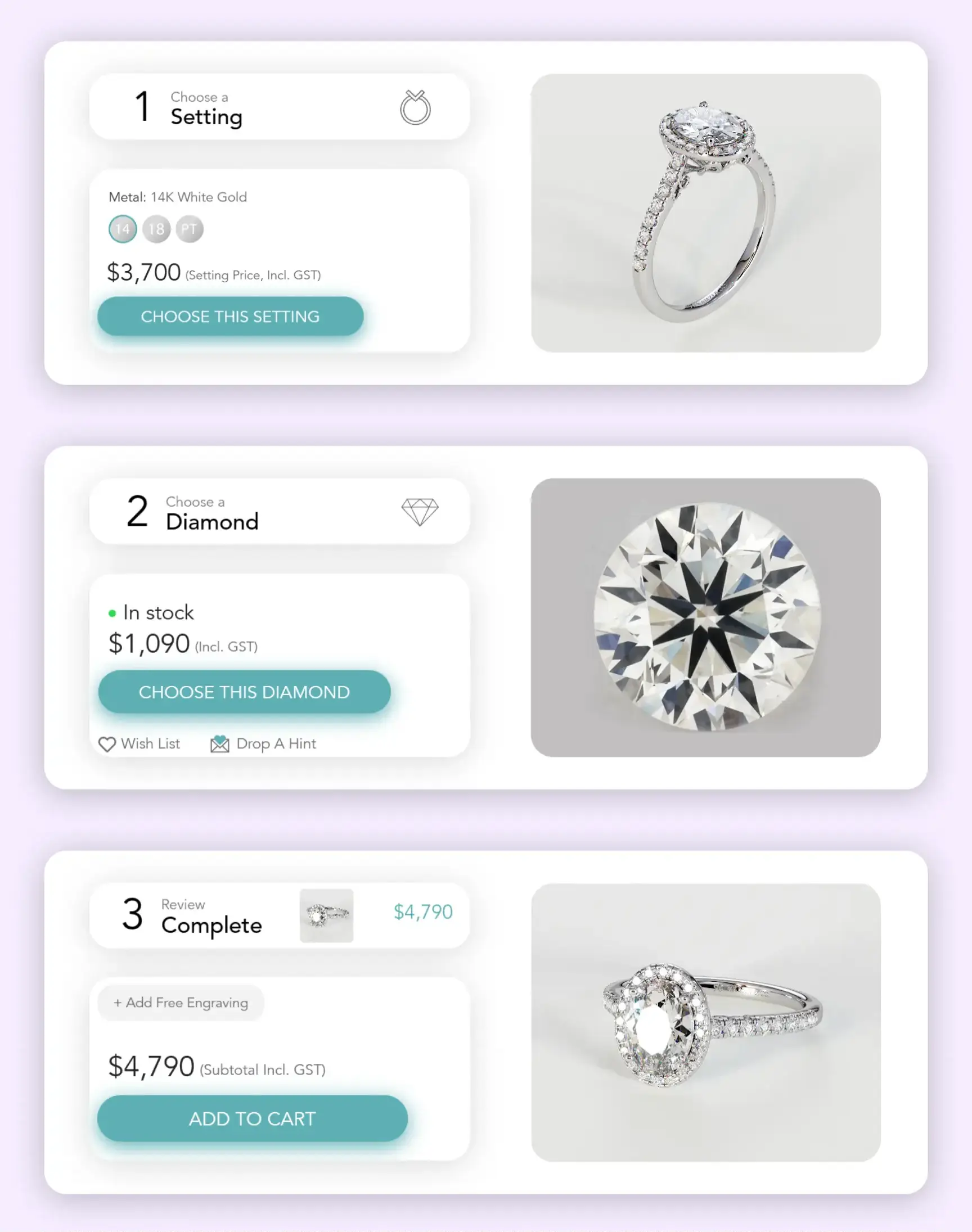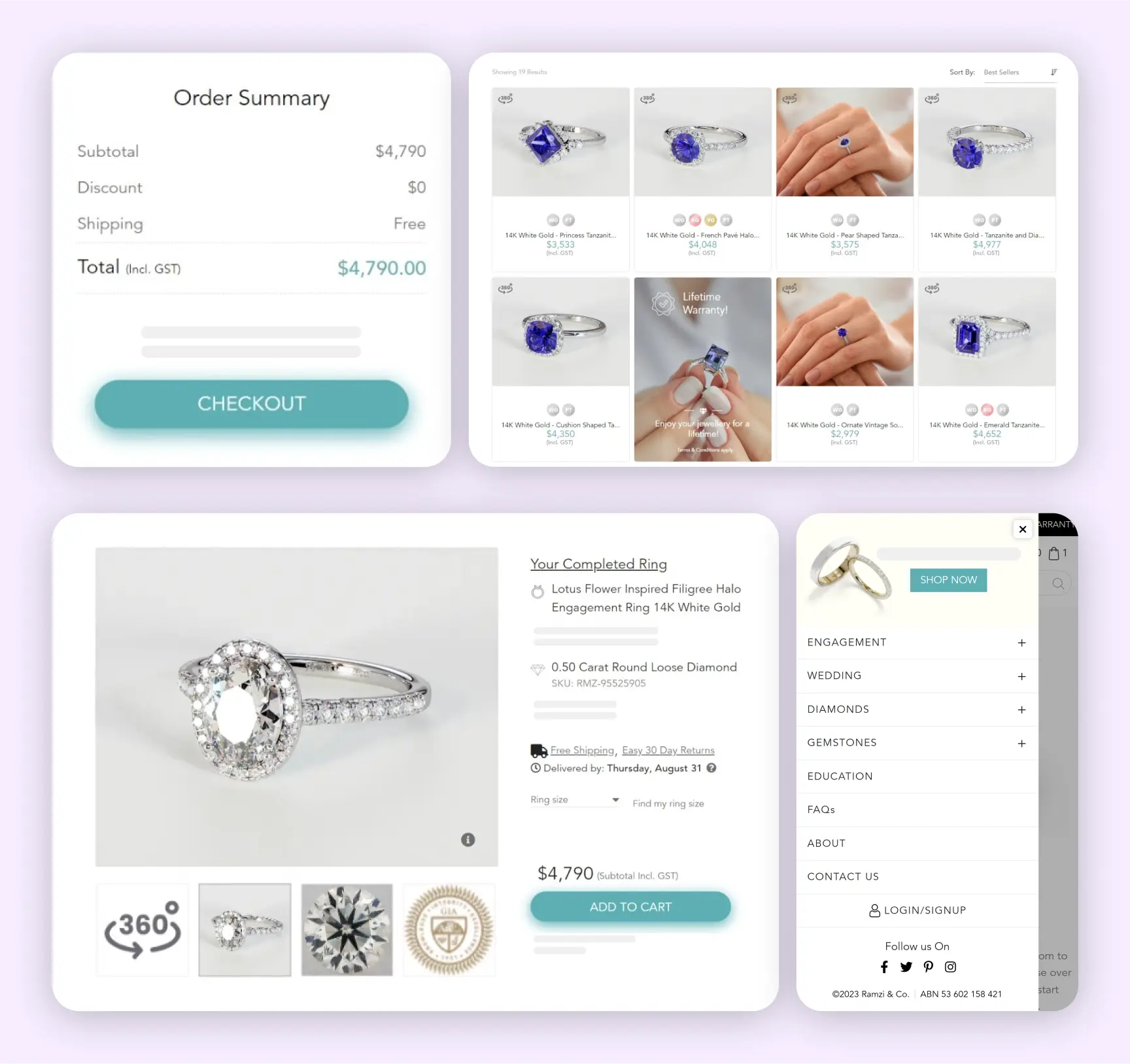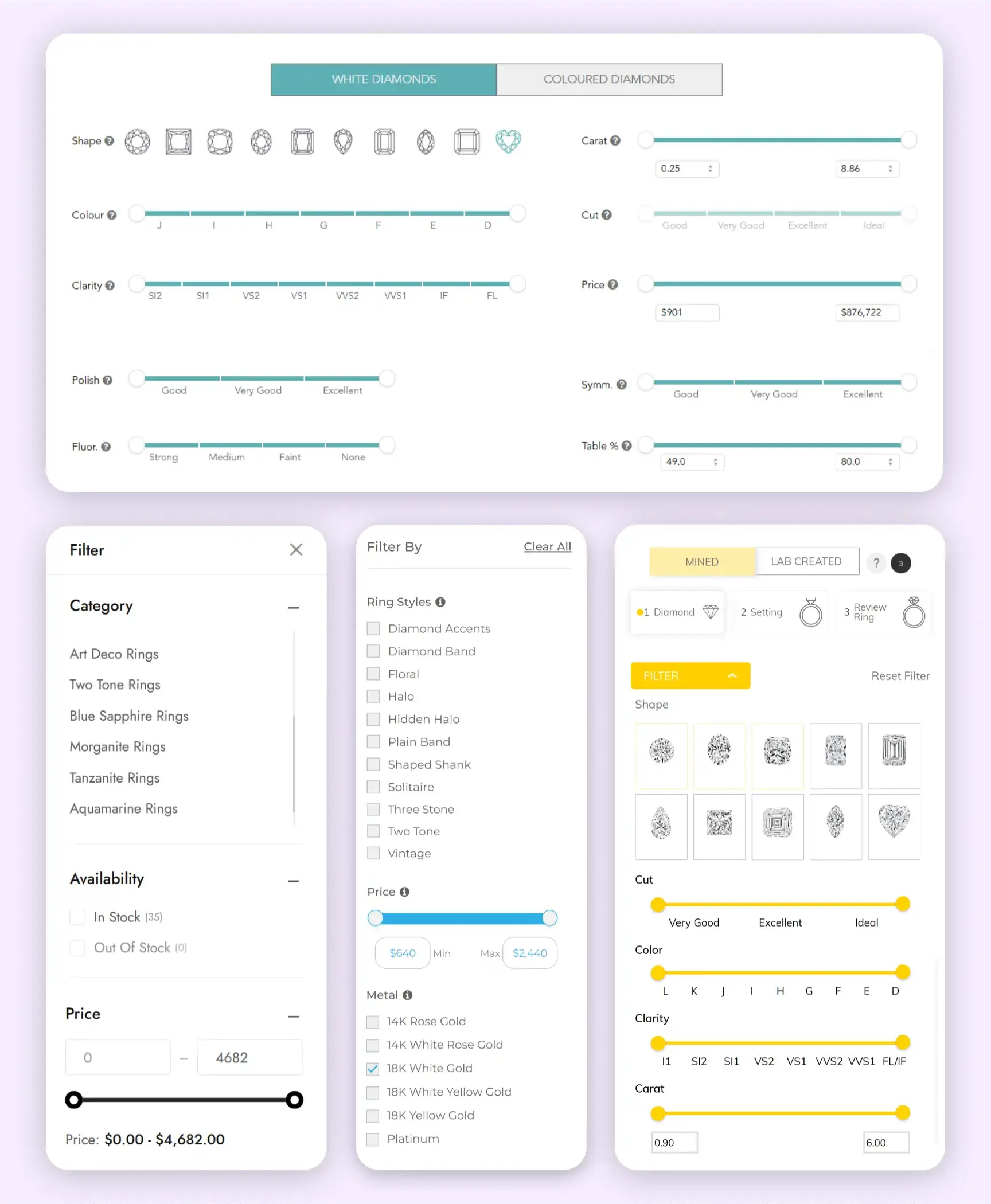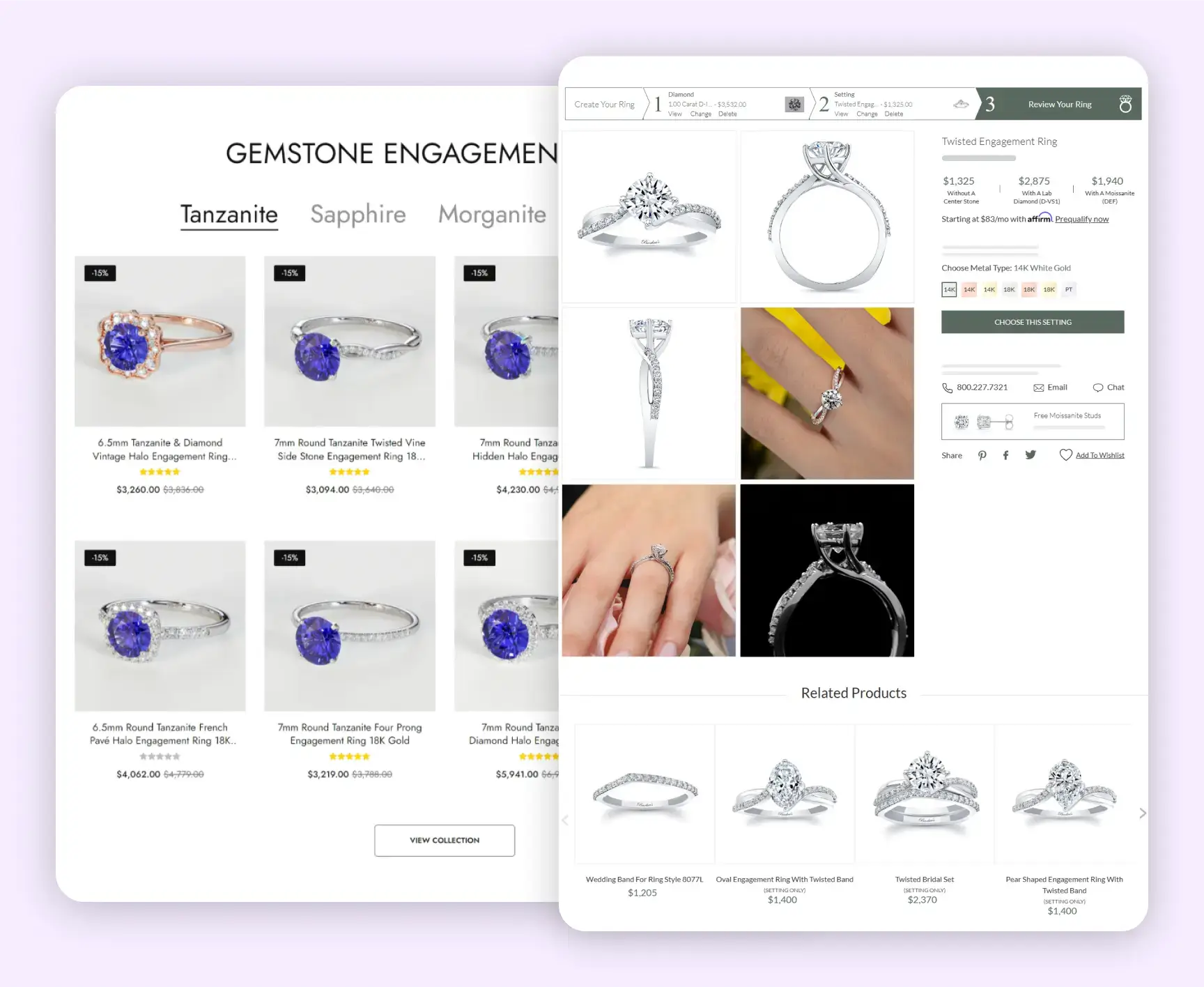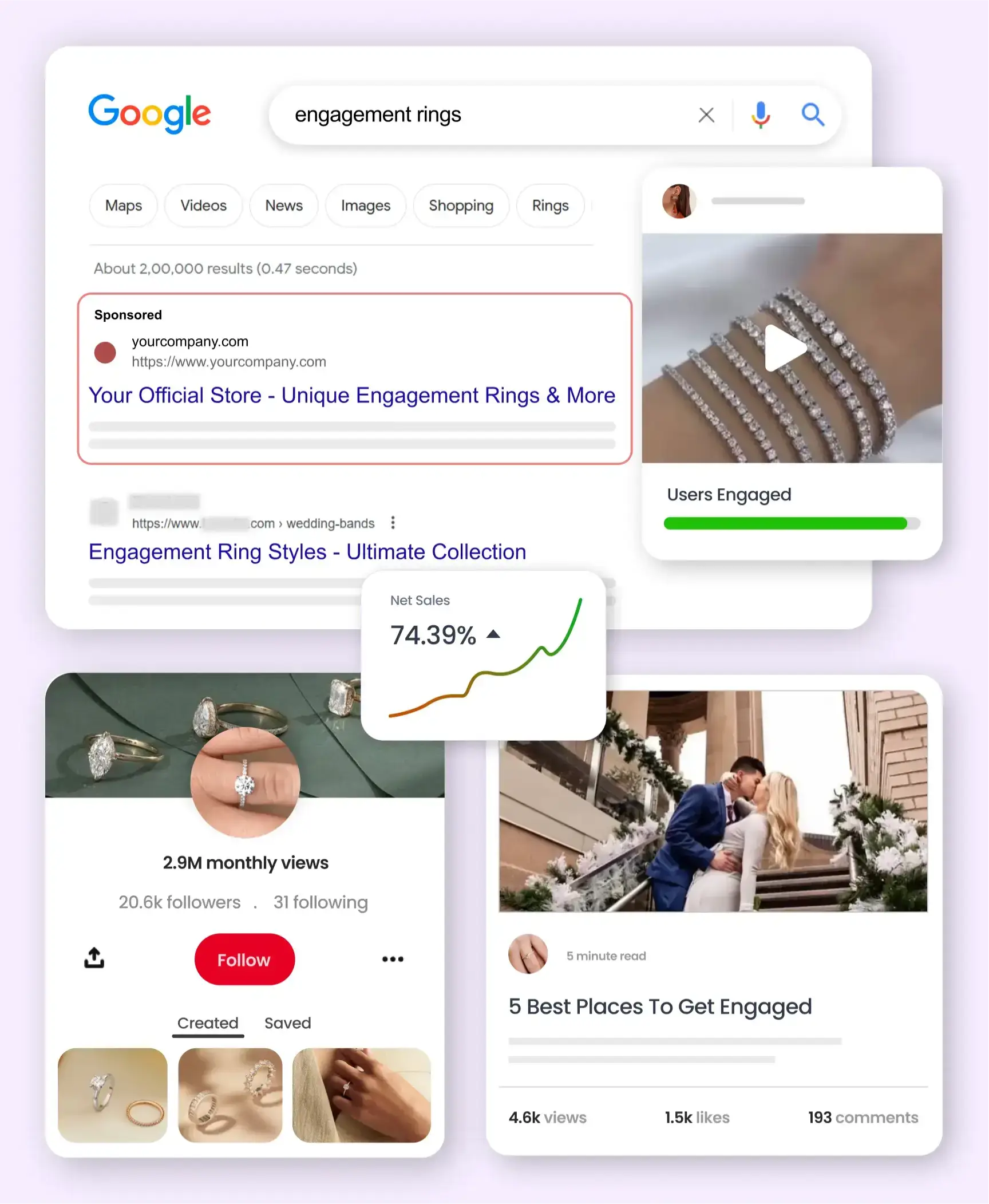 Enhance User Experience With WooCommerce Engagement Ring Builder
WooCommerce engagement ring builder is a popular and trending feature among jewelry websites. This feature increases user engagement by 80%. This WooCommerce plugin allows customers to design and plan their own engagement ring. By giving them various choices, including the style, metal, and stone selection. A jewelry website without this module would appear incomplete and less interactive.
Our Build Your Own Ring feature allows the user to choose from several choices to replace a loose diamond or ring style and set at any time. Also, we keep the entire process interactive and user-friendly with our best UX and UI designs. The Best Jewelry web design with WooCommerce gives your customers the power to create their dream ring.
Building a BYOR feature with seamless functionality is a dedicated process. That involves working with WordPress and WooCommerce. Over time,our team has designed many jewelry websites. We tick all the checkpoints to give you 100% satisfying results.
Maximize Your Jewelry Website Traffic With WooCommerce Product Bundle Choice (WBC)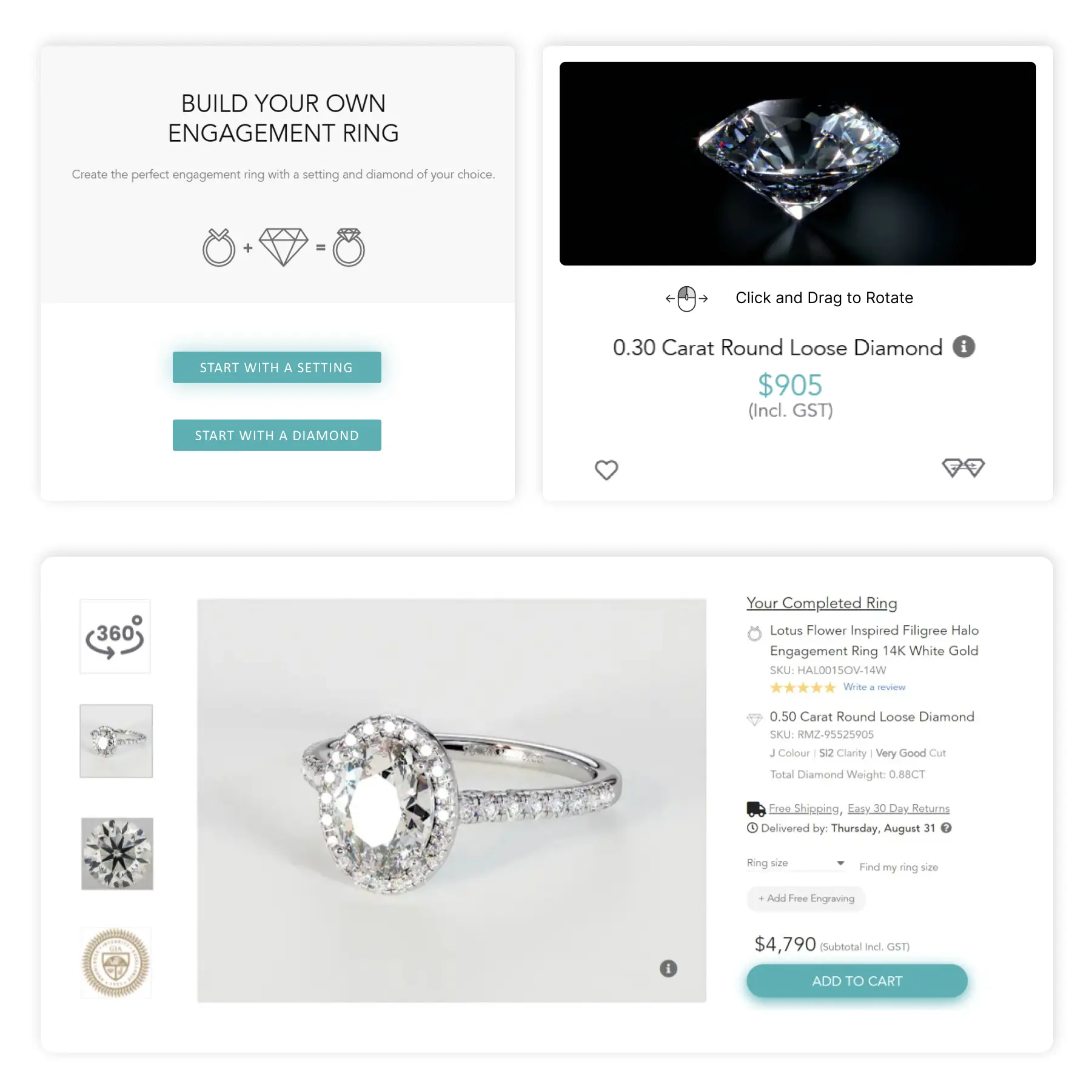 WooCommerce Product Bundle Choice (WBC) creates product bundles with the following features for WooCommerce Ring Builder:-
Additionally, Rapnet instant inventory integration for your diamond jewelry website. RapNet's Instant Inventory of Diamonds provides a seamless integration option with the WooCommerce feature of WordPress and its Ring Builder extension. This RapNet plugin or extension for Jewelry WooCommerce Ring Builder will let you easily facilitate the pulling and displaying of diamond feeds on your diamond jewelry websites. This integration is available with our diamond marketplaces as well as Nivoda, VBD etc.
Integrate The RapNet Inventory In Your WordPress Website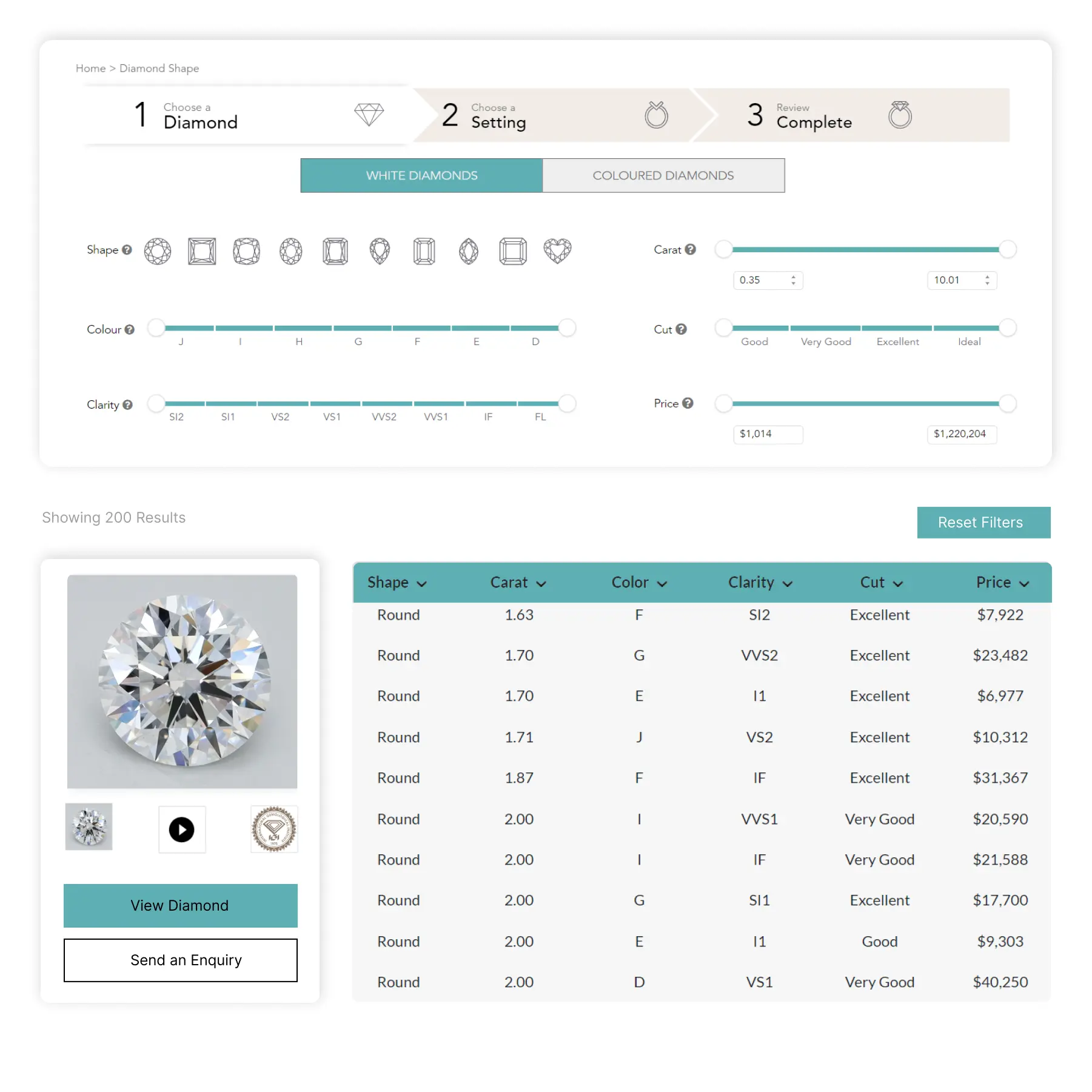 Keyideas experts can integrate the RapNet Inventory into your WordPress website to trade CVD diamonds or Lab-grown diamonds. If you have a diamond jewelry website and a RapNet Integration extension installed or bought with the WBC plugin, you can use the WooCommerce plugin to support them.
Keyideas includes WBC in its jewelry website plugin as it is the only WordPress plugin that provides the 'Ring Builder' feature for free to WooCommerce or WordPress websites. Keyideas's main goal is to fill the gap in the WordPress plugin market because there are limited plugins available, particularly for jewelry websites, and to support them with a low financial plan. As Keyideas develops, it will scale large.
OUR BLOG
How important is RAPNET
API Integration for
Jewelry Websites?
Level-Up Your Online Jewelry Store With Our Jewelry Web Development Solutions
Jewelry Website
Clean and Clear Graphics by UI / UX team
Diamond Integration
Add Nivoda, RapNet, VDB, and other APIs/CSVs
Ring Builder
User can create or build his own Engagement Ring
Diamond Filter
Allows users to select the perfect diamond for their ring
Jewelry Retouching
Emphasizing best features while minimizing flaws to attract your customers.
Jewelry E-commerce
Custom tailored solutions for growing your jewelry online business
Jewelry Marketing
Marketing and SEO Services to grow business 200%
Jewelry Website Pricing
Lower Total Cost Of Ownership (TCO) and Higher Return on Investment (ROI)
Keyideas Specialization As Jewelry Web Development Company

"
I have been working with Keyideas for quite a few years now. Their work is always done in a timely fashion and the overall value for the dollar is exceptional. I recommend Keyideas to anyone seeking a fantastic developer for any such work.
Isaac Gottesman,
dimendSCAASI, Chicago
FAQ About Keyideas WooCommerce Engagement Ring Builder
Yes, you can add the WooCommerce ring builder to your WooCommerce E-commerce Development website. We give our clients the option to redesign their website with us, which includes all such high-end features. We have multiple packages that you can pick for designing your Jewelry website with Keyideas.
The WooCommerce ring builder gives you a number of options and filters that helps your customer design their perfect dream engagement ring. It includes options like ring style – Solitaire, Pave, Halo, Vintage, Floral, Three stones, etc. Metal : Rose gold, platinum, white gold, gold etc.; shape : round, oval, emerald, etc. Also, they have the option to select their choice of center stone or diamond.
Yes, our web designers and developers make sure that all the elements on the website are user-friendly. This BYOR is designed carefully to keep your and your customer's requirements in place. Follow us to know more about our web development services.
Mordy Karsch
Giving Back Promotions, San Francisco, CA
I had an amazing experience working with Keyideas - an excellent team of developers.

Isaac Gottesman
dimendSCAASI, Chicago
I would not hesitate to recommend Keyideas as a superior development house.

Lets Do Great Work Together!
Discuss your ideas. Connect now
We've successfully delivered over

leads for the client