Our Beautiful Jewelry Web Design Work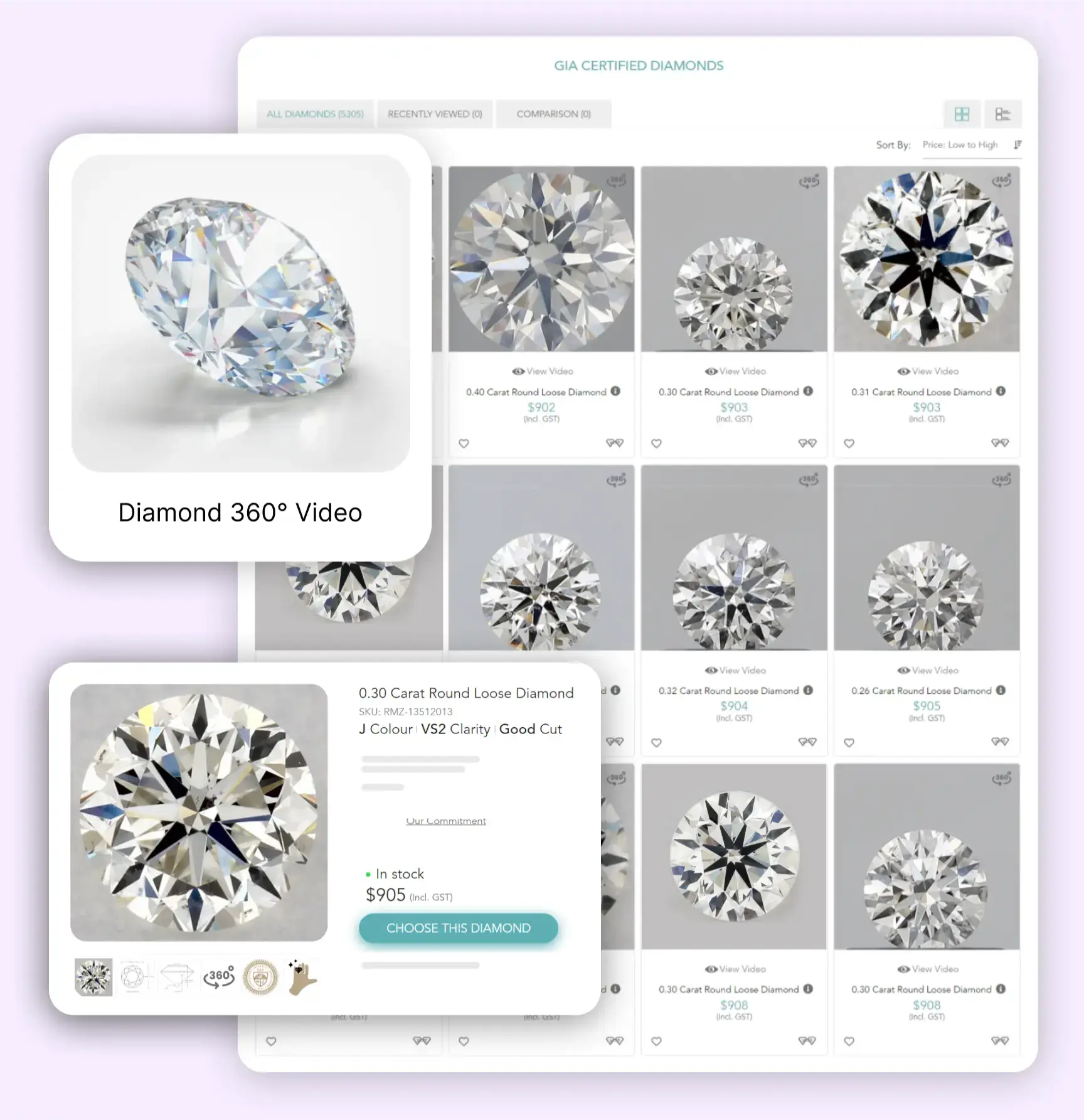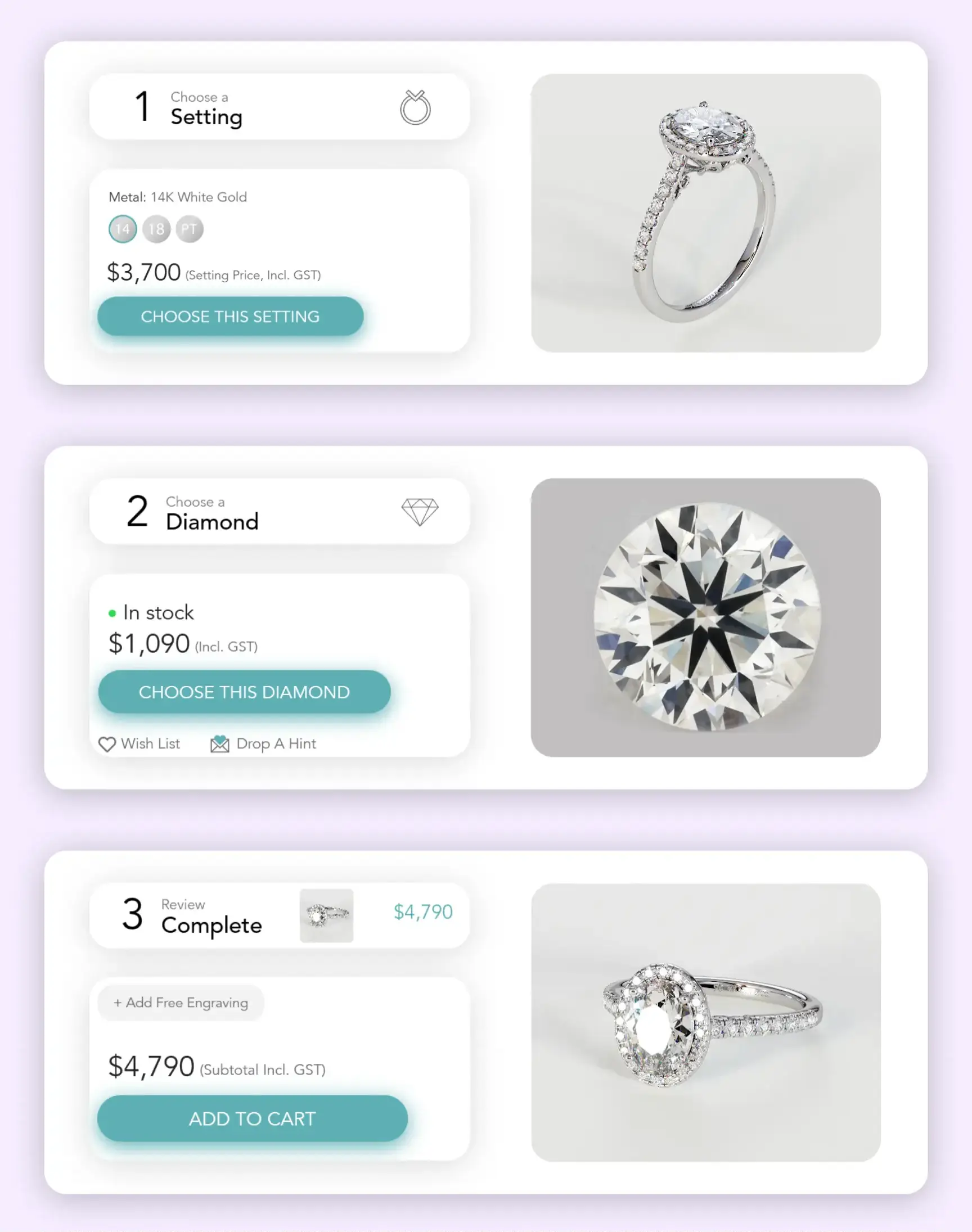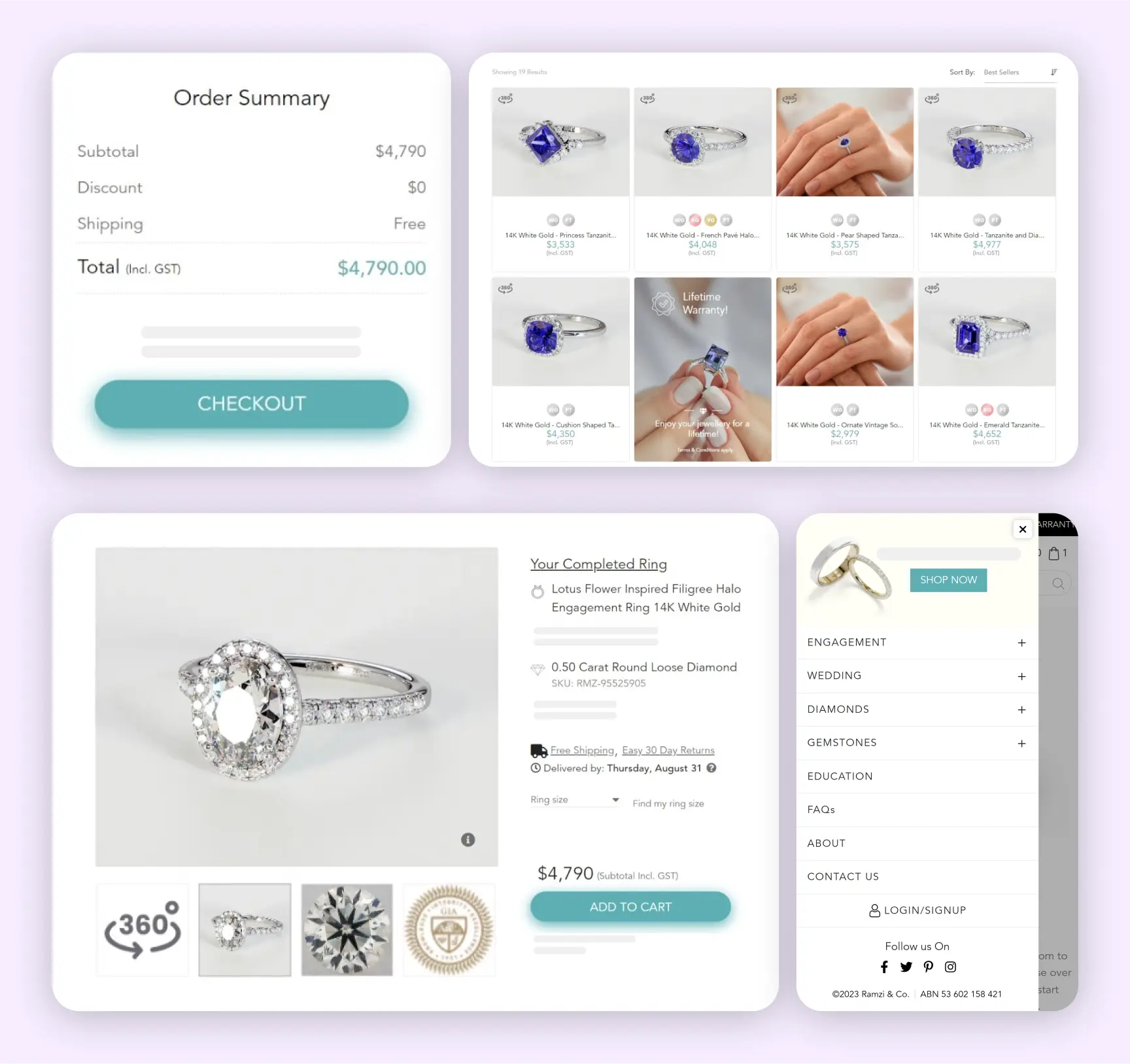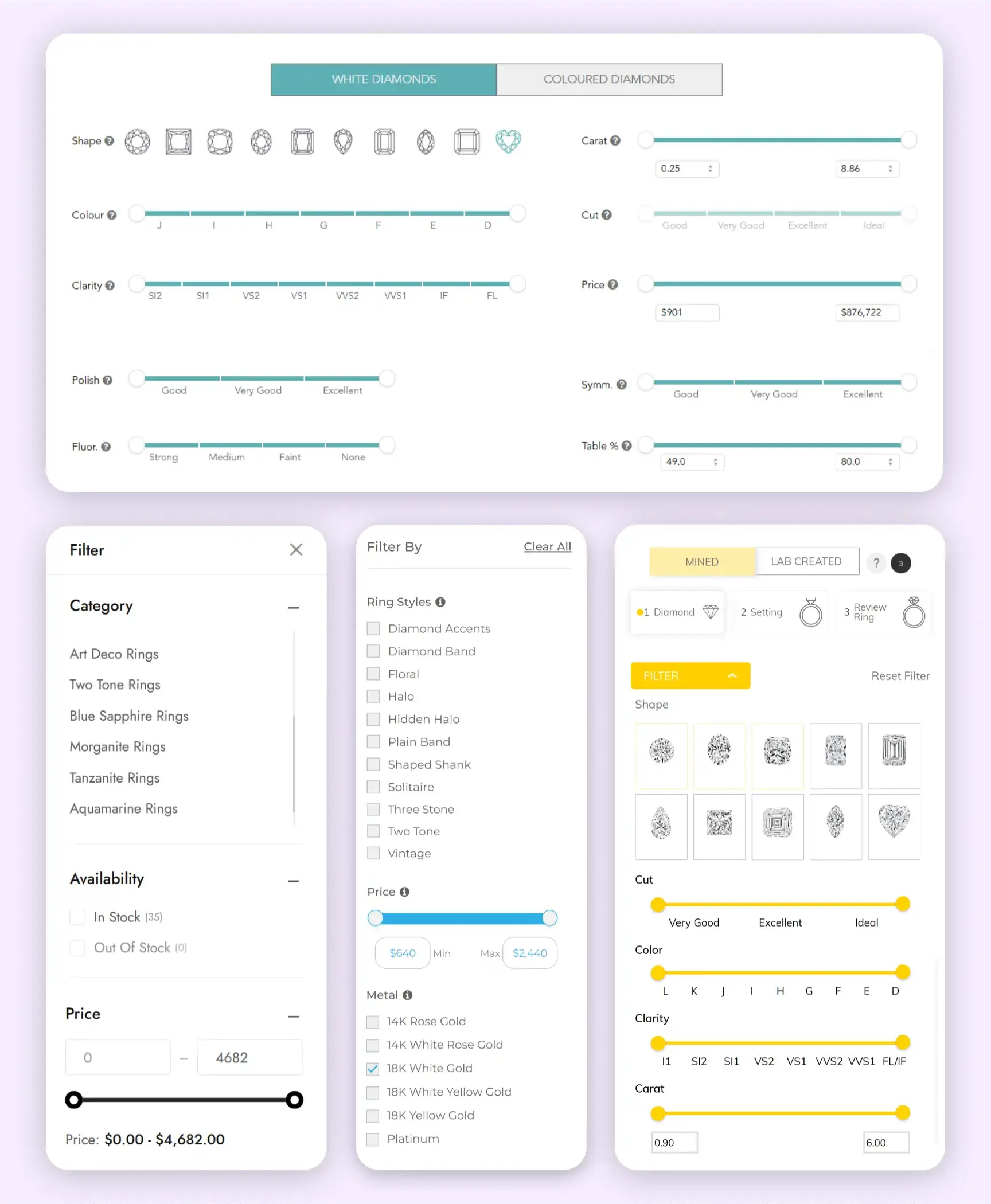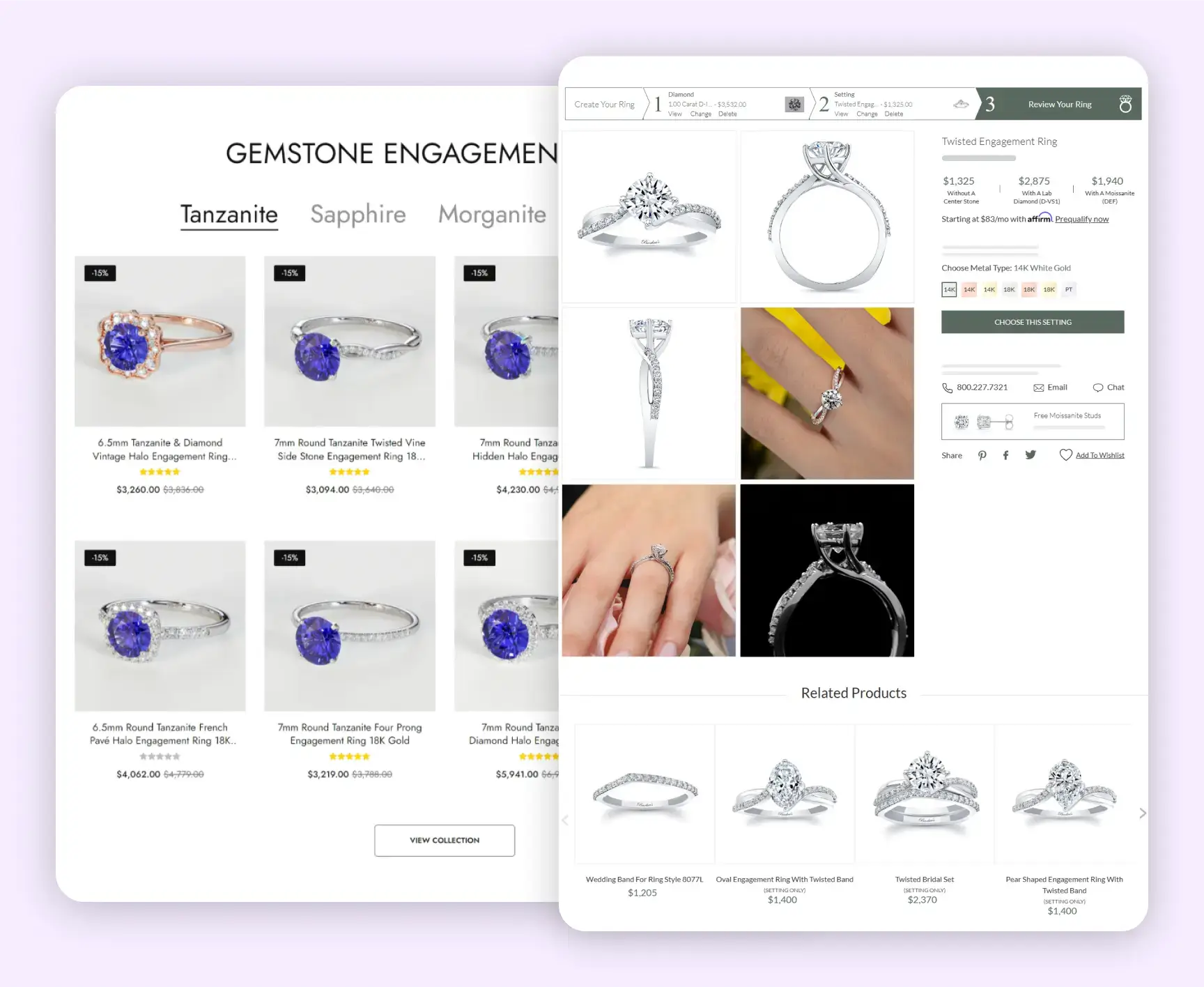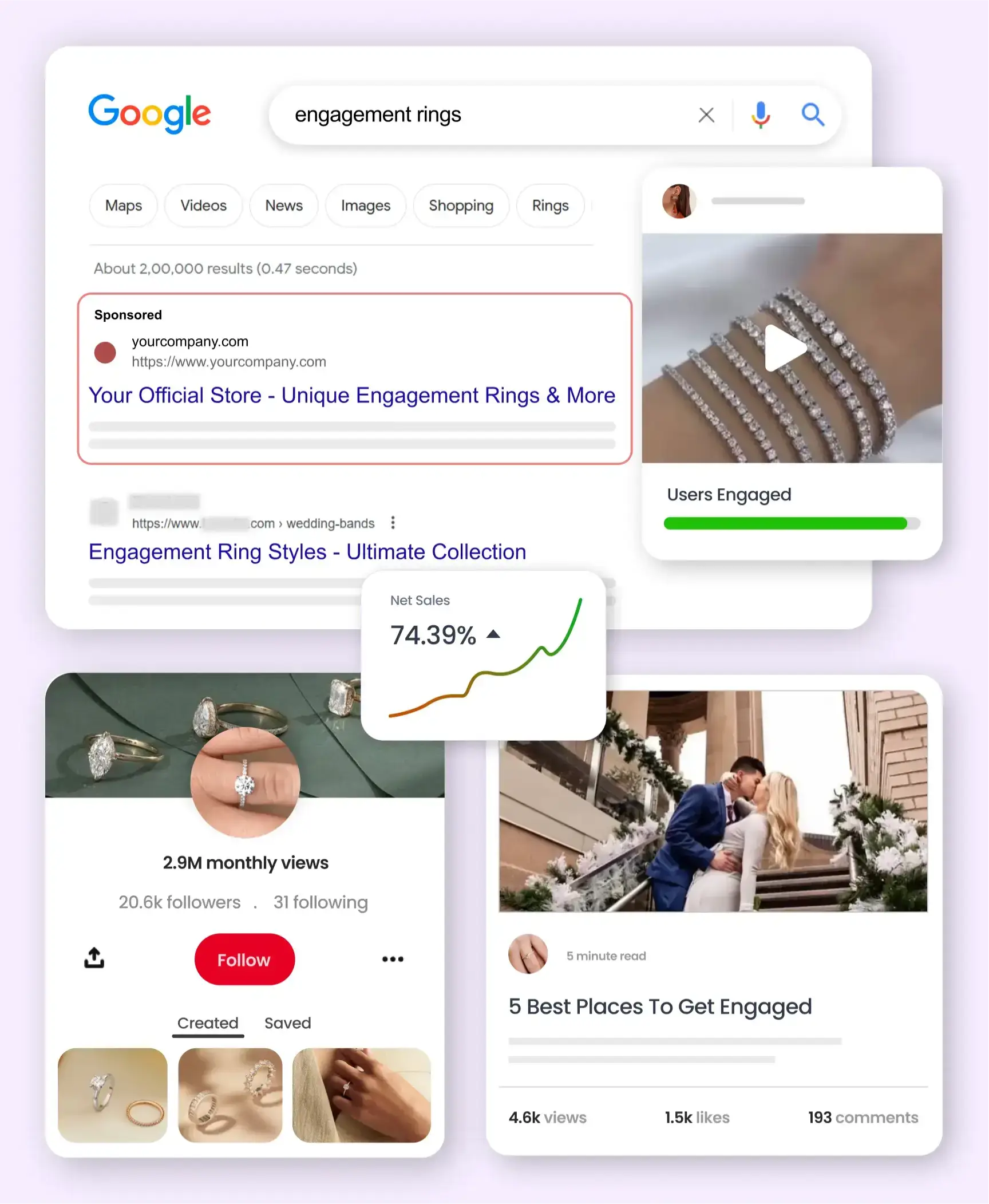 Get Expert Help From Our Support Team
Connect with the team over Skype
Deliver projects with tight guidelines
100% Customer Satisfaction
Want to sell your jewelry online? Additionally, 50% of your customers are looking for you on the internet. Apparently, we are here to help you bridge this gap.
In short, our web design and development experts curate amazing websites for your jewelry business. Ultimately, show up with with your unbeatable online presence.
Now, clearly, it has become accessible to your vast spectrum of online buyers. In order to attract them with your trendy jewelry website, firstly, hire our expert web developers today!
Step Up Your Jewelry Game With Our Top and Trendy Best Jewelry Store Website
Jewelry Website
Clean and clear graphics by UI/UX team
Diamond Integration
Add Nivoda, RapNet, VDB, and other APIs/CSVs
Ring Builder
User can create or build his own Engagement Ring
Diamond Filter
Allows users to select the perfect diamond for their ring
Jewelry Retouching
Highlight strengths, downplay flaws for customer appeal
Jewelry E-commerce
Customized solutions for your online jewelry business growth.
Jewelry Marketing
Marketing and SEO Services to grow business 200%
Jewelry Website Pricing
Lower Total Cost Of Ownership & Higher Return on Investment
With Our Jewelry Store Website Design Boost Your Online Sales
Innovation that Blend with Customer
Values and Goals
Jewelry E-commerce Website with a content management system (CMS) used to create web pages and blog posts.
Create A Blog
Create New Web Pages

Content Management System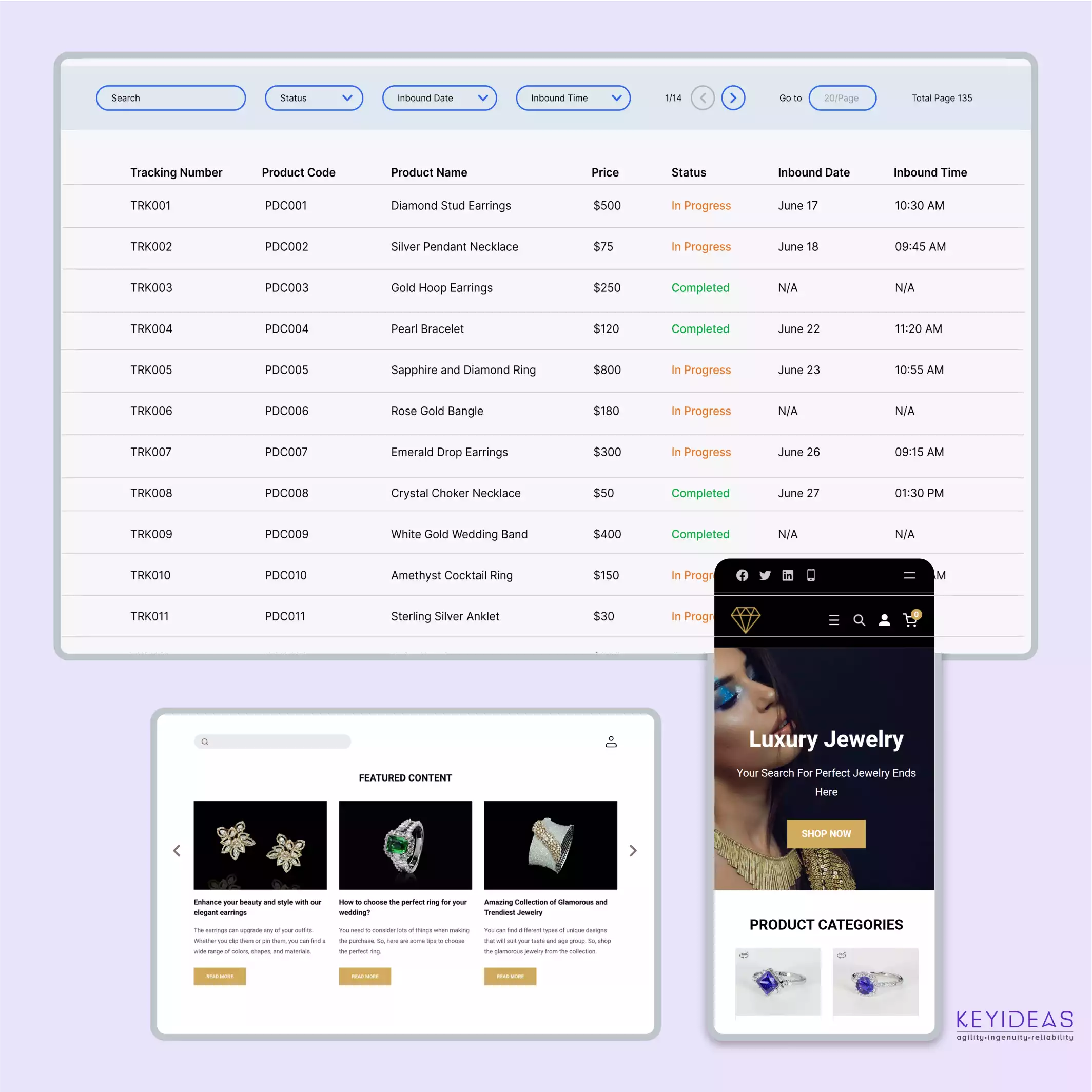 Manage with A Top Jewelry Store
Website Design Company
Add your jewelry products, upload their images, and much more. Build out your jewelry eCommerce website inventory.
Add Product Images
Description & Details

Bulk Import Your Inventory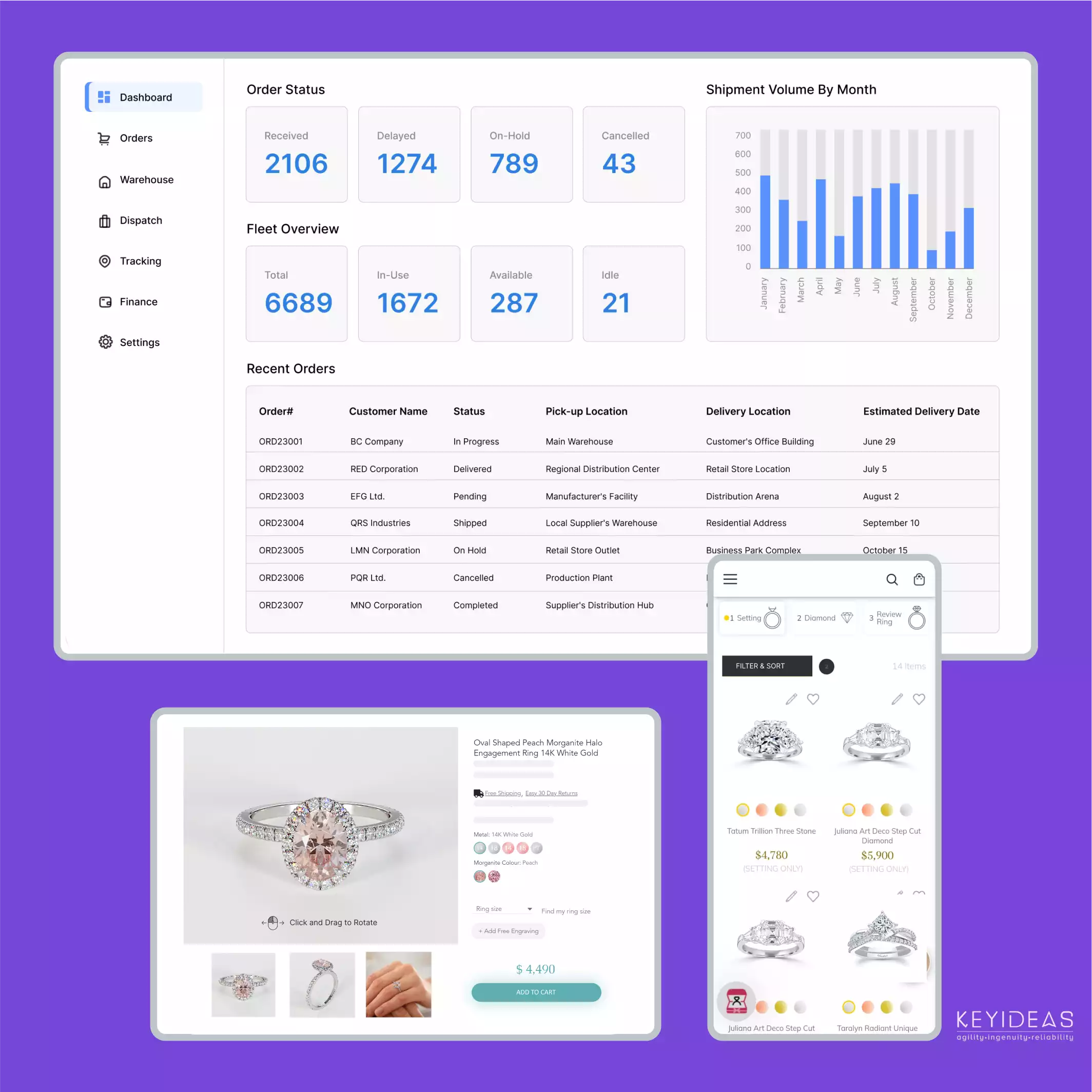 CRM With Top Jewelry Website
Design Services
Enables the creation of customer groups based upon thesearch filter option to make your store public or restrict purchases to only those with accounts.
Manage Customer Groups
Create Customer Accounts

Set Up Multiple Staff Logins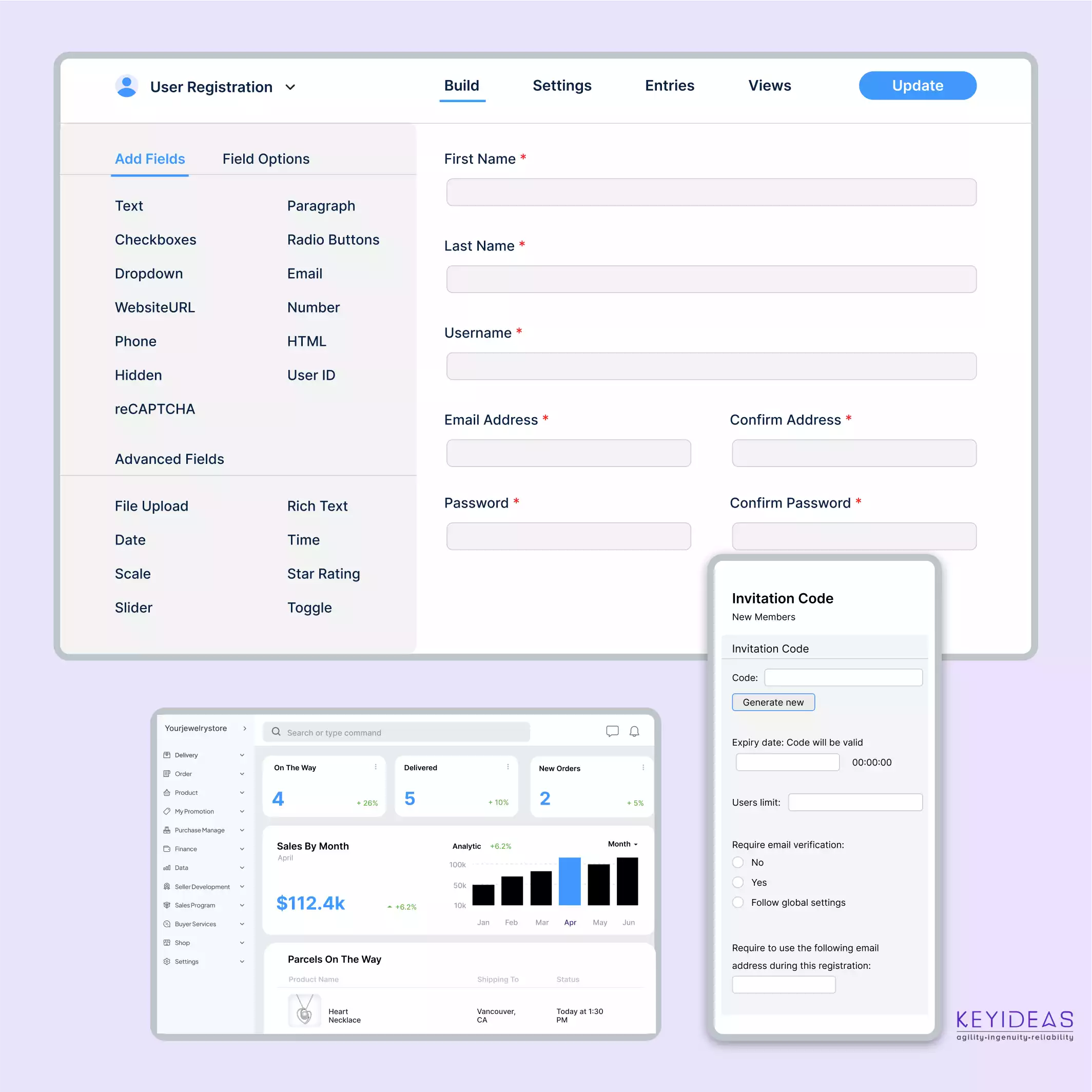 Manage Orders With Top Jewelry
Website Design Company
Track outstanding orders, resend customer update emails, easy to view and accept credit card orders or print packing slips from single interface.
Customizable Order Notes
Track Order Status

Order Customer Details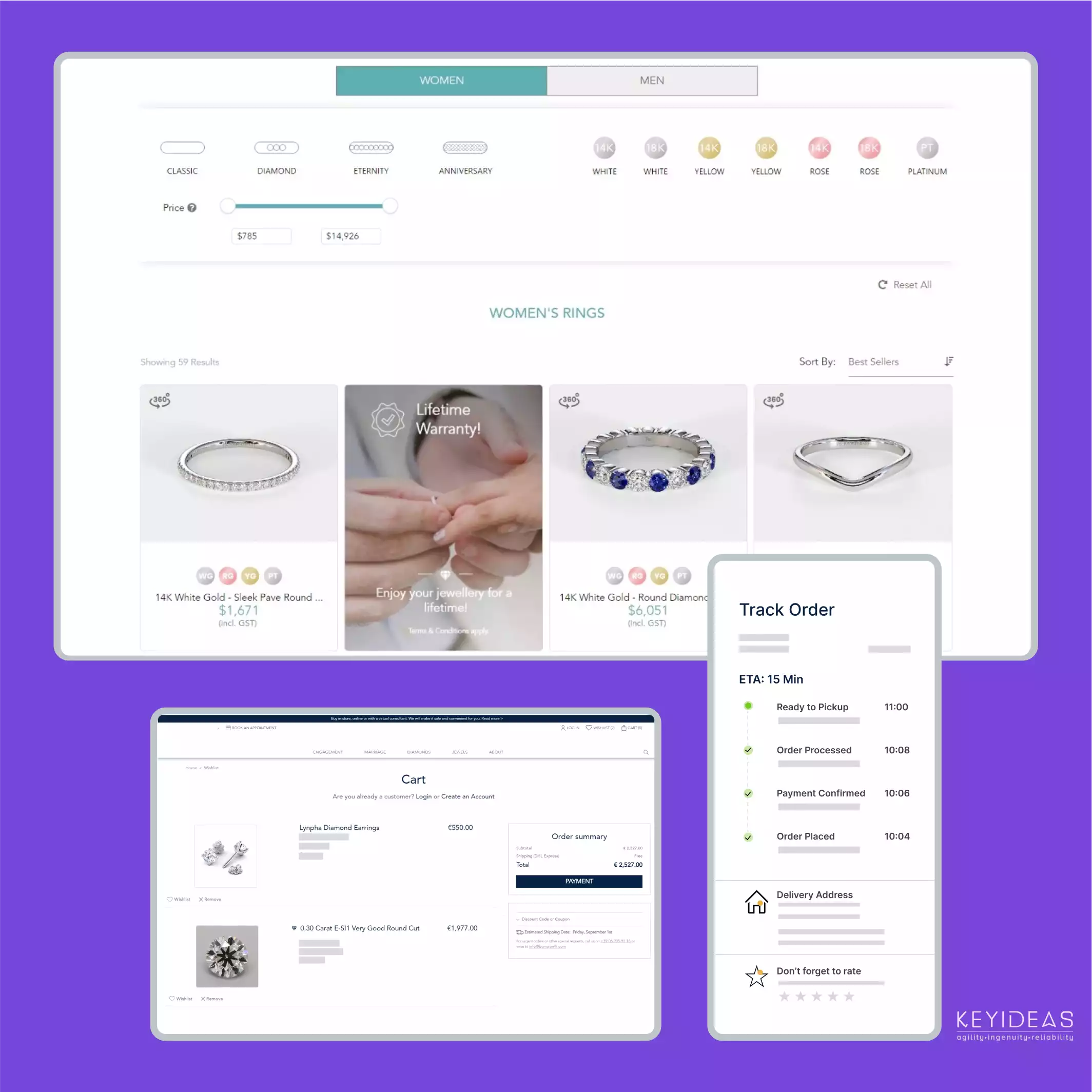 How Our Jewelry Store Website Design Services Follow 6 Steps For Your Success
By the end of this year, 71% of all businesses will have a website. You too cannot lose the opportunity to reach a broader customer base. The first step to taking your business globally is by creating an amazing and interactive website so that your Jewelry can stand out in the market crowd.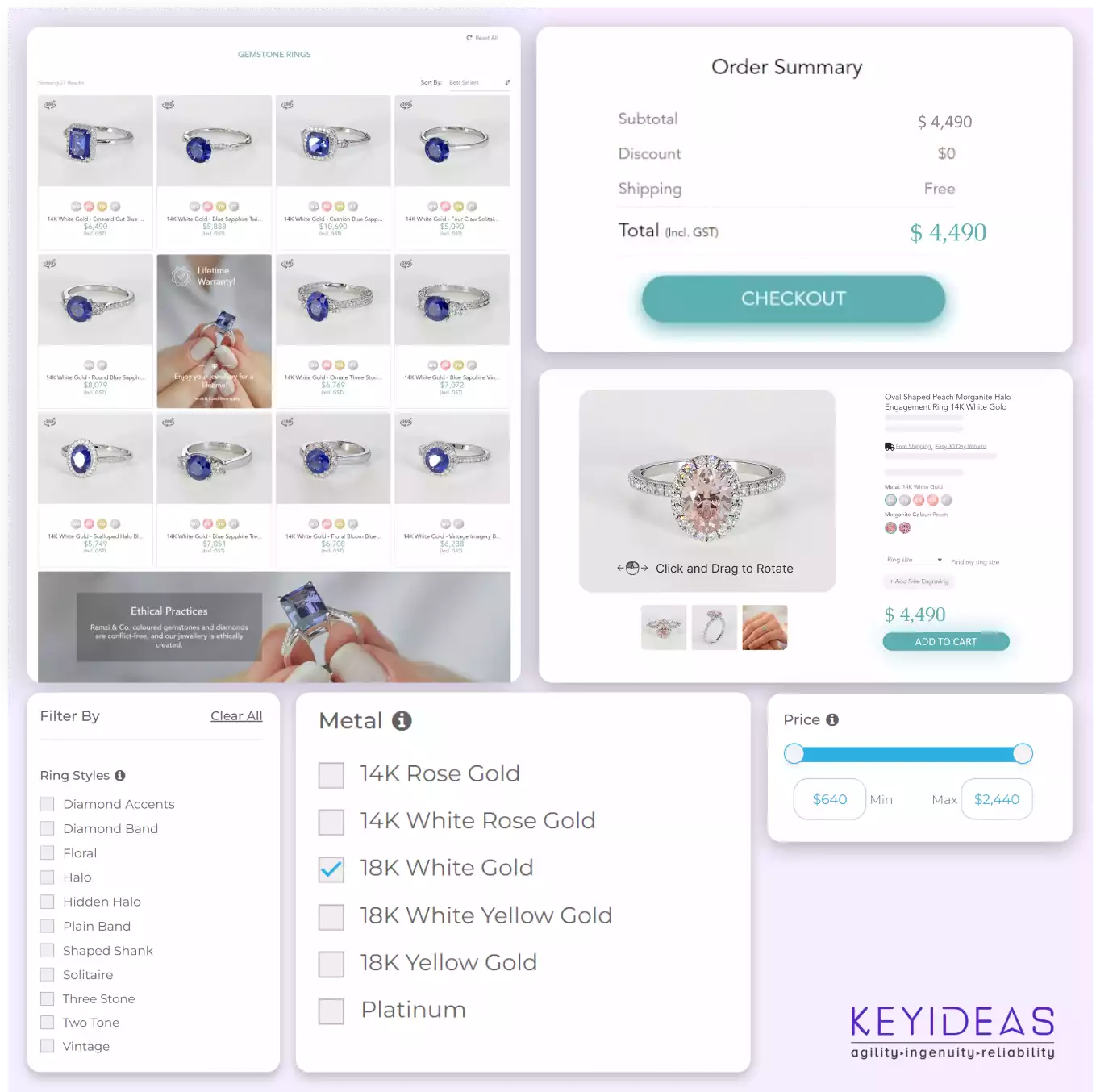 01
Empathize With Your Customers
Each of our jewelry website designs empathizes with your customer needs and requirements. We align your website with your customer journey maps, which builds a stronger bond between you and your customer.
02
Build Your Best Jewelry Store Website Feature Wishlist
Wishlist enables your users to gather their choice of products from your jewelry collection in one place. This feature helps customers find their perfect piece and can provide you with an overview of their preferences as well.
03
Customize Your Jewelry Store Website Design
With the customized jewelry website, you can get features like marketplace integrations, BYORs, Diamond filters, etc. that help your customer pick the personalized jewelry piece for them.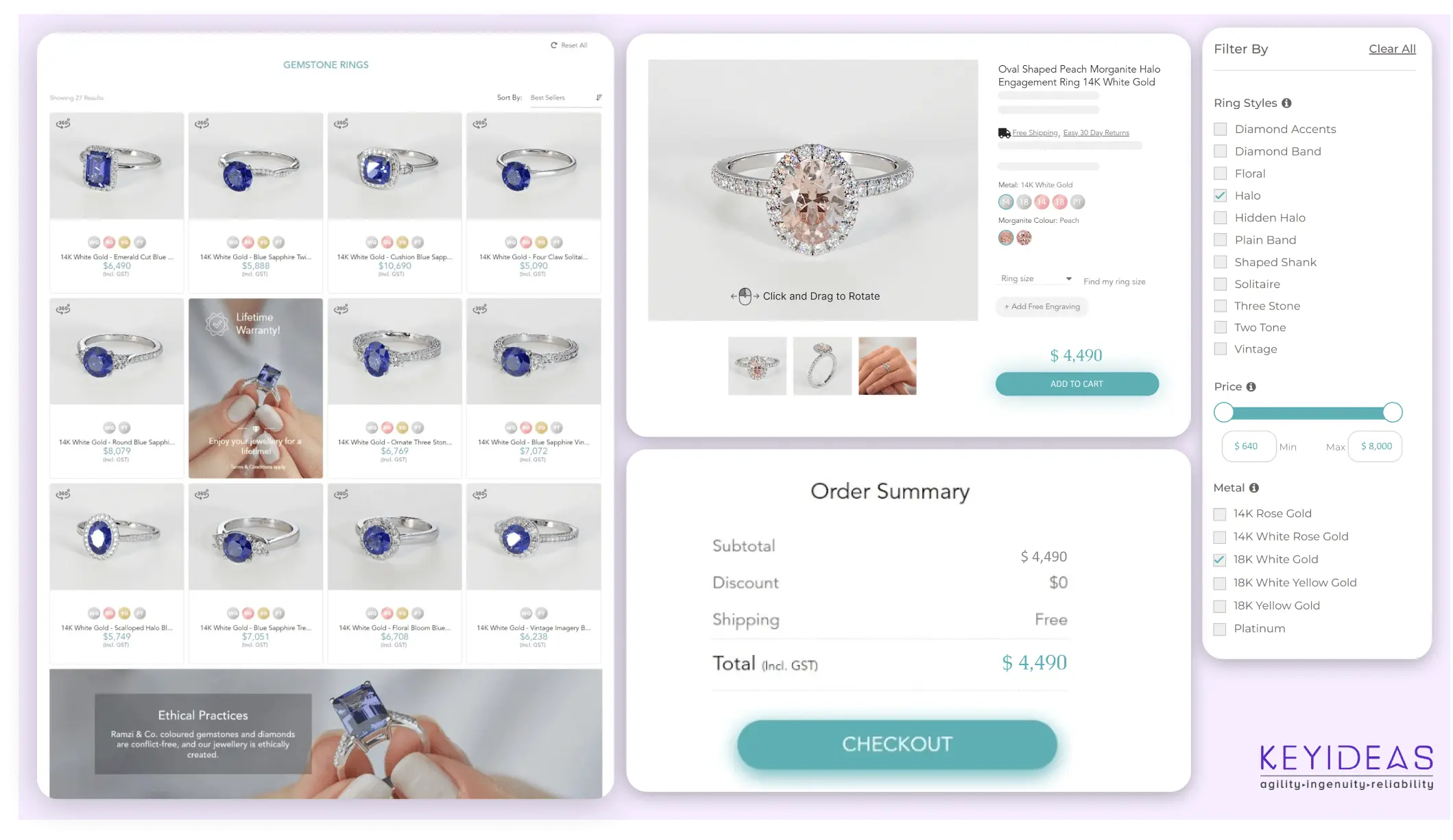 04
Start Your E-commerce Website With Best Jewelry Store Website Company
Create an awesome website that can deliver an interactive experience to your customers. To grow an online jewelry business, you need to make sure that you have a squad of web experts with the right skill sets overseeing everything.
05
Integrate Essentials Extension For Your Best Jewelry Store Website
Our jewelry website services provide the integration of different systems in just one place to save you time and energy and increase your work efficiency. High-quality visuals are crucial for showcasing jewelry effectively.
06
Setup UX/UI Of Your Jewelry Business Operations
Over 88% of users don't return to a website after a bad experience. We make sure that your website has the best UX/UI to give a pleasant navigation and buying experience to your customers.
Why Keyideas?

"
I have been working with Keyideas for quite a few years now. Their work is always done in a timely fashion and the overall value for the dollar is exceptional. I recommend Keyideas to anyone seeking a fantastic developer for any such work.
Isaac Gottesman,
dimendSCAASI, Chicago
FAQ About Keyideas Top Jewelry Website Design Company
Mordy Karsch
Giving Back Promotions, San Francisco, CA
I had an amazing experience working with Keyideas - an excellent team of developers.

Isaac Gottesman
dimendSCAASI, Chicago
I would not hesitate to recommend Keyideas as a superior development house.

Lets Do Great Work Together!
Discuss your ideas. Connect now
We've successfully delivered over

leads for the client