Home/Industry Resources/Retail E-commerce/Jewelry Store Website Design/Digital Marketing for Jewelry Store – Have Specific Budget, Investment, & ROI Plan.
Professional Digital Marketing
for Jewelry Store
With our Professional Digital Marketing for Jewelry Store, jewelry stores can get a range of expertise on their marketing aspects. Digital Marketing for Jewelry Website is a bit difficult, When you've been in the jewelry business for a time, whether diamond jewelry or something else, you'll realize that acquiring new clientele necessitates a strong web presence. Set aside a budget for internet marketing for jewelers and jewelry stores instead.
Focus on Budget,
Investment, & ROI Plan.
We're not talking about traditional marketing techniques, though. It would be best to avoid TV commercials and instead concentrate on digital and web marketing. It's one with continually changing practices, so staying on top of it might be challenging.
With that in mind, how do you determine the appropriate marketing budget? What are some price points to consider when putting together that budget? What can you anticipate in return, most importantly?
If you've been wondering about these things, we'll answer them below. We'll go over how to build a budget, distribute it effectively, and have realistic ROI objectives. Let's look at the details without wasting any more time.
How Much Should You Invest in Professional
Digital Marketing for Jewelry Store?
Even though this may vary based on whether you're working on anything high-end, such as diamond jewelry integration, or something low-end, an appropriate starting point would be around 20%. Remember that the quantity applies whether you've been in the specialty for a while or are just getting started
How Do You Distribute The Budget For Professional
Digital Marketing for Jewelry Store?
Before we get into the specifics, it's important to note that traditional marketing should be avoided when working with a tight budget. Instead, you should use digital marketing and all of its advantages. You'll get quick data and analytics to analyze your campaign, and you'll be able to adjust it to get the most out of it rapidly.
Now that that's out of the way, it's time to look at how you should allocate your budget among various marketing platforms. Nowadays, there's no shortage of marketing channels to choose from, but knowing which ones to invest in might mean the difference between a great return on investment and a waste of money.
As a result, the channels will be divided into two categories: mandatory and optional. And, before you look at the optional channels, we recommend that you invest in all of the mandatory channels first.
One thing you should surely do is hire a high-quality jewelry website design and development firm to create a current website for you. Whether you need a completely new website or want to update your present one, a decent website is essential for establishing a strong online presence.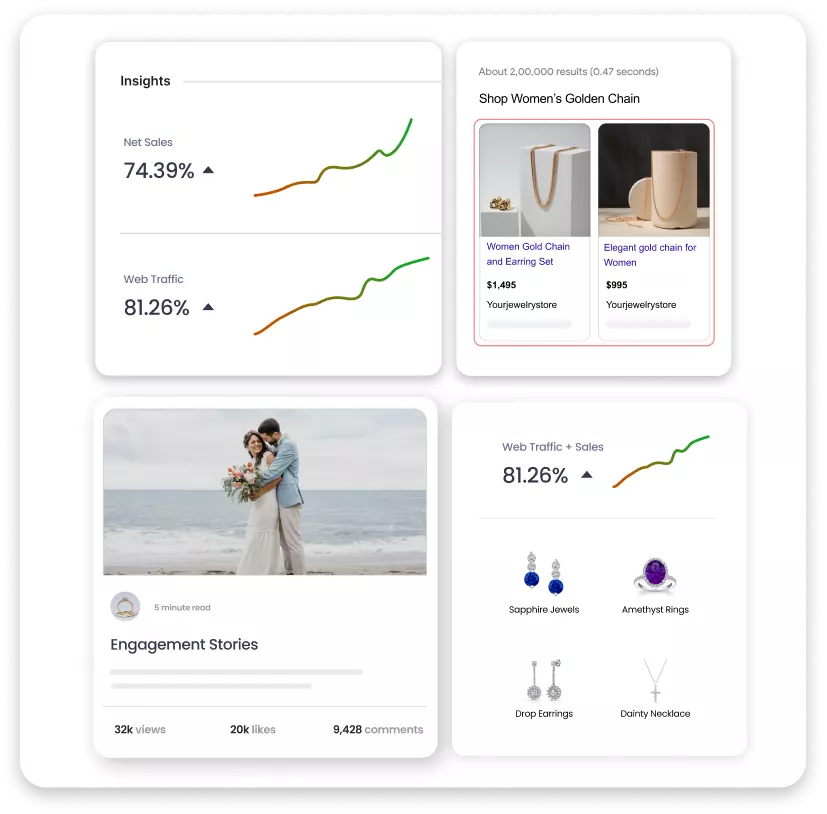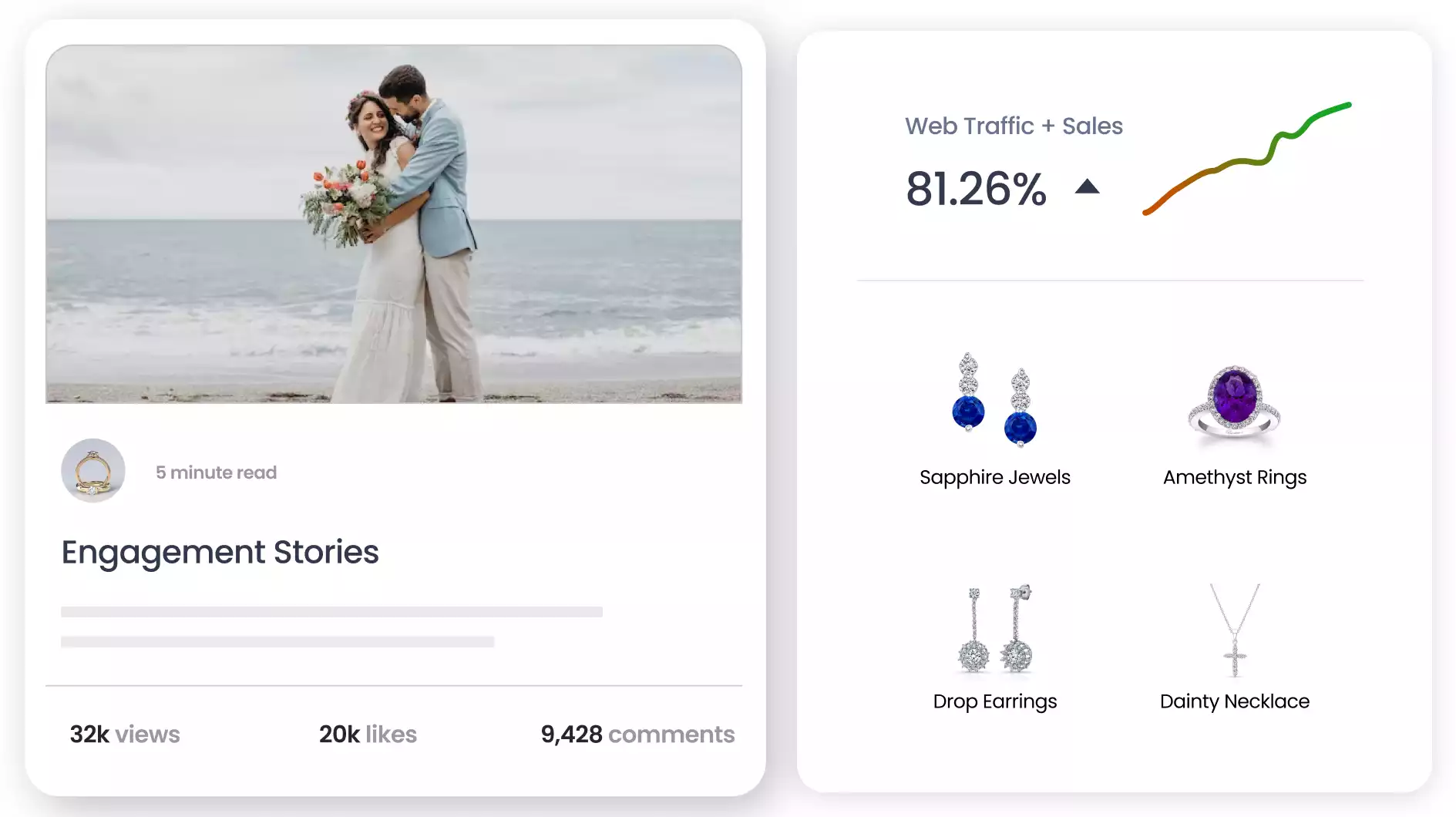 Virtual channels are the most popular platforms in today's world. You have Facebook and Instagram, for example. Because these two are so large, we recommend allocating roughly 40% of your total budget to them. This may appear excessive, but 20% on each should cover you, and it's well worth it.
Then there's Pinterest. Pinterest is a unique social networking concept that allows you to share and discover new interests by pinning them to your' board.' Jewelry fits the bill perfectly, so we recommend allocating roughly 15% of your money.
Then it's time to start thinking about jewelry marketing and SEO. SEO includes optimizing your website and social media profiles, content marketing, and email marketing. If you look at these three as a package, you should allocate roughly 20% of your money to them. This can significantly improve your brand's visibility on the Internet and various social media platforms.
With 25% remaining, roughly 10% of them should be considered for Google Shopping. Even though it isn't the most popular platform right now, that is swiftly changing, and you want to be a part of that change to get the most out of it.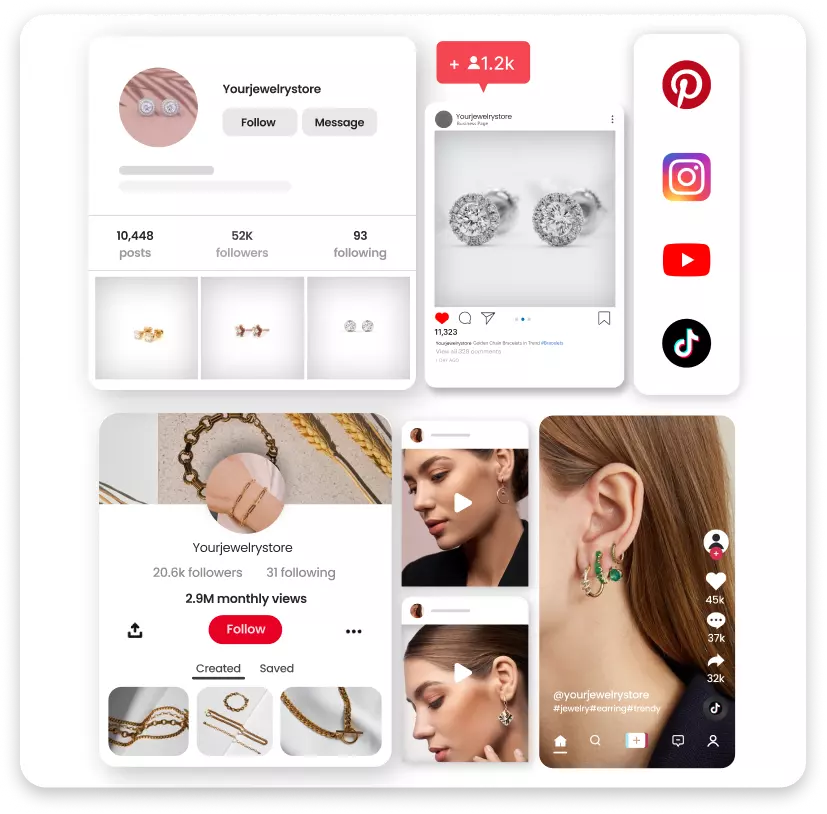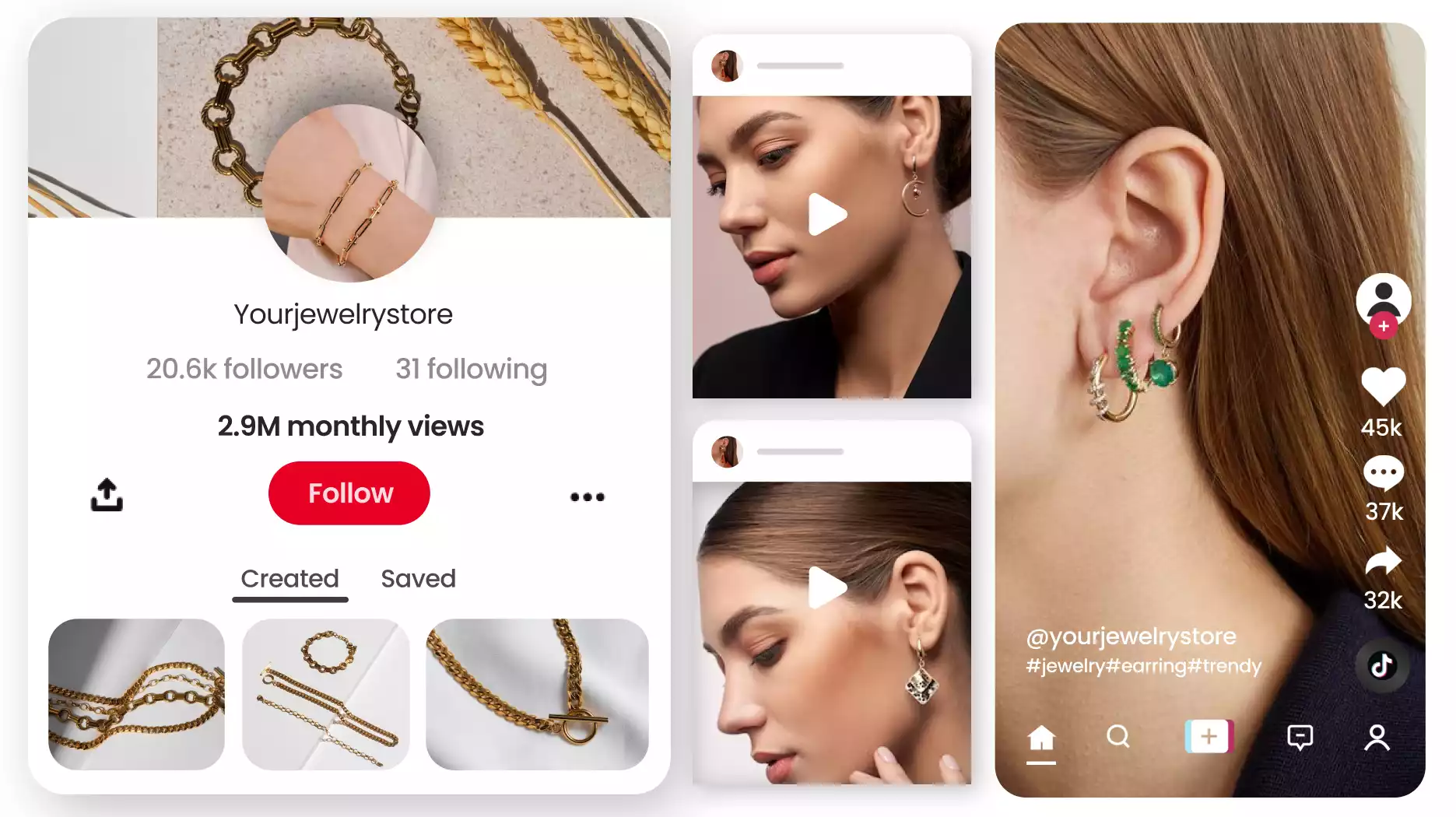 After exhausting all of the obligatory channels, you'll have around 15% of your entire marketing budget. What happens to them? So, here's a list of channels from which you can benefit:
Google Search
Affiliate marketing
Amazon advertising
Influence marketing
Twitter ads
YouTube ads
Snapchat ads
You'll see that the majority of these channels necessitate very specialized talents. If you hire a jewelry marketing business to assist you, make sure their professionals are knowledgeable and won't waste your money.
Set Your Expectations
Realistically High
One of the most common mistakes individuals make when investing in digital marketing for jewelers is expecting too much in return. The truth is that nothing can ensure a positive return on investment. The return on investment will be determined by various factors, including the cost of the products you're selling, the quality of the designs, and even your location.
If you're seeking a starting point, there is one, but it should be taken with a grain of salt. You should expect realistically if you're in the non-expensive jewelry business and your margins are designed to optimize revenues. However, if you're in the diamond jewelry business, you may set your goals high and not be disappointed.
At the end of the day, as previously stated, a variety of elements influence the ROI, one of which is the jewelry you're selling. No amount of marketing will enhance your revenues if the designs aren't good. A word of advice: test out some of your designs while running your marketing campaign to see how they're received. Keep the winning ideas, and you'll be well on your way to increasing your earnings and return on investment! Oh, and for that website, we said, certainly contact Keyideas Infotech.
Build Your Online Jewelry Store With Professional
Digital Marketing for Jewelry Store

Website Design
Building websites that engage users

RapNet Inventory of Diamonds
Diamond Integration using global jewelry trading network

Ring Builder
Our website helps customers find their desired ring

Diamond Filter
Allows buyers to search for and filter diamonds based on their characteristics

Retouching Images
Emphasize alluring features while minimizing flaws and attracting new customers

E-commerce
Tailored solutions for growing your jewelry eCommerce business

Marketing & SEO
Promote your products to the target audience

Website Pricing & Packages
Choose our services and watch your business grow exponentially
One Place, Not All over The Place

Connect with the team over Call.

Deliver projects with tight guidelines

100% Customer Satisfaction

Our team studies conversion paths, search factors, messaging, and performance data to make better design decisions.

You can connect with our team over a video call and be assured of 100% satisfaction as we use agile methodology along with delivering projects within tight guidelines.

Keyideas offers solutions for small business websites, corporate websites, e-commerce web design, and web app development.

Google Reviews
Wide Range of Expertise


I have been working with Keyideas for quite a few years now. Their work is always done in a timely fashion and the overall value for the dollar is exceptional. I recommend Keyideas to anyone seeking a fantastic developer for any such work.

Isaac Gottesman,
dimendSCAASI, Chicago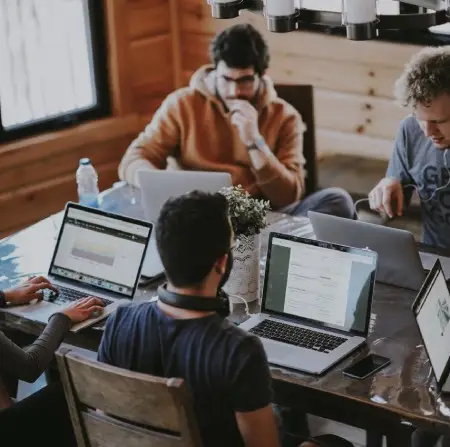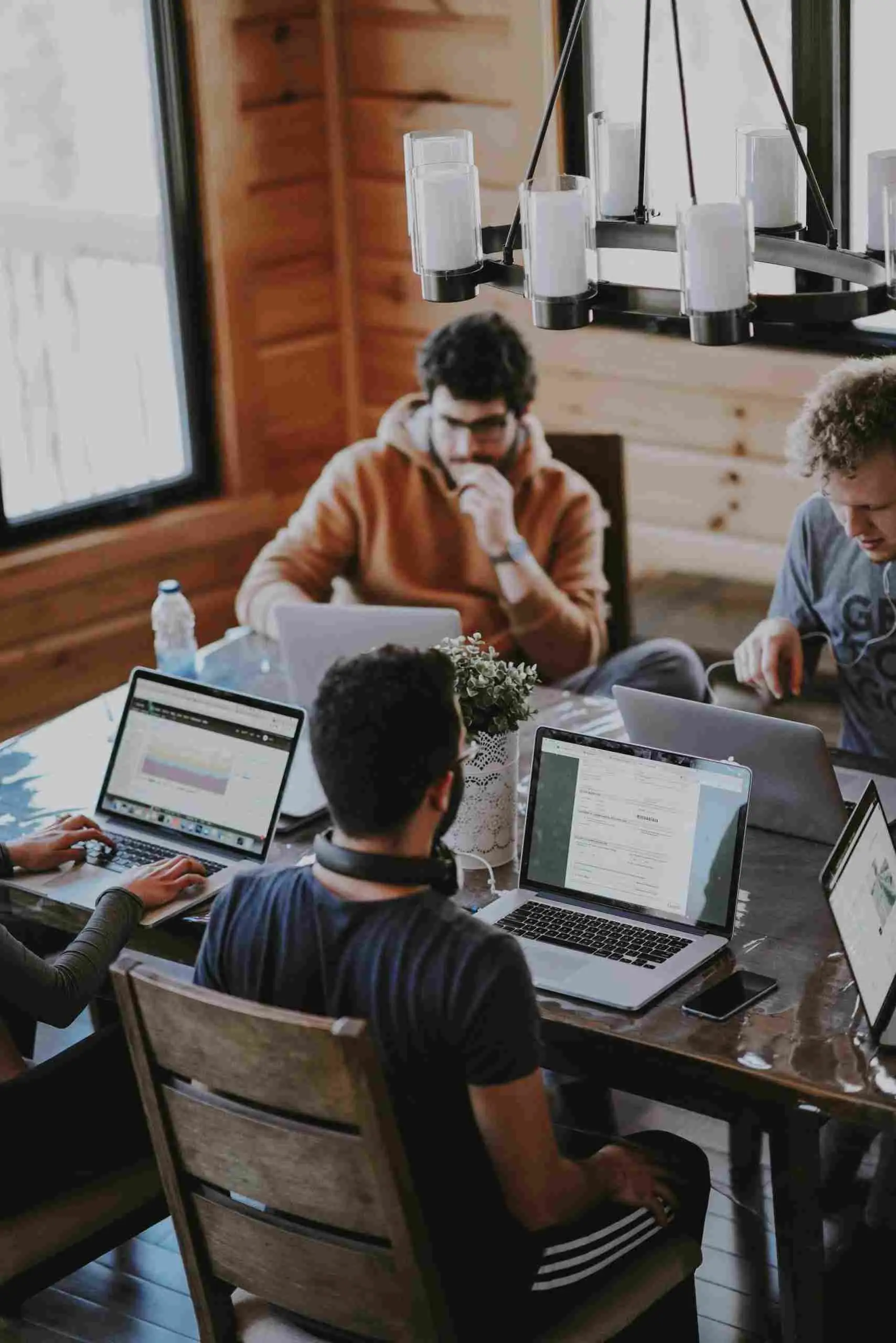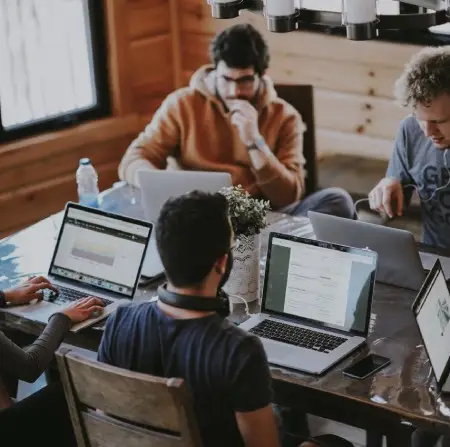 Want a successful Project?

Let's work together!
Delivering Quality Services For Your Business
Discuss your ideas. Give us a ring!

+1 617-934-6763