Build Your Jewelry Site With Top Magento2 RapNet Diamond Integration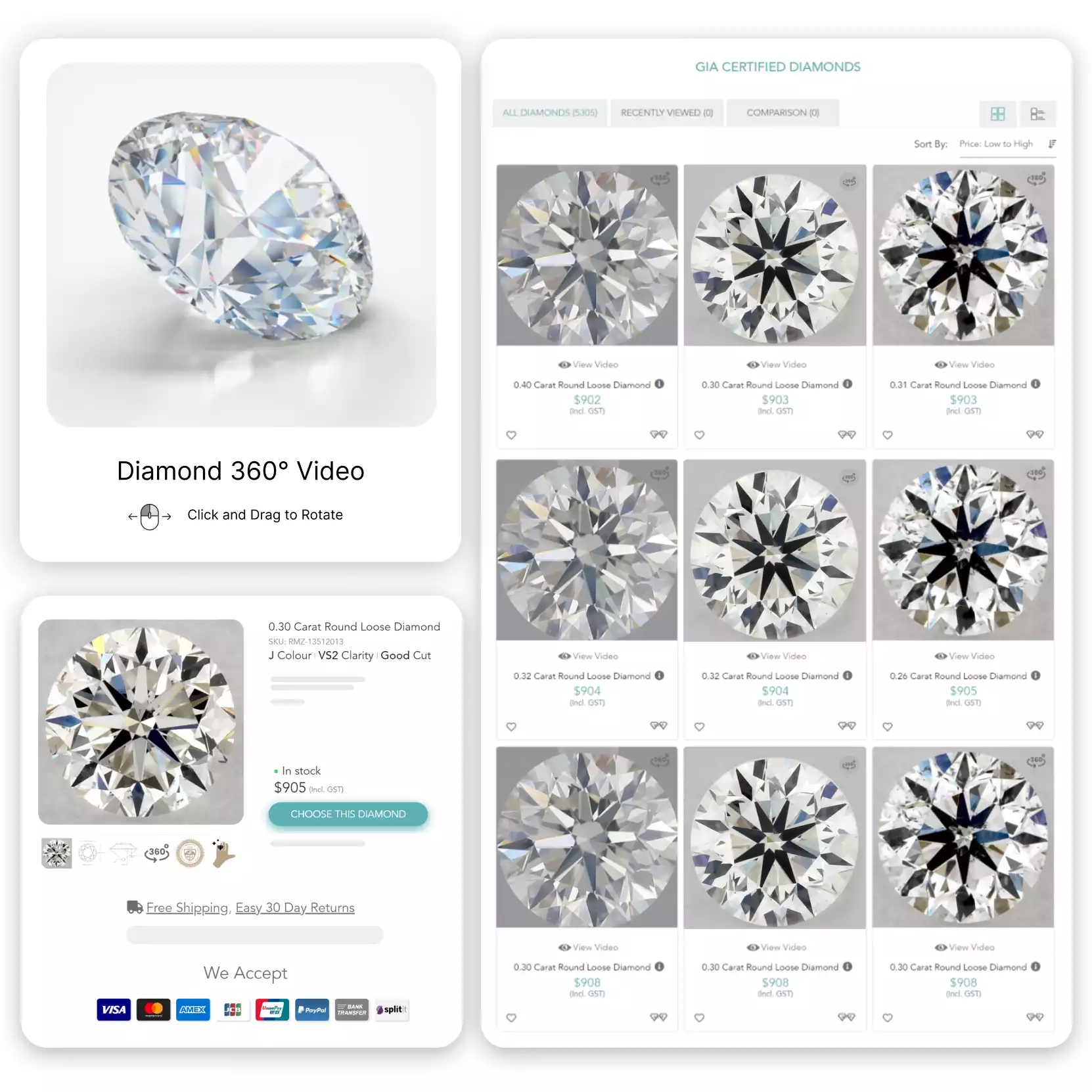 The high-end integration of your jewelry website with Magento2 RapNet integration reduces your efforts to access essential data. Keyideas offers an excellent full-stack framework for this. By integrating Top Magento2 RapNet Integration services into the jewelry website. The RapNet server stores all of the data related to diamond options. We can gather this data when required which reduces the loading time of your website. Also, increases your website performance.
This Magento2 RapNet is straightforward. Its purpose is to increase your website performance. RapNet turns a company into an online powerhouse in seconds. Allowing your website to showcase multiple diamond options in seconds. With RapNet Instant Inventory, we can connect 20,000+ various styles of diamonds and gems to the jewelry e-commerce business without the cost of owning them.
OUR BLOG
How important is RAPNET
API Integration for
Jewelry Websites?
95%
Mobile Friendly
Responsive Website
66%
Improved Order
Processing
Our Beautiful Jewelry Web Design Work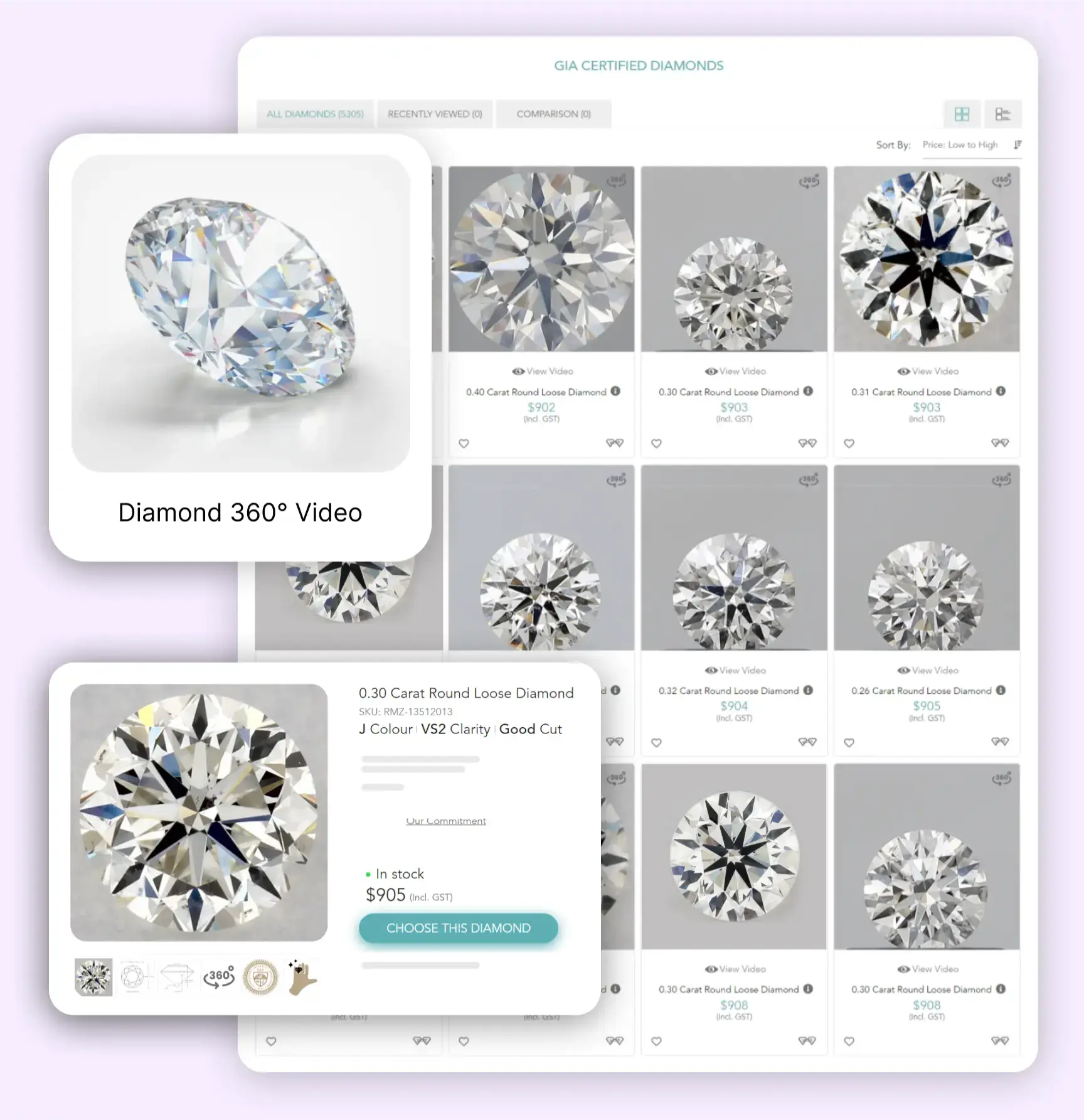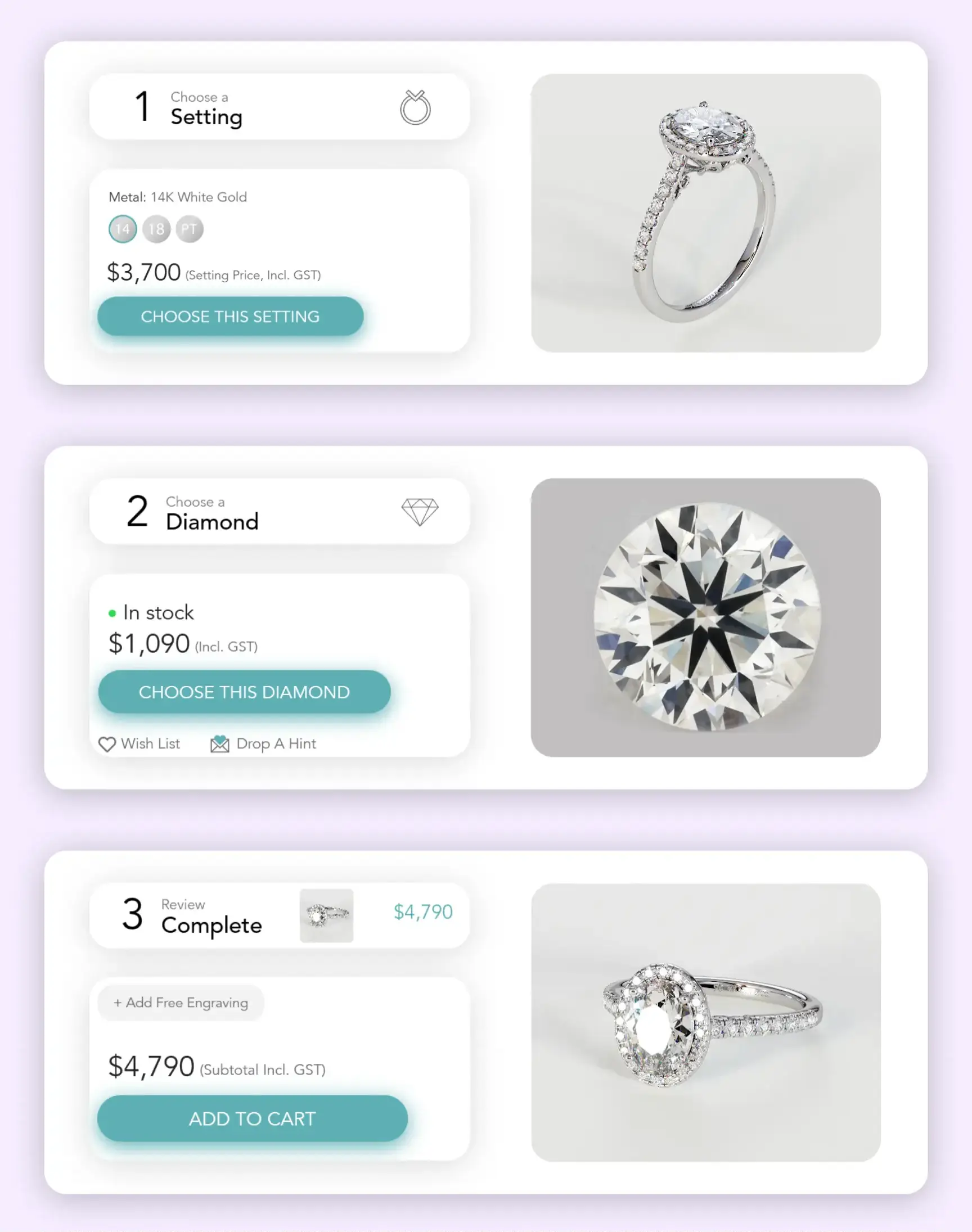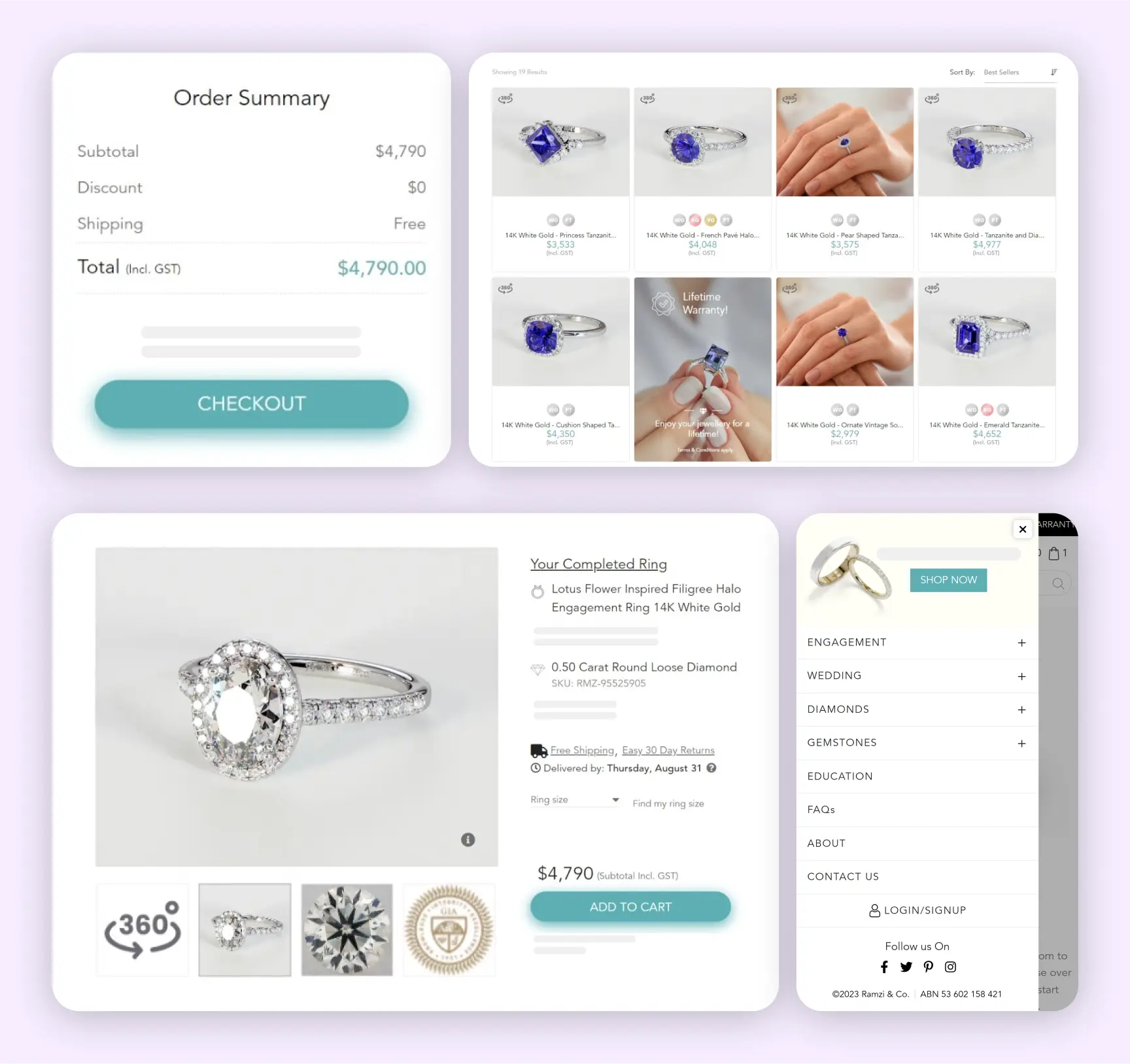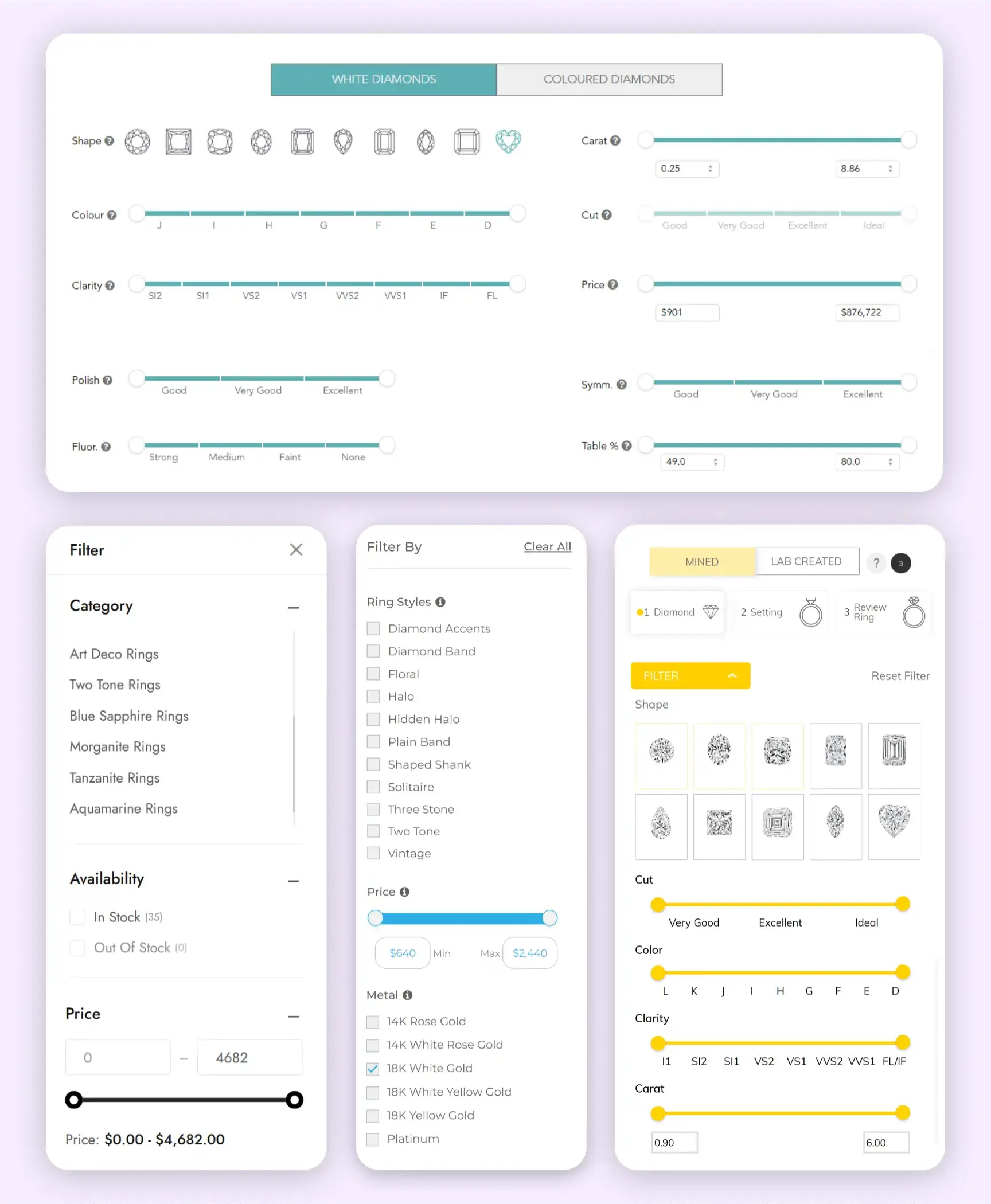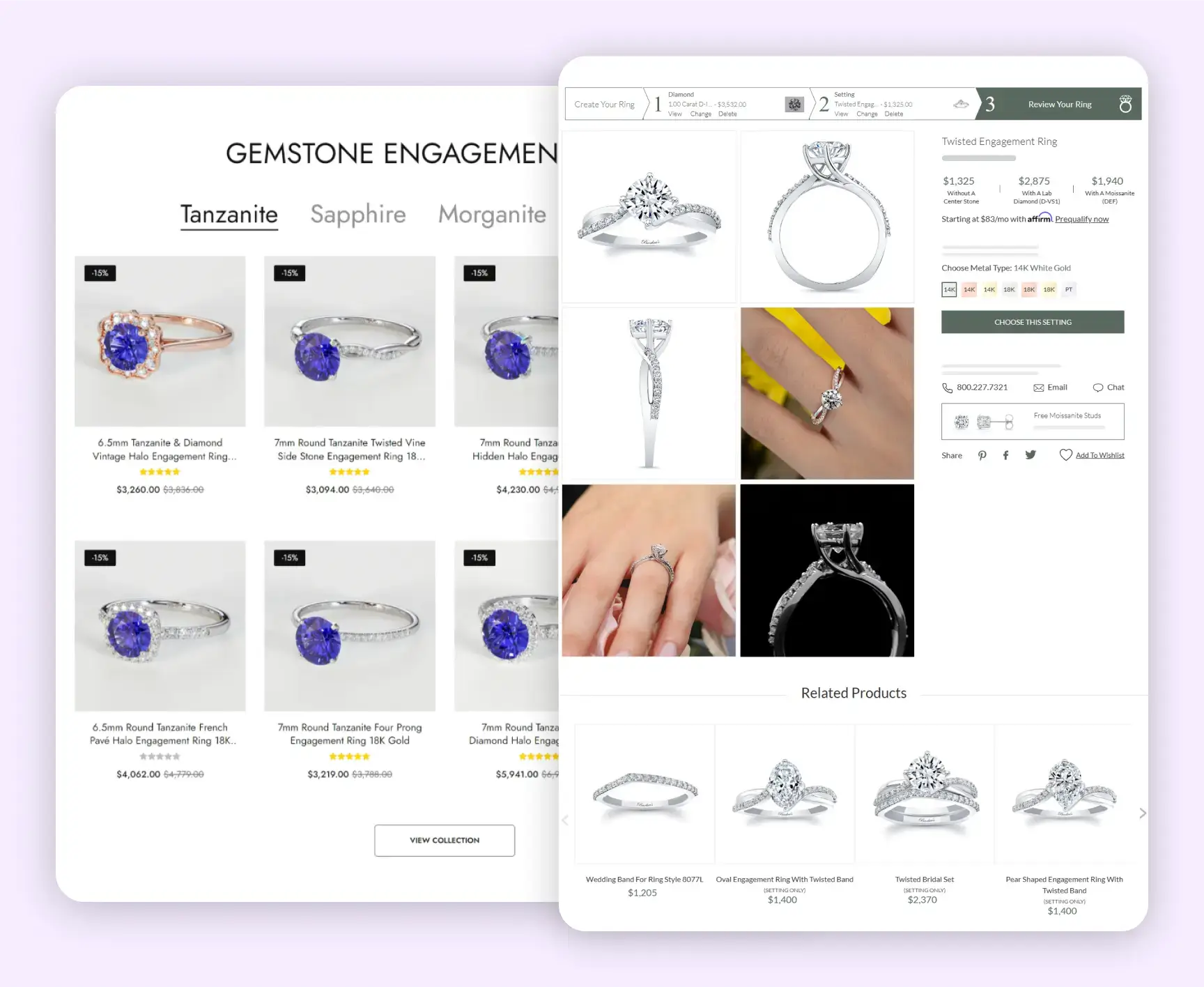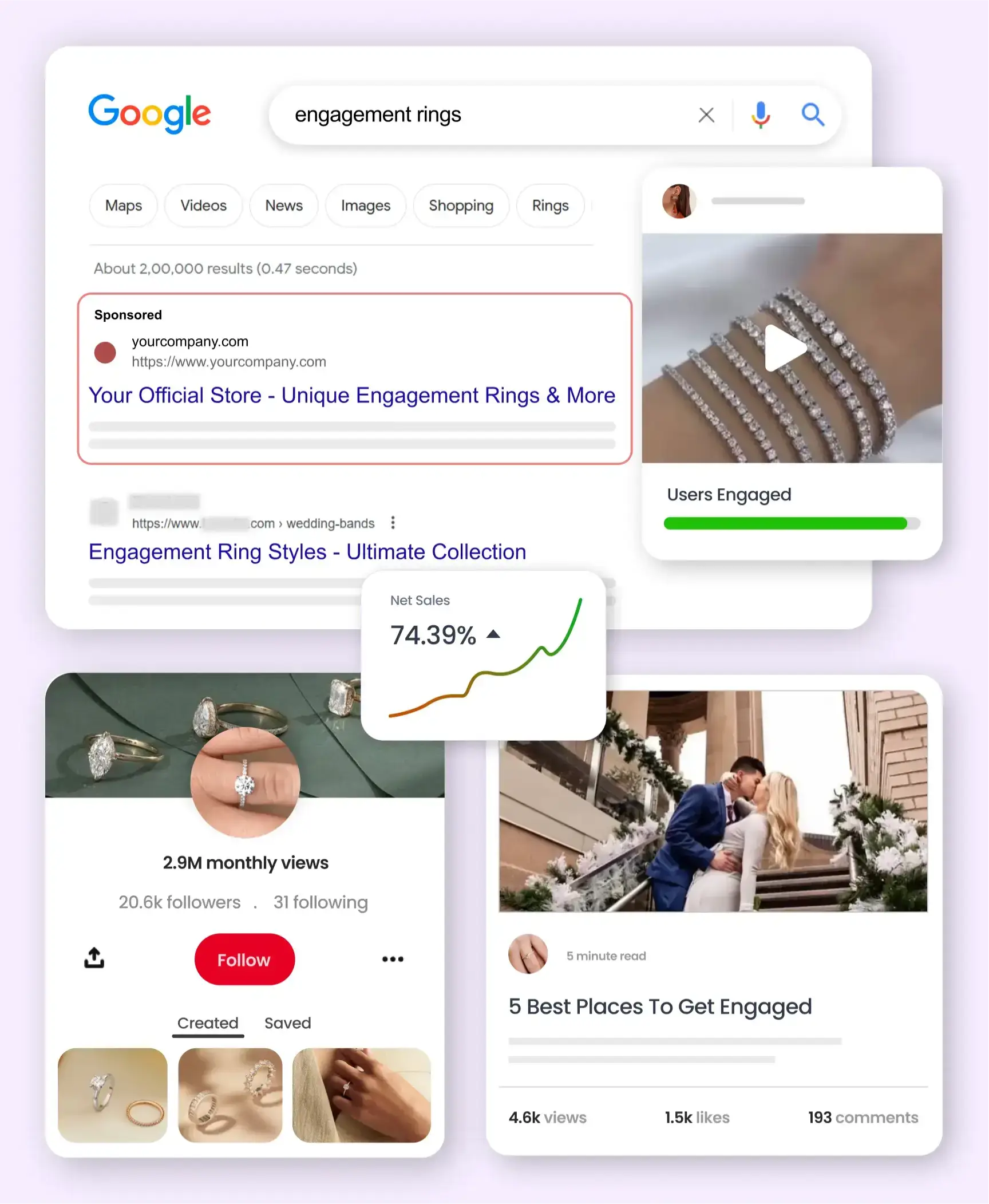 Top Magento2 RapNet Integration Services We Offer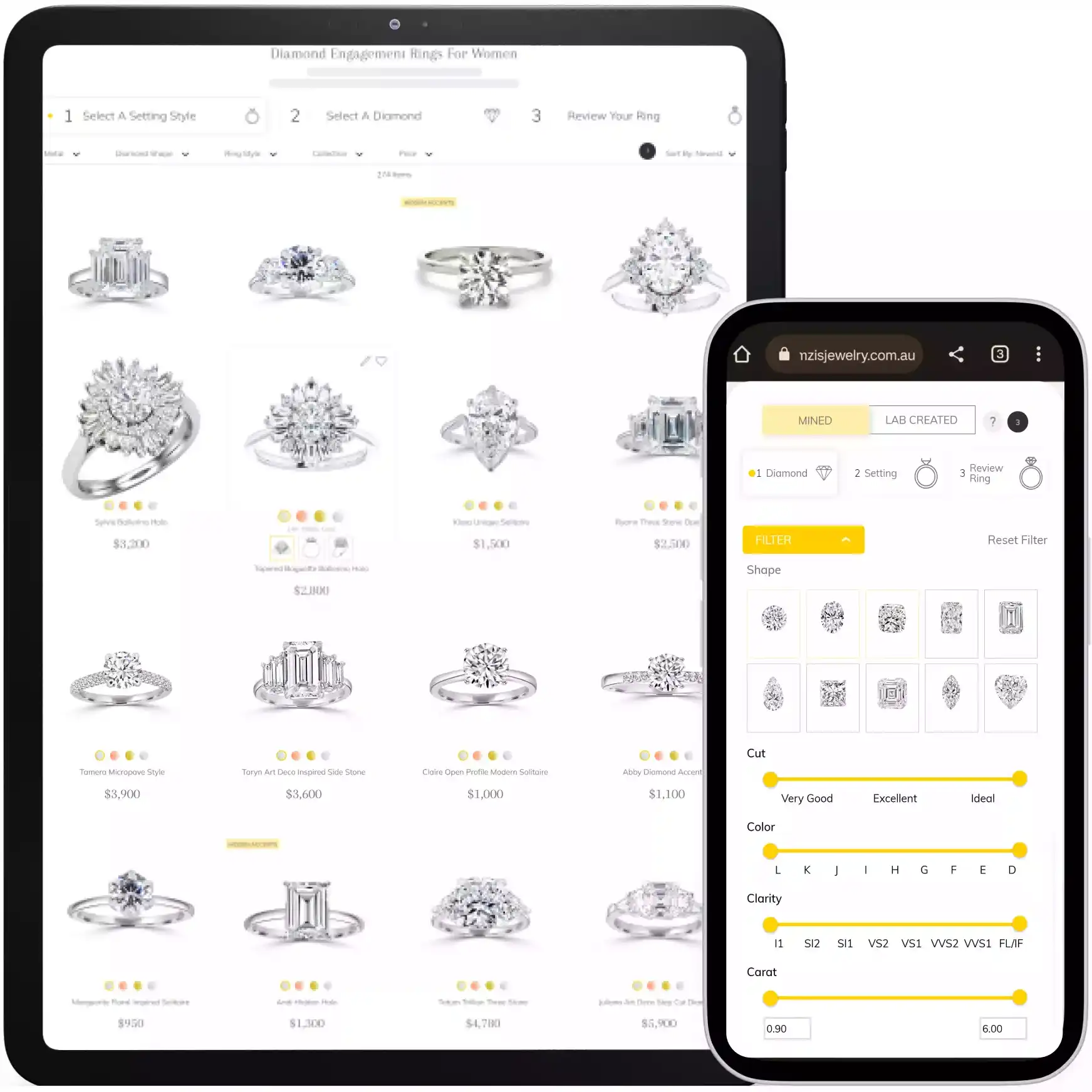 Magento2 RapNet Developers
We create more elegant and user-friendly jewelry on Magento2 RapNet Diamond websites. Our Magento experts will assist you in developing your jewelry store using some of the Magento2's most outstanding features.
Upgradation & Data Migration
Migrate your Magento1 website to Magento2's latest version and upgrade your data from Magento1 to Magento2. Upgrades & Data Migration drive greater collaboration.
Support and Maintenance
Hire a skilled developer for quick and dependable Magento2 RapNet diamond support! Our talented development team assists our clients in meeting their Magento2 support and maintenance needs.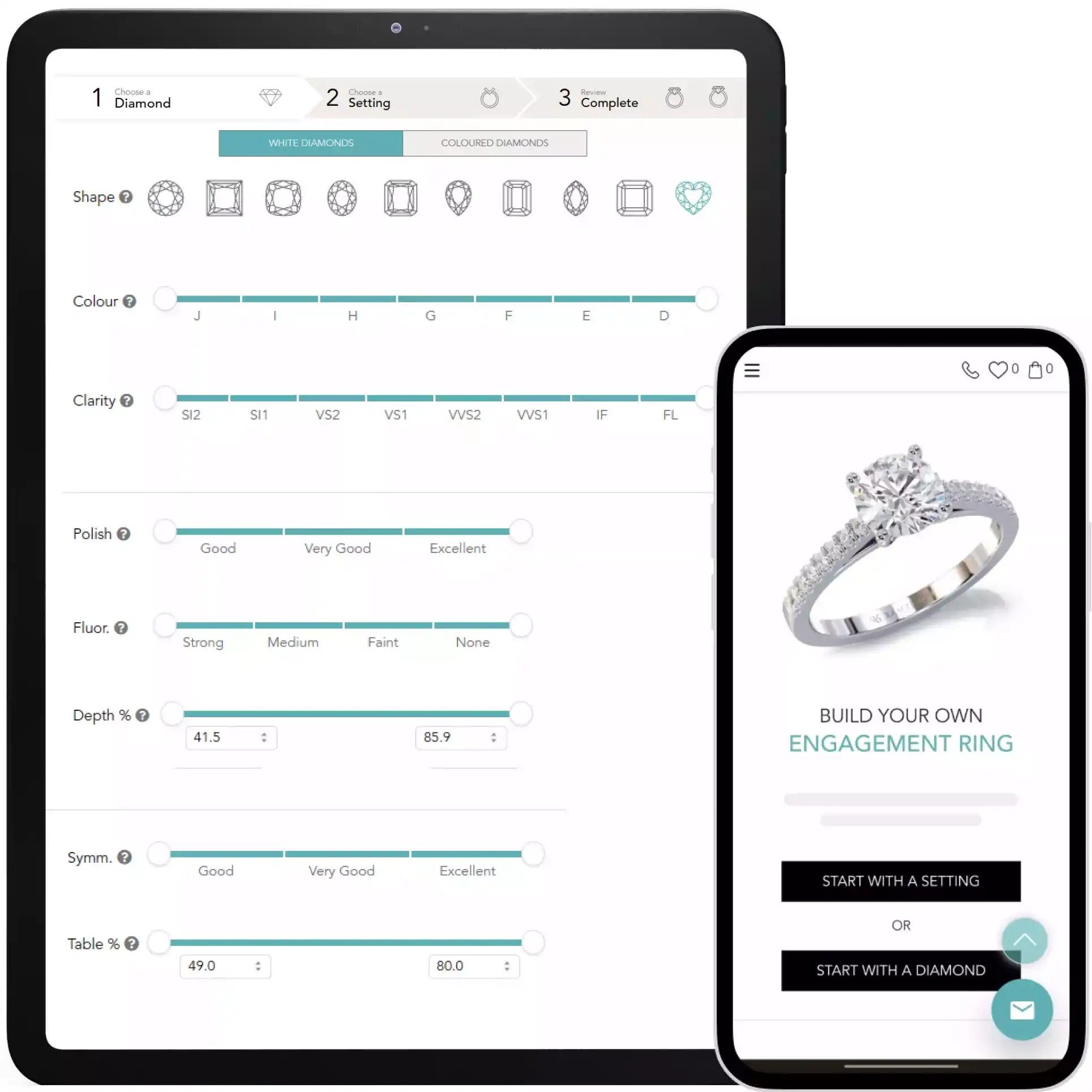 Performance & Security Improvements
We believe in continuously enhancing product quality and providing user-friendly and reliable shopping experiences. So, performance, functionality, and safety improvement are our principal focus.
Perform Magento2 Responsive Designs
Responsive web design shapes websites to give the best viewing experience across multiple devices. Our designers are proficient in designing custom responsive web designs for Magento2.0.
Magento2 RapNet Extension
We build custom extensions for Magento2 RapNet Diamond websites to fulfill some specific demands of jewelry e-stores. Custom Magento extensions are created with excellent attention and with keeping consumer needs in mind.
Benefits of RapNet Magento2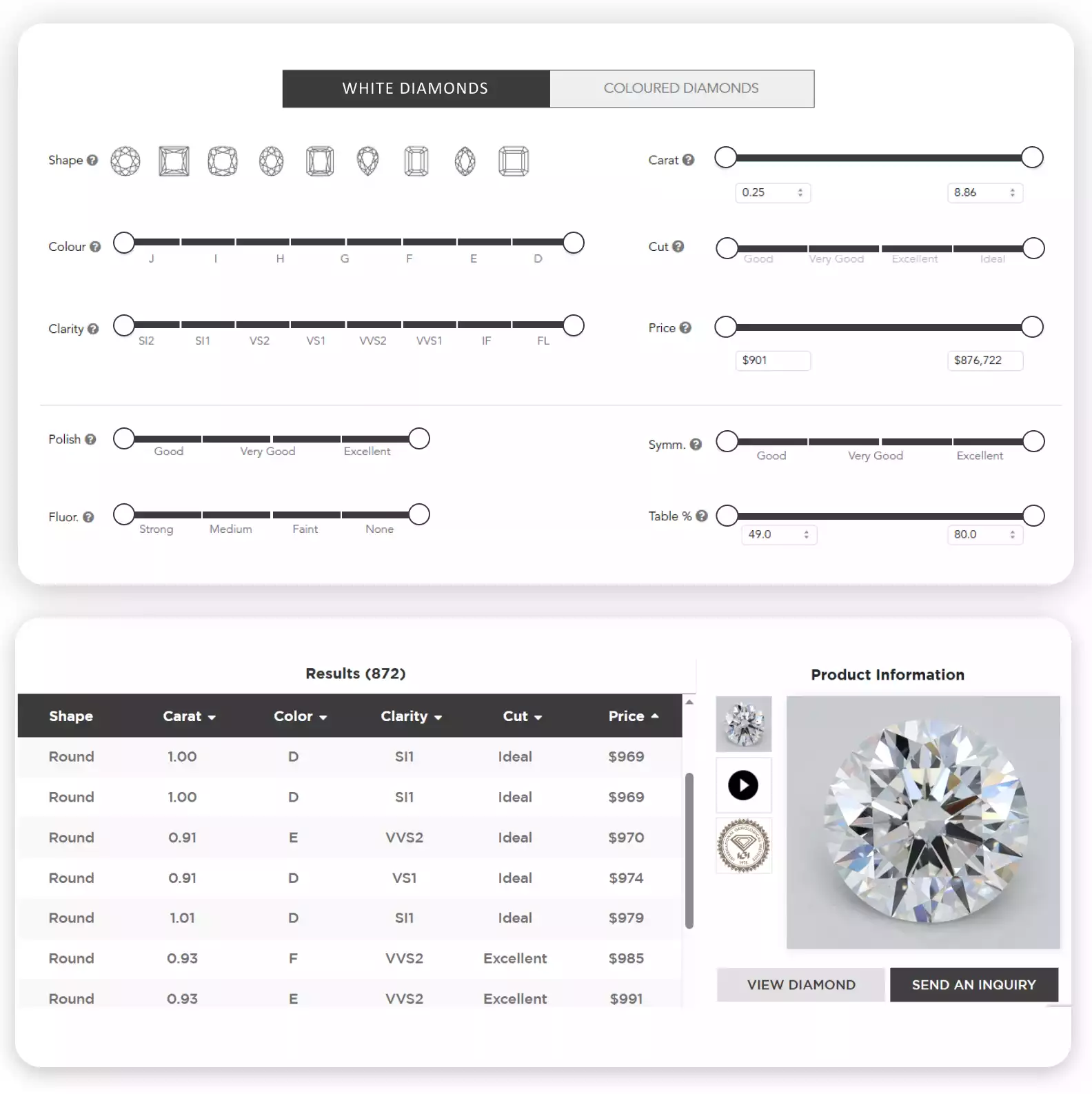 Magento2 RapNet Diamond website design uses a backend Magento plugin that pulls data from RapNet instant services in real-time. The jewelry's features can be customized using the front-end UI (user interface).
On the Magento2 RapNet Diamond website, we also add diamonds as original Magento goods, allowing customers to buy diamonds and add them to their wish list and compare them to others.
We take pride in aiding each of our clients by delivering high-quality products and services on time and within budget as a Jewelry Magento2 Development Company.
Build Your Online Jewelry Store
Jewelry Website
Clean and clear graphics by UI/UX team
Diamond Integration
Add Nivoda, RapNet, VDB, and other APIs/CSVs
Ring Builder
User can create or build his own Engagement Ring
Diamond Filter
Allows users to select the perfect diamond for their ring
Jewelry Retouching
Highlight strengths, downplay flaws for customer appeal
Jewelry E-commerce
Customized solutions for your online jewelry business growth.
Jewelry Marketing
Marketing and SEO Services to grow business 200%
Jewelry Website Pricing
Lower Total Cost Of Ownership & Higher Return on Investment
Why Choose Keyideas?

"
I have been working with Keyideas for quite a few years now. Their work is always done in a timely fashion and the overall value for the dollar is exceptional. I recommend Keyideas to anyone seeking a fantastic developer for any such work.
Isaac Gottesman,
dimendSCAASI, Chicago
FAQ About Keyideas Magento2 RapNet Diamond Integration
The advanced Magento2 and RapNet API integration can help you to enhance your website features. It shows the diamond options to your customers on your website which at the backend is linked to Magento RapNet Diamond Integration Inventory. This decreases the loading time for your website and shows your customer 20,000+ various styles of diamonds and gems to choose from the jewelry e-commerce without the cost of owning them.
Yes, your customer can choose their diamond from the integrated inventory which later on you can buy from the traders and create the customized ring of your customer's choice. Check our blog on LinkedIn Why you need a jewelry website? for more info.
Magento2 RapNet Diamond Inventory has a major role in enabling the BYOR feature. When your customer wants to select the perfect centerpiece for their engagement ring they can filter out the choices. The filters are used to categorize the diamond on the basis of – color, carat, cut, shape, price, and clarity. Once selected by your customer this diamond will be added to the diamond cart for you to purchase and design that specific ring.
Mordy Karsch
Giving Back Promotions, San Francisco, CA
I had an amazing experience working with Keyideas - an excellent team of developers.

Isaac Gottesman
dimendSCAASI, Chicago
I would not hesitate to recommend Keyideas as a superior development house.

Lets Do Great Work Together!
Discuss your ideas. Connect now
We've successfully delivered over

leads for the client
© Copyright 2023. All Rights Reserved.