Best Cloud Application Development Company in USA & India
Keyideas provide customize Cloud-based solutions that best suit clients requirements. We have the expertise, as architecting for Cloud requires a different approach for looking at the technicalities and business requirements. Cloud computing is a next big phenomenon in the tech world and hence is the right choice to move with. We can help you know the basic features of cloud computing and the advantages of migrating to cloud with a positive impact on the entire business. Our deep commitment to our customers defines the way we do business and it forms the basis of our customer satisfaction.
Getting Started:
Decide the right type of cloud-public, private or hybrid
Cloud development and support
Integrating cloud with internal systems
Resource pooling to serve large no of customers
On-demand capabilities of cloud hosting services
Scalable and flexible to suit business needs
Pricing based on usage of resources
Multiple services to meet complex user demands
Cloud-based solutions at lower upfront cost
2000+ Projects

delivered to clients

1200+ Clients

worldwide

50+ Experts

of technology

10+ Years

of experience

CMMI Level 3

dev company

16+ Countries

serving customers
Benefits of Cloud-based Solutions & Cloud App Development
Keyideas provides cloud services ranging from design, development, integration, and maintenance of Cloud-based apps. We leverage cloud platforms to enhance your business functionalities. We deliver Custom Cloud solution on most platforms like Amazon AWS, Microsoft Azure, Google Cloud Platform, Salesforce and Acquia Cloud. Cloud Computing offers great benefits for enterprises and individuals by reducing cost and increasing flexibility.
Cloud-based File Sharing
Streamline teamwork collaboration, which allows data to be shared, accessed and edited from any location. Updates are visible in real-time and are seen by all teammates.
Pay-per-use
Cloud-based computing allows users to pay for only the services and resources they use. Enterprises just need for the services they are using for a specific period.
Resource Pooling
The provider's computing resources are pooled to serve multiple consumers. Examples of resources include storage, processing, memory and network bandwidth.
Network Access
Cloud computing simply means network access from just about anywhere worldwide. Users just need to just log in to the account using internet connection.
Measured Services
Resource utilization is measured, controlled, and reported in advance. This makes the computing capacity essentially the same as that of a paid utility service.
Highly Flexible
Enterprises have moved to cloud mainly due to its ability to quickly meet business demands as per required. It has shortened time to market.
Hire Cloud App Developers to Meet Your Business Objective:
As Cloud Computing as considered as a cost optimization option, therefore there is an increasing trend towards hiring Cloud developers. We offer innovative and customized Cloud solutions to our clients in diverse verticals. At Keyideas we understand your needs and offer the services of highly skilled experienced and expert Cloud developers who allow you to accomplish more in less time, helping in the growth of the business.
Technology competency
Domain (horizontal) competency
Industry (vertical) competency
Hiring a dedicated Cloud Computing developer through Keyideas will help you save up to 60% of the cost, without having to compromise on the quality of the work. The increasing need to hire Cloud Computing developer is clearly attached to the many attributes that the framework offers, which might include flexibility and scalability.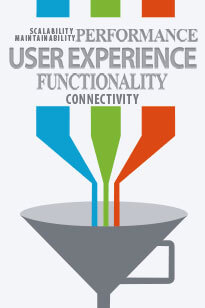 Request Free Quote
---
Please fill the form below and one of our technical associate will get in touch with you shortly.
5 SIMPLE STEPS TO HIRE DEDICATED DEVELOPERS
Analysis
We analyze your project requirements and after a feasibility study suggest you the ideal and most efficient developer.
Consultation
We filter developers' resumes aligned with your project requirements and forward it to your HR team for shortlisting.
Deployment
We allocate the selected highly technical developer to your project to provide focused and dedicated services.
Initiation
The developer is selected for the assignment and the project is initiated after the initial payment of the allotted resources.
Manage
The resource is committed to your project and work for stipulated hours, allowing you to manage your project time.