Spark Your Customer's Creativity With Magento2 Engagement Ring Builder
Step1: Customize the Setting
Create the Desired Engagement Ring Setting With Best Magento2 Engagement Ring Builder
Leverage the power of Designing. Let your customers create something unique and personalized with Magento2 ring builder. Your customer can click on a variety of setting options to figure out their desired ring. This includes ring styles such as solitaire, pave, modern, vintage, and marquise. Different Shape : oval, round, emerald, cushion, princess. Also, metals ( rose gold, yellow gold, white gold, platinum ) with specific cuts and other elements.
Step2: Choose The Diamond With The Best Engagement Ring Builder
Select the Desired Diamond
Make your customers' dreams come true. Let them choose their diamond to fit in their selected engagement ring.The Magento2 ring builder helps your customers to narrow down their choices. So that they can select their preferred center-stone cut, color, and style. Moreover, with our advanced marketplace integration, you can display over 20,000+ diamonds to your customer. That, too, without the cost of owning them.
Step3: Relax and Admire
Sit Back and Admire your Beautiful Creation With Best Magento2 Engagement Ring Builder
Let your buyers admire their creations. With Magento2 Ring builder, they will make special memories. As this allows them to design their desired engagement ring on your website. Such interactive features increase user engagement by 80% and user satisfaction by 100%.For those seeking a touch of luxury, our collection of jewels combines impeccable design with impeccable precision.
Our Beautiful Jewelry Web Design Work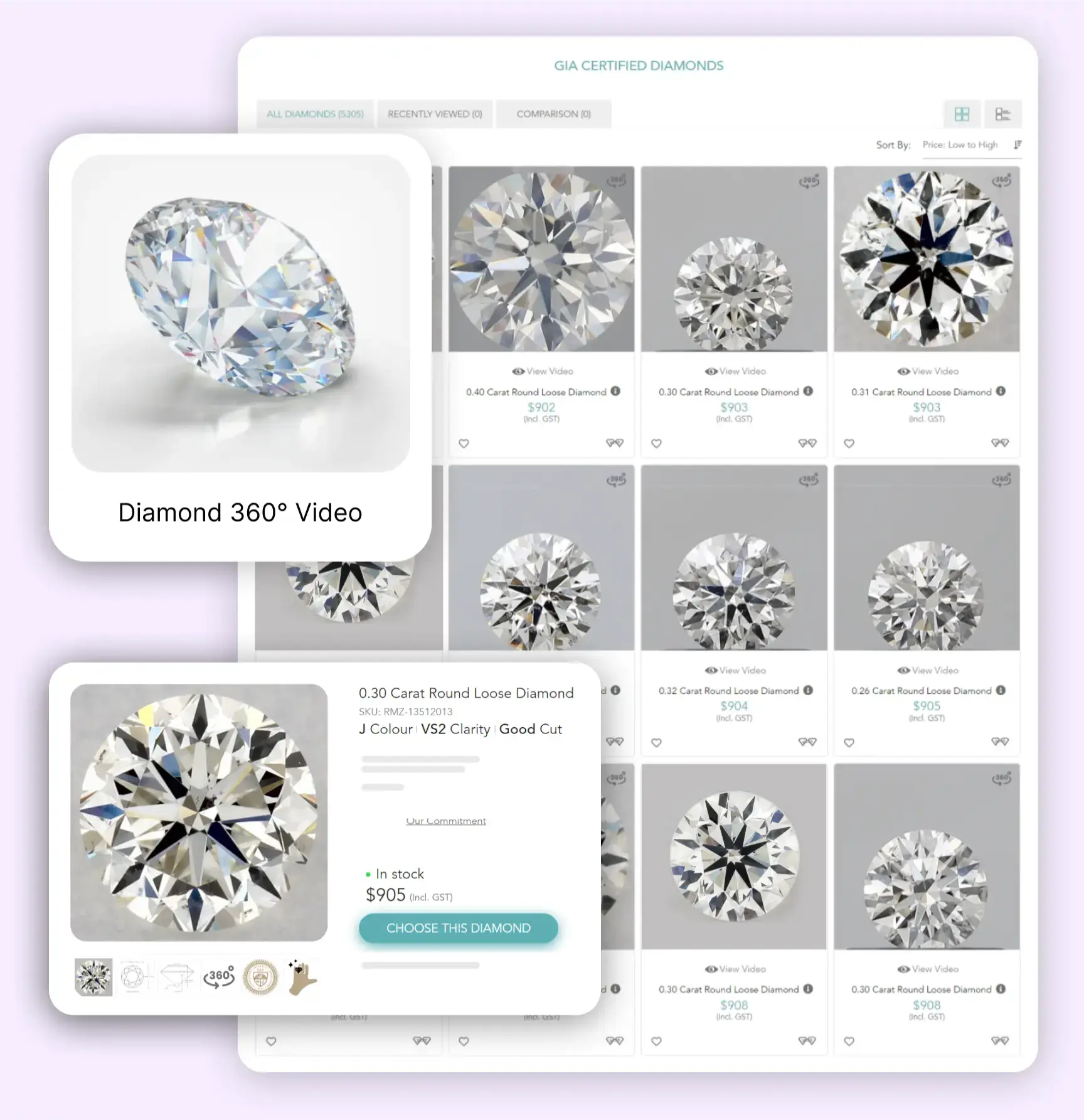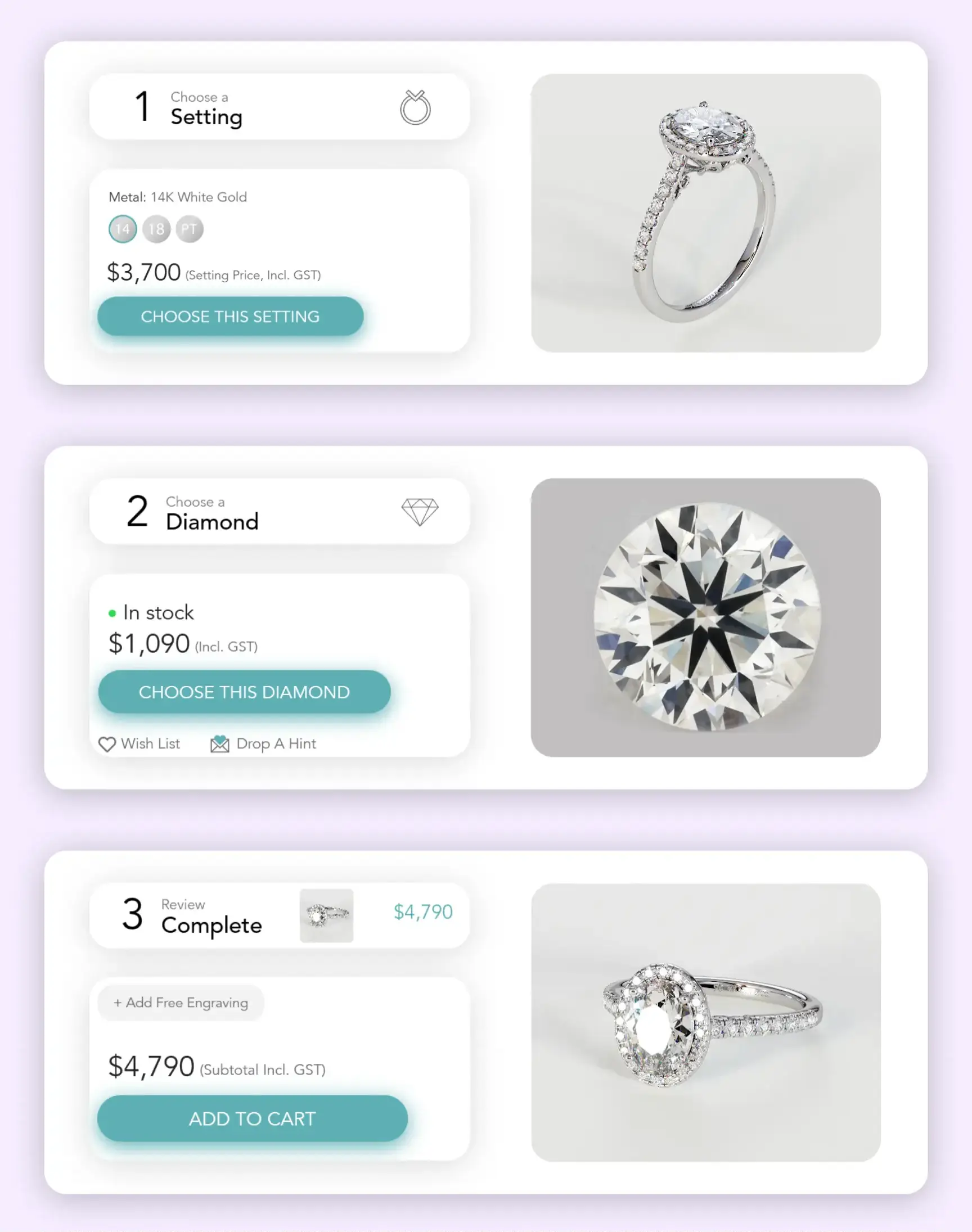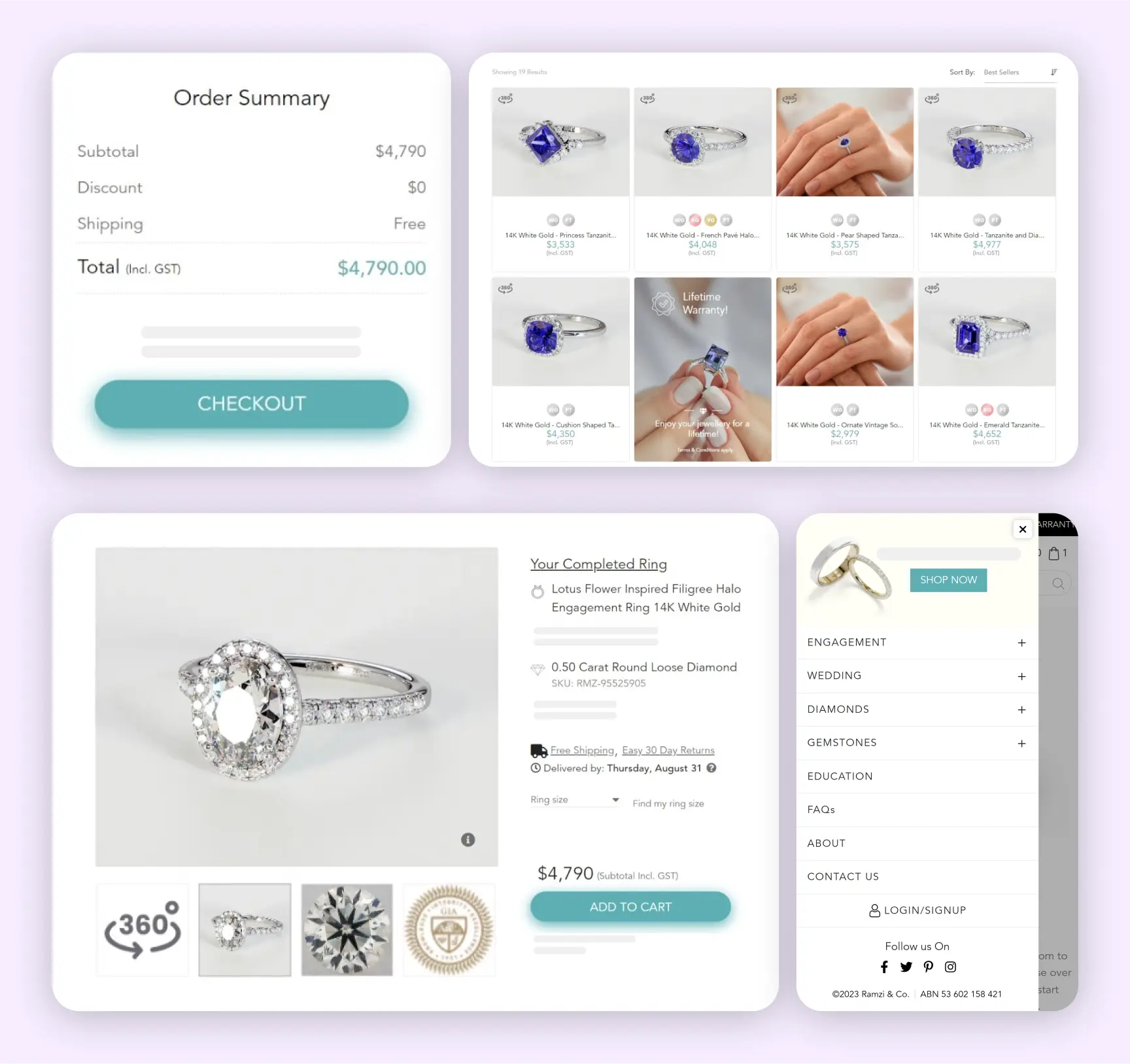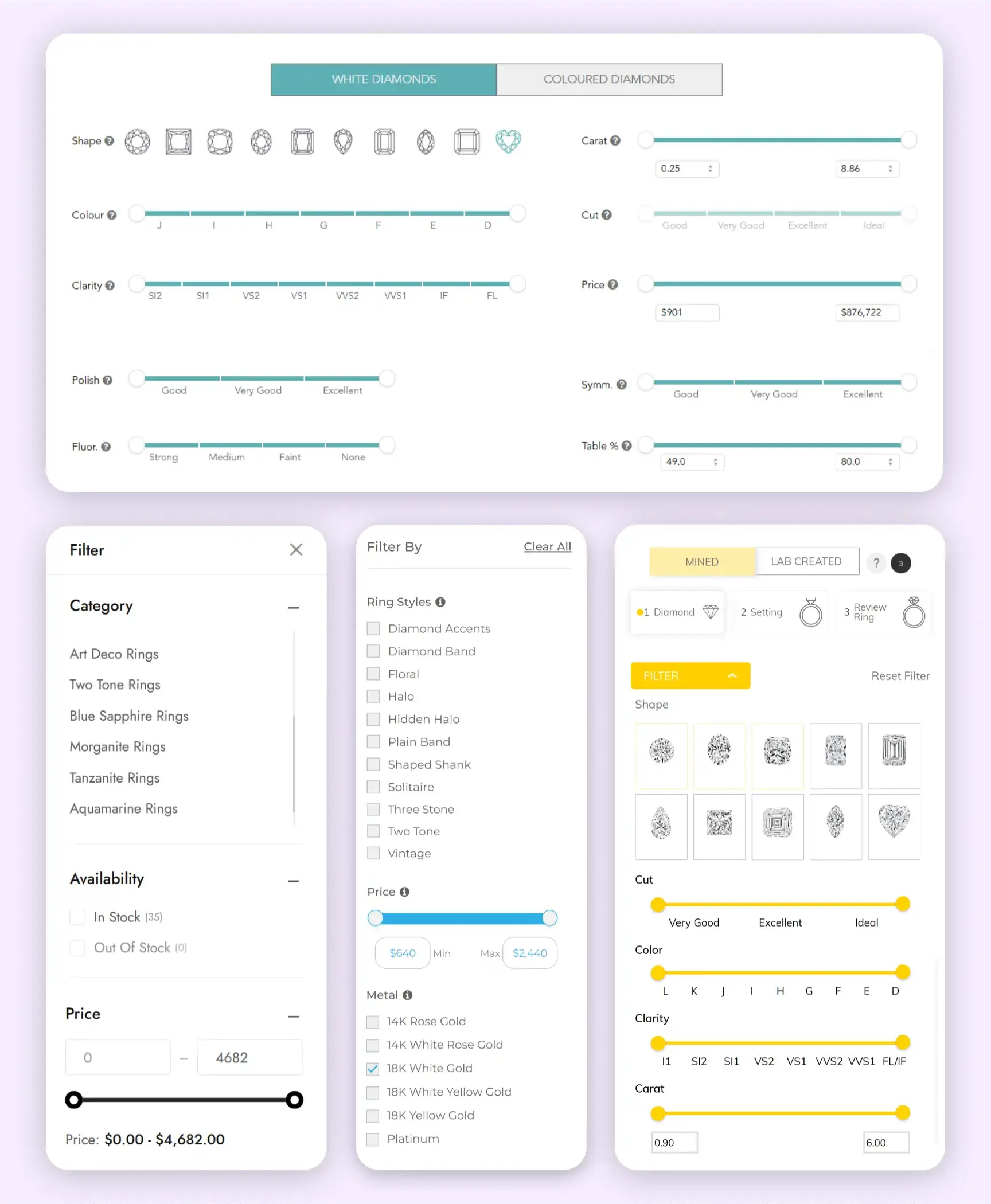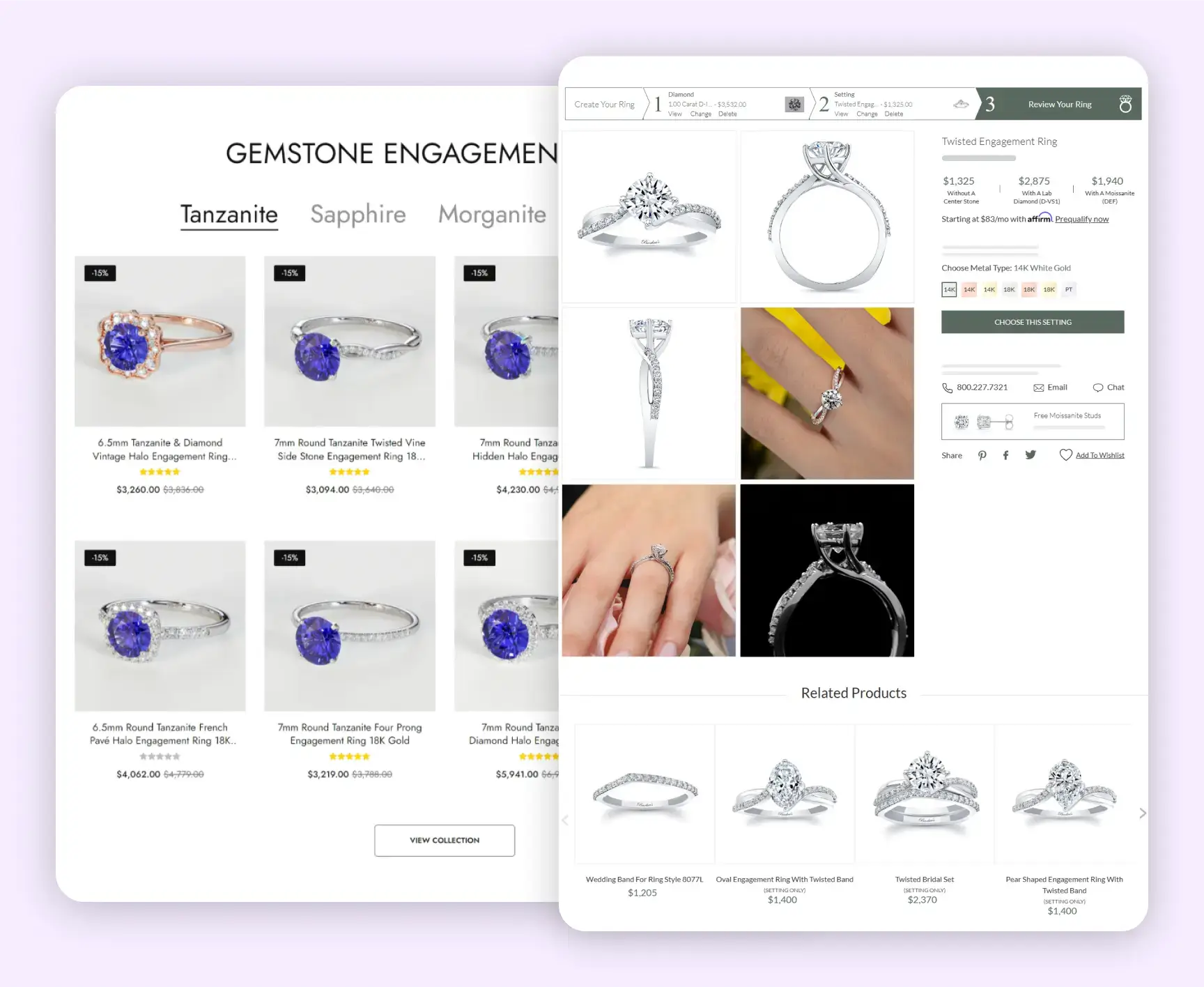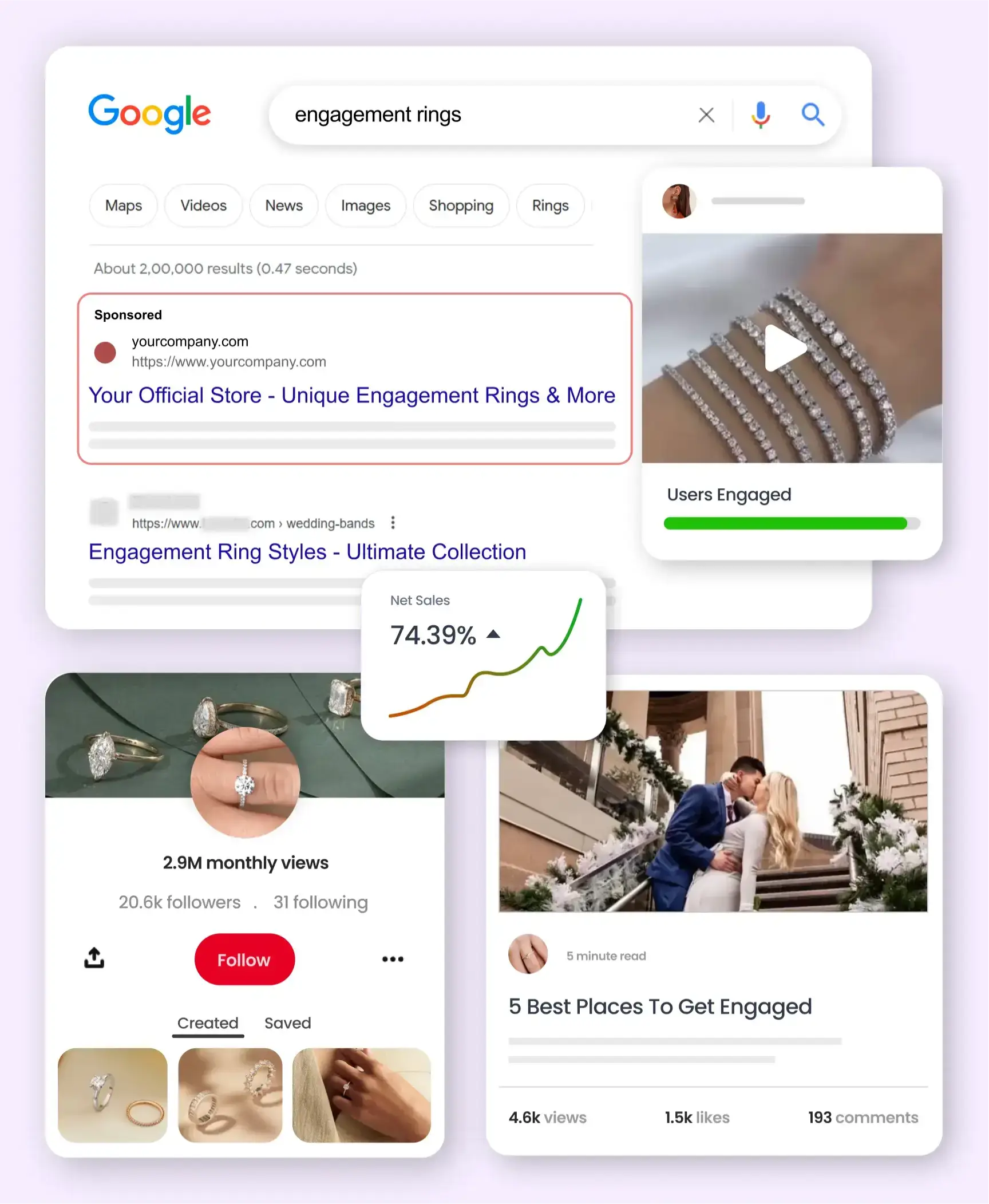 Get Best User Experience With Our Magento2 Ring Builder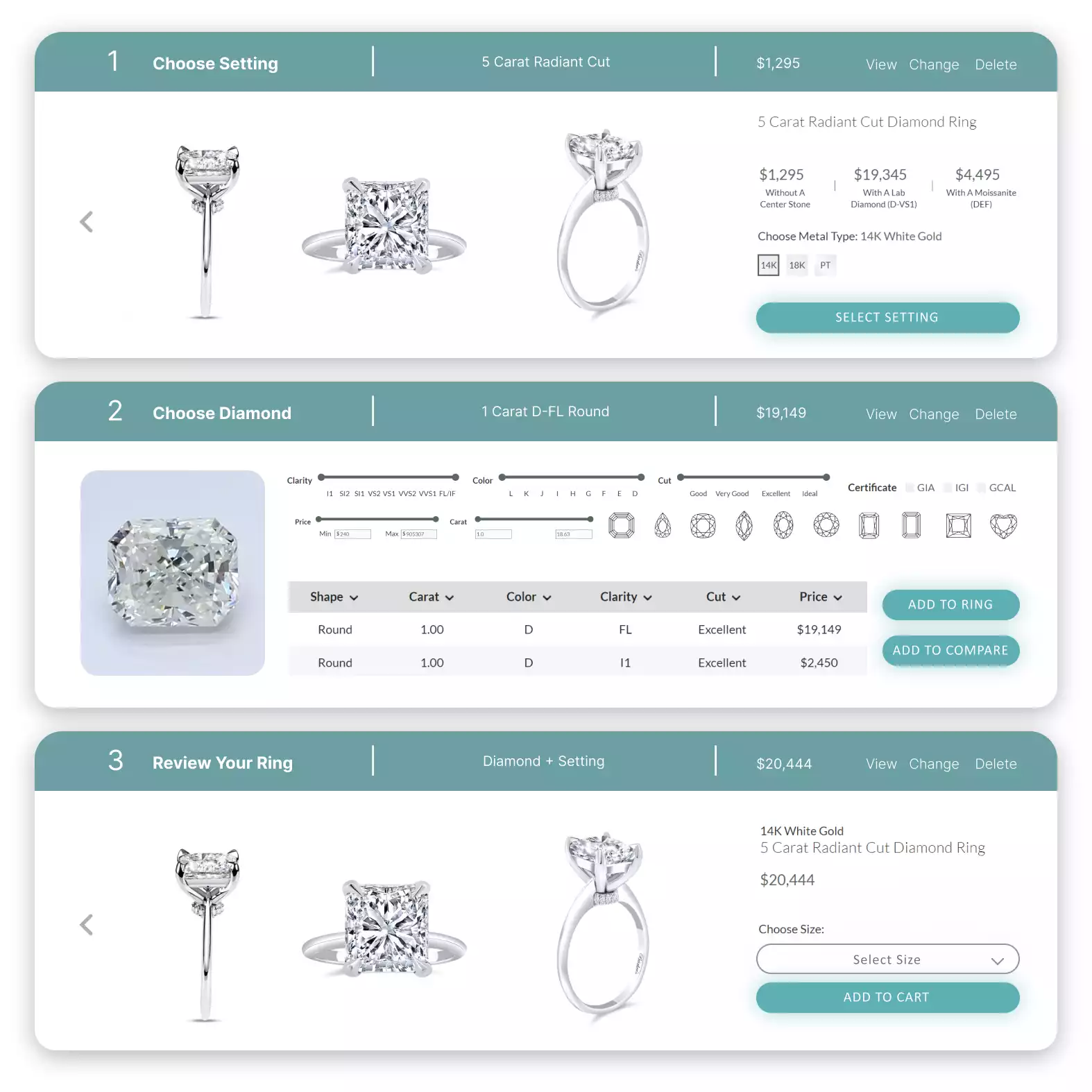 According to market research, the average conversion rate of e-commerce is between 2% and 4%. Depending upon different aspects, that includes UX/UI, Product Offering, and Customer Satisfaction. Our team of experts works on every element of your website. To create something that can attract and retain your customers. Converting them into buyers Keyideas specializes in developing e-commerce platforms for the jewelry industry. Our website includes advanced features like "Build-Your-Own Ring".
"Build Your Engagement Ring" or "Build A Ring" is a popular feature in diamond jewelry e-Commerce stores. In fact, according to our study, jewelry buyers spend 75% of their visit time on this feature.
Our Jewelry Magento2 Engagement Ring Builder module offers online shoppers a simple and effective way to search for and purchase a diamond ring for their special day. Integration of such features results in 100% customer satisfaction:
Users can select the Settings for their desired ring, such as metal type and size.
They can choose the diamond's characteristics, including carat weight, shape, and other quality attributes.
Users can apply search filters to find the diamond with the ideal characteristics for their desired ring.
Advantage Of Engagement Ring Builder For Your Online Store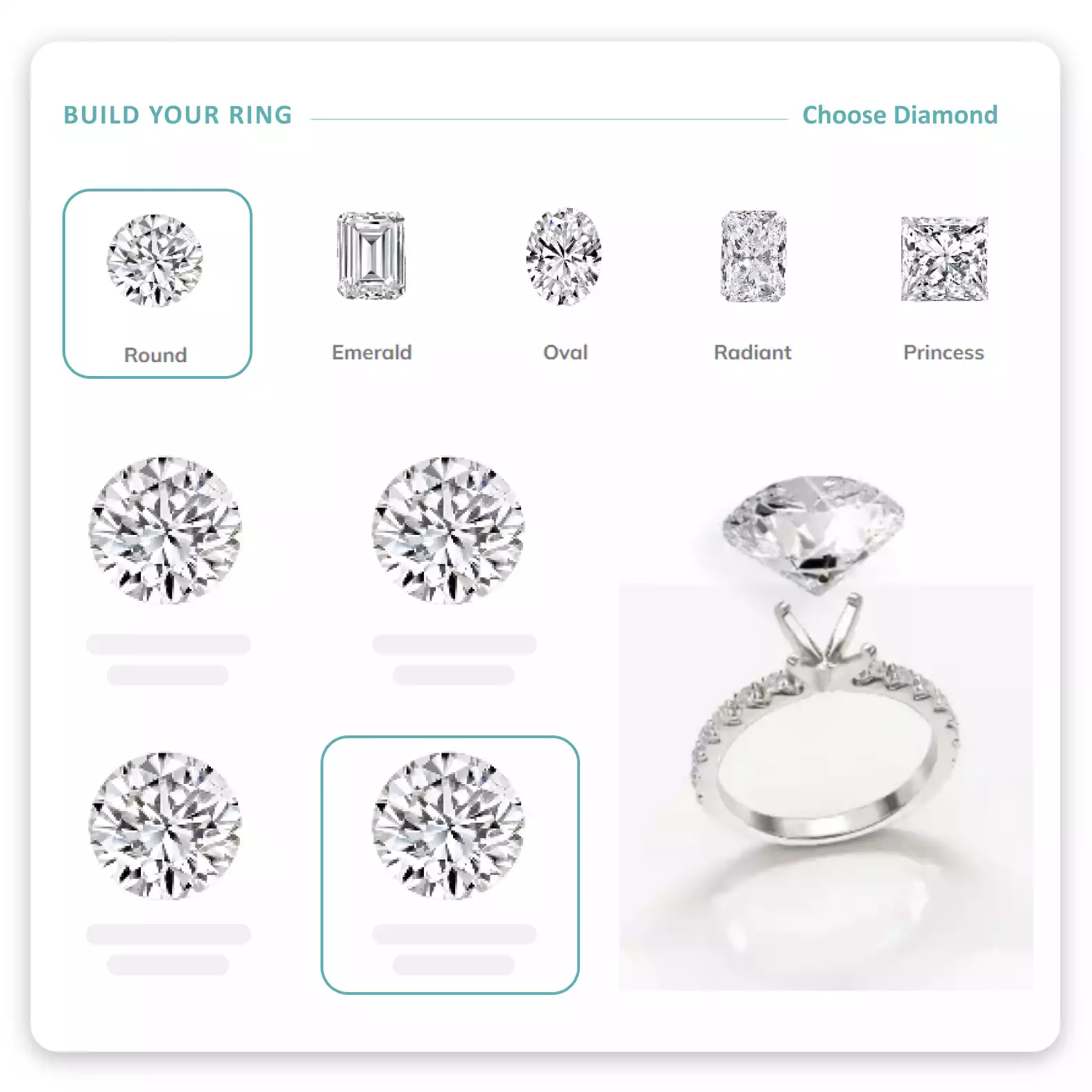 The Magento2 Engagement Ring Builder module lets your clients find the engagement ring they want by matching a diamond and metal type with a particular style.
The Magento2 Ring Builder & extension from the jewelry module is a mobile-friendly version of the original extension that provides responsive ring builder pages on every device. The module also allows you to place a static block on your website's homepage that invites shoppers to continue their diamond searches.
Other than this, our advanced diamond marketplace integration offers huge benefits. It allows jewelry retailers to get immediate access to over one million diamonds of different sizes, shapes, clarity and thousands of fine jewelry pieces from verified merchants across the globe.
Maximize Your Jewelry Website Traffic With Our Magento2 Ring Builder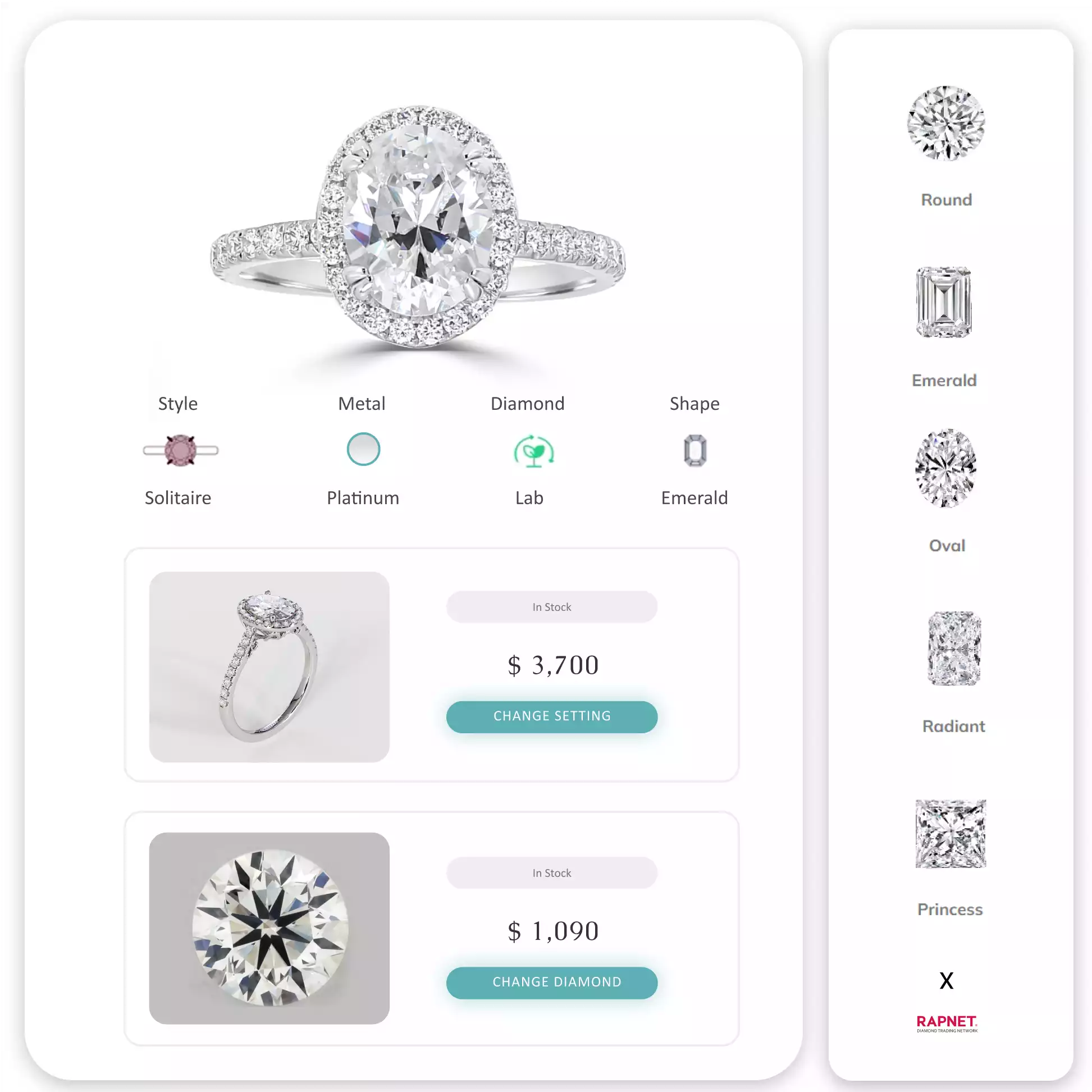 What Is Included In Our Magento2 Engagement Ring Builder?
Magento2 Engagement Ring Builder is a powerful tool that allows customer to design their own rings. It reduces the possibility of your customer leaving your website due to a lack of options to choose from. They can start from scratch by selecting the shape, color, style, and, most importantly, the diamonds.
Also, the Jewelry Magento2 Ring Builder module allows online jewelry stores to create custom diamond rings and sell them directly on the site. Additionally, A Diamond Search for Magento2 is a useful tool for retailers who buy and sell diamonds and jewelry in their e-stores.
The RapNet Magento2 extension empowers traders to integrate their online stores with RapNet, the world's leading diamond and fine jewelry marketplace. Alongside this, we provide marketplace integrations like Nivoda and VBD. The Diamond Search module allows store owners to create custom products with allotted attributes in the Magento Admin panel.
Features of Jewelry: Magento2 Engagement Ring Builder
Product customization with Magento2 Ring Builder Tool
Support for custom options
Simple, virtual, and configurable product types
Seamless integration with the RapNet service
Custom diamond products in the social mode
Flexible brand colors to match up to the store design
Configurable search filters
Chance to make test diamonds via console command
Seamless integration with Magento2 shopping cart
Fully responsive on every device
Access to the RapNet network
Control of price mark-ups in the RapNet
Level-Up Your Online Jewelry Store With Our Magento2 Jewelry Web Development Services
Jewelry Website
Clean and clear graphics by UI/UX team
Diamond Integration
Add Nivoda, RapNet, VDB, and other APIs/CSVs
Ring Builder
User can create or build his own Engagement Ring
Diamond Filter
Allows users to select the perfect diamond for their ring
Jewelry Retouching
Highlight strengths, downplay flaws for customer appeal
Jewelry E-commerce
Customized solutions for your online jewelry business growth.
Jewelry Marketing
Marketing and SEO Services to grow business 200%
Jewelry Website Pricing
Lower Total Cost Of Ownership & Higher Return on Investment
Keyideas Specialization As Magento2 Jewelry Web Development Company
Brand
Identity
Crafting unique
brand profile
Graphics
and UI/UX
Creating engaging
website designs
Web
Design
Building custom
jewelry websites
E-Commerce
Design
Perfecting online
shopping
AR Virtual
Try-On
Enhancing jewelry
shopping with AR
Digital
Marketing
Promoting jewelry
brands online

Keyideas seems to be a world class provider from what we experienced on our first project from the very beginning like scoping out the project requirement, design & development, QA & testing phase and finally to migration to our location.
Isaac Gottesman
dimendSCAASI, Chicago

I had an amazing experience working with Keyideas an excellent team of developers! I"m pleased with their service and commitment. They proved that working with them, was a right decision.
Mordy Karsch
Giving Back Promotions, San
Francisco, CA

The new application was to be used across our offices by senior management at different locations, Keyideas did an excellent work. They clearly understood the requirements and delivered good quality Price Comparison Tool.
Rui (Ray) Wang
Vestas Group, Denmark
FAQ About Keyideas Best Magento2 Engagement Ring Builder
Yes! With Magento2 Engagement Ring, your customers can design their own rings with just a few clicks, selecting the style, shape, metal type and finally the best diamond filter with our diamond website design. It allows them to create exactly what they want without any confusion or doubts.
To get this point straight. Your growth will depend on customer satisfaction. And your customer will feel satisfied only when they get what they are looking for. Magento2 Engagement Ring connects customer satisfaction with your profits. It decreases the chances to losing any customer as it emphasizes on customer choice. Check out our Magento2 development company page here.
With Keyideas, you don't have to worry about the difficulty. The Magento2 Engagement Ring feature will come up with other design elements of the website and all its integration, optimization and customizations will be taken up by our team of web design experts. Know more about our custom jewelry website design.
It's very easy to add filters in Magento2 at both ends. The clear visuals, directions, and instructions help your customer pick up their choices without any difficulty.
Mordy Karsch
Giving Back Promotions, San Francisco, CA
I had an amazing experience working with Keyideas - an excellent team of developers.

Isaac Gottesman
dimendSCAASI, Chicago
I would not hesitate to recommend Keyideas as a superior development house.

Lets Do Great Work Together!
Discuss your ideas. Connect now
We've successfully delivered over

leads for the client