Top Custom Software Development Company in USA & India
Customized applications are a great tool that many businesses use to streamline their operations and increase efficiency. We strive to achieve success in the area of custom software development by delivering cutting-edge technology solution that helps enterprise increase their quality of business and generate additional revenue. We specialize in bespoke application development in any platform tailor-made to match your requirement for enterprise software.
Getting Started:
Software that fits your exact needs
Long-term cost savings
Better software maintenance and improvement
Helps in integrating organization functions
Hire developers for customized development
Customized enterprise software development
Implement custom end-to-end business process
Custom Cloud-based enterprise applications
Custom mobile application development
2000+ Projects

delivered to clients

1200+ Clients

worldwide

50+ Experts

of technology

10+ Years

of experience

CMMI Level 3

dev company

16+ Countries

serving customers
Benefits of Custom Software Development Services
Professional custom software consulting services from Keyideas can help you find innovative solutions to your IT problems. We develop custom software to increase ROI. Ingenuity and innovation are important to develop world-class software. With over a decade of project experience, we help you leverage technology to improve business processes. Hire our expert software developers having proven methodologies to help you optimize cost and find a faster return on your investment.
Tailor Made
The software is designed to meet organization-specific needs, satisfying the client's specific business requirements, utilizing the latest up-to-date technology with significant benefits.
Scalability
Custom Software Development helps to maintain the program in the long run and making sure that it scales to support your business growth as and when required.
Minimal Cost
The long-term benefits of investing in developing custom business applications are far more valuable than purchasing a ready-made product.
Flexible
Custom software can be scaled according to the changing needs. An off-the-shelf application cannot be manipulated; it becomes costly or unsuitable to keep using them.
Integration
Businesses in need of numerous software systems can enjoy the benefits of operating on one custom software application designed to integrate multiple processes.
Security Assurance
Bespoke software applications have extra security measures to ensure its safety. Custom software is less prone to attacks as they need much more time and efforts to breach it.
Custom Software Development Services for Cost-effective Business Process:
We offer you the competencies and resources to help you achieve your business objectives. We have a massive talent pool of software designers, engineers, and developers who can develop customized world-class software. As your value-added partner, our goal is to help meet your needs, budget, and deadlines. Business-centric and customer-centric, we put technology to work for your business.
Technology competency
Domain (horizontal) competency
Industry (vertical) competency
In this competitive enterprise world, every company across any industry vertical need custom software development solutions to ensure the success of their business. Custom application development provides rich end-user experiences, increased ROI and reduced operational costs.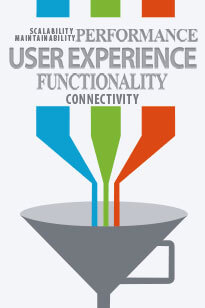 Request Free Quote
---
Please fill the form below and one of our technical associate will get in touch with you shortly.
5 SIMPLE STEPS TO HIRE DEDICATED DEVELOPERS
Analysis
We analyze your project requirements and after a feasibility study suggest you the ideal and most efficient developer.
Consultation
We filter developers' resumes aligned with your project requirements and forward it to your HR team for shortlisting.
Deployment
We allocate the selected highly technical developer to your project to provide focused and dedicated services.
Initiation
The developer is selected for the assignment and the project is initiated after the initial payment of the allotted resources.
Manage
The resource is committed to your project and work for stipulated hours, allowing you to manage your project time.