Jewelry website owners can give their customers access to an impressive selection of diamonds. Without having to own them. This include live feeds from Rapaport or RapNet jewelry certified gems directly onto any web page with Diamond RAPNET API Integration.
This feature comes with the added security that RapNet provides. Being one of the largest B2B diamond markets in nearly 91 countries. Additionally, their network also uses GIA LabDirect or AGS Lab Services which is Rapaport administered to accurately grade the diamonds.
Integrating RAPNET data is easy and there are 3 different methods available.
RAPNET API Integration For Jewelry Websites
If you don't have your own database. Keyideas can integrate RapNet's inventory into your website. You can pre-designed search engine widgets into a new Jewelry site via iFrame, but Keyideas suggests using the custom integration APIs that RapNet offers. Titled 'Instant Inventory'. This method is more reliable and will ensure that customers have access to the most up-to-date data on diamond availability.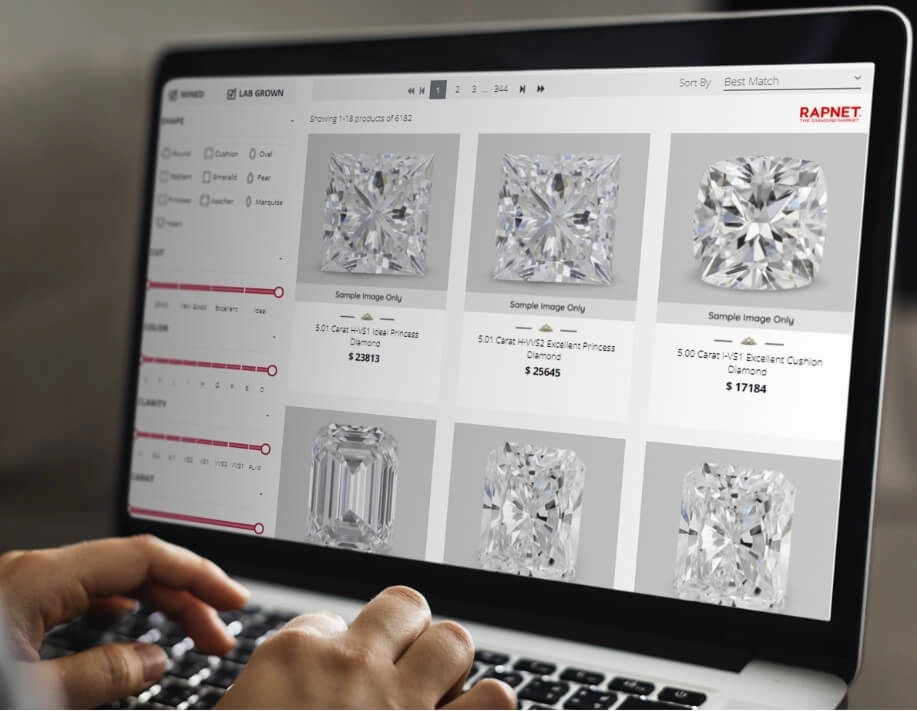 RAPNET Integration
RAPNET Download Listings Service (DLS) Integration
The RapNet Download Listings Service (DLS) provides a comprehensive solution to help you integrate diamond inventory data into your website. The integration is seamless and allows customers to quickly and easily search for the perfect diamond by filtering through data such as shape, carat weight, color, clarity, and certification.
Through the DLS integration, customers can view detailed information about diamonds, add them to their cart and have it instantly reflected in inventory counts! By utilizing this service, you can be sure that your website is always displaying the most up-to-date diamond availability data available on the market. Update: This method is now deprecated.
Suggested read –
Why you need a jewelry website?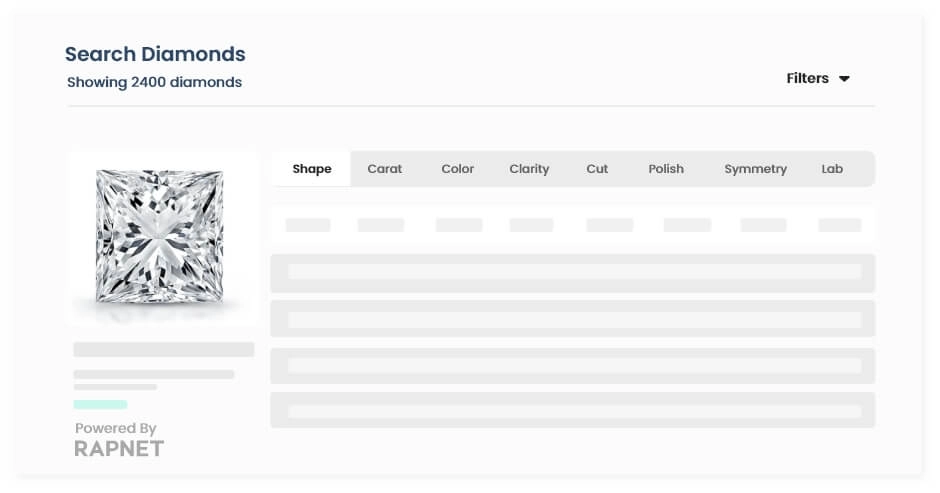 RAPNET Integration
Custom RAPNET API IntegrationFor Jewelry Sites
Every diamond can be a perfect fit – and with the right Keyideas tools, finding one doesn't have to be difficult.
Select diamonds from trusted suppliers across the globe by filtering through shape, size, color, cut, clarity, price, and other parameters.
Set your own markups so there's always a clear profit margin on every sale.
Automate processes 1-3 with a Keyideas Scheduler. Ensuring automatic update of your inventory database on a periodic basis via RapNet. So, the direct benefits of RapNet includes
Get Diamond Access with RapNet Inventory Integration
Get access to over 1 lakh diamonds with Rapnet instant inventory integration. Make the best use of a smart and reliable inventory without the cost of owning every piece on your website.
Give More Fulfilling BYOR Feature Experience
Enhance your customer engagement rate to up to 80% with engaging features like the 'Build Your Own Ring' feature. Integrate the RapNet inventory to show endless choices for that center stone to your customers.
Fully Customizable to match your website
RapNet inventory integration can be modified and customized by our developers to perfectly match your website theme and requirements. Get the perfect look and save tons of your resources with this one integration.
Reduce your Sourcing Cost with RapNet Integration
Save on your sourcing cost. With RapNet you can buy only the diamonds that are in demand from your customers. Do not stress over inventory storage and selling graphs. Get what you need from RapNet instant inventory and make profits.
Super Easy to use RapNet Inventory
You don't need to be tech-savvy to operate and manage RapNet integrations. Our developers will do the initial setups for you. So that, the input and output processes are streamlined and you are only left with the required management over time.
Keyideas – Diamond RAPNETServices For Jewelry Sites
Automating diamond and jewelry businesses doesn't need to be a difficult task. With Keyideas' help, jewelers can quickly download diamond data at pre-set times with CRON or Scheduler. Plus, our automated script scrubs invalid data and missing certificate numbers, ensuring only the best quality items are displayed on the site.
Keyideas scripts also allow users to filter data by region, supplier, shape, size, color, and more. Prices can be marked up based on an algorithm or carat, shape, and vendor configuration. Additionally, prices automatically adjust to the country and currency in which they're sold.
The Keyideas team can integrate RAPNet Diamond feed into WooCommerce, Magento, or custom framework such as Laravel with ease – helping you save time on tedious tasks and focus on other important aspects of your business. Top Jewelers worldwide such as Barkevs, Dimend SCAASI, Numined, The Diamond Art, TerraDiam, and Ramzi Jewelers have already embraced automation for a diamond showing!
Popular search keywords: jewellery web design, jewelry ecommerce website design, jewelry website design company, jewelry store website design, Build Your Engagement Ring, Los Angeles Jewelry Website Design, jewelry shop website design.
Keyideas, a 16-year-old top web design company, also specializes in automating jewelry businesses – from diamond selection to data scrubbing and price markup to ring builder – so jewelers can spend less time on tedious tasks and more time focusing on what really matters. Whatever your business needs may be, trust Keyideas for a streamlined digital solution.