In a world, where an average person between the age of 16 and 64 spends approximately 7 hours per day on the internet. Not, having an online presence can be a big problem! If the fact caught your attention too and if you want the Best Jewelry Ecommerce Website Design for your business then you must read this.
A businessman always keeps an eye on the future. The present trends indicate that the next generation of internet buyers is not going away any time soon. In fact, the number of customers switching to online shopping is exponentially increasing.
The new statistics highlight the shopping pattern of Boomers, Millennials, and Gen Z. That is rising every year. Interestingly, the same is seen with the jewelry business. The estimated value of the global online jewelry market is 57.4 billion dollars, with a predicted value of 117 billion dollars. That highlights the importance of having a jewelry online store.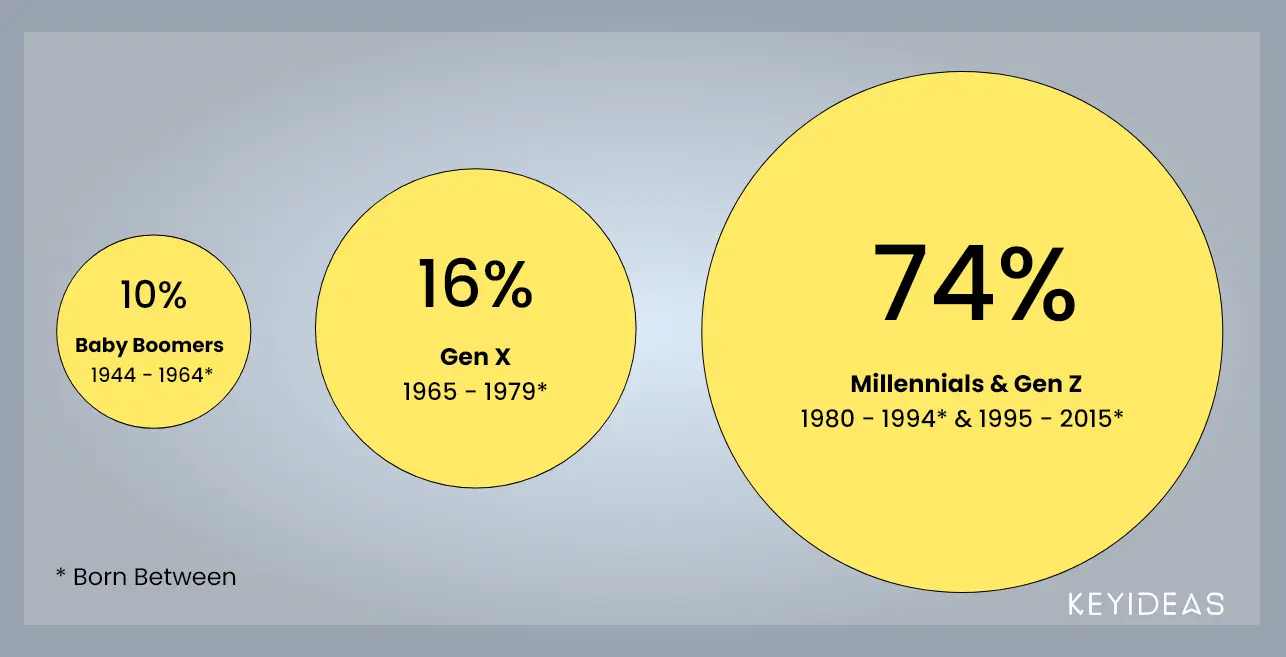 Why Do You Need Best Jewelry Ecommerce Website?
Facts show you the results. But to understand the root cause of such transitions it's important to understand the customer's behavior.
This will give you an insight as to, why you need to have a Jewelry Ecommerce Website. Though there are multiple reasons why people prefer online shopping here are a few reasons that will give you an overview.
This leads them to shop anytime, anywhere, and from any device.
Multiple options to select the perfect piece for them.
Best price, with additional discounts and other benefits.
Personalized features that give a better shopping experience.
Easy to compare prices and products.
Other distinctive online features.
All these functionalities are transforming the way people shop. Over the time jewelry business owners are also witnessing the same pattern. The companies that have started their best Jewelry Ecommerce website with us have seen a 300% increase in ROI.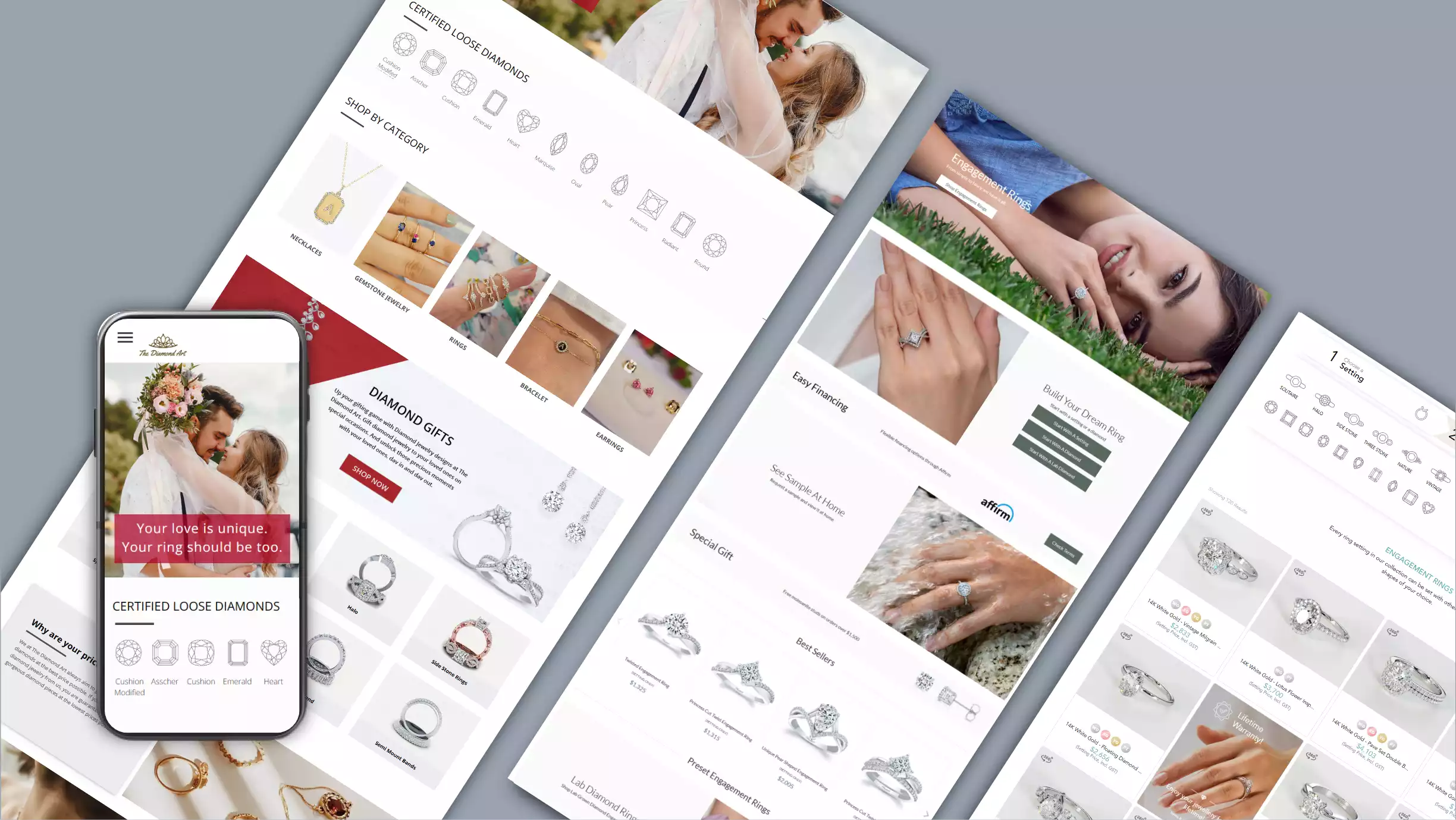 12 Must-Have Jewelry Ecommerce Website Design Features
There are thousands of eCommerce websites created every year globally. Out of these, approximately 80-90% fail to survive. And only 10-20% thrive to succeed. It indicates that creating an engaging, heartwarming, and highly-functional eCommerce website is trickier than it seems.
Every business has its products and values. Especially when it comes to Jewelry Ecommerce Websites it's important to understand customer needs and desires. To give them exactly what they seek.
To keep it simple for you, here is the list of features that must be included in a Jewelry website. So, without further ado let's get started.
Custom Jewelry Ecommerce Website Design
Every jewelry brand is unique. Understand your jewelry brand's USP and product features. Add special flavor to your website that reflects your brand on every element of your website.
Select the design and theme according to the brand identity.
Categorize your products according to the requirements.
Personalized features to attract the target audience.
Advanced Jewelry Ecommerce Functionalities
Understanding the market and the new trend in the ecommerce market. There are certain features that your customers want to see on your jewelry website. Make sure that your website has them all.
Include features like filters, chatbots, site searches, navigational footers, carts, wishlist, and buy later.
Product videos, popular searches, and product reviews.
Order management and tracking.
Support for several languages and much more.
Proper categorization and segmentation of products.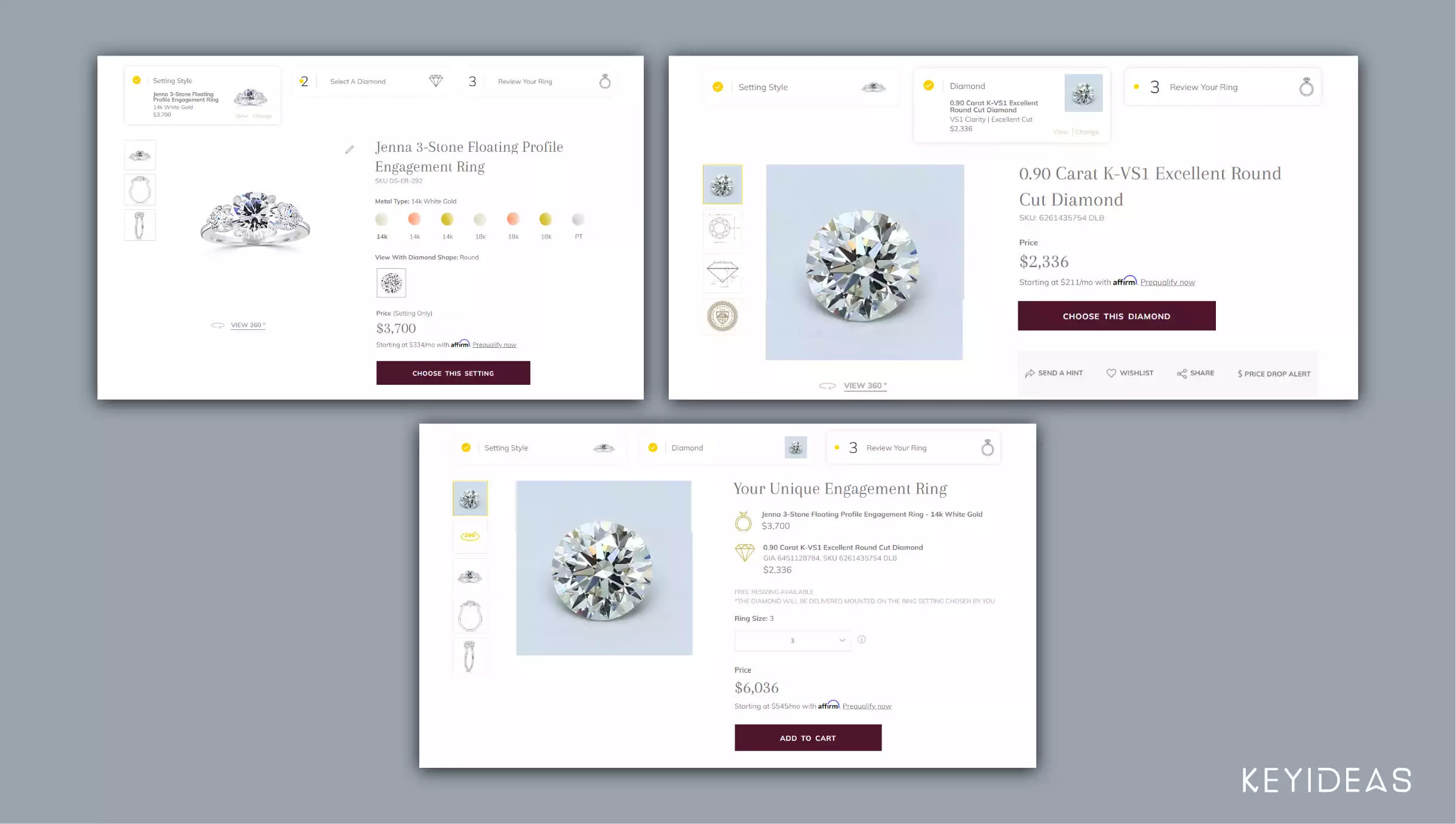 Add RapNet, Nivoda, VDB and other APIs and CSVs
One of the most important features that Jewelry Ecommerce Website Design should have is an Advanced Market Place Integration. Multiple Diamond marketplaces offer instant diamond inventory integration for a more responsive jewelry eCommerce website. There are companies like – Nivoda, RapNet, VDB, etc. With this, you will –
Get access to more than 100,000 diamonds.
Choose your price markups.
Provide customers with a range of Diamond choices.
Lower the price of ownership.
Get greatest deal without paying a fee and lower your sourcing costs.
Simple to use.
Engagement Ring Builder Features
Use features like #BYOR to increase user engagement by 80%. This feature allows customers to create unique engagement rings. Based on Style, Shape, Metal, and other filters.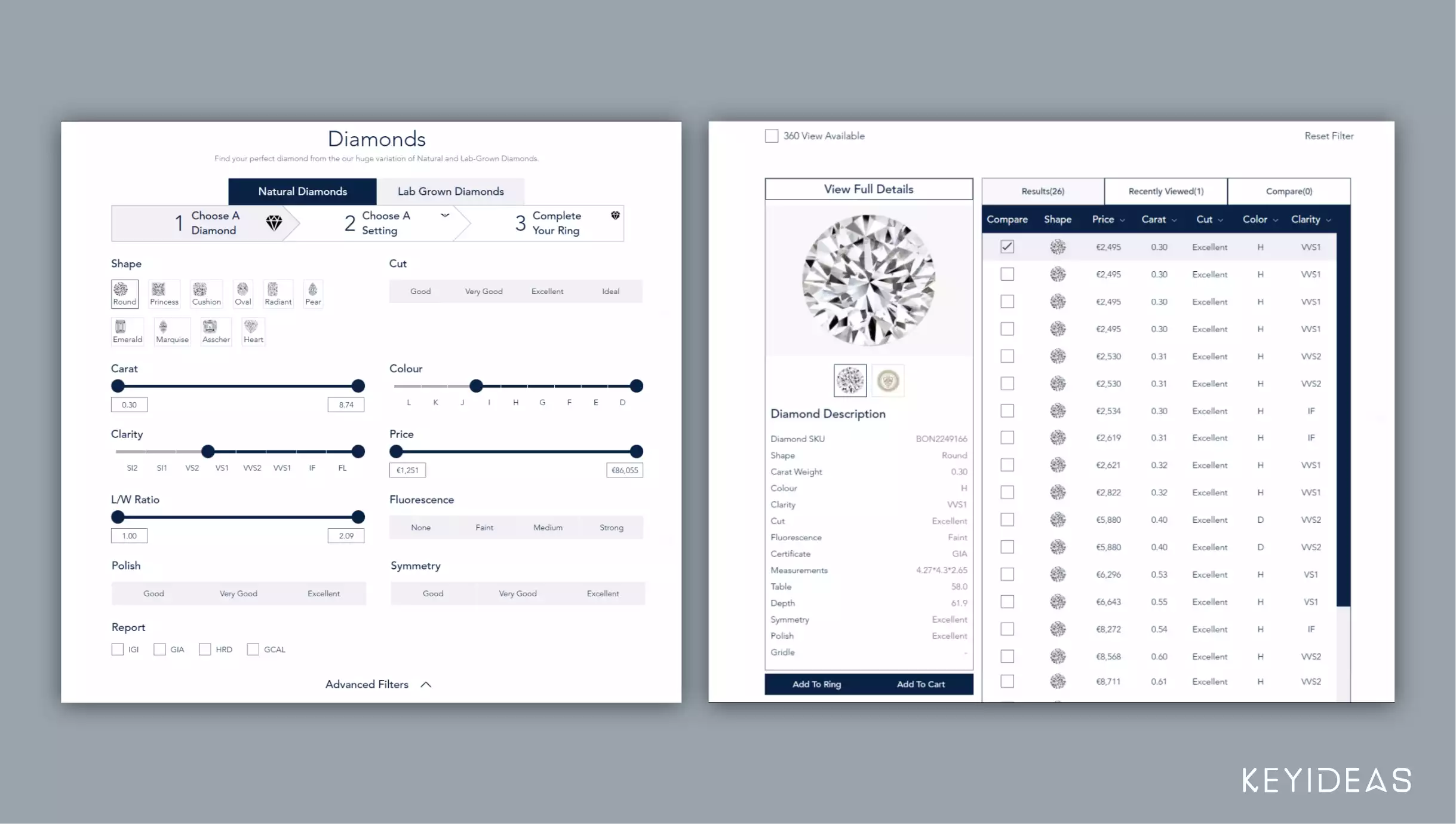 Best Jewelry Ecommerce Website Design & Dimond Filters
With a well-designed Diamond filter, you can let your customers select an ideal center stone for their engagement ring. Set filters for Shape, Color, Cut, Clarity, Carat, Price, and other categories.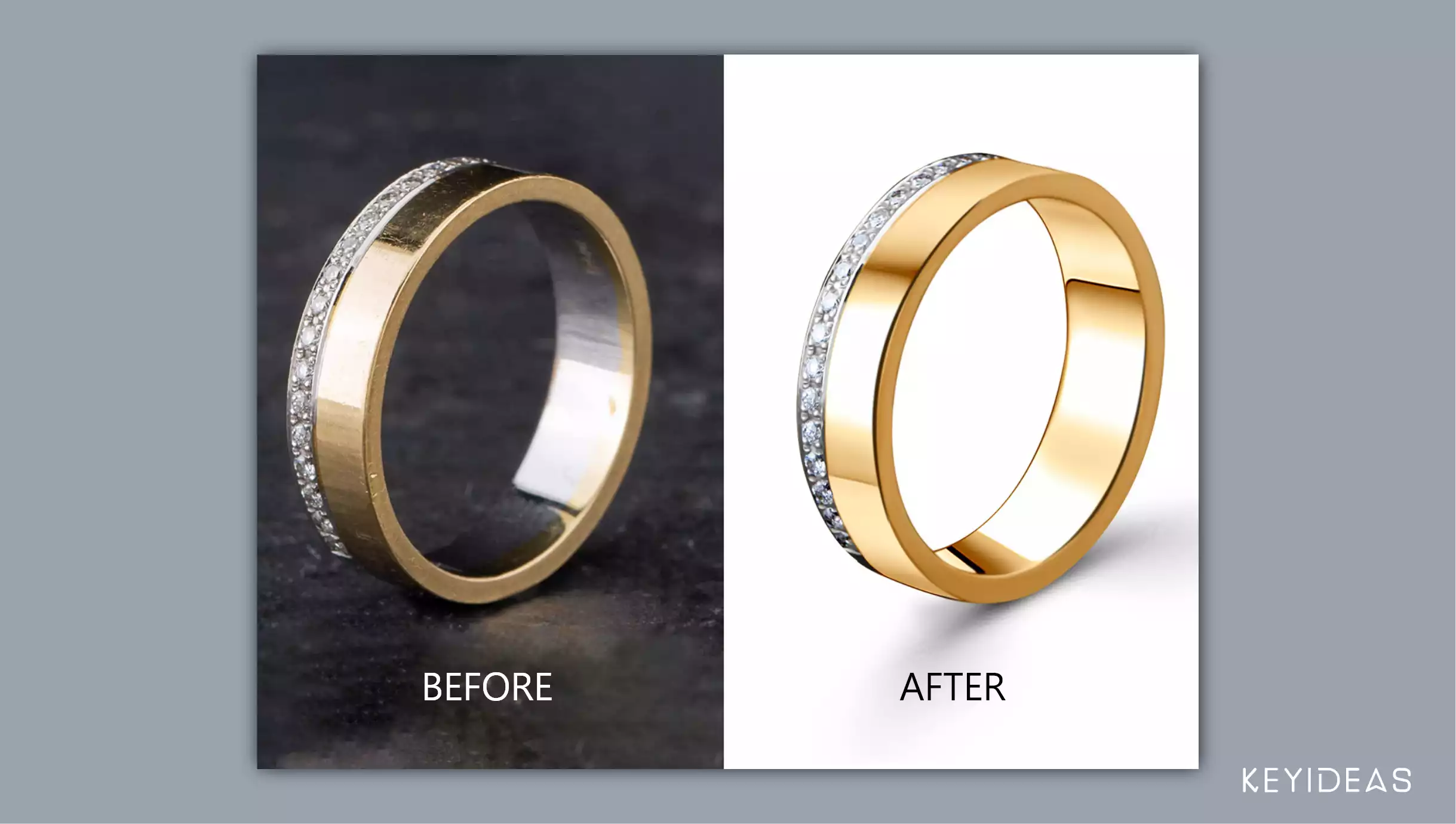 Jewelry Virtual Try-Ons (VTO)
Jewelry Virtual Try-Ons (VTO) is an AR-based virtual shopping experience for your customers. About 74% of customers love the AR experience. Moreover, when it comes to jewelry, people like to try it before they buy it. Such features can increase your conversions by 30%.
The improved real-time shopping experience
Lower return rates
Increasing consumer engagement
Personalization
Creating a Competitive Advantage
Jewelry Image Retouching
Get a well-defined jewelry image retouching service. To make each piece of jewelry on your website look like a work of art. To provide customers with a real-time purchasing experience, we develop a 360-degree image configuration tool. Get Instagram-ready photographs, as well as background removal, cleaning, clipping, lighting correction, and other services.
High-Quality and SEO-Friendly Content
Make sure you maintain high-quality and SEO-friendly content. Also, apart from content that is another specific SEO requirements as well. That makes a website rank higher on SERPs.
This includes – Website performance, Good Design, Faster loading, Security, Seamless page transitions, and much more. This indicates a coordinated approach of the UX/UI, DevOps, and Content team to create an SEO-friendly website.
Awesome UX/UI Designs- Jewelry Ecommerce Website Design
78% of the agencies believe that the most common weakness of their clients is the UX/UI design. Make sure you maintain high-end UX/UI elements. That will help you maintain a seamless navigational and purchasing experience for your customers.
A $100 investment in UX/UI yields a profit of about $10000.
With the top UX/UI frameworks, you can increase engagement by 89%
Easy-to-use designs that are user-friendly.
Industry professionals conduct the design and user testing.
Jewelry Ecommerce Website Design- On-time Website Updates & Upgrades
Do not restrict yourself because of an outdated website. Keep an eye on new updates and upgraded features, make sure to run timely updates of your web applications. It will help you to maintain your performance in the longer run.
Secured Website, Mobile-Friendly With High-Speed
There are chances that about 70% of your users might bounce back because of security concerns. Also, 48% of users expect a website to take 2 seconds of loading time. Mobile-friendly is another important concern for the present generation spending more than 7 hours on average on mobile phones. Thus, make sure you green-tick all these points while creating an online store.
Jewelry Digital Marketing
Once your Jewelry Ecommerce Website Design is done. Now it is the time you start with a full-fledged brand promotion. Digital marketing is the new trend for brands. It empowers you to directly reach your target audience easily. There is a list of things that you can do for effective digital marketing of your best jewelry ecommerce website.
Referrals and coupons.
Emailers and blogs.
Social media marketing (including Pinterest, Instagram, TikTok, and Facebook).
Checking SEO.
Abandoned cart reminders.
Cross-selling and product upselling.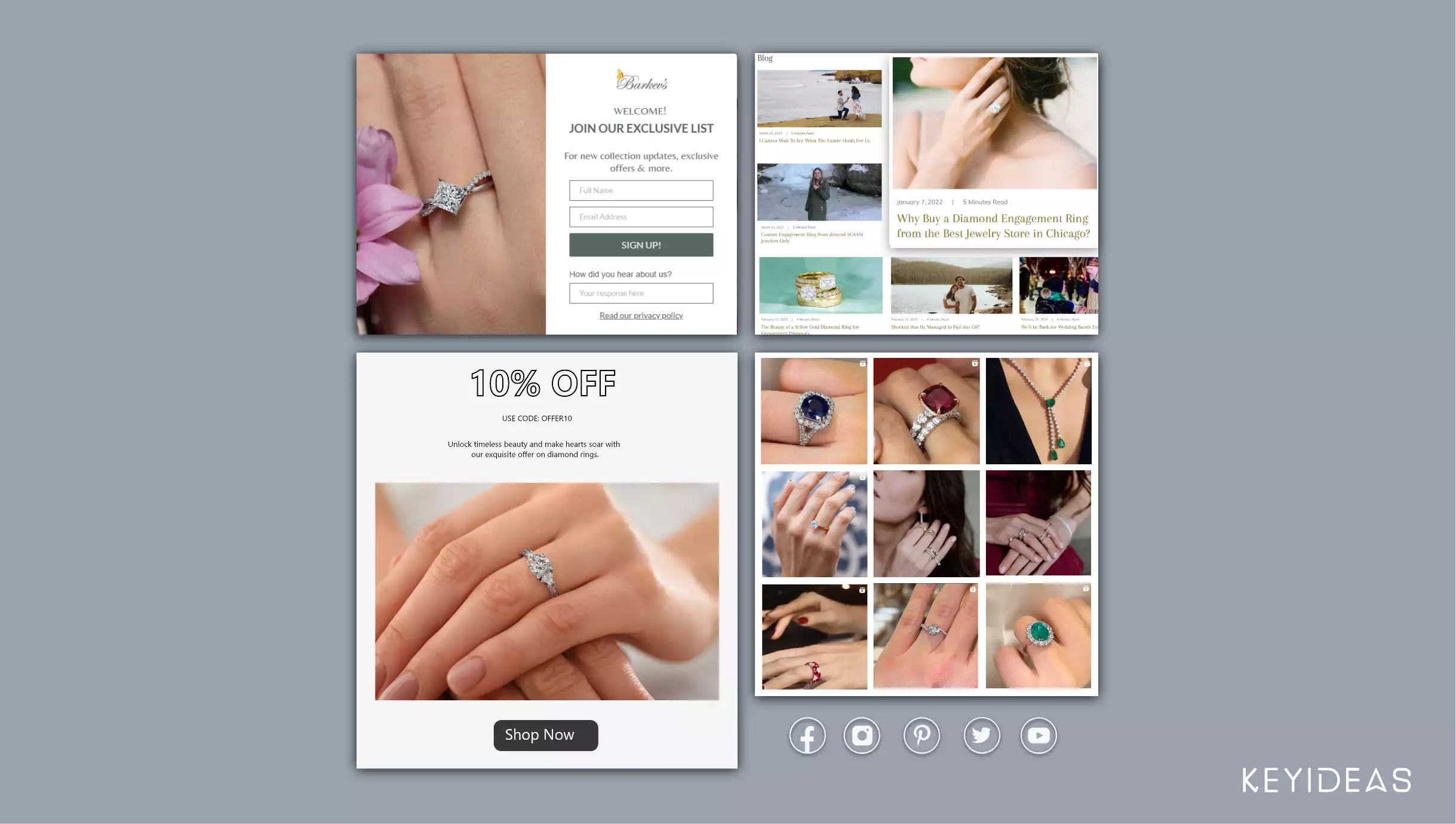 Keyideas: Your Way To Create Best Jewelry Ecommerce Website
Learning and including all these elements on your jewelry eCommerce website could be a little overwhelming for you. But don't worry there are Jewelry Ecommerce Website Design Specialists that can help you to ace these challenges. The best among them is Keyideas.
At Keyideas you get everything that you may seek from a world-class agency. We have a team of highly skilled professionals working for your progress. We offer:
Market Place Integrations, Other 3rd Party Integrations.
Expert Curated UX/UI web designs.
High-Performance, Security, Speed, and other elements.
SEO-friendly practices.
Advanced Jewelry Ecommerce features.
Jewelry Digital Marketing and much more.
Popular search keywords: jewelry website designer, jewellery web design, jewelry website design company, build your engagement ring, diamond website design, digital marketing for jewellery, jewelry photo editing, jewelry ecommerce website, jewelry store website design.
Also, you can check out our latest article on Why you need a jewelry website? on LinkedIn and follow our page to get the latest updates about our eCommerce development projects.
Keyideas can work with you to design a magnificent website. This can result in significant profits for you. We are web design and development experts who can meet all of your web development demands.
We have over 16 years of web development experience.
Multiple award-winning agency.
On-Time Delivery.
Quality & Cost-Effective Packages.
Clients from the United States, Australia, and Europe were served.
Discuss your ideas. Connect now
We've successfully delivered over

leads for the client
© Copyright 2023. All Rights Reserved.