Top Custom CRM Software Development Company in USA & India
At Keyideas we understand business logic and have provided our clients with specific tailored made solutions with custom CRM development. We manage and analyze customer interactions and data via the customer relationship management (CRM) system. Our solutions on CRM software applications play an important role in the overall business growth. We closely review your business processes and workflows in order to define the CRM application requirements, solutions, and end-to-end development cycle. Keyideas has been a prominent player in developing custom CRM app development for various industries.
Getting Started:
End-to-end custom software app development
Delivering a robust and effective solution
Generate changing trends about customers from CRM data
Reliable, Secure, Scalable Custom CRM Solution
Intuitive CRM tools to support clients
Customer's behavioral data on CRM helps promotes business
CRM software packages that are simple to work with
Smooth sales and marketing process
Scalability of CRM Software handles volume of customer info
2000+ Projects

delivered to clients

1200+ Clients

worldwide

50+ Experts

of technology

10+ Years

of experience

CMMI Level 3

dev company

16+ Countries

serving customers
Benefits of Custom CRM Software Application Development
Our multi-dimensional CRM applications help you to connect with customers directly. Stats show that CRM generated $36 billion last year, as the CRM usage increased from 56% to 74%. We develop CRM Software applications that comprise of comprehensive functionalities that cater to all enterprise requirements for retaining customer support and loyalty. The customer relationship management system is developed to sustain customer records at a central place that can be accessed by every employee. Systems developed by us help clients in organizing, managing, tracking and storing all customer interactions.
Better CRM Integration
Our Custom CRM Development ensures that the software matches your business needs precisely and that the custom CRM syncs well with the existing business environment.
Value for Money
We provide you with a cost-effective solution as we are committed to developing value-driven CRM software that can display measurable benefits in attracting and retaining customers.
Easy to Use Interfaces
Being a decade old CRM software development company, we know the software that is justified for your business. We give special emphasis to creating a user-friendly CRM app.
CRM Development Services
We develop CRM Software that can trace clients' requirements, interests, and purchasing habits. Using our CRM Applications, clients can identify their exact requirements.
Thirdy Party CRM Integration
We easily integrate your CRM software with various other 3rd party CRMs like Salesforce, Infusionsoft, Zoho, Vtiger, & SugarCRM, along with accounting software like Quickbook.
Bespoke CRM Solutions
Our bespoke CRM solutions help increase our client's business productivity. Our CRM consulting services and planning assist you you're your CRM integration.
CRM Application Development Solution to Help Automate Your Activities:
CRM Software solution is generally used by all kind of corporations who focus on maintaining a strong relation and engagement with their customers. Being a reputed CRM Software App Development Company, we always deliver the best and quality work to our clients.
Technology competency
Domain (horizontal) competency
Industry (vertical) competency
With years of experience, we help you to select right package for you along with developing custom modules to integrate your CRM system with third-party applications, to provide sync with different applications. On an average, the CRM adoption rate is 47%. Stats show that 91% business with over 11 employees now uses CRM applications. Before implementing the solution we analyze the long-term strategy for our client and the services they wish to provide to their customers.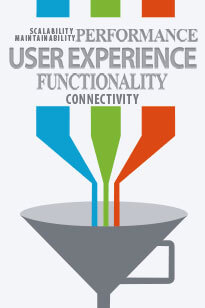 Request Free Quote
---
Please fill the form below and one of our technical associate will get in touch with you shortly.
5 SIMPLE STEPS TO HIRE DEDICATED DEVELOPERS
Analysis
We analyze your project requirements and after a feasibility study suggest you the ideal and most efficient developer.
Consultation
We filter developers' resumes aligned with your project requirements and forward it to your HR team for shortlisting.
Deployment
We allocate the selected highly technical developer to your project to provide focused and dedicated services.
Initiation
The developer is selected for the assignment and the project is initiated after the initial payment of the allotted resources.
Manage
The resource is committed to your project and work for stipulated hours, allowing you to manage your project time.