Drive More Traffic To Your Website With The Best Shopify Theme For Jewelry Website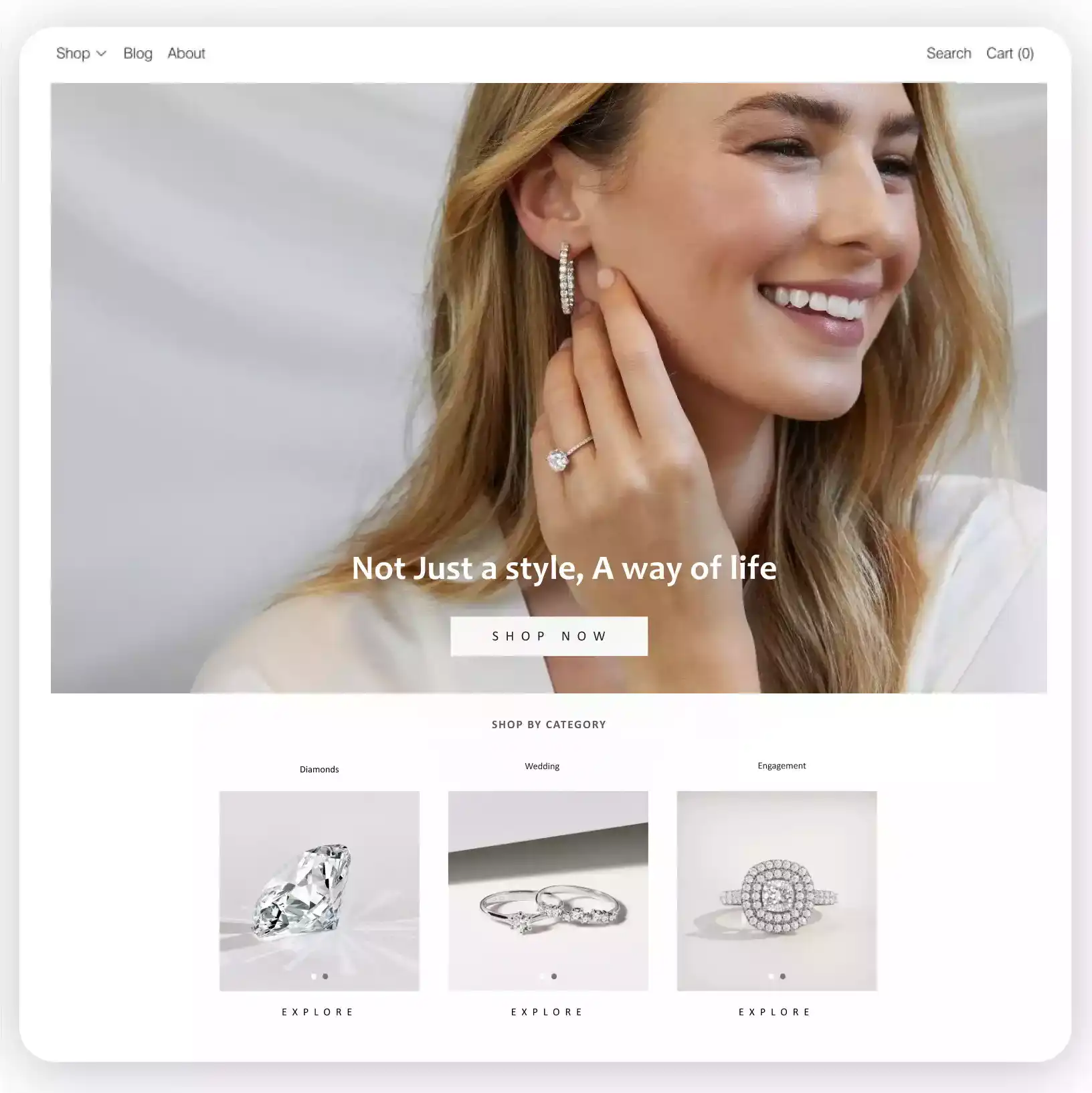 Searching for the best Shopify Jewelry theme that suits your brand identity? Don't worry, we are here to listen to you. Keyideas is a Shopify web design firm that holds expertise in designing Jewelry websites. We give tailored web design experiences to our users. Your brand value is our top priority and your profit is our mission. We can create beautiful websites for you. Keyideas has skilled Shopify web designers who help you stand out with Shopify Jewelry Themes that are optimized for conversions.
OUR BLOG
Difficulty in deciding? Here is a Comparison between E-commerce Platforms.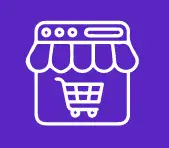 Tons Of Option To Choose From Best Shopify Theme For Jewelry Website
with tons of Shopify theme options, you can select the best one for your website. The best responsive customizations make sure your website stands out from your competition. Ultimately attracting more customers to your website. We can either start from scratch or build on an existing design. You can always expect high-quality work from Keyideas.
Our Beautiful Jewelry Web Design Work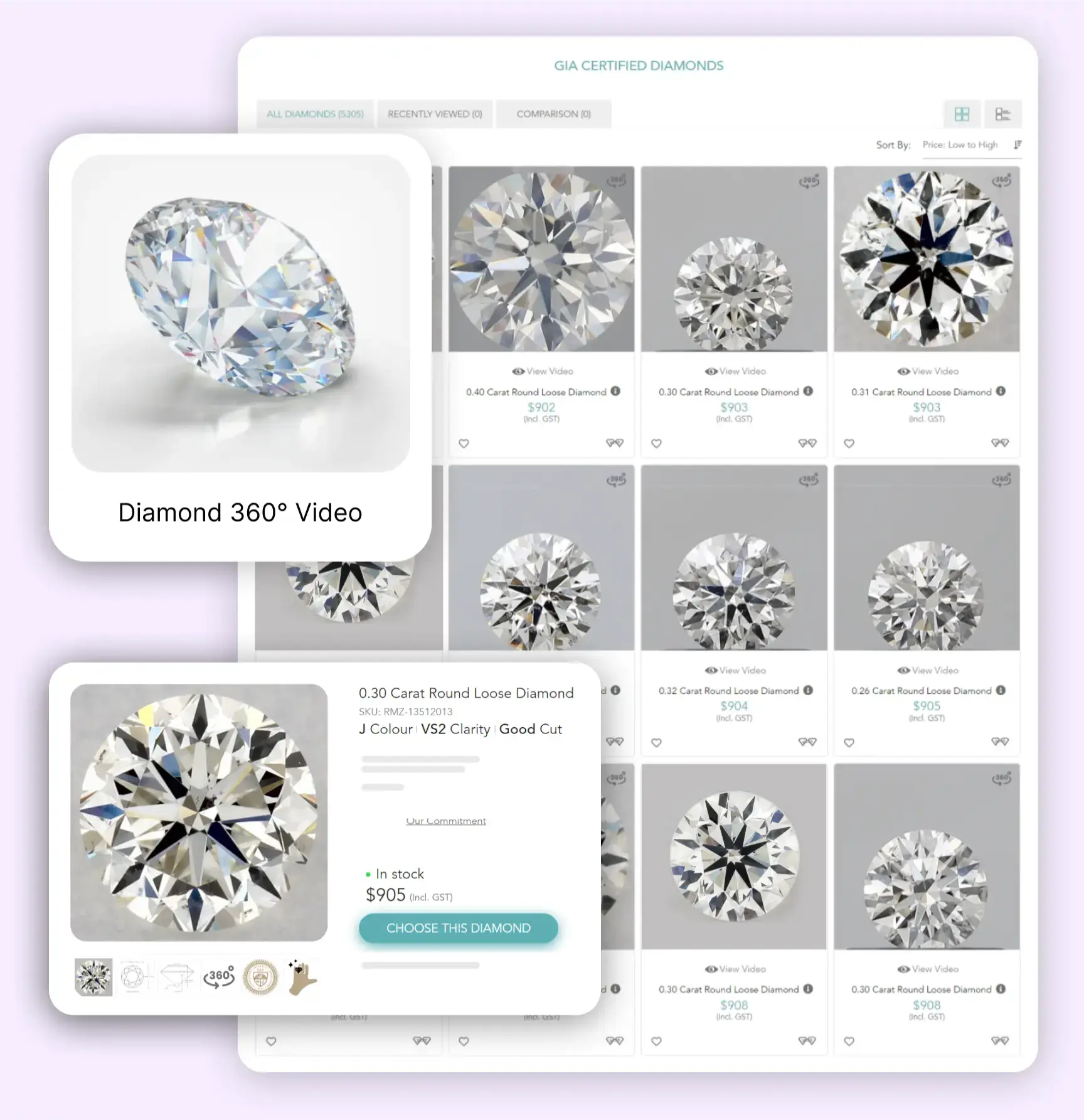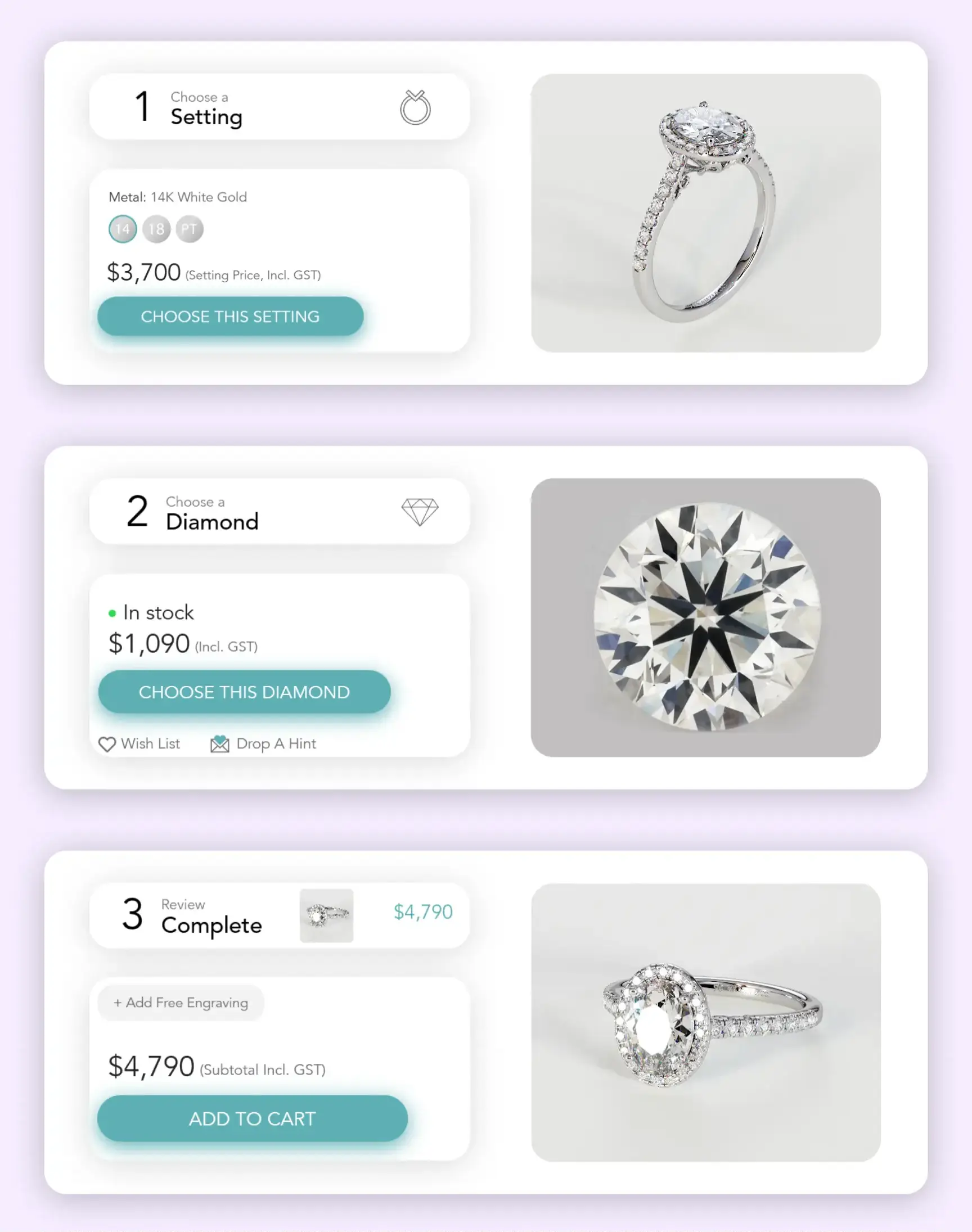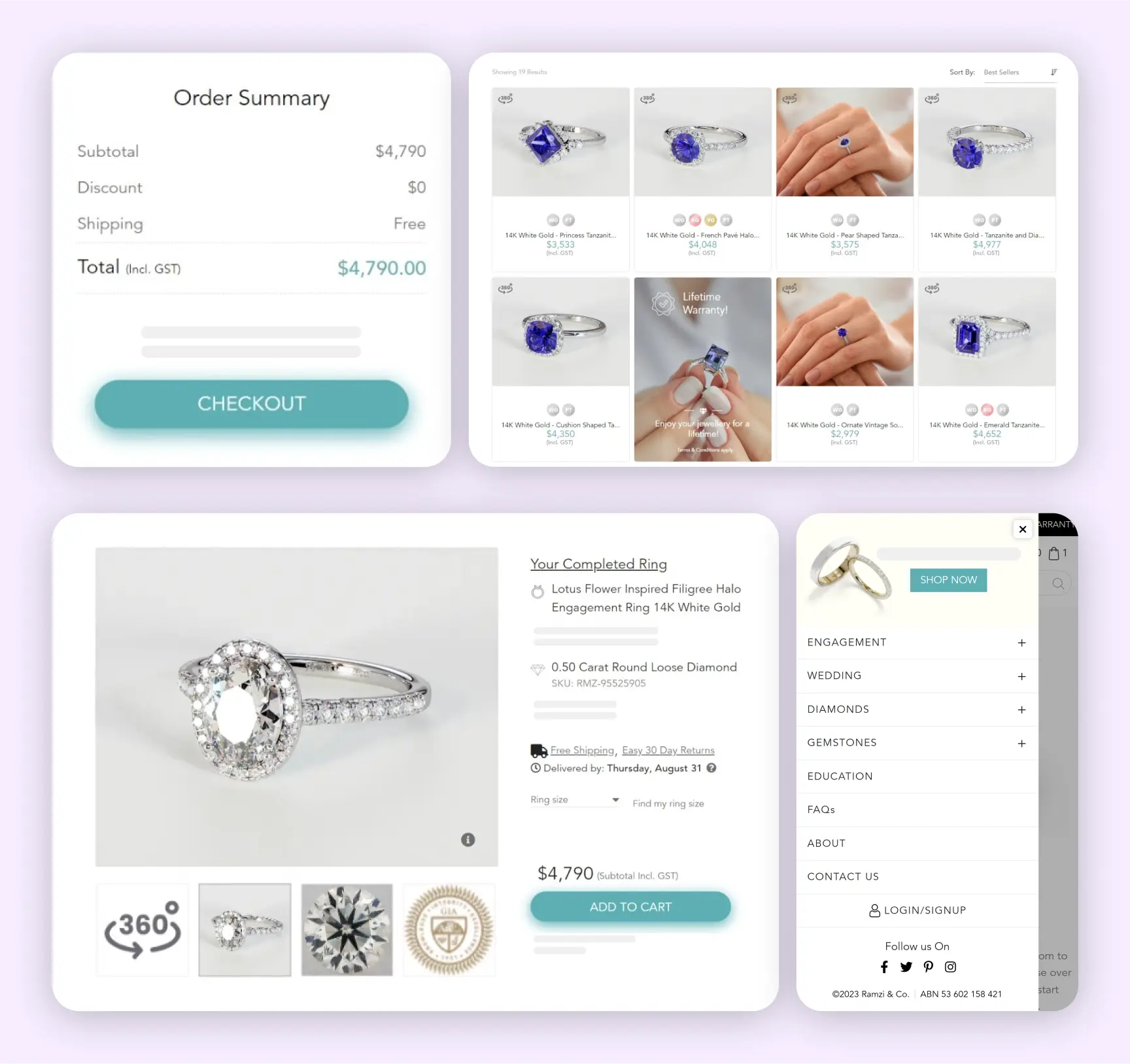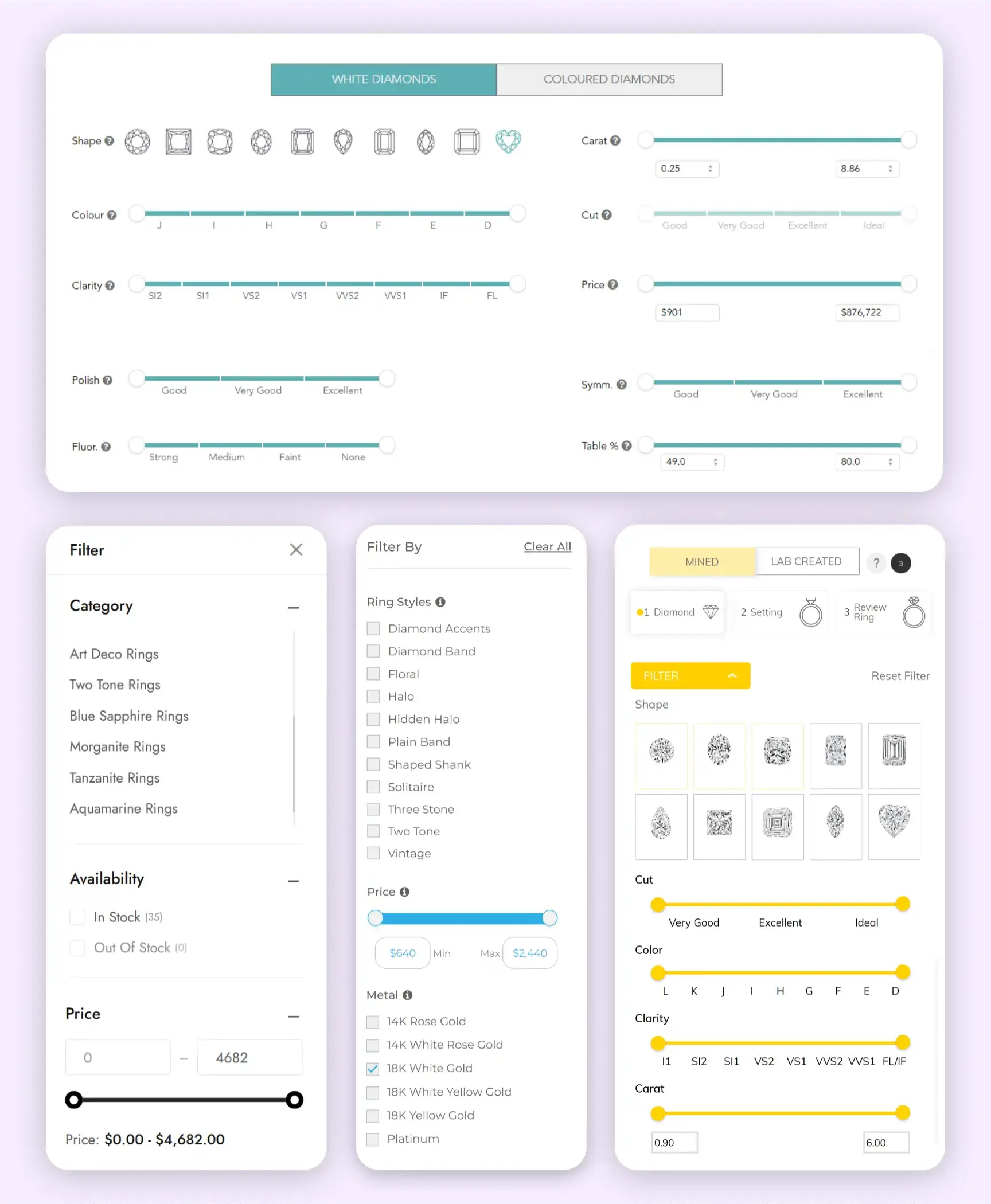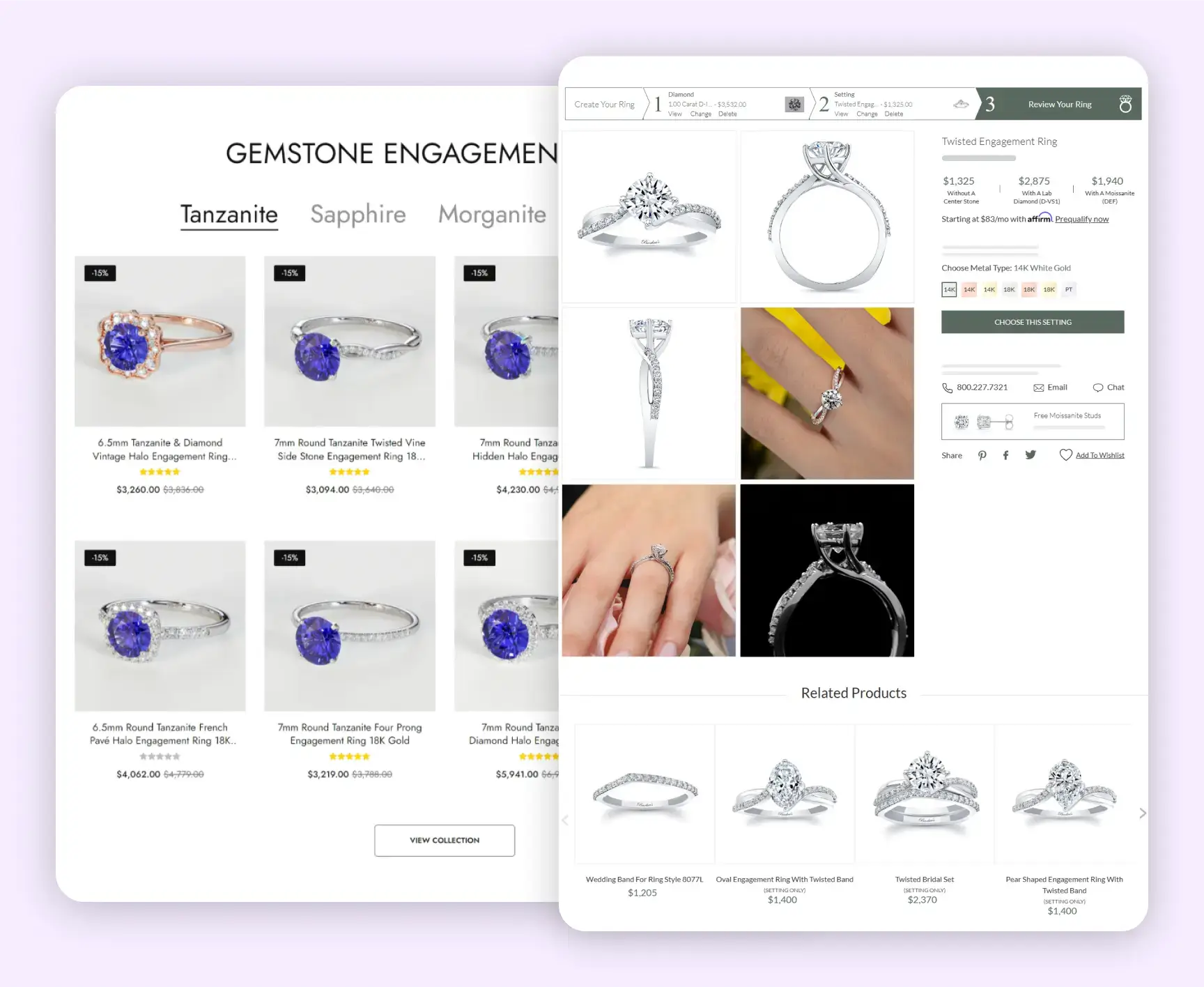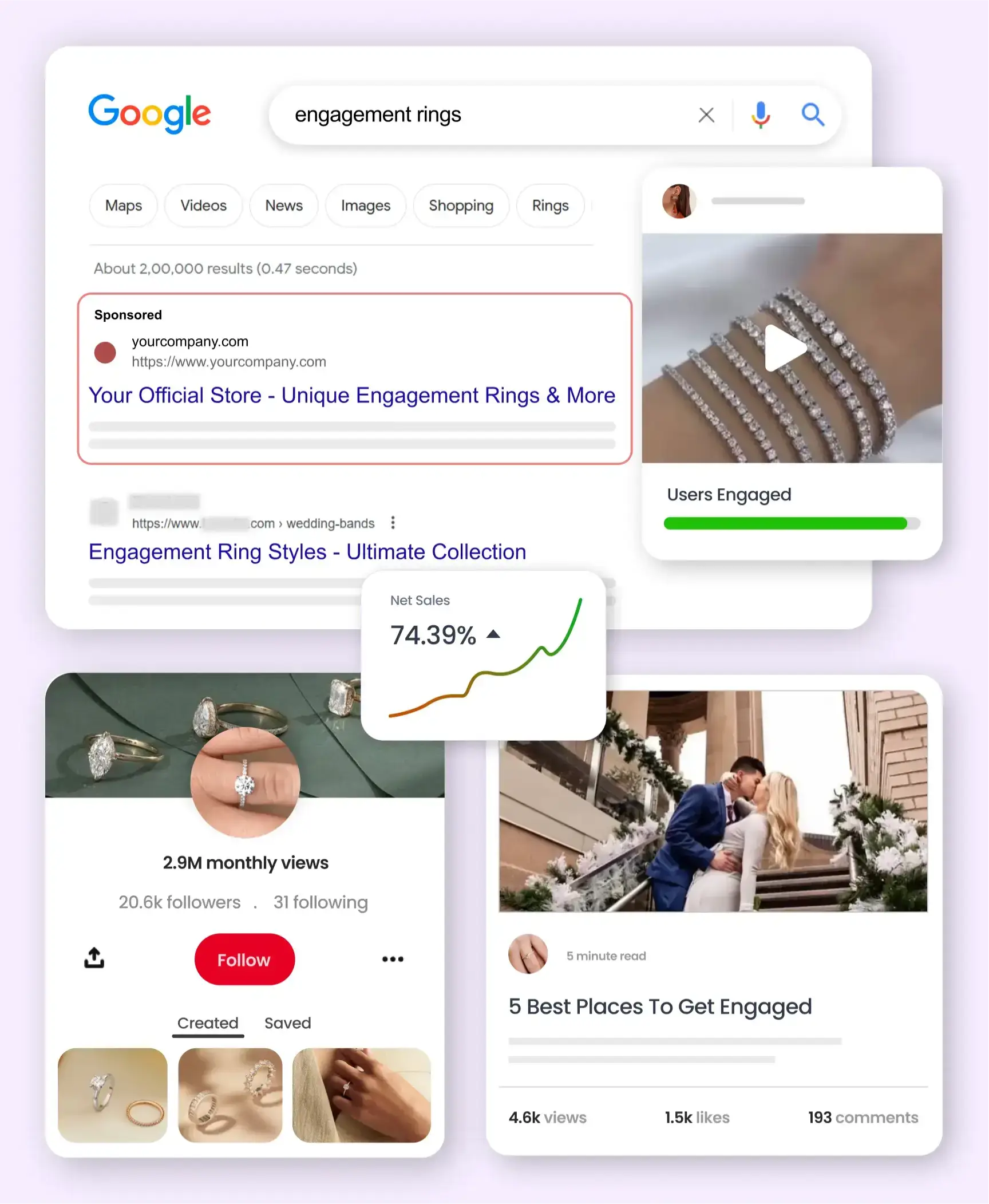 Advantages of Best Shopify Jewelry Theme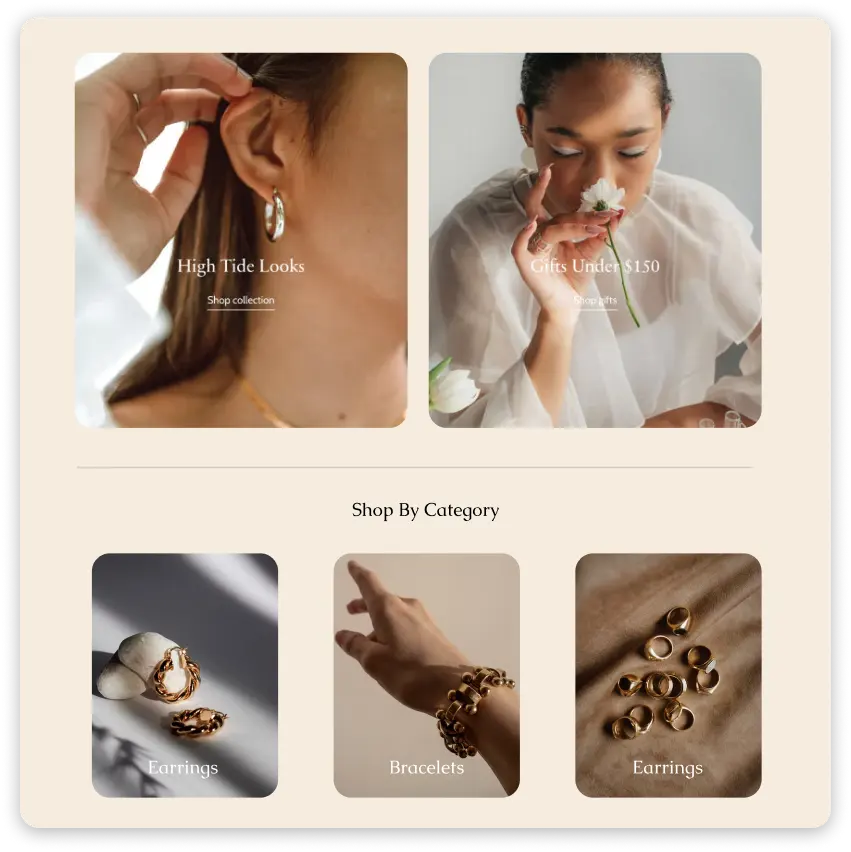 Affordable: The low price point enables businesses to grow across the platform.
Marketing Tools Library: Shopify offers 1500+ applications to enhance the functionality of your e-store.
Manages the Technology: Shopify controls the technology while you concentrate on your online business.
Web Hosting Management: Shopify hosts the website and takes charge of server support, maintenance, and upgrades.
Safety & Security: Shopify is accountable for securing your website from attacks or threats.
Support: Shopify provides exceptional customer support that is available 24/7.
Creating Beautiful Designs With Shopify Theme For Jewelry Website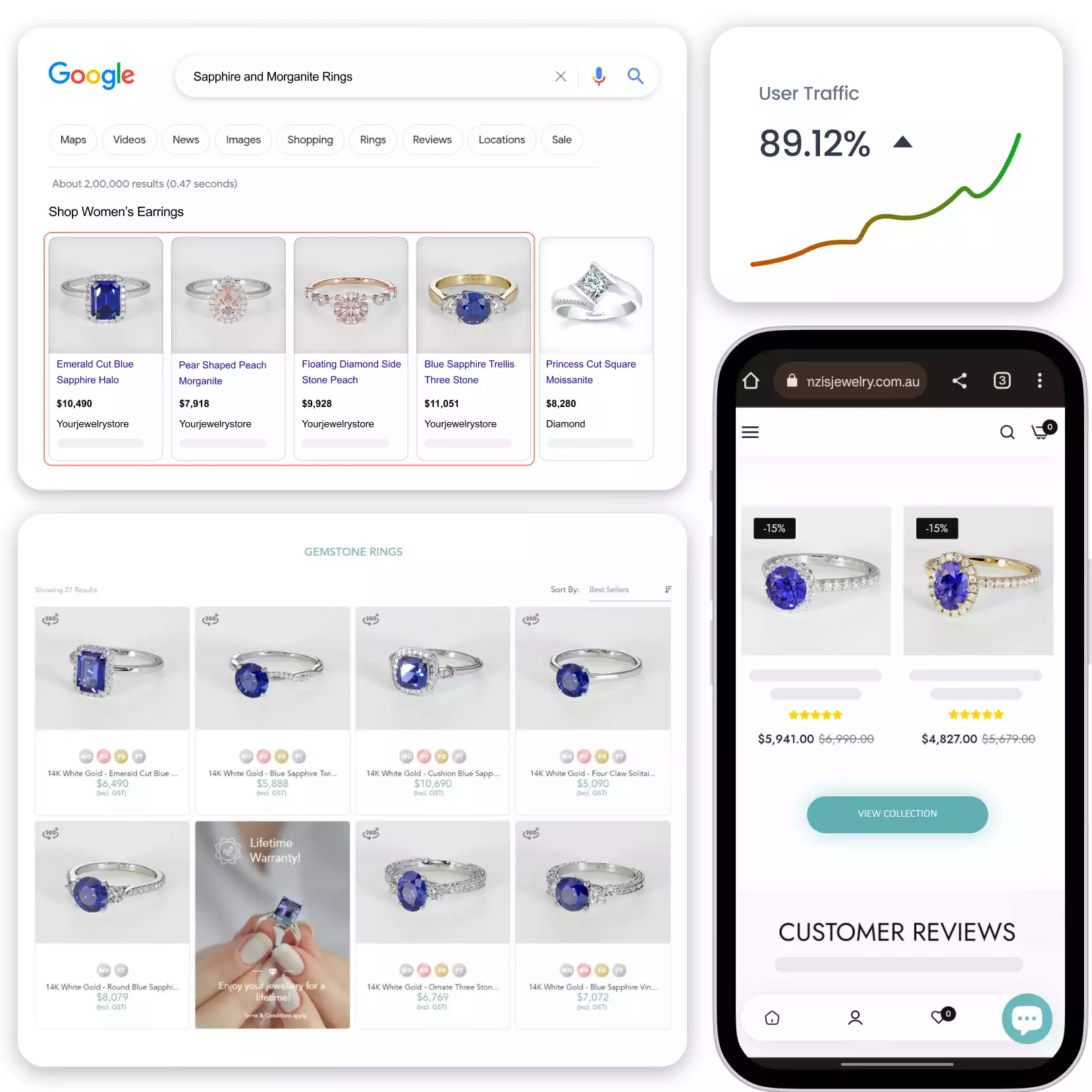 As a full-service Jewelry Shopify web design company, our proficient staff can offer you the following services:
Custom Shopify Jewelry Themes
Responsive Shopify Theme Development
PSD Conversion to Shopify Jewelry Theme
Shopify Website Maintenance & Support
Shopify Consultant Services
Keyideas designs and produces premium Shopify Jewelry Themes that are attractive and elegant. Our themes are highly responsive, mobile-friendly, versatile, and valuable. They are also W3C, HTML5, and CSS3 compliant and efficient.
Our Jewelry Shopify Theme is ideal for a jewelry e-store that sells diamond jewelry online. We strive to deliver exceptional services to our customers. We can customize an existing one utilizing the most up-to-date techniques and technology. Also, we assist with SEO to help you achieve a high search engine ranking.
Bootstrap 3 based, CSS3, SASS, SCSS Best Website Features
Automatic Price Change
A Modular-style Home Page
Flexible Built-in Mega Menu
Blogs & Customer Testimonials
Content Management System (CMS)
Message pop-ups when product added in the cart
Multi-layout
RTL Support
Theme Colors
Product Slideshow
Mobile-first Design
Quick Install Option
Shopify Service Website Design Agency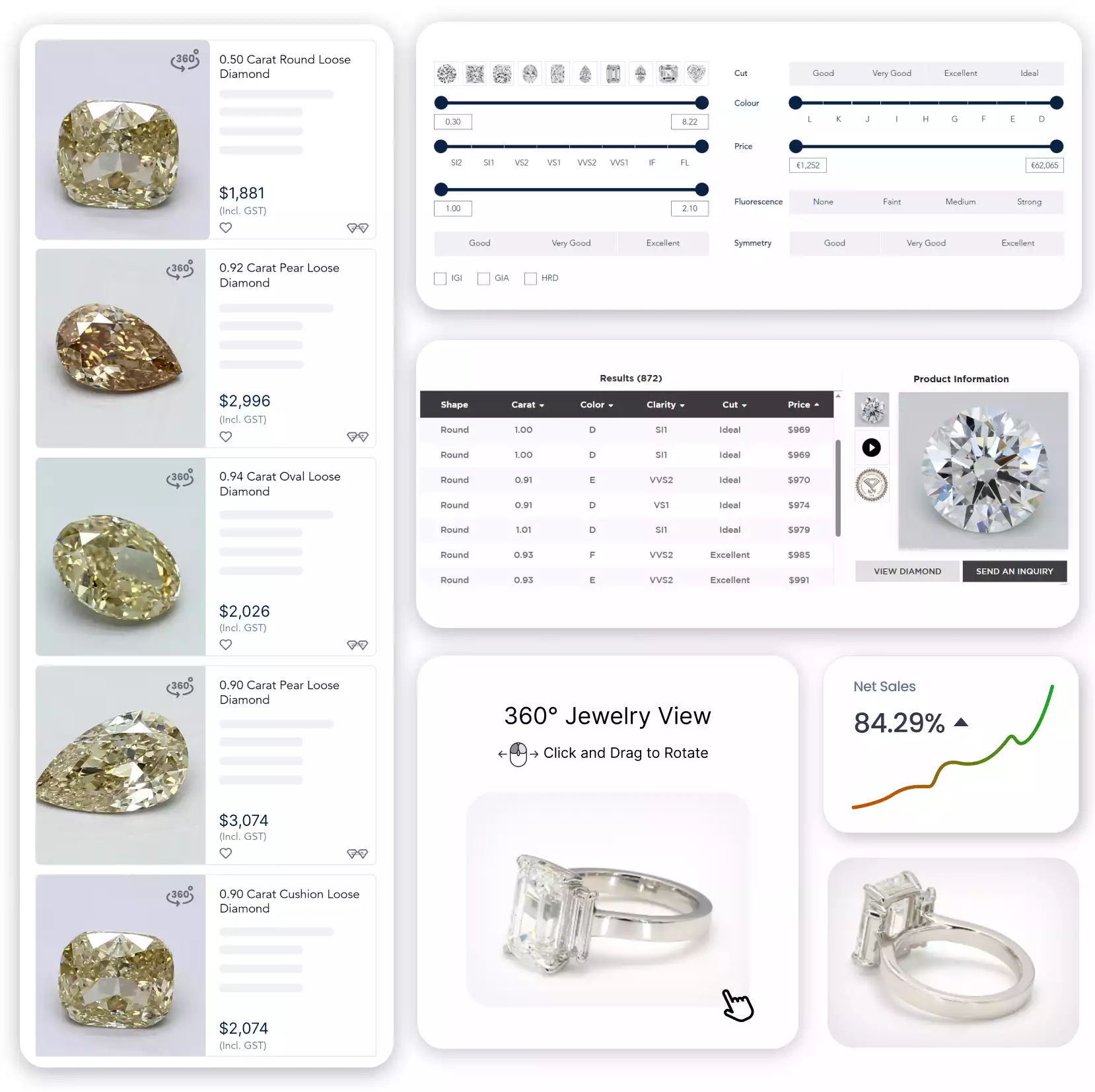 Keyideas creates stunning jewelry themes and bestselling Shopify e-commerce themes. We develop product pages that include color swatches, filters, product navigation, and an Ajax-based advanced search option. We design Shopify Jewelry Themes so that they stand out as white, vintage, luxurious as well as integrated.
Keyideas is a leading jewelry website design and development firm that focuses on user interface and user experience design, mobile app development, software development, and digital marketing. We create a jewelry website that brings you the traffic and revenue you want.
Our programmers can build e-commerce websites using a variety of platforms, including WordPress, WooCommerce, and Magento2. We offer Magento1 to Magento2 migration services to upgrade your websites to the most up-to-date tools and technologies, including advanced and new features that can place your jewelry website ahead in the competition.
Along with this, Keyideas is a full-service Shopify website design firm specializing in Shopify jewelry themes that will help you attract, impress, and convert more leads online and achieve goals.
Build Your Online Jewelry Store
Jewelry Website
Clean and Clear Graphics by UI / UX team
Diamond Integration
Add Nivoda, RapNet, VDB, and other APIs/CSVs
Ring Builder
User can create or build his own Engagement Ring
Diamond Filter
Allows users to select the perfect diamond for their ring
Jewelry Retouching
Emphasizing best features while minimizing flaws to attract your customers.
Jewelry E-commerce
Custom tailored solutions for growing your jewelry online business
Jewelry Marketing
Marketing and SEO Services to grow business 200%
Jewelry Website Pricing
Lower Total Cost Of Ownership (TCO) and Higher Return on Investment (ROI)
Why Choose Keyideas?

"
I have been working with Keyideas for quite a few years now. Their work is always done in a timely fashion and the overall value for the dollar is exceptional. I recommend Keyideas to anyone seeking a fantastic developer for any such work.
Isaac Gottesman,
dimendSCAASI, Chicago
FAQs About Keyideas Best Shopify Theme For Jewelry Website
Yes, we have a complete 4D approach, which we call our best web design process. Based on our deep research insights, our expert web designers create a Jewelry website that reflects your company's values and perfectly matches your logo and color to bring in everything beautifully.
You can ask for our web services. Our Shopify website development come with years of experience in designing jewelry websites. We can assure you that with us, you'll get an amazing Shopify website designing experience by our team of expert web designers. Along with optimizing the best Shopify theme that goes perfectly well with your elegant web designs.
Yes, we have kept our packages reasonable & budget-friendly that can easily fit in your budget, especially in this category.
Yes, it is an affordable option for website design and development for jewelry start-ups. You can further discuss the package and other details by reaching out to us. Check our blog on LinkedIn Why you need a jewelry website? for further insights.
Mordy Karsch
Giving Back Promotions, San Francisco, CA
I had an amazing experience working with Keyideas - an excellent team of developers.

Isaac Gottesman
dimendSCAASI, Chicago
I would not hesitate to recommend Keyideas as a superior development house.

Lets Do Great Work Together!
Discuss your ideas. Connect now
We've successfully delivered over

leads for the client
© Copyright 2023. All Rights Reserved.