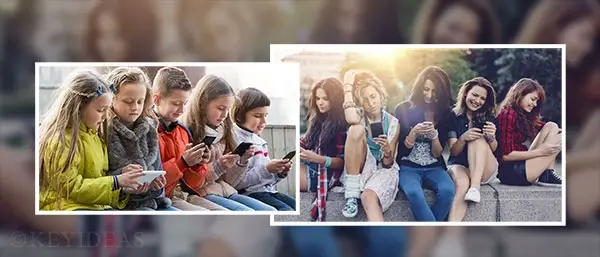 The emergence of communication and computing for mobile consumer devices is on the evolutionary course to bring interoperability and leverage the services and functions of every industry.
As a marketing strategy, the Smartphone term was introduced, referring to a new class of mobile phones with integrated services like communication, mobile sectors including voice communication, messaging, personal information management, and wireless communication capability.
Initially, smartphones were only perceived for business use due to higher costs, but not today, today we are in a frenetic impact of smartphones on society. The latest surveys show that the popularity of smartphones is increasing in the general public at a much higher pace than it is increasing in any corporate sector. Earlier Smartphones were used as enterprise devices and were predominantly meant for corporate users. Smartphones have been around since 1993, but in reality, they reached the general public when Apple introduced this in the mass consumer market.
Smartphones Revolutionized Society in Less Than a Decade
With more than 1 billion users worldwide and 2.5 million apps – available across Google and Apple's digital marketplaces, smartphones are impacting day-to-day life in some surprising ways. The adoption of smartphones has been tremendous all over the world. Surveys show that 80% of the world's population use mobile devices and 42% of mobile subscribers in the US use smartphones. According to a survey by Compete, a web analytics firm, a large number of people almost up to 65% are using their Smartphones to read news feeds, post status updates, read & reply to messages, and post photos. This shows that now people are leaving PCs and moving towards Smartphones. According to analysts, the long-dominated giants are experiencing bad times due to the rise of smartphones and tablets, and the pressure to gain market share in the mobile device market is causing fractures in long partnerships. It is true that still millions of PCs will continue to sell, but Smartphones and tablets will see more considerable growth in the future.
Smartphone Growth /Usage
Below figure shows the growth of Smartphones compared to PCs.
In another survey, it is estimated that Apple will sell 250 MILLION iPhone Smartphone units at an average expected price $575, generating nearly $144 BILLION in revenue, $77 BILLION as gross profit, and $47 BILLION as net income.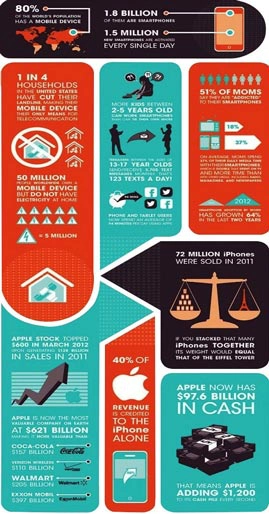 Impacts of Smartphones on Society
Smartphones are popular among people for the applications they offer to users. Smartphones make communication with people quite easier. People enjoy a lot of benefits in various forms of their daily work. Some advantages smartphones provide – better means of communication, learning options to users, great exposure to the latest things, ways to personality development, simple ways to access applications, ideas to succeed in business, platforms to grow their applications, and more.
Impact on Business : Smartphones create new dimensions for business. It is not only the smartphone vendors enjoying business but also created a new domain for app development companies, Internet service providers, and other related sectors.
Impact on Education : Smartphones provide a unique way to improve the quality of education. The use of the Internet has become a part of life for every student. Internet together with Smartphones – provide an alternative channel to deliver education services and distance education.
Health Impact : According to surveys, more than 10 million users in the USA use smartphones to search for health information and facilities. 27% of the users use smartphones for online activities. Today there are several apps to manage prescriptions, promote alternative treatment options, provide price comparison, and validate prescriptions. Today several apps are available to track exercise, diet, and blood pressure – enabling smartphones to play a key role in the health sector.
Psychological Impact : Smartphones are said to reduce stress in busy work life. I today's busy schedules mobile phones provide a means to interact with friends and families when they get time. The smart use of Smartphones increases your brain's functioning helping you to stay active. Instead of using smartphones only for entertainment, they could be used to access useful information, for example, access the news headlines, latest technology updates, and more.
Social Impact : Social life has been drastically changed with the introduction of smartphones and this domain has encountered most of the impact from the use of smartphones. Smartphones play an important role in the integration process of people with special needs, elderly age, and with some sort of disabilities.
Concluding Note
It is true that the smartphone has a sizeable impact on society and other aspects of life. Smartphone has impacted almost all walk of human life. The prominent areas, where the impacts of smartphones are obvious include business, education, health, and social life. Mobile technology has drastically changed cultural norms and individual behaviors. The impacts are both on the positive side and also on the negative side. There are several ways that can help control and minimize the negative impact of Smartphone use in society by educating users on how to use Smartphones smartly. The Smartphone is only a pocket-sized PC today but the device seems to have limitless potential!
Keyideas is a top-rated web design company offering UI/UX design, e-commerce websites, branding, website development, and digital marketing services. We have 16+ years of experience in delivering custom solutions to enterprises and small business owners. Moreover, our high-quality services are available across the world.