Constructive Heavy Equipment

Website Design &

Development Agency
Construction Equipment Website Design – We have spent numerous hours fine-tuning the website's design and functionalities because we are knowledgeable about the heavy equipment Website Design.You can begin with a single landing page or a straightforward website and make improvements as you go.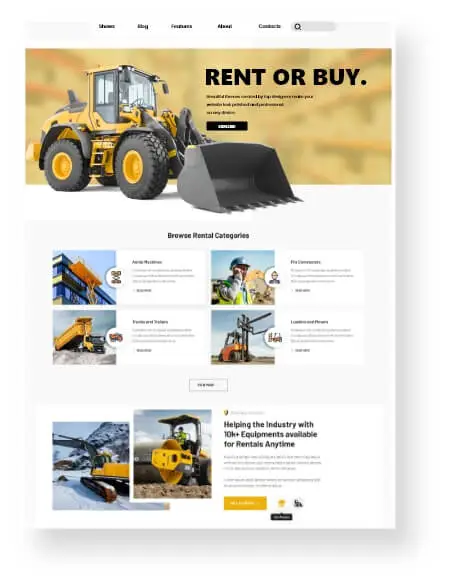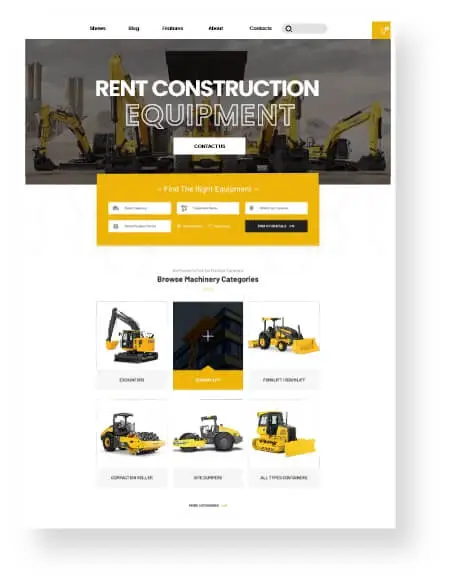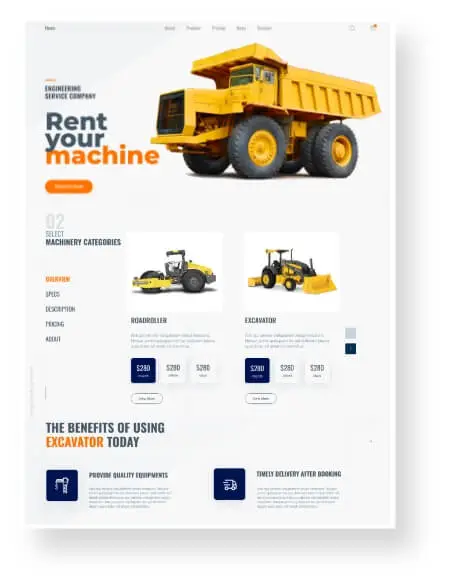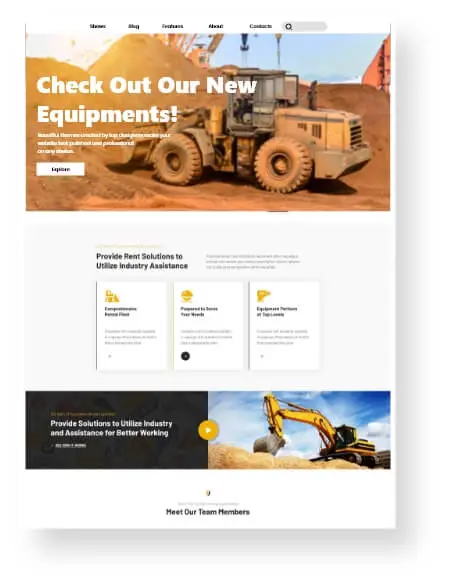 Attract More Clients

For Your
Heavy Equipment Website Design
Responsive Heavy Equipment Website Design
What transpires if a person uses a phone or tablet to access your website? Unintentional navigation and difficult-to-read material are frequent problems. Potential clients frequently have a confused, frustrating experience without a responsive website design, which encourages them to do business elsewhere.
Easy Accessible
Increases Conversions
Generate Data and Insights
Quality User Experience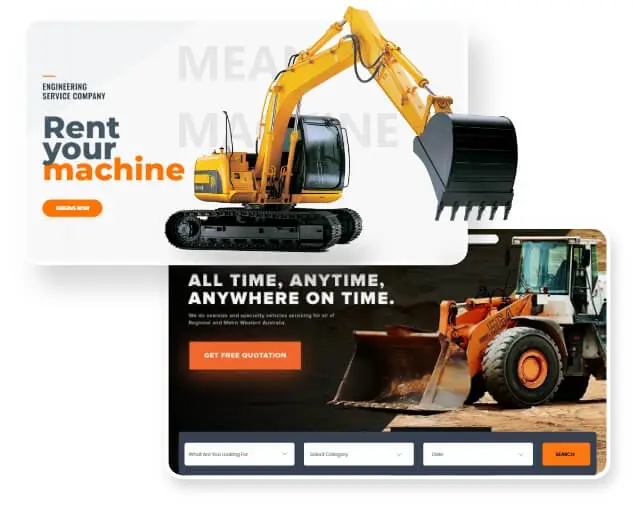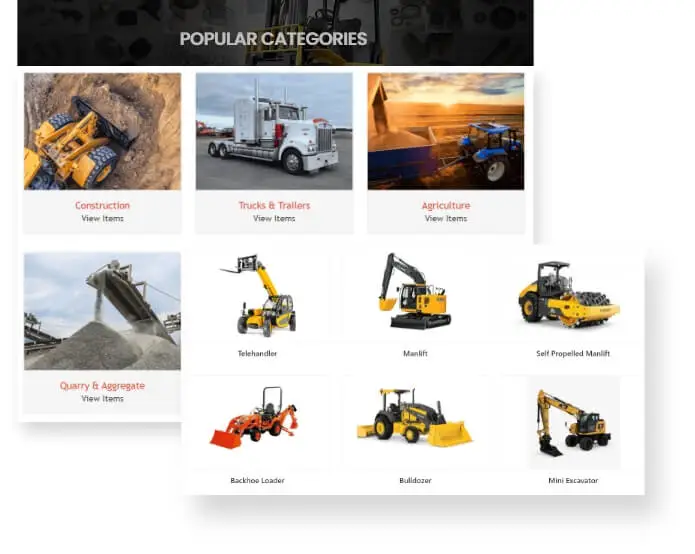 Product Listings
In order to make a purchase of the heavy machinery you sell, a corporation must be informed of its specifications. As a result, you must list every product you sell on your website, even though it could be easier to just list broad product categories and the clients will contact you for further information.
Entice your audience
Optimized generating leads
Drives long-term results
Product detail pages
Information on Purchasing
Make sure your sales process is completely understood. Accepting online orders, renting out equipment can directly collaborate with companies. If your purchasing information is clear and succinct, visitors are more likely to take the time to complete the following step.
Helps Convert Traffic Into Leads.
It Establishes An Information Hierarchy
Drives Long-Term Results
It Holds The Audience's Attention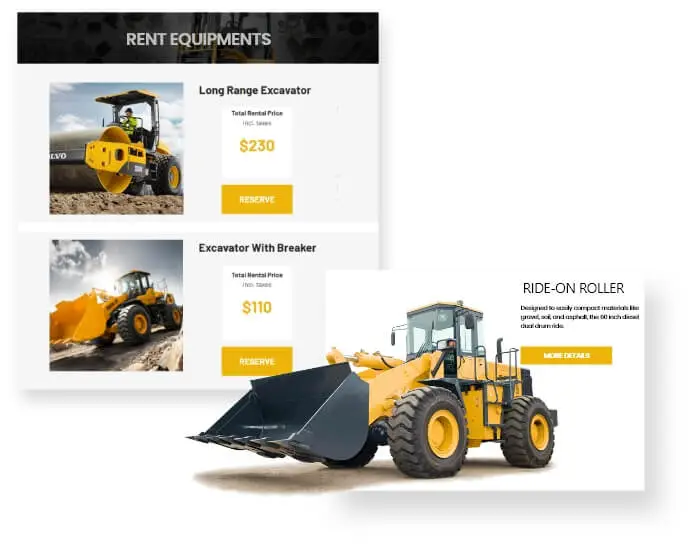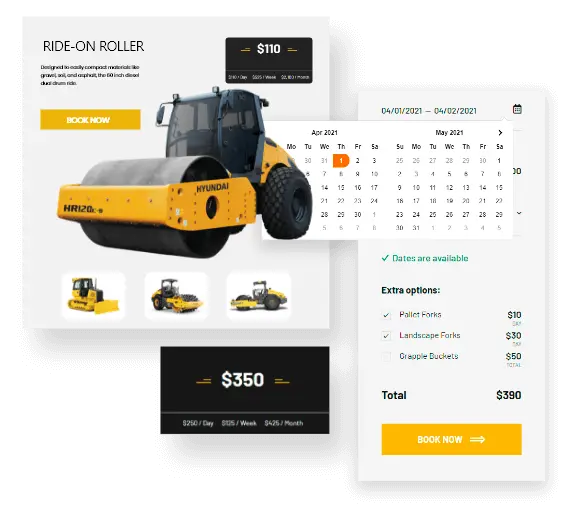 Amazing Booking Calendar
Conventional methods of renting out equipment, such calling, emailing, and placing phone calls, take a lot of time and can result in missed chances for both the consumer and the equipment rental company. As an alternate technique for providing rapid and simple access to rental equipment for construction and infrastructure projects, online heavy equipment booking platforms have arisen.
Get More Website Traffic
Reduce Your Website's Bounce Rate
Get Quality Backlinks
Increased Convenience
Effective Inventory Management
For your workers, smart inventory management is essential, but it's also imperative for site visitors. Your website should have an integrated, search engine-readable inventory feed. For your customers, your website should also offer sorting, filtering, and searches for certain categories of inventory or inventory products.
Standard List Layout With Descriptions
Visually Appealing Slider List Templates
Fully Flexible List Appearance Styles
Layout With Customizable Side Info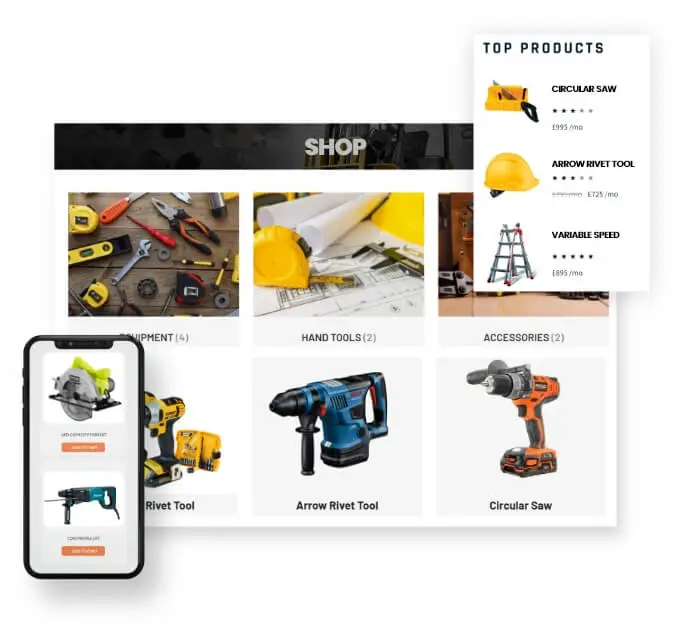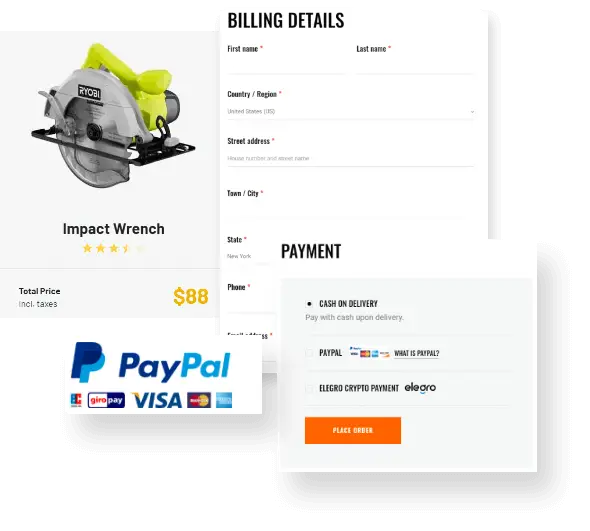 QR Codes
In essence, a Quick Response Code, or QR code, is a barcode that contains additional information about an item. Maybe you've previously used one to scan something into your smartphone. Customers of heavy equipment can use QR codes to get warranty information, contact information, machine demos, and information about repairs.
Easy and cost effective method
Enhanced customer engagement
Trackable metrics
Increased mobile-friendliness
Meet The Team Page
Meet the Team is about introducing your visitors to your staff, offering transparency, and adding a human touch. It is occasionally considered as an extension of the About Page .Your internet presence will represent you and, perhaps, make it easier for the proper people to contact you, even if you are unable to entice potential team members with it.
Show Off Your Team And Their Talents
Increases Your Website Visits
Business Becomes More Personable To The Potential Client
Establishes That You Are A Legit Company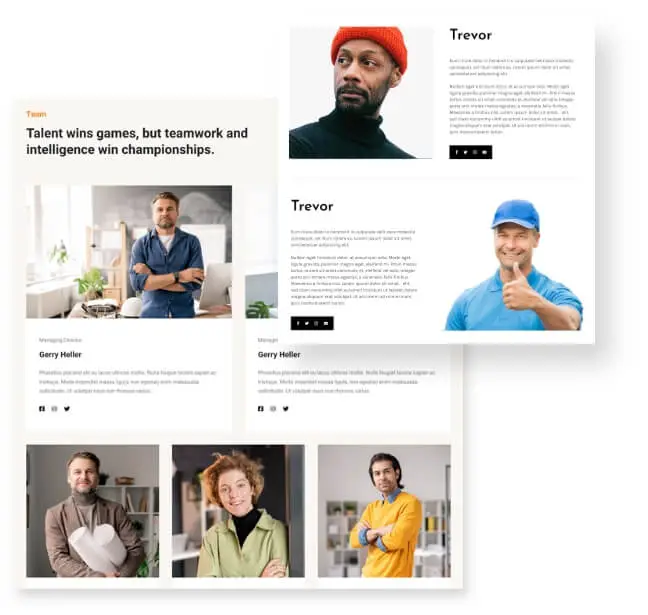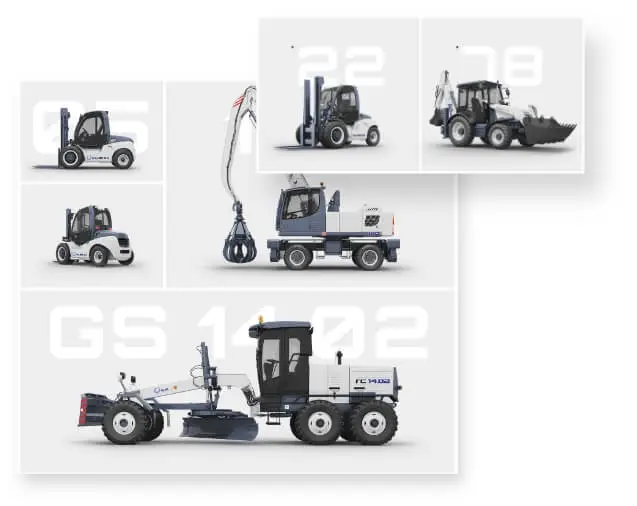 Significance of Images
Our graphic designers could make a text much clearer visually and communicate a lot more effectively than words. For use on your website, invest some money in obtaining professional, high-quality photographs. Make sure to provide descriptive alt tags for the photos in case they can't be displayed so that site visitors can understand what the images are.
Tells Better Story About Your Brand
Create Emotional Connections With Your Customers
Tap Into the Power of Experiential Retail
Simple Ways to Promote Your Products
Latest News & Blogs
Use articles to provide responses that are comparable. Articles are typically the best place to find answers to questions that require significant, in-depth discussion. These can be utilized as pricing pages, category pages, equipment pages, and more to finish your website.
Supercharge Website's SEO
Manage Online Identity And Build Trust
Helps Convert Traffic Into Leads.
Drives Long-Term Results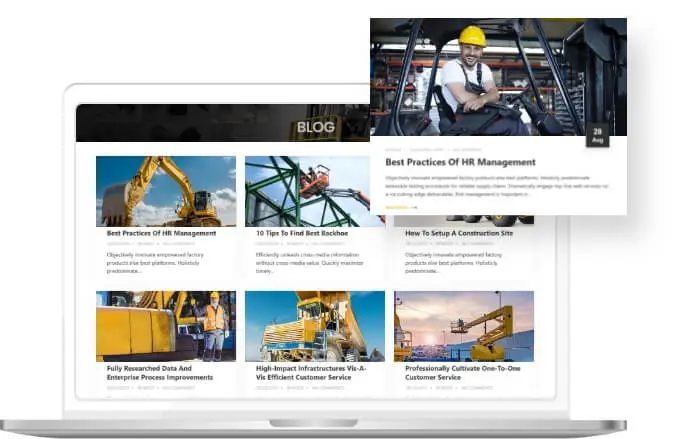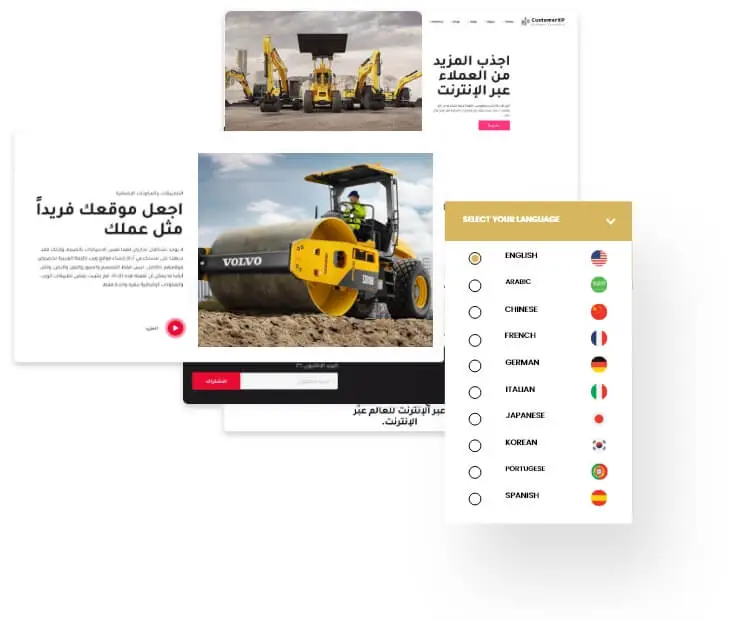 Multi Language & Translation Support
Your SERP ranking locally is improved by translating your website into other languages to cater to regional audiences. Because localizing and translating websites into multiple languages for different regions satisfies the demands and requirements of your customers.
Translating Website Is Cost-Effective
Increases Financial Productivity
Expands Potential Market
Builds Brand Recognition & Trust
Location
Suppliers can access current, thorough data for their target region by signing up for an online equipment rental platform. They are likely to pick the website that grabs their attention. Your website will have several language versions integrated into it, and it will be optimized for all screens and devices. We will also remove any communication obstacles standing between you and possible partners.
Show Customers Where You Are
Improve Your SEO
Offer local updates
Diversify Your Business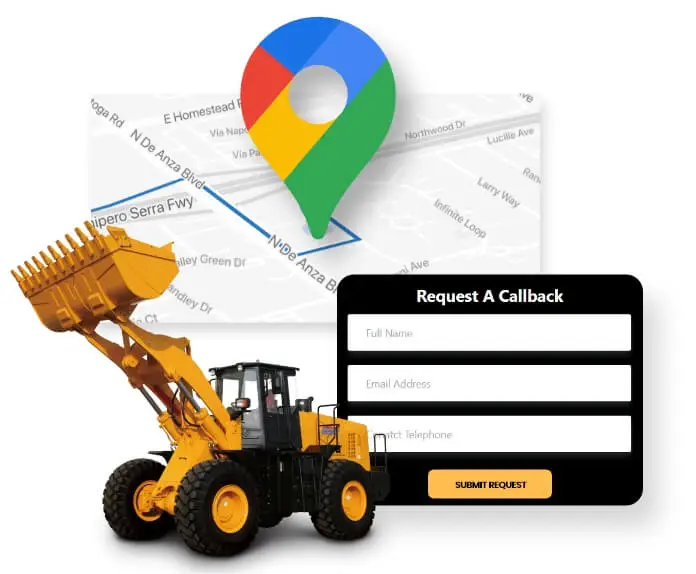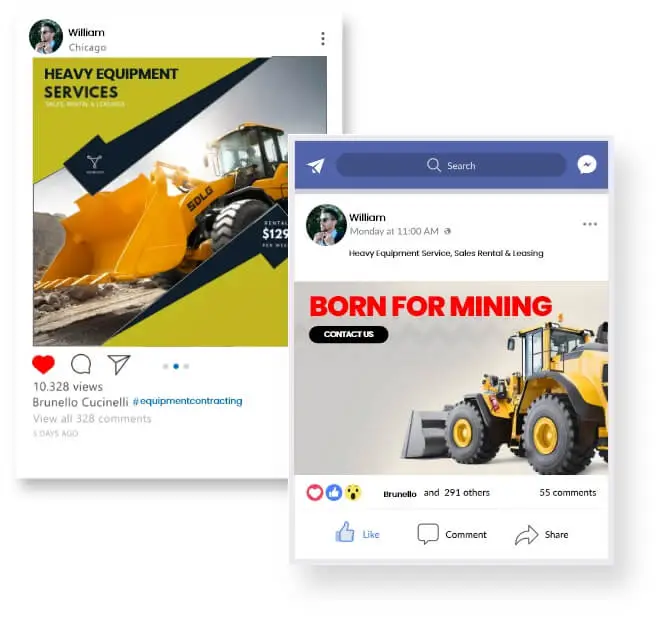 Social Media Marketing
For a thorough construction/heavy equipment marketing plan, social media is an essential part of the conversion funnel, especially for brand recognition and top-of-funnel leads. Via social media, brands can interact with consumers, reach people they wouldn't otherwise be able to, and spread the word about their existing content.
Exceptional customer service
Engagement via Newsjacking
Build Customer Loyalty
Impact Buying Decisions
Email Marketing
For B2B companies like heavy machinery and construction equipment, email prospecting is a common and successful method of boosting website traffic. Professional email marketing is especially well suited for the networking and client relationship building needed for sales of large commercial machinery.
Low-Cost Marketing Channel
Deliver Targeted Messages
Emails Get High ROI
Level Up Your Omnichannel Marketing Strategies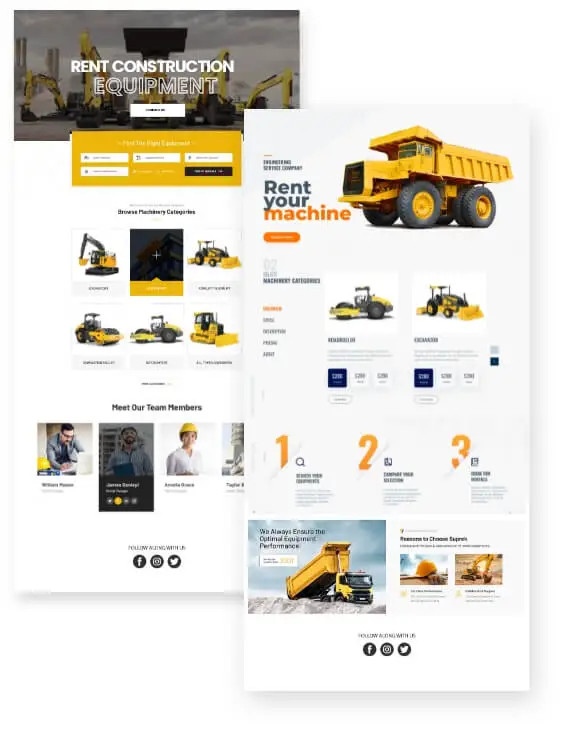 Solid Lead Generation Plan For
Heavy Equipment Company's Website Design
Search Engine Optimization (SEO)

With our smart search engine optimization techniques, get recognized by search engines and your global-local visitors. Helping searchers find your services within seconds with superfast page landing and full-on page optimization.

Deep Keyword Research

Mobile-Responsive Website

Resourceful Site & Backlinks

Organic Lead Conversion
Content Management System (CMS)

Utilize our strong content management platform to take your services to the next level in the profound content field. The CMS team is adept at writing keyword-rich and well-managed content for your services at their best creative end.

Lead-Generating Links Wrapped

Complete Content Optimization

Increased Conversion Potential

Improved Brand Recognization
Targeted Pay-Per-Click (PPC)

We don't leave your custom PPC Ads just floating on the web but also retarget the users to multiply every click. By placing your ads on popular sites, your browsers become buyers.

Real-Time User-Targeted Ads

User Tracking and Analysis

Garner Immediate Results

Attractive Visual Elements
Lead Generation Magnet

Our lead generation magnet offers your visitors free assets and special deals like free webinars, e-books, discounts, and whitepapers to exchange their email/contact details significantly.

Drives Instant Sales

Spreads Brand Voice

Shared Interests & Goals

Builds User Community
Responsive Heavy Equipment

Website Design

Helps Unify

User Experience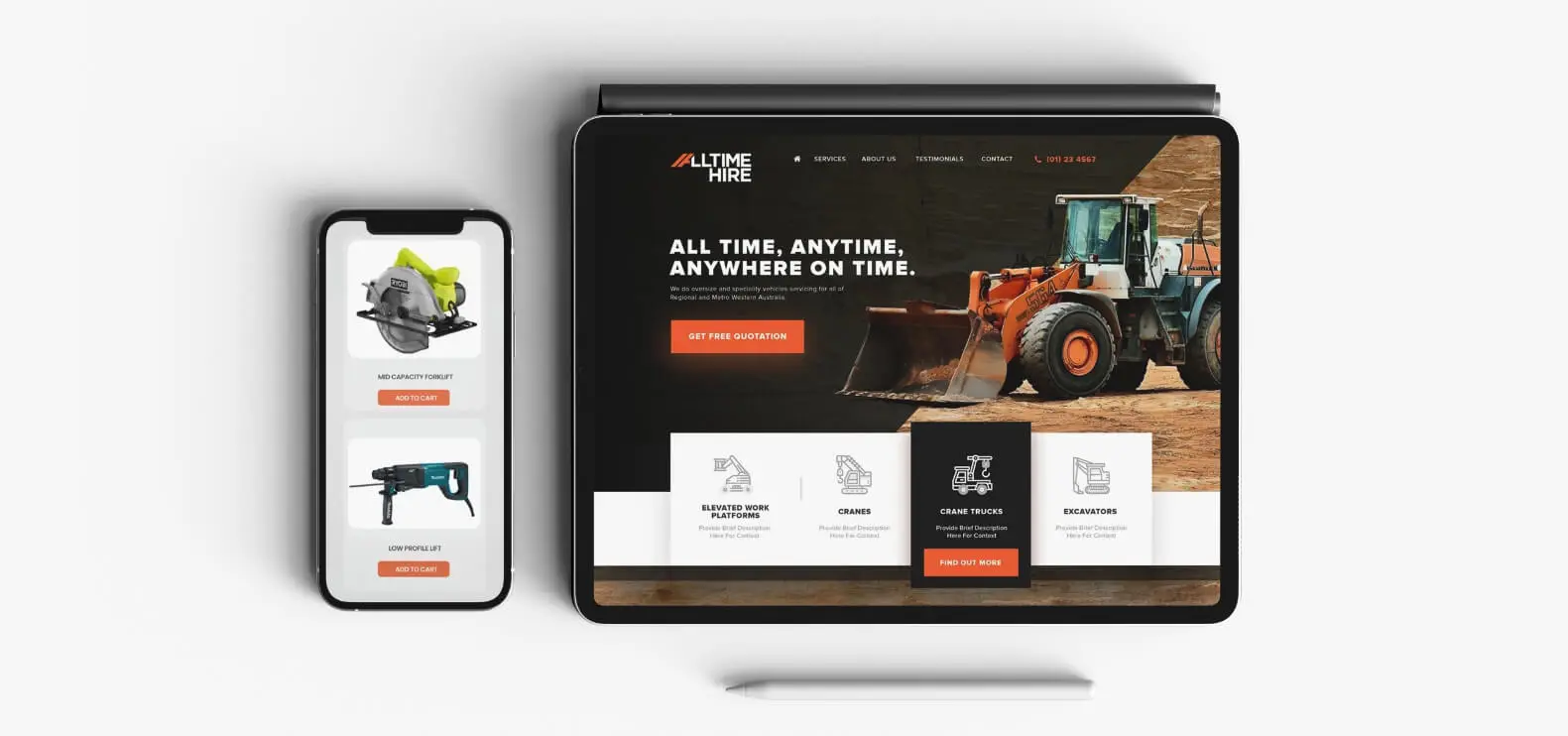 Boost Search Rankings

Adopt responsive web designs to boost your website's rating and make it more competitive.

Consistency In Design And Brand

On their initial visit, users are more likely to give up and visit another website if they have to often zoom in, out, and squeeze their screens.
Reach More Customers

Even sitting down at a desktop or laptop computer is not required for people to shop online. On their iPhones, users can find anything they're looking for.

Optimize Page Experience

It will also take longer to navigate a site that isn't mobile-friendly, which might irritate visitors to the point of no return.
How We Make And Serve Your
Heavy Equipment Company's Website
The Innovative Design Process
STEP 1
DISCOVER
Our team engages in extensive research to discover your specific needs and provide you with tailored solutions.
STEP 2
PLANNING
The planning involves robust mapping and preparing a blueprint for the entire project and procedures.
STEP 3
DESIGN
During the design phase, our UI/UX design team prepares a user-friendly design for delighting your users.
STEP 4
DEVELOPMENT
Our back-end developers integrate and optimize your systems, our front-end developers are bringing creative and user experience to life.
STEP 5
TESTING & LAUNCH
We perform extensive system testing to validate that our deliverables are ready for the real world and your users.
FAQ About Keyideas Heavy Equipment Website Design
We offer a wide range of features for your Design that drives more web traffic & converts visitors into buyers. Our developers provide your website with mobile-responsive UI, tight web security, powerful SEO, easy-to-use tools, intelligent backlinks, and more. Keyideas offers a responsive web design company.
After the successful launch of your website, we promote your website on popular digital platforms like social media ( TikTok, Instagram, Facebook, Twitter), emails & newsletters, PPCs, Google ads, etc. to make your business a hit across the online sphere.
We consider all our clients equally, so different budget-friendly packages are available according to your requirements. From small-size services to large organizations, we provide services to all forklift dealers website design services.
Yes, our Keyideas team provides you with free consultations to solve your business/project-related queries. You can easily contact Keyideas or email us at sales@keyideasinfotech.com. Take a look at our latest portfolio to learn more about our web design services. Clean Website Design For Every Business
Mordy Karsch
Giving Back Promotions, San Francisco, CA
I had an amazing experience working with Keyideas - an excellent team of developers.

Isaac Gottesman
dimendSCAASI, Chicago
I would not hesitate to recommend Keyideas as a superior development house.

Lets Do Great Work Together!
Discuss your ideas. Connect now
We've successfully delivered over

leads for the client