Our Beautiful Jewelry Web Design Work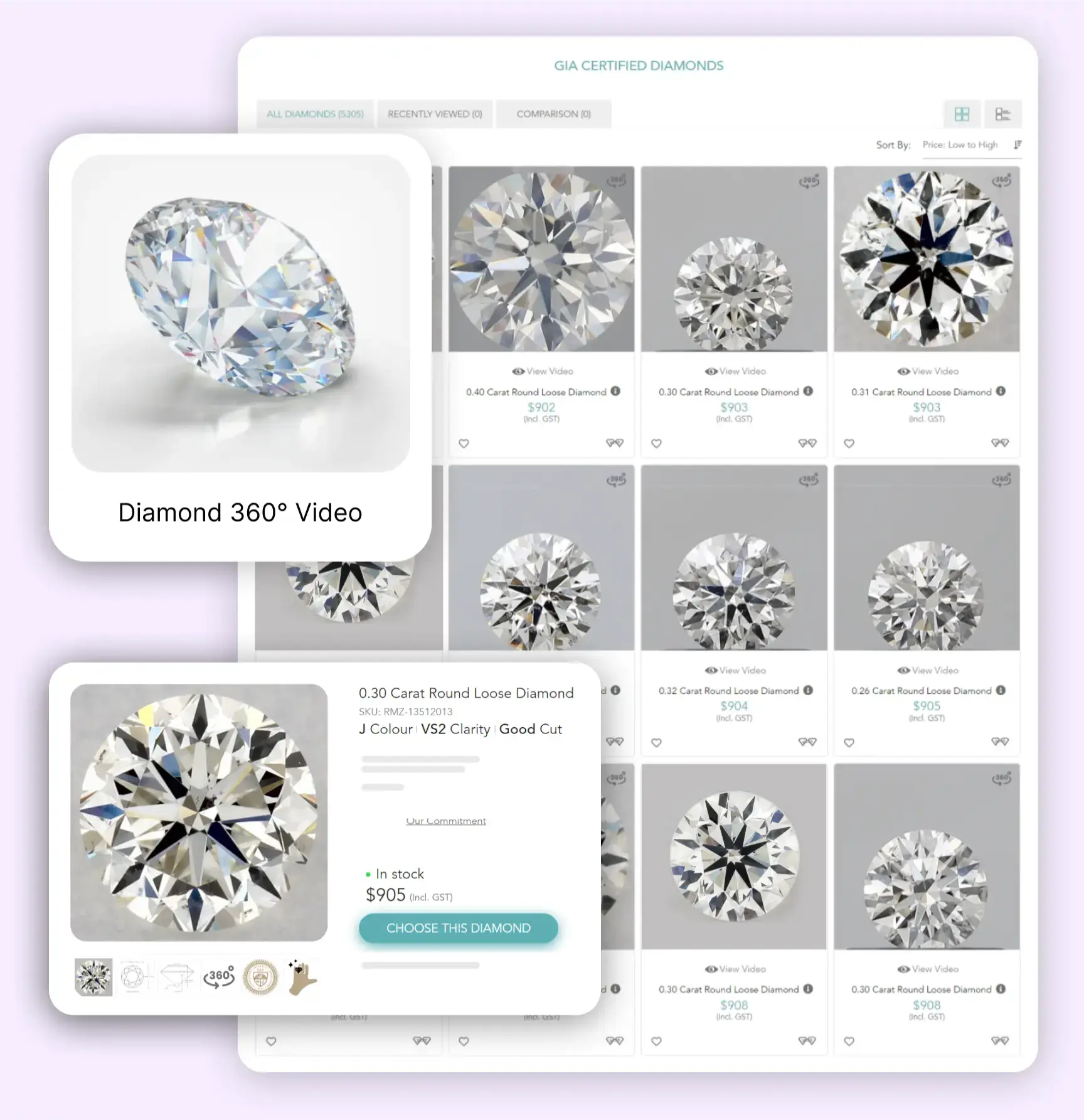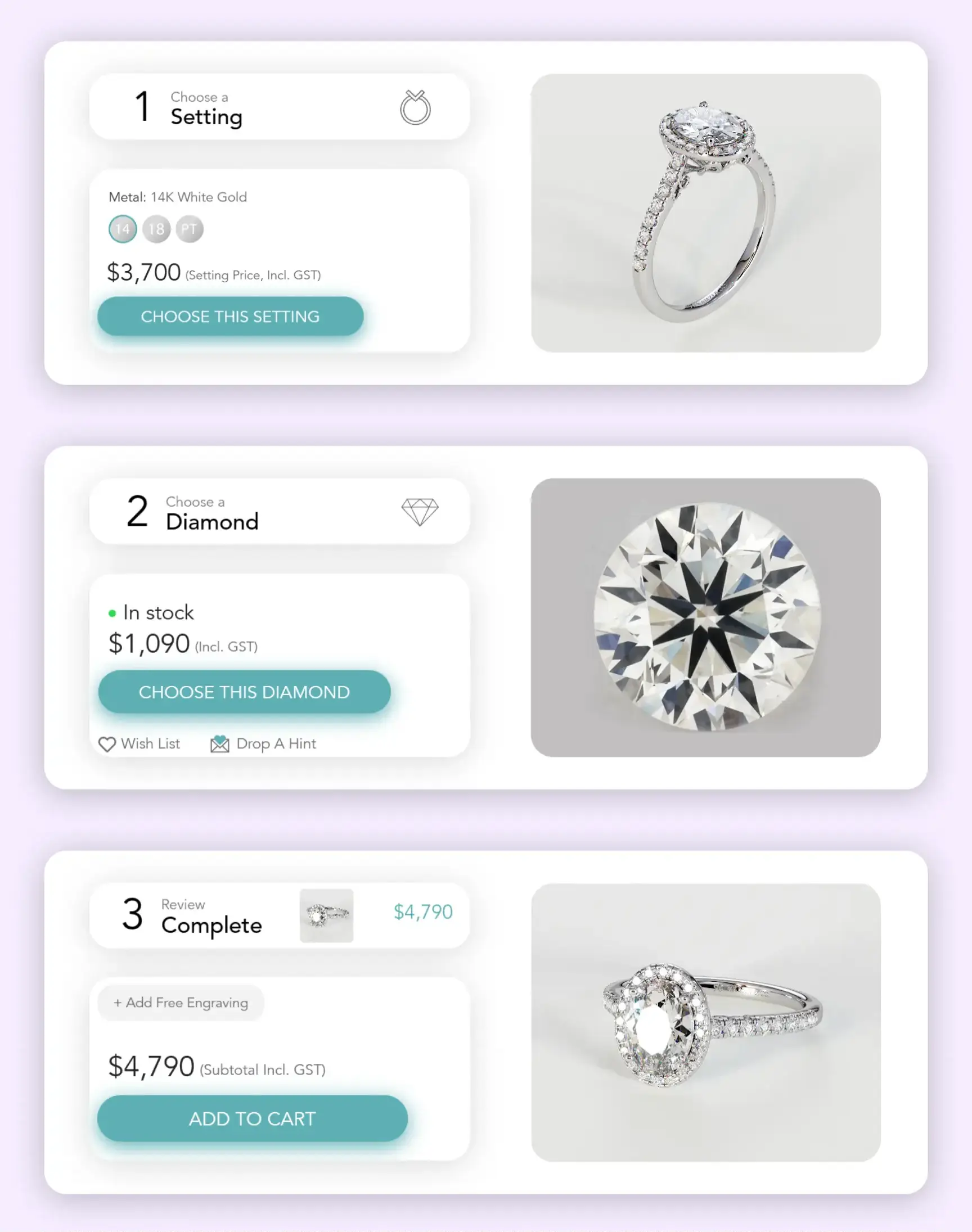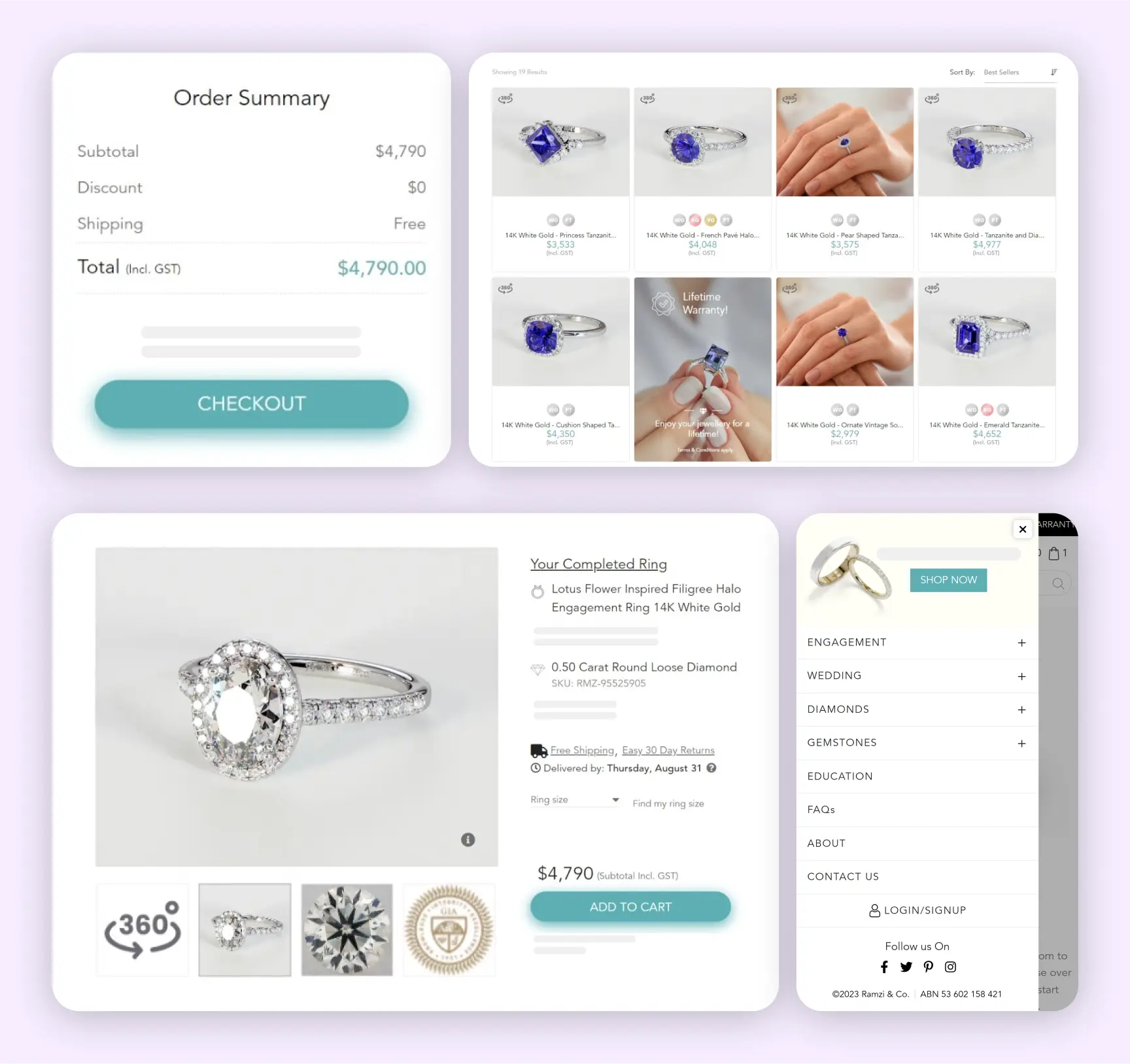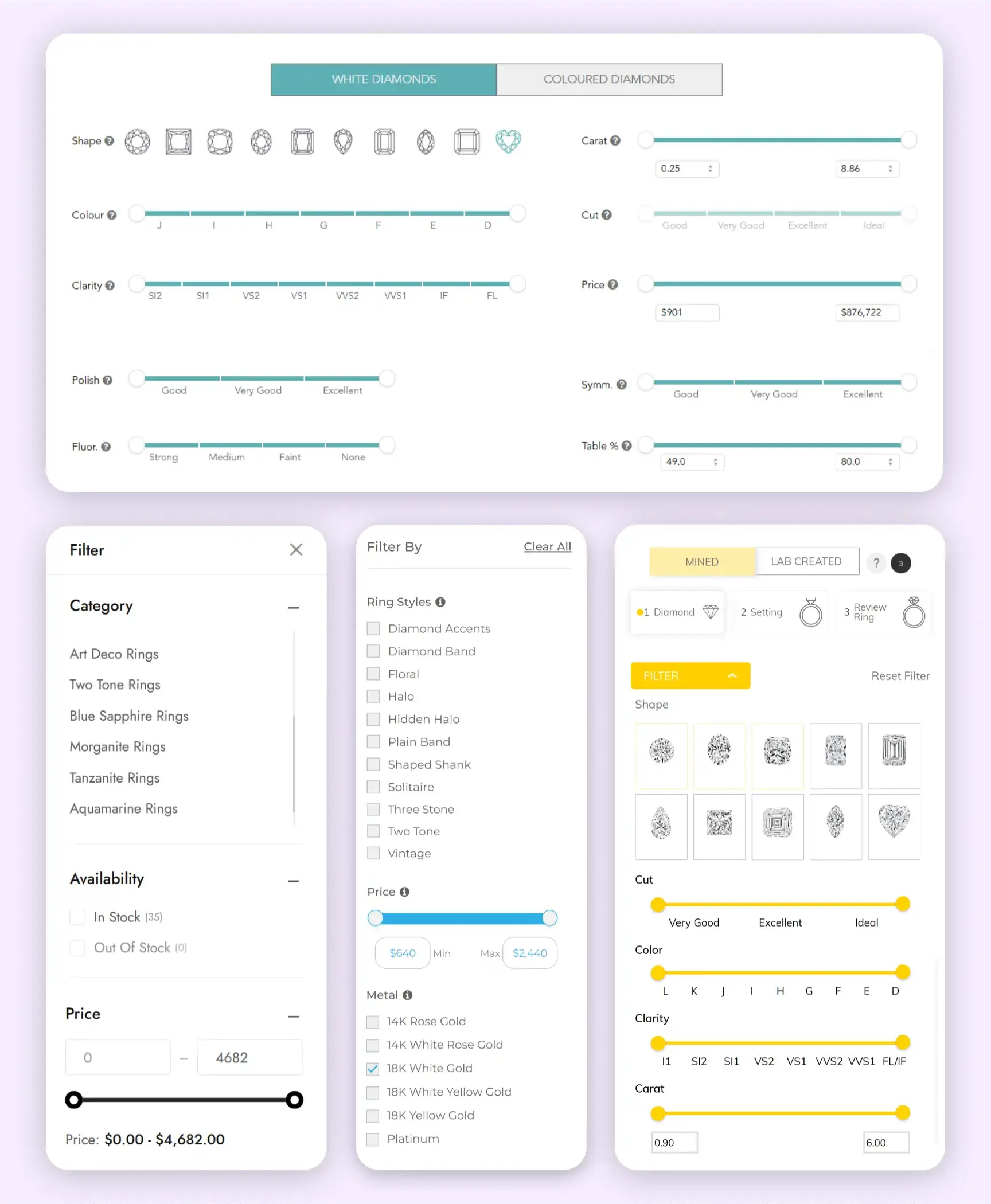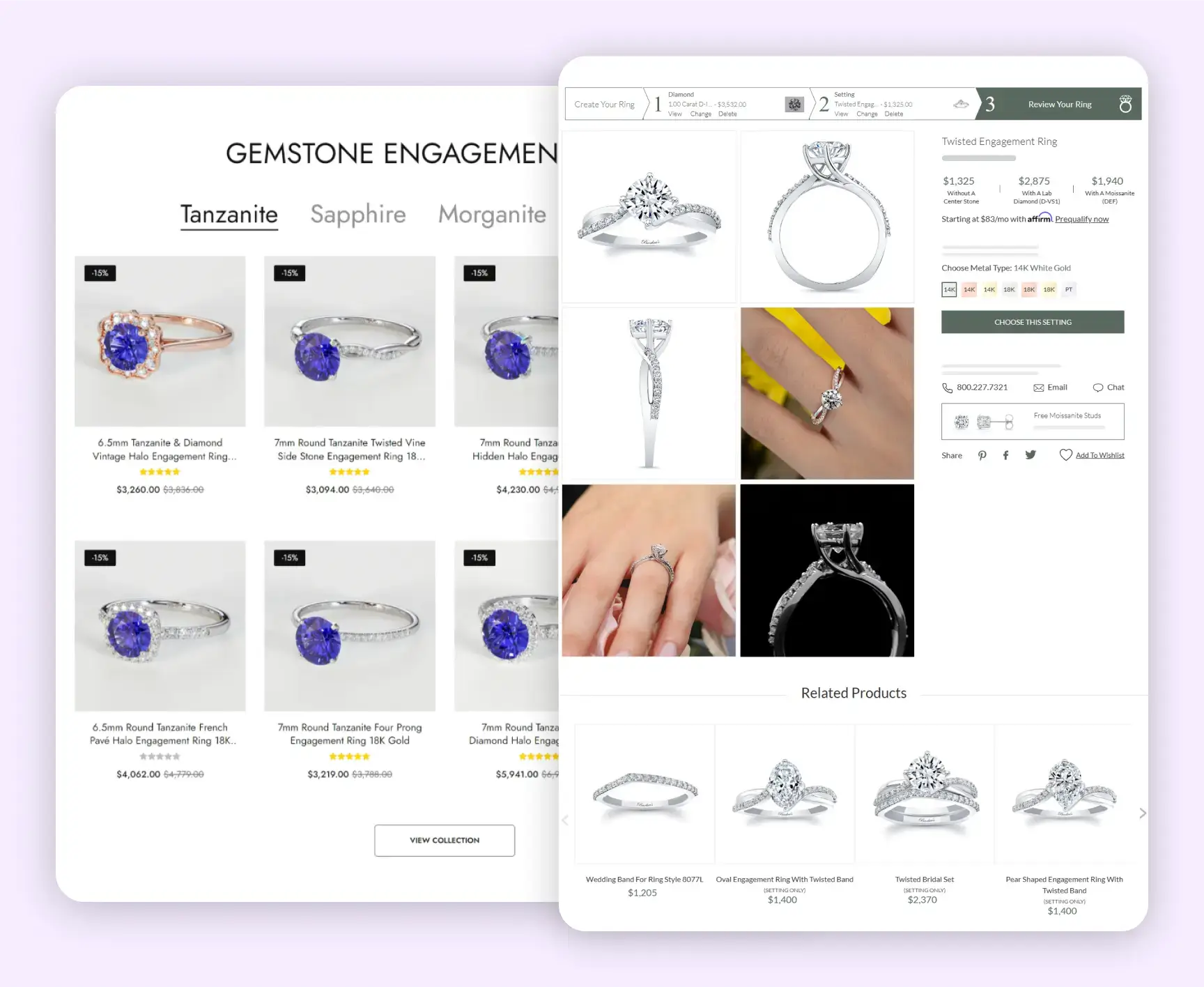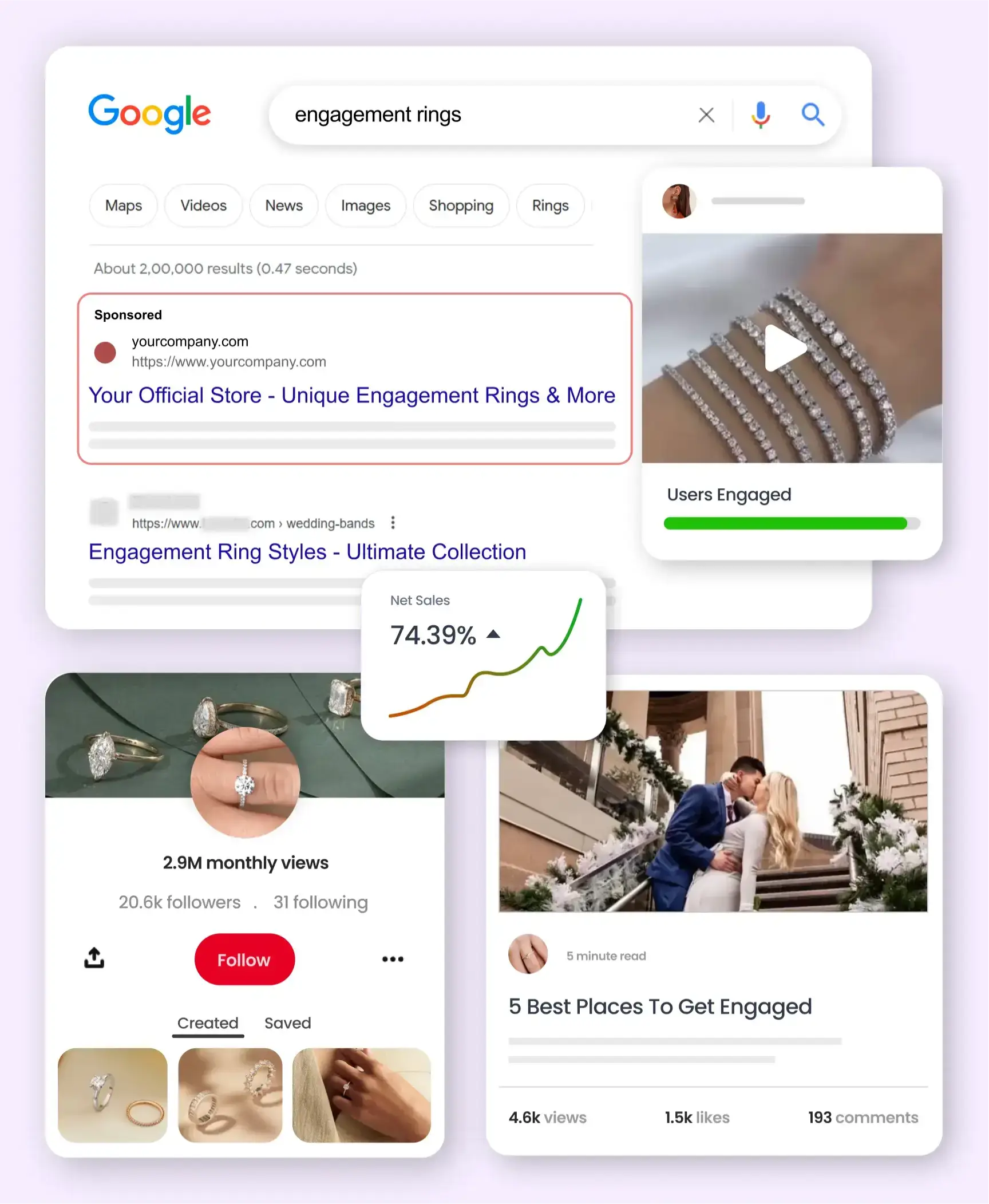 E-commerce Platforms Used By Our Jewelry Shop Website Design Experts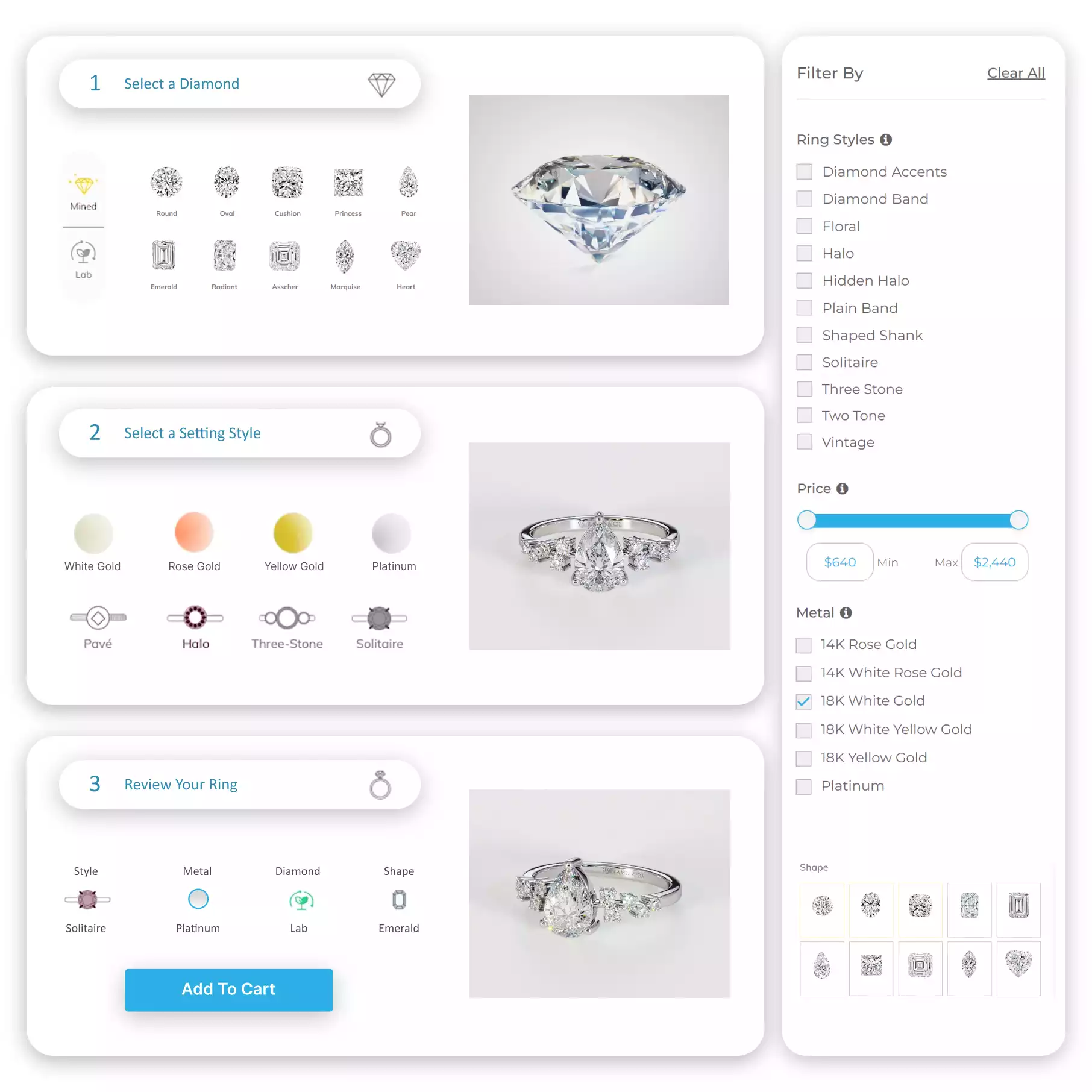 About 40% of the users stop interacting with websites because of bad layout and features. We believe in smart work, and thus we follow the solution-focused approach. Our Jewelry Website Builder designs help your customers to find you among the top-ranking Online Jewelry Store on the internet.
You get the best UX/UI and a seamless customer journey experience. We build custom websites. Also, platforms like WooCommerce, AbleCommerce and Bagisto, whichever suits your requirements. Advanced Jewelry integrations like BYOR, Diamond Filters and Marketplace integrations are just the cherry on top. As a partner in your growth journey, we make sure you get the Best Web Design and Development services at one place.
Step-Up Your Online Jewelry Shop With Our Dedicated Developers
Jewelry Website
Clean and clear graphics by UI/UX team
Diamond Integration
Add Nivoda, RapNet, VDB, and other APIs/CSVs
Ring Builder
User can create or build his own Engagement Ring
Diamond Filter
Allows users to select the perfect diamond for their ring
Jewelry Retouching
Highlight strengths, downplay flaws for customer appeal
Jewelry E-commerce
Customized solutions for your online jewelry business growth.
Jewelry Marketing
Marketing and SEO Services to grow business 200%
Jewelry Website Pricing
Lower Total Cost Of Ownership & Higher Return on Investment
Build a Tailored Jewelry Website Packed With Powerful Marketing Strategies
Optimized Workflow With Top Jewelry Website Builder
Track outstanding orders, resend customer update emails, easy to view and accept credit card orders and print packing slips from a single interface.
Secure Payment Options & Gateways
Manage Inventory & Fulfill Orders
Jewelry Shop Live Analytics & Insights
Extensions With Jewelry Website Builder Web Development
Grow your jewelry business with hundreds of free and paid extensions across all your logistical, technical, and marketing needs.
Marketing & Sales Extensions
Finance Extensions
Shipping Extensions
Mobile‑Friendly Website With Top Jewelry Website Builder
Unique Jewelry Website Builder designs websites suitable for every device and goes with every possible layout and screen resolution with perfection.
Push Notifications
Clean User Interface
Personalized Webpages
Customized Content With Top Jewelry Web Design And Development
Add your products, upload their photos, set stock levels and more to build out your ecommerce website's inventory.
Custom Site Search Engine
Store Page Content Enhancement
Unique Product Filtering
How Our Jewelry Shop Website Design Drives Traffic To Your Website
75% of companies believe in investing in website designs to increase retention. We help you to ace that perfect online website strategy that increases your chance to hold on to your potential buyers. You get both Innovation and Creativity in one place with Keyideas. Get used to the most impactful website and a complete Digital Marketing Strategy to gain higher profits in a crowded market.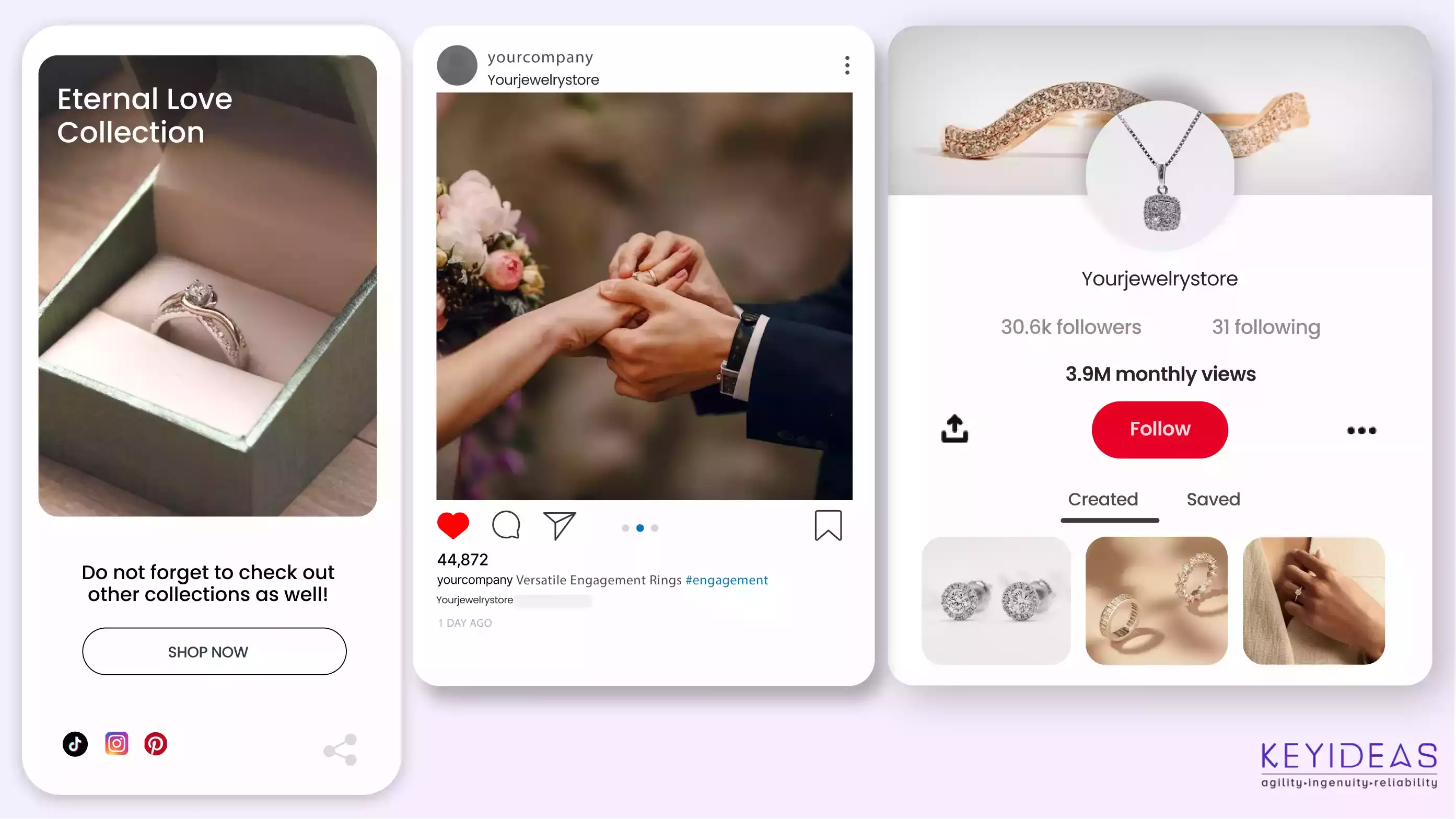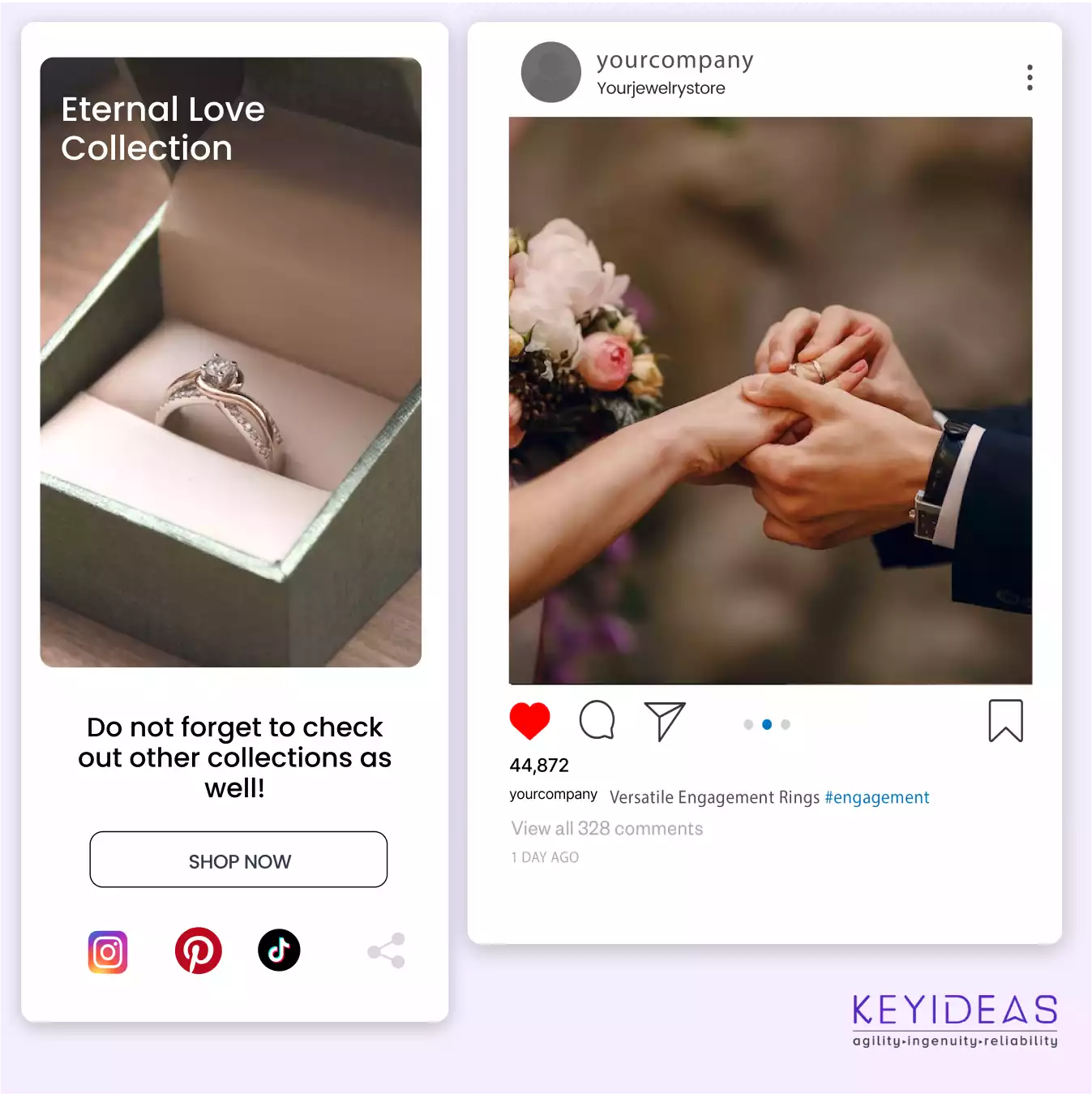 01
Social Media Marketing For Jewelry Brand
Create custom social media marketing strategies to help your brand grow and gain influence on multiple social-media platforms. Including Facebook, Instagram, TikTok, Pinterest and LinkedIn.
02
Pay-Per Click Advertising And Management
Influence the full potential of PPC to get straight to your target audience. We optimize paid advertisements to serve your business objectives.
03
Launch A Newsletter For Your Jewelry Brand
Provide your customers personalized jewelry pieces from a choices of metals and stones that fit their budget with a Best Jewelry Configurator. You get advanced integration, including 'BYOR' and Diamond marketplace integrations.
04
SEO And Your Jewelry Brand Reputation Management
Leverages your jewelry website's chances to rank well in the search engine results page with a deep analysis of websites that impact ranking.
05
Talks About Your Fine Jewelry Blogs And Articles
Posting articles, the blog that includes business-relevant keywords focuses on meta title, and descriptions of what users expect on the page.
06
Uses Compelling Jewelry Images And Graphics
Create unique, engaging, and eye-catching graphics that are aesthetically pleasing to capture the attention of your target market.
Launch Your Website With Our Professional Jewelry Website Services
Expert functional and design services for a Jewelry Web design.
Stress-free management of your website.
Works on a retainer basis and provides complete feature access and version upgrades.
Provides a Powerful Website Admin Panel for easy access and edits.
Familiarity with Jewelry Websites and the needs of jewelers will help us understand your concerns faster.
Free consultation on Marketing Strategies to improve online sales by at least 200%.
Our UI/UX Servicing Process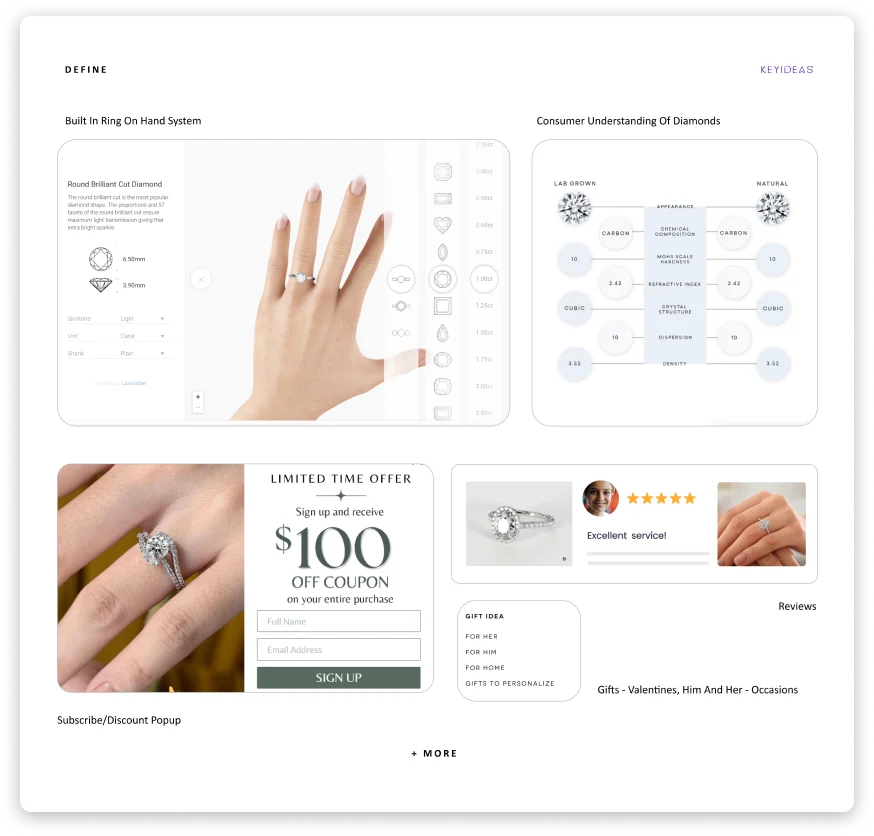 DEFINE
"We Focus on the solution. Our process of Web design and development starts with understanding your business vision and user goals. We align our process with your expectations to make sure you are getting the desired appreciation for your website."
RESEARCH
"With our years of experience and team of experts we combine the latest and most innovative ideas to your website. Research forms an integral part of all our processes. We spend time understanding your end-users, conducting competitive analysis and examining the latest design trends to figure out what suits best for your products and services."
CONCEPTS
"Driving the collected data forms the next part of the process. We figure out how the user navigates through your product and the flow of user data. We then draft & sketch out the fundamental outlook of your product."
DESIGN
"The stage where you see all your ideas coming to life. The design team gets involved in creating mood boards, asset creation, developing the layouts, and creating a workable solution to test among the stakeholders and their end-users."
DEVELOP
"The approved and final design solutions enter our final stage of development. The designs are implemented, and internal quality assurance testing takes place for the launch of your product or service."
TESTING
"The final stage, which is Testing comes, in when we implement designs that are thoroughly tested after each sprint to test bugs and fix them."
Our Jewelry Website Builder & Development Team Empowers Your Business
Our team follows a full-proof strategy that we call our 4D design approach. That gives you 100% satisfying results.
To know more you can connect with us over a video call. We will solve all your queries. Guiding you towards your success. We value your time thus deliver each project within tight guidelines.
Keyideas offers solutions for small business websites, corporates websites, e-commerce web designs, and app development.
Swift, agile, and always on time. Our team delivers web solutions with lightning speed and adaptability
Expect nothing less than innovative, problem-solving web designs that set you apart in the digital realm
Count on us as your unwavering, 24/7 partner for dependable web development and support.
Keyideas Specialization As Jewelry Web Design & Development Agency
Brand
Identity
Crafting unique
brand profile
Graphics
and UI/UX
Creating engaging
website designs
Web
Design
Building custom
jewelry websites
E-Commerce
Design
Perfecting online
shopping
AR Virtual
Try-On
Enhancing jewelry
shopping with AR
Digital
Marketing
Promoting jewelry
brands online

Keyideas seems to be a world class provider from what we experienced on our first project from the very beginning like scoping out the project requirement, design & development, QA & testing phase and finally to migration to our location.
Isaac Gottesman
dimendSCAASI, Chicago

I had an amazing experience working with Keyideas an excellent team of developers! I"m pleased with their service and commitment. They proved that working with them, was a right decision.
Mordy Karsch
Giving Back Promotions, San
Francisco, CA

The new application was to be used across our offices by senior management at different locations, Keyideas did an excellent work. They clearly understood the requirements and delivered good quality Price Comparison Tool.
Rui (Ray) Wang
Vestas Group, Denmark
FAQ About Keyideas Jewelry Shop Website Design
Mordy Karsch
Giving Back Promotions, San Francisco, CA
I had an amazing experience working with Keyideas - an excellent team of developers.

Isaac Gottesman
dimendSCAASI, Chicago
I would not hesitate to recommend Keyideas as a superior development house.

Lets Do Great Work Together!
Discuss your ideas. Connect now
We've successfully delivered over

leads for the client