Our Beautiful Jewelry
Web Design Work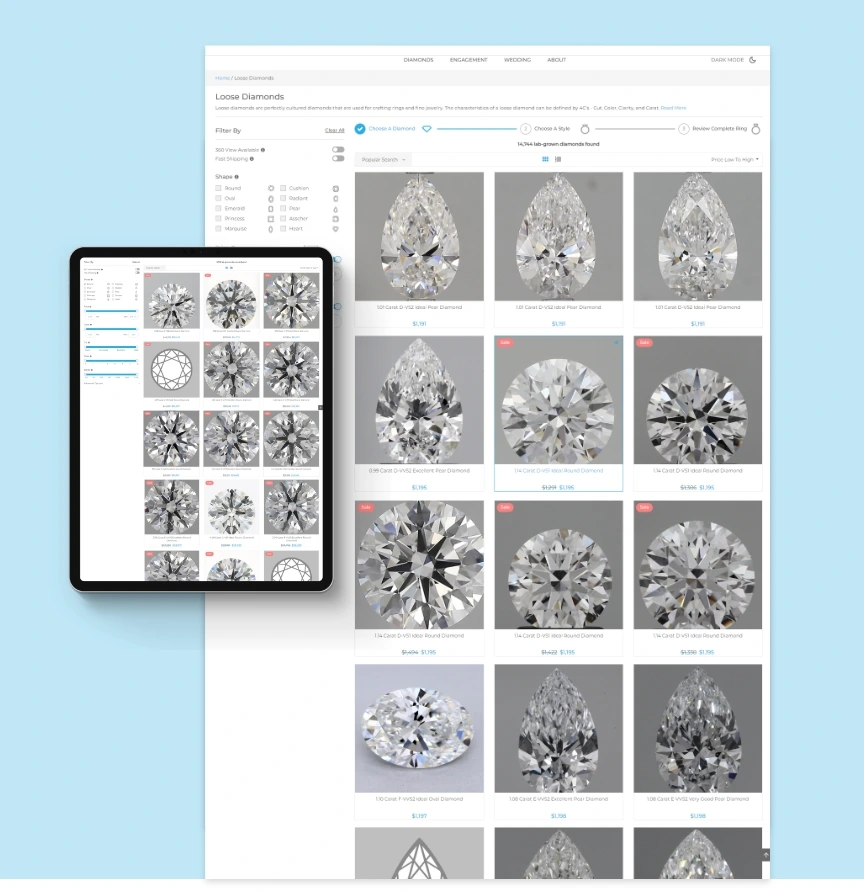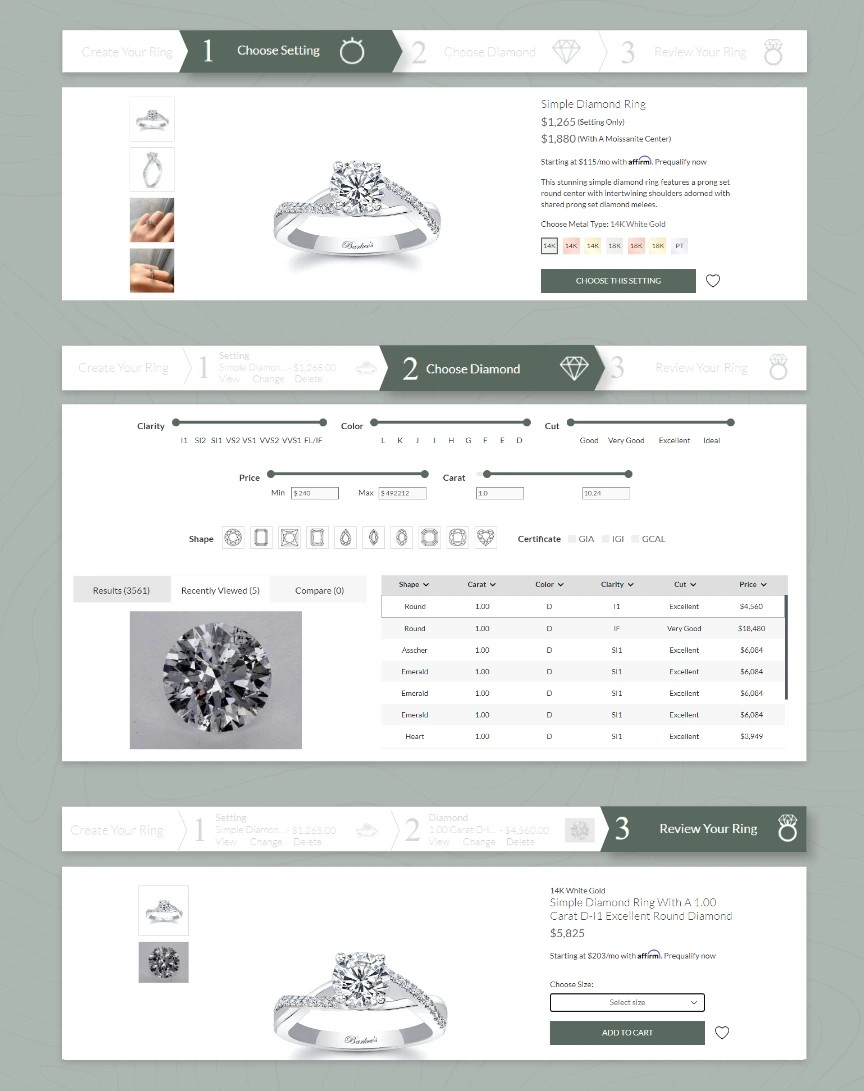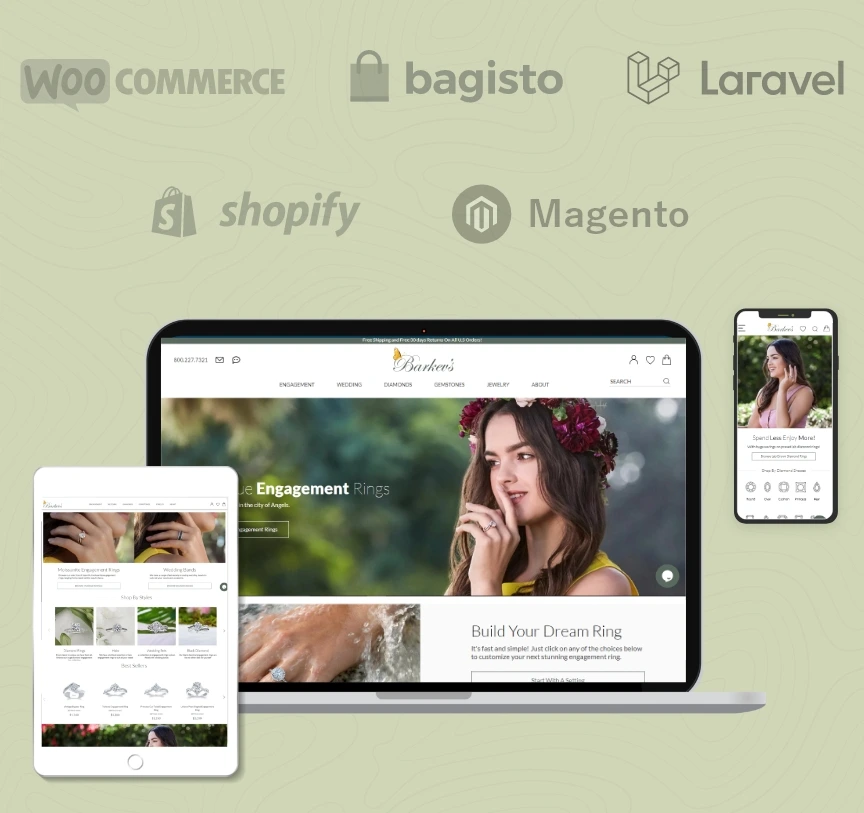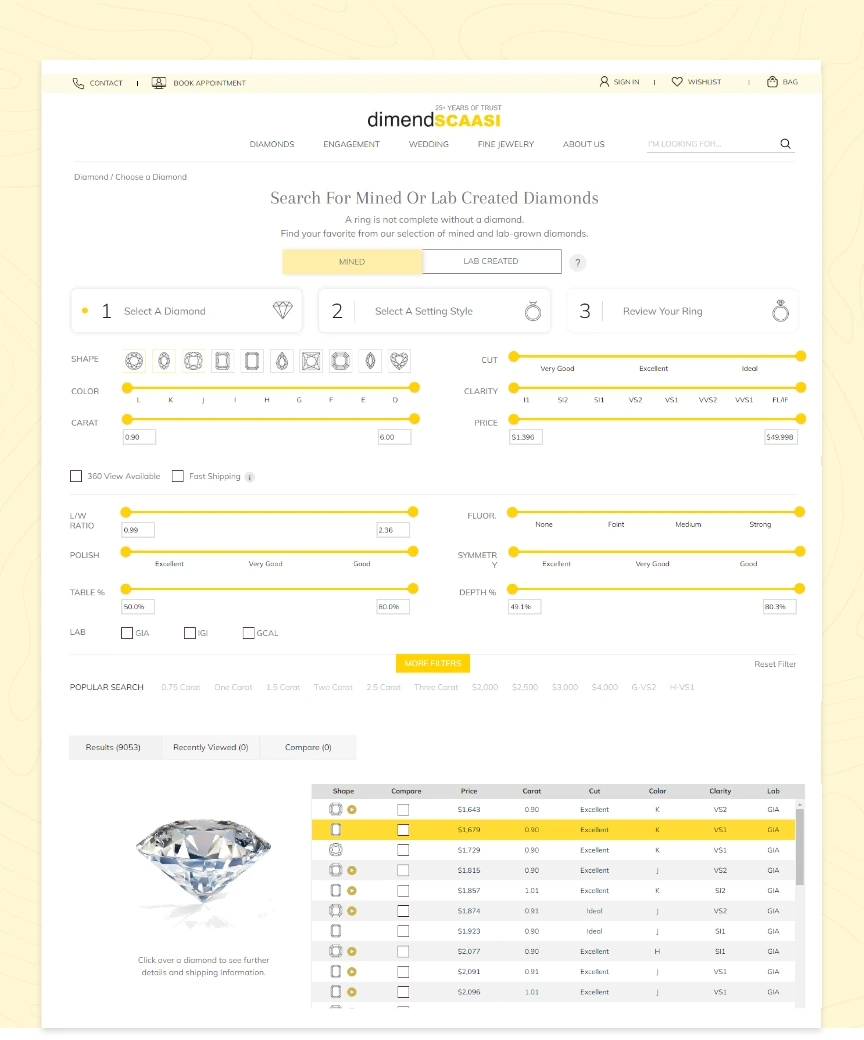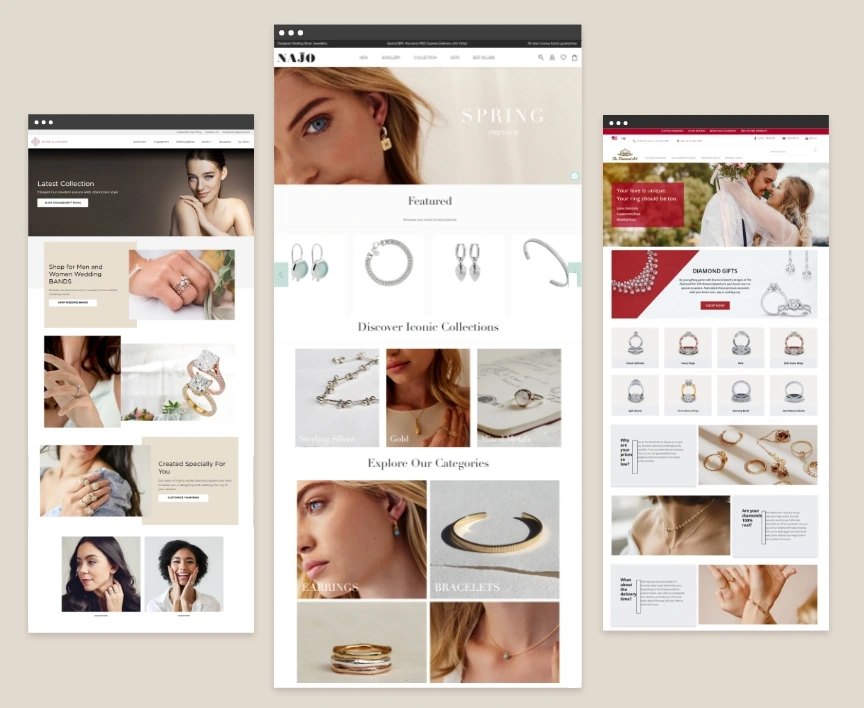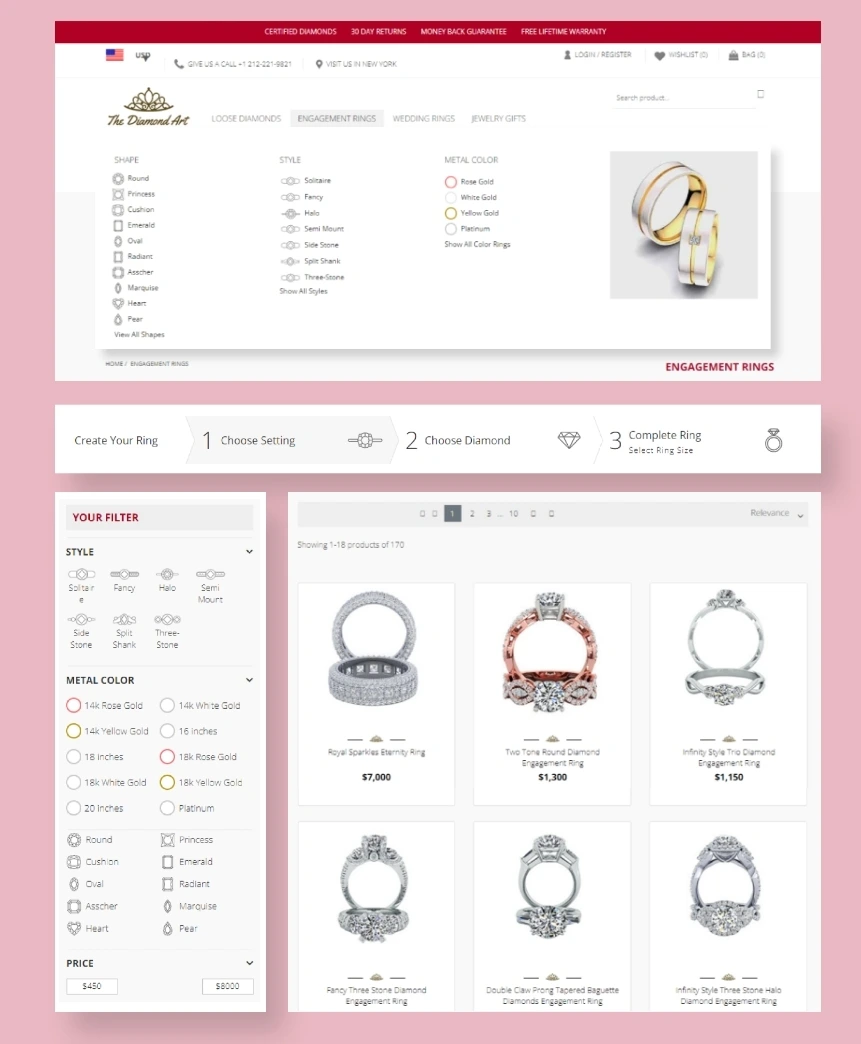 Ecommerce Platforms We Use For
Best Jewelry Web Design and Development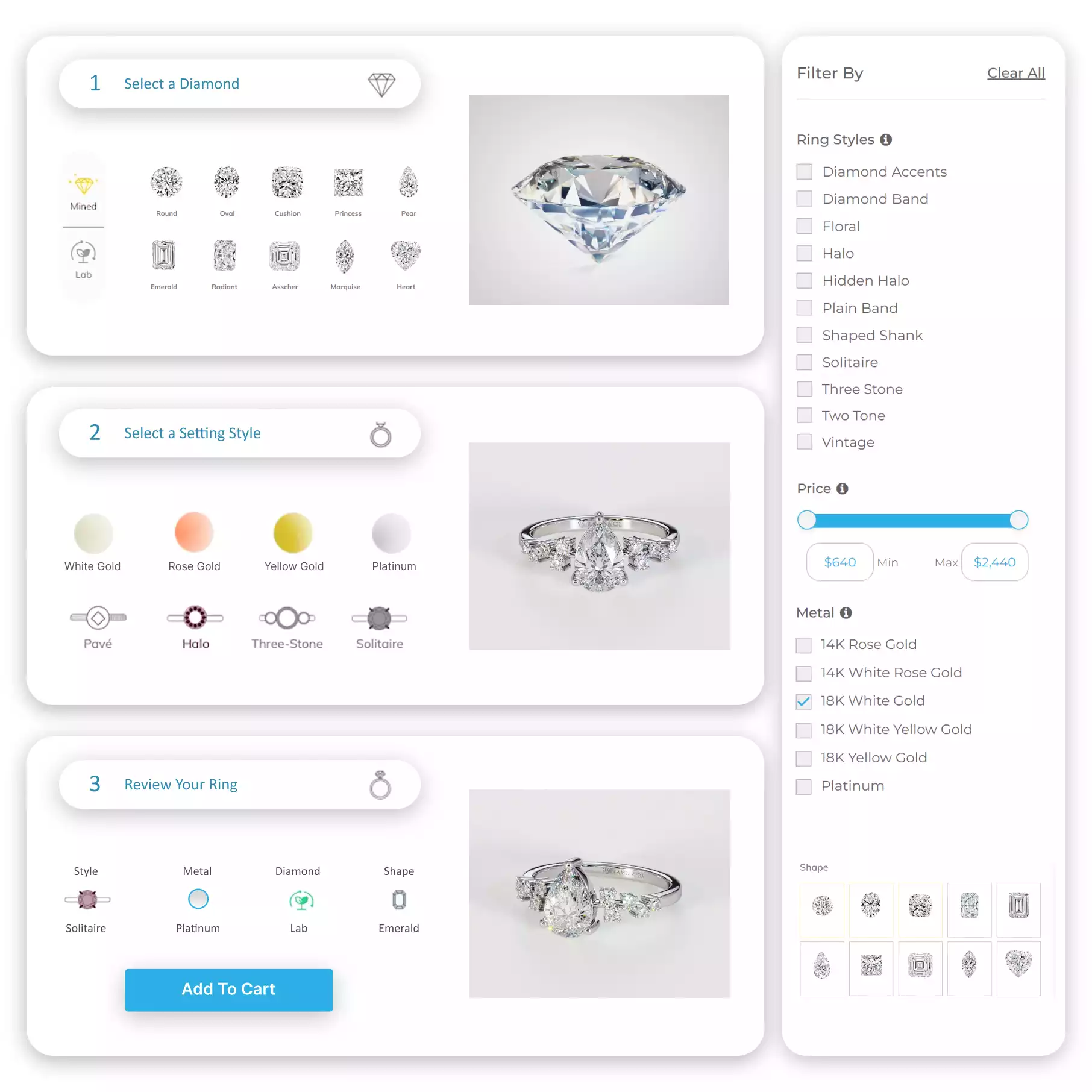 Keyideas creates Top Jewelry Web Design And Development for jewelry stores using the Magento2, Shopify, and Woocommerce platforms and its custom framework. Our Web Design For Jewelry Stores specializes in displaying engagement ring modules and diamond search engines and integrating jewelry inventory into third-party systems through Rapnet API, CSV, and API
Many small and large jewelers have used our services in cities throughout the United States, Canada, Singapore, England, and other countries.
Step-Up Your Online Jewelry Store
With Our Dedicated Developers

Website Design
Building websites that engage users

RapNet Inventory of Diamonds
Diamond Integration using global jewelry trading network

Ring Builder
Our website helps customers find their desired ring

Diamond Filter
Allows buyers to search for and filter diamonds based on their characteristics

Retouching Images
emphasize alluring features while minimizing flaws and attracting new customers

E-commerce
Tailored solutions for growing your jewelry eCommerce business

Marketing & SEO
Promote your products to the target audience

Website Pricing & Packages
Choose our services and watch your business grow exponentially
Build Tailored Jewelry Website
Packed With Powerful Features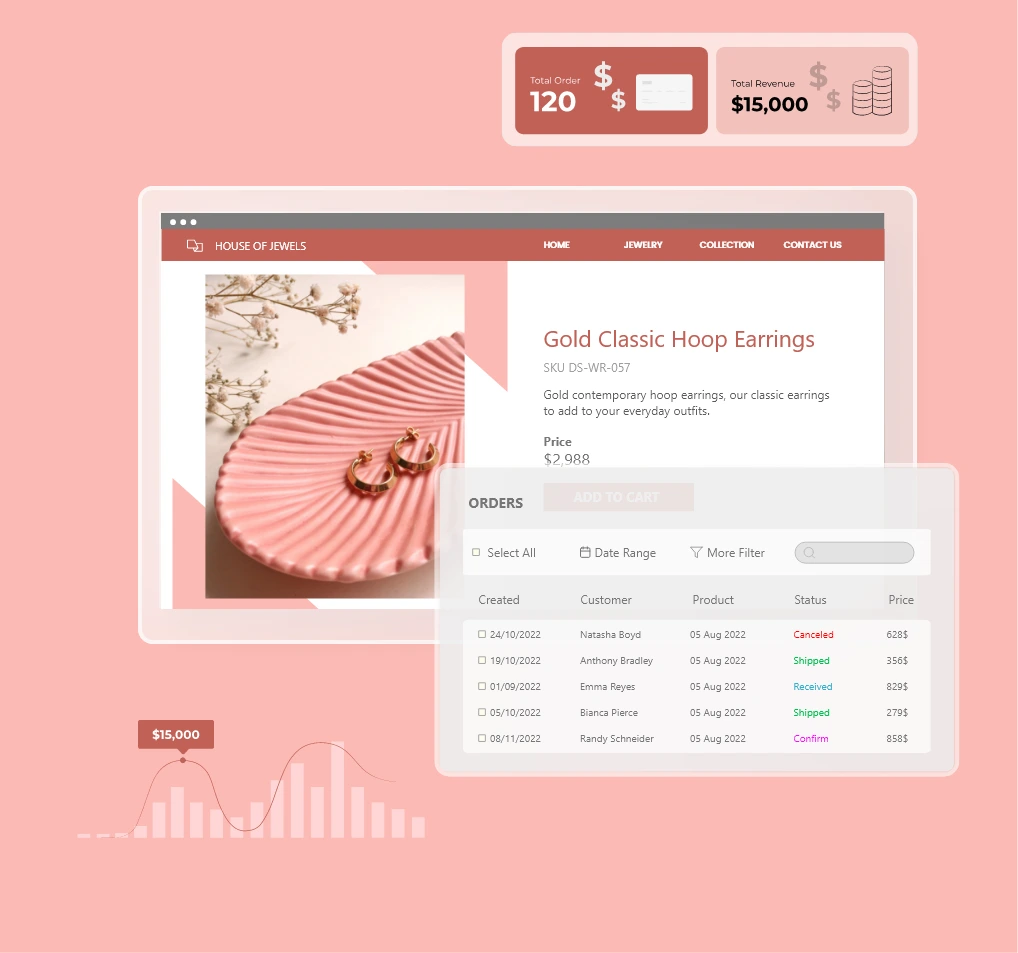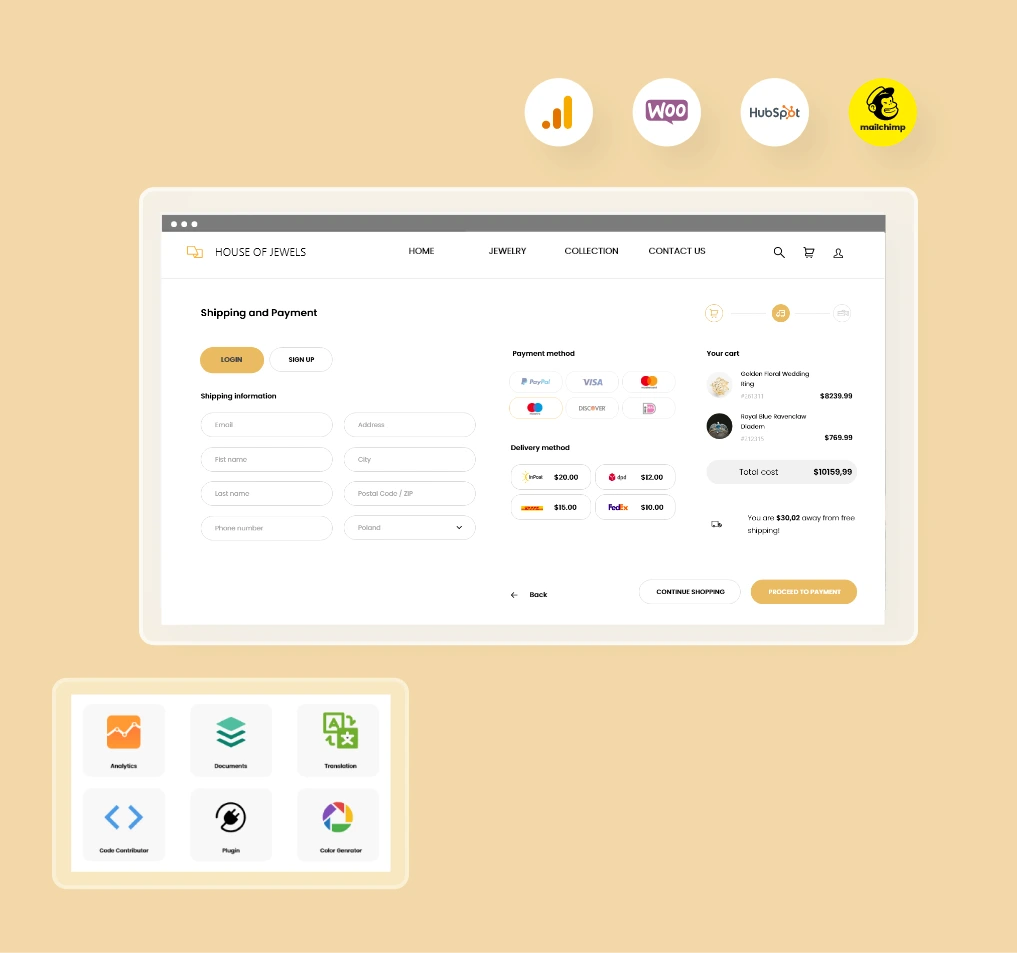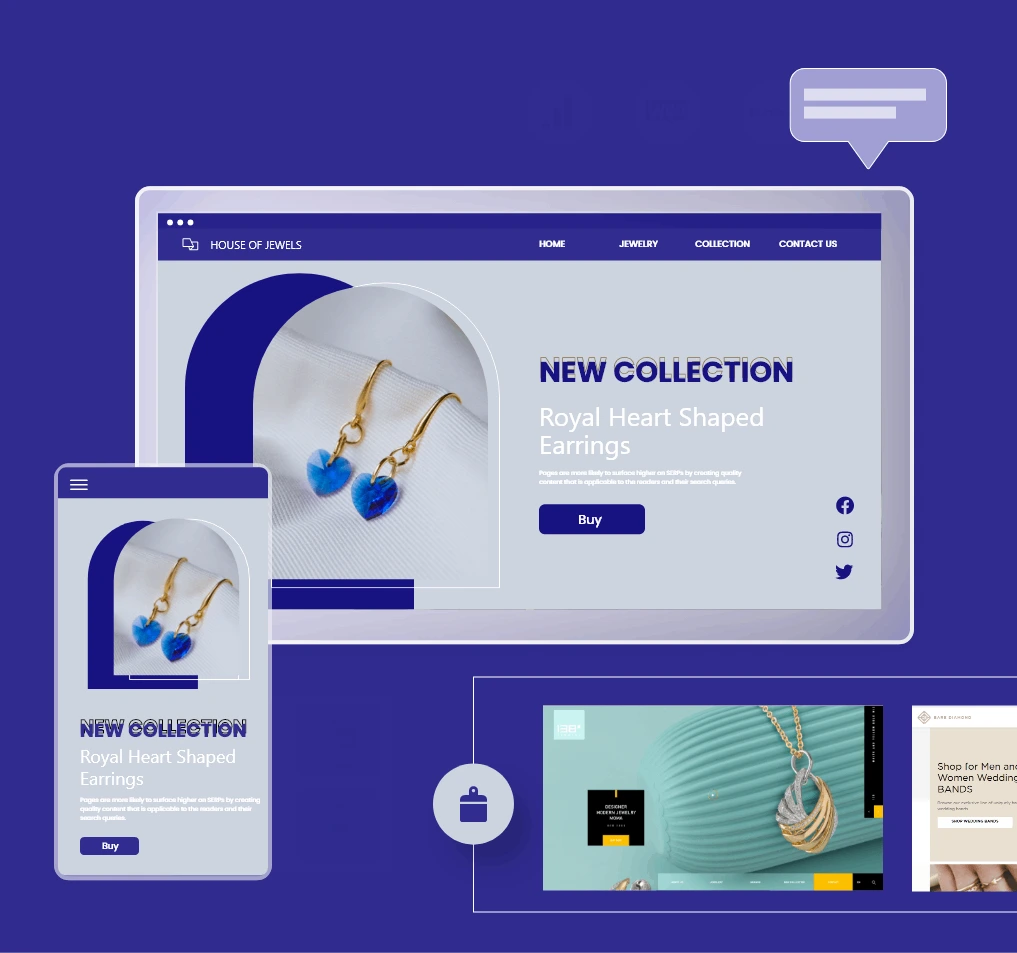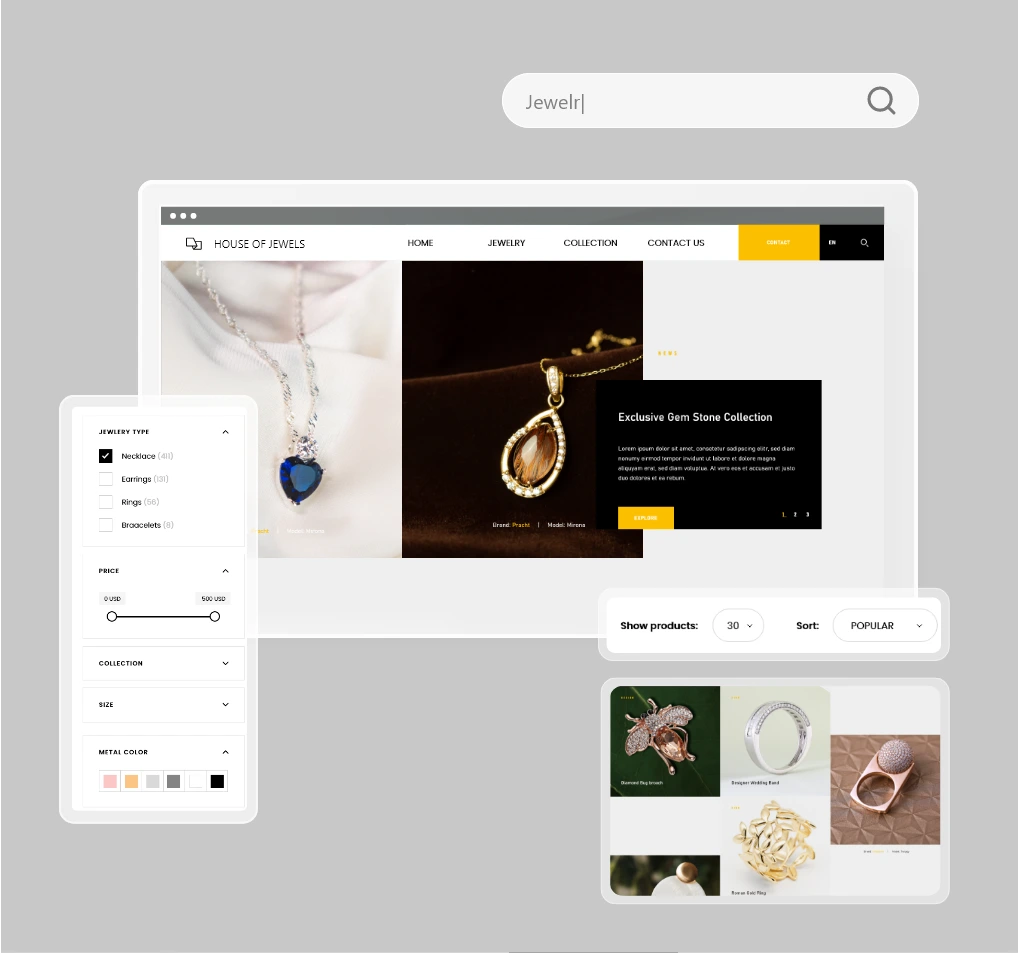 Optimized Workflow With Top Jewelry
Web Design And Development
Track outstanding orders, resend customer update emails, easy to view and accept credit card orders and print packing slips from a single interface.
Secure Payment Options & Gateways
Manage Inventory & Fulfill Orders

Jewelry Store Live Analytics & Insights
Extensions With Top Jewelry Web
Design And Development
Grow your jewelry business with hundreds of free and paid extensions across all your logistical, technical, and marketing needs.
Marketing & Sales Extensions
Finance Extensions

Shipping Extensions
Mobile‑Friendly Website With Top Jewelry
Web Design And Development
Create a unique website experience for every device and every possible layout and screen resolution imaginable with perfection.
Push Notifications
Clean User Interface

Personalized Webpages
Customized Content With Top Jewelry
Web Design And Development
Add your products, upload their photos, set stock levels and more to build out your ecommerce website's inventory.
Custom Site Search Engine
Store Page Content Enhancement

Unique Product Filtering
Launch Your Website With Our Professional
Jewelry Website & Development Services
Expert functional and design services for a Jewelry Web design.
Stress-free management of your website.
We work on a retainer basis and provide complete feature access and version upgrades.
Provide a Powerful Website Admin Panel for easy access and edits.
We are familiar with Jewelry websites and the needs of jewelers in general so we understand your concerns faster.
Free Consultation on Marketing Strategies to improve online sales by 200% at least.
Our Process For
UI/UX Services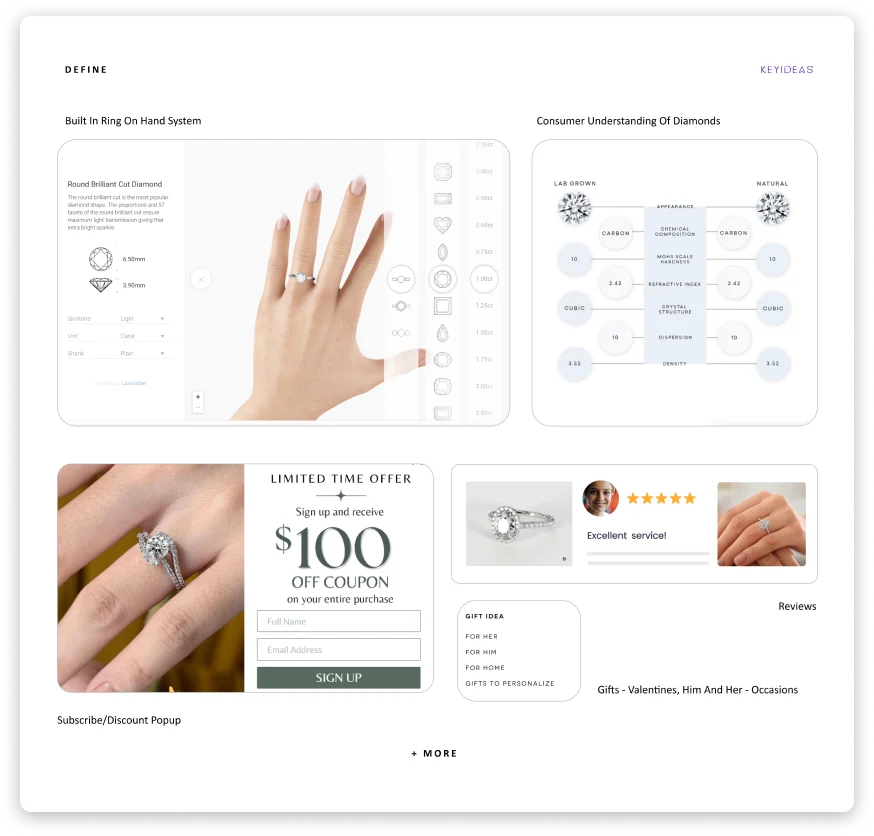 1
DEFINE
What good is solving when you don't even understand the problem? As the project kicks off, we begin with understanding the vision, business & user goals, and aligning expectations with the stakeholders to achieve clarity on the problem statements to be solved.
2
RESEARCH
What good is a product or service that fails to meet the user needs and business requirements? Research forms an integral part of all our processes. We spend time understanding your end-users, conducting competitive analysis, and examining the latest design trends to figure out what suits best for your product and service.
3
CONCEPTS
Driving the collected data forms the next part of the process. We figure out how the user navigates through your product and the flow of user data. We then draft & sketch the fundamental outlook of your product.
4
DESIGN
The stage where you see all your ideas coming to life. The design team gets involved in creating mood boards, asset creation, developing the layouts, and creating a workable solution to test among the stakeholders and their end-users.
5
DEVELOP
The approved and final design solutions enter our final stage of development. The designs are implemented, and internal quality assurance testing takes place, for the launch of your product or service.
6
TESTING
The implemented designs are thoroughly tested after each sprint to test bugs and or fix them.
Our Jewelry Web Design & Development Team Empowering
Independent Business Owners Everywhere

Connect with the team over Call

Deliver projects with
tight guidelines

100% Customer
Satisfaction
Our team studies conversion paths, search factors, messaging, and performance data to make better design decisions.
You can connect with our team over a video call and be assured of 100% satisfaction as we use agile methodology along with delivering projects within tight guidelines.
Keyideas offers solutions for small business websites, corporate websites, e-commerce web design, and web app development.
FAQ About Keyideas
Jewelry Web Design
A jewelry website will give jewelers a way to showcase themselves online. Their jewelry product reach will be global and it will creates their brand identity in the jewelry business.
To grow your jewelry business and keep your brand name consistent across every channel. You need to create a brand name that resonates with your business, need to define the values that represent your jewelry brand, identify pricing strategies for your jewelry products, create a website to showcase your listings and develop a marketing strategy for your jewelry products.
Yes, we can design a new and totally unique landing page for your jewelry website. Your landing page is the first place where customers arrive. It's a homepage for your jewelry products. Here is what you should include in your landing page. Include call to action buttons, ensure that your website loads quickly, multiple forms of communication and optimize it for mobile.
Yes, our developers have comprehensive experience in developing SEO-friendly application in all aspects of SEO, like server-side rendering, interactive and evolving UI/UX patterns, using schema mark-ups for rich snippets, and creating crawlable site architectures and URLs to make website SEO-friendly.
Keyideas Specialization as Jewelry
Web Design & Development Agency

Google Reviews


I have been working with Keyideas for quite a few years now. Their work is always done in a timely fashion and the overall value for the dollar is exceptional. I recommend Keyideas to anyone seeking a fantastic developer for any such work.
Isaac Gottesman,
dimendSCAASI, Chicago
Delivering Quality Services
For Your Business
Discuss your ideas. Give us a ring!

+1 617-934-6763