Top IT Outsourcing Software Development Company in USA & India
We are a reliable outsourcing partner for custom software development services. Our client-centric project management methodologies and proven outsourcing models help us to deliver the maximum targeted results to the clients. Rated as one of the best software development company we research on the emerging technology trends to suggest the best solution to our clients helping them to stay ahead of their competitors.
Getting Started:
Access to global pool of talent
Reduce operating cost
Can Focus on core competencies
Gain process knowledge
Provide value added services
Use of new tools and technologies
Enhance business productivity
Time-efficient project
Affordable yet high-end services
2000+ Projects

delivered to clients

1200+ Clients

worldwide

50+ Experts

of technology

10+ Years

of experience

CMMI Level 3

dev company

16+ Countries

serving customers
Benefits of Outsourced Custom Software Development
Avail the benefits of excellent, cost-effective services from the Keyideas expert development team to fulfill all your outsourcing requirements. Our outsourcing development model has proved to be a highly effective tool that gives you great visibility throughout your development project. You can focus on your core value competencies by engaging a dedicated team on the project. Today around 27% of the companies outsource projects to cut costs.
Economic Advantage
Outsourcing Software Development - this model is very cost effective as compared to the in-house resource as it saves your entire initial cost of training and other overhead expenses.
Access to Skilled Expertise
Outsourcing model gives you access to a diverse pool of talented professionals. The client also has the flexibility of selecting the right match for the specified project.
Time Zone Advantages
A very rewarding benefit is the time zone difference between the client and the location of the outsourcing team – providing an additional advantage of round-the-clock business operations.
Focus on Core Business Areas
IT Outsourcing to dedicated resources plays a crucial role by permitting your key human resources to concentrate on more important business tasks related to your business.
Utilizing in-house Efficiently
When a project is outsourced, an enterprise can successfully utilize the internal resources as the workload of your human capital is being shared by your outsourcing partner.
Outsourcing Reduces Risks:
Our well-versed team can easily handle the market competitions and changing technologies required for your custom development project as every business carries a certain amount of risk.
The Best Custom Software Development Outsourcing Partner:
Over a decade outsourcing has become an integral part of business development plans. If you are planning to outsource software development, Keyideas can be the perfect custom software development company for you. The top three benefits which companies credit by outsourcing - are maintaining a low budget, faster hiring methods, and access to top global resources.
Technology competency
Domain (horizontal) competency
Industry (vertical) competency
Outsourcing software development has fast-tracked the world towards IT-enablement and there is no company which has not been impacted in some way. IT Outsourcing is a business model and has been effective across industries in streamlining and speeding up the business processes – helping organizations to gain a competitive market edge.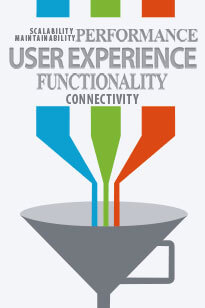 Request Free Quote
---
Please fill the form below and one of our technical associate will get in touch with you shortly.
5 SIMPLE STEPS TO HIRE DEDICATED DEVELOPERS
Analysis
We analyze your project requirements and after a feasibility study suggest you the ideal and most efficient developer.
Consultation
We filter developers' resumes aligned with your project requirements and forward it to your HR team for shortlisting.
Deployment
We allocate the selected highly technical developer to your project to provide focused and dedicated services.
Initiation
The developer is selected for the assignment and the project is initiated after the initial payment of the allotted resources.
Manage
The resource is committed to your project and work for stipulated hours, allowing you to manage your project time.