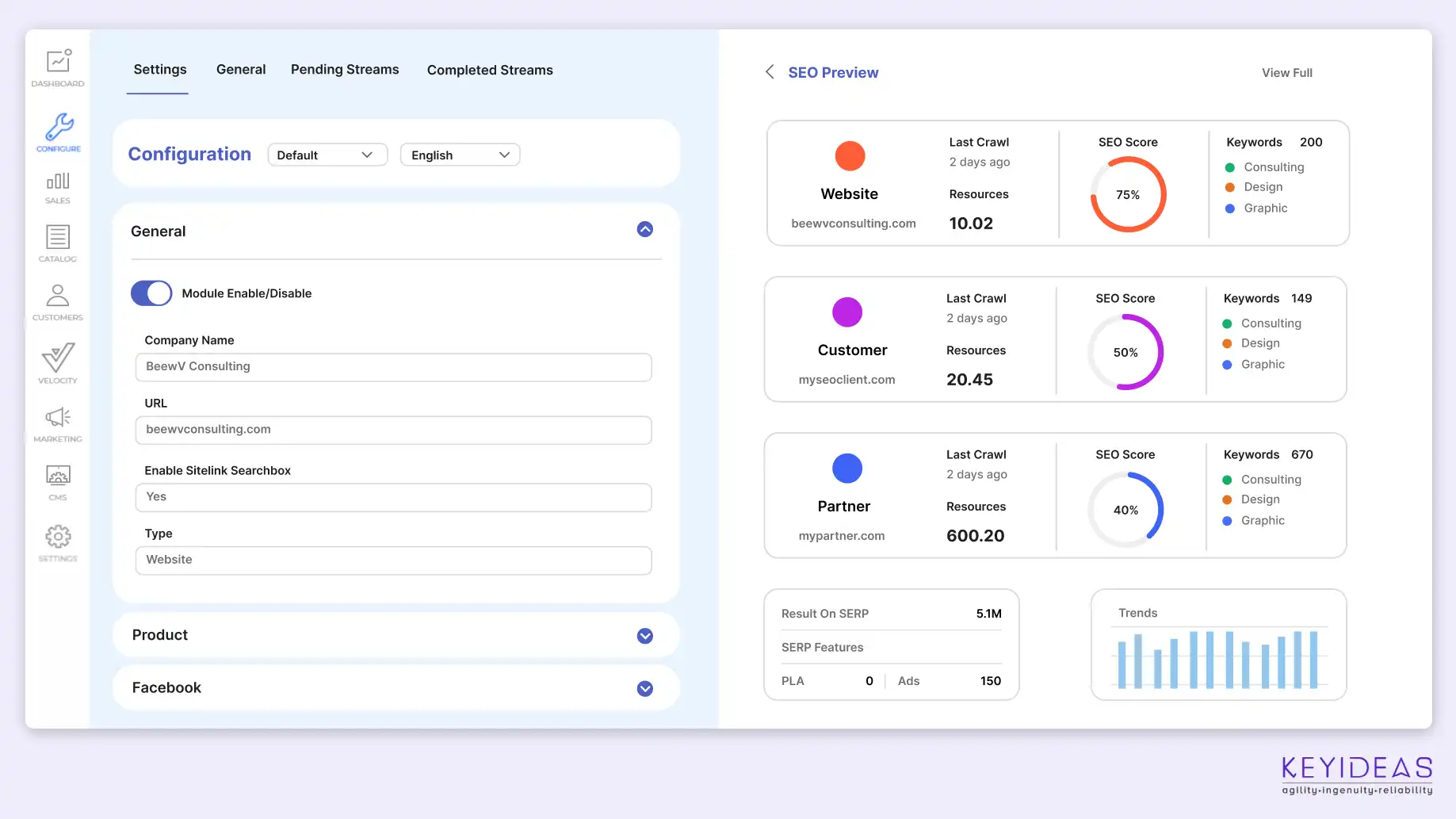 Build Your Online Store With Bagisto Laravel E-commerce Development Company
Keyideas is a leading Bagisto Laravel E-Commerce Development company. We help you access all the tools you need with Bagisto to run and grow your online store. It keeps up with innovation and helps your Bagisto B2B meet the most recent requirements for providing the best online experience to your clients. With various functionalities, Bagisto Laravel E-commerce Development can help you construct and scale your e-commerce business. Keyideas can expand your business globally by working with Bagisto as a solution partner.
Bagisto Laravel E-commerce Development Services
Bagisto Migration Services
We guarantee a seamless Bagisto conversion that only takes a reasonable amount of time and won't impact the functionality of your present store. Your web store will remain online and open for business even while the data is being moved. We promise no data loss or security flaws during the move.
Want to switch from your current e-commerce platform to Bagisto? We can assist you with moving your existing online store to Bagisto.
Woocomerce to Bagisto Migration
Migrate products, customers, orders, blog posts, and other data from WooCommerce to Bagisto with 100% accuracy by Keyideas. You can also migrate WordPress to Bagito.
Benefits of Keyideas Bagisto Migration Services
Customizable Migration
Highest Data Security
Professional Support
Preserving SEO Rankings
Bagisto UI UX Design
Our designers are skilled at creating stunning Bagisto UI UX designs that speed up development. Our designers are wiser and have a better grasp of user interfaces. We produce attractive, engaging designs to provide the finest user experience and advance our client's business.
Our creative developers created the Bagisto eCommerce solution with a highly engaging front end and UI/UX for visitors to enhance conversion rates.
Bagisto Shopping Cart Design
We have the skills and knowledge to help you create a visually appealing and engaging Bagisto Laravel store. Additionally, we work with you to develop unique modules and features that satisfy your company's needs. Our team of Laravel stack developers can create your store in the shortest amount of time.
Our Bagisto team is meticulous. The imaginative and creative designers examine clients' needs and know the most recent trends. We create engaging websites that users want to stay on longer.
Responsive StoreFront
Our UI/UX designers handpick engaging and customer-pleasing designs. Additionally, we guarantee that they are cross-browser and mobile responsive. For our clients, we work hard to turn a business concept into a stunning and prosperous storefront. We amaze our clients with a beautiful Bagisto B2B and B2C marketplace.
Benefits of UI UX Design Services
Consistent branding
Better accessibility and readability
Get a well-organized site
Faster time to market
Enhanced user experience
Competitive advantage
Bagisto Laravel E-commerce Integration Services
We help our clients combine their websites' data with third-party apps through our third-party API integration services. We use specialized developers who are adept at integrating various third-party app sources.
Payment Gateway Integration
Give your consumers a variety of payment choices that are accessible from anywhere and have simple integrations. For your Bagisto Laravel store, we are offering PCI compliance payment gateway integration. Consequently, all of your consumer information is secure.
We are experts at integrating payment gateways with Bagisto. Any payment gateway can be combined with the Bagisto marketplace.
Shipping Integration
The admin can enable USPS shipping with the Bagisto B2B Marketplace USPS Shipping module. With the assistance of our Bagisto Laravel skilled engineers, we are integrating your marketplace with the shipping API and parcel service. With this, you can quickly and easily control and track the process.
Benefits of Bagisto Integration
Time-saving
Combining better features
Cost reduction
Faster production
Smooth user experience
Customer retention
Bagisto Laravel E-commerce Marketplace Customization
We are experts at modifying the Bagisto marketplace to suit your company's needs. The marketplace can be altered to include new features, include additional payment channels, and more.
Bagisto B2B Marketplace
Using the Bagisto B2B marketplace extension, we can assist you in turning your Bagito store into a Bagisto B2B marketplace similar to Alibaba, Eworldtrade, ThomasNet, etc. Global buyers and suppliers can now communicate, transact business, and complete the deal.
Create effective B2B solutions using Bagisto to create a unique, custom eCommerce website and benefit from the rich feature set.
Bagisto Multi Vendor Multi-Currency Marketplace
Your marketplace can be changed into a Bagisto multivendor marketplace so several vendors or merchants can sign up, set up their inventories, and sell their goods on your e-commerce website.
Your business will also develop into a one-stop shop for your customers, exposing them to a wide range of buying alternatives from other merchants. Additionally, this raises your conversion rate.
Bagisto NFT Marketplace
The NFT marketplace is a decentralized platform where non-fungible tokens can be created, purchased, sold, and stored. While blockchain ensures transparency and immutability in digital asset tokenization and trading, an NFT marketplace permits the minting and trading of NFTs.
Create an NFT marketplace where users buy, sell, and trade digital content. We have the know-how to use Bagisto to create such a marketplace with a distinctive feature set.
Benefits of Bagisto Marketplace Development
Seller price comparison
Seller central marketplace
Enhances sales
Better customer selection
Supported add-ons
Increase product offerings from a single storefront
Bagisto Extension and Plugin Development
Use Bagisto to extend the functionality of your eCommerce solution by hiring our team of developers to create new features according to your company's particular needs.
PWA Using Bagisto Web API
PWA is a fantastic substitute for a native app ready to transform the mobile experience. We can assist you in providing a rapid, light, affordable technology destined to surpass your tech-savvy customer's experiential requirements.
Build powerful, dependable, quick, and engaging solutions using Bagisto's progressive web apps (PWA). we enable this by personalizing your Bagisto website.
Features Of PWA Using Bagisto
Offline Mode
No Update Required
Less Storage Usage
Instant Loading
Secure and Easy Social Sharing
Bagisto Laravel E-commerce Mobile App Development
As we all know, mobile applications are crucial to properly interacting with an online business. It makes buying for your customers simple from any location.
The Laravel-based Bagisto eCommerce solution has tremendous potential for creating a beautiful website. Using the vast feature set of Laravel, we transform your eCommerce solution into a mobile application.
Benefits of Bagisto Mobile App Development
Reduce Cart Abandonment Rates
Easy Geo-Tracking
Connect With The Customer Even When They Are Offline
Reduced Response Time
Using Device Features
Bagisto POS Development
We can also assist you in setting up the POS so your customers can manage their physical and online stores simultaneously. We are experts at transforming conventional Laravel Bagito e-commerce stores into comprehensive solutions that allow you to sell your goods in person for an authentic omnichannel experience.
Keyideas provides businesses with feature-rich POS (point of sales) systems that let you combine your brick-and-mortar and online stores into one program for increased productivity.
Benefits of Bagisto POS Development
Multiple Outlet
Centralized
Accuracy
Loyalty Discount
Effective Business Strategy
Bagisto Saas Development
Utilize Bagisto to build your eCommerce website, leveraging the SaaS business model. Using Bagisto, we provide the ideal solution appropriate for larger websites. we can also convert your Bagisto website into a SaaS-based Bagisto B2B Marketplace website
Multi-Tenant Saas Development
Multiple merchants can register on your e-commerce shop and set up their e-commerce stores using Bagisto's SaaS-based multi-tenant module. It resembles a virtual mall for e-commerce. Many online retailers can access and control their product inventories, orders, etc.
For our eCommerce solution, we use Bagisto, a powerful Laravel eCommerce solution that many businesses can use.
Benefits of Bagisto Saas Development
Quick Installation
Data Security
Decreased Downtime
Cost-Effective Solution
Modifications and Flexibility
Remote Support
Bagisto Laravel E-commerce Support and Maintenance
Have a Bagisto store already but need help and upkeep? We can assist you in offering support and maintenance for your Bagisto store.
Employ our Bagisto development services to continuously monitor and improve your Bagisto B2B and B2C websites and guarantee that your website never goes down, not even during periods of high traffic.
Benefits Of Our Support And Maintenance
Migration to Bagisto's latest version
Upgrade libraries
Optimize databases and backups
Bagisto store performance analysis
Evaluate security issues
Dead code elimination
Why Bagisto is the Right Choice for your E-commerce Development?
Features of Bagisto
Built on Laravel
Bagisto is built on the Laravel framework, renowned for its beautiful syntax, thorough documentation, and robust development ecosystem. To ensure stability and performance, Laravel offers a strong foundation for creating scalable and secure e-commerce apps.
Multi-lingual and RTL Support
The program supports multiple languages. It will help the globalization of your organization by making your application easily accessible to users in a variety of languages. Additionally, it is crucial for increasing traffic and sales.
Multi-Store Inventory
Connect your store to several inventory sources to manage multi-channel inventories from a single website and conveniently track your product stock in a given inventory.
Product SEO
To increase the likelihood of getting product photographs on search engines, integrate SEO into your Bagisto e-commerce business. We use meta titles, meta descriptions, keywords, image optimization, and speed optimization to improve the product pages.
Product Search by Image
The best function offered by Bagisto is product search by image. By incorporating this excellent function, which enables customers to use photographs for the desired product, you can give your users a flawless buying experience.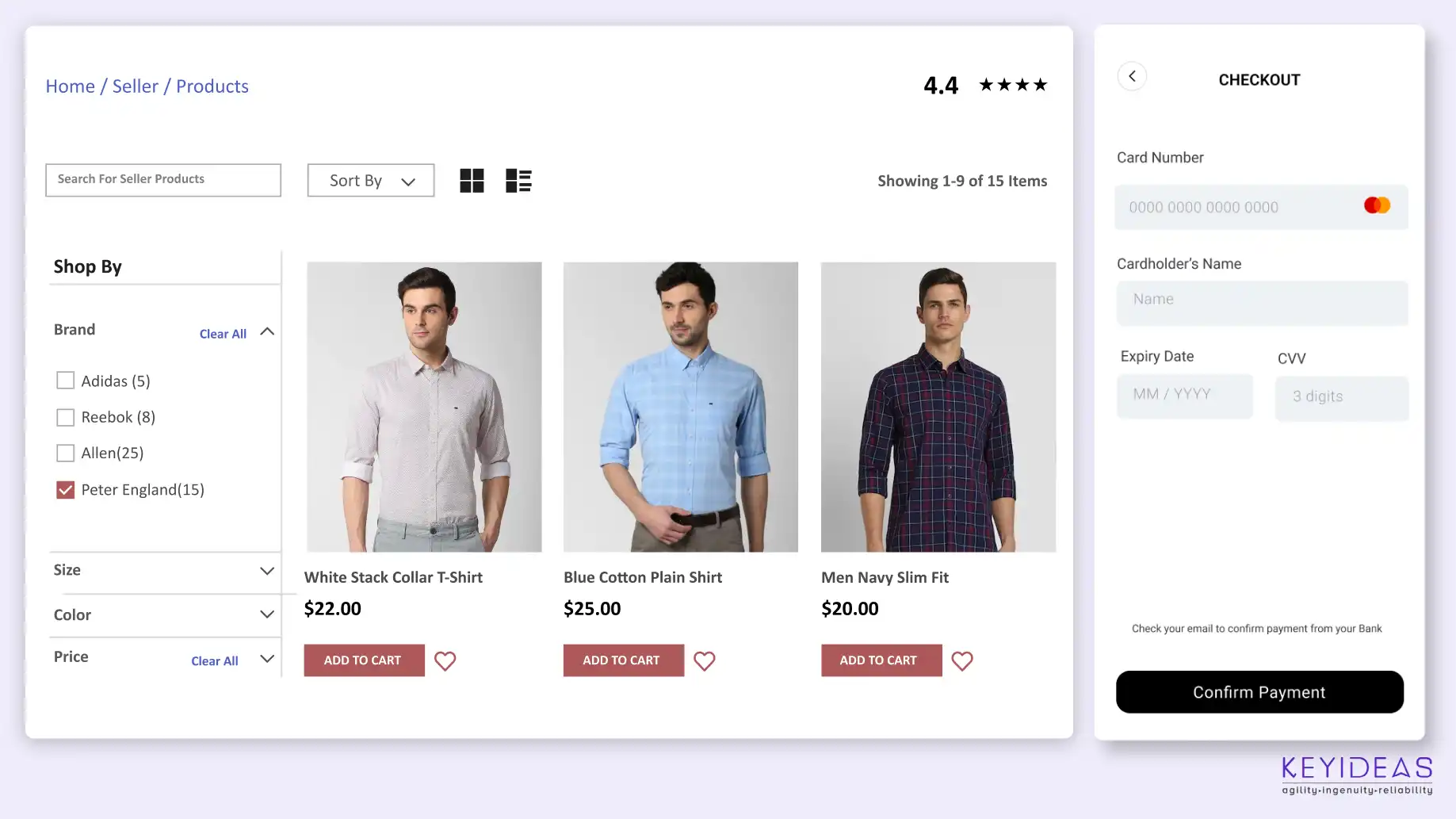 Why Choose Keyideas for Bagisto Laravel E-commerce Development?
Skilled Bagisto Developers
Our skilled Bagisto developers have extensive experience creating Laravel and Bagisto-based e-commerce solutions.
Official Partner of Bagisto Solutions
The Official Solution Partner for Bagiso Development Services, Keyideas, has years of expertise in Bagisto Development.
Affordable Prices
Our Bagisto e-commerce development services are reasonably priced, making it possible for companies of all sizes to use our products.
Quality Work
We are dedicated to providing top-notch work that satisfies the particular e-commerce needs of our clients.
Scale Up Your E-commerce Store with our Bagisto Laravel E-commerce Development Company
Bagisto allows you to merge through multiple channels and supports numerous payment methods & shipping methods and the Bagisto B2B marketplace. It also contains several additional capabilities, such as support for various currencies, and offers thorough insight reports, which enables our knowledgeable developers to provide cutting-edge solutions.
Hire our PHP Laravel service provider for all your staffing needs and utilize our best services to complete Bagisto Laravel e-commerce development within your projected budget. Long-term business relationships are something we value. Schedule a call with our Bagisto Development Company or visit Bagisto Web Development service for a Laravel-based e-commerce store.
Discuss your ideas. Connect now
We've successfully delivered over

leads for the client
© Copyright 2023. All Rights Reserved.