The Ring Of Dreams With Our Build Your Engagement Ring Feature
Make your customers' Big Day Extra Special with our Build Your Engagement Ring website feature. Collaborate with our team of experts to create the best engagement ring design website with advanced features meant to delight your customers.
Step1: Tune Your Settings
Customize the Settings to Create Best Engagement Rings
Give your buyers the power to create their dream ring. Make their proposals extra special with the BYOR setting. Now, they can choose a ring design with a variety of settings. That includes the Shapes, like Solitaire, Pave, Emerald, Vintage Modern, and Marquise. Metals – Rose, White, Yellow Gold, and Platinum – and different ring shapes.
Step2: Choose The Diamond
Select the Desired Diamond With Best Ring Builder Web Design
Once you're convinced with the design, now it's time to fit in the perfect center stone. With our Diamond Marketplace Inventory Integration, you get to show 20,000+ diamond options to your customers. They can select the diamond according to its size, shape, stone cut, color, and style. The idea of this feature is to delight your customers. Also, to keep it feasible for you to show up the diamond options without the cost of owning them.
Step3: Relax and Admire
Sit Back and Admire Your Beautiful Creation
Make the day of your buyers as they collect compliments from their loved ones. The credit also goes to your best engagement ring builder. Make their memories special with these ring builders and spark their creativity and togetherness. Level up your website with our advanced features.
Our Beautiful Jewelry Web Design Work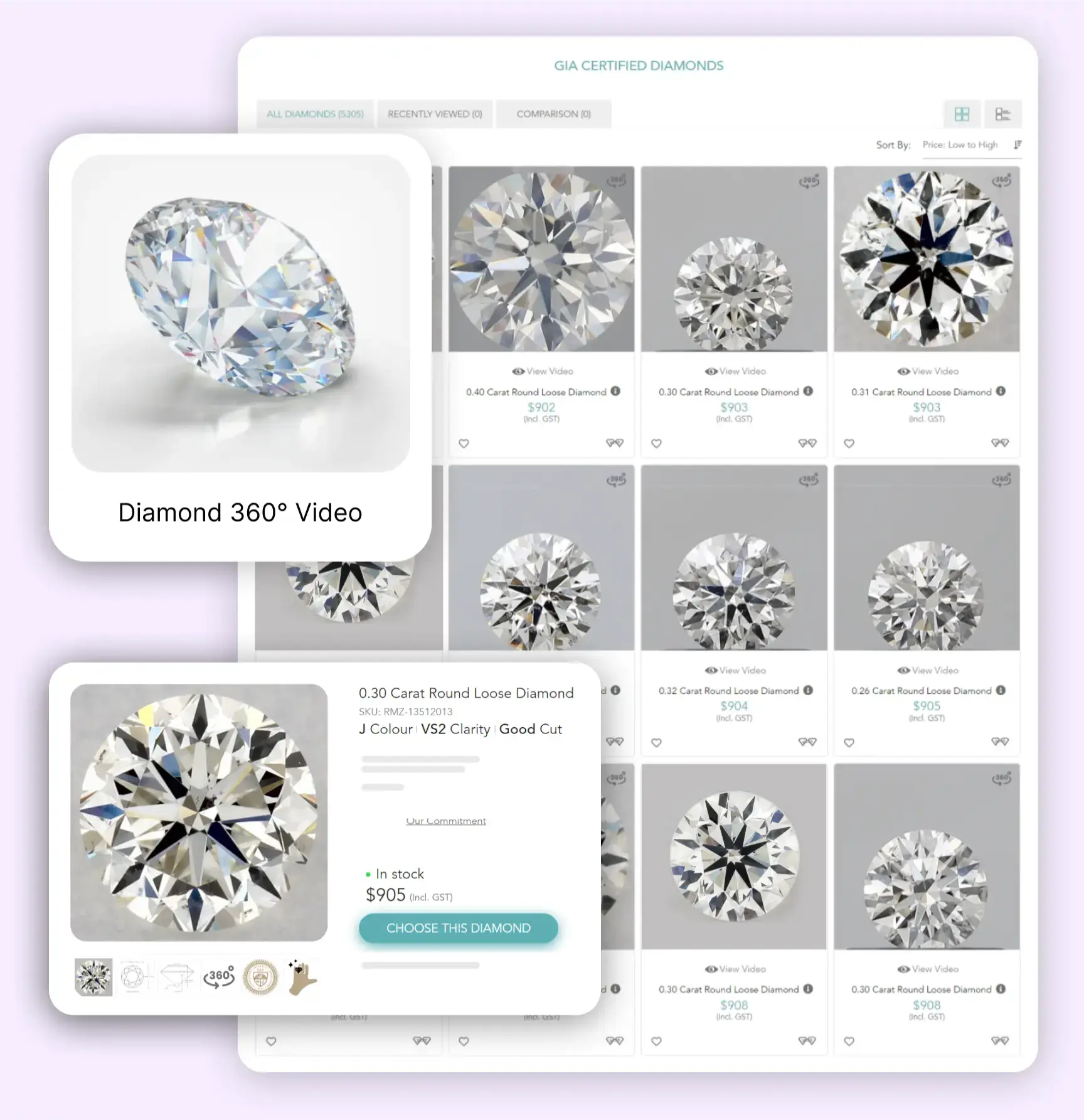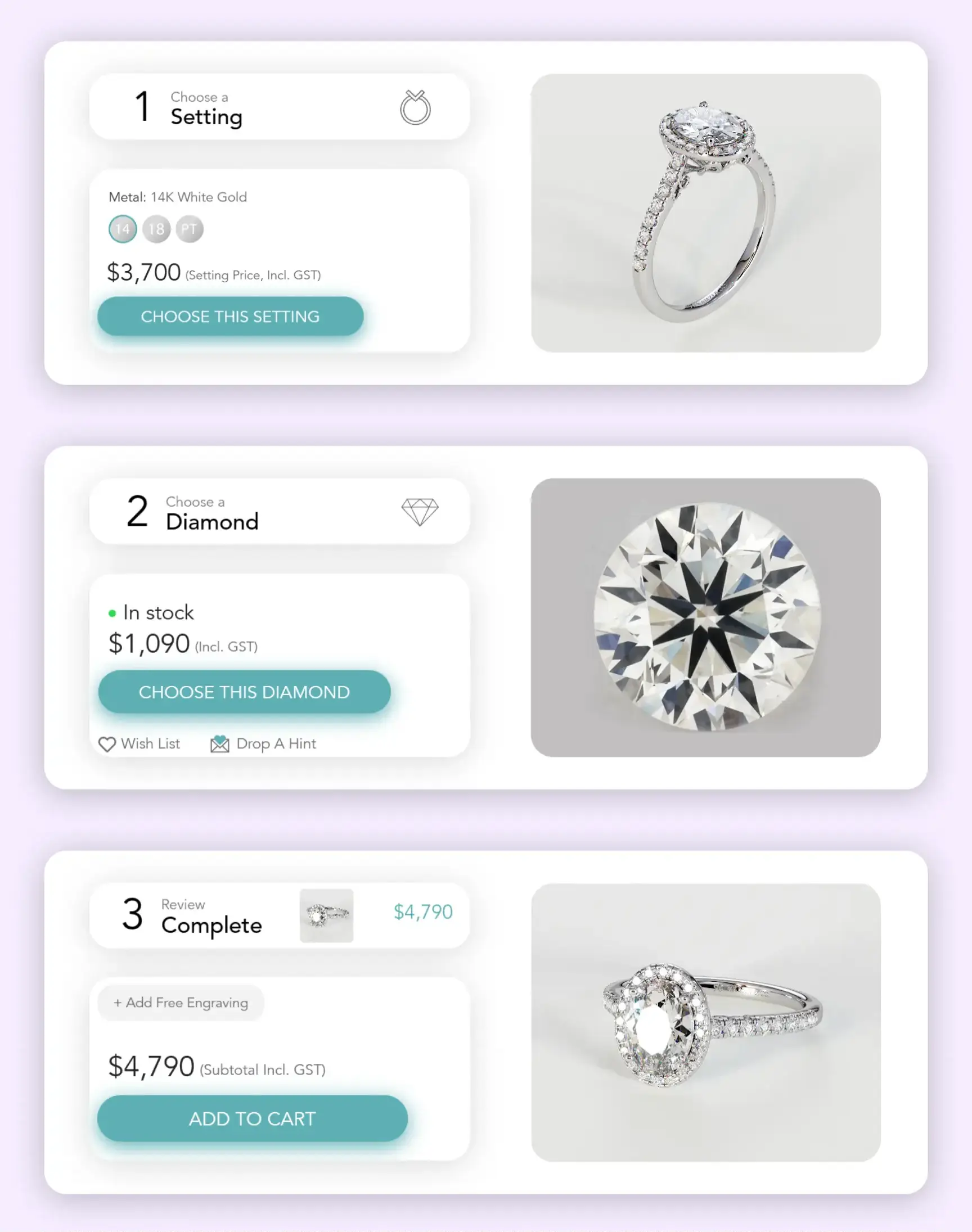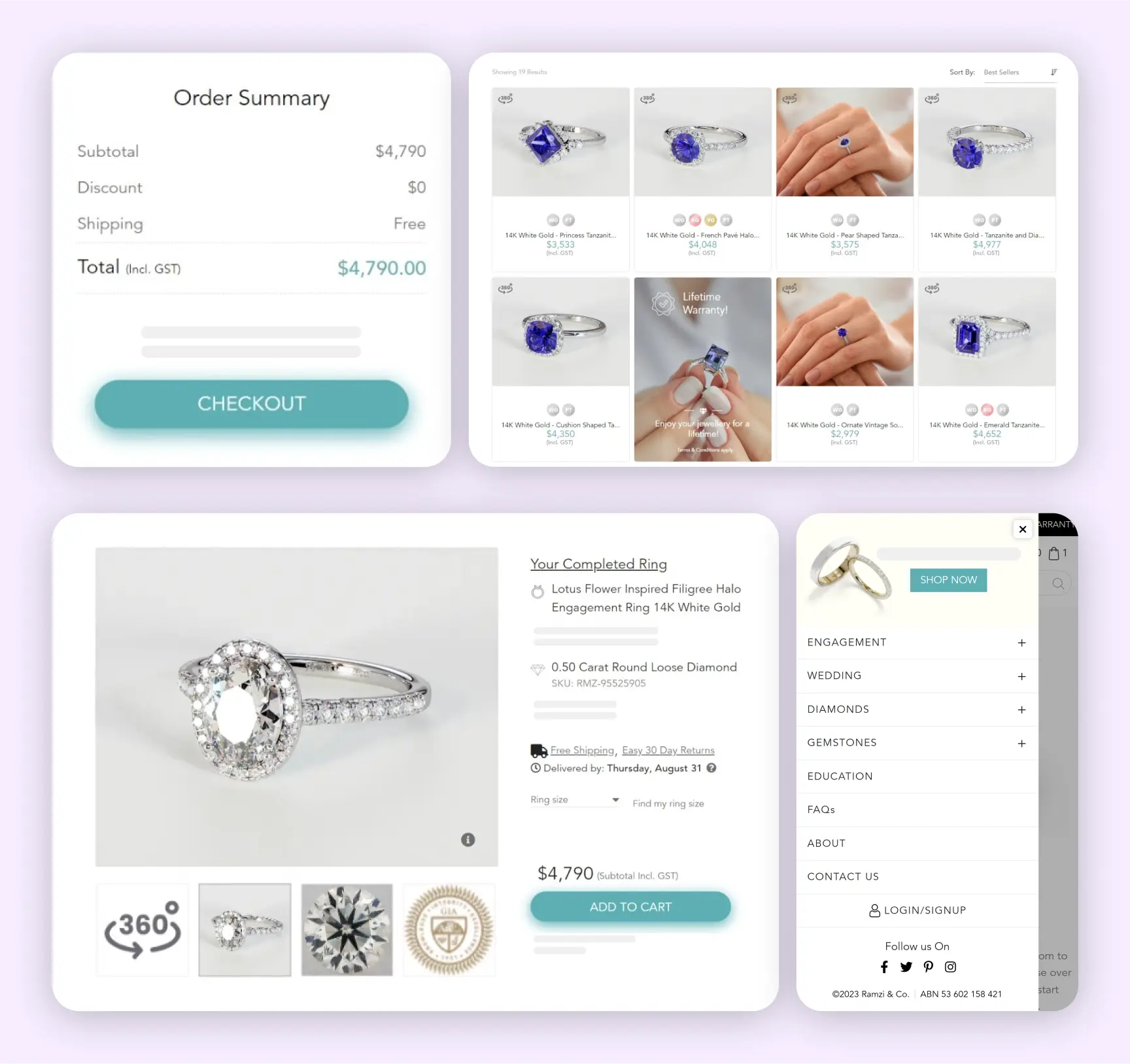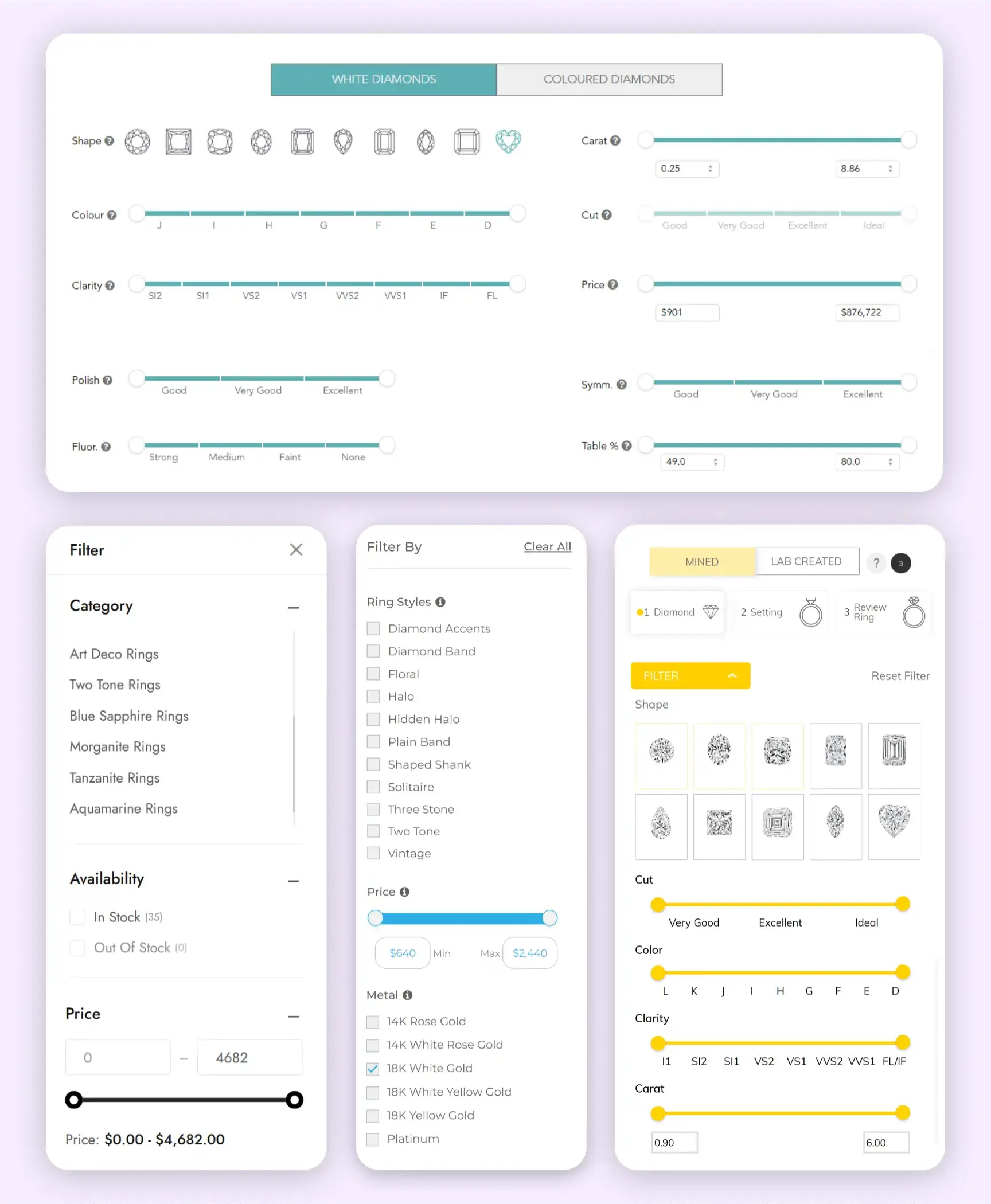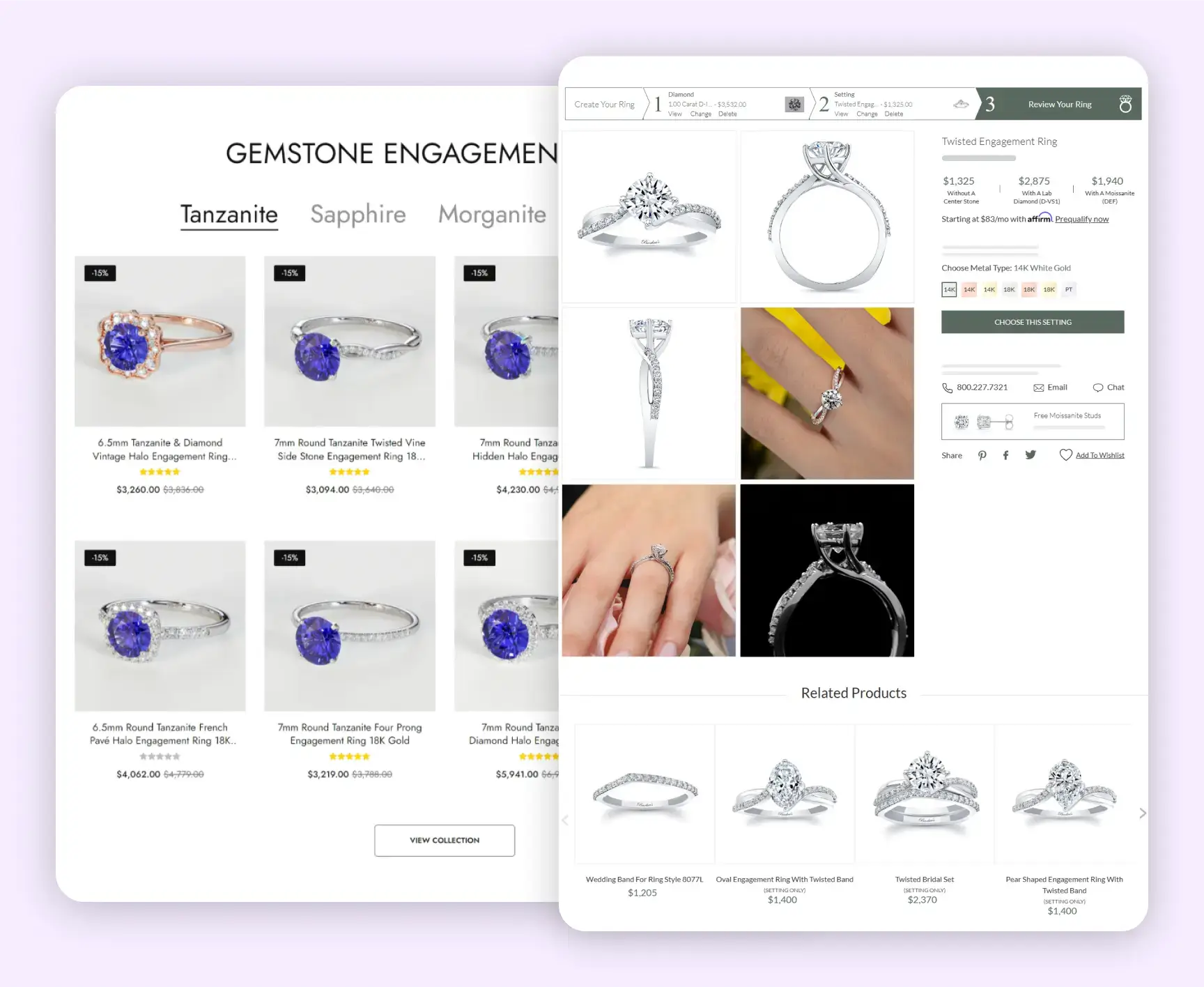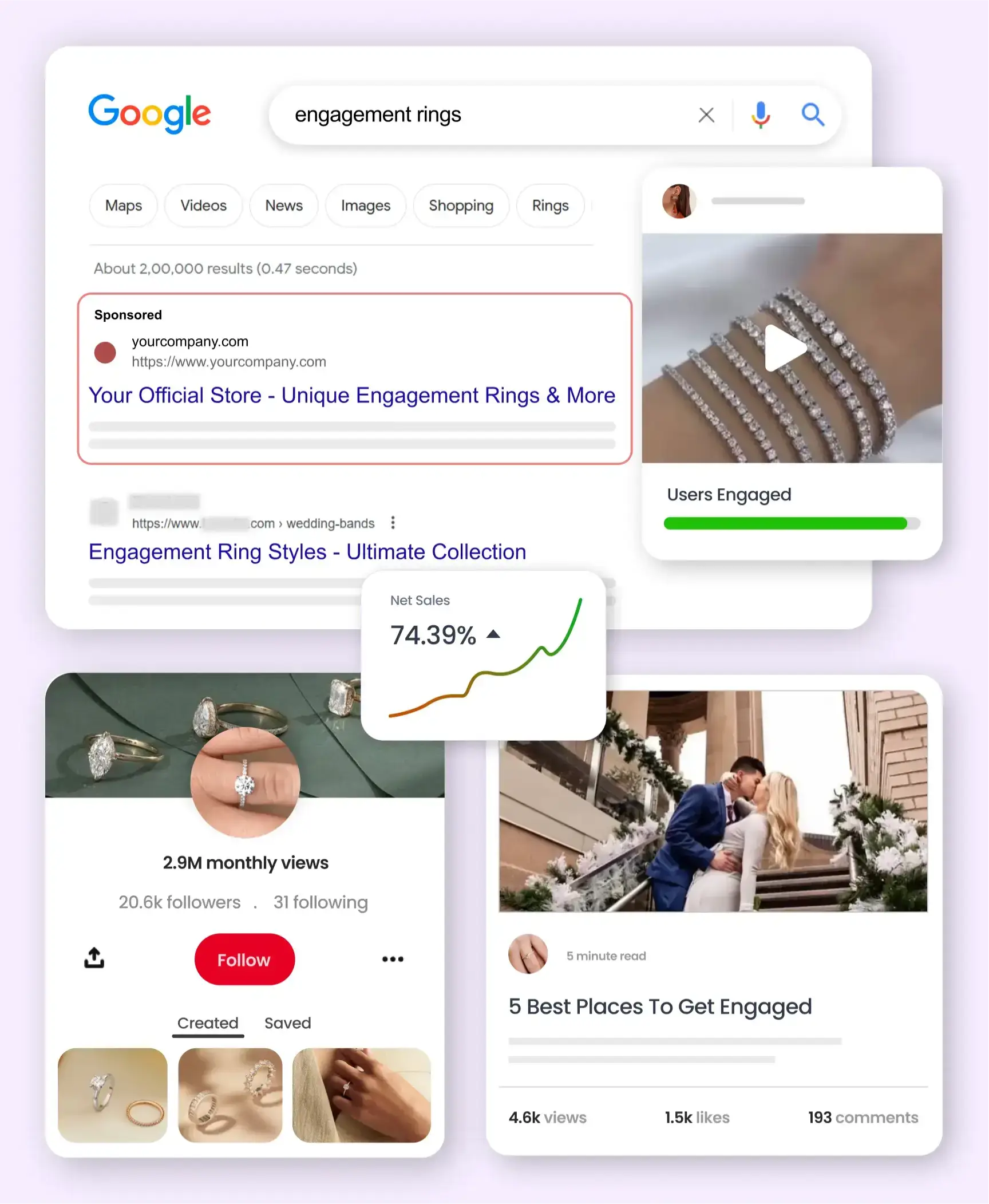 Best Ring Builder Web Design Feature Provides Unified User Experience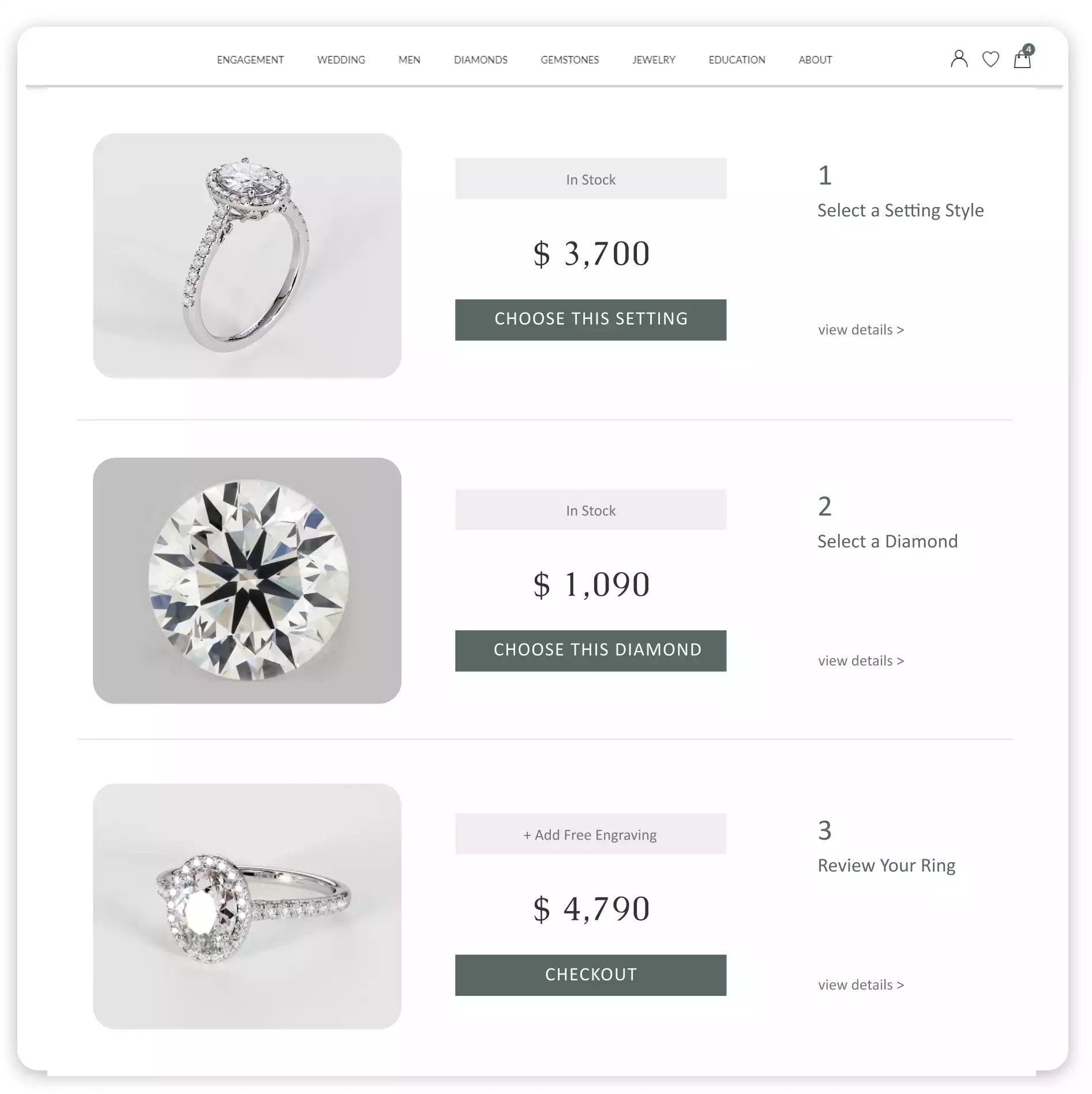 The Engagement Ring Builder is a popular Diamond Ring Online Store module. It allows customers to create their own designs. They can choose from many settings and diamond combinations. This includes ring shape, style, and metal. Our engagement ring module is customizable and can be integrated into any E-Commerce site. Giving diamond merchants, jewelry retailers, and ring manufacturers the ability to sell engagement rings from various suppliers.
The best website ring builder module has helped many jewelry sites and e-stores increase sales by 300%. This has also increased customer engagement and satisfaction. 75% of their time on the site is spent on the Build-a-Ring feature. If your jewelry website is not utilizing this feature, you are likely losing out on sales. Don't miss out on this opportunity by designing a High-Performing BYOR featured website with us.
Improve Your Online Presence With Jewelry Store Provided By Our Development Services
Jewelry Website
Clean and Clear Graphics by UI / UX team
Diamond Integration
Add Nivoda, RapNet, VDB, and other APIs/CSVs
Ring Builder
User can create or build his own Engagement Ring
Diamond Filter
Allows users to select the perfect diamond for their ring
Jewelry Retouching
Emphasizing best features while minimizing flaws to attract your customers.
Jewelry E-commerce
Custom tailored solutions for growing your jewelry online business
Jewelry Marketing
Marketing and SEO Services to grow business 200%
Jewelry Website Pricing
Lower Total Cost Of Ownership (TCO) and Higher Return on Investment (ROI)
Keyideas Specialization As Jewelry Web Development Agency

"
I have been working with Keyideas for quite a few years now. Their work is always done in a timely fashion and the overall value for the dollar is exceptional. I recommend Keyideas to anyone seeking a fantastic developer for any such work.
Isaac Gottesman,
dimendSCAASI, Chicago
FAQ About Keyideas Build Your Engagement Ring
Mordy Karsch
Giving Back Promotions, San Francisco, CA
I had an amazing experience working with Keyideas - an excellent team of developers.

Isaac Gottesman
dimendSCAASI, Chicago
I would not hesitate to recommend Keyideas as a superior development house.

Lets Do Great Work Together!
Discuss your ideas. Connect now
We've successfully delivered over

leads for the client