With the advent of e-commerce, the internet is transformed into a huge marketplace. There are millions of apps that get uploaded to the play store almost every other day, but very few actually manage to make an impression – either because of their niche concept or exceptional functionalities. Hence, an e-Commerce application should have provisions for selling products, handling transactions, order fulfillment, marketing, and much more. Technology, these days, has evolved in such a way that almost anything and everything can be fitted in a smartphone, thanks to mobile application development companies such as Keyideas.
What if someone told you there's a simple way you can increase your sales, reinforce your client base, and give your brand a boost? It's possible by building a mobile app for your online store. Today, mobile retail e-commerce apps are taking over the market, gaining many users and enhancing the profits, and for good reasons. The rising usage of smartphones coupled with mobile commerce is proving to be a boon for both business owners and app developers. According to statistics, smartphone users will reach up to 2.87 billion by 2020. It is expected that over 2 billion people will make some form of e-Commerce transactions over the course of the year.
The global mobile commerce market size is currently estimated at $298 billion. The mobile commerce market size in the US is currently estimated at $71.16 billion. One-third of traffic on top e-Commerce sites comes from mobile.
Why Do You Need a Mobile App for e-commerce Business & Retail App
Shoppers prefer apps to mobile browsers
The advantage of mobile apps over responsive websites has been debated on multiple occasions. There's no doubt in the superiority of apps over browsers: 78% of users surveyed claimed they would rather use a mobile app than, access an online store via a mobile browser. This preference for mobile apps is not surprising. E-commerce applications are much more convenient to use while shopping. For starters, there's no need to remember a URL and login to access the shop. Plus, apps provide better security and speed compared to a mobile browser.
Boosts Customer Loyalty
People who decide to download your mobile app initially show a higher level of investment in your brand. Customers spend three to four times more hours in apps than on mobile sites and access them intentionally. Research has shown that mobile app users are twice as likely to return to your store within 30 days compared to shoppers who access your website in a mobile browser.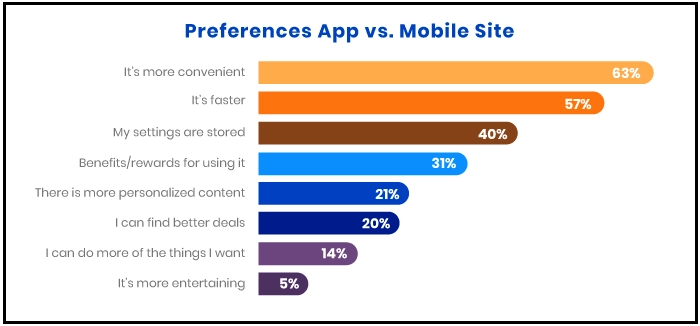 Personalization
Push Notifications
Exclusive content
Reward system
Reduced Response times
The performance of an app is of major concern. Apps allow users a default preference that lets an app load only the content that the customer wants. This allows users to be more proactive and save time.
Enhanced UX
The way your store is presented to your customers can make or break your sales. When accessing a site, users expect easy navigation so they can find what they're looking for. Some of the preferred design is – it should be precise and simple, filters should be listed discretely and should be accessible on-demand, and users can easily view and locate items they are searching on the screen. This enhanced UX can increase the usability and appeal of your app.
Increased Conversion Rates
A unique combination of satisfying UX user experience, simple navigation, and usability leads to high conversion rates. Stats show that mobile apps increase the percentage of users who complete the desired action compared to desktop and mobile websites. As a result, e-commerce app conversion rates are three times higher than for mobile websites. It is also likely that customers view 4.6 times more products owing to optimized item display.
Better Engagements with Phone's Inbuilt Features
Inbuilt features of the customer's smartphone can be integrated with your app to increase customer engagement and simplify navigation. GPS, Camera, and Microphone are all used increase customer engagement with the app.
What are the Essential Features of an e-Commerce App?
Intuitive Design
The design of your store plays a key role on how buyers behave in your app. Having an attention span of few seconds, it is important that your users should be able to easily understand the app interface. When it comes to the user interface or UX Design simplicity is the way to go. This will boost the user experience due to the ease of use.

e-Commerce Mobile App with Security
In case of eCommerce, you ask for a lot of information from the user. Some of this information also includes bank account details, credit/debit card info, address, etc. It goes without saying that you have to ensure your app is secure. You cannot simply ask for such personal information and leave it for the hackers to steal. Do keep an eye on the security level of the app and ensure that there are no loopholes.
E-Commerce App with Great Images
It is said that visual information can be processed 60,000 faster than text. In the case of e-Commerce, product images communicate your brand as well as your product, several times faster. Make sure that your value is well communicated through the images that are uploaded on your website.
Social Media Integration
People hate forms. The longer questionnaire you give them – they will have the tendency to skip the registration and go for other apps. With the help of social media integration, you can ease the signup and login process. Additionally, you can enable the users to share their experience of purchase on social media that can help you gain a good following.
Easy Checkout Process
It is said that the cart abandonment rate is around 67%. This is usually caused due to pricing issues, competition, search for better alternatives, etc. Keep the checkout process simple, direct, and clean. Also, ensure all sorts of alternatives are provided which a user might want for initiating a transaction. You can also provide an inbuilt mobile wallet system to smoothen the process to the best possible extent.
What are the Ways to Give Competitive Edge to Your e-Commerce App?
We have discussed the importance of success in e-commerce web app development, and they are somewhat obvious. Now let us talk about add-ons that can give you a competitive edge.
Geofencing
Geofencing allows location-based marketing. The customer's mobile app can make use of GPS, RFID, Bluetooth beacons, etc to allow the app to identify the location of the user. With the help of this technology, one can send customized marketing messages to the user based on his location. For example, stores can send promotional offers as soon as the user enters a mall or a marketplace.
Augmented Reality
Augmented reality refers to superimposing virtual objects onto real-world objects using the customer's mobile. Apple and Google have made Augmented Reality (AR) mainstream with their individual frameworks. With the help of an AR implementation, one can showcase a better view of their products thus increasing the user engagement ratio.
Mobile Cloud Computing
Mobile cloud computing is the combination of cloud computing and mobile computing to provide a rich user experience to the users. A cloud engine drastically reduces the server response time thus increasing your e-commerce app speed.
Chatbots
Chatbots are programs that can understand human inputs in the right context and provide outputs that can be helpful to the user. It uses natural language processing programs which understand the context behind a user query and then provide results that are most appropriate. Chatbots are said to be highly engrossing which leave a lasting impression of the brand on the user.
How Does a Mobile App Fit into Your e-Commerce Strategy?
Your app is not just an afterthought to your product and your marketing. It can literally guide users through your entire sales funnel, from acquisition or engagement to sales. One area in which building an ecommerce app can really help you, though, it is repeat business. Having said that, there are many ways in which an app can engage users, drive sales and increase customer loyalty. It's not easy to make your ecommerce store the most successful, but you should grab every opportunity that can bring you closer to your business goals. Having considered all reasons in favor of creating your own ecommerce mobile store, you can decide if it is the right move for you. If you are wondering where to begin in mobile application development, then contact mobile companies, today. Tech companies such as Keyideas are committed to deliver products that sell. Creating an app for your e-Commerce store can help reach your business to the fingertips of millions of customers and having said this, it is hard to find an excuse for not having a mobile app built for your e-Commerce business!