7 Web Design Techniques For Realtors
1. MLS Advantage for Real Estate Web Design
One way to get clients to stay on your real estate website is to provide access toMultiple Listing Service(MLS) for real estate listings for properties for sale.
Fewer prospective clients are likely to leave your real estate website by giving access to MLS listings. At the same, integrating MLS listings can be tricky because the data is highly controlled and restrained by local Realtor boards. Some boards need the sponsoring brokers' approval before the real estate agent may show listings on their website.
The easiest way to attain listings on your real estate website is to subscribe to MLS listings via an IDX (Internet Data Exchange) feed. Most likely, there will be a monthly fee for this service but it is the same service the agent uses anyway to research and find home listings.

2. RETS (Real Estate Transaction Standard)
RETS is a web service protocol developed by the National Association of Realtors to help standardize the format of the listing data used by the 900+ MLS associations in the United States. Most agent members of an MLS association will be authorized for "IDX" (Internet Data Exchange), which normally includes access to a RETS feed. Using the RETS feed, an agent can speedily and accurately download all MLS data for use on its website.
Thanks to the RETS query language, or DMQL, you can run the importer as frequently as you like, taking up only the new and updated listings. With RETS you can be sure your data is as fresh as possible, and your users always have access to the latest listings.
3. Use The Google Maps API On Your Real Estate Web Design
Google API can be used to implement Google Maps within your real estate web design, allowing visitors to browse and search your listings using all the features they've come to love from Google Maps.
If you want to go the extra mile, you can also use the Google Maps API to build a mobile app for your real estate business. The API is available in native Android and iOS versions as well as a cross-platform JavaScript option.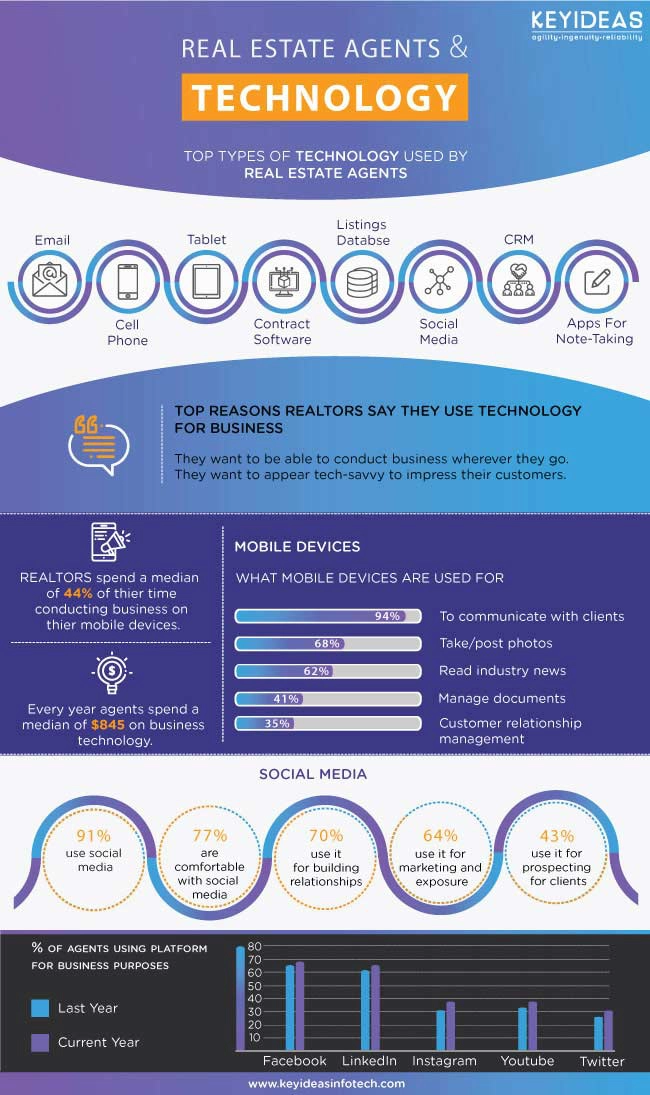 4. Social Media For Real Estate Web Design
Social media is the utmost lead generator for real estate businesses.
A survey says that 91% of real estate agents use social media platforms for business purposes.
Also, 70% use it for building relationships, 64% use it for marketing and exposure and 43% use it for prospecting for clients.
By changing your content strategy and optimizing your current and future social media posts, you can achieve great results for your real estate brand. Here are some tips that will help you step up your real estate social media marketing this year.
1. Incorporate Realtor quotes
2. Include Realtor testimonials
A great way to improve your overall content strategy is by using real estate quotes and testimonials. It will enable you to generate trust and confidence with your audience. Some examples are given below:
-Real estate inspirational quotes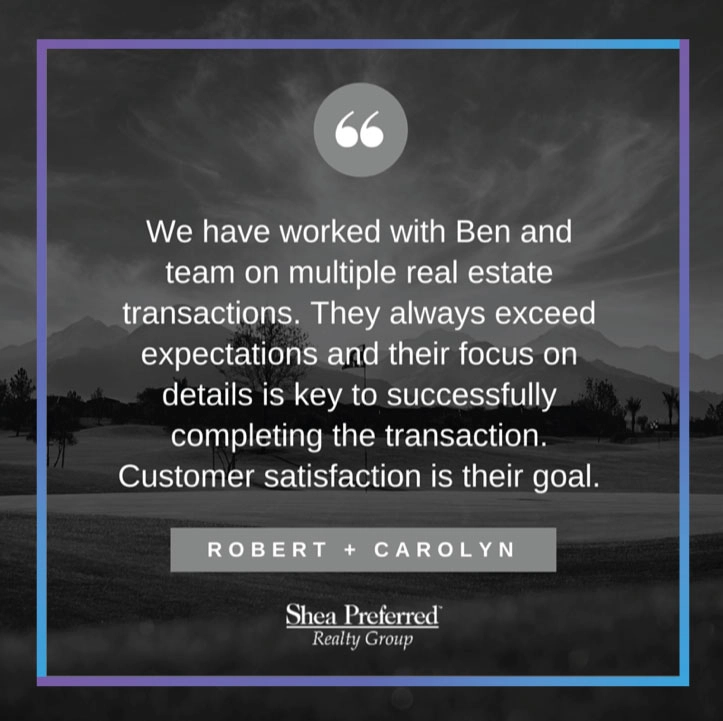 – Real estate testimonials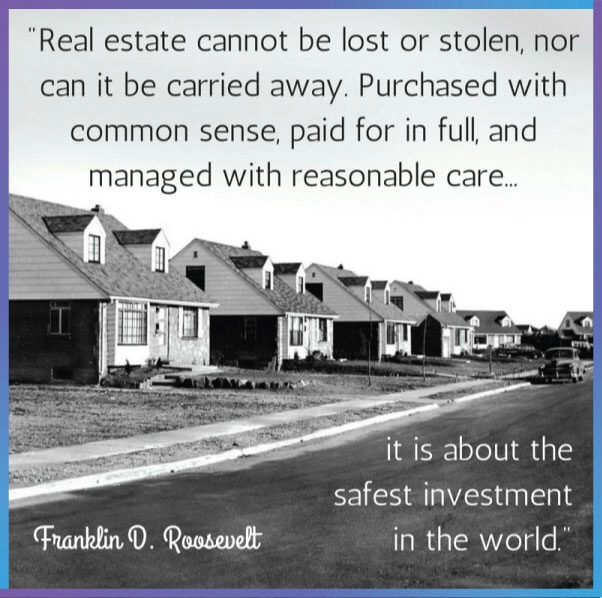 Optimize Real Estate Facebook Posts and Ads for Realtors
Real Estate Facebook Posts
Is important for realtors to put appropriate Facebook posts that do not bore your audience and enable your real estate business to attract new leads. Some trending real estate Facebook posts ideas include:
Real estate tips relating to buying and selling homes for inexperienced individuals
Showcasing local businesses and events happening in the community
Holding giveaways or contests to help build awareness and drive engagement
Real estate stories and testimonials from previous buyers or sellers and their experience
The thing to keep in mind is to avoid overselling your audience. The main objective of your business indeed is to sell homes, but social media is a long-term play, and your audience will buy a home when they're ready. Hence, there is no point in pushing a sale when your followers are not looking to buy or sell.
Create a blog
When you decide to add a real estate blog to your website, you gain the ability to capture leads while they are searching for your local area. With the right content marketing, this is certainly possible. Blogging will help the overall SEO profile of your website. Neighborhood/area pages can be created and linked to from blog posts, and just the fact that you will have fresh, high-quality content will make a world of difference.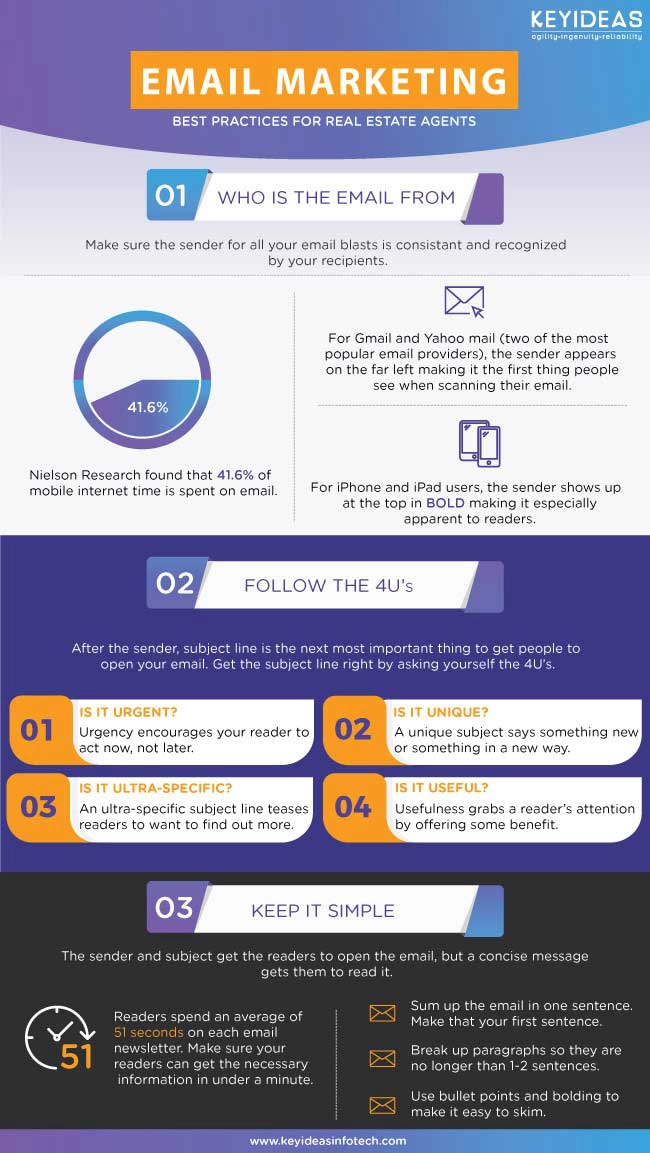 E-mail Marketing
Email marketing is one of the highest returns on investments, and every business needs an email marketing strategy. For starters, an email newsletter is a weekly or monthly email campaign you send out to your subscriber list offering some information or products. Most online bloggers and companies have one so, they can connect and keep in touch with their customer/fan base.
Capturing your followers' emails is important because:
It's an effective way to communicate with your audience more personally. You'll be able to see who's on your website and who enjoys reading your content.
Email lists never cease to exist. Once you've collected a list of emails you have a lifelong way to communicate with your audience/fans/followers.
It will help you make more money. By having an audience who has subscribed to your list, you essentially have a loyal customer base you can promote your products or other people's products to (affiliate income).
Build Your Brand With A Professional Image
It is an undeniable truth in the world we live in that no one can or will promote you as you can promote yourself. Branding yourself and putting your name out on the Web requires you to stand out among millions of people and use successful marketing strategies to push your name and service to the top of search engines and directories. Finding and capturing domain names that fit your branding will help propel your name and website into the forefront of the real estate industry online. Concentrating on a niche in the market and focusing your branding on it is a great starting point for your marketing campaign. When you are an expert in a particular portion of the real estate market, you can make yourself available to television and radio shows and use these opportunities to promote your Web site. A short and clear statement called a "tag line," an attractive logo design, and a dynamic summary of yourself will tie all your marketing together — domain names, business cards, and print ads. Remember to cross-promote your website in all print ads, business cards, voice mail messages, and public speaking events.
As you formulate and execute your new marketing plan for your website that encompasses all possible avenues, remember that your marketing needs to be professional, exciting, and catchy.
What Customers Want The Most From A Real Estate Web Design?
When a person decides to purchase a house, some may go online first to peruse their local market and see what is currently available. It is the perfect opportunity to win their trust and grab the sale.
Customers want a website with useful features that help them through the process of buying or selling a property.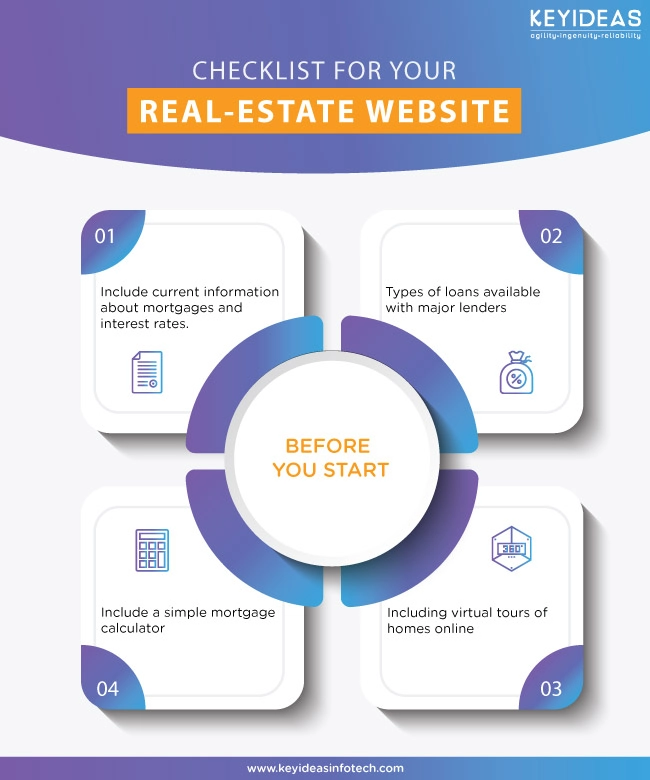 When a potential home buyer goes online to research real estate agents, available homes, and financing options, your website should be as close to a one-stop-shop as possible. Consumers want educative content and not just marketing ads. Many first-time homebuyers do not understand the difference between an adjustable-rate mortgage and a fixed-rate mortgage. What will attract buyers to your website is current information about mortgages and interest rates; the types of loans available with major lenders and the pitfalls associated with various loans are valuable information to potential home buyers. Some other features you should consider for your website include a mortgage calculator, so buyers can get an idea of what type of home they can afford. They may be first-timers who need to know what principal, interest, taxes, and insurance (PITI) are and why it matters.
Consumers want to look at all available homes on the market and the market in general. They want to know where the "hot spots" are in their community. Included in this should be features or links that show comparable homes in the neighborhood, current value, and last selling price.
Buyers like virtual tours of homes online so they do not waste their time driving to homes that are not specific to their wants and needs. These tours can save your clients a lot of time and gives them the chance to pinpoint what they like and do not like.
You can also put a printable list of steps first-time buyers can take to work their way toward homeownership, which can bring you business later.
Our designers at Keyideas consider everything to build a successful website.
A Final Note
When a person decides to start the research for purchasing a home, some may go online first to peruse their local market and see what is currently available. It is a perfect opportunity to win their trust and grab the #sale.
Customers want a #website with useful features that help them through the process of buying or selling a property. It is vital to know the exact real-estate web design techniques, and here at #Keyideas, we have the solution for you.
#webdesign #strategies #realestate #sales #Keyideas #SEO #email #marketing