Are you looking to hire Remote PHP Laravel Developers for your Laravel Expert Web App services?
Keyideas is a trusted web design company that offers Laravel Expert services combined with bespoke UI/UX designs, and digital marketing services to clients all over the world. We have been in business for over ten years and always provide sophisticated and high performance web apps as well as secure and scalable mobile applications.
Hire Remote PHP Laravel Developers That
Deliver A Professional Looking Laravel Website?
As a Web Design Company, our work is never done. We love to keep up with changing technologies that can provide exceptional services to our clients. Laravel is such a technology. It is PHP at its best. Laravel can be used to create powerful web applications with Laravel eloquent ORM, expressive syntax, and simple routing. It is really easy to use and the documentation is very good. Laravel projects have the benefit of fast development times and clean, maintainable code. Laravel is suitable for traditional server-side web apps as well as modern, JavaScript-heavy- single-page applications with Vue.js, AngularJS, React, and more. It also gives you the power to create RESTful APIs with ease. A Laravel Bagisto Framework can also be used to create performance-savvy eCommerce solutions. Our team of PHP Laravel developers can create custom web applications for you. We are the web design company for you!
We have over 10 years of experience working with clients in various industries such as:
The list goes on! You name the industry; we've probably worked in it before.
Looking To Hire Remote PHP Laravel Developers For Expert Web App Services?
Then Keyideas Is A Perfect Choice.
LET'S DISCUSS!

LETS DISCUSS
Pure Quality! Professional Laravel
Development Services From Keyideas
We are the leading Laravel service provider with expert PHP Laravel Developers. We have an impressive Laravel portfolio for:
Hire Remote PHP Laravel Developers For Laravel web app development
You have a great web app idea and funding, but you need to find an experienced development team who can turn your MVP into reality fast.
We know that finding a good team of developers is hard. It's easy for them to take your money and run or deliver something buggy and subpar.
Our Laravel developers are the best in the business with over 10 years of experience working on web apps using this framework. We use industry best practices to build secure applications that scale well as they grow.
Hire Remote PHP Laravel Developers to get online payment integration.
This Laravel Service is well-known for Laravel eCommerce development. Laravel eCommerce development helps businesses scale and grow by creating online shopping websites to engage their customers. It is a perfect choice for small, and medium enterprises.
It offers the best out-of-the-box features such as:
Laravel Mega Menu,
Laravel Product Slider,
Laravel Product Page,
Laravel Show/Hide Actions,
Laravel Payment Integration, and much more.
Laravel project with login & registration features and many more.
We also develop Laravel projects that require log-in and registration features. The Laravel Auth package helps you add user accounts to your Laravel project with ease! Laravel Authentication provides a full OAuth2 implementation for Laravel, allowing you to provide your user's one-click login and signup, social network authentication, and more.
Laravel Restaurant Ordering System with Laravel Food Trailblazer
This Laravel Service is well-known for its Laravel food ordering system development for restaurants, where users can order food online.
Laravel Food Trailblazer is the Laravel Order Management System built with Laravel and released with Laravel Horizon and Laravel Mix support.
Our Laravel developers are well-versed in the latest Laravel framework. They can create a Laravel Order Management System that helps restaurants manage their customers' restaurant orders, quickly take the order online, and receive the payment securely through Laravel Stripe Gateway Edition.
Laravel Application Development for Tiny Businesses
This service also offers Tiny Business Laravel Applications development with all the necessary features of traditional LMS Laravel applications.
Hire Remote PHP Laravel Developers For Laravel API Development
We are the best Laravel API development company providing services on Laravel API development with RESTful APIs using Facade coding. Laravel API development is used to build Laravel Web Services and Laravel PHP Web APIs, which can be consumed by both, Laravel-based applications and non-Laravel applications.
Hire Remote PHP Laravel Developers For Maintenance and Support
You just spent months developing your Laravel-based web app and now you want to make sure it stays up-to-date with the latest security patches, bug fixes, and new features. It can be hard to find a reliable developer that offers support at an affordable price. We offer monthly maintenance packages for your Laravel application so you don't have to worry about keeping your code secure or adding new features. Our developers will do everything from installing updates, fixing bugs, and adding requested features on a regular basis.
Hire Remote PHP Laravel Developers
Who Focus On Your Success
The short answer is Yes and Yes.
Laravel provides the best of both worlds by being a lightweight framework without compromising functionality. It is one of the most popular PHP projects, and it continues to grow in popularity every year. Laravel has been the leading PHP framework for developer activity, and its community is growing at an impressive rate.
When you hire Our Remote PHP Laravel developers, you'll reap the benefits of
Reliable and available team to work with
Being able to speak directly with your developer, so there are no language barriers
Regular updates about the progress of your project that both parties agree on
Having a dedicated team that is experienced in your industry
Consistent communication
You'll also have peace of mind knowing you work with a professional web design company, not a freelancer. We offer our services to clients worldwide, and we'd love to be added to your list! Try us out today!
Is Laravel A Good Framework
For Building A Profitable Web App?
Firstly, Laravel is a framework that makes it easy to build web applications with the latest PHP technology. It's simple yet powerful. It will make the website design look beautiful and function just the way you want it to! Our Web App developers use Laravel Framework to create amazing, powerful web applications with PHP. The framework comes with an extensive set of tools that make building web applications much faster and more efficient. This means our team can deliver your project in no time!
LETS TALK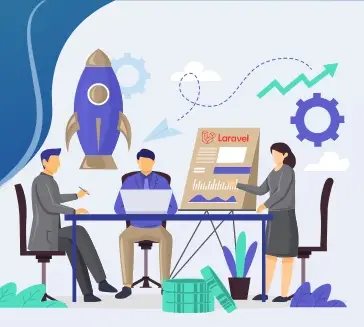 INTEGRATE IN YOUR WEBSITE BAGISTO ECOMMERCE
With KEYIDEAS Web design & development agency
Why Hiring Keyideas
Remote PHP Laravel Developers Matters
When you want to hire a remote team, plenty of things need to be considered. You have to think about cost and quality. It's easy for a company like Keyideas with a big team of web designers working remotely to charge less than a small business located in your town. And again, it's important to think about the quality of work you're getting. That's where our team stands out! They are more than capable of delivering high-quality work. So, what is next? To get things rolling, reach out to us. We'd love to hear from you!