Offshore Software development is the partnership with an external organization to complete tasks ranging from simple coding to custom creation, software support, mobile app development, website design, and development for clients in another country. Large enterprises, to small and mid-sized businesses, all incorporate outsourcing web development and custom software applications to streamline work processes and boost productivity. Custom Software development plays a vital role in every industry, and with time, it has become an essential part of almost all industry verticals.
Outsourcing could refer to the same country or another, whereas offshore crosses the borders and reaches the audiences abroad. Most organizations outsource software development and hire a dedicated team for their project as it is a great option to get quality results at competitive rates. It is preferable and beneficial in terms such as skills, costs, and fulfillment of deadlines. 76% of businesses across the world have a positive feeling about their relationship with their outsourcing company.
What are the Phases of the Software Development Life Cycle, known as SDLC?
SDLC is a systematic approach to develop software. SDLC creates a structure for the developer to design and deliver high-quality software according to the customer's requirements. With in-depth expertise in e-commerce, most web development companies plan such delivery methods to offer their clients the most suitable strategy, approach, platform, and documentation for their requirements.
Requirement Analysis – Business Analysis Requirement Gathering
Design and Planning- Business Analysis Architectural Design Structural Design Design Reviews
Development – Coding Code Reviews Optimization Unit Testing
Testing -User Acceptance Testing System Integration Testing
Deployment / Implementation – Beta testing
Product Development Methodologies – Web development companies blend the proven processes and best practices and designed product development methods with a consultative approach to ensure minimal changes to the client's applications. These development methodologies are agile – the process by which an engineering team will build a given product.
When to Approach Offshore Software Development Company?
In today's modern software development, two trends are in rage primarily. Agile development and Offshore Outsourcing – combining both the trends would raise the competitiveness of your business. Bug trackers, source control servers, web portals, and online collaboration tools help coordinate the distributed projects.
Choosing to move your business functions overseas, you will be able to leverage a pool of highly skilled and very qualified experts with experience and capabilities that you otherwise may not be able to hire locally. In an offshore outsourcing model, offshore software development company should be aware of language, cultural, and time-zone barriers and must find ways to overcome these obstacles.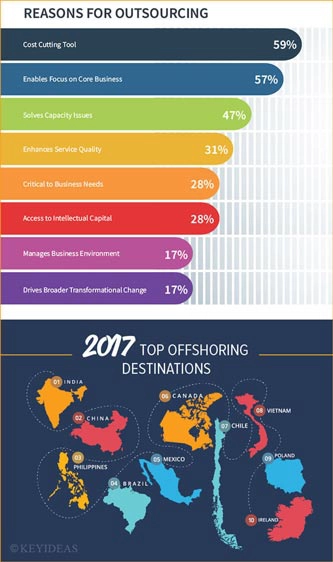 Using the Right Practices and Tools
Software development teams use well-known practice tools, common coding standards, a source–control server, build-and-deploy scripts, design patterns, and application blocks. Bug tracking tools like BaseCamp, Jira, and Atlassian, and Microsoft Solutions Framework are ideal for Agile Development in distributed environments. Repository hosting services like GitHub are widely used in outsourcing projects.
Stats about Offshore Software Development
– 43% of U.S. IT services companies now outsource and are working with offshore teams.
– 44% stated that they chose to outsource to reduce costs.
– 34% stated it was to access IT resources not available internally.
Top Offshore Destinations
Today's top offshore and outsourcing development companies provided full-cycle offshore servicing, which includes requirements gathering and analysis, the creation of custom software development solutions, architecture, UI/UX design, QA, testing, remote administration, maintenance, and support. Countries like India are a hub to many countries in the West. According to NASSCOM, the revenue from the software product segment currently stands at 2.2 billion USD and is expected to reach 10 billion USD by 2020. Many countries are ideal locations for outsourcing, like India, China, and the Philippines. Following the list are few Latin American countries like Brazil, Mexico, Canada, Chile, Vietnam, Poland, and Ireland.
India Remains a Top Offshoring Destination Globally
Although China offers an alternative to Eastern Europe for high-end IT and analytics, rising wages are declining its cost competitiveness in lower-end functions in comparison with India and other Asian destinations. Thus, India remains the top offshoring destination for information technology (IT) companies, followed by China. India is unrivaled in both scale and people skills.
What are the Key Factors to Consider before Choosing an Offshoring Company?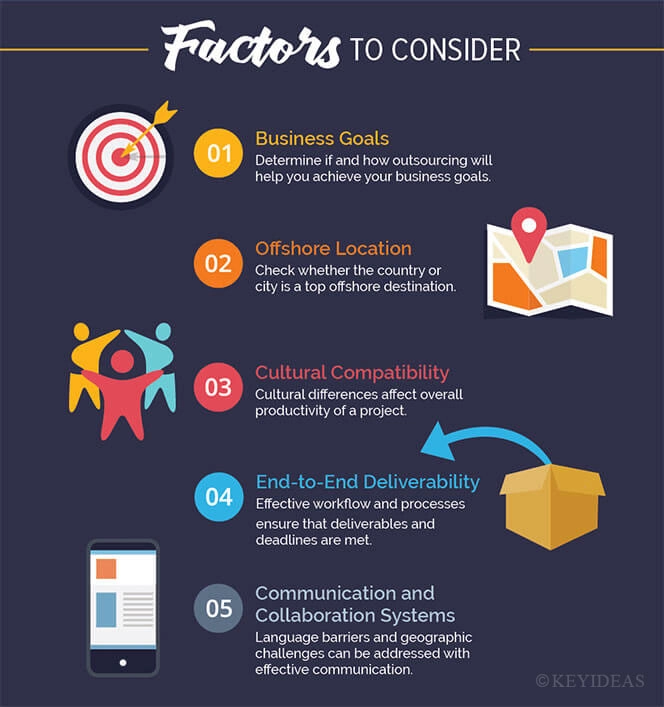 Business Goals –Agile development and business goals together describe a unique software development process providing higher flexibility. Agile development in distributed teams demonstrates the fact that it gives appreciable returns when used appropriately. Agile software development allows maximum transparency and integration between teams. Apart from Agile Development Process, there are the following four other Development Processes:

Iterative Development- Process is arranged into periods.
Lean Development- It is a customer value-focused philosophy, striving to optimize value to the end customer.
Ad-hoc development- On an Adhoc software development process, the team does not follow a defined process.
Traditional Development- also referred to as 'waterfall' or 'serial', is a staged process.

Off Shore Location – There are numerous denominator reasons behind businesses to look towards delegating their software development to an offshore location.
Cultural Compatibility – Offshore outsourcing takes it even further and includes people from different countries, different cultures, and time zones. Culture is often cited as one of the crucial barriers to successful offshore outsourcing but good communication can fill the gap between different cultures and builds a lasting partnership with the client.
End-to-end Delivery – To provide end-to-end delivery of complex solutions, the delivery capabilities are reinforced regardless of project size and scope with professional knowledge, best practices, proven methodologies, and advanced technologies.
Communication and Collaboration Systems- Communication plays a vital role when teams work remotely. In distributed development, team managers must pay attention to communication practices, which proves as the baseline for their partnership. Regular (daily/weekly) reports and status update meetings allow the team members to synchronize, discuss achievements, and reveal problems. In an offshore outsourcing model, development managers should be aware of language, cultural, and time-zone barriers and must find ways to overcome these obstacles. Variations in time zones sometimes make the process more difficult, but it has its advantages at it allows 24/7 work on the project.
Read our another blog on How to Choose a Software Outsourcing Partner for Custom Software Development
Web and e-Commerce Software Development Processes at Keyideas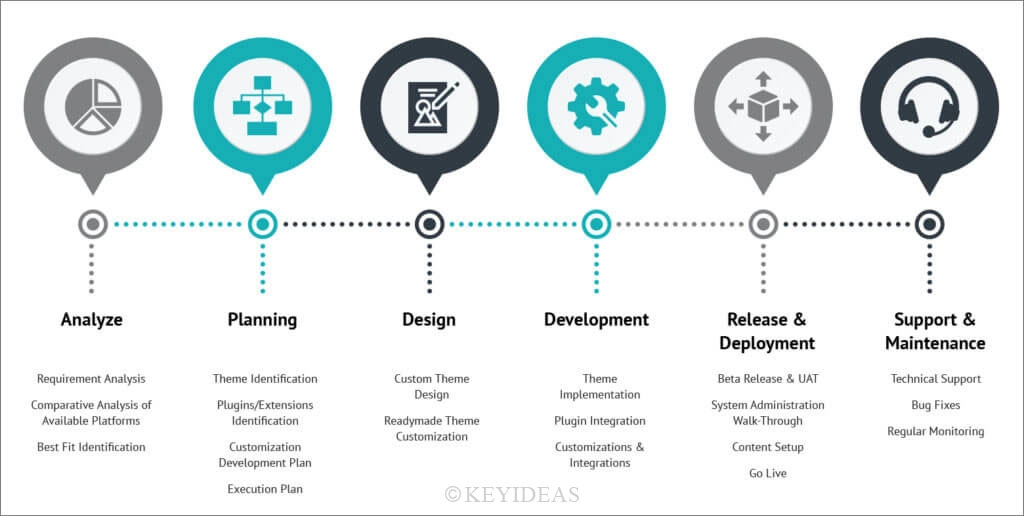 We at Keyideas help enterprises accelerate time-to-market and address key business challenges by providing scalable custom software solutions. We provide small and large companies with cost-effective software services which reduce operational costs and drive maximum value for their customers. We are one of theleading offshore development companies in India companies in India, having a proven track record of delivering robust software solutions to organizations worldwide. Our experts are well-versed in methodologies like Agile, Waterfall, and Scrum. We aim to have a smooth and transparent manageable process that permits refinement, flexibility, and progress review after each phase. Our offshore software development will keep your business updated and adaptable to changes. Our custom software development process involves active discussions with the client through a well-thought-out process involving active consultation, participation, and involvement of all stakeholders. With our in-depth expertise in Web and e-commerce, we have designed delivery methods to offer clients the most suitable strategy, approach, platform, and documentation for their requirements.