User- Friendly Oil Gas Companies
Website Design &

Development Agency
Your Oil Gas Company Website Design will be interesting, quick to load, and simple to use on a variety of mobile, tablet, and desktop devices. Oil Gas Company Website Development – Reach more potential clients through the web, when you partner with Keyideas, we'll help you use the web to attract more clients.
Creative Website Design For

That Will Increase
Oil Gas Company Website Design That Will Boost Leads & Sales
Custom Oil Gas Company Website Design
Your target market and clients should come first when building the website for your oil and gas company. Your website's visitors seek crucial information as soon as feasible. For your website to properly achieve this, it must be simple and have a clear layout.
Website is simple
Readability and usability
Easy to engage
Gives your oil and gas website more value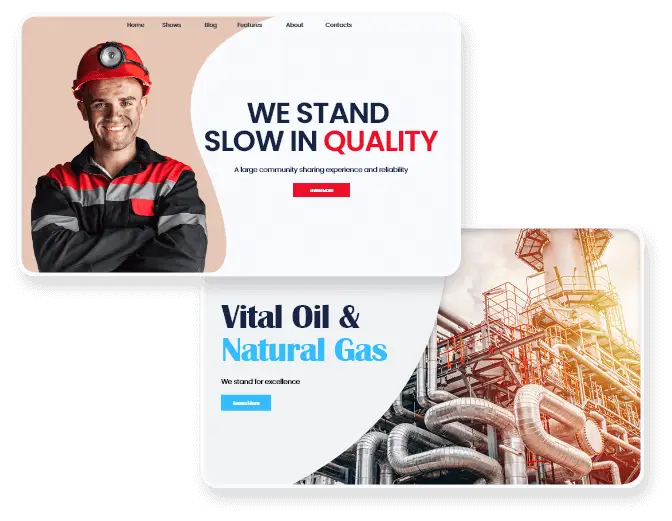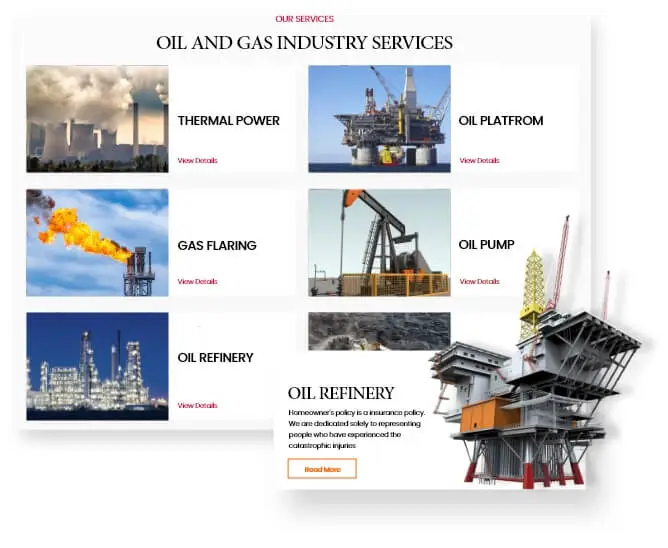 Easily Accessible Oil Gas Industry Services
The oil and gas industry is confusing to services like transportation, gas processing, plant operations, and supply, but they want to do business in this sector but can't get past the top layer. An oil and gas company should simplify its services for its clients.
Increases your sales
Draws attention to important information
Drives long-term results
Positive user experience
Robust Security
We create your website that will be extensive in terms of content, features, and business information. We want to keep it secure, so we only use cutting-edge web development frameworks that have a track record of being impenetrably safe from breaches and attacks in our tech stack.
Keep your website safe
Protect your data
Establish and strengthen your brand
Improves chances of gaining customers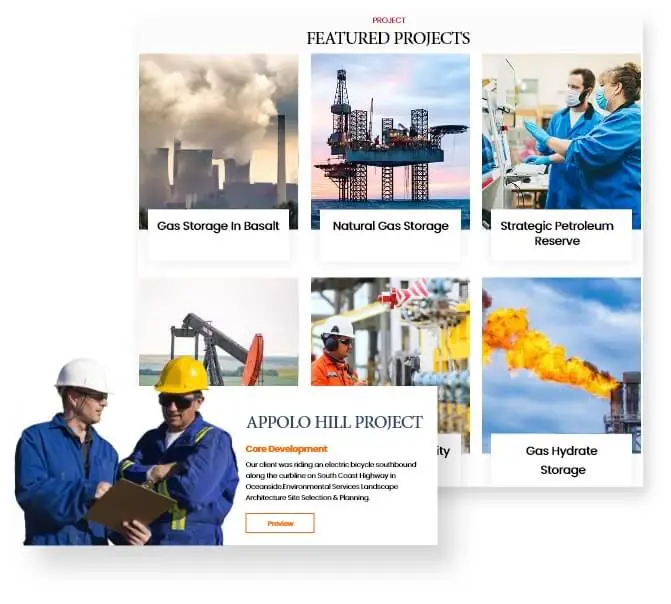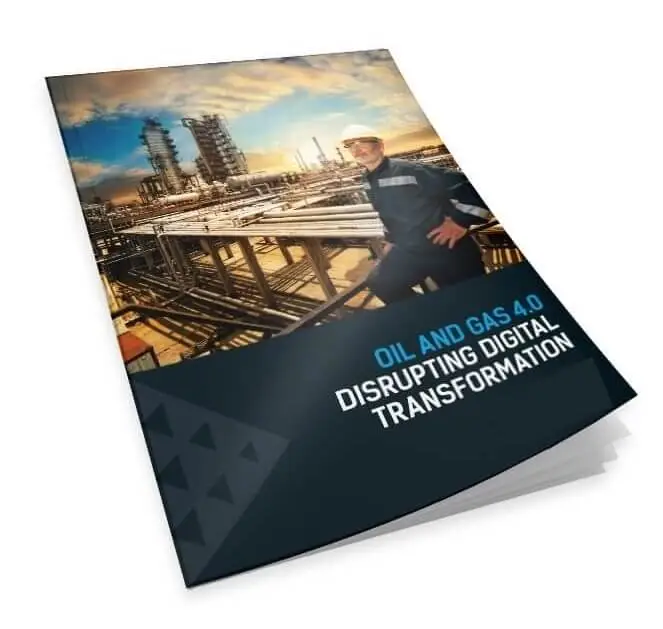 Brochures and Catalogues
Highlight your projects and portfolio in a booklet that has been professionally created. Offer your audience and clients a clear, in-depth look at what's happening at your business in a digital format that is available for public download on your website. Also, we produce catalogs that highlight the services your business provides, which is essential for investor relations.
Build trust
Brochures hold lots of information
Personalize your business
Brochures establish your business's authority
Tracking Enabled
You can advise customers about changes to working methods, hours of operation, services offered, or prices without having an impact on the rest of your website by having separate pages for each location's information.
Easy to find
Improves your SEO
Offer local updates
Diversify your business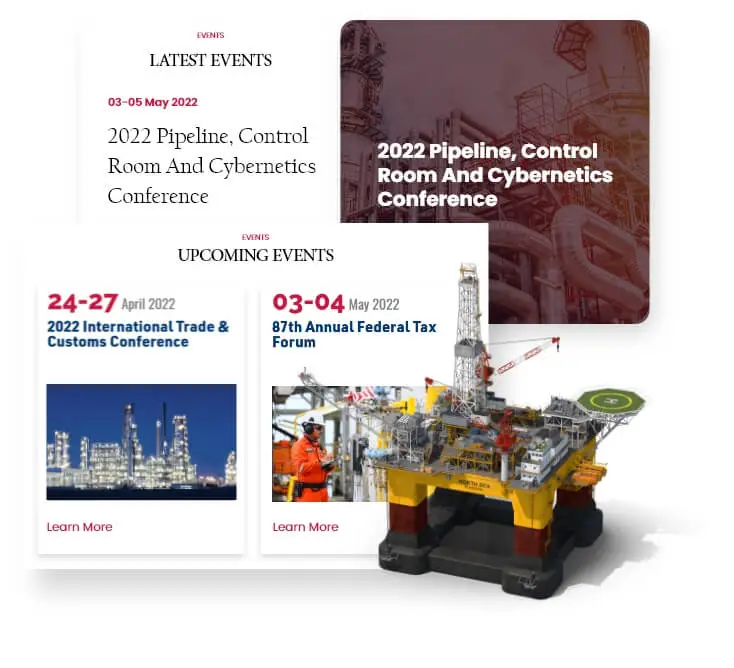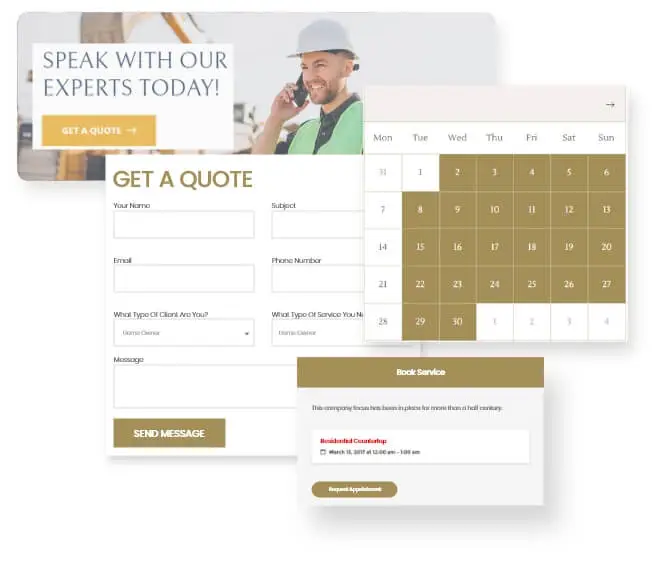 Contact Information
Your contact page connects prospective customers and purchases, so make sure it's simple to locate and utilize. Don't complicate your contact page. Prospects are more likely to message you or sign up for your emails if you ask for less information.
Get more website traffic
Reduce your website's bounce rate
Get quality backlinks
Increased convenience
Engaging Website Content
38% of visitors will simply quit your website if the content is boring because the bulk of consumers look for relevant content. If your material benefits or even teaches consumers, builds their trust in you, and establishes you as an authority in the oil and gas sector, consumers will be more interested in it.
Built for the oil industry
Easy way of measuring efficiency
Generate detailed reports With a single click
Total visibility of all systems, campaigns, and actions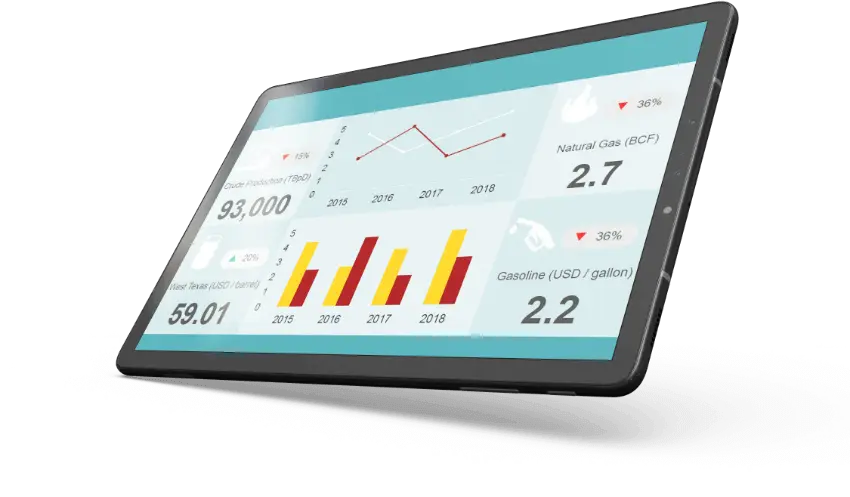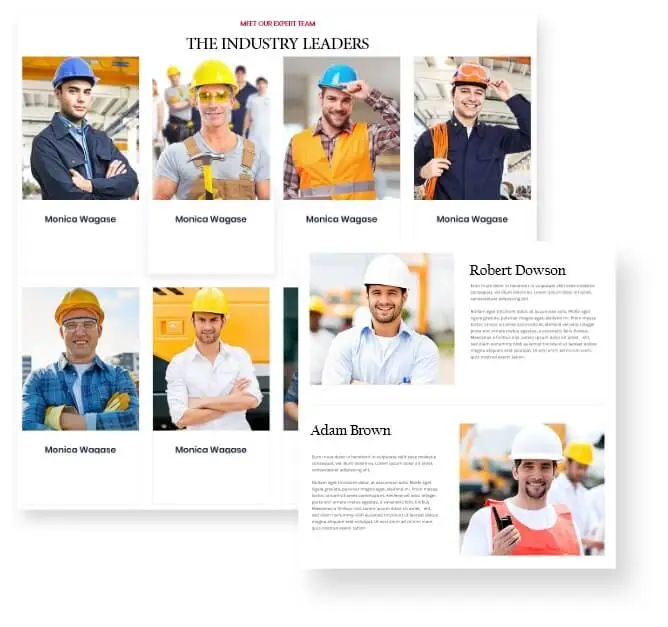 Easy Navigation
Improving user experience is one of the best strategies for promoting a company without using paid advertising. Your website will receive more user referrals as it becomes more comprehensive and user-friendly. This will boost your traffic and word-of-mouth advertising.
Responsive website
Increases your website visits
Menus appear in headers
Understand the customer point
Blogging Layout
Building trust in the marketing industry results in conversions. Blogging develops your authority in the subject, whereas listing your products may help your business gain more exposure. A customer will pick your business above the competition because of your expertise.
Supercharge website's SEO
Manage online identity and build trust
Helps convert traffic into leads.
Drives long-term results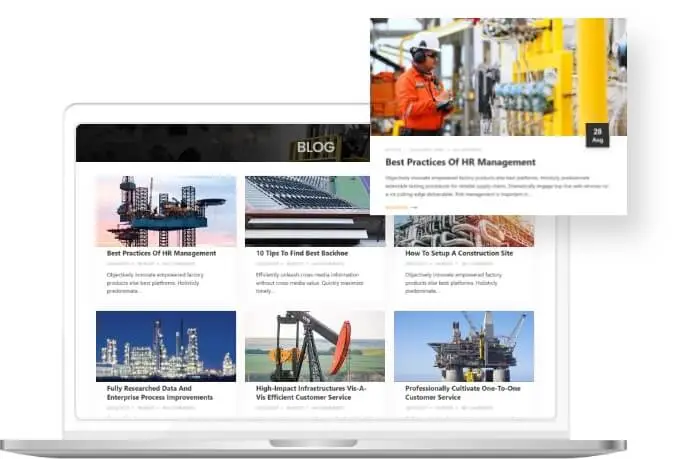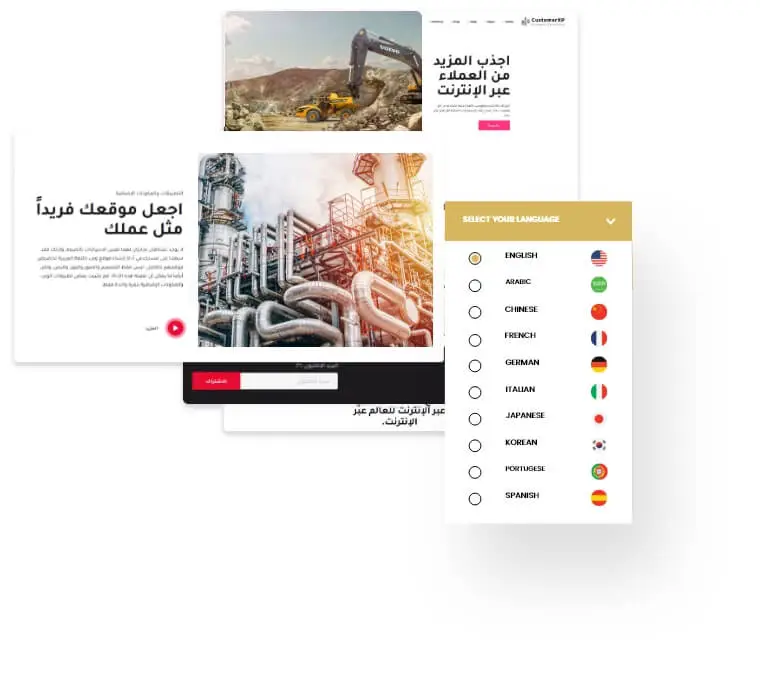 SEO Friendly
We build your website in accordance with the most recent SEO guidelines to help it rank higher in search engines like Google. We conduct research on high-performing keywords and offer a market and competition analysis.
Translating website is cost-effective
Increases financial productivity
Expands potential market
Builds brand recognition and trust
Client Testimonials
Including testimonials on your home page is a great way to offer potential clients a positive impression of your brand. Everyone who is referred to your firm will see it, as will anyone who searches for your brand or oil and gas company name.
Strengthen trust and credibility
Deliver targeted messages
Testimonials promotes referrals
Increased conversion rates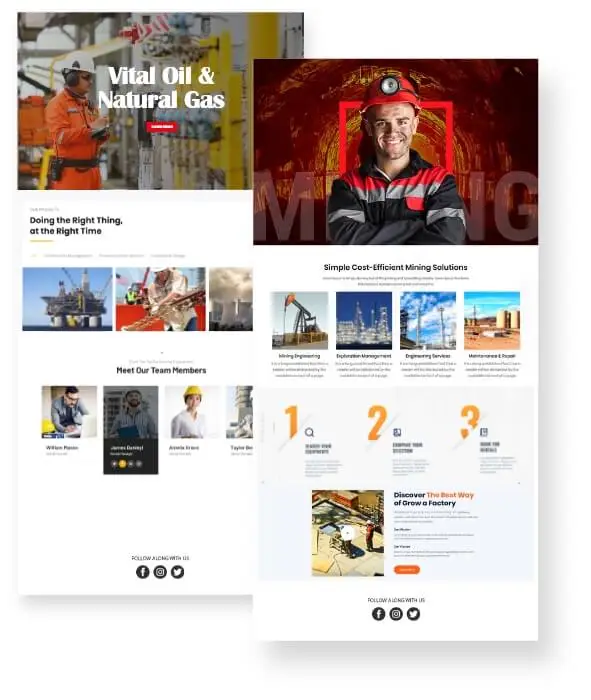 Solid Lead Generation Plan For
Oil & Gas Companies Web Design
Search Engine Optimization (SEO)

With our smart search engine optimization techniques, get recognized by search engines and your global-local visitors. Helping searchers find your services within seconds with superfast page landing and full-on page optimization.

Deep Keyword Research

Mobile-Responsive Website

Resourceful Site & Backlinks

Organic Lead Conversion
Content Management System (CMS)

Utilize our strong content management platform to take your services to the next level in the profound content field. The CMS team is adept at writing keyword-rich and well-managed content for your services at their best creative end.

Lead-Generating Links Wrapped

Complete Content Optimization

Increased Conversion Potential

Improved Brand Recognization
Targeted Pay-Per-Click (PPC)

We don't leave your custom PPC Ads just floating on the web but also retarget the users to multiply every click. By placing your ads on popular sites, your browsers become buyers.

Real-Time User-Targeted Ads

User Tracking and Analysis

Garner Immediate Results

Attractive Visual Elements
Lead Generation Magnet

Our lead generation magnet offers your visitors free assets and special deals like free webinars, e-books, discounts, and whitepapers to exchange their email/contact details significantly.

Drives Instant Sales

Spreads Brand Voice

Shared Interests & Goals

Builds User Community
Responsive Oil & Gas

Companies

Web Design Helps Unify

User Experience
Boost Search Rankings

Adopt responsive web designs so you can make your website more competitive by earning a higher ranking.

Consistency In Design And Brand

If visitors must do a lot of zooming, shrinking and pinching their screens during their first visit, they're likely to give up and try another website.
Reach More Customers

People don't even need to sit down at desktop or laptop computers to shop. They can find everything they want on their smartphones.

Optimize Page Experience

If a site isn't optimized for smartphones and tablets, it will also take more time to navigate, which can frustrate customers to a point of no return.
How We Make And Serve Your
Oil & Gas Companies Website
The Innovative Design Process
STEP 1
DISCOVER
Our team engages in extensive research to discover your specific needs and provide you with tailored solutions.
STEP 2
PLANNING
The planning involves robust mapping and preparing a blueprint for the entire project and procedures.
STEP 3
DESIGN
During the design phase, our UI/UX design team prepares a user-friendly design for delighting your users.
STEP 4
DEVELOPMENT
Our back-end developers integrate and optimize your systems, our front-end developers are bringing creative and user experience to life.
STEP 5
TESTING & LAUNCH
We perform extensive system testing to validate that our deliverables are ready for the real world and your users.
FAQ About Keyideas
Oil Gas Company Website Design
Mordy Karsch
Giving Back Promotions, San Francisco, CA
I had an amazing experience working with Keyideas - an excellent team of developers.

Isaac Gottesman
dimendSCAASI, Chicago
I would not hesitate to recommend Keyideas as a superior development house.

Lets Do Great Work Together!
Discuss your ideas. Connect now
We've successfully delivered over

leads for the client