Agriculture

Web Design &

Development Agency
In the modern digital age, interacting with your target audience and fostering business success requires a highly-functional agriculture web design. Whether you run a family farm, an agri-business, or a rural organization, having a well-designed website is the pressing priority. Keyideas helps you build responsive and conversion-friendly farms website design to outstand your services.
Robust And Clean Farms

Website Design
Will Help You Attract More Leads
Serene Farm Website Design
We create custom website themes and designs that are 100% mobile responsive, resonating perfectly with your agriculture services. Our team offers you alternate farm picture displays, image color swaps, image zoom features, size and color charts, and other display options to make your website more engaging and user-friendly.
Provides Digital Presence
Increases Conversions
Generates Useful Insights
Improves Brand Awareness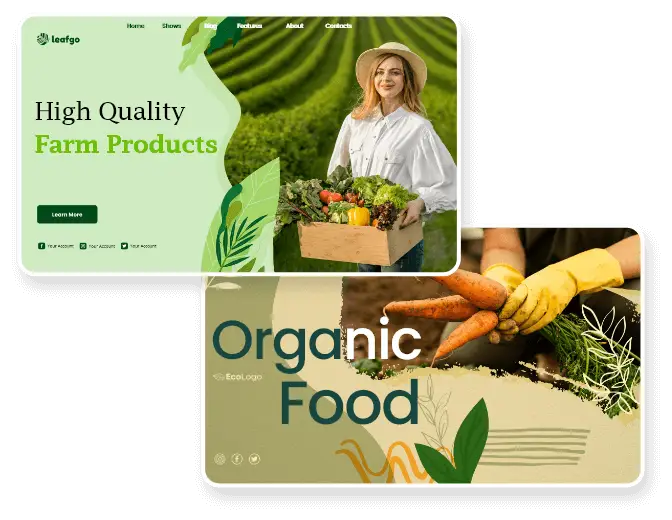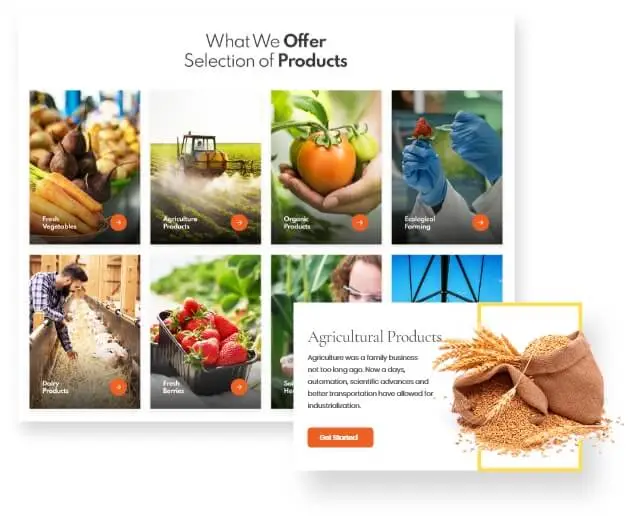 Farm Tour And Accommodations
Information regarding farm tours can be found here. We showcase dates/accommodation slots that people can choose for their farm trips as well as lodging information costs are shared. It will make it easier for individuals to travel and get to know your farm services better.
Helps Convert Traffic Into Leads
It Establishes Your Farm
Drives Better Business Results
It Holds The Audience's Attention
Ecommerce Farm Shop
You can directly sell the yields you've harvested on our farmers ecommerce store. Organic food demands are increasing and frequently purchased today and we can't let you stand and wait for the customers. With advanced e-store integrations and inventory management on your farms website design, you can supply orders more quickly and smartly.
Super-fast Product Carts
Increases Your Revenue
Establishes Your Products
Offers and Discounts Feature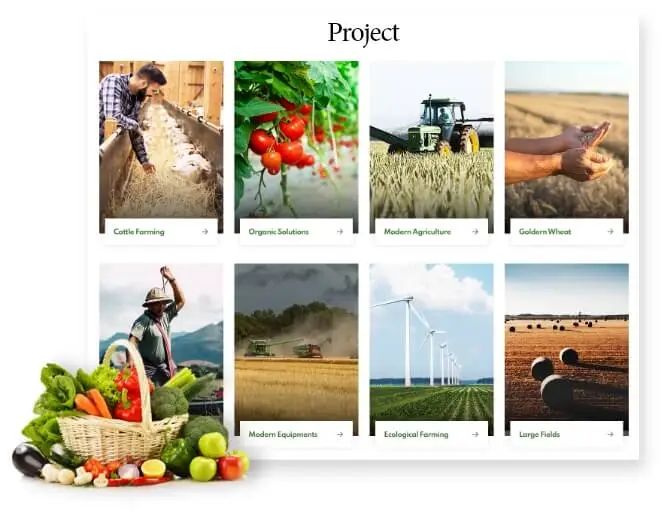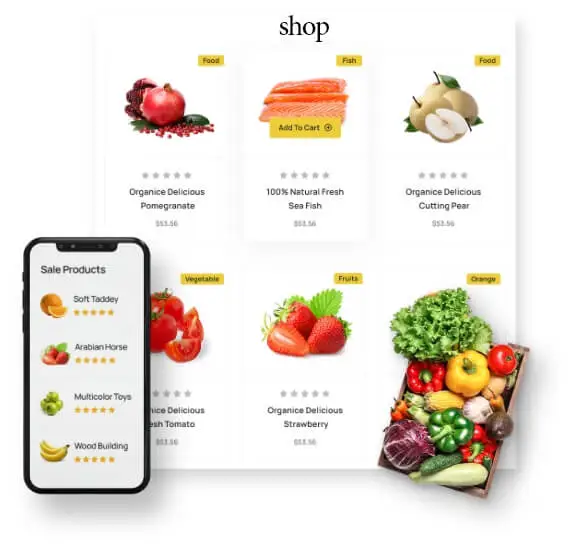 Digital Farm Library
A digital library on famous agricultural revolutions is something we are happy to offer. We can spread knowledge about the significance of eco farms, farmers' advancement, organic food benefits and so on. We can also provide information about apprenticeships if you give any.
Educates and Aware People
Create Awareness About Farming
Importance Of Organic Products
Creates Social Responsibility
Pre-Order Farm Products
Customers can pre-order farm products they want, and you and customers can agree on a convenient delivery date. Introducing this functionality on your farms website design allows you to get buyers even before your harvest is complete.
Sends Automatic Confirmation Emails
Accept Direct Bank Transfers, Checks
View Order Status In Real-Time
Edit Order Destination Details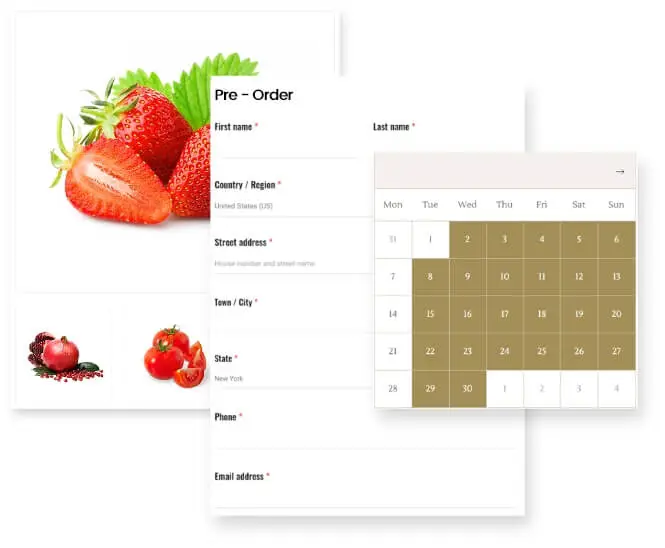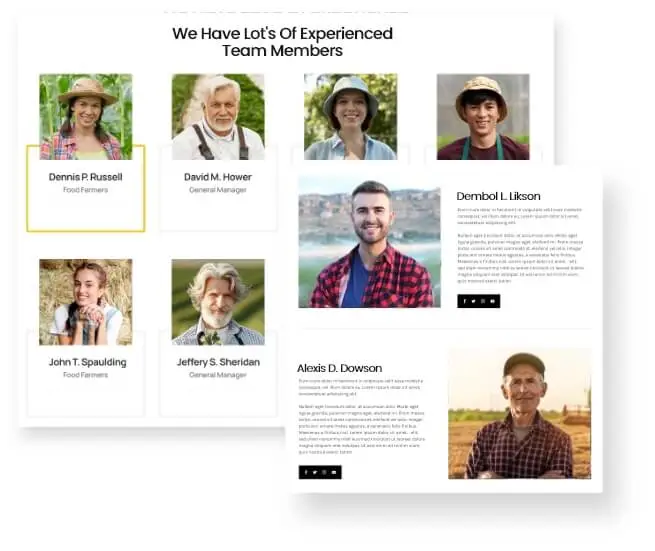 About Us Farmers Page
We assist you in creating a fantastic about us farmers page. Here visitors can know about your interesting back story, team members roles, farming philosophies, and recent production models. People are interested to read inspiring stories.
Show Off Your Team And Their Talents
Increases Your Website Visits
Business Becomes More Approachable
Establishes You As A Legit Company
Agriculture Blogs And Articles
In order to enhance social media shares and draw attention to your agriculture web design, we write articles and blogs about engaging farming topics, such as the marvel of agriculture, things to keep in mind when farming, storage tips etc.
Supercharge Website's SEO
Manage Online Identity- Build Trust
Helps Convert Traffic Into Leads
Drives Long-Term Results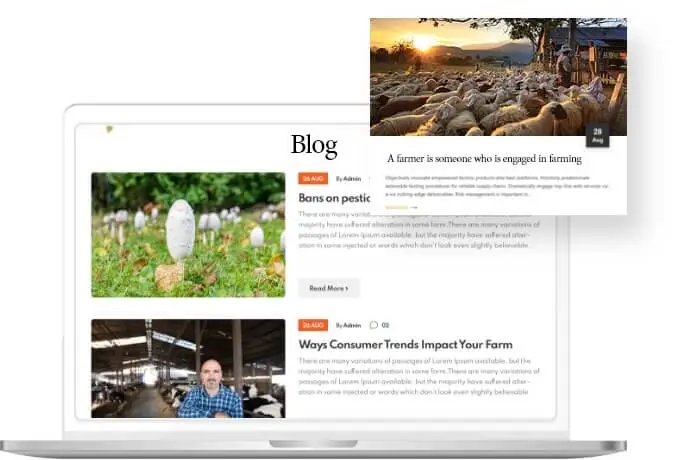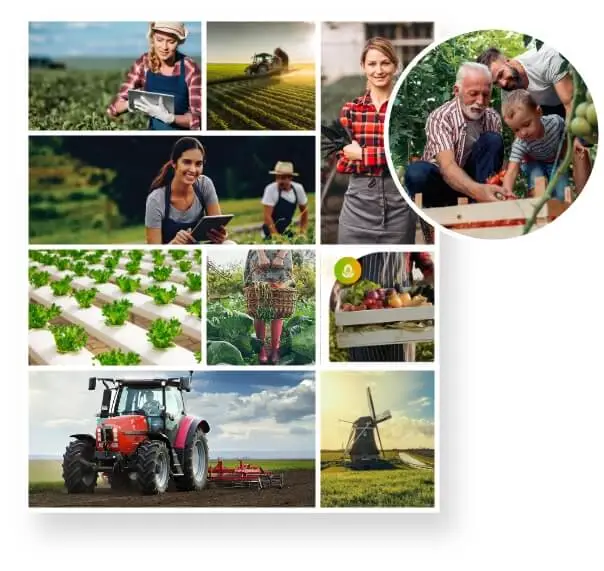 Mesmerizing Image Gallery
Our team builds mesmerizing image gallery for farms website design, displaying pictures of your farms' lush green crops, different vegetables and fruits. While emotively expressing your innovative farming methods to encourage customers to visit your farm.
Tells Better Story About Your Farms
Create Emotional Connections With Customers
Tap Into the Power Of Experiential Retail
Easy Announce New Yields
Farm Location & Contacts
The method of contact is very crucial in any efficient website. Your farms website design should have a precise location map indicating visitors the directions to your farm. It will make it simple for visitors to find your farm and visit it to buy your organic products.
Show Customers Where You Are
Improve Your Local SEO
Offer Local Updates
Diversify Your Business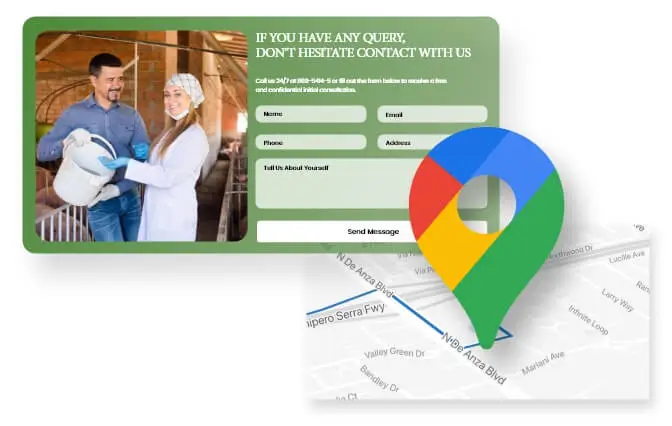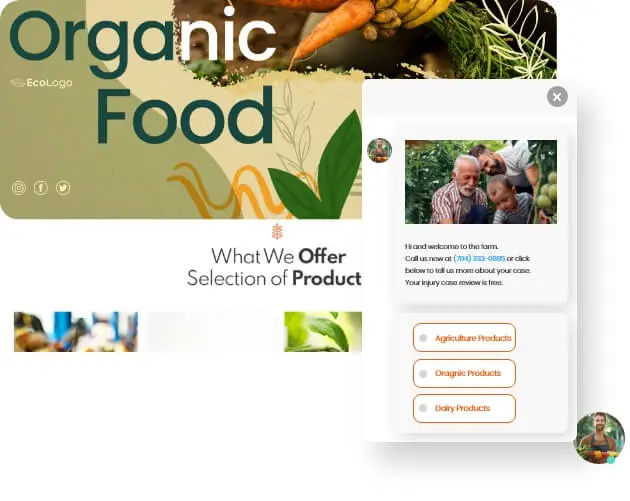 Social Media Marketing Reach
By producing exciting video content, investing in advertising, employing popular hashtags, producing teaser images, and joining groups on social media platforms, we assist you in promoting your farms website.
Saves Time & Gets Better Results
Structured Plan & Fewer Mistakes
Instant Communication
Conversion Rate Increases
Solid Lead Generation Plan For
Farmers Website Design
Search Engine Optimization (SEO)

With our smart search engine optimization techniques, get recognized by search engines and your global-local visitors. Helping searchers find your services within seconds with superfast page landing and full-on page optimization.

Deep Keyword Research

Mobile-Responsive Website

Resourceful Site & Backlinks

Organic Lead Conversion
Content Management System (CMS)

Utilize our strong content management platform to take your services to the next level in the profound content field. The CMS team is adept at writing keyword-rich and well-managed content for your services at their best creative end.

Lead-Generating Links Wrapped

Complete Content Optimization

Increased Conversion Potential

Improved Brand Recognization
Targeted Pay-Per-Click (PPC)

We don't leave your custom PPC Ads just floating on the web but also retarget the users to multiply every click. By placing your ads on popular sites, your browsers become buyers.

Real-Time User-Targeted Ads

User Tracking and Analysis

Garner Immediate Results

Attractive Visual Elements
Lead Generation Magnet

Our lead generation magnet offers your visitors free assets and special deals like free webinars, e-books, discounts, and whitepapers to exchange their email/contact details significantly.

Drives Instant Sales

Spreads Brand Voice

Shared Interests & Goals

Builds User Community
Responsive Farms Web

Design

Helps Unify

User Experience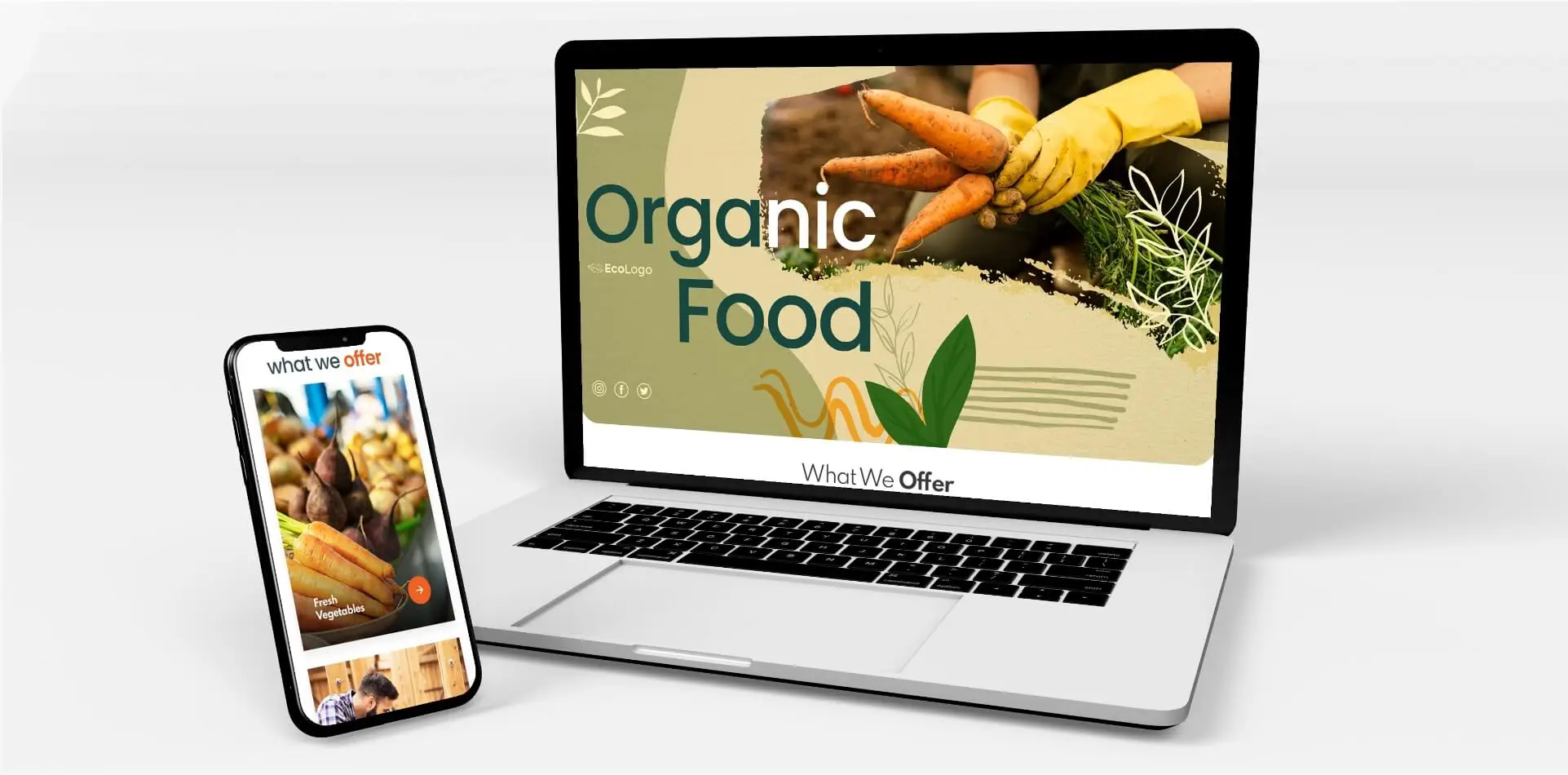 Boost Search Rankings

Adopt responsive web designs so you can make your agriculture web design more competitive by earning a higher ranking.

Consistency In Design And Brand

If visitors must do a lot of zooming, shrinking and pinching their screens during their first visit, they're likely to give up and try another website.
Reach More Customers

People don't even need to sit down at desktop or laptop computers to shop. They can find everything they want on their smartphones.

Optimize Page Experience

If a site isn't optimized for smartphones and tablets, it will also take more time to navigate, which can frustrate customers to a point of no return.
How We Make And Serve Your
Agriculture Website
The Innovative Design Process
STEP 1
DISCOVER
Our team engages in extensive research to discover your specific needs and provide you with tailored solutions.
STEP 2
PLANNING
The planning involves robust mapping and preparing a blueprint for the entire project and procedures.
STEP 3
DESIGN
During the design phase, our UI/UX design team prepares a user-friendly design for delighting your users.
STEP 4
DEVELOPMENT
Our back-end developers integrate and optimize your systems, our front-end developers are bringing creative and user experience to life.
STEP 5
TESTING & LAUNCH
We perform extensive system testing to validate that our deliverables are ready for the real world and your users.
Frequently Asked Question About
Farms Website Design Company
Mordy Karsch
Giving Back Promotions, San Francisco, CA
I had an amazing experience working with Keyideas - an excellent team of developers.

Isaac Gottesman
dimendSCAASI, Chicago
I would not hesitate to recommend Keyideas as a superior development house.

Lets Do Great Work Together!
Discuss your ideas. Connect now
We've successfully delivered over

leads for the client
© Copyright 2023. All Rights Reserved.