Flat design is a popular trend in website designing. In the past, the websites designers used to put a special effort into their skills by packing sites with illustrations and animations that supposedly hypnotize their visitors. And then came a shift toward skeuomorphic design, which has tried to bring the real-life on the screen, with false-realistic textures, and drop shadows.
What is Flat Design?
A Flat design is a UI design category current use in graphical user interfaces for apps and websites. The style creates flat images by omitting the usage of drop shadows, strokes, and gradients. It uses pretty typography, simple icons, 2d shapes, and strong colors to establish appealing visuals. Flat design is aimed at a more efficient and user-friendly interface.
And this has now been converted to a flat design trend, which is opposed to all these "artificial" design techniques, prefer more aesthetically simplified and classic digitals. This user-centered web graphic design style is in all the rage and shows no sign of going away. Here is an ultimate guide for you to know what exactly you need.
Less Is More – Minimalist Design
It offers clean and open-space edges with vibrant colors and two-dimensional/flat illustrations.
In flat design, decorative elements are regarded as unnecessary clutter. If an aspect serves no functional purpose, it is a distraction to the user. That's why this design features cool minimalist characters.
However, just because it got no flashy design does not mean that this style is boring or annoying.The purpose of the minimalist images also contributes to the flat design of the functional character. Hence, less is more and lesser is most.
Cool and Vibrant Colors in Flat Design
Cool and contrasting colors create illustrations, and buttons pop from the background easily on the user's eye. Colors set the whole feel of your website or webpage. In the flat design approach, it is advisable to use candy colors because they add aesthetic beauty to your page without making your reader's eyes bleed because of too much brightness. Fresh colors attract the eyes better and can be complemented easily with various other colors.
Simple Is Beautiful
Simple images convey messages more quickly than detailed illustrations. The images as icons can indicate universal actions and purposes, and everyone can understand them very comfortably.
Crisp Typography
Typographies are significant to work in flat design. Simple fonts and texts are preferred as they add classic style and gives you a reader-friendly interface. In the flat design approach, there is no more use of calligraphy and complicated font styles. Use crisp and clear texts with shorter messages and place them chromatically with different colors and shapes.
One can easily differentiate between a skeuomorphic and flat design. You can notice how the large, solid color blocks are more eye-catching, and how swifty their meaning is perceived.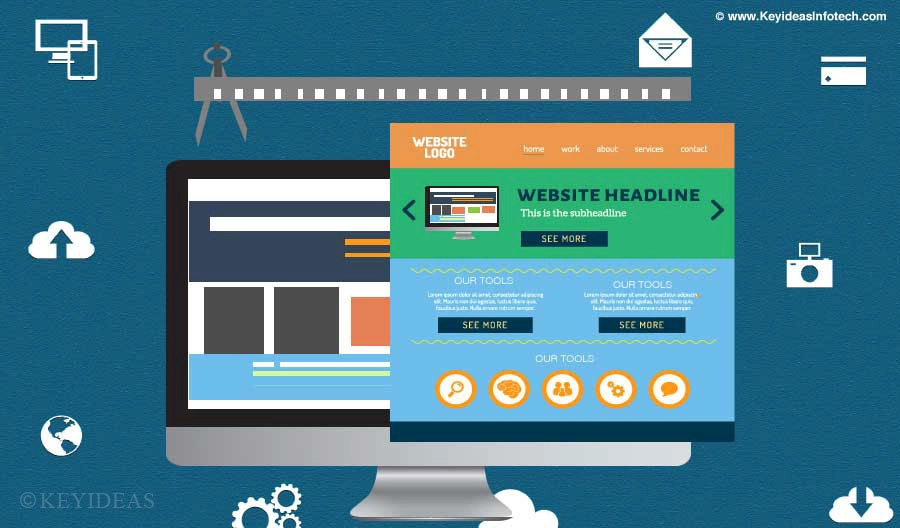 Creating a Flat Design
While crafting a flat site, the idea is centralized on simplicity.
Solid, bright colors give the necessary emphasis, instead of illustrations and detail. Simple typography provides a clean eye-spot, supplement to the illustrations; the text is concise and precise and user interface elements such as buttons and links are clear and perceptible.
Everything must be designed with one goal in mind to create visual consistency and clean functional UI/UX design.
#websitedesign #webdesign #webdevelopment #webdesigner #webdeveloper #websitedeveloper