Tourism Website Design Services
Sky-High Travel Agency Web Design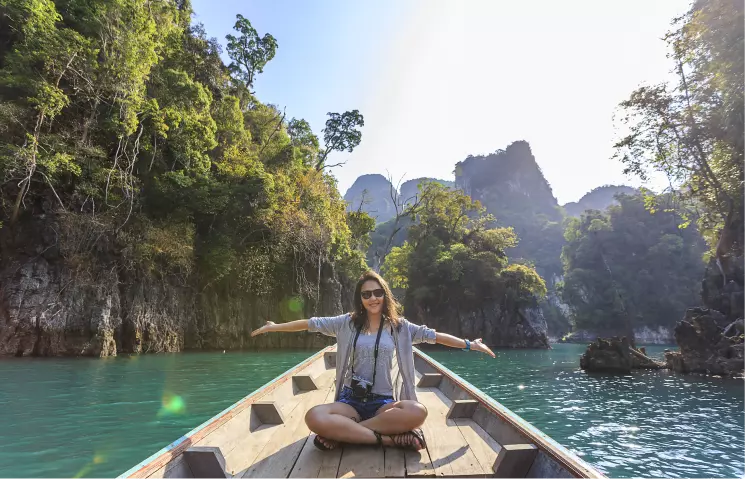 Best Of Travel Tourism Website Design Agency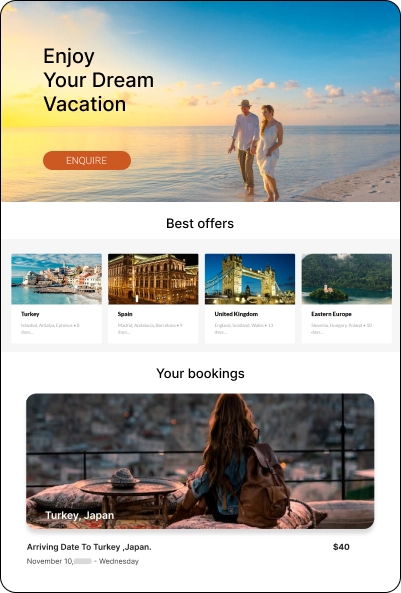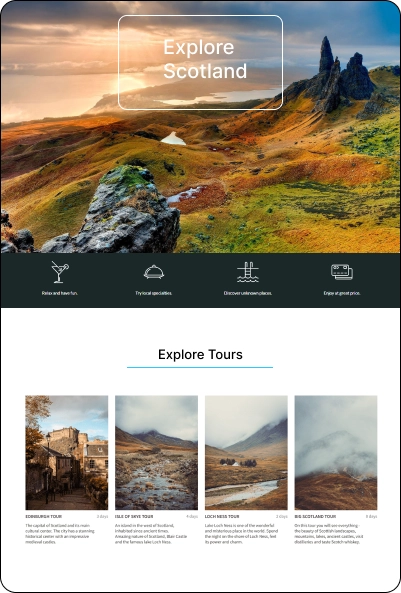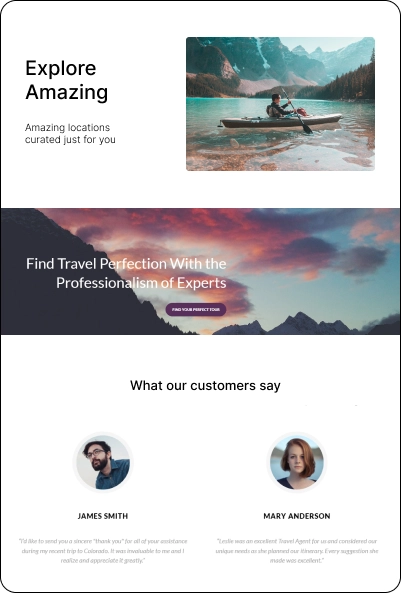 Excel Your Tourism Business With Web Design Experts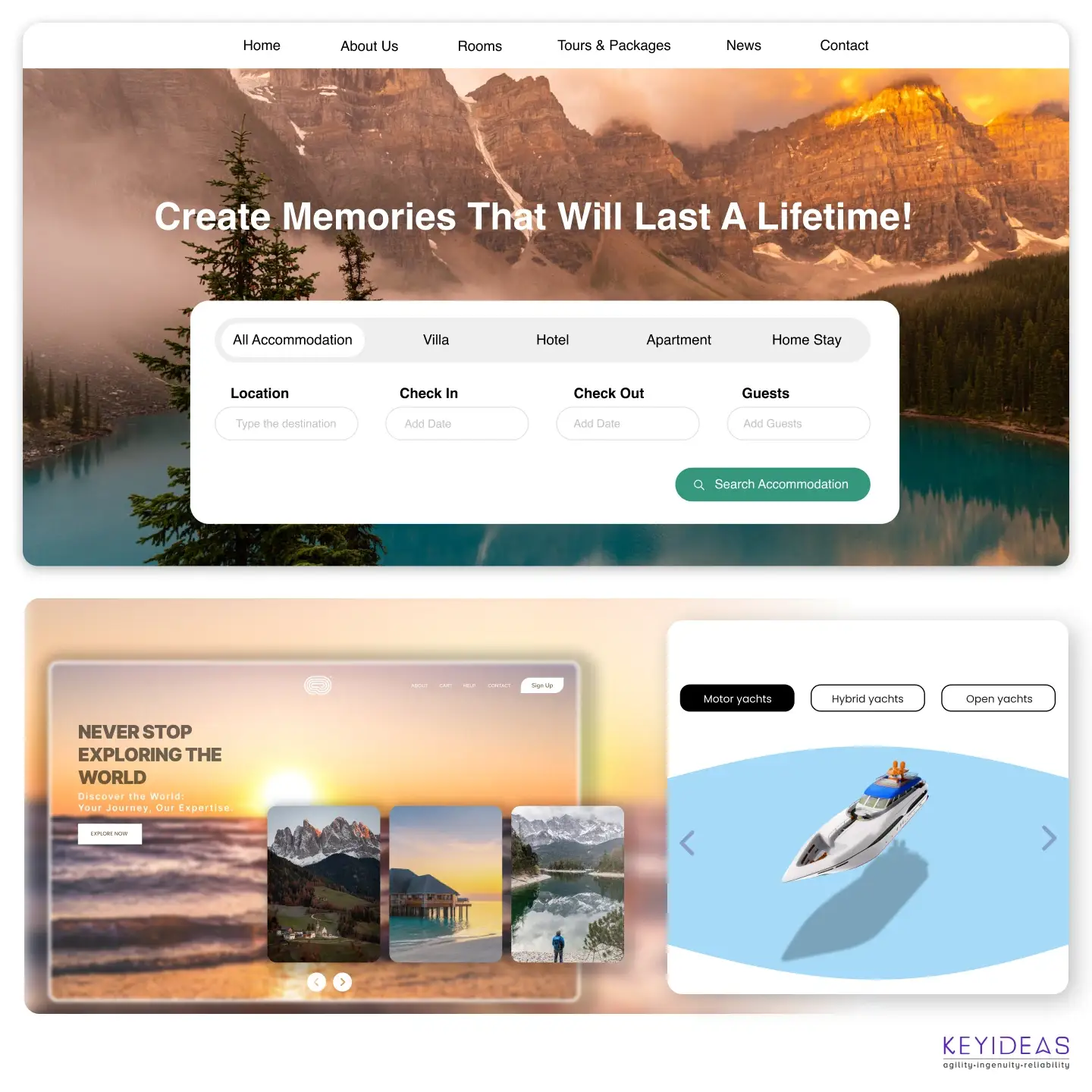 Professional Web Designs
Over 50% of web traffic comes from mobile devices. With mobile-responsive & aesthetic web designs, your tourism website design will look great on desktops, tablets, and mobile devices. Marking your success growth with our professional travel agency web design touch!
Customer-friendly and easy-going themes
Latest customized designs
Trendy patterns, styles, and motifs
Great UI/UX graphic designs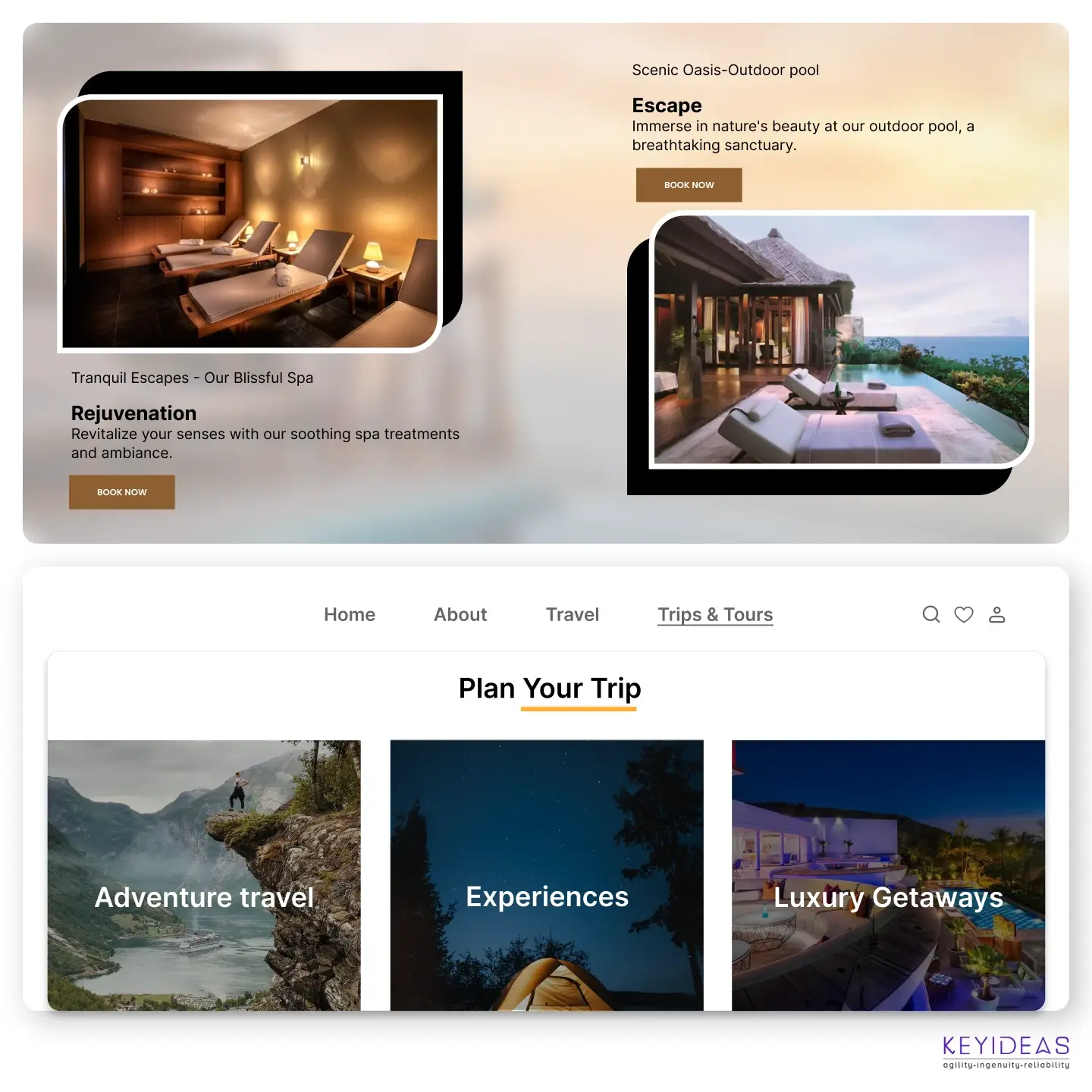 Service Segmentation
With tidy service segmentation, we bring great features to your destination including destination dashboards, accommodation type, customized bookings & packages, trip planners & guides, booking calendar, and much more.
Gives proper services insight
Helps in planning and executing
Easy to understand services
Adjusts to custom choices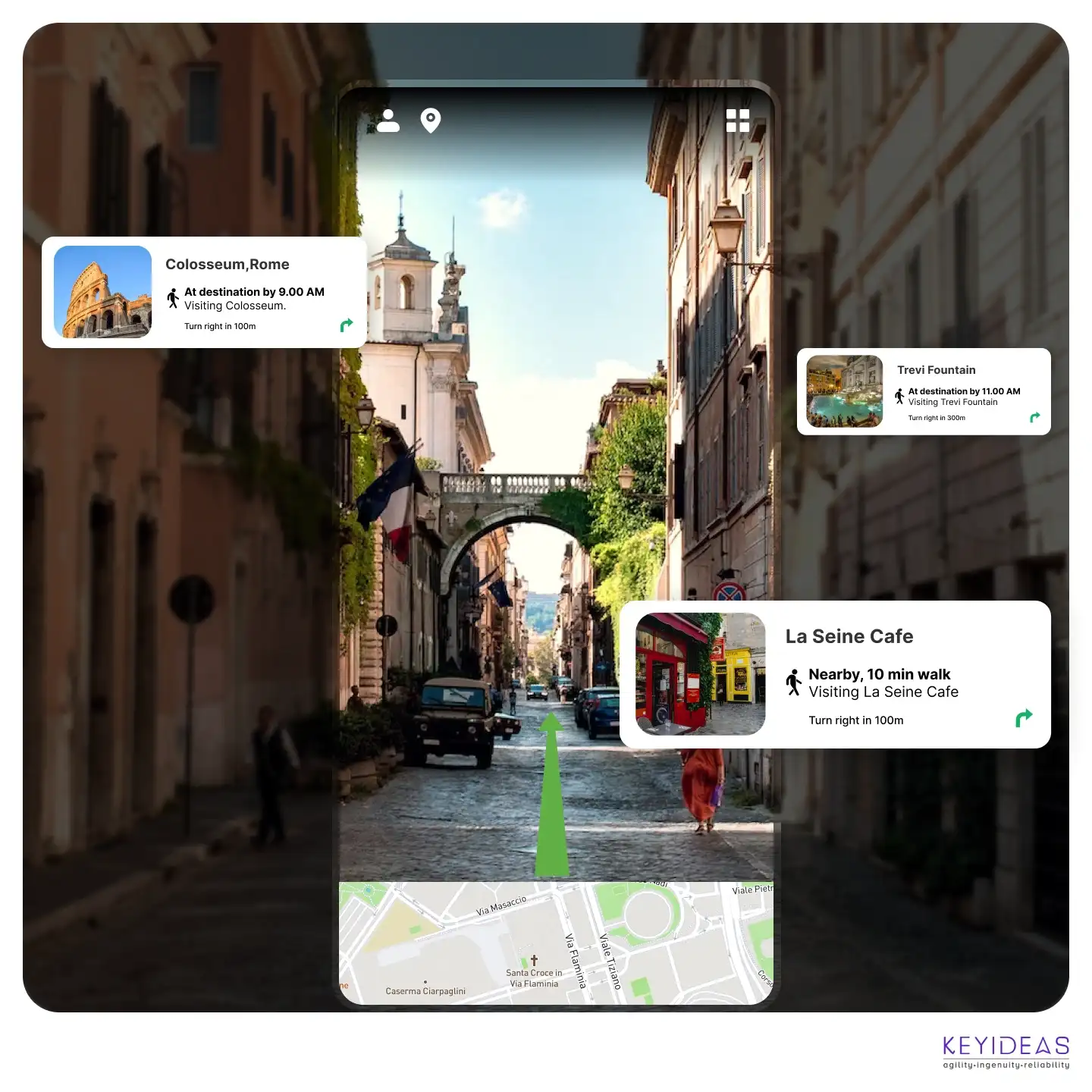 Augmented Reality
It is quite popular in the travel industry as it allows your customers to sneak-peek how your hotel and the local spots actually look before even touring there. Along with attractive images, our smart AR feature adds a more personalized touch to your website as it allows you to give customers a better push.
Personalized User-Experience
Better location insights
Spotlights favorite spots
Attracts large user base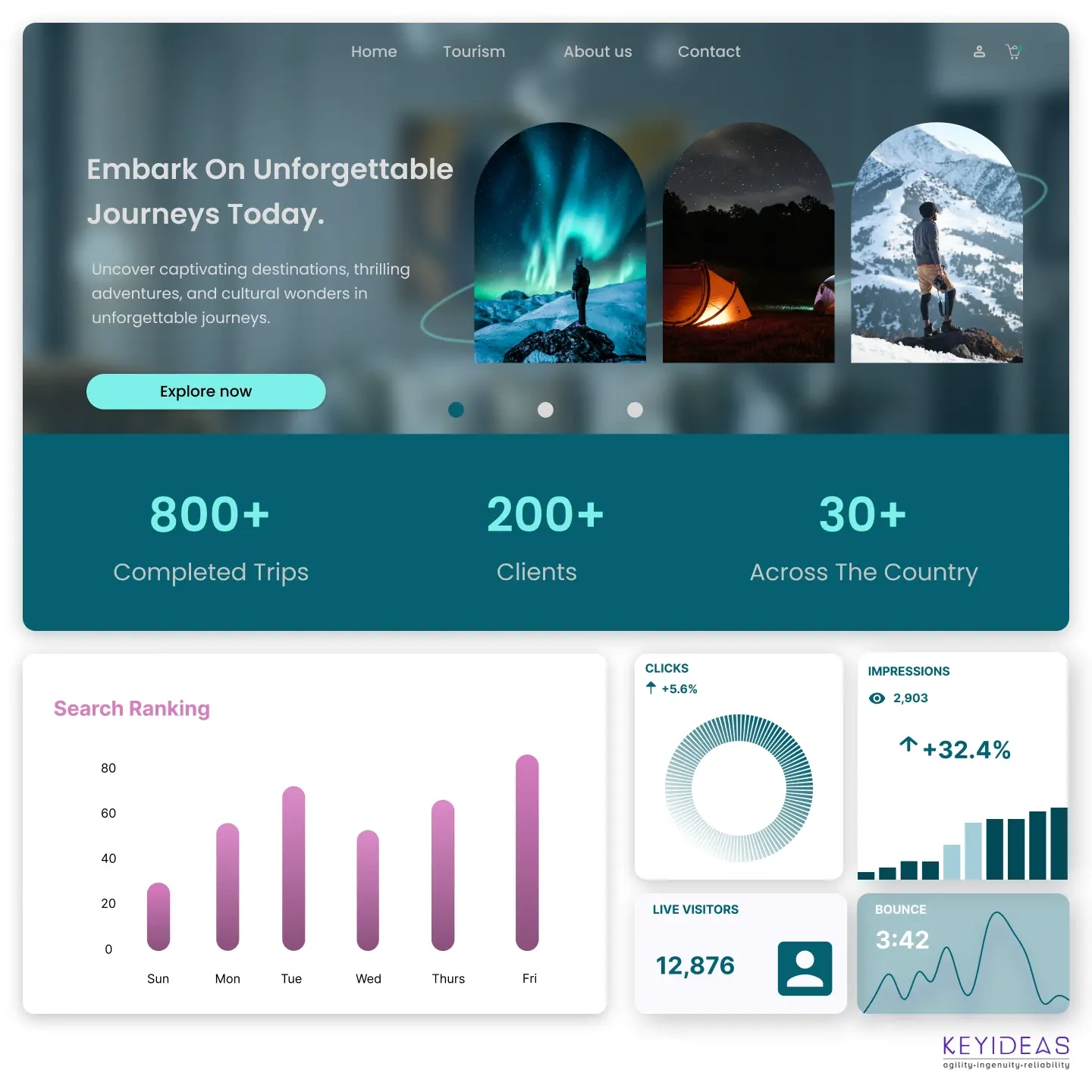 Predictive Search
This feature gives your customers an intuitive-experience as it is customized according to their search needs. Our Predictive Search Option allows users to drop-down travel package or destination listings whenever they type any word to search details.
Intuitive searching
Rescues their time and efforts
Avoids scattered information
Faster results and user-response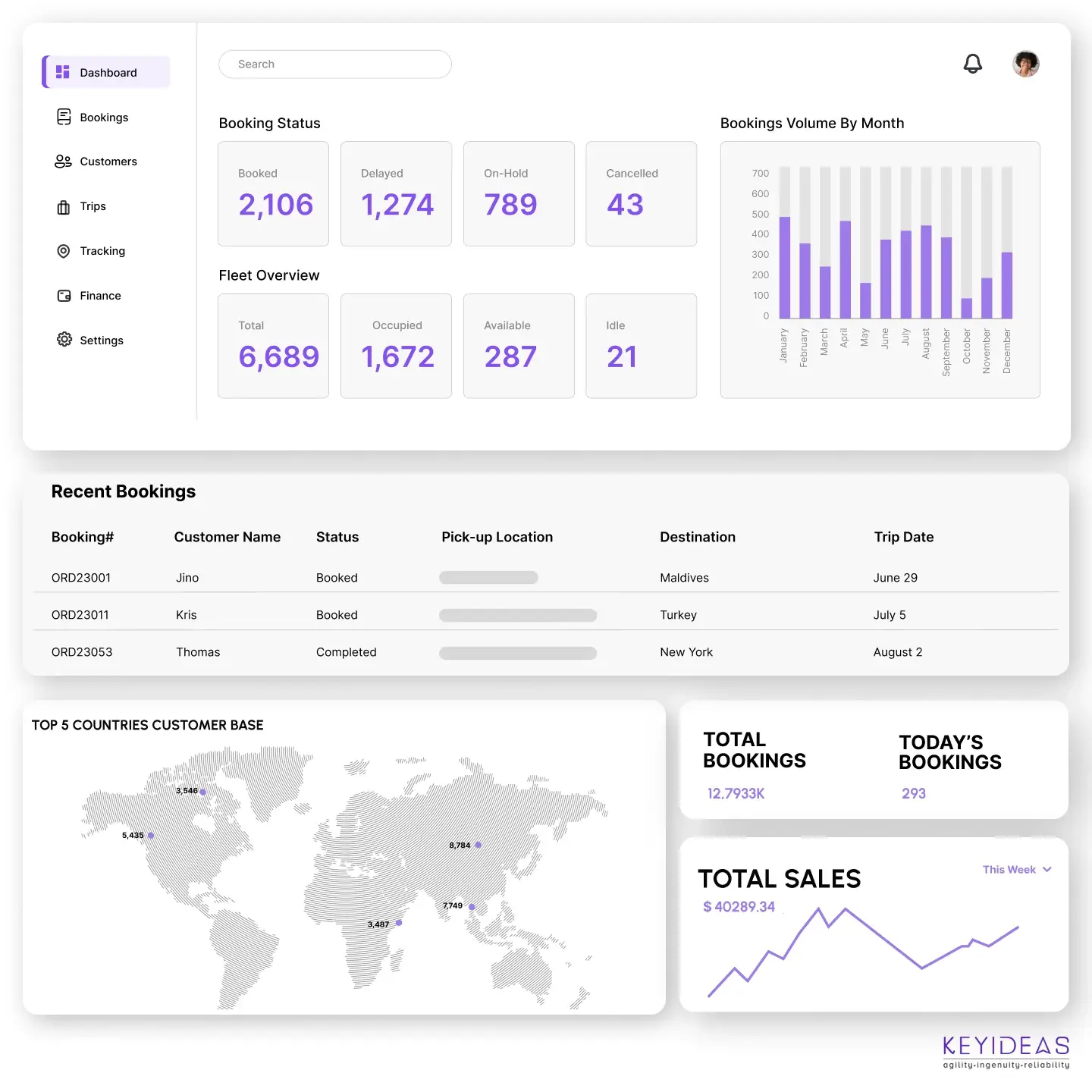 Smart Customer Analytics
With our customer analytics tool, you can easily navigate and analyze your user's booking history, preferences and search patterns. Now plan, customize your tourism website design & tasks according to customer behavior pattern.
Smart planning tool
Customer demographic info
Ease of understanding
Productive and time-saving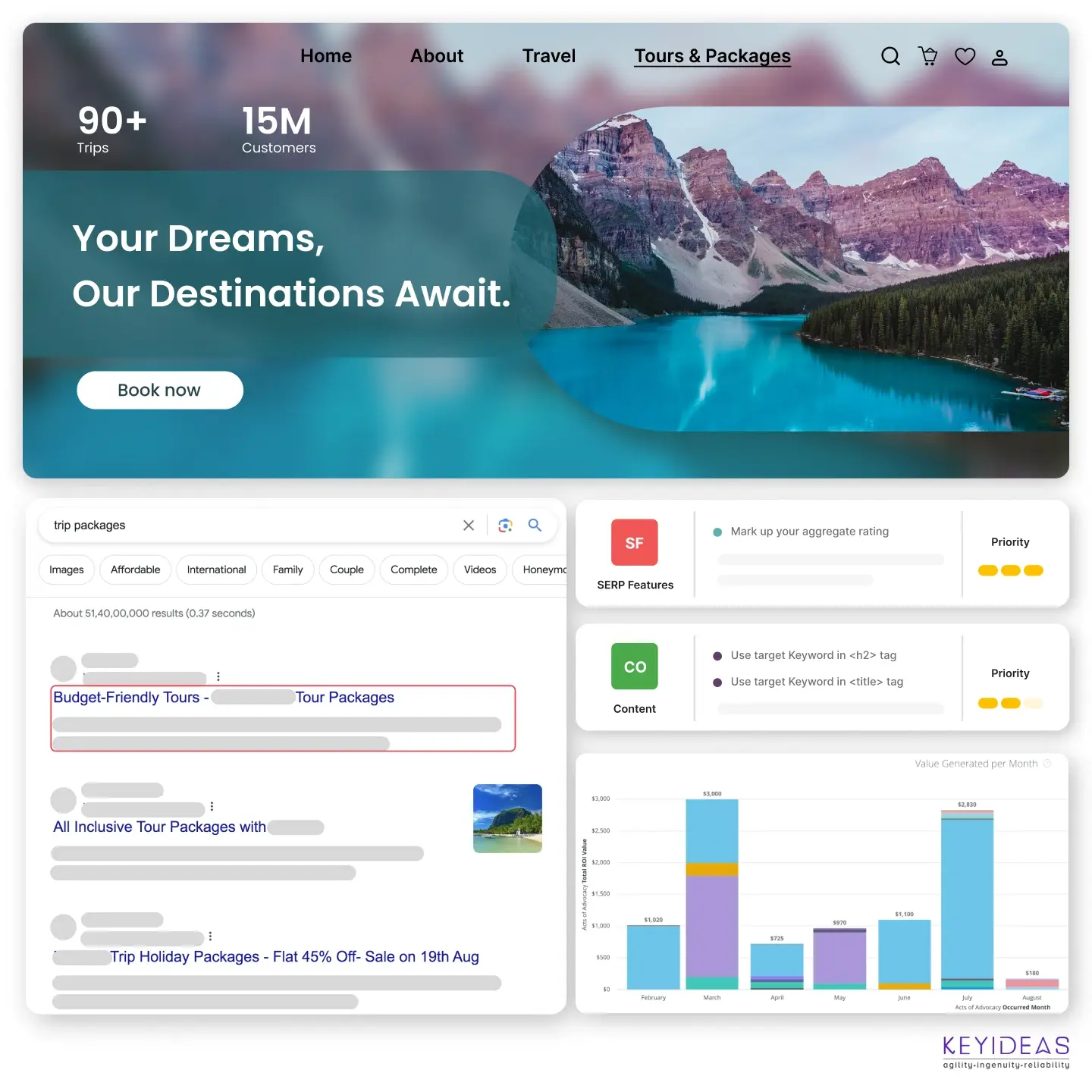 Hassle-free: Clean Codes
We make sure that your tourism website design has clean codes to allow faster loading time, bookings and better SEO ranking with advanced plugins. Ultimately, giving a superior tourism website.
Better Ranking on SERP
Supercharges your website
Generates More Leads
Less Technical Hassle, more ROI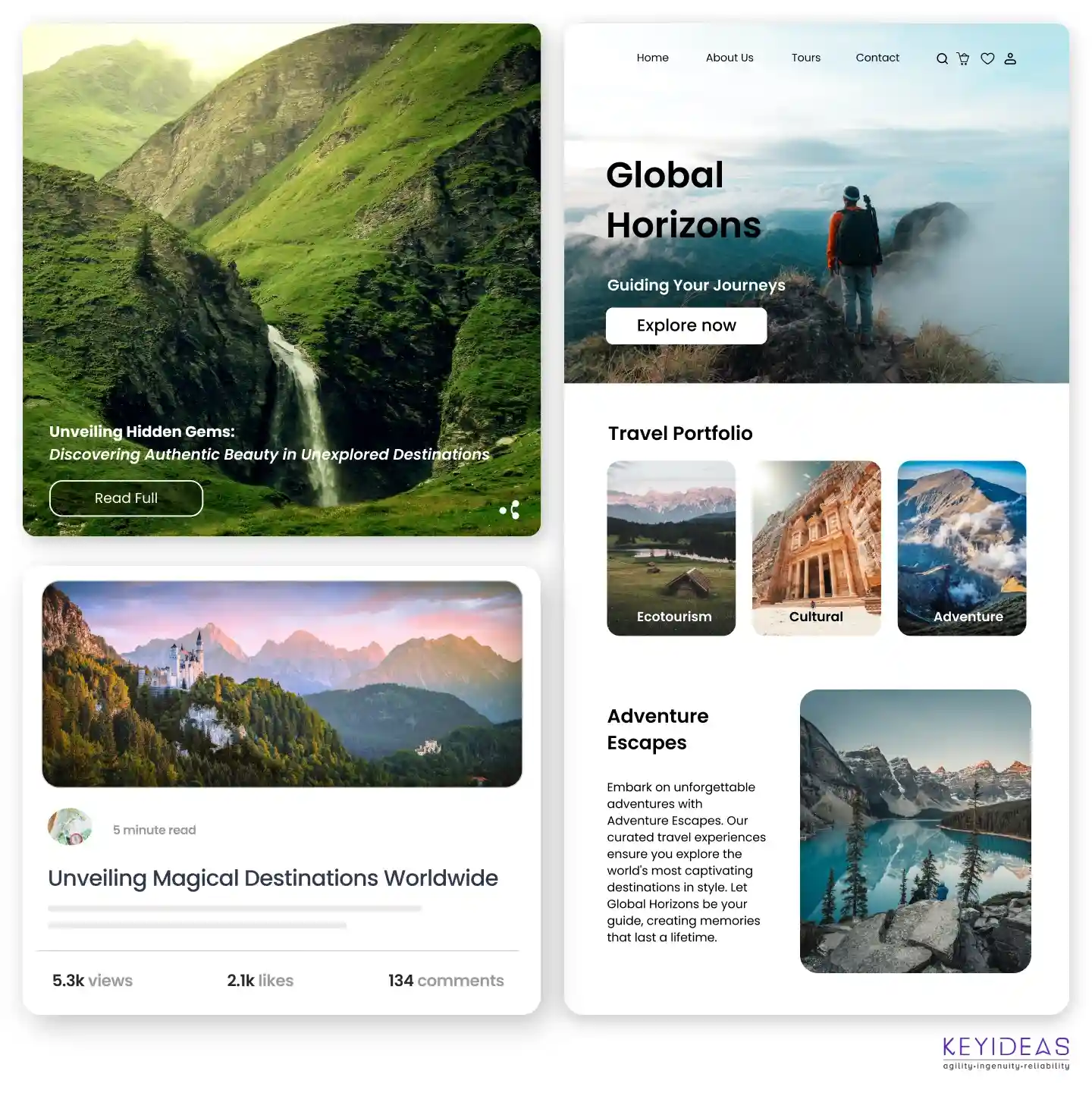 Tourism Blog
Adding myriad colors to your website by adding an interactive Tourism Blog with travel trends & ideas. Now provide your audience an enriching exposure by sharing inspiring & awesome travel stories and advices with them.
Excites newcomers as well as readers
Will work as a marketing strategy
Insightful information and travel tips
Lower bounce rates- more engagement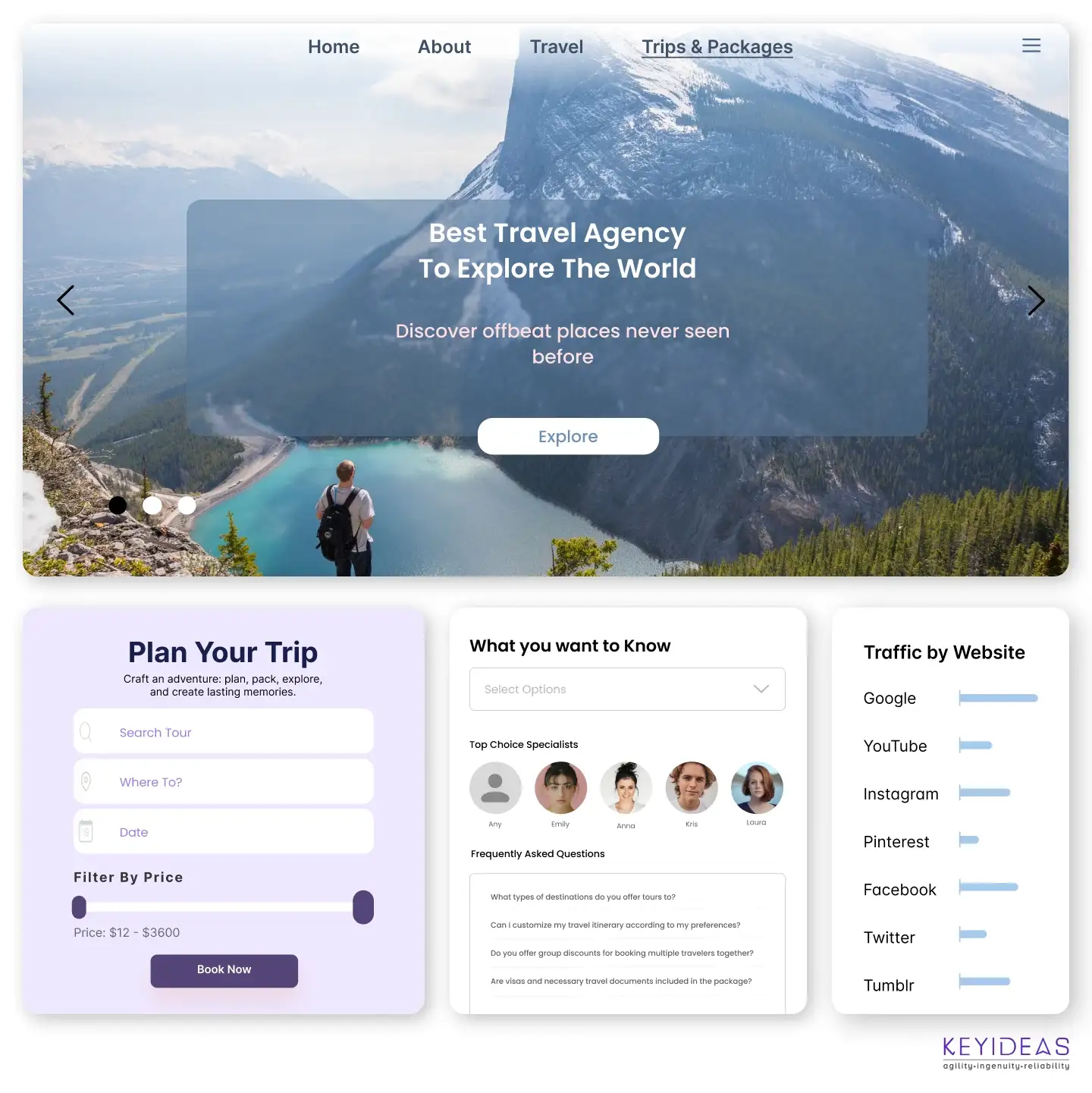 Get Expert Advice
Know about all aspects of tourism website design services from our team. Get free suggestions from the field of web experts to succeed in your tourism business.
All the advice you'll ever need
Get personalized advice on any topic
Advice from experienced minds
Expert advice at your fingertips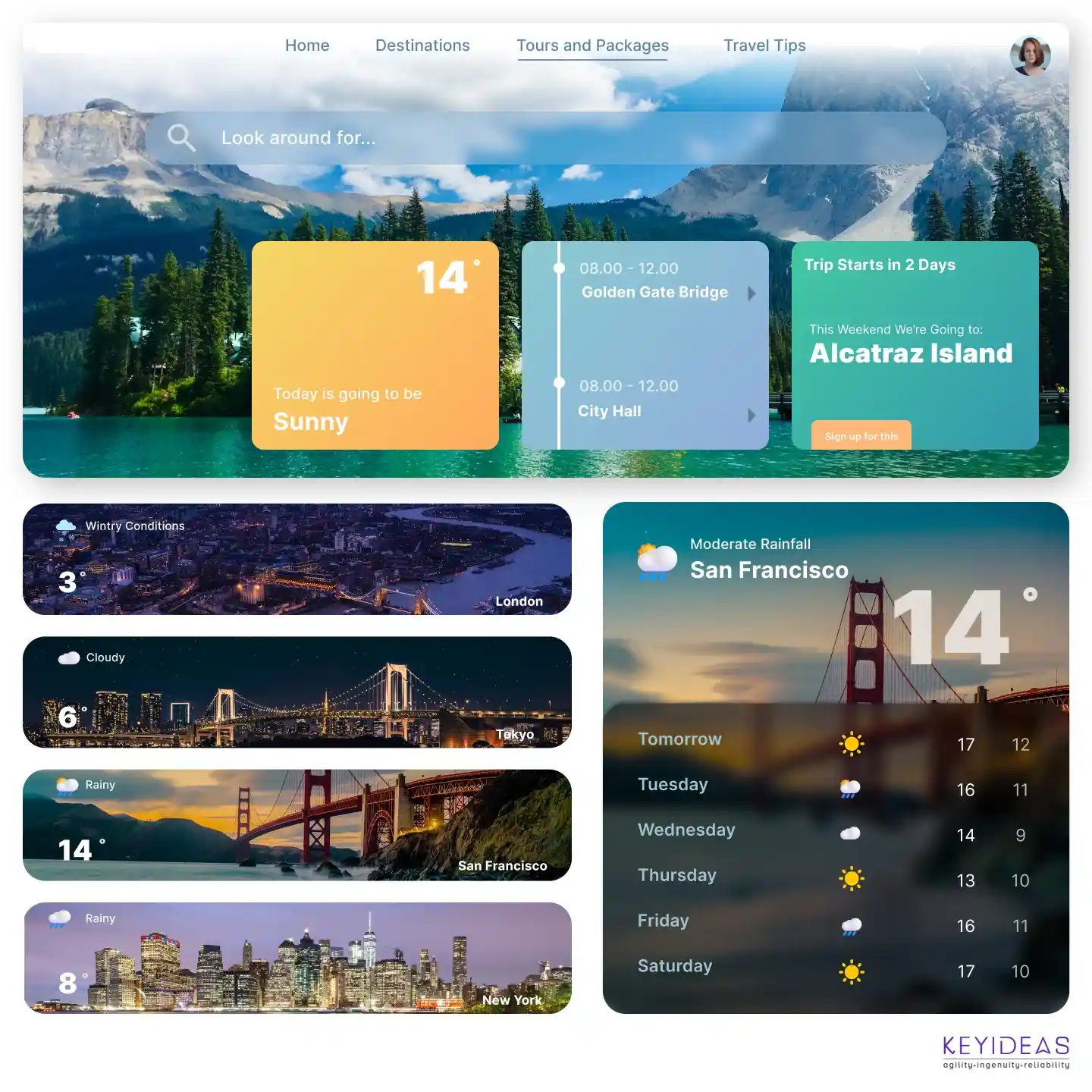 Tourism Weather Forecast
Every traveler is concerned about the weather conditions at his destination. Let's us break their doubts with a trip weather forecast. We can embed this on your tourism website to show latest weather conditions of your destination spots such as rain forecast, wind speed, pressure, humidity, sunset/sunrise time, etc.
Excites newcomers as well as readers
Boosts customer reliability & trust
Removes customer skepticism
Better planning and decisions
Adds additional value to your page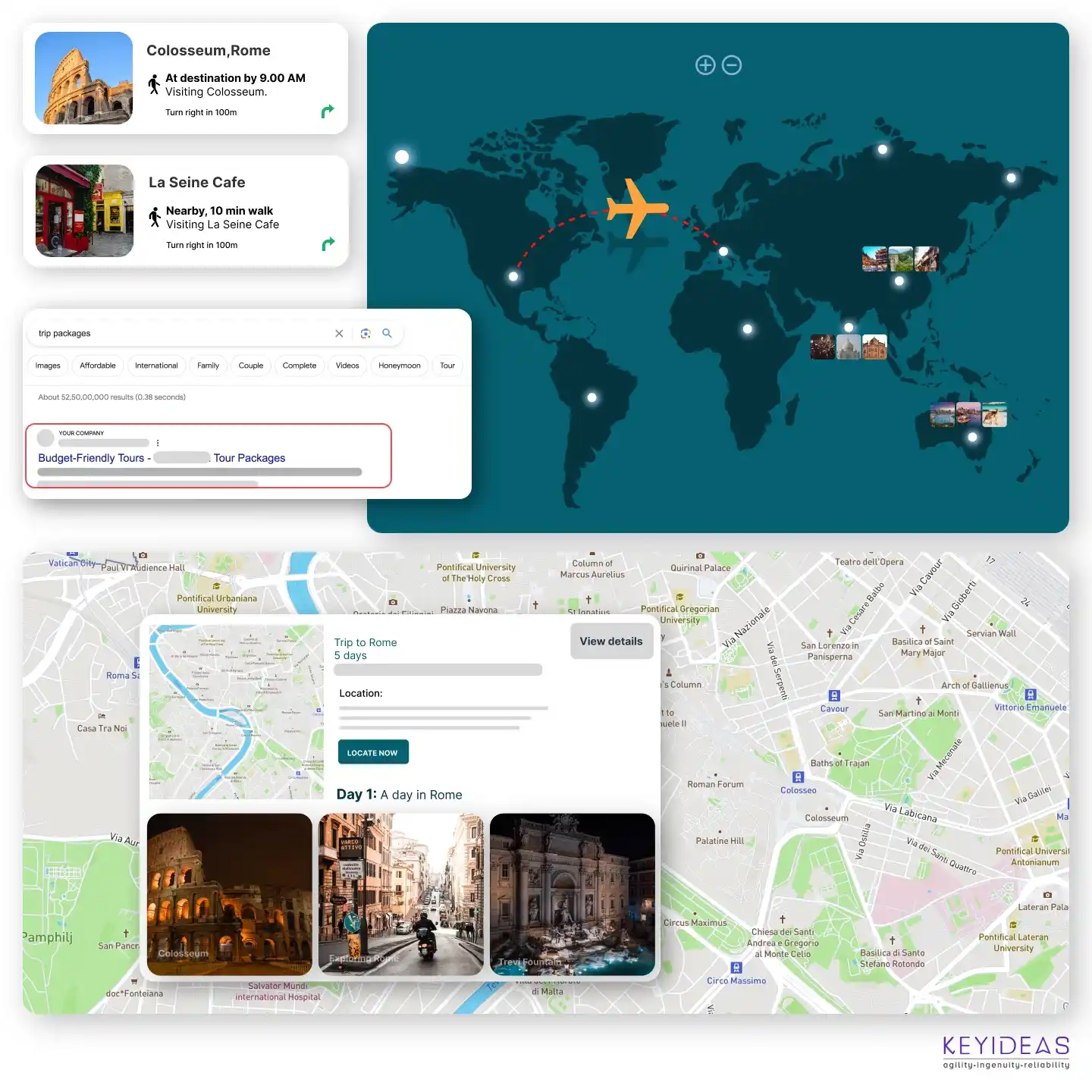 Google Map Installation
Installing a google map on your website will guide your customers to your tourism spot and local sites right away while saving their plenty of time. Our team installs interactive and location-specific google maps on your tourism website.
Enhances customer interaction
Embedded with HD site images
Boosts SEO of your page
Resourceful locating method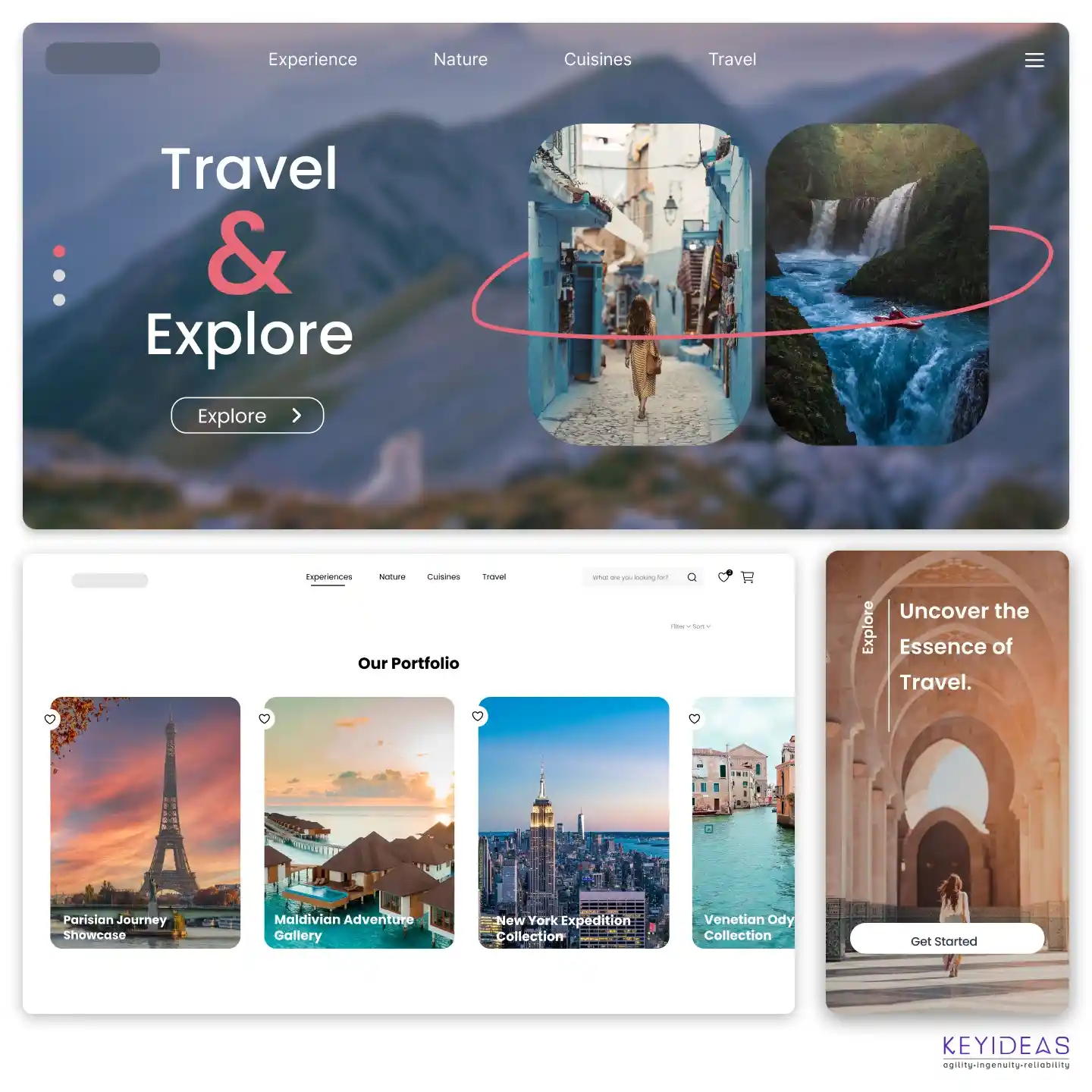 Tourism Portfolio
By showcasing a beautiful tourism portfolio, you can convey customers about your recent successful destination trips & ventures. With our organized and creative portfolio section, you take an edge to impress your audience.
Increases Trust & Authenticity
Drives In Long-Term Results
Showcase your expertise & offerings
Shares Wonderful stories & services offered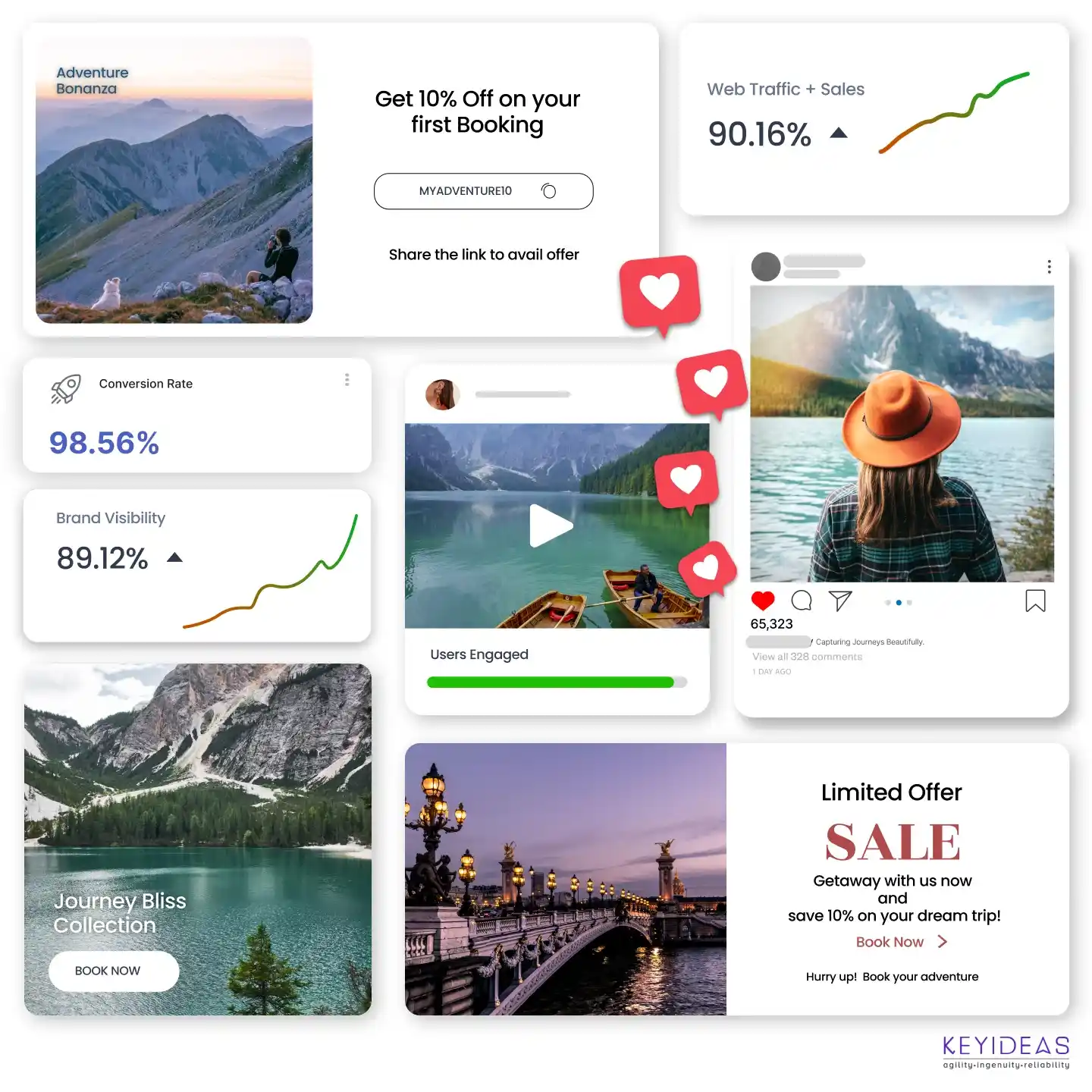 Digital Marketing
Utilize this great marketing method by posting your enticing travel agency services on various digital platforms. Unleash the power of our creative digital marketing tactics via social media, Ads, PPC, content marketing, etc.
It drives high conversions
Easy & creative way to start with
Can reach a global audience
Audience gets aware of your activities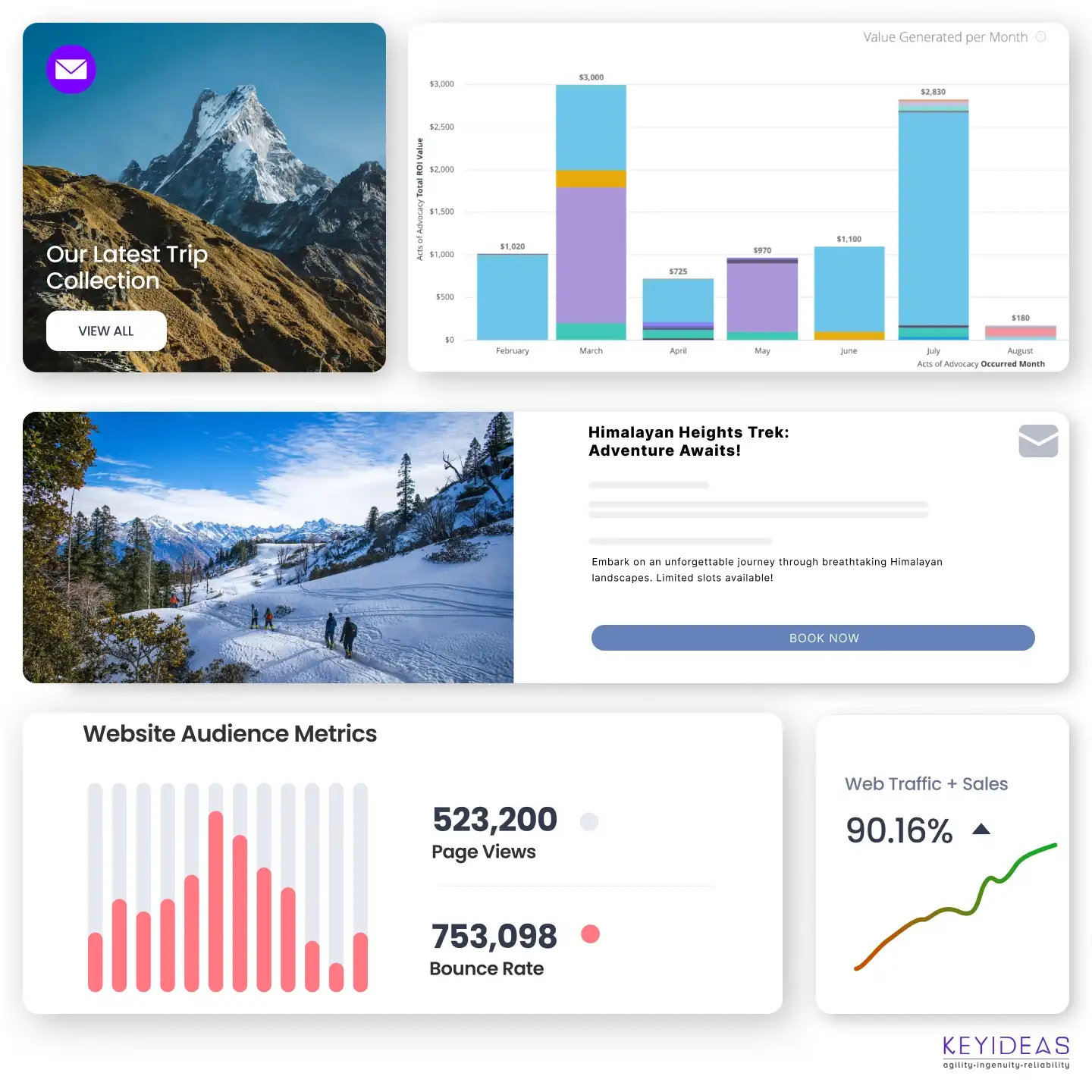 Email Marketing
Using our email marketing services, you can actually drive greater leads to your tourism website. As we send compelling & resonating emails and news/offer to your target audience on a regular basis.
Easily connects with customers
Increases ROI faster
Highly-effective, cost-friendly method
Generates website traffic
Our Services For Tourism and Hospitality Website Design
Website Design
Great first impression and user-friendly interfaces
Landing Pages
Intuitive navigation and a clear call to action
Plans and Promotions
Drives more business and Overflowing traffic
Reservation and Booking System
Easily search for flights, hotels, and other travel services.
SEO Services
Improves Search Rankings
Review and Rating System
Builds users trust and adds more credibility
Website Marketing
Marketing Services to grow business 200%
Affordable Pricing
Lower Total Cost Of Ownership & Higher Return on Investment
FAQs About Keyideas Tourism Website Design
Mordy Karsch
Giving Back Promotions, San Francisco, CA
I had an amazing experience working with Keyideas - an excellent team of developers.

Isaac Gottesman
dimendSCAASI, Chicago
I would not hesitate to recommend Keyideas as a superior development house.

Lets Do Great Work Together!
Discuss your ideas. Connect now
We've successfully delivered over

leads for the client