Camping RV Park Website Design
& Development

Agency
Get ready to light more Campgrounds & Roll over with our customer-centric RV Resort Website Design! Get 3X online presence with custom Camping RV Park Website Design.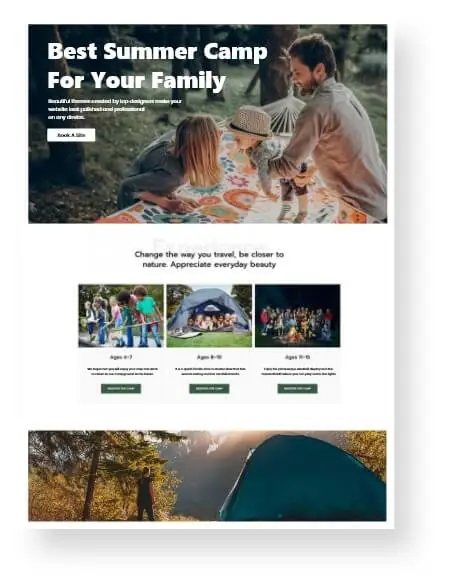 Pleasing

RV Resort
Website Design
Custom RV Resort Website Design
The first thing visitors will notice when they land on your RV Resort Website Design are the design and layout features of the website. Our prime focus is to specifically tailor UI/UX designs for camping websites that are user-friendly and easy-to-access.
Adapts to different screens
Easy navigational experience
Great UI/UX design elements
Generates leads- more conversions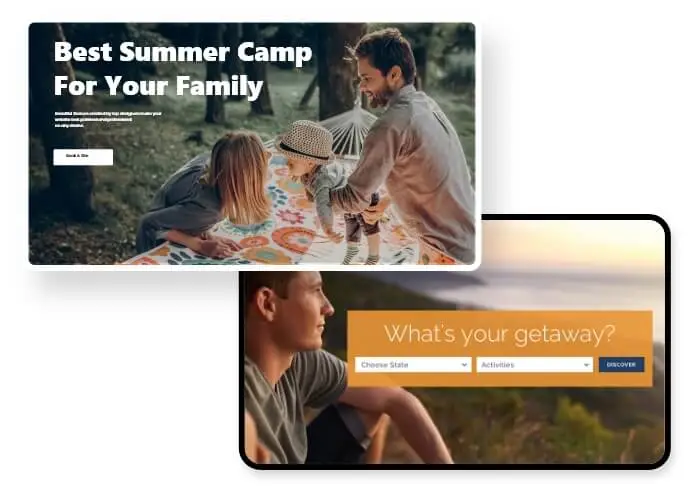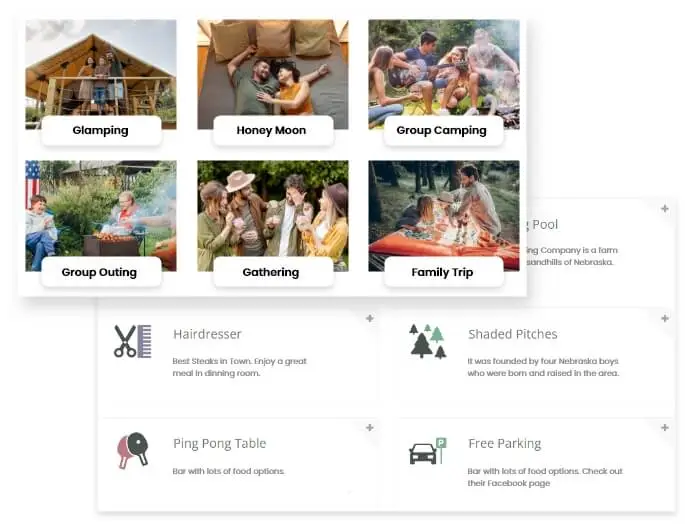 Recreational Service Dashboard
Showcase your different offerings with our recreational service dashboard. Show a variety of facilities and services, including campgrounds, RV parks, outdoor resorts, and glamping resorts, along with their location, food and lodging options, fun activities, and more.
Drop-down folders
Intuitive search bars
All-in-one mega menu
Smart filter/service tags
360 Degree Virtual Tour
With our 360-degree virtual reality tour, users can peek into your recreational vans, parks and other entertainment services. This gives them better understanding of your services and fun activities.
Personalized user experience
Super-fluid clean images-videos
Calls to action that are impactful
Layout with customizable creative info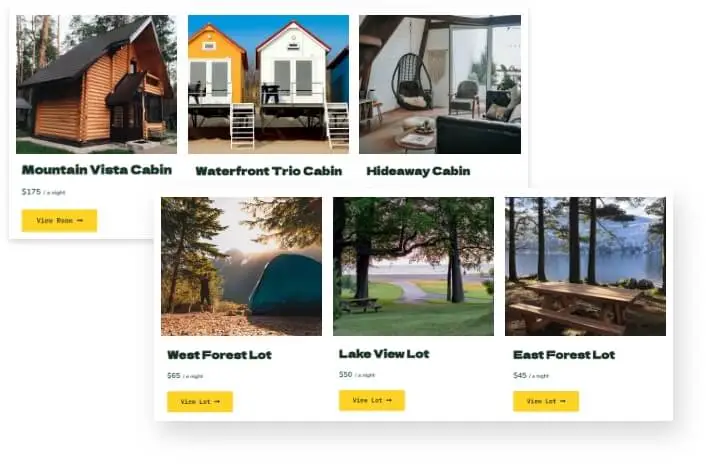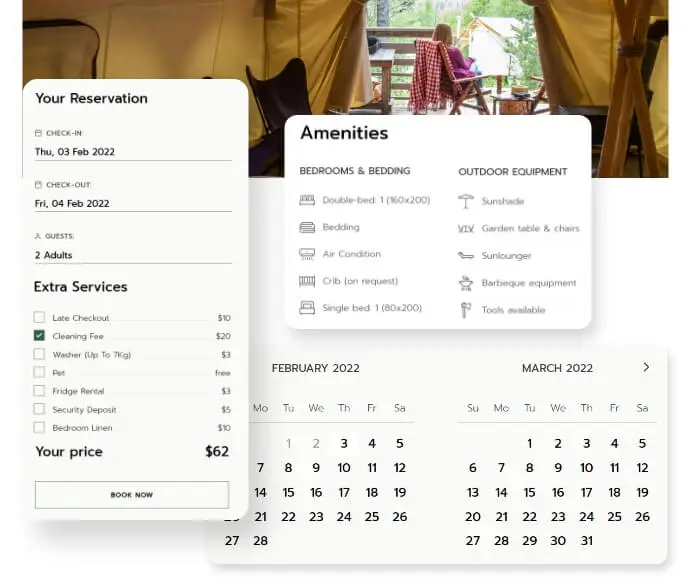 RV Camp Booking System
You can provide your page with service information like reservation type, time, facilities, camping rules, or additional services by using a clever search and booking engine. The camp booking system gives your customers easy-to-book services panel to process seamless payments.
Easy booking management
Seamless search orientation
Saves time & efforts
Multiple payment options
Custom Landing Page
A personalized landing page provides all the essential information you require to convert your audience into your campground members. We put actionable CTAs including lead-converting 'free e-books' and 'subscribe to our newsletter' to instantly book and retain potential customers.
Determine the demands of your target audience
Make sure the landing page has a clear purpose
Make the landing page is appealing and useful
The landing page design is group tested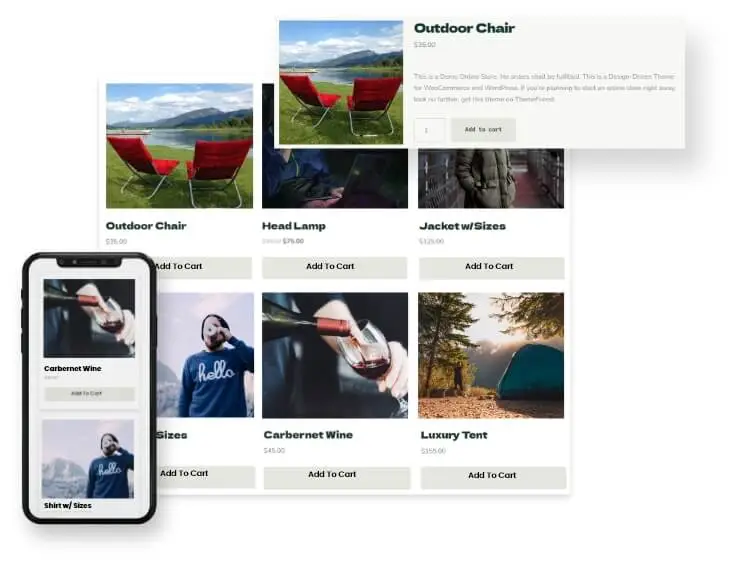 Enticing Visitor Gallery
With a visually engaging picture gallery, draw people to your website by providing them with important information with attractive visual elements. With our 3-D visual library, engage new and old customers effortlessly.
Tells Better Story About Your Brand
Helps in visualizing the campsite
Visual picture series and carousels
Organized recreational activity gallery
Blog And Article Park
Publish captivating blogs and articles about your excellent services and daily activities to attract adventure enthusiasts. The expert CMS team writes, manages and optimizes creative articles and blogs on fresh topics including recreational fun adventures, inspiring campground stories, favorite night outs, magnificent star-gazing, and much more.
Get a New Fresh Look
Dive into New Technology
Get access to Expertise
Engages visitors- Builds trust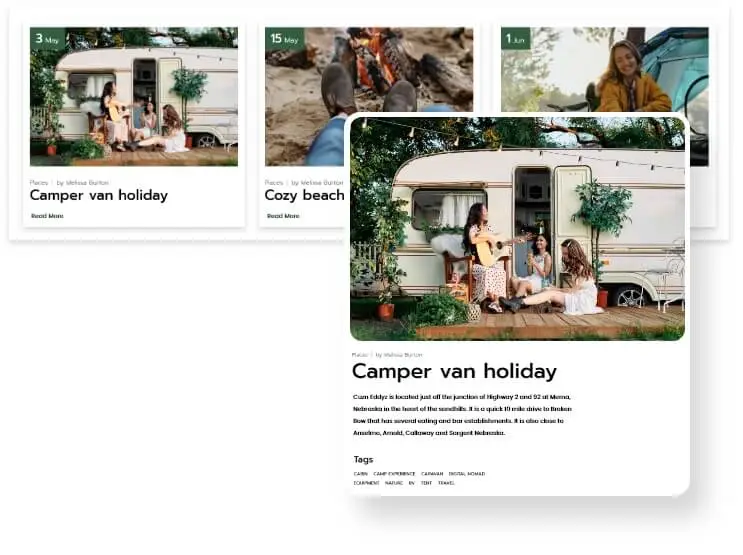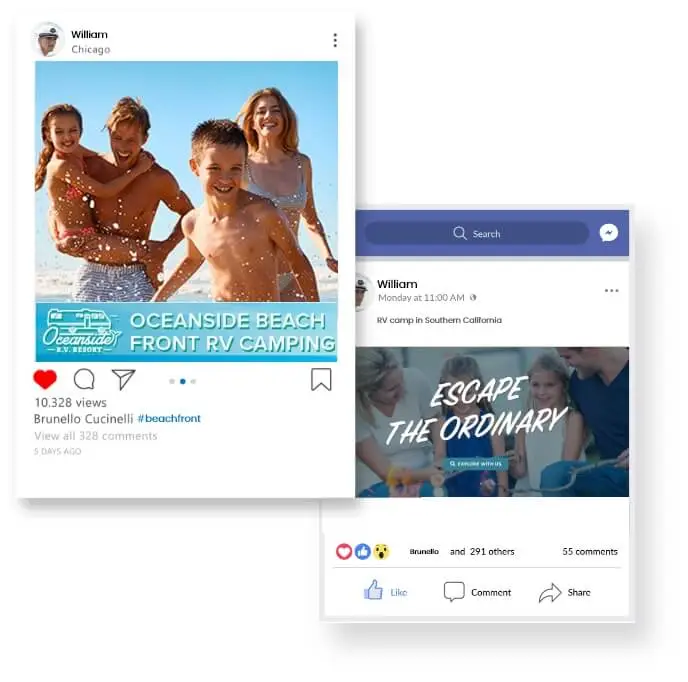 SEO-Friendly Camp Services
You may reach your target audience and increase the exposure of your RV park website by using relevant industry keywords. Our SEO-centric team follows deep keyword research and picks out the best keywords for your RV Park Website.
Web pages that load quickly
Higher Organic traffic
Cost-effective marketing
Builds your brand awareness
Digital Marketing Adventure
Do you know digital ads can actually increase a brand's awareness by up to 80%? The best way to keep in touch with the target audience is Digital Marketing. Sending enticing offers and hot deals with stunning emails, PPC ads, content and engaging newsletters.
Consistent & effective method
Occupies a large mass
Gets high engagement & ROI
Convenient way of promotion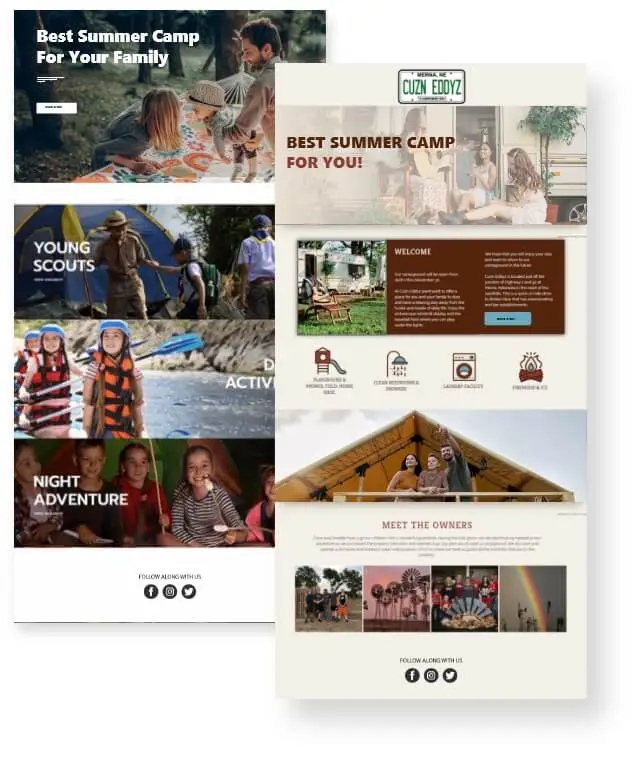 Rock-Solid Lead Generation Plan
For Camping Website Design
Search Engine Optimization (SEO)

With our smart search engine optimization techniques, get recognized by search engines and your global-local visitors. Helping searchers find your services within seconds with superfast page landing and full-on page optimization.

Deep Keyword Research

Mobile-Responsive Website

Resourceful Site & Backlinks

Organic Lead Conversion
Content Management System (CMS)

Utilize our strong content management platform to take your services to the next level in the profound content field. The CMS team is adept at writing keyword-rich and well-managed content for your services at their best creative end.

Lead-Generating Links Wrapped

Complete Content Optimization

Increased Conversion Potential

Improved Brand Recognization
Targeted Pay-Per-Click (PPC)

We don't leave your custom PPC Ads just floating on the web but also retarget the users to multiply every click. By placing your ads on popular sites, your browsers become buyers.

Real-Time User-Targeted Ads

User Tracking and Analysis

Garner Immediate Results

Attractive Visual Elements
Lead Generation Magnet

Our lead generation magnet offers your visitors free assets and special deals like free webinars, e-books, discounts, and whitepapers to exchange their email/contact details significantly.

Drives Instant Sales

Spreads Brand Voice

Shared Interests & Goals

Builds User Community
Responsive RV Resort Website Design
Pleases User Experience
Attract Wider Audience
To cover a large section of the audience and achieve business goals, you need a highly-responsive camping website design.
Easier To Monitor Analytics
With our inbuilt responsive analytics, easily monitor your site status with a perception to meet daily goals.
Increase Leads Generated
Boost your leads from the very start to the very end. With a responsive eye don't miss out on any potential customer.
Lower Bounce Rates
By delivering a glorifying user experience, keep your website flowing with clicks & purchases to lower your Bounce Rate.
RV Resort Website Design – UI/UX Services
With our clean UI/UX features, your website will run smoothly providing rich navigational experience.
Boost For SEO
Search engine optimization is crucial; we will help you fuel your website with SEO for an impactful camping website.
How We Design & Launch
Your Camping Website
The Innovative Design Process
STEP 1
DISCOVER
Our team engages in extensive research to discover your specific needs and provide you with tailored solutions.
STEP 2
PLANNING
The planning involves robust mapping and preparing a blueprint for the entire project and procedures.
STEP 3
DESIGN
During the design phase, our UI/UX design team prepares a user-friendly design for delighting your users.
STEP 4
DEVELOPMENT
Our back-end developers integrate and optimize your systems, our front-end developers are bringing creative and user experience to life.
STEP 5
TESTING & LAUNCH
We perform extensive system testing to validate that our deliverables are ready for the real world and your users.
Frequently Asked Question About Our RV Resort Web Design
We offer a wide range of features for your camping website that drives more web traffic & converts visitors into buyers. Our developers furnish your website with mobile-responsive UI, tight security, powerful SEO, easy-to-use tools, smart backlinks, and much more. To know more about our services, check Website Design and Marketing Company page.
After the successful launch of your website, we promote your website on popular digital platforms like social media ( TikTok, Instagram, Facebook, Twitter), emails & newsletters, PPCs, Google ads, etc. to make your business a hit across the online sphere. We also offer best Entertainment Website Design services.
We consider all of our clients equally, so we have different budget-friendly packages available according to your requirements. From small-size services to large organizations, we provide camping website design services to all. Checkout our LinkedIn Recreation and Entertainment web design post for more info.
Yes, our Keyideas team provides you with free consultations to solve your business/project-related queries. You can easily contact Keyideas or email us at sales@keyideasinfotech.com.
Mordy Karsch
Giving Back Promotions, San Francisco, CA
I had an amazing experience working with Keyideas - an excellent team of developers.

Isaac Gottesman
dimendSCAASI, Chicago
I would not hesitate to recommend Keyideas as a superior development house.

Lets Do Great Work Together!
Discuss your ideas. Connect now
We've successfully delivered over

leads for the client