Ideal Architecture
Web Design And Development Agency
While you design the greatest plans for residences, offices, communities, recreational facilities, and other structures, Keyideas, an architecture web design agency, can quickly develop a gorgeously tailored architectural website. We create website design for architecture firm that are breathtakingly gorgeous and perform well in search results, increasing conversion rates.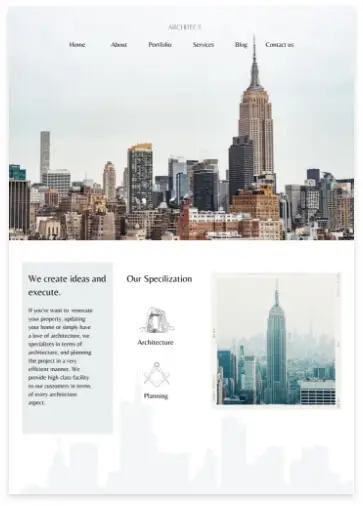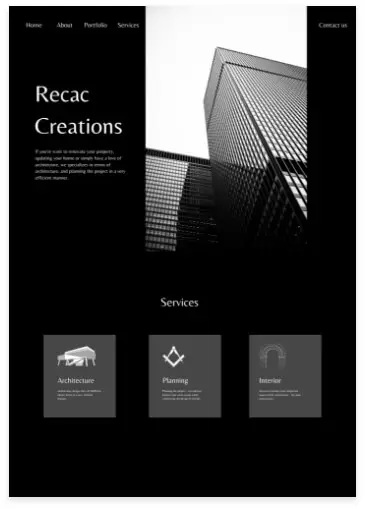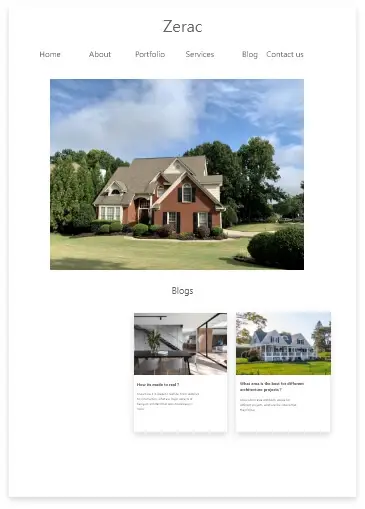 Get Our Expertise For Your
Architecture Firm Websites
Comprehensive Architecture Web Design Agency
The cutting-edge web design solutions that Keyideas offers its clients to assist them in increasing their online presence are exciting and practical. We are a young, developing company passionate about concepts and avant-garde design. We meticulously build your brand's appearance and feel using logos, branding, image design, social media, and online presence.
Take your brand in an innovative direction.
On point Responsiveness.
Prospects remembers your website.
Sophisticated user experience.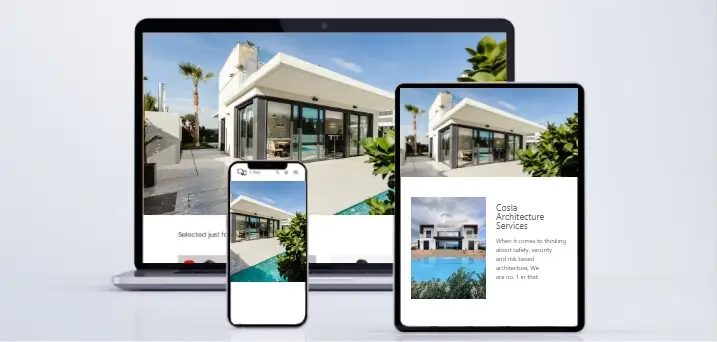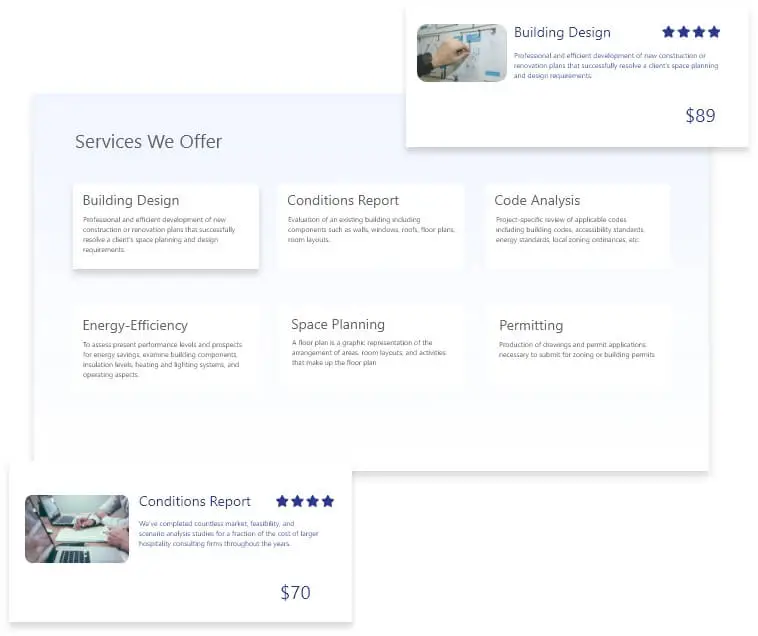 Responsive Layout
If you need a custom mobile website, a responsive website design, or a combination of both, Keyideas can assist you. We at Keyideas can assist you in developing a responsive website for your architectural firm that will effectively communicate your vision and purpose.
Compatible For The User, To View From Anywhere.
On Point Responsiveness.
Trendy Layouts And Themes.
Well Structured Layout.
Interesting Portfolio Representation
Most potential clients who watched online videos and photos and afterward became devoted patrons admitted that doing so gave them greater confidence to get in touch with the business and purchase its goods and services. Along with carefully developed themes, we can assist you in producing the most outstanding photos and videos for portraying your work.
Interesting Portfolio To Represent The Organization Work.
It Establishes An Insight Of The Work.
Gives Clear Understanding.
Gives A Better View Of The Big Picture.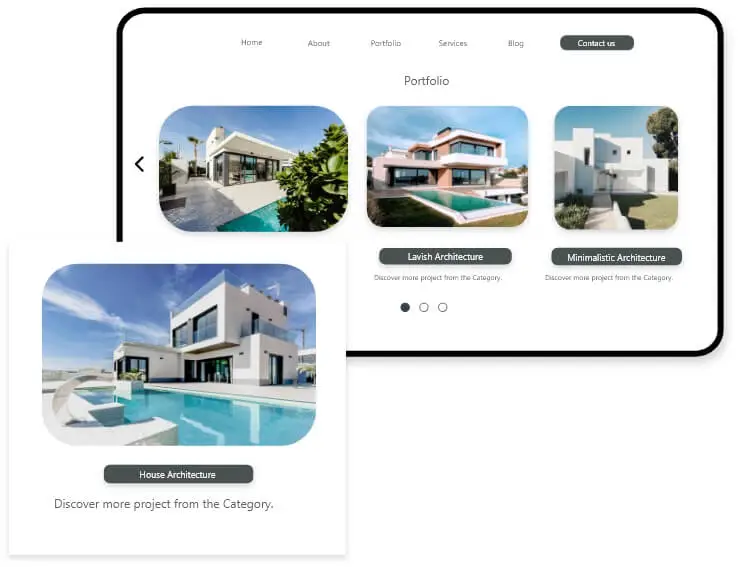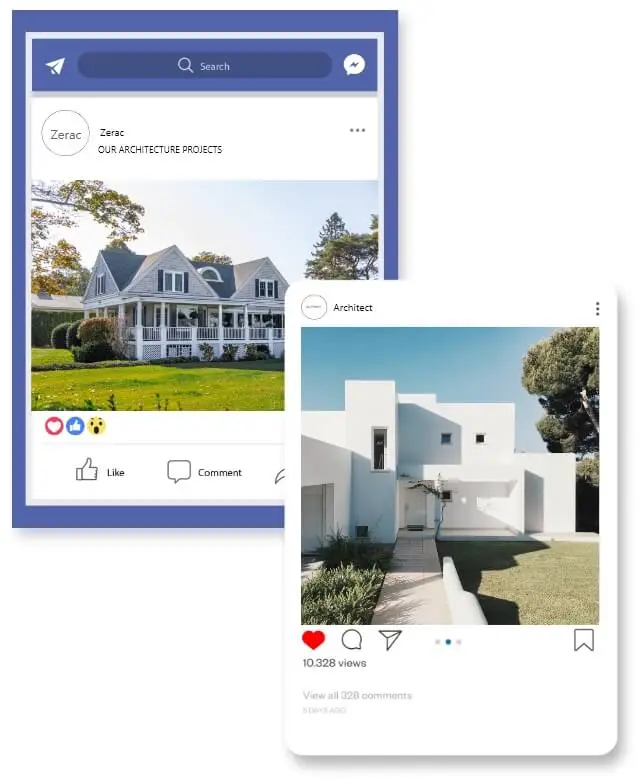 Social Media Marketing
Our team can also manage your social media accounts for your company. We know how social media has evolved into a potent tool for modern business development and income generation. We are a reputable web design company that can help you navigate various social media platforms while promoting your architectural business.
Helps In Improving Brand Recognition.
Increase Its Brand Value.
Attract the customers.
Provides Direct Access To The Customer
Compelling Call To Actions
We offer a variety of opportunities for additional interaction. It might be a free consultation or an invitation to download high-quality material, like a comprehensive guide. Whatever we give, ensure the interested party provides contact information so you can contact them with more news and offers.
Cost-Efficient Method To Connect With The Customer.
Connect With Already Engaged Audience.
Increases Conversion Rate
Increase Revenue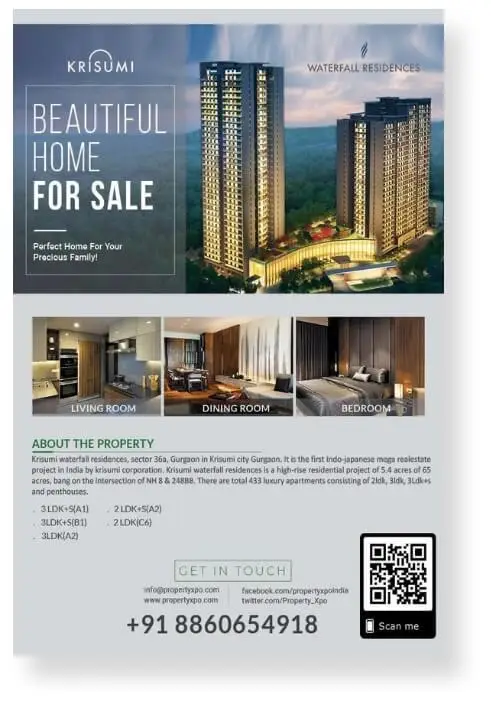 Blog Marketing
Our team creates executive manuals, whitepapers, webinars, research projects, and other informative materials for your audiences. We can hide all these "high-value" assets behind a registration form to generate leads and expand your email list.
Increases The Traffic To The Website.
Helps To Share Brand's News And Research Topics.
Drives Long-Term Results
Customer Is Likely To Learn New Things.
Meet The Team
The team page of a company is typically the second most popular page on their website, just behind the About Us page. Prospects are curious about your workers. We help you create the bios of your team, especially the leadership team.
People Like To Know Who Is Involved In The Project.
Can Boost The SEO Of The Website.
Helps create a personal connection.
Can Helps The User To Find The Correct Person.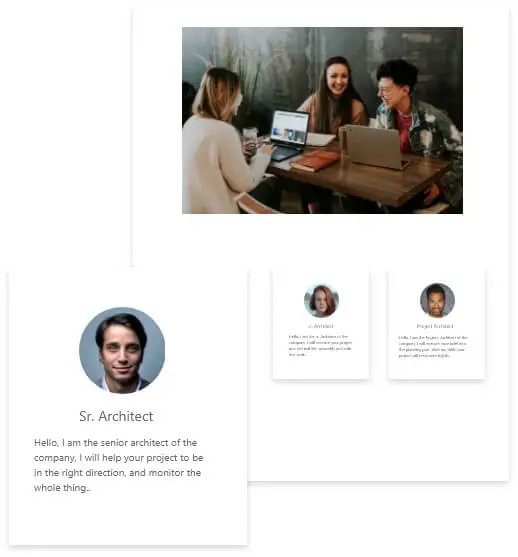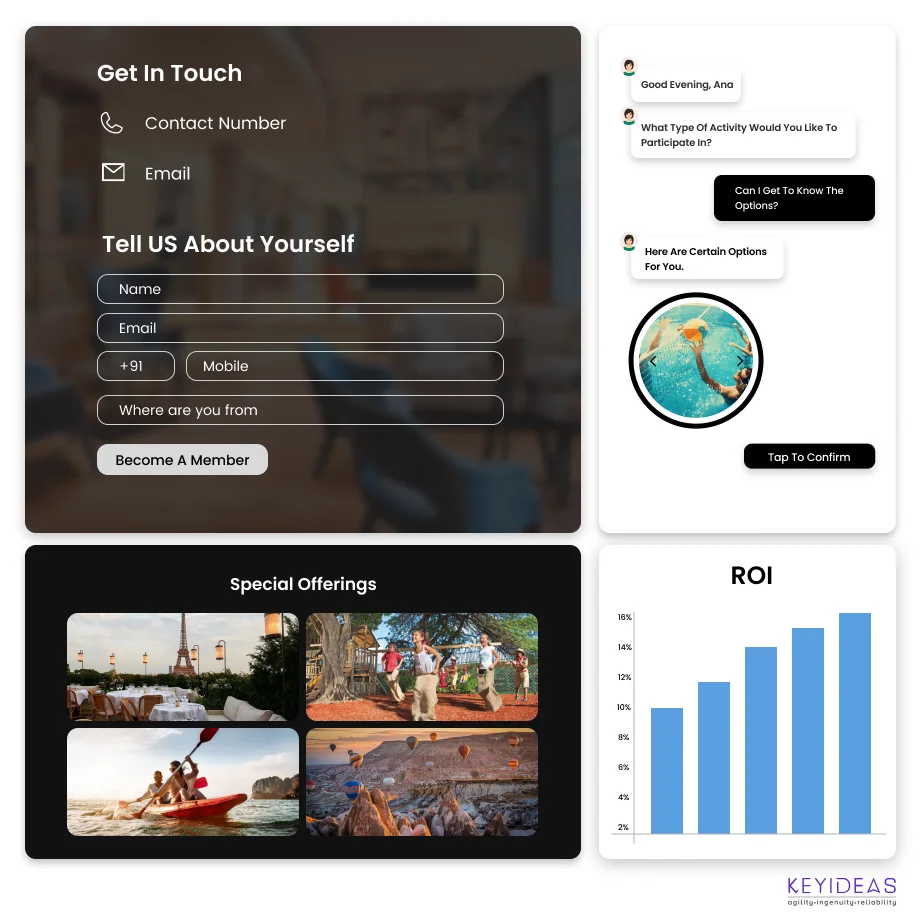 Testimonial Page
Obtain testimonials from former clients who were pleased. We create a separate testimonials page with your clients' collected video testimonials, influencing a visitor's decision to contact you regarding your services.
Strengthens Your Emotional Bond Between
Customer Testimonials Work Like Referrals.
They Can Explain The Benefits Of Your Products.
Convince Even Your Most Reluctant Visitors.
Outstanding Images
The photographs on your website greatly influence the visual elements of your Company's design ethos and ideals. Our graphic designers provide eye-catching, high-resolution pictures of your best projects for potential customers.
Attract More Visitors.
Builds Brand Identity.
Remembers Your Website
Grab Audience Attention.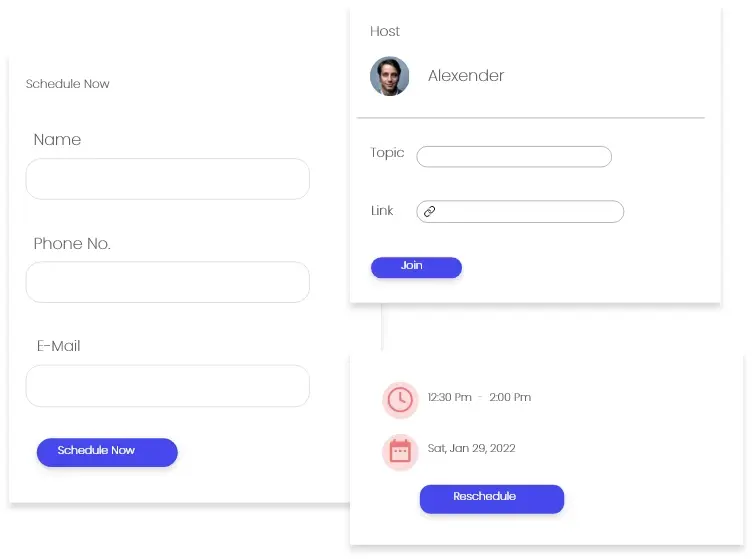 The Process Of Our Architecture Web Design Agency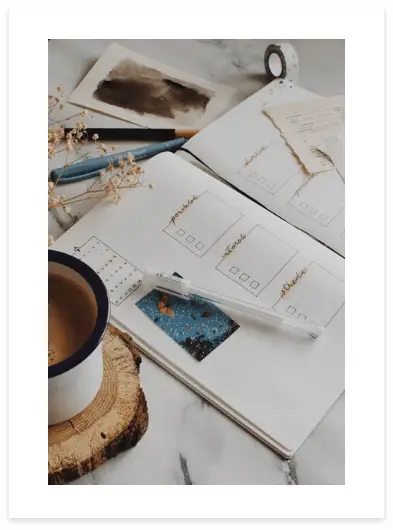 I
Rough Sketches and Research of Architecture Web Design Agency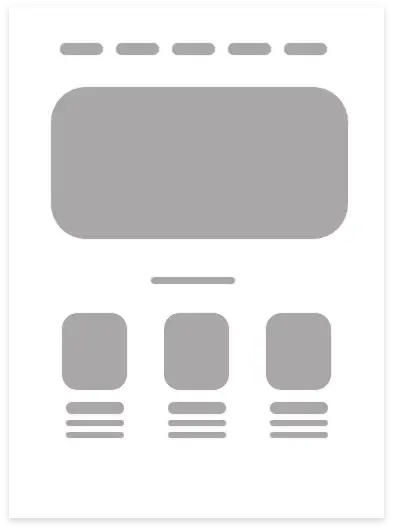 II
Finalizing Website Design For Architecture Firm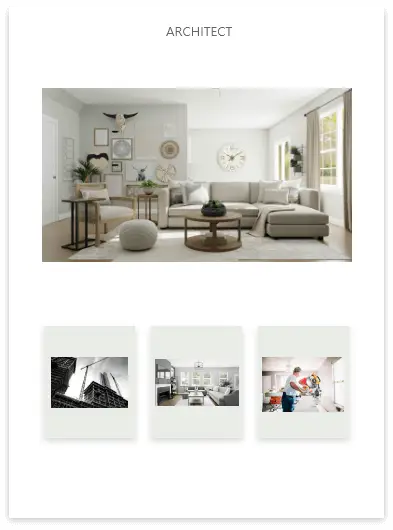 III
Final Outcome of Website Design For Architecture Firm
Solid Lead Generation Plan With
Architecture Web Design Agency
Search Engine Optimization (SEO)

By diving into deep keyword research, our DevOps team picks up the right keyword set for your website to optimize and rank it on the first page of Google.

Optimizes Landing Speed

Earns Value Backlinks

Right Keyword Density

Search Engine Recognized
Content Management System

The CMS team is well-versed in writing and managing SEO-optimized, engaging, and customer-centric content for your website.

Regular Updates

Latest Plugin Integration

Smart Link Building

Page Optimization
Lead Nurturing Campaign

Following the 4 L strategy here- lead capture, landing pages, lead magnets and lead scoring to combine into it 1 comprehensive strategy.

Right Lead Generation

Search Behavior Analysis

Increased Conversions

User Persona & Mapping
Dynamic Personalization

By personalizing responsive landing pages and actionable CTAs, we filter out and capture the right leads from your website traffic.

Influences buyer's decision

Instant turnover rate

Seamless communication

Enhanced user experience
How We Make And Serve
Your Architecture Website
The Innovative Design Process
STEP 1
DISCOVER
Our team engages in extensive research to discover your specific needs and provide you with tailored solutions.
STEP 2
PLANNING
The planning involves robust mapping and preparing a blueprint for the entire project and procedures.
STEP 3
DESIGN
During the design phase, our UI/UX design team prepares a user-friendly design for delighting your users.
STEP 4
DEVELOPMENT
Our back-end developers integrate and optimize your systems, our front-end developers are bringing creative and user experience to life.
STEP 5
TESTING & LAUNCH
We perform extensive system testing to validate that our deliverables are ready for the real world and your users.
Frequently Asked Question About Our Architecture Web Design Agency
Mordy Karsch
Giving Back Promotions, San Francisco, CA
I had an amazing experience working with Keyideas - an excellent team of developers.

Isaac Gottesman
dimendSCAASI, Chicago
I would not hesitate to recommend Keyideas as a superior development house.

Lets Do Great Work Together!
Discuss your ideas. Connect now
We've successfully delivered over

leads for the client