Patient-Focused

Web Design

For Speech

Therapists
40 million Americans struggle with communication disorders and 5% of children will have a recognizable speech problem by the time they are in the first grade. Keyideas Speech Therapists Website Design Agency assists you in creating power-packed online presence with our fail-proof website-marketing solutions. Now outreach your target audience reach with Web Design For Speech Therapists.
Get Expert-Approved
Speech Therapy Website Design
Customized Web Design
The speech therapists website design is created from the ground up to showcase the distinctive qualities of your practice. We provide responsive, user-friendly, visually appealing UI graphics and an effectively functional website for better user impression and engagement.
Gives Clear Picture Of Services
Leads To Swift User Journey
Resonates With Your Brand Identity
Customizable UI UX Design Elements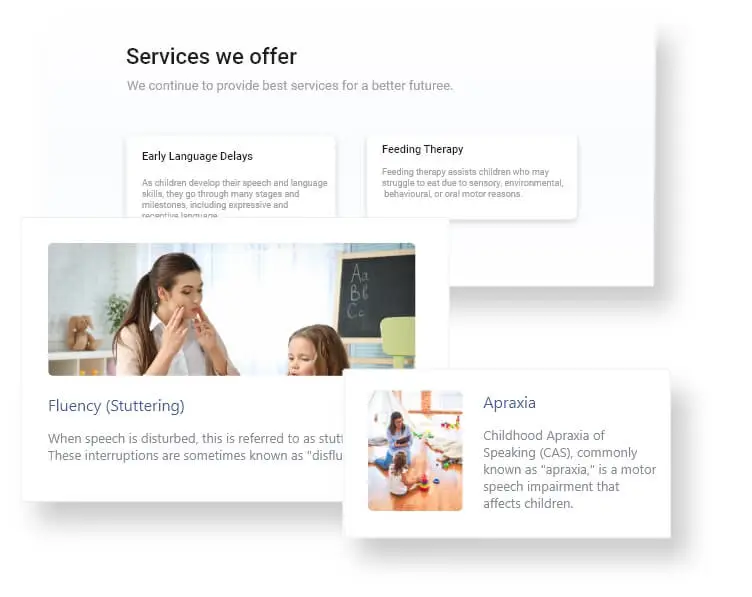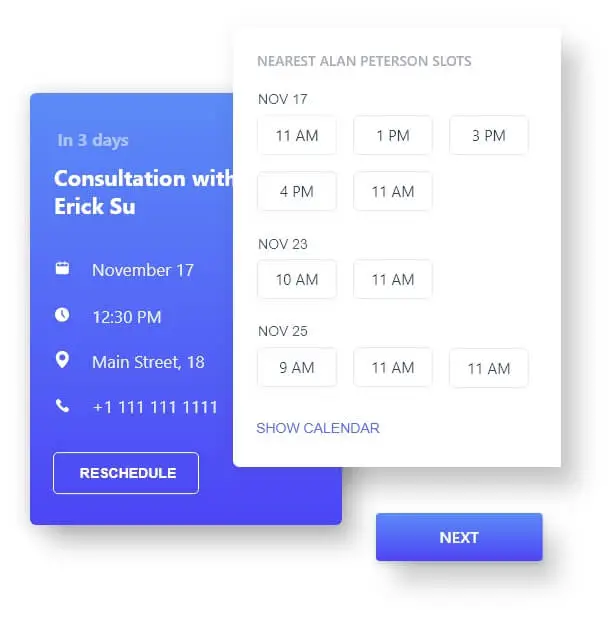 Book A Speech Demo
A good strategy to influence your patients' decision to choose you is a free demo. We offer a simple online booking system so that potential patients can quickly and easily schedule a demonstration of your speech therapy.
Sends Automatic Reminders
Appointment Confirmation
Integration With CRM Tools
Gives A Sense Of Personal Touch
Visual Illustration Of Your Therapy
Website visitors tend to grasp things better when you explain your speech therapy process visually, making them to decide their best choice. With the help of in-house graphic designers, we illustrate your therapy process with easy-to-comprehend and intuitive infographics and visual elements.
Provides Clear Information
Easy To Understand
Eye-catching Colors
Impulse User Actions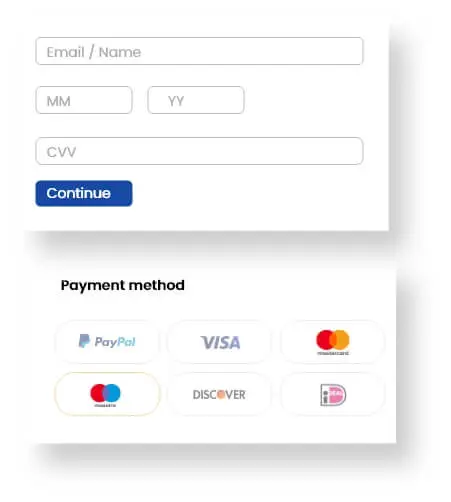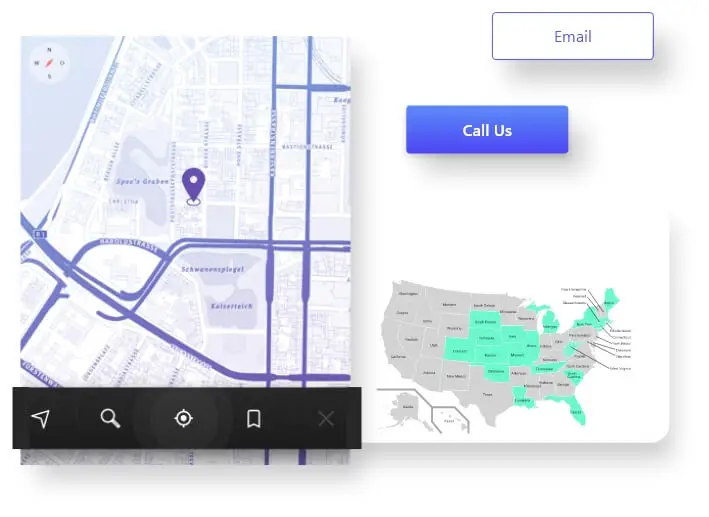 Frequently Asked Questions
Adding a frequently asked question on your website will help the visitors to know you better. And we also allow your patients to raise a new question on the website and let them get the answers instantly via online chat medium.
Improves Patient Communication
Enhances User Support
Saves Time and Efforts
In-Built Links- Improved SEO
Online Speech Therapy
Now your patients can schedule/reschedule an online therapy appointment and receive your treatment virtually during personal video calls. With our online speech therapy function, more patients will be able to connect and sign up for your therapy.
Lower Healthcare Costs
Drives Up Efficiency-Revenue
Provide Better Access To Healthcare
Telemedicine Improves Quality Of Life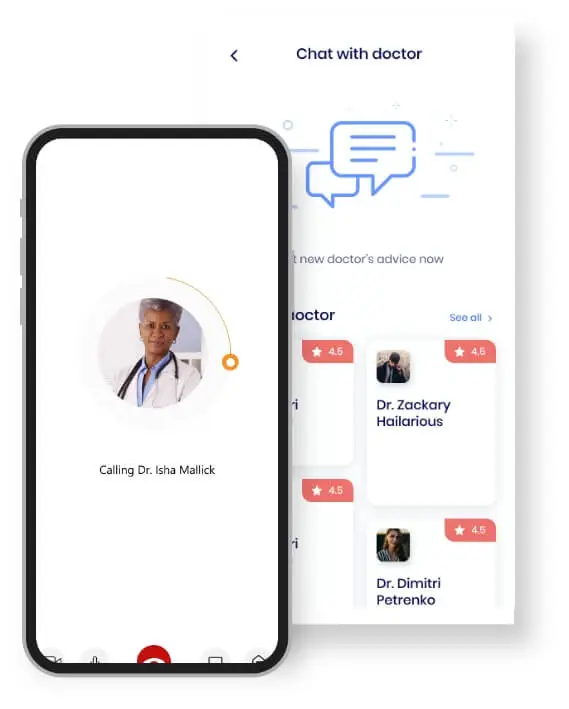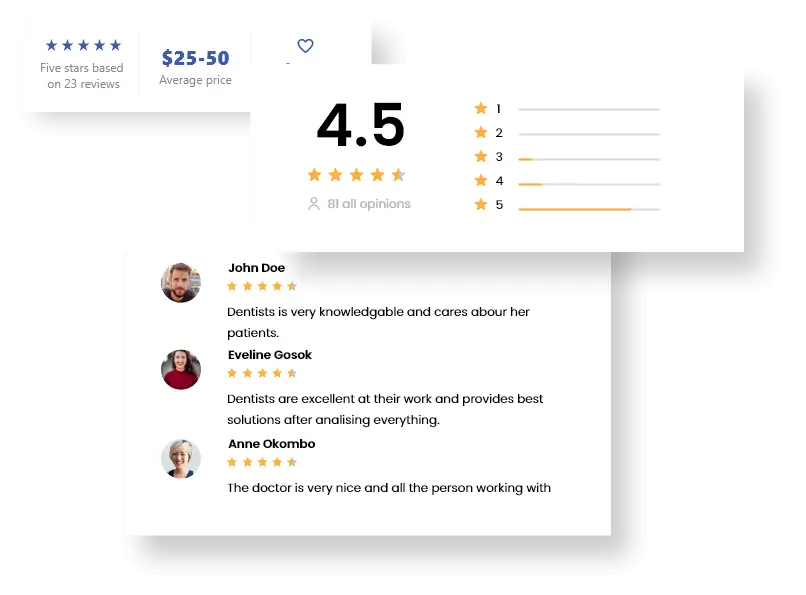 Patient Success Stories
If you showcase patient success story videos on your website then more guardians/patients will be interested to get in touch with your speech therapies. Our team creatively features your recent, convincing patient healing stories on your website in the form of descriptive and illustrative videos to encourage new members to join your treatment.
Easy Way To Attract Patients
Builds Their Trust-Reliability
Interactive Way Of Storytelling
Convey Key Information About Your Service
Digital Healing Library
Adding a digital healing library on your speech therapists website design is an amazing way to propagate your services while helping patients to recover faster. With this, your potential patients can access helpful speech guides, articles, and e-books about speech treatment procedures including speech exercise, communication methods etc.
Improves Patient-Healing Journey
Provides Key Service Information
Increase Your Brand Visibility
Access To 100+ E-books and Guides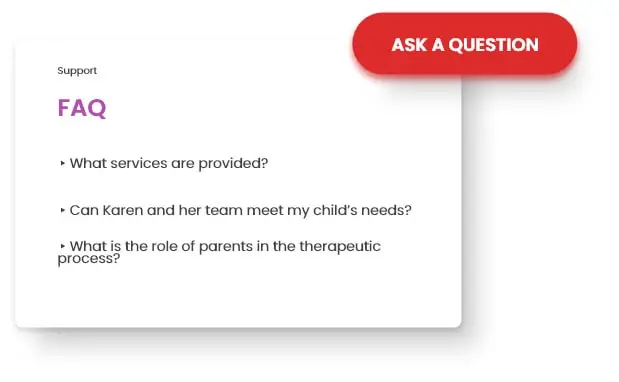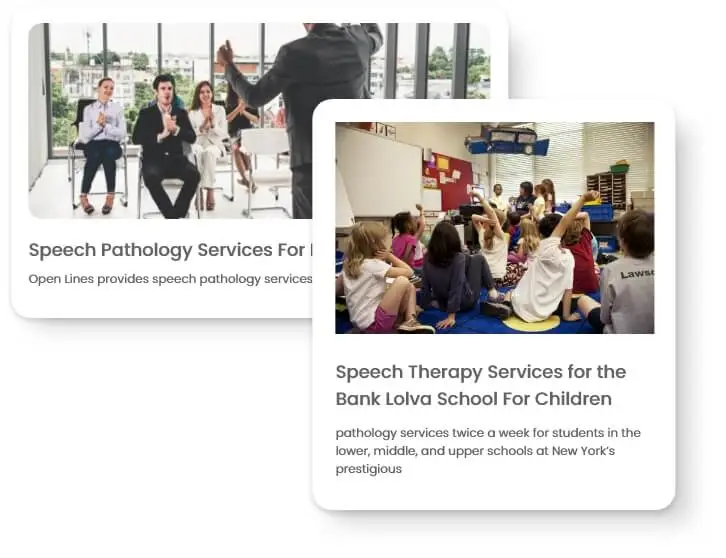 Showcase Associated Schools
We provide details about your affiliated schools for kids with speech difficulties. Online visitors will increase when you give them useful information about the life-changing opportunities you are delivering with your speech therapies.
Better Networking Opportunities
Professional Development
Shows Common Aims And Objectives
Showcases Co-Operative Spirit
Pick Your Therapist
On your website, we list every therapist at your facility along with information about their backgrounds, training, credentials, and honors. This will make it easier for your patients to select the therapist of their preferred choice.
Helping Visitors To Make Better Decisions
Provides Instruction On How To Do Tasks
Creates Confidence- Reduces Bias In Decision-Making
Rescues Staff Efforts To Get New Patients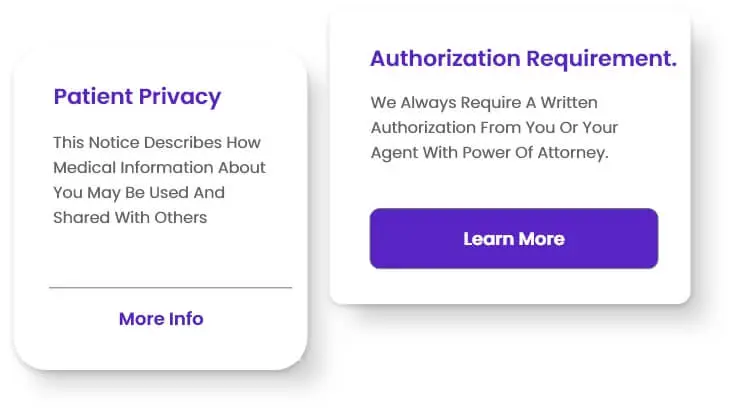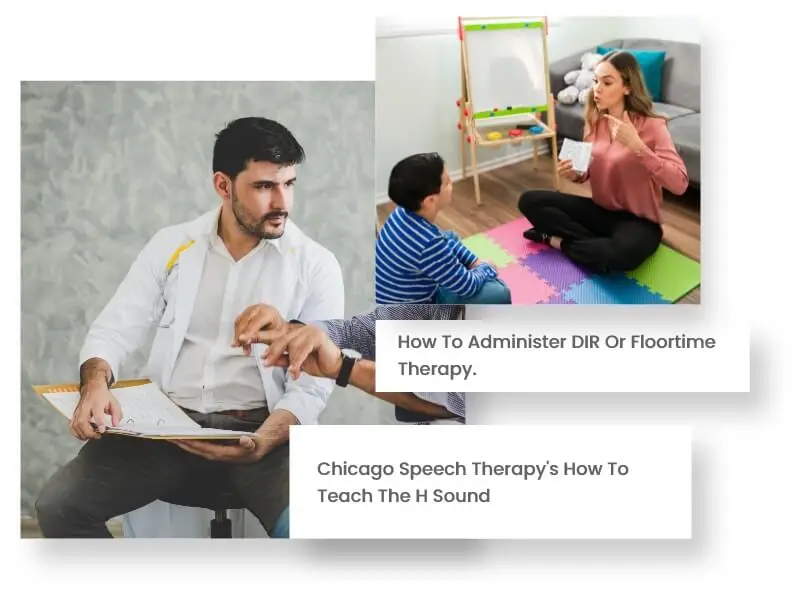 Therapy Blogs And Updates
We create SEO-rich blogs on your website by writing blog posts, articles on educational and valuable topics like Speech delay treatment, Voice disorder treatment, Accent improvement treatment, etc. Get well-written posts, optimized content and creative captions to highlight your services under one roof.
Productive CMS Platform
Patient-Focused Blogs
Full Page Optimization
Wrapped Quality Links
Digital Marketing Base
We provide digital marketing services via popular platforms like social media, content marketing, SEO marketing, PPC/Google ads, and emails. This method helps you establish deeper connections with your regular/new patients. Raise patient response rate with our innovative and engaging digital marketing services.
Precision User Targeting
High-Value, Loyal Patient Base
Patient Satisfaction Measurement
Identifies Loyal Target Audience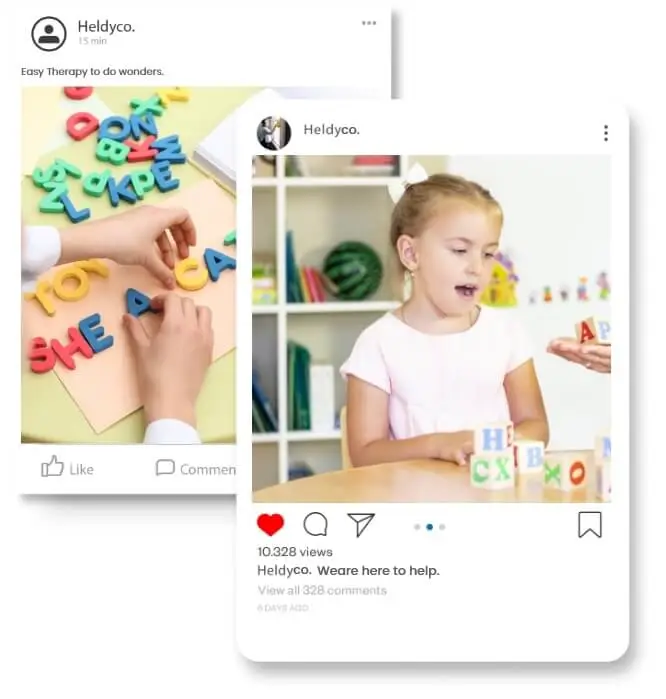 Speech Therapists Website Design

Have Competitive Advantages
UI / UX Design

With the help of UI and UX design, you can gain the trust of your target audience by giving them what they need. Long-term user engagement on your website results from excellent UI/UX design.

Uniqueness And Branding

Your brand identity is a promise to your customers and your companys personality. Your product should impact your customers long after the transaction is complete.
Flexibility And Customization

Flexible websites will automatically adjust to fit different screen widths. Create a website with the precise components needed to engage visitors and satisfy their needs.

Better Security

A websites security can also be increased with a custom website design. Integrate cutting-edge security features into its design to ensure a website is safe from hackers and other security risks.
We Provide Web Design

Solutions To Make
Your Speech Therapy Website Successful
Customer Satisfaction

The level of customer satisfaction increases when you give on-time delivery. Customers are more inclined to continue with you through good and bad times if they are more satisfied with your services.

Search Engine Optimization

An SEO marketing strategy is a detailed plan for increasing the number of people who visit your website through search engines.
Affordable and Budget Friendly

Affordable web design does not equate to a low-quality design. Provide a professional website design with the best usability and utility while keeping costs Budget Friendly.

Business Experience

We have more than 15 years of experience in this business. Utilize our innovative and personalized website design solutions to stand out.
How We Make And Serve
Your Speech Therapists Website
The Innovative Design Process
STEP 1
DISCOVER
Our team engages in extensive research to discover your specific needs and provide you with tailored solutions.
STEP 2
PLANNING
The planning involves robust mapping and preparing a blueprint for the entire project and procedures.
STEP 3
DESIGN
During the design phase, our UI/UX design team prepares a user-friendly design for delighting your users.
STEP 4
DEVELOPMENT
Our back-end developers integrate and optimize your systems, our front-end developers are bringing creative and user experience to life.
STEP 5
TESTING & LAUNCH
We perform extensive system testing to validate that our deliverables are ready for the real world and your users.
Frequently Asked Question About
Speech Therapists Website Design
To maintain the speech therapists website design up and operating and raise its monthly rankings, Keyideas medical website designers offer continuous maintenance or growth services. To expand your brand and reach new, local patients, the benefits include medical SEO, digital advertising, physician reputation management, physician listing management, SEO checks, plugin updates, bug fixes and more.
Yes we provide our clients with CMS training to maintain their website content via Skype, Zoom, Google Meet. Check our WordPress Development Agency for more details.
The size and complexity of your website depends on the time, efforts, and the resources required. It could take longer to complete some unique and sophisticated projects.
Mordy Karsch
Giving Back Promotions, San Francisco, CA
I had an amazing experience working with Keyideas - an excellent team of developers.

Isaac Gottesman
dimendSCAASI, Chicago
I would not hesitate to recommend Keyideas as a superior development house.

Lets Do Great Work Together!
Discuss your ideas. Connect now
We've successfully delivered over

leads for the client
© Copyright 2023. All Rights Reserved.