Inspect and Build
Investigators

Website Design Agency
Hire top Private Investigators Website Design specialists for a legitimate website that makes your visitors believe in your detective skills. We build investigation agency website designs which are 100% authoritative, reliable and brand-recognized.
Let's discover what we can reach together!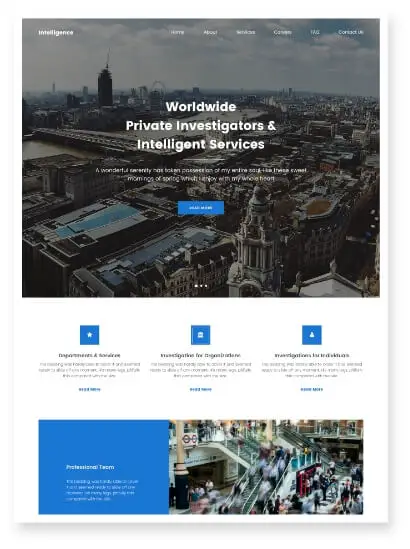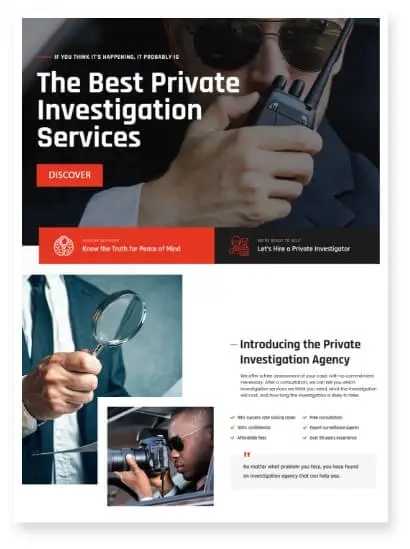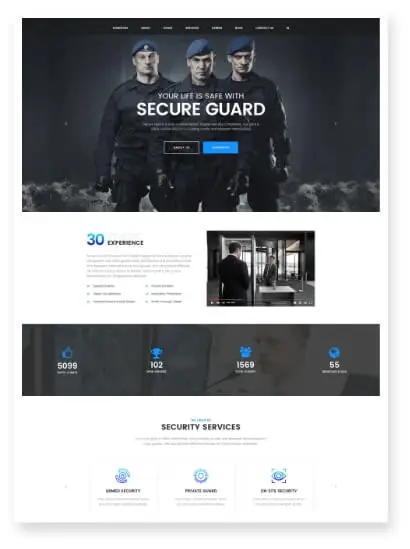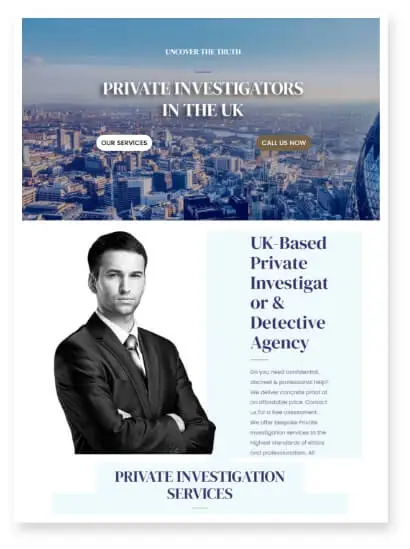 Reflecting

Diligence Intuitive

Website Features
User-Friendly Detective Web Designs
Create a private investigators website design that unfolds the truth about your all-around service expertise. Let your clients discover your potential and past experiences with our responsive and made-to-fit web designs.
Express your boundless services
Increases client conversion rates
Clean and optimized UX/UI features
100% customized & mobile-friendly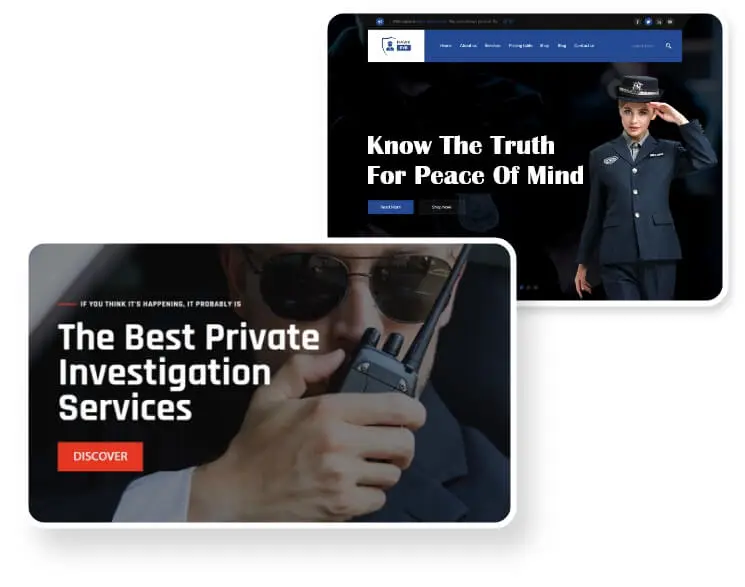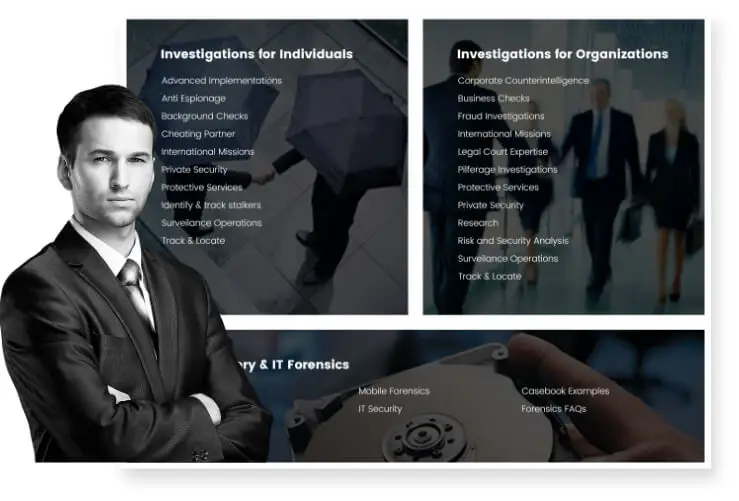 Unfolding Your Services
Whether you are a seasoned, full-time, or a freelance investigator, we have solutions for all your front-house needs. From in-demand to most common, we highlight all your evident services with bold & intuitive service segments, keeping the transparency between you and your clients.
Instructive home page designing
Drop-down service folders
Seamless navigation paths
Contact & chat-bot integration
Detective Portfolio Design
Showcase your achievements and high-profile cases with captivating and breathtaking visuals and portfolio designs. We license all images, videos, scripts, and elements of your portfolio to protect, respect your company and brand.
Impactful first impression on clients
Organizing case-success stories
Stand outs and strengthens your brand
Personalized, preferred portfolio designs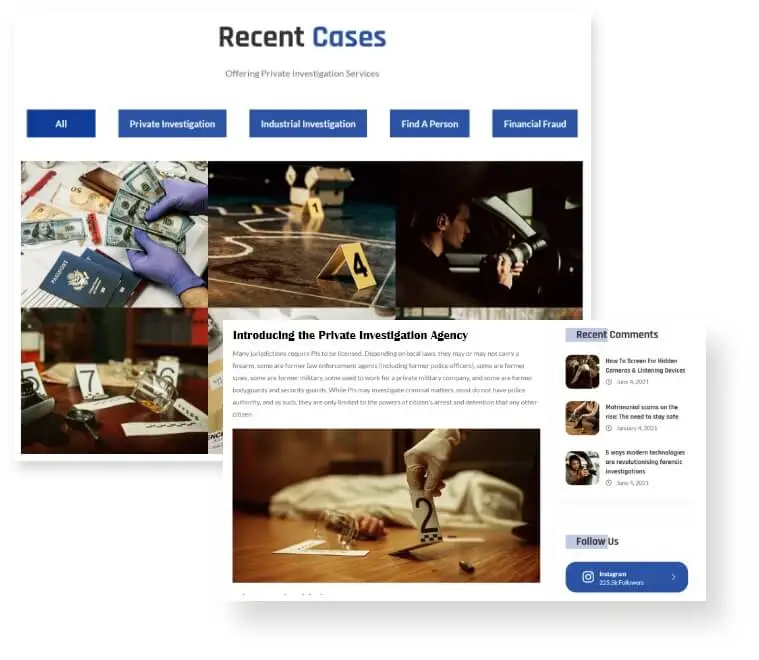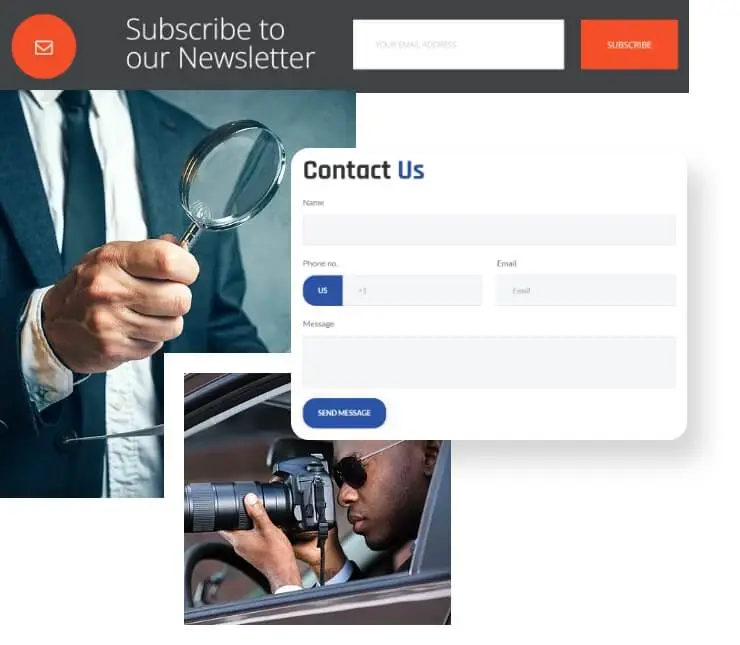 Effortless Virtual Appointments
Meet your clients online with our 100% confidential and secure appointment feature. Now integrate advanced technology for a conventional client service window and effortlessly book business appointments for your next case.
Meeting recorder feature available
Harness the admin portal option
Set reminders for upcoming meets
Plan, analyze and tackle screening tasks
Reputable About Page
Share some inspiring events and experiences of your investigation journey with your visitors that they cannot overlook. We curate legitimate content centering around your brand leagacy, team heroes, awards and certifications to introduce your services in the best way possible!
Increasing intended demographic
Storytelling & focused approach
Builds genuine relationship
Integrated CMS plugins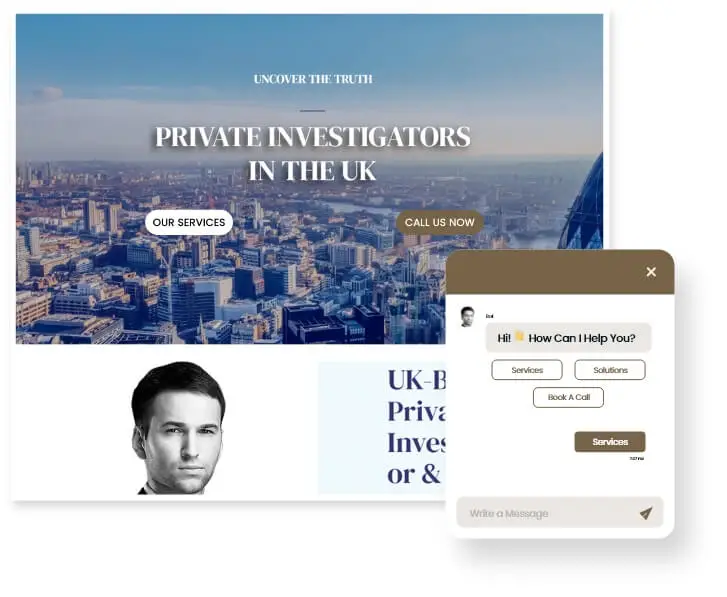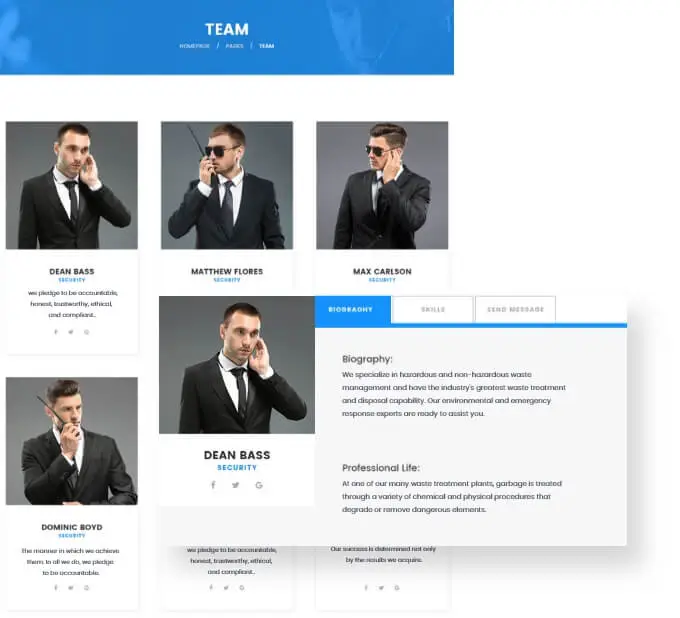 Lead Building Blogs
Let's propagate your master tips and excellent solutions with the most deserving audience. Here's how. Our CMS team can build eventful and fact-revealing blogs/articles to bring out your investigation journey in the world! Covering topics like Fact vs.
Powerful Lead-Generating platform
Framing your best backstories
Cost-effective marketing method
Social media integration and referrals
Unveil Client Testimonials
Show the world how you solved the most complex cases with your expertise. We frame interactive client testimonial and review section that keeps the buzz going. Now let the real witnesses speak the truth!
Overcomes skepticism- creates credibility
Makes your business reliable and valuable
Embedding client verification badges
Expresses your services better- acts as referrals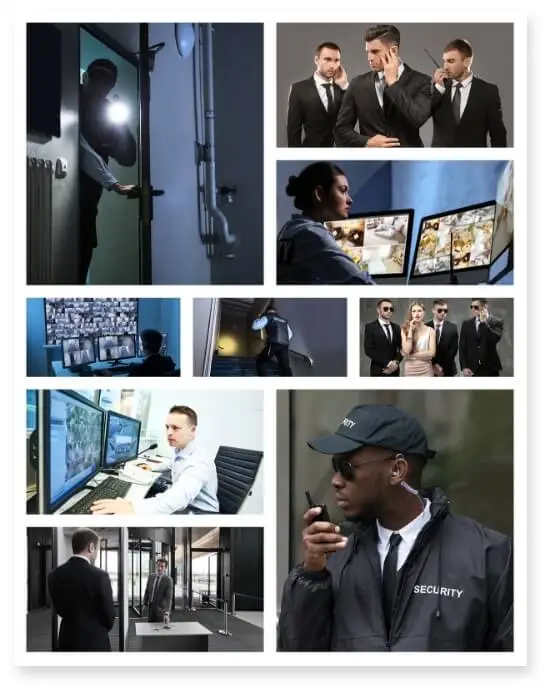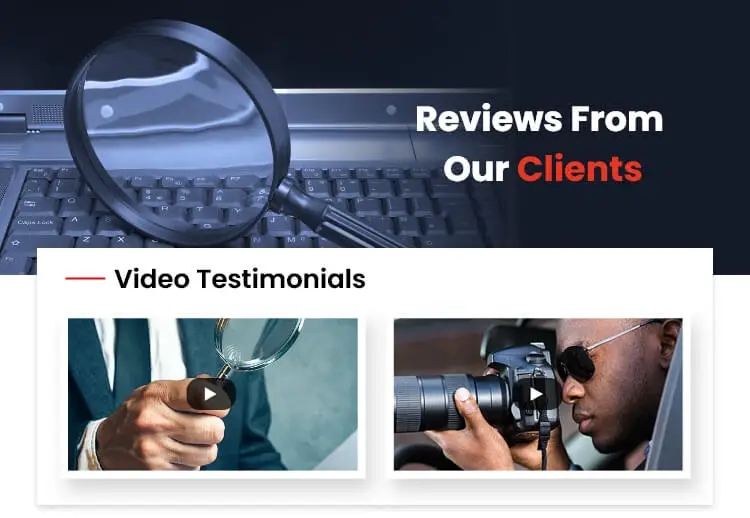 Detective Business Group
Get a dedicated Facebook group and business page for your private investigators business. We post helpful content to help people interact with you and other group members.
Trust turns into leads
Spreads brand awareness
Active group postings & discussions
Service-oriented & problem-solving approach
Investigators Press Release
Press releases are a great way to share new and exciting updates of your business. Are you offering a new service? How about a mysterious case, you just solved? We can write engaging press release that outlines these topics and pass it to your mailing list.
Generates/excites new leads
Engagement via Newsjacking
Great marketing opportunity
Impacts large audience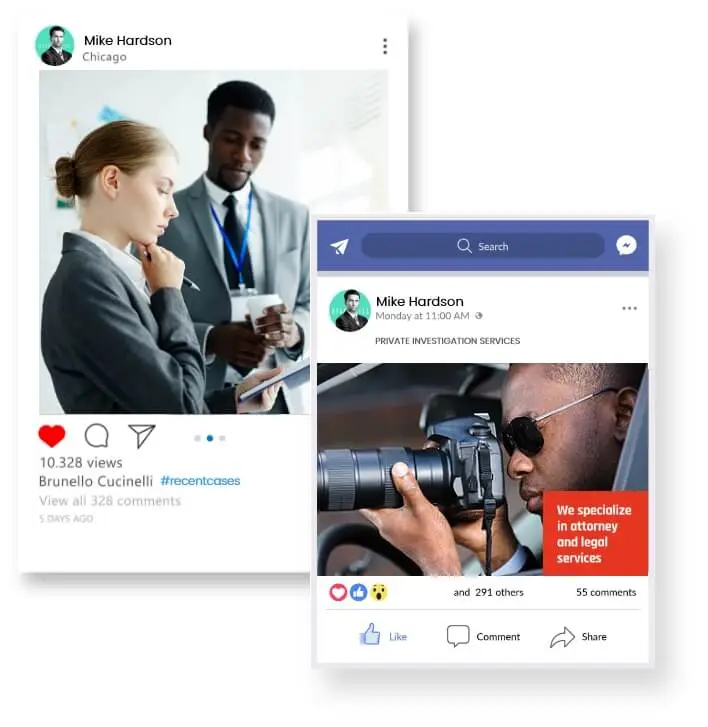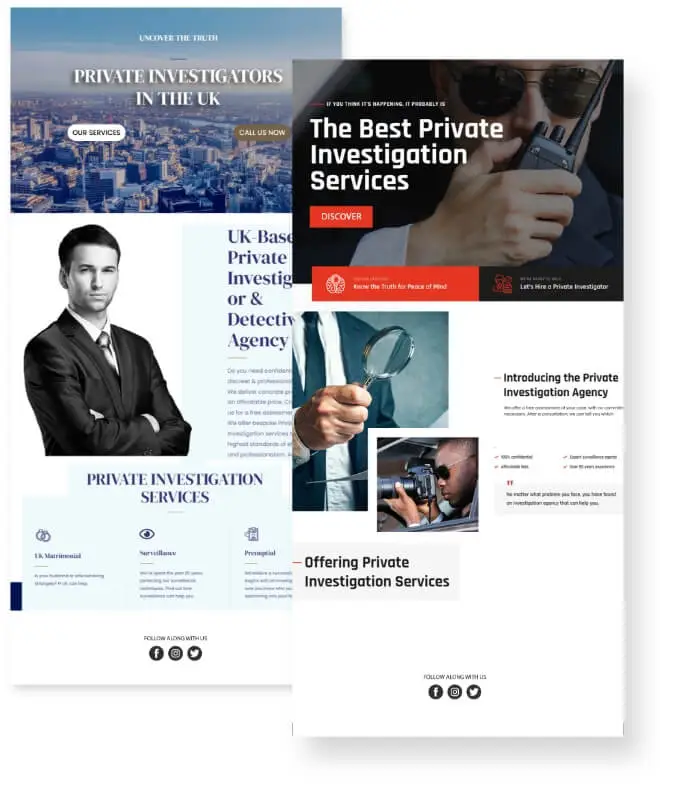 Email Marketing Hunt
Did you hear that businesses that keep in touch with their ideal clients via E-mail generate 50% more sales-ready leads and spend 33% less money on making sales. Allow your services to reach your clients through our consistent email marketing strategies.
Get more- invest less
Delivers targeted messages
Automatic email delivering
Engaging captions & headers
Rock-Solid Lead Generating Plan For
Private Investigators Website Design
Search Engine Optimization (SEO)

With our smart search engine optimization techniques, get recognized by search engines and your global-local visitors. Helping searchers find your services within seconds with superfast page landing and full-on page optimization.

Deep Keyword Research

Mobile-Responsive Website

Resourceful Site & Backlinks

Organic Lead Conversion
Content Management System (CMS)

Utilize our strong content management platform to take your services to the next level in the profound content field. The CMS team is adept at writing keyword-rich and well-managed content for your services at their best creative end.

Lead-Generating Links Wrapped

Complete Content Optimization

Increased Conversion Potential

Improved Brand Recognization
Targeted Pay-Per-Click (PPC)

We don't leave your custom PPC Ads just floating on the web but also retarget the users to multiply every click. By placing your ads on popular sites, your browsers become buyers.

Real-Time User-Targeted Ads

User Tracking and Analysis

Garner Immediate Results

Attractive Visual Elements
Lead Generation Magnet

Our lead generation magnet offers your visitors free assets and special deals like free webinars, e-books, discounts, and whitepapers to exchange their email/contact details significantly.

Drives Instant Sales

Spreads Brand Voice

Shared Interests & Goals

Builds User Community
Responsive Private Investigators

Website
Have Competitive Advantages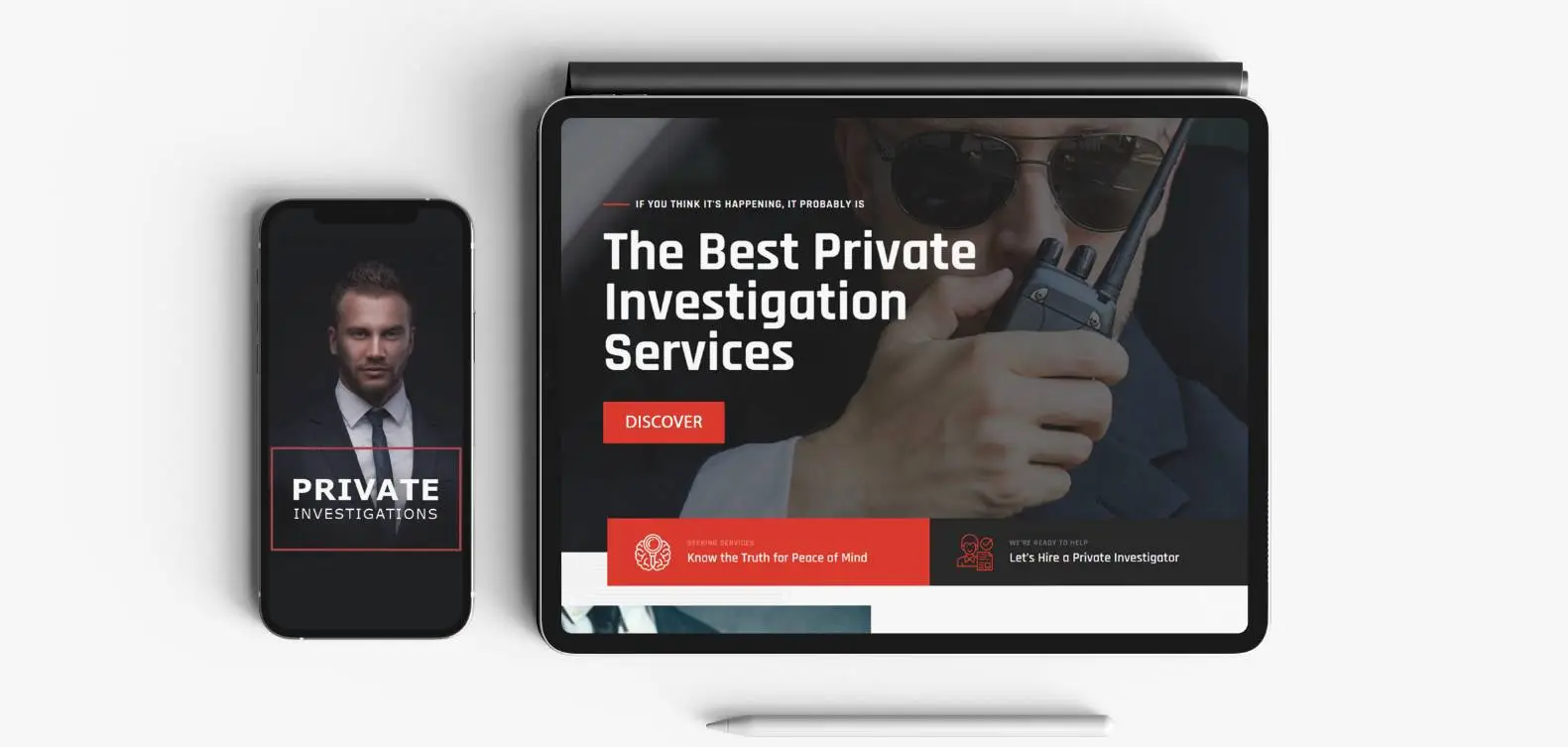 Boost Search Rankings

More than 85% of people use the internet to search their local private investigator. With right SEO practice, your clients can easily find your website on the first page of the search engine.

Consistency In Design And Brand

Through our brand-fit UI-UX design elements, you can showcase your unique services, expand your brand voice and keep growing your loyal client base who keeps returning for more.
Reach More Clients

Your 1st step to reach more clients is your GMB account. Our team smartly advances the backlinks and content part of your website. With us on board, it's only a matter of time before your site gets up and keep running.

Optimize Page Experience

With optimized designs & graphics, friendly user interface, responsive CTAs and engaging content, private investigators website design can deliver rich user experience to your audience throughout the page.
How We Make And Serve Your
Private Investigators Website
The Innovative Design Process
STEP 1
DISCOVER
Our team engages in extensive research to discover your specific needs and provide you with tailored solutions.
STEP 2
PLANNING
The planning involves robust mapping and preparing a blueprint for the entire project and procedures.
STEP 3
DESIGN
During the design phase, our UI/UX design team prepares a user-friendly design for delighting your users.
STEP 4
DEVELOPMENT
Our back-end developers integrate and optimize your systems, our front-end developers are bringing creative and user experience to life.
STEP 5
TESTING & LAUNCH
We perform extensive system testing to validate that our deliverables are ready for the real world and your users.
FAQs About
Private Investigators Website Design
Mordy Karsch
Giving Back Promotions, San Francisco, CA
I had an amazing experience working with Keyideas - an excellent team of developers.

Isaac Gottesman
dimendSCAASI, Chicago
I would not hesitate to recommend Keyideas as a superior development house.

Lets Do Great Work Together!
Discuss your ideas. Connect now
We've successfully delivered over

leads for the client