Nurse Staffing Agency
Website Design

& Development
Are you facing low client response due to slow online presence? Nurse Home Agency Website Design treats all your site-related problems.Follow our proven lead-generating and SEO best-practices to reawake your in-home care client base
with a blooming Nurse Staffing Agency Website Design.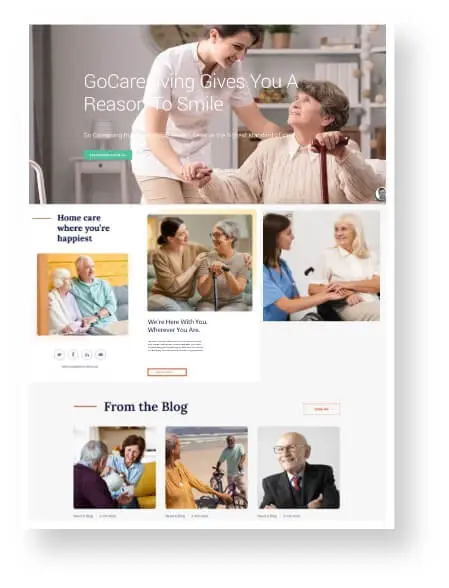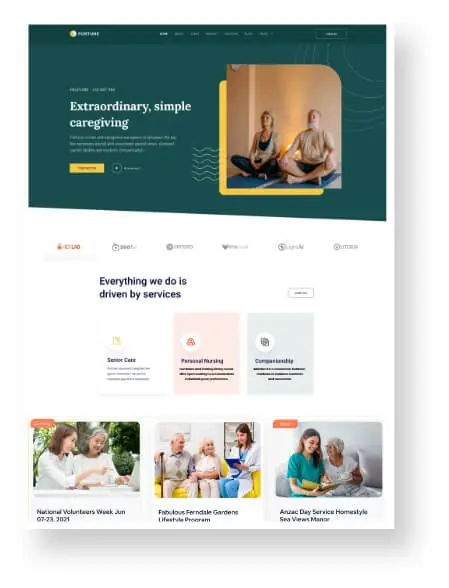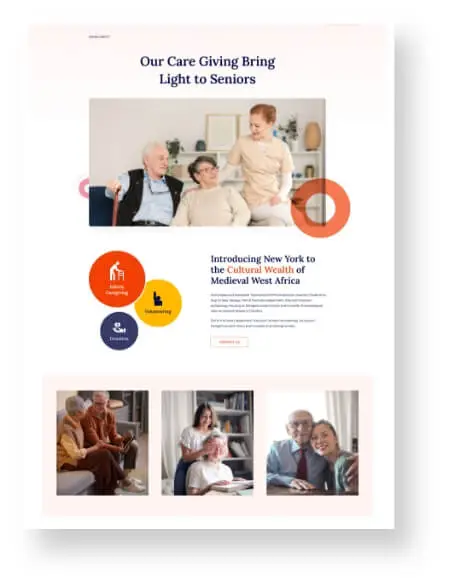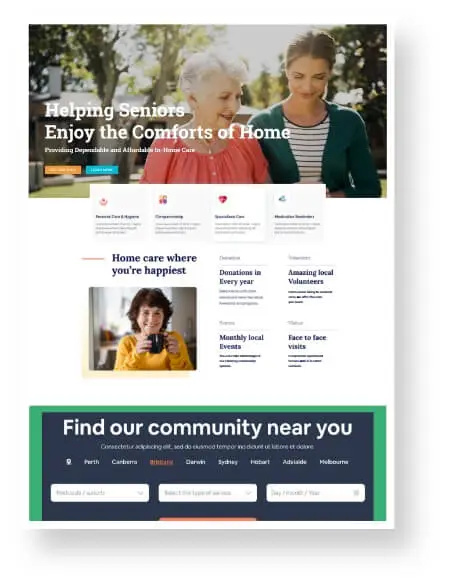 Get 3X Client

Engagement
With Responsive Website Design
Healthy Web Designs
Over 55% web traffic comes from mobile devices and there are 4.32 Billion active mobile internet users! As huge this figure is as important are these users. To grab a large client base, we design your website 100% mobile friendly so that it delivers even & smooth user-experience across all devices.
Advanced UI-UX Design
Easy & Fast Navigation
Clean & Responsive CTA buttons
100% Customized- Fits your brand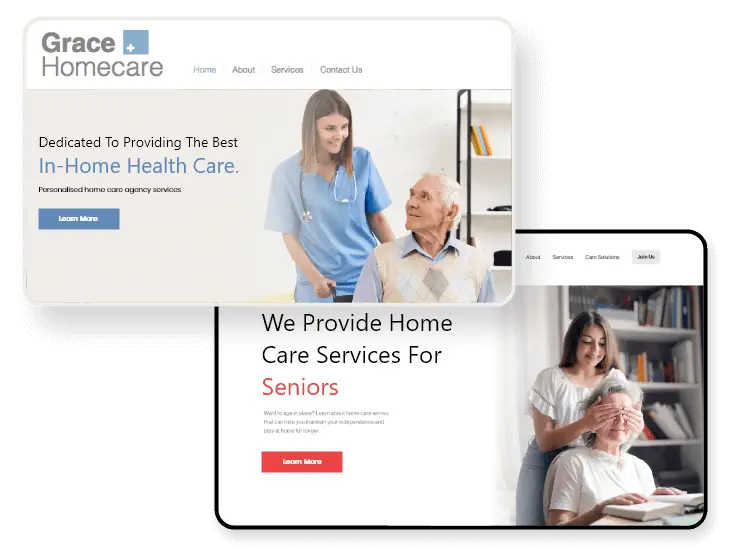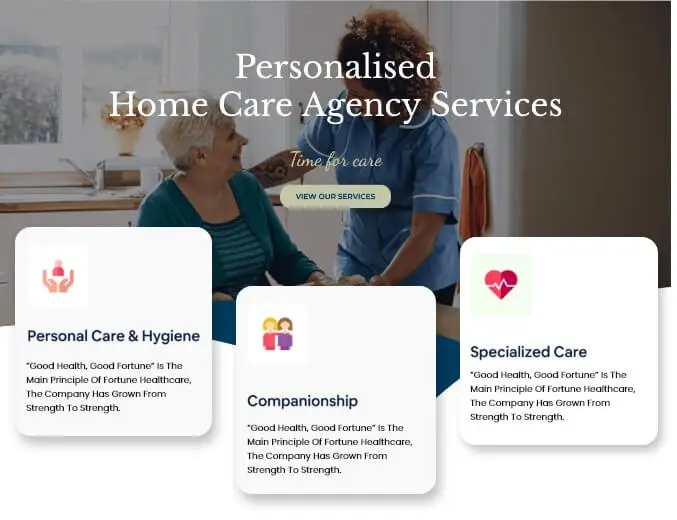 Curative Service Information
With minimalistic and clean service segmentation of your facility details, you can easily get the attention of visitors. Nurse Home Agency Website Design with sleek and easy-to-read service listings can increase your customer's attention span.
Easily Accessible Information
Helps Convert Traffic Into Leads
Drop-Down Menu Bars
Enhanced User Navigation
Trustworthy Meta Tags
To make your Nurse Home Agency Website Design trustworthy, you should incorporate necessary details in your meta tags such as trusted, insured, available, flexible with contact and location details. Our team smartly puts all the important features of your facility to catch reader's attention.
Green Flags of your website
Ranks your page at top
Smart Meta Tags
Increases Conversion Rates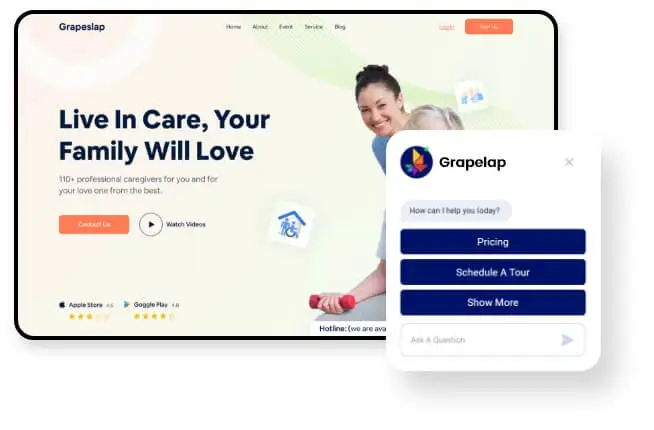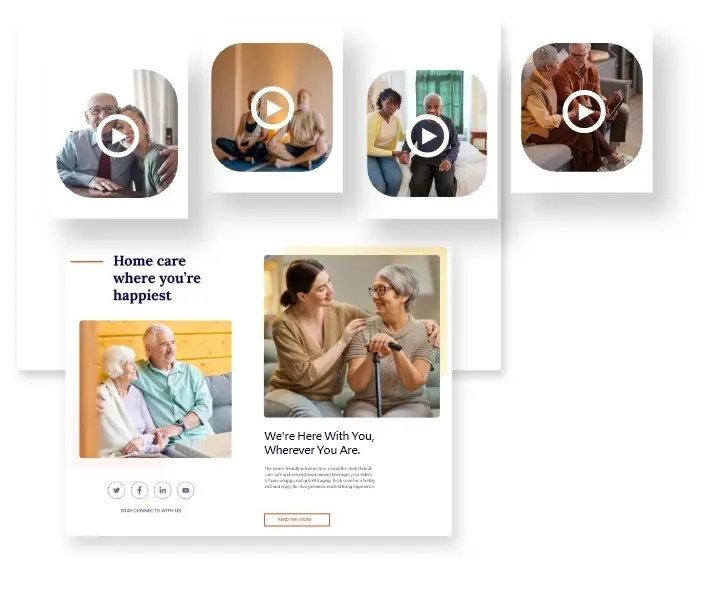 Home Care Portfolio
Attaching an engaging portfolio of your facility would enhance the credibility of your page and show your real expertise. Nurse Home Agency Website Design creates an impressive home care portfolio. By showcasing your care services through engaging client-staff images and videos in an organized manner.
Builds customer trust
Optimized Portfolio Gallery
Fosters emotional connection
Interactive portfolio designs
Caregiver Contact Page
It is one of the crucial page to let clients easily find and book your care services. Let's give them back by designing a clean, simple and accessible contact page for your nursing home agency website design.
Improves SEO of your website
Visible/On-top Contact Details
High-Calling CTAs
Rescues time and efforts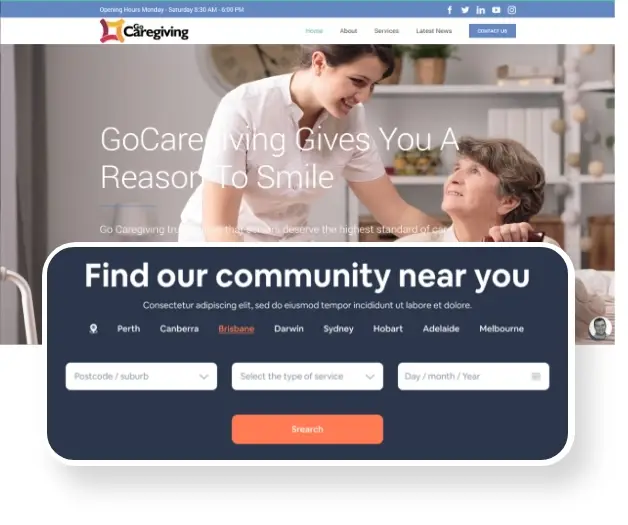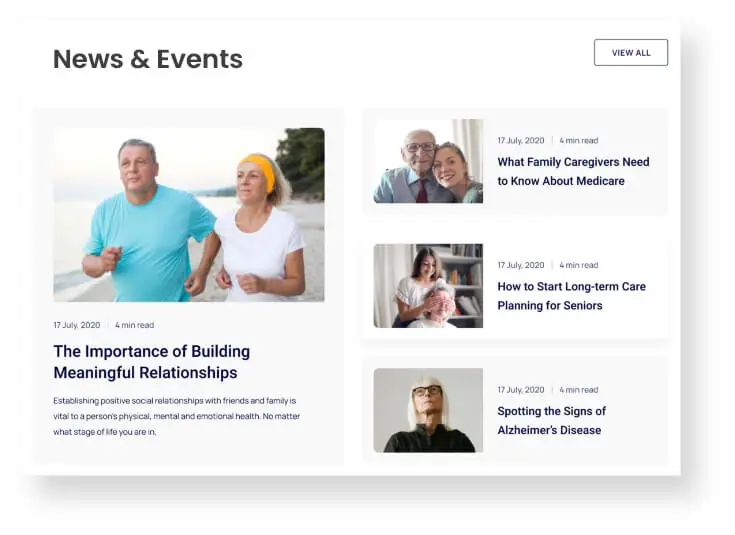 Enlightening Blogs
Sharing awe-inspiring and success healing stories with the world would drive a larger user base towards your nurse home services. We are committed to reveal your healing art to the potential clients through our SEO-driven and content-centric home-care blogs.
Supercharge Website's SEO
Activates your online presence
Cost-friendly marketing formula
Drives Long-Term Results
Companion Testimonials
What's better than past/current clients praising your care services? That's why we take this seriously by adding a positive and honest client testimonial page on your website to showcase your healing skills to the visitors.
Highlighting the advantages
Brings brand's visibility
Highly-Influencing Reviews
Client verification badge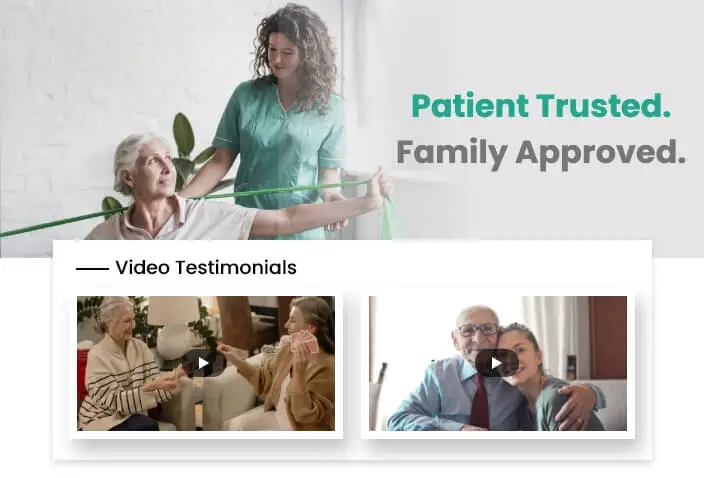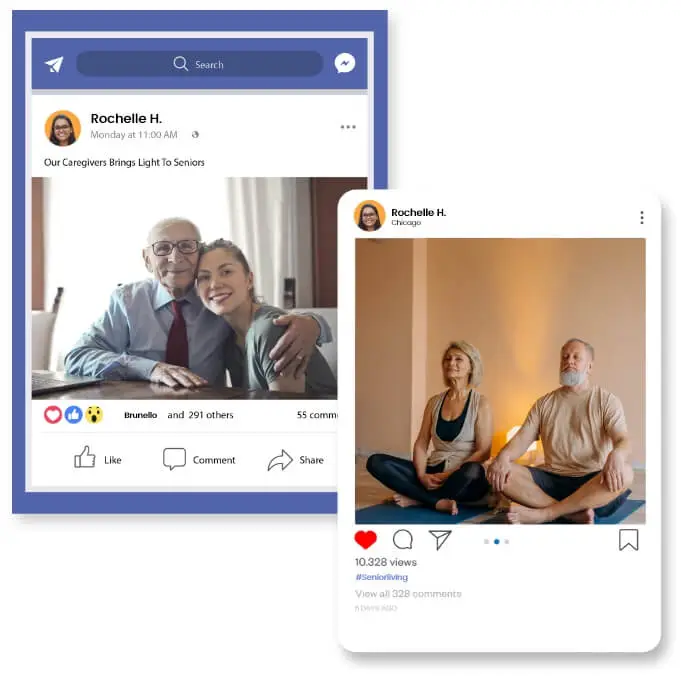 Digital Marketing Dose
Digital Marketing allows care-providers to expand their global reach if done rightly. Our team makes sure that your nurse home services are put forward in a creative and skillful manner while utilizing various marketing tools & techniques.
Social media marketing
PPCs and Google Ads
Compelling posts & captions
Reputation Management
Email Marketing Therapy
Being an old-gold marketing tool, emails are never off-shore and off-beat. Utilize this great tool by picking our designed brochures, compelling emails/newsletters, wrapped by marketing experts.
Low-Cost Marketing Channel
Personalized emails and captions
Emails Get High ROI
Automatically updates clients
Solid Lead Generation Plan For
Nurse Home Agency Website Design
Search Engine Optimization (SEO)

With our smart search engine optimization techniques, get recognized by search engines and your global-local visitors. Helping searchers find your services within seconds with superfast page landing and full-on page optimization.

Deep Keyword Research

Mobile-Responsive Website

Resourceful Site & Backlinks

Organic Lead Conversion
Content Management System (CMS)

Utilize our strong content management platform to take your services to the next level in the profound content field. The CMS team is adept at writing keyword-rich and well-managed content for your services at their best creative end.

Lead-Generating Links Wrapped

Complete Content Optimization

Increased Conversion Potential

Improved Brand Recognization
Targeted Pay-Per-Click (PPC)

We don't leave your custom PPC Ads just floating on the web but also retarget the users to multiply every click. By placing your ads on popular sites, your browsers become buyers.

Real-Time User-Targeted Ads

User Tracking and Analysis

Garner Immediate Results

Attractive Visual Elements
Lead Generation Magnet

Our lead generation magnet offers your visitors free assets and special deals like free webinars, e-books, discounts, and whitepapers to exchange their email/contact details significantly.

Drives Instant Sales

Spreads Brand Voice

Shared Interests & Goals

Builds User Community
Meaningful Nurse Home

Agency Website
Provides Right Audience Reach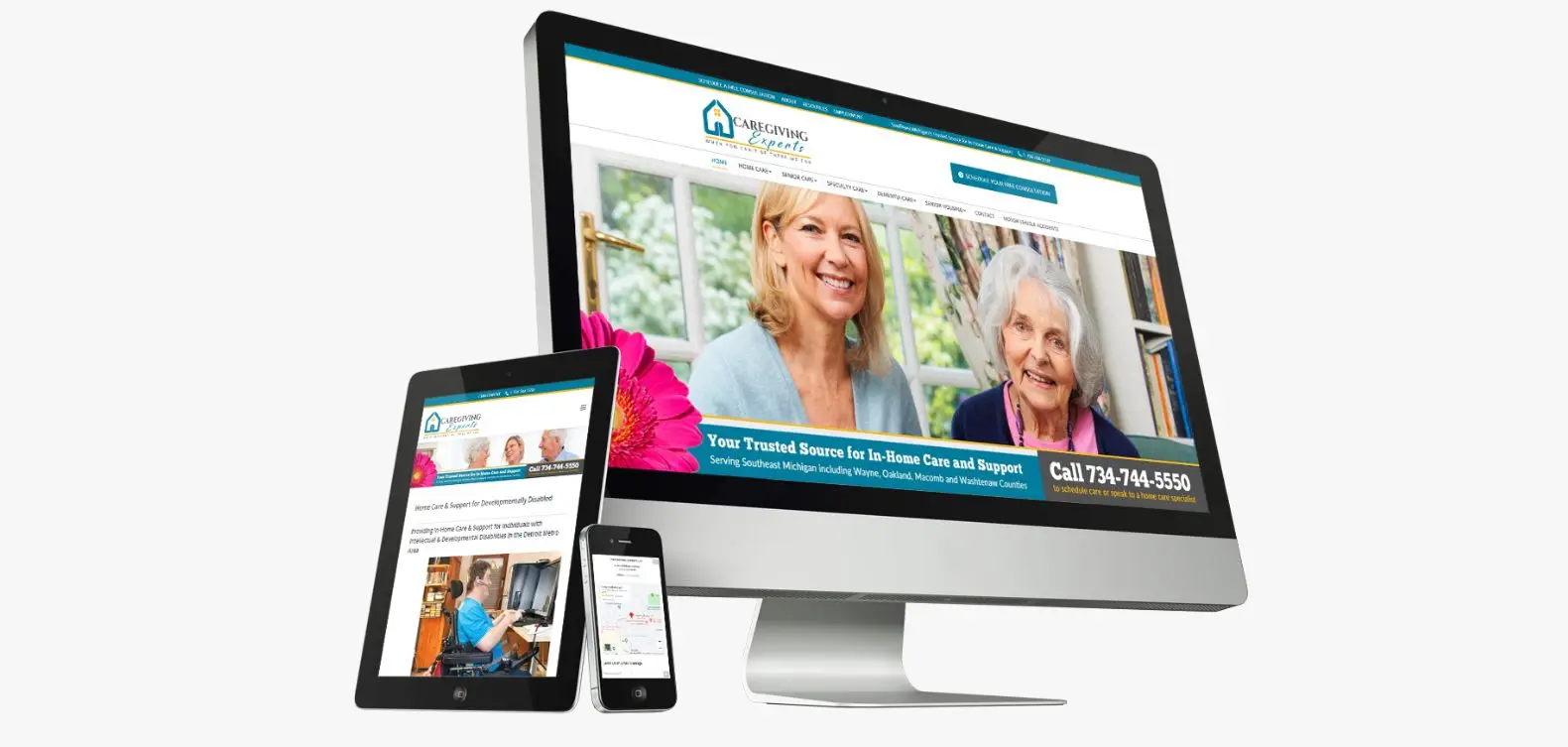 Boost Search Rankings

Boost your client leads at the moment your services appear on the first page of the results. With our smart link-building and conversion-focused techniques, don't miss out on any potential client.

Low Investments-High Returns

According to reports, the avg. price for home care services are expected to surpass 30$ per hour in 2030. With the rising revenue and future scope, a functional nurse home agency website design can give you higher returns on low investments.
Reach More Customers

Did you know the global home and healthcare market size was approx. USD 362.1 billion in 2022 and is estimated to rise at a CAGR of 7.96% from 2023 to 2030? With our conversion-friendly techniques, it's only a matter of time before your client base starts booming.

Optimize Page Experience

With an optimized design, friendly user interface, responsive CTAs and engaging content, you can deliver super-smooth user experience to your visitors throughout the website.
How We Make And Serve Your
Nurse Home Agency Website
The Innovative Design Process
STEP 1
DISCOVER
Our team engages in extensive research to discover your specific needs and provide you with tailored solutions.
STEP 2
PLANNING
The planning involves robust mapping and preparing a blueprint for the entire project and procedures.
STEP 3
DESIGN
During the design phase, our UI/UX design team prepares a user-friendly design for delighting your users.
STEP 4
DEVELOPMENT
Our back-end developers integrate and optimize your systems, our front-end developers are bringing creative and user experience to life.
STEP 5
TESTING & LAUNCH
We perform extensive system testing to validate that our deliverables are ready for the real world and your users.
FAQs About
Nurse Home Agency Website Design
Mordy Karsch
Giving Back Promotions, San Francisco, CA
I had an amazing experience working with Keyideas - an excellent team of developers.

Isaac Gottesman
dimendSCAASI, Chicago
I would not hesitate to recommend Keyideas as a superior development house.

Lets Do Great Work Together!
Discuss your ideas. Connect now
We've successfully delivered over

leads for the client