Get Your Best Funeral
Home Web

Design Services
With our mild and highly-customizable funeral home website design, your funeral website will look refreshing & customer-centric from the very beginning. Funeral Home Web Design Services help you work as an extended helping hand for families in loss.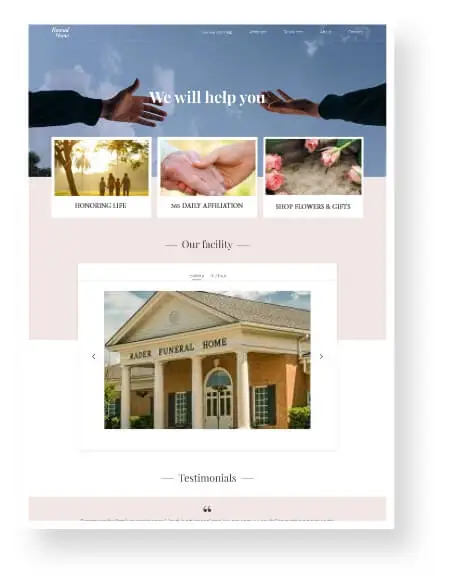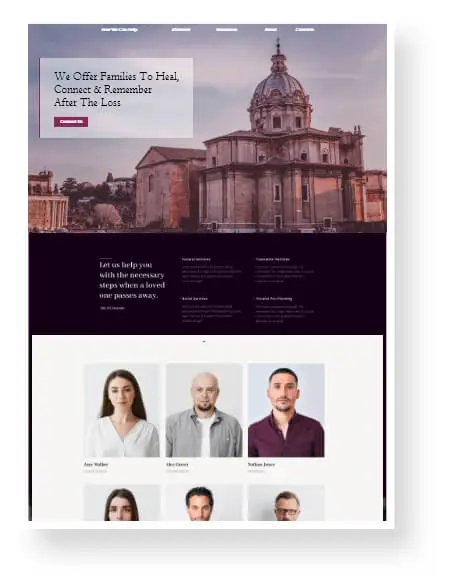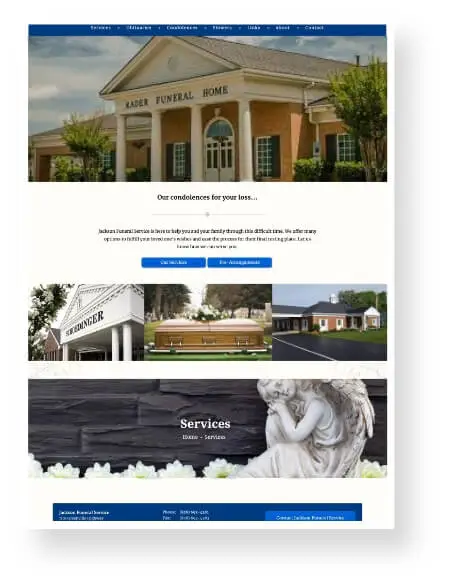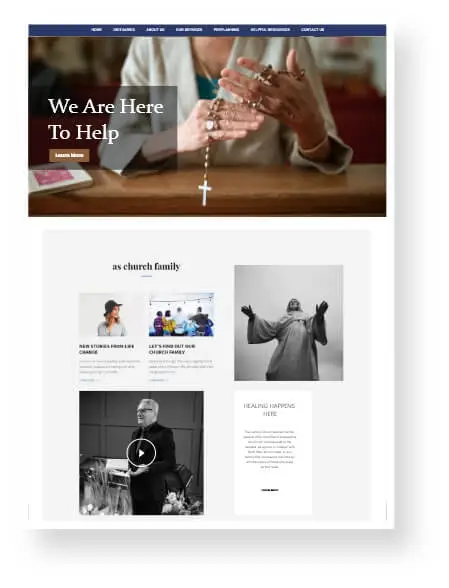 Educational & Updated Content
For Funeral Home Website Design
Custom Website Designs
Designing your website responsively so that it looks and speaks just like your humble services. Beautiful themes and custom layouts represents your unique services to the audience rightfully.
Directly Fosters Service Goals
Boosts Online Conversions
Custom UI/UX Designs
Raises Brand Awareness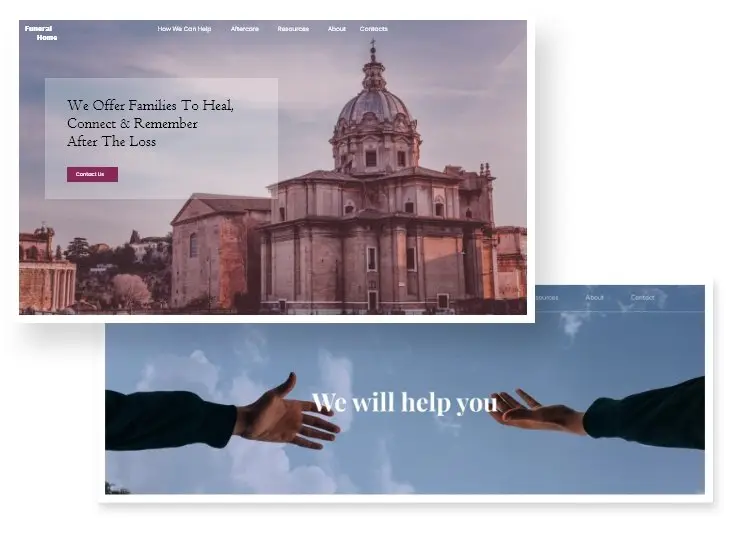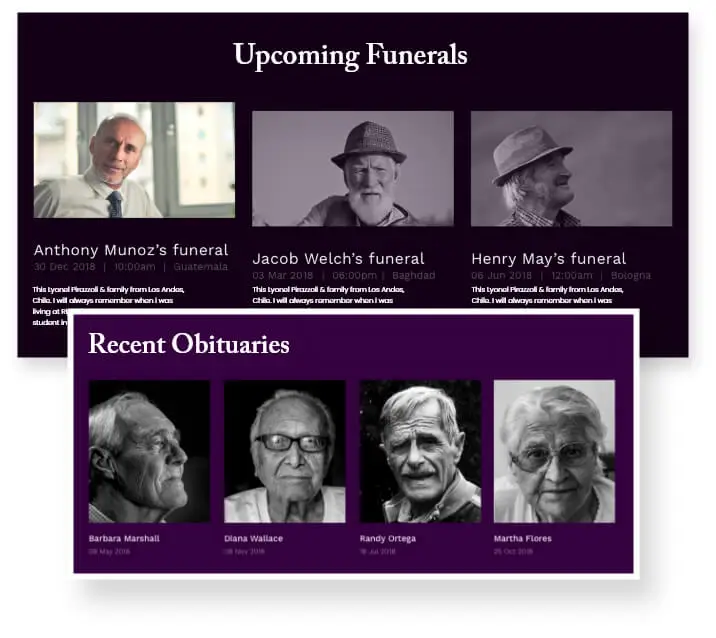 Funeral Livestreaming
This incredible feature lets family members who are unable to attend the ceremony watch the live funeral. With our livestream recording option, your funeral clients will be able to rewatch the service anytime in the world.
Adds additional quality & value to your page
Enhances brand recognition- Connects with community
Information & Awareness Transmission
On-Top Service Fold
Win the trust of families and ease their pain with your lively-humble services. As our on-top & highly accessible service fold, features your important offerings to anyone needing support. Such as aftercare support, planning ahead, personal obituaries and other resources.
Elevates Brand Visibility- increases reliability
Generates leads and potential customers
Responsive CTAs with support segment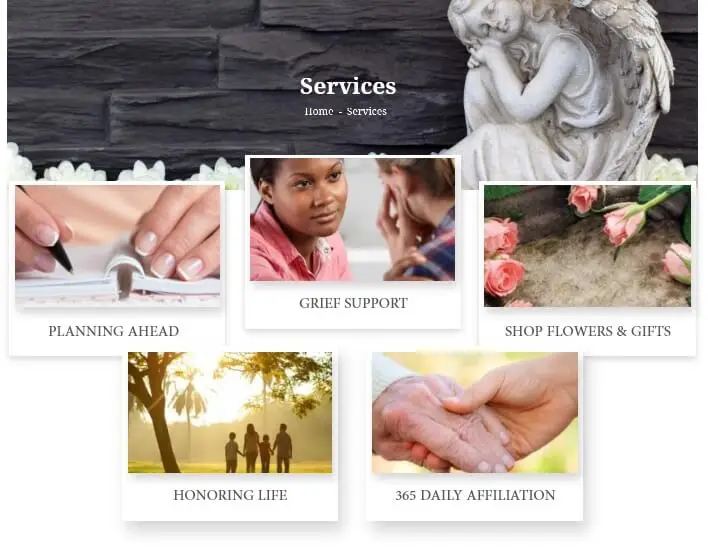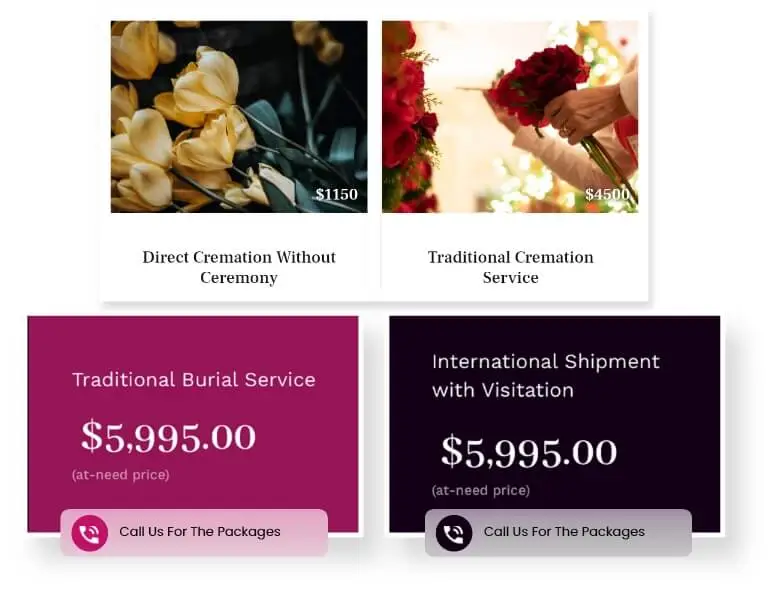 Uplifting Homepage
It is the welcome mat of your funeral home website design to attract your customers. By including responsive contact info, headlines, taglines, video header, & a quick overview of your services. Choose our uplifting & vibrant funeral homepage design to add life, energy and enthusiasm into client families.
Adds life, avoids depressing colors
Makes a great first impression
Deciding factor to choose your services
Trust building, inspiring & clean header
Engaging Obituary Section
Furnish your website with a resourceful obituary section to help family members build their personal obituaries. With our engaging obituary design, families will witness the memories of their loved ones anytime, from anywhere.
High Quality sound & video definition
100% secure & personal/public obituaries
Can be shared with families & friends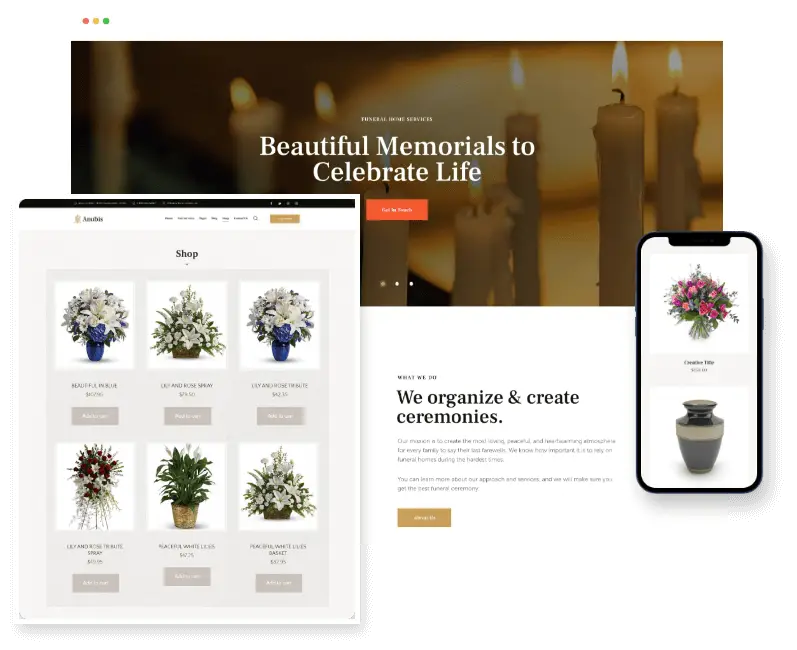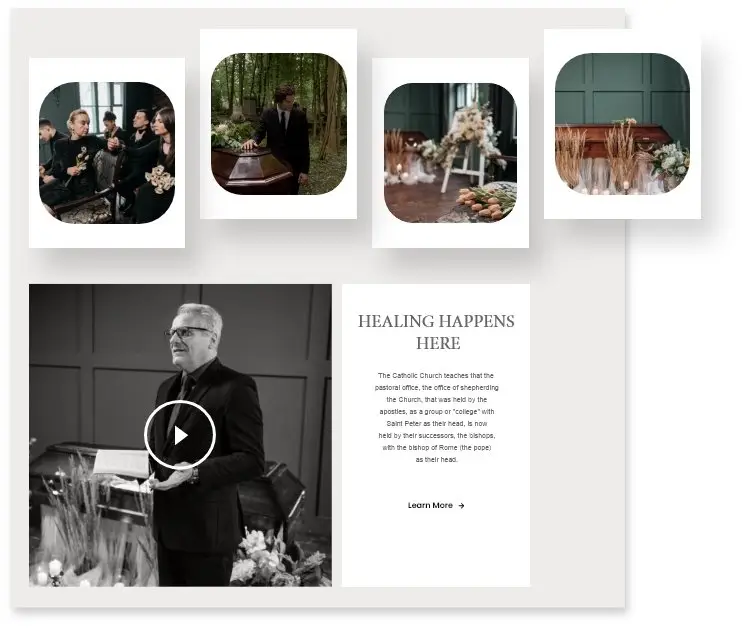 Engaging Images Of Your Facilities
Highlighting your funeral service images along with customer-centric content. An organized service gallery will highlight your funeral procedures and cremation arrangements to showcase your caring & professional staff.
Enhances trust factors
Builds social proof
Sparks originality and authenticity
Conveys services better
Comprehensive Blogs
Provide readers with an inspiring blog that interacts like a close friend. With our thoughtful & motivational funeral blogs, families will feel comforted & their hard days would easier to pass.
Garners positivity- speeds up healing process
Builds brand reputation- Establishes trust
Boosts SEO of the page- Gets new conversions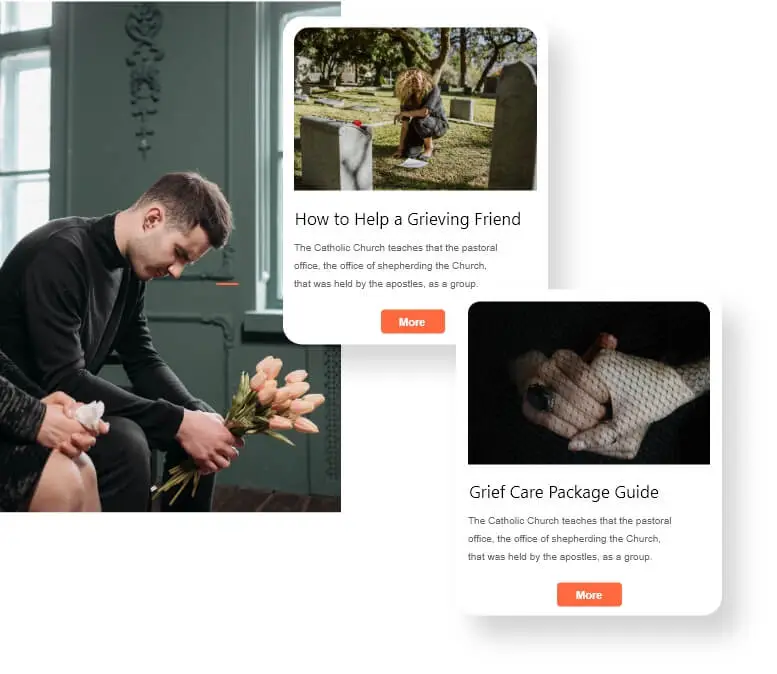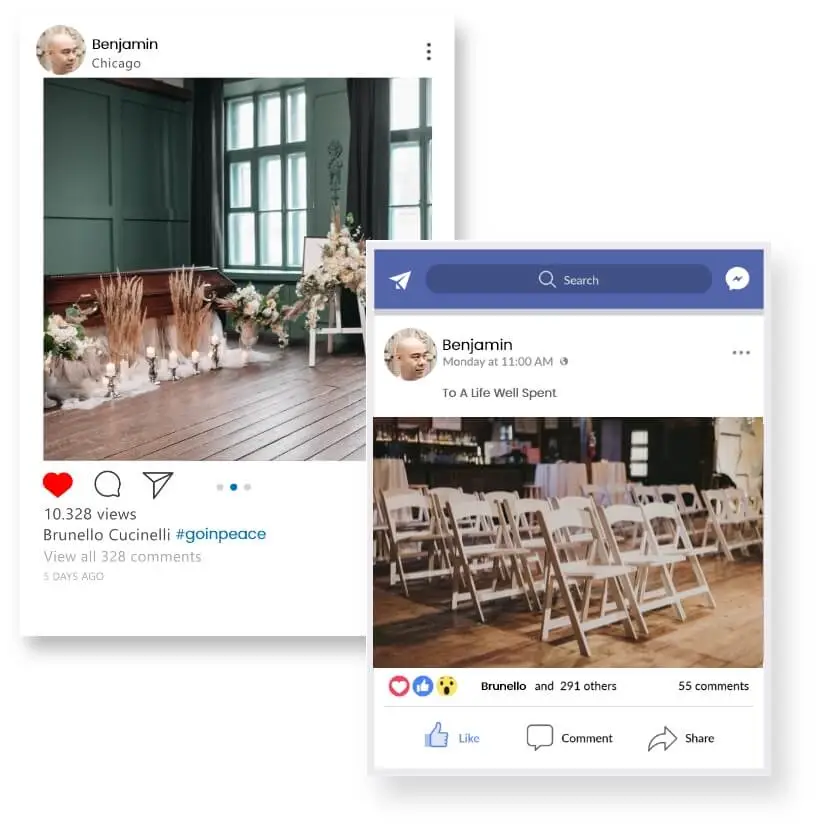 Easy, Secure Booking
Let your clients book your facilities painlessly & securely. With our secure and easily accessible payment integration, funeral homes can be booked faster without in-between hurdles and stops.
Shorter payment path
2-step away payment process
100% secure browsing & booking
Expert Advice & Support
Now, you have seen the robust features for your funeral home website design, it's time to plan it together & better. Get our free & expert web designing & SEO consultation related to your project anytime, anywhere.
Enhance your business methods
Target audience effectively
Proven brand-lifting records
Successful web designing process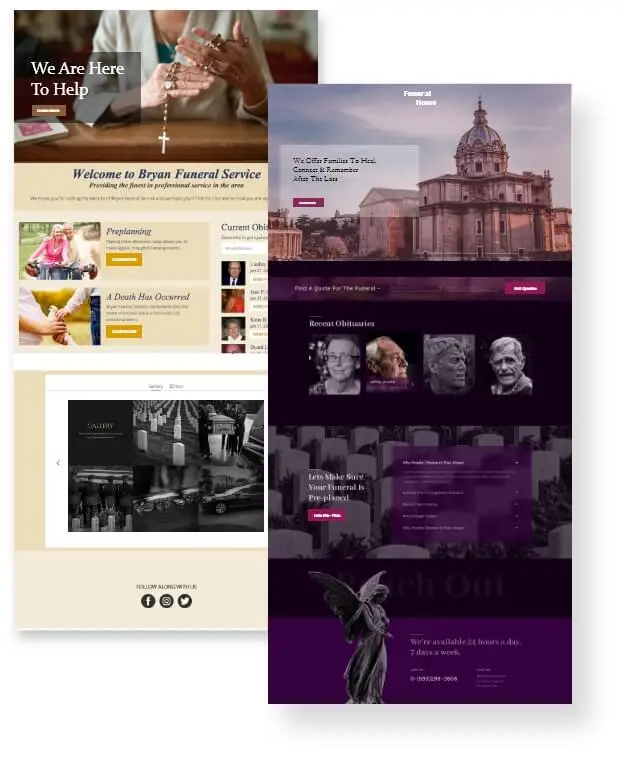 Futuristic Lead Generation
Plan For Funeral Home Website
Search Engine Optimization (SEO)

With our smart search engine optimization techniques, get recognized by search engines and your global-local visitors. Helping searchers find your services within seconds with superfast page landing and full-on page optimization.

Deep Keyword Research

Mobile-Responsive Website

Resourceful Site & Backlinks

Organic Lead Conversion
Content Management System (CMS)

Utilize our strong content management platform to take your services to the next level in the profound content field. The CMS team is adept at writing keyword-rich and well-managed content for your services at their best creative end.

Lead-Generating Links Wrapped

Complete Content Optimization

Increased Conversion Potential

Improved Brand Recognization
Targeted Pay-Per-Click (PPC)

We don't leave your custom PPC Ads just floating on the web but also retarget the users to multiply every click. By placing your ads on popular sites, your browsers become buyers.

Real-Time User-Targeted Ads

User Tracking and Analysis

Garner Immediate Results

Attractive Visual Elements
Lead Generation Magnet

Our lead generation magnet offers your visitors free assets and special deals like free webinars, e-books, discounts, and whitepapers to exchange their email/contact details significantly.

Drives Instant Sales

Spreads Brand Voice

Shared Interests & Goals

Builds User Community
Responsive Funeral Home
Website Diversifies User Experience
Attract Wider Audience
In 2022, funeral homes in the USA generated revenue to a value of 21 billion U.S. dollars alone. These services are still going at their peak, now it's high time for you to build a strong funeral home website.
Easier To Monitor Analytics
With our inbuilt responsive analytics, easily monitor your website progress status with a perception to meet daily goals & targets.
Responsive Web Design
Boost your leads from the very start to the very end. With a responsive & user-friendly website design, don't miss out on any potential-target customer.
Lower Bounce Rates
By delivering a lead-centric page content and link building, keep your website flowing with clicks & bookings to lower your Bounce Rate.
Optimize Your Page
To make your website crack-resistant, our back-end developers optimize your page with smart back links, plugins, updates & usability score-testing checks and much, much more.
Boost For SEO
By incorporating the SEO best practices and techniques, our team builds search-engine friendly website to rank your business higher in the SERP world.
How We Design And Launch
Your Funeral Home Website
The Innovative Design Process
STEP 1
DISCOVER
Our team engages in extensive research to discover your specific needs and provide you with tailored solutions.
STEP 2
PLANNING
The planning involves robust mapping and preparing a blueprint for the entire project and procedures.
STEP 3
DESIGN
During the design phase, our UI/UX design team prepares a user-friendly design for delighting your users.
STEP 4
DEVELOPMENT
Our back-end developers integrate and optimize your systems, our front-end developers are bringing creative and user experience to life.
STEP 5
TESTING & LAUNCH
We perform extensive system testing to validate that our deliverables are ready for the real world and your users.
FAQs About
Funeral Home Website Design
Mordy Karsch
Giving Back Promotions, San Francisco, CA
I had an amazing experience working with Keyideas - an excellent team of developers.

Isaac Gottesman
dimendSCAASI, Chicago
I would not hesitate to recommend Keyideas as a superior development house.

Lets Do Great Work Together!
Discuss your ideas. Connect now
We've successfully delivered over

leads for the client