Flower Shop
Website Design Agency
Imagine an artistic yet effortlessly natural Florist Website Design which can skyrocket your flower business. Sounds amazing? Let this fantasy come true with a customer-centric Flower Shop Website Design.
Swipe right here & let our florists web design experts mold a highly-feasible website for you!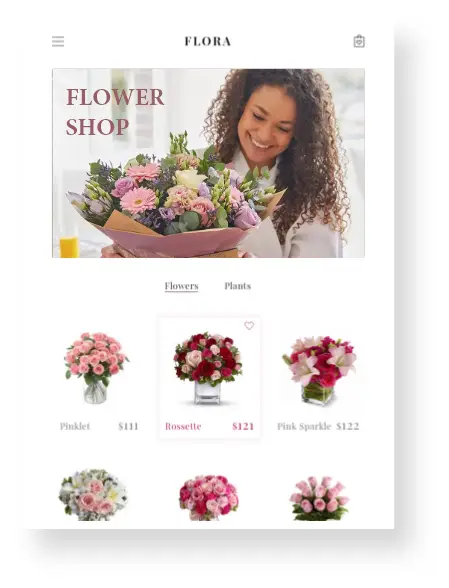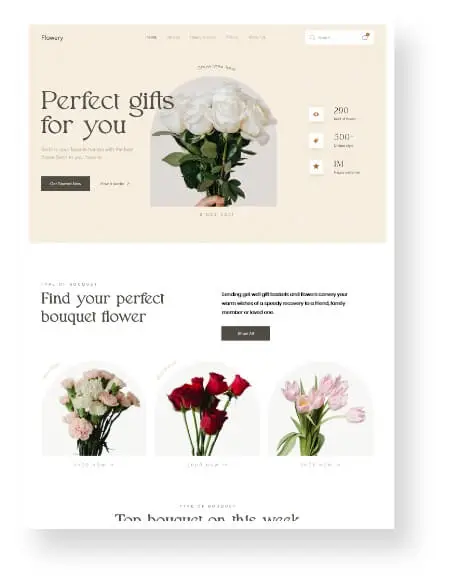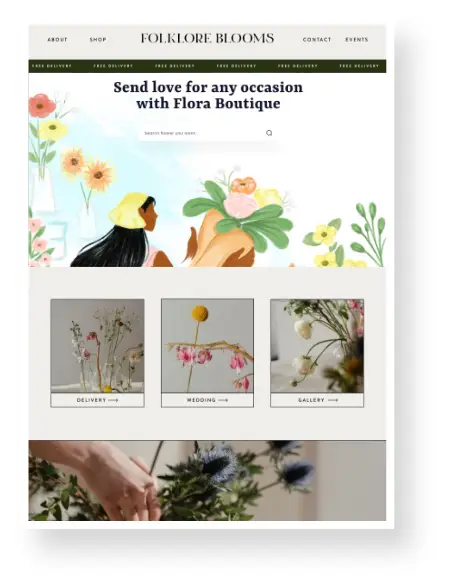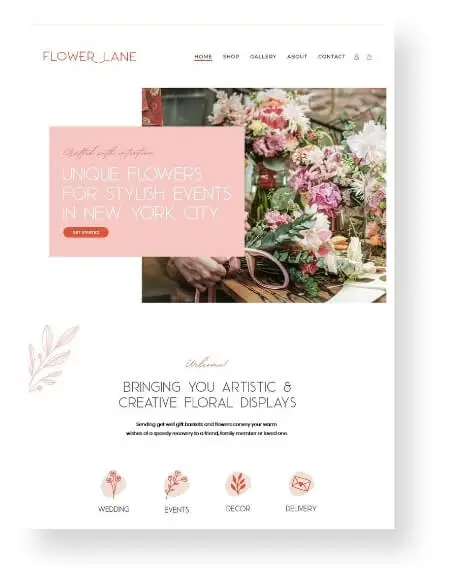 Custom Florist
Website Design Features
Adorable Design In Every Theme
Get beautifully customized floral themes for your florist website. Especially, crafted by top designers to set a polished & mobile-responsive touch on every device.
Fulfils Your Business Goals
Higher Conversions
Data and Insights Production
Better Brand Recognition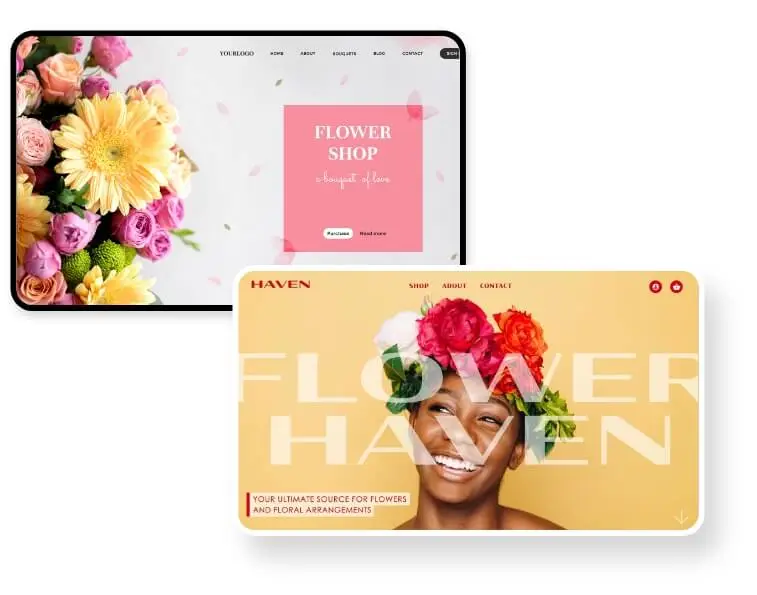 Sleek Service Segmentation
Portray your rich art by showcasing a wide variety of fresh and hand-picked flower bouquets. As we handover easily accessible service segmentation with on-point responsiveness.
Turns online visitors into loyal customers
Propagates service information
Drives in everlasting outcomes
Beholds Audience Attention
Advanced Search & Product Filter
With an easy to search & filter application, your customers will pick your products with seamless cart options. It gives impressive features for presenting key product specifications and showcasing your offerings.
Featured, Occasional & Best Selling Products
Attractive Offers & Discounts
Floral Descriptions
Clear Price Details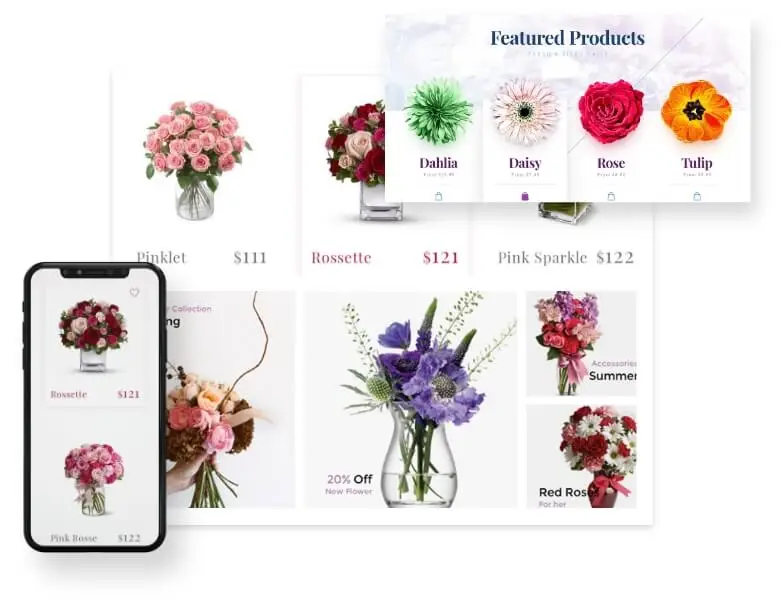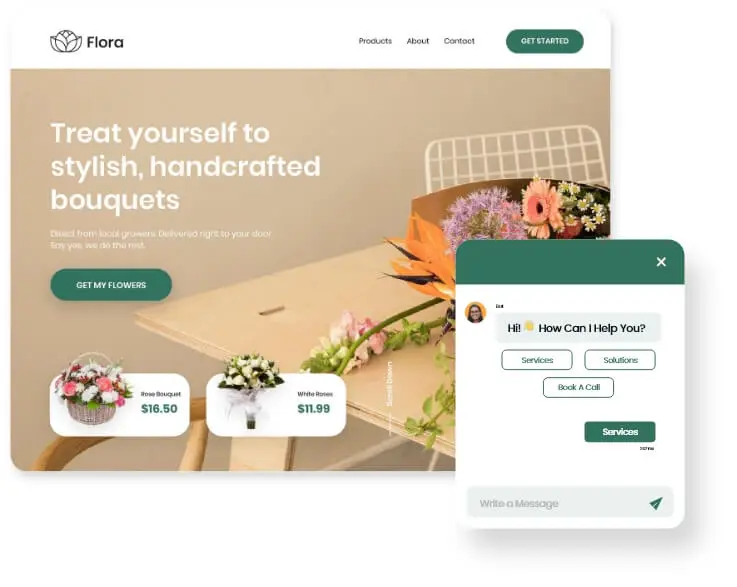 Automated Messages
With this great feature, help your visitors by assisting them with an automated messaging tool. Instantly & automatically solve their queries and reach the target audience.
Saves Time & Gets Better Results
Structured Plan & Fewer Mistakes
Instant Communication
Conversion Rate Increases
Floral Order & Deliveries
With an integrated payment running path, run your floral business from any device and process seamless order details with quick order deliveries. Retain new as well as potential customers with a 2-step away payment gateway & reminder.
Simplified Ordering
Promote Sales Synergy
2-step Payment- Higher Revenue
Easily Manage Order Status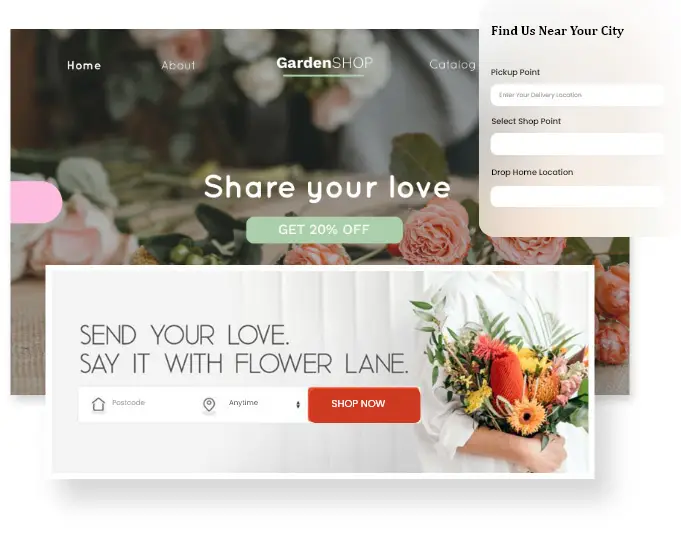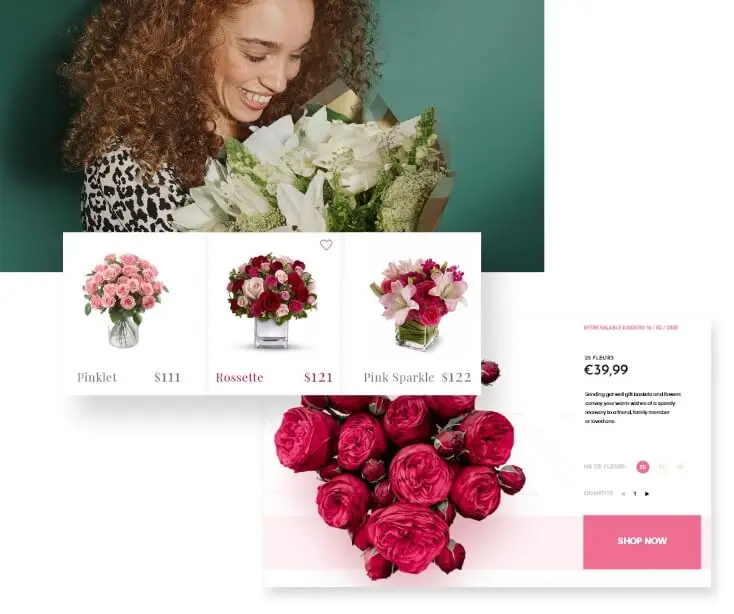 Happy Floral Gallery
Treating your visitors with an optimized flower gallery. Engage their time while they enjoy those lovely images.
Recite Stories About Your Brand
Emotional Attachment With Customers
Tap Into the World of Powerful Influencing
Announce New Flower Collections or Offers
A Multifarious Blog
Covering a diverse range of topics (Flower Care & Uses, Flower Allergy & Remedies) in your florist's blog while you build a healthy relationship with your visitors.
Powerpacks Website SEO
Upgrades Brand Identity, Builds Trust
Converts Visitors into Consumers
Drives Long-Term Results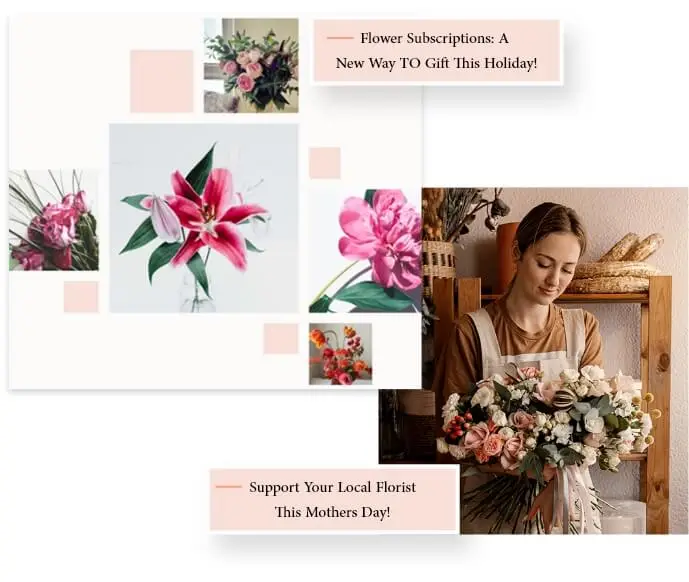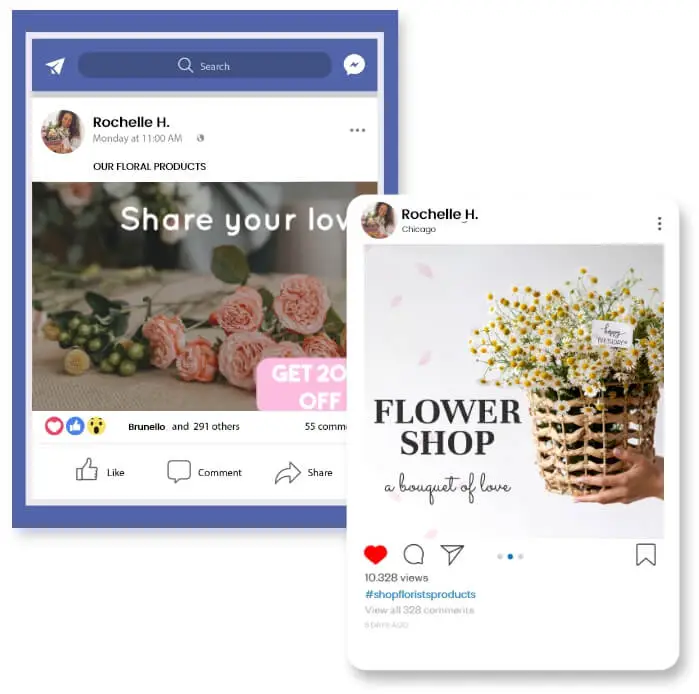 Dive In Digital Marketing
According to IBIS World, over the last five years the florist industry has enriched from the extensive use of marketing and has effectively captured market share from brick & mortar stores. Grab our creative digital marketing services to spread your business via social media, PPC, content marketing, emails, & more.
Exceptional customer service
Engagement via Posting
Inculcates Customer Loyalty
Impacts Buying Decisions
Marketing With Emails
Email marketing is an easy & wise way to frequently communicate with your customers. Utilize this traditional yet effective tool by promoting your brand with our engaging emails, creative brochures and newsletters.
Cheap Marketing Strategy
Delivers targeted messages
Emails offer Higher ROI
Upscales your omnichannel marketing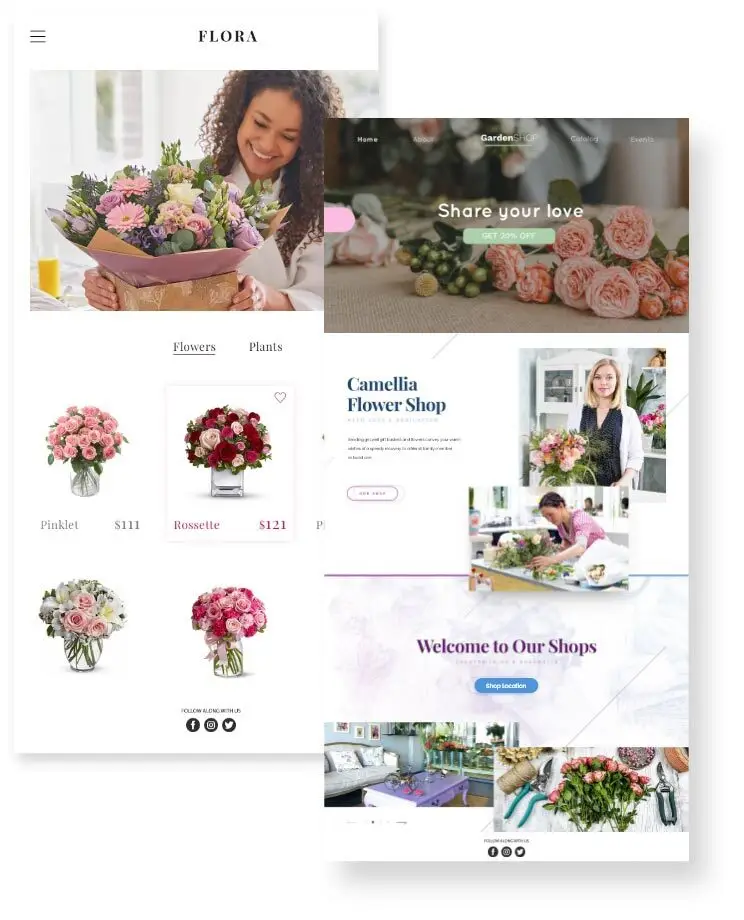 Solid Lead Generation Plan
For Florist Website
Search Engine Optimization (SEO)

With our smart search engine optimization techniques, get recognized by search engines and your global-local visitors. Helping searchers find your services within seconds with superfast page landing and full-on page optimization.

Deep Keyword Research

Mobile-Responsive Website

Resourceful Site & Backlinks

Organic Lead Conversion
Content Management System (CMS)

Utilize our strong content management platform to take your services to the next level in the profound content field. The CMS team is adept at writing keyword-rich and well-managed content for your services at their best creative end.

Lead-Generating Links Wrapped

Complete Content Optimization

Increased Conversion Potential

Improved Brand Recognization
Targeted Pay-Per-Click (PPC)

We don't leave your custom PPC Ads just floating on the web but also retarget the users to multiply every click. By placing your ads on popular sites, your browsers become buyers.

Real-Time User-Targeted Ads

User Tracking and Analysis

Garner Immediate Results

Attractive Visual Elements
Lead Generation Magnet

Our lead generation magnet offers your visitors free assets and special deals like free webinars, e-books, discounts, and whitepapers to exchange their email/contact details significantly.

Drives Instant Sales

Spreads Brand Voice

Shared Interests & Goals

Builds User Community
Responsive Florist

Web

Magnifies

Design User Journey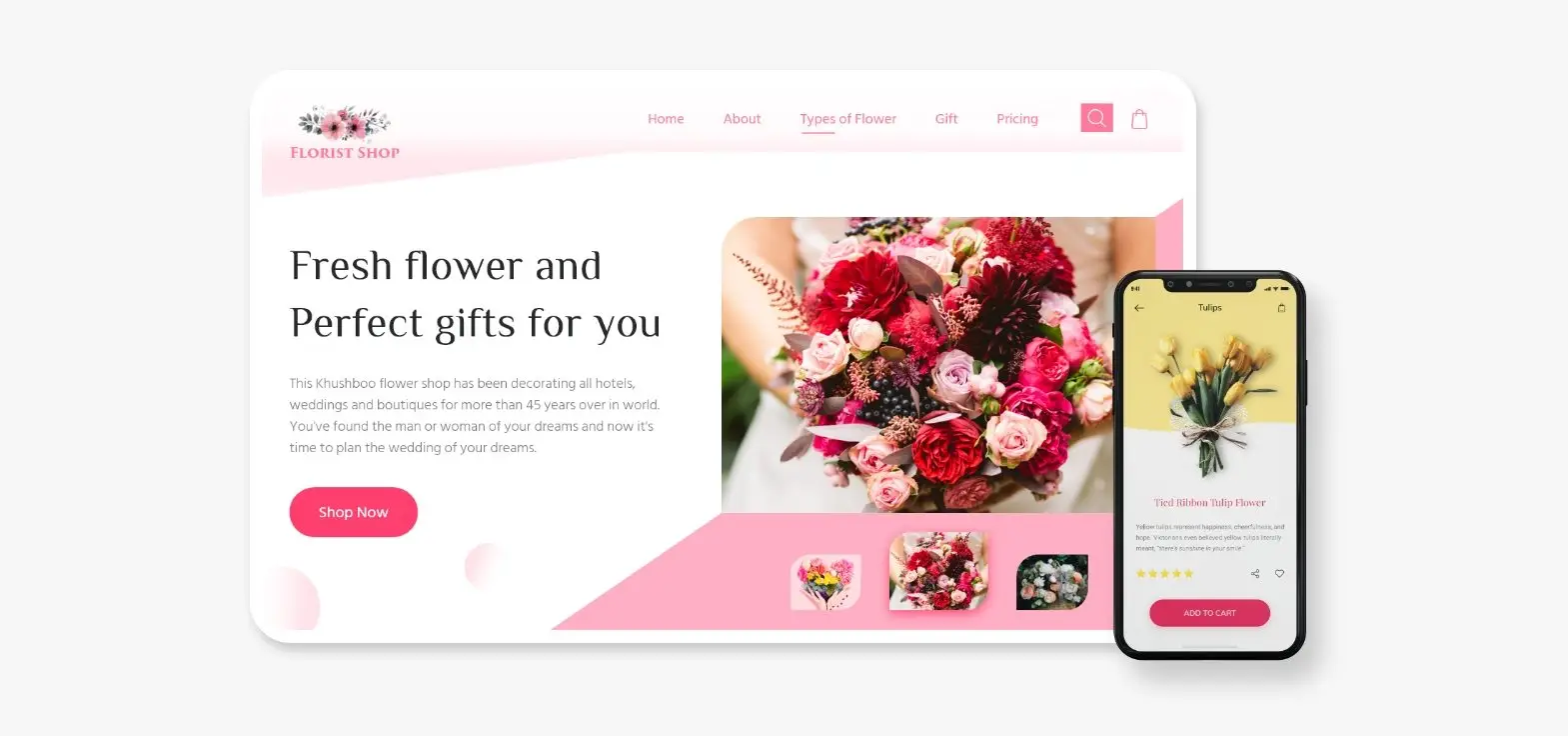 Boost Search Rankings

With proper SEO techniques, you can find your website ranking in the top 10 in every search engine while reaching a large set of audience.

Consistent UX Design And Brand

Through our consistent UX designs created to fit your brand, grow your loyal customer base who keeps returning for more.
Reach More Customers

Here's an insightful tip for you, as middle-aged customers retire and spend low, florists should target more younger consumers. And with our detailed user mapping, it's only a matter of time before your customer base starts booming.

Optimize Page Experience

An optimized page experience is necessary to retain customers organically. Achieve the same by getting our Customer Usability Tests, A/B Testing, Advanced Integrations and much more.
How We Create &
Launch Your Florist Website
The Innovative Design Process
STEP 1
DISCOVER
Our team engages in extensive research to discover your specific needs and provide you with tailored solutions.
STEP 2
PLANNING
The planning involves robust mapping and preparing a blueprint for the entire project and procedures.
STEP 3
DESIGN
During the design phase, our UI/UX design team prepares a user-friendly design for delighting your users.
STEP 4
DEVELOPMENT
Our back-end developers integrate and optimize your systems, our front-end developers are bringing creative and user experience to life.
STEP 5
TESTING & LAUNCH
We perform extensive system testing to validate that our deliverables are ready for the real world and your users.
FAQs About
Florist Website Design
Mordy Karsch
Giving Back Promotions, San Francisco, CA
I had an amazing experience working with Keyideas - an excellent team of developers.

Isaac Gottesman
dimendSCAASI, Chicago
I would not hesitate to recommend Keyideas as a superior development house.

Lets Do Great Work Together!
Discuss your ideas. Connect now
We've successfully delivered over

leads for the client