Event Management
Website Design Company
Event Planner Website Design ? Let's Steal The Show!
Be the Showstopper! With our Event Planner Website Design, bloom your Event Business and Showcase your Expertise. From most Elegant designs to Irresistible classic designs, don't miss out any premium-customized Event Management Website Design.
Congratulate yourself as we blend our best SEO practices on your Event Planner Website to keep your business ranking on top and flourish amongst the competitors. Bring your gorgeous Event Planner Business to our web designing table now!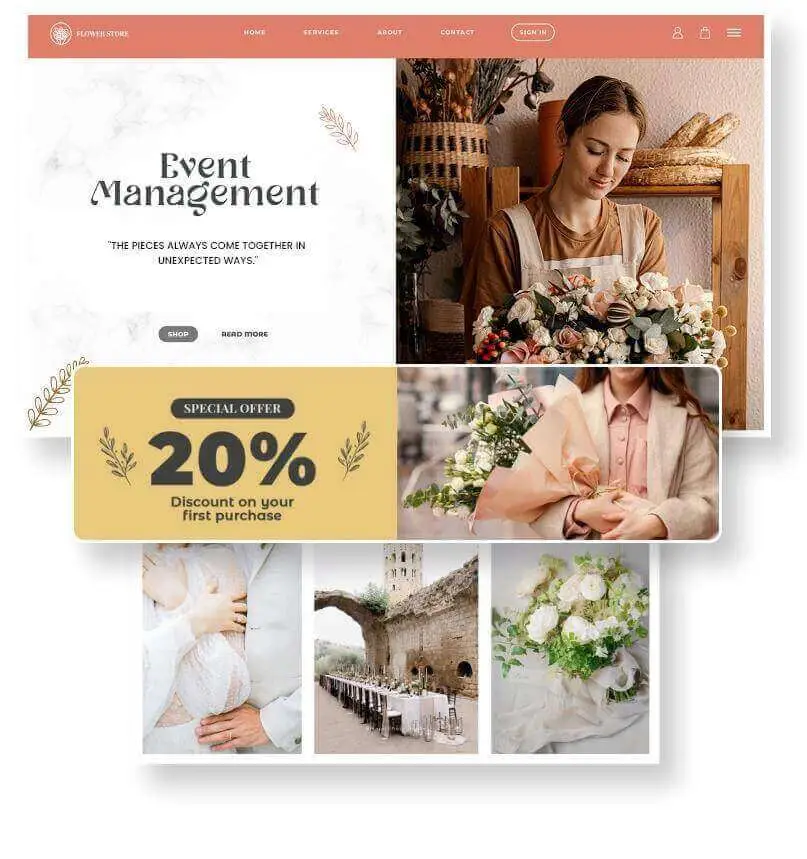 Appealing Customization
For Your Event Planner Website
Highly Customized Website
Do you know, the Event Industry will grow up to $1,552.9 Billion by 2028? If you love to expand your event planner business, then boosting sales is a must. A custom website can help you a lot to achieve this. Create a lead generating website to grab a huge customer base waiting for your event planning services!
Incorporating Color Scheme
Soothing Visual Elements
Simplifying User Navigation
Complimenting The Website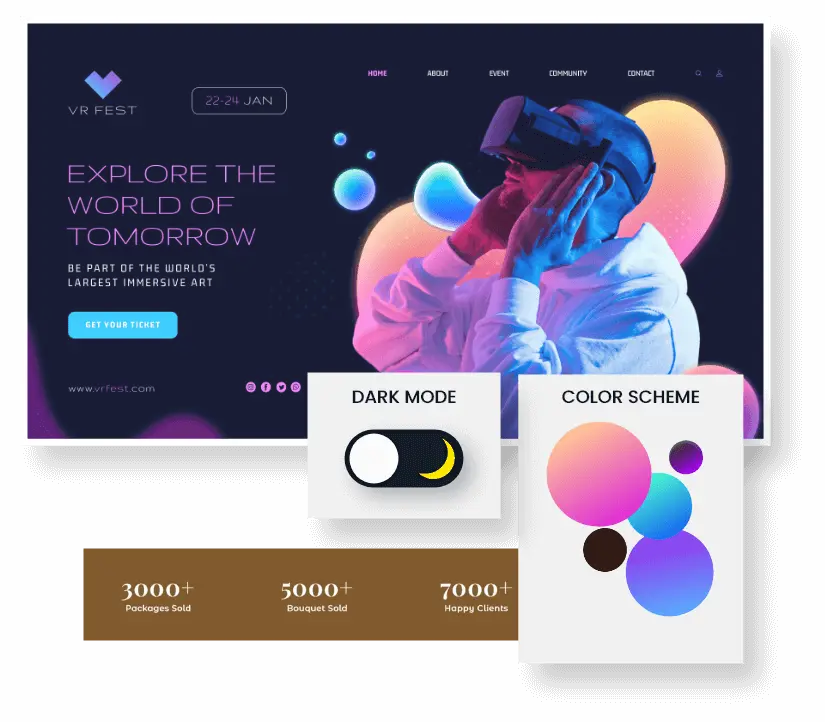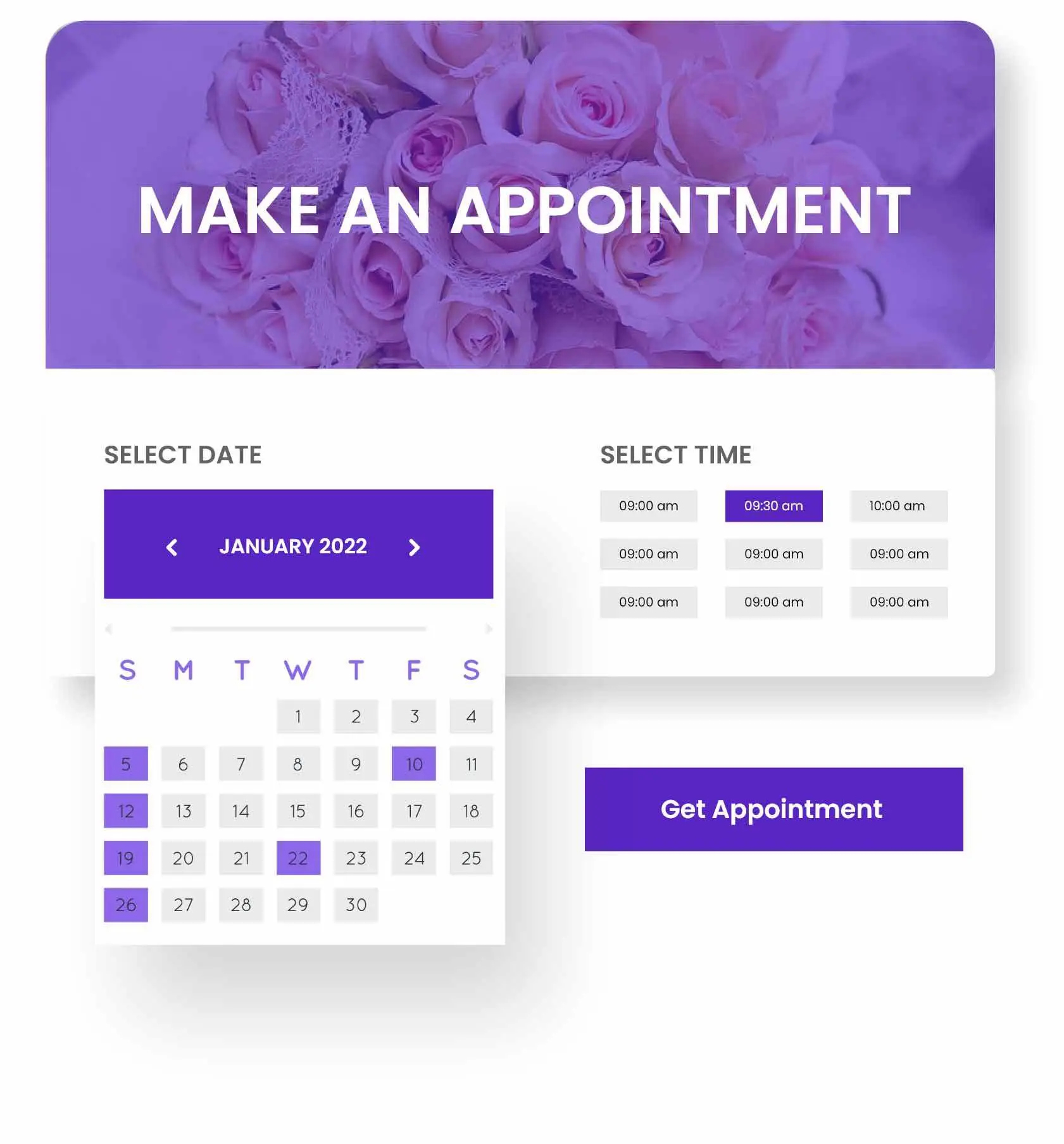 Appointment Booking
With a swift appointment booking tool, you can finally reduce the heavy time spent coordinating with your clients over the phone and email. Accept your reservations online anytime, anywhere. Automate payments, run your business, do marketing, and much more!
Maximizes Reservations
Effortlessly Up-Sell Add-Ons
Easy To Manage Calendar
Promotes Sales & Marketing Synergy
Multi-Lingual Support
People who don't speak English or who feel more at ease speaking another language can access customer care through multilingual support. When a customer calls your customer care line or visits your company website, this service gives them the option to choose any language.
Translating Website is Cost-Effective
Increases Financial Productivity
Expands Potential Market
Builds Brand Recognition & Trust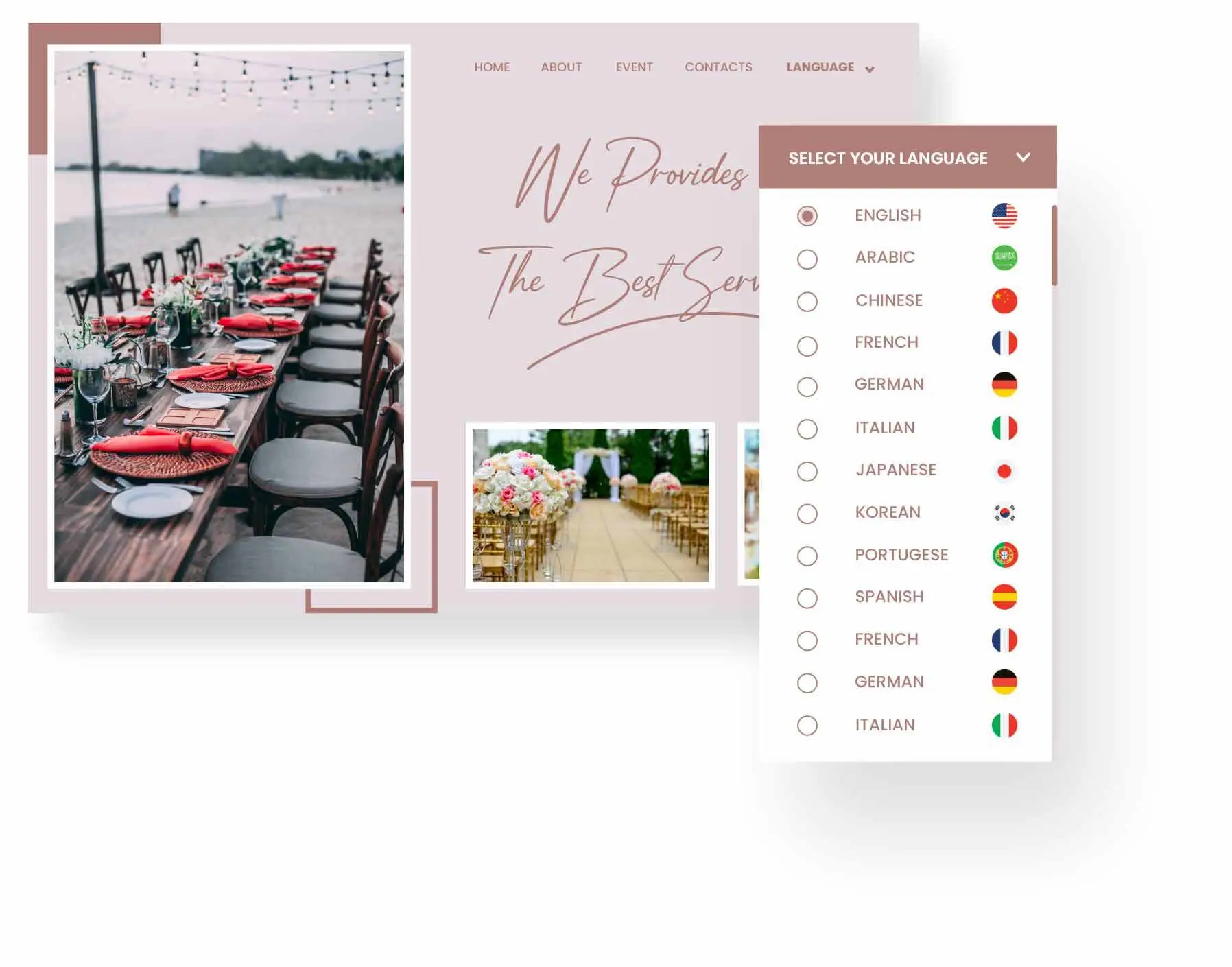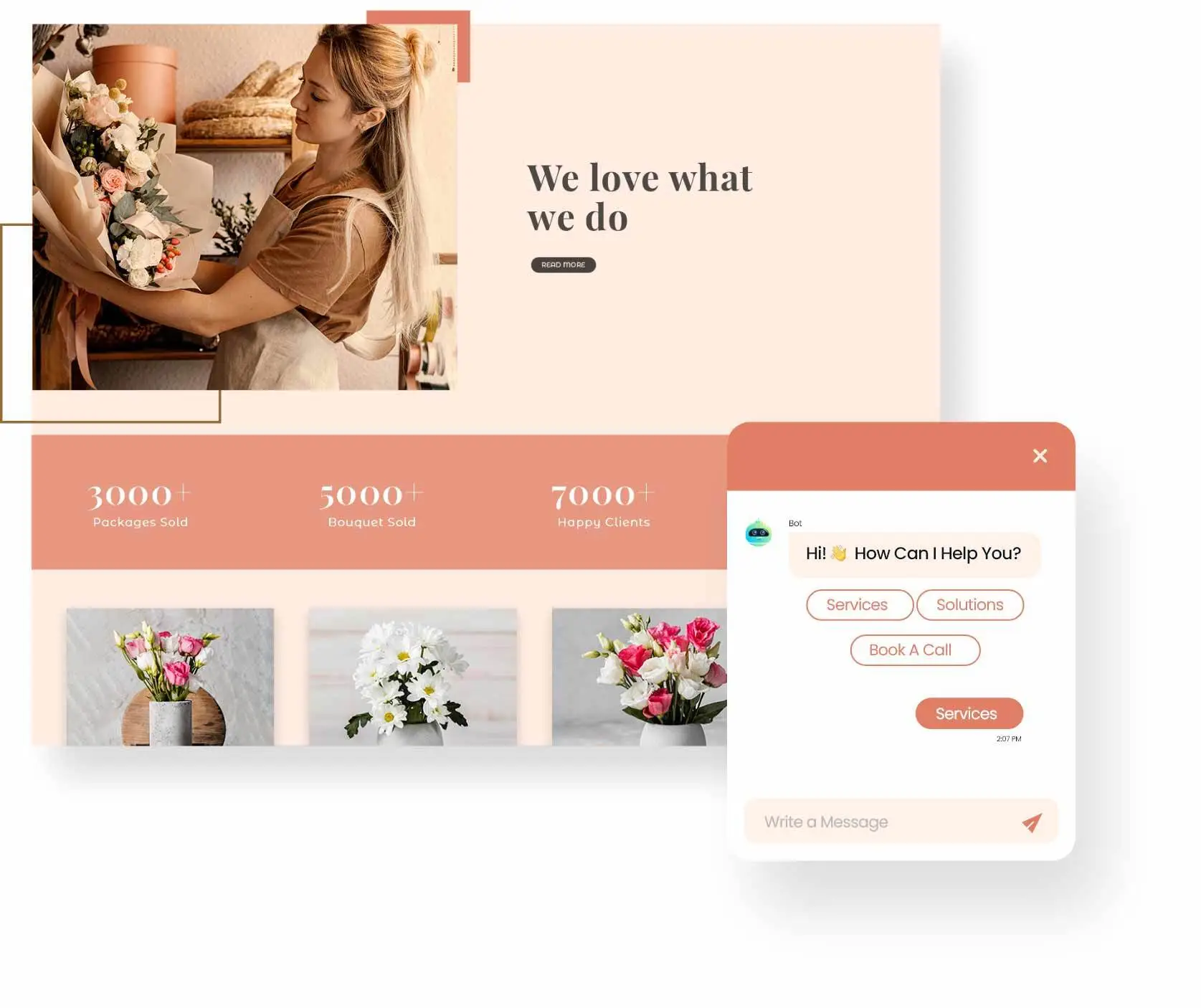 Automated Messages
Text messages that are planned are automated texts. They are pre-written letters that are automatically forwarded to a recipient on particular dates and at particular times. They lead to a quicker, more individualized relationship with your contacts.
Saves Time & Gets Better Results
Structured Plan & Fewer Mistakes
Instant Communication
Conversion Rate Increases
Alluring Visuals
Since it makes it easier for consumers to understand your specific services and recall your brand value, visual consistency is crucial. It also denotes excellence. You can probably offer a well-presented service if you have taken the time to think optimizing your event planning portfolio & image gallery.
Create A Strong And Positive First Impression
Build Professional Relationships
Encourage Flawless Communication
Increased Site Usability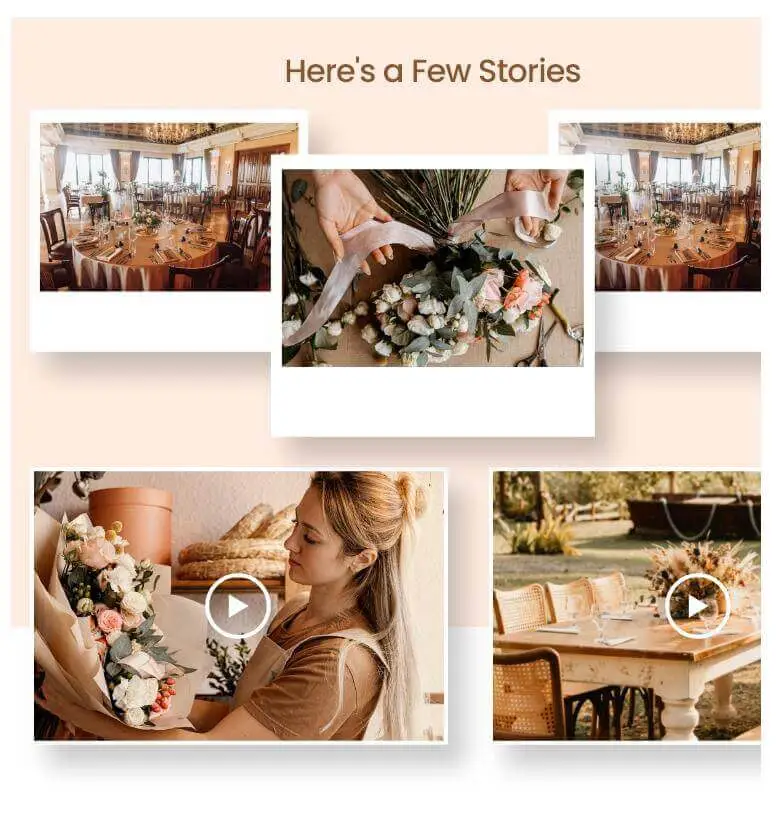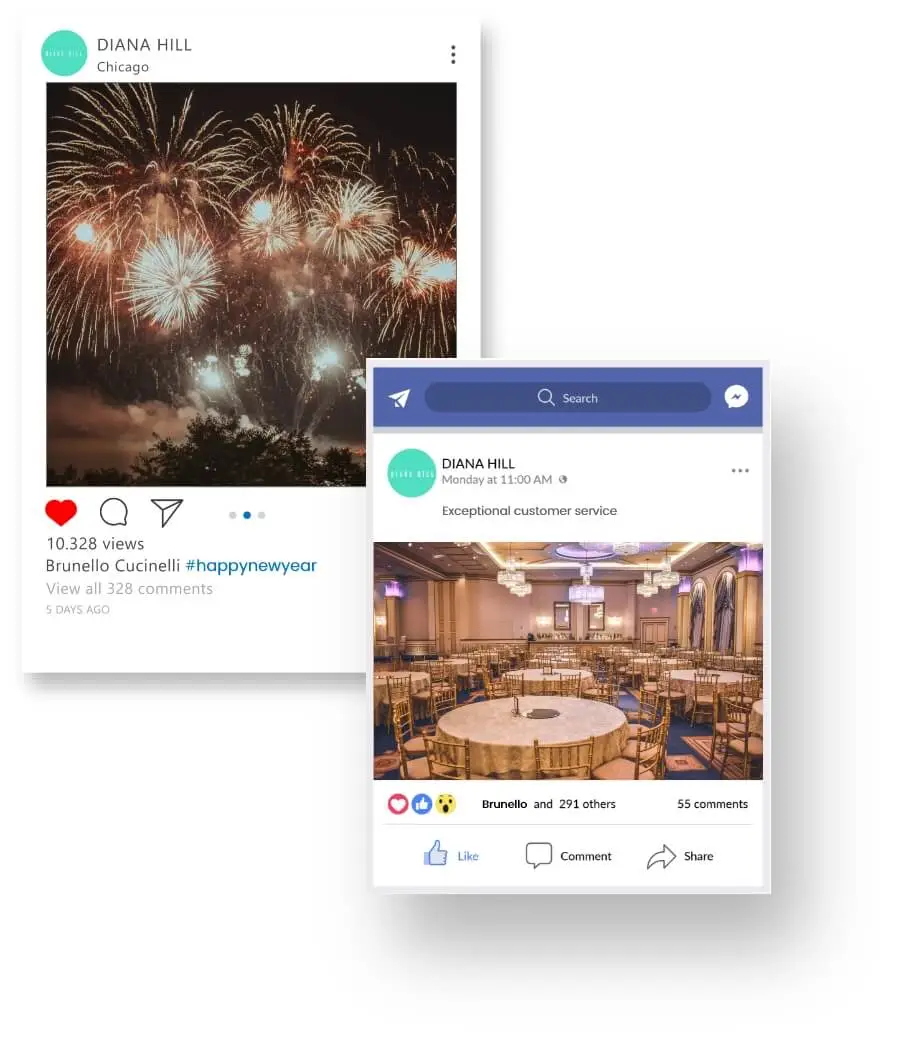 Shout-Out: Digital Marketing
According to a report, sponsoring is a top priority for 85% of marketers. Digital Marketing is the cherry on that cake. Seize their day by posting recent events, sponsors and stories on social media platforms and ads while leading more events and customers.
Grabs Online Presence
Tells Exceptional Stories
Builds Customer Engagement
Impacts Buying Decisions
Email Marketing
Due to the large part to its simplicity and frequent automation, email marketing is one of the best-performing marketing tactics. Now ping your customers by updating them about your upcoming events, offers and announcements in just a click!
Low-Cost Marketing Strategy
Deliver targeted messages
Emails Mean Higher ROI
Instant Communication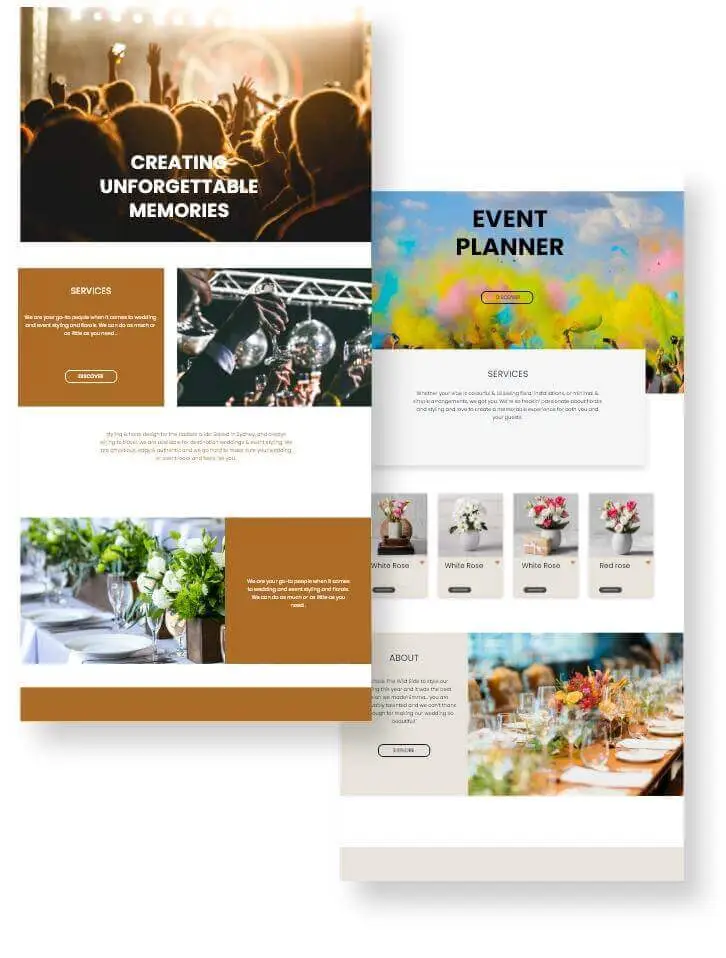 Solid Lead Generation Plan
For Your Event Planner Website
Search Engine Optimization (SEO)

With our smart search engine optimization techniques, get recognized by search engines and your global-local visitors. Helping searchers find your services within seconds with superfast page landing and full-on page optimization.

Deep Keyword Research

Mobile-Responsive Website

Resourceful Site & Backlinks

Organic Lead Conversion
Content Management System (CMS)

Utilize our strong content management platform to take your services to the next level in the profound content field. The CMS team is adept at writing keyword-rich and well-managed content for your services at their best creative end.

Lead-Generating Links Wrapped

Complete Content Optimization

Increased Conversion Potential

Improved Brand Recognization
Targeted Pay-Per-Click (PPC)

We don't leave your custom PPC Ads just floating on the web but also retarget the users to multiply every click. By placing your ads on popular sites, your browsers become buyers.

Real-Time User-Targeted Ads

User Tracking and Analysis

Garner Immediate Results

Attractive Visual Elements
Lead Generation Magnet

Our lead generation magnet offers your visitors free assets and special deals like free webinars, e-books, discounts, and whitepapers to exchange their email/contact details significantly.

Drives Instant Sales

Spreads Brand Voice

Shared Interests & Goals

Builds User Community
Responsive Event Planner Website
Design Pleases User Experience
Attract Wider Audience
Laying across your website as responsive as it should be. The more customer-centric colors we'll add, the wider audience will attract and convert into sales.
Easier To Monitor Analytics
With our inbuilt responsive analytics, easily monitor your website status with a perception to meet your event targets.
4-D Designing Process
Under our design & development process, we follow four crucial steps – Discover, Define, Design & Develop to make your custom website fully-furnished and ready-to-launch.
Lower Bounce Rates
By delivering a glorifying user experience, keep your website overflowing with clicks & bookings & lower your Bounce Rates.
UI/UX Design
With a well-maintained and friendly User Interface & Design, your event planner website design will provide pleasing user navigational experience.
Boost For SEO
By incorporating fail-proof SEO techniques and advanced plugins on your website, we build a highly resonating website for you.
How We Craft And Serve
Your Event Planner Website
The Innovative Design Process
STEP 1
DISCOVER
Our team engages in extensive research to discover your specific needs and provide you with tailored solutions.
STEP 2
PLANNING
The planning involves robust mapping and preparing a blueprint for the entire project and procedures.
STEP 3
DESIGN
During the design phase, our UI/UX design team prepares a user-friendly design for delighting your users.
STEP 4
DEVELOPMENT
Our back-end developers integrate and optimize your systems, our front-end developers are bringing creative and user experience to life.
STEP 5
TESTING & LAUNCH
We perform extensive system testing to validate that our deliverables are ready for the real world and your users.
FAQs About
Event Planner Website Design
Ever since, the rising competition and growth in the business world, your brand voice & reputation can lack its influence. That's why our web developers create a highly-functional Event Planner Website to support you meet your business goals successfully and run it as you wish. To get new insights follow our custom web design posts on LinkedIn.
With our post-website maintenance team, you don't have to bother about maintaining your website. We can refurnish your website on a regular basis with advanced and powerful features such as SEO Optimization, Update Checks, Usability Testing, New Plugins etc. maintained by our web experts.
We consider all clients equally, so we have different affordable packages available according to your requirements. From small-size services to large organizations, we provide Event Planner Website Design services to all. To know more check our PPC Marketing Agency page.
Before finalizing any design, we consult with our respective clients about whether to add/omit any element. We patiently provide them with the time and space to think and share their fresh ideas with us. For more updates, you can check out Keyideas work portfolio.
Mordy Karsch
Giving Back Promotions, San Francisco, CA
I had an amazing experience working with Keyideas - an excellent team of developers.

Isaac Gottesman
dimendSCAASI, Chicago
I would not hesitate to recommend Keyideas as a superior development house.

Lets Do Great Work Together!
Discuss your ideas. Connect now
We've successfully delivered over

leads for the client