Catering Web Design
&

Development Agency
Blend your Catering Website with our exclusive Catering Website Design features.
From Mouth-Watering pictures to Event-Specific galleries, Website Design For Catering Business covers all your Catering needs!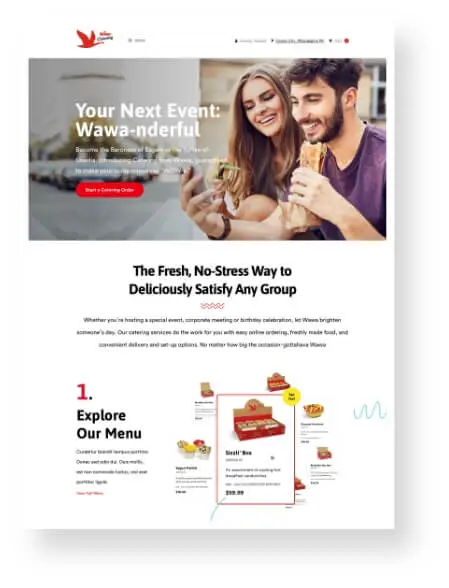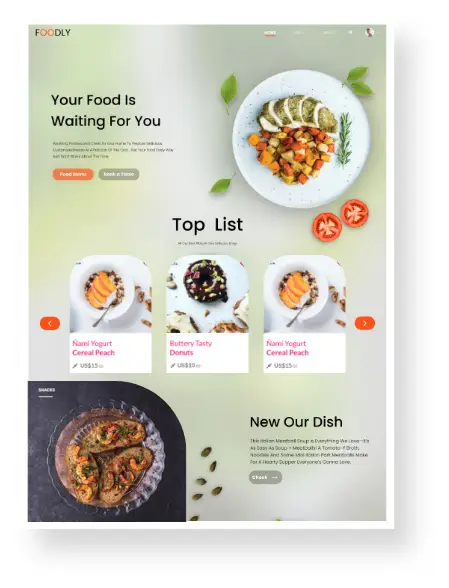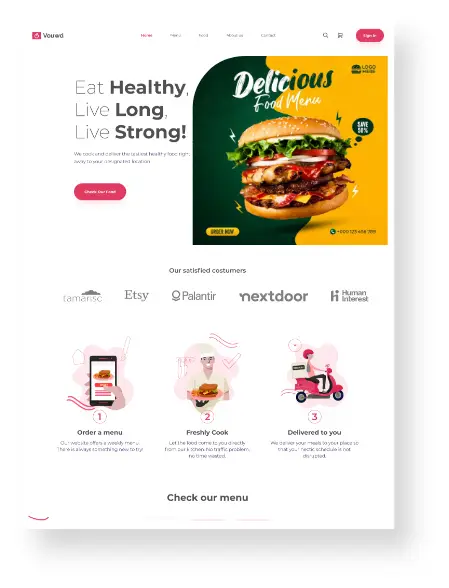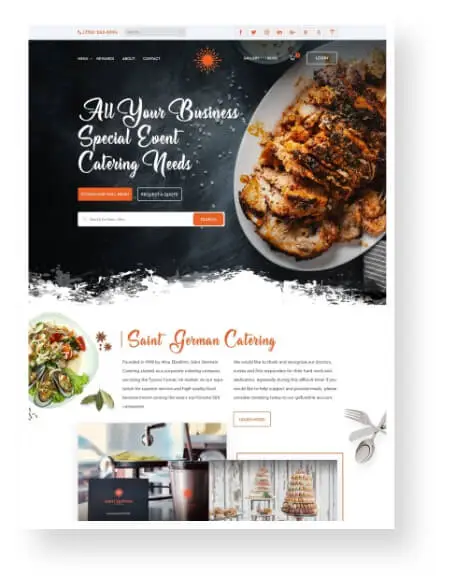 Exclusive, Indulging &

Refined
Catering Website Design
Eventful Design In Every Theme
Thanks to versatile & user-centric themes made by our web designers, your catering website design will land as eventful & professional as your events.
Handles Your Catering Goals Directly
Upscales Your Conversions by 70%
Sources Insightful Information
Aware Customers About Your Brand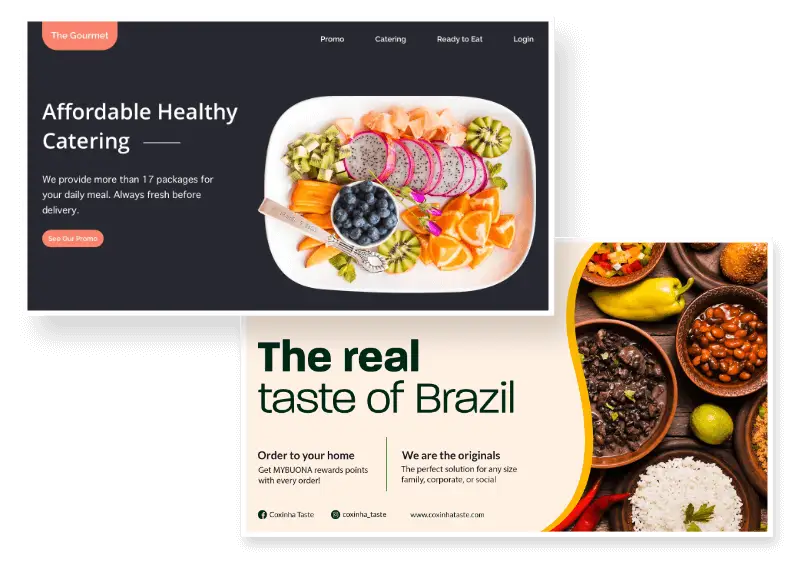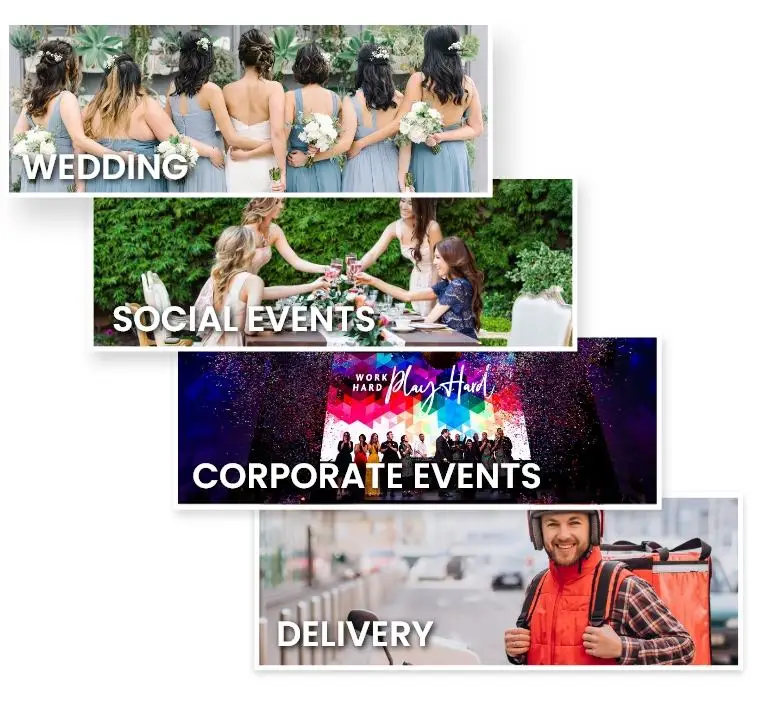 Event Segmentation
Clean and bold event segments help customers acknowledge your catering services. This section educates your customers with all kinds of Event-specific topics & details in separate sections.
Turns Rare Customers Into Permanent
Creates an Information Hierarchy
Lasting Impression on Their Minds
Engages Your Regular & Choosy Audience
Delightful & Quick Menus
Delight your guests with savoring appetizers by leading them to attractive menus, exclusive reservations, event calendars and special hosting.
Comfy, User-friendly Experience
Boosts Revenue by Cross-Selling Upsell
Develops Strong Customer Relationships
Adding creativity to the design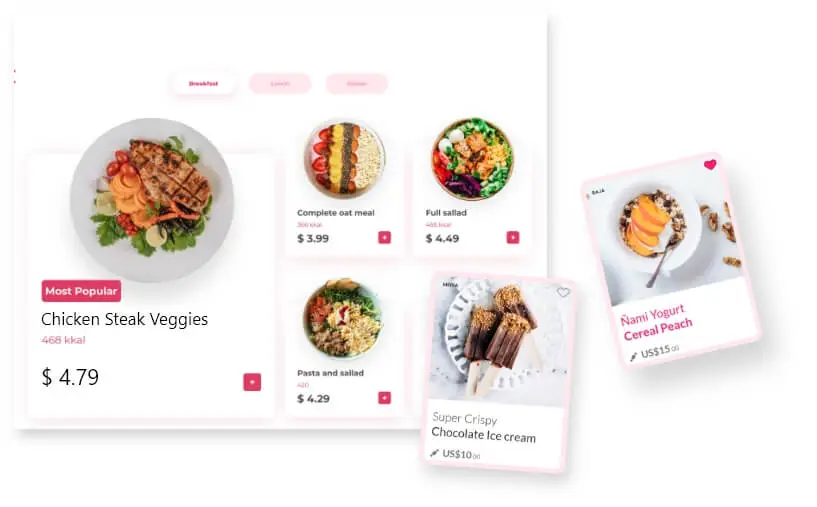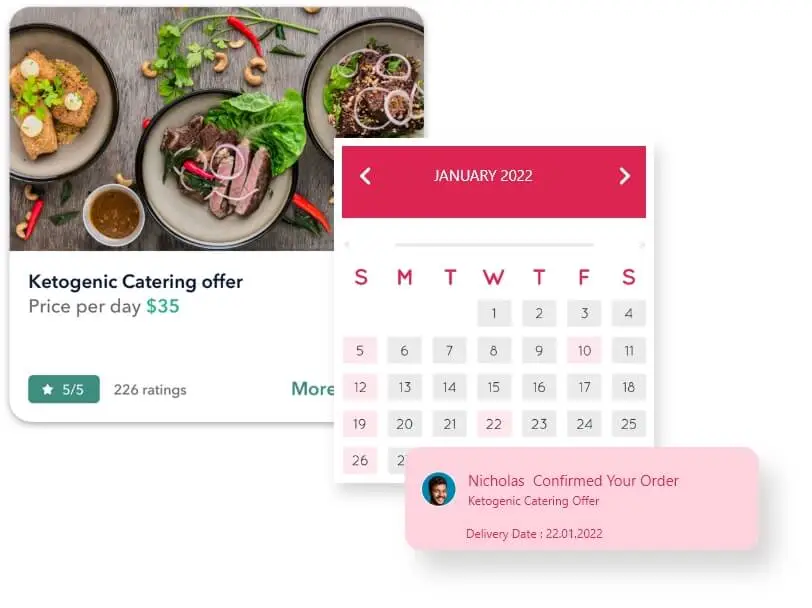 Optimized Online Ordering
Many clients prefer to organize themselves and pre-plan their bookings. Customers can submit orders days or weeks before by taking advantage of the pre-ordering advanced option.
Lookup At The Order Status in Real-time
Edit Destination Information
Automatically Sends a Confirmation Email
Good and Smooth Navigation
What's The Venue?
Either showcase your venue or let them discover your venue. Make their events your happenings! In this section, we highlight and describe the beauty of your venue.
Sensible Payment Options
Drop & Pick-up Information
Curated Selection for Anytime- Instant Booking
Attractive Image gallery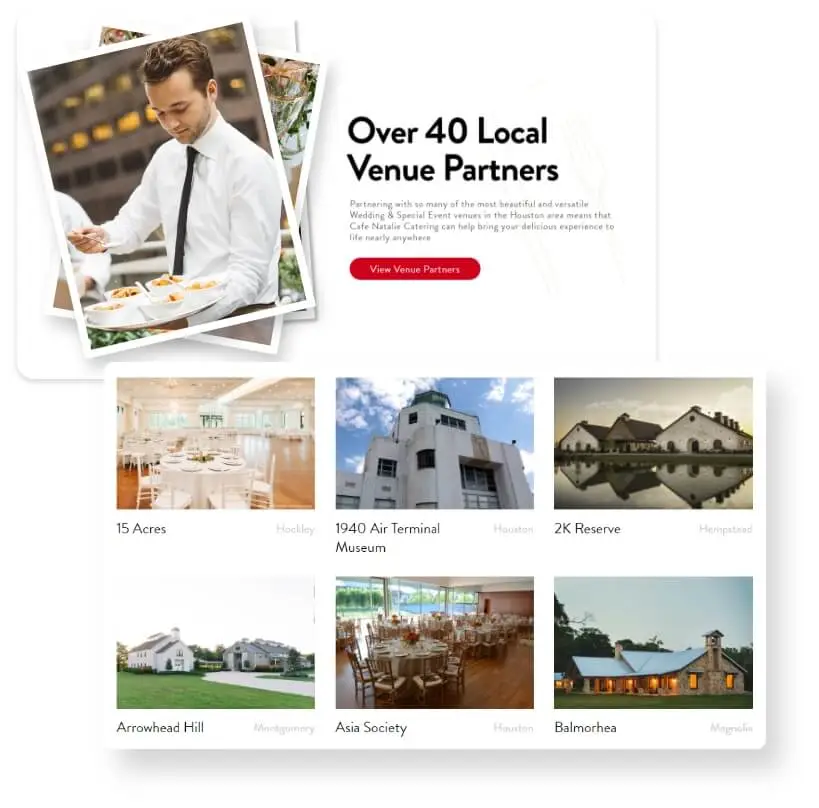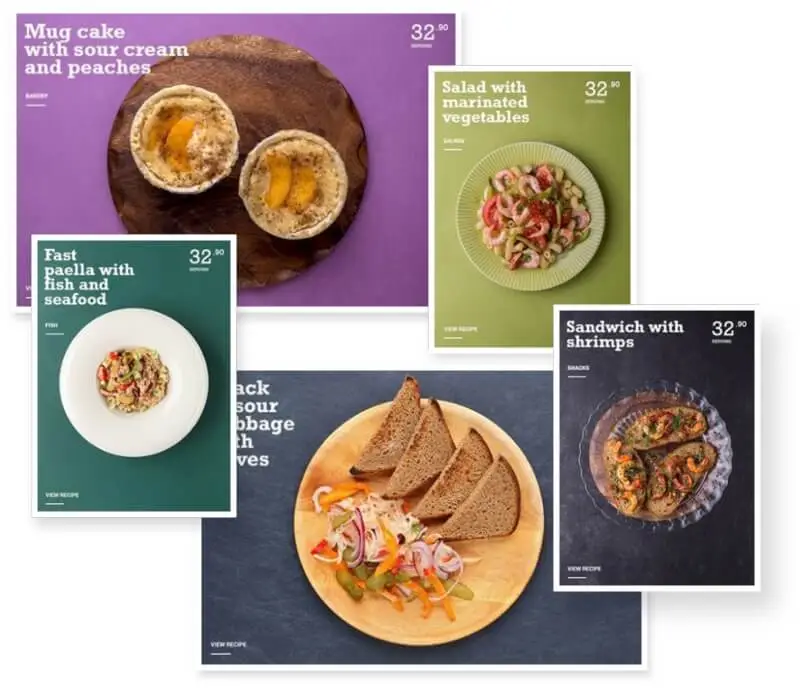 Flavorful, Colorful, and Enticing Picture Gallery
Behold their attention and indulge them in savoring images and videos. Providing them with eye-catching details and enticing captions.
More Enriching Brand Narration
Sets An Emotional-Serving Bond
Harness the Power of Experiential Retail
Keep Updating It With Latest Food-Fashion and New Dishes
Foody Blogs
Furnishing your catering website with a myriad of engaging and value blogs. By gifting your foodies with the most exciting food blogs on food hacks, premium cuisine, secret recipe ingredients, & health tips.
Encourages readers to revisit your page
Adds-in educational value
Retains Customer Interest
Strengthens Customer Relationship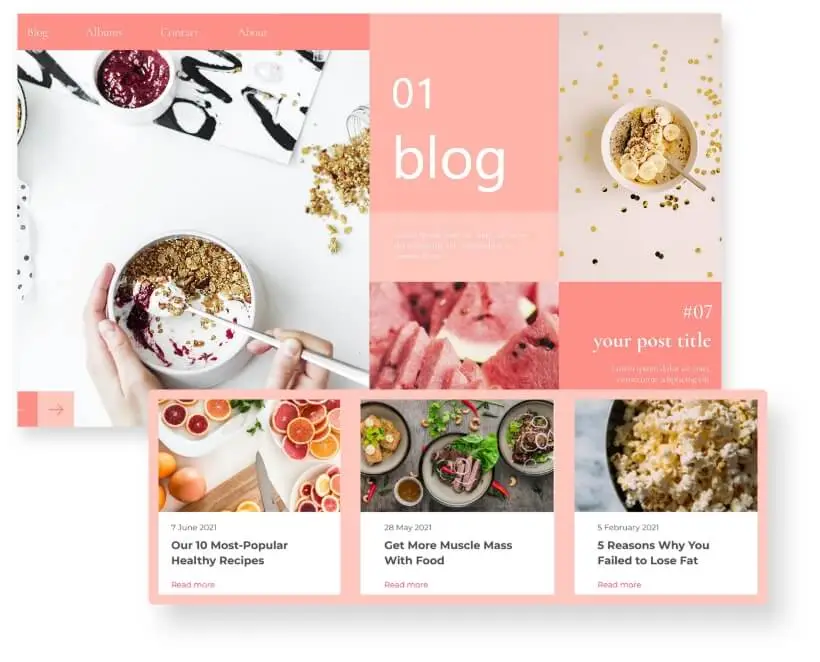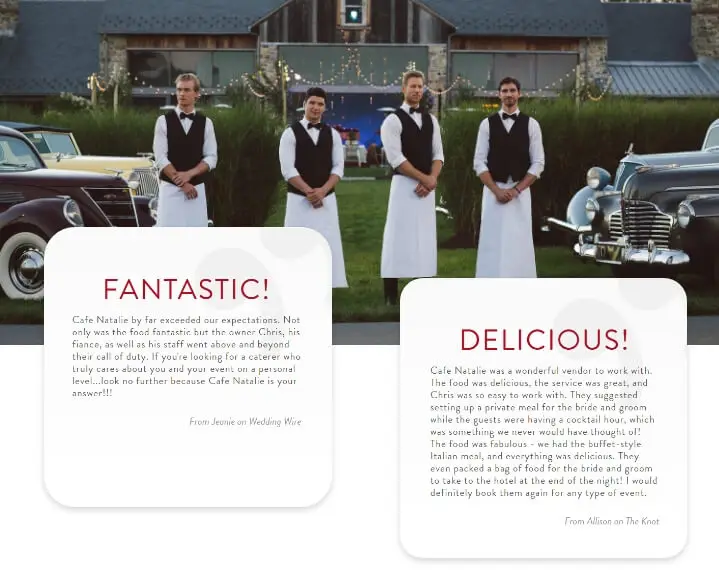 Testimonials And Reviews
Putting happy customer stories and reviews at the right section of your page. So that customers automatically take interest and understand the significance of your catering services.
Strengthens Customer-Brand Relationship
Overcome Doubts, Establish Credibility
Illuminates Visibility as a Catering Brand
Star Reviews Attains Wider Audience
Digital Marketing
Sky-rocket your Catering business with our advanced Digital Marketing services to effectively pose your Catering Services. By effectively posting on famous digital platforms- Social media, content marketing, PPC, Emails, Ads and much more.
Exceptional Client Service
Newsjacking-Based Engagement
Improve Purchase Decisions
Engages Customer Loyalty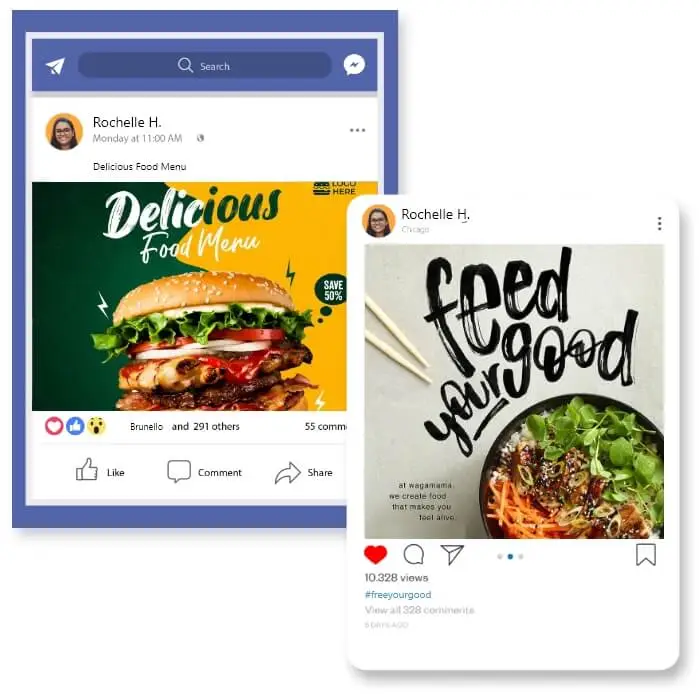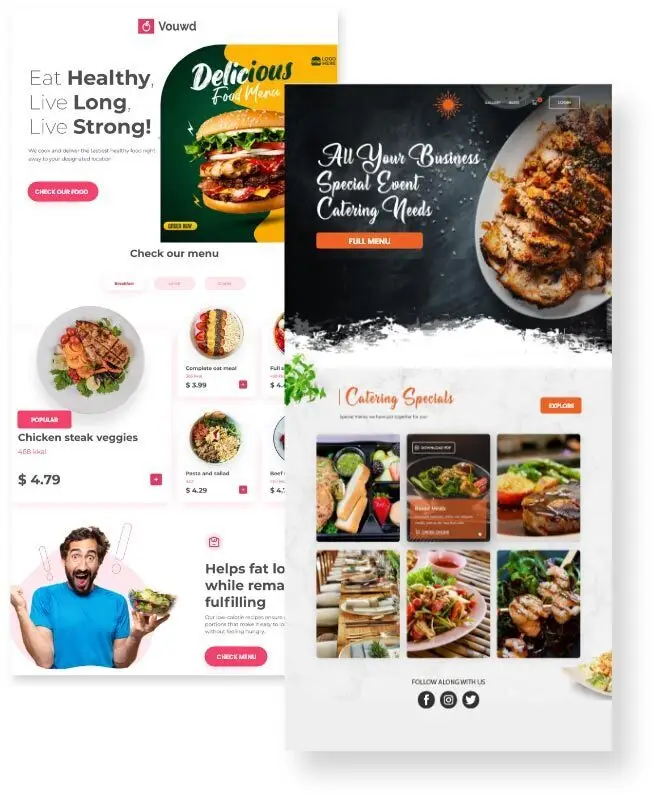 Email Marketing
Email marketing, in contrast to specific other marketing methods, enables you to communicate with your customers frequently. Get engaging and attractive email newsletters, online brochures to target a large audience.
A Cheap Marketing Avenue
Sends Specialized Messages
Emails Enjoy Higher ROI
Improves Your Omnichannel Marketing
Rock-Solid Lead Generation
Plan For Your Catering Website
Search Engine Optimization (SEO)

With our smart search engine optimization techniques, get recognized by search engines and your global-local visitors. Helping searchers find your services within seconds with superfast page landing and full-on page optimization.

Deep Keyword Research

Mobile-Responsive Website

Resourceful Site & Backlinks

Organic Lead Conversion
Content Management System (CMS)

Utilize our strong content management platform to take your services to the next level in the profound content field. The CMS team is adept at writing keyword-rich and well-managed content for your services at their best creative end.

Lead-Generating Links Wrapped

Complete Content Optimization

Increased Conversion Potential

Improved Brand Recognization
Targeted Pay-Per-Click (PPC)

We don't leave your custom PPC Ads just floating on the web but also retarget the users to multiply every click. By placing your ads on popular sites, your browsers become buyers.

Real-Time User-Targeted Ads

User Tracking and Analysis

Garner Immediate Results

Attractive Visual Elements
Lead Generation Magnet

Our lead generation magnet offers your visitors free assets and special deals like free webinars, e-books, discounts, and whitepapers to exchange their email/contact details significantly.

Drives Instant Sales

Spreads Brand Voice

Shared Interests & Goals

Builds User Community
Responsive Catering Website
Helps Diversify User Experience
Attract Wider Audience
Attract wider audience with your unique brand identity and an innovative Catering Website Design. Landing your business as an instinctive experience that customers desire to hit back & again.
Easier Monitoring Analytics
With easy monitoring, analyze your audience without huddling up with technicalities. Our fully-equipped website deliveries will process everything.
Increase Leads Generated
As more clients equal more ROI, generate ever-growing leads with the help of our uniquely blended designs made to fit your catering brand.
Smart Linking
75% of digital marketers use content marketing specially to convert links. Use our smart link building strategies to lower your bounce rates and gain regular visitors.
Easy Maintenance
Maintain only what is needed, we don't put extra weight on your website. As our effort is to prioritize your website requirements for a hassle-free user experience.
Boost For SEO
With the use of advanced keyword research and right SEO techniques, we make a boost out of SEO to easily reach out to your potential and existing customers.
How We Make And Serve
Your Catering Website
The Innovative Design Process
STEP 1
DISCOVER
Our team engages in extensive research to discover your specific needs and provide you with tailored solutions.
STEP 2
PLANNING
The planning involves robust mapping and preparing a blueprint for the entire project and procedures.
STEP 3
DESIGN
During the design phase, our UI/UX design team prepares a user-friendly design for delighting your users.
STEP 4
DEVELOPMENT
Our back-end developers integrate and optimize your systems, our front-end developers are bringing creative and user experience to life.
STEP 5
TESTING & LAUNCH
We perform extensive system testing to validate that our deliverables are ready for the real world and your users.
FAQ About Keyideas
Catering Website Design Company
Mordy Karsch
Giving Back Promotions, San Francisco, CA
I had an amazing experience working with Keyideas - an excellent team of developers.

Isaac Gottesman
dimendSCAASI, Chicago
I would not hesitate to recommend Keyideas as a superior development house.

Lets Do Great Work Together!
Discuss your ideas. Connect now
We've successfully delivered over

leads for the client