Church Website
Build Church Website

Design & Development

Company
Get ready to cherish an engaging and community-centric Church Website.
Customize, upgrade and boost your website with in-built features to drive more traffic. We Build Church Website for communities who are struggling with low website engagement. Get our Inspiring Church Website Design to help you expand your community goals throughout!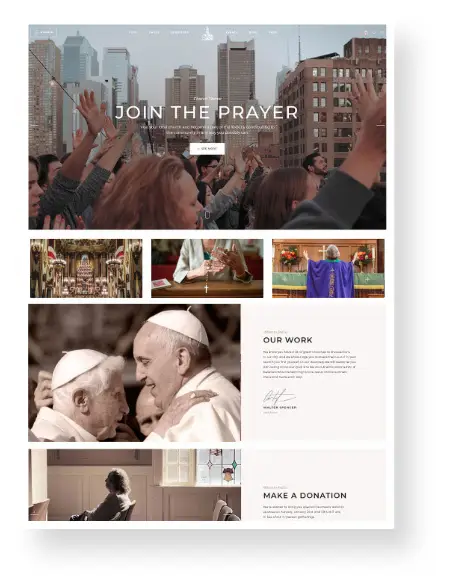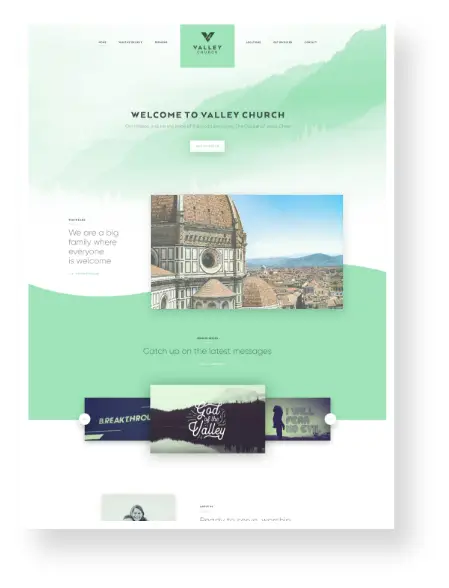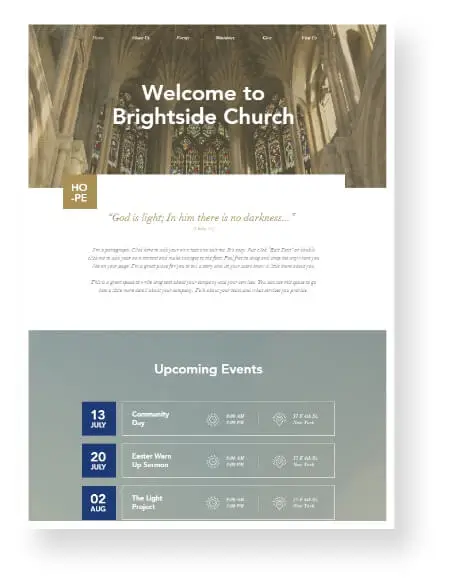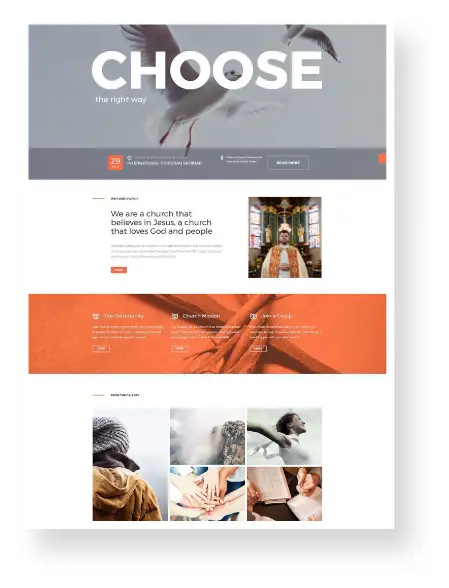 Resourceful &

Insightful
Content To Build Church Website
Thoughtful Design In Every Theme
Due to the incredibly alluring custom themes made by our team of website design specialists for churches. Create a church website that will shine and be an inspiration like you!
Supports Your Sacred Goals Directly
More Participations-Larger Communities
Insights on Sermon-Ritual Announcements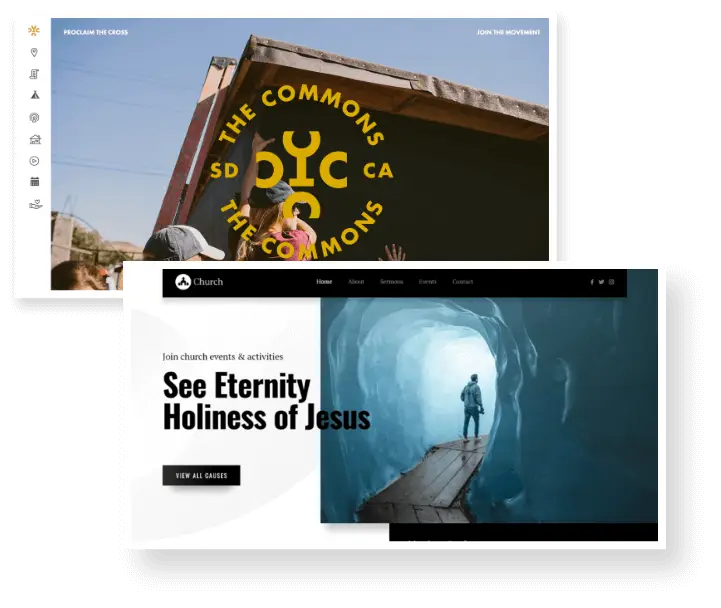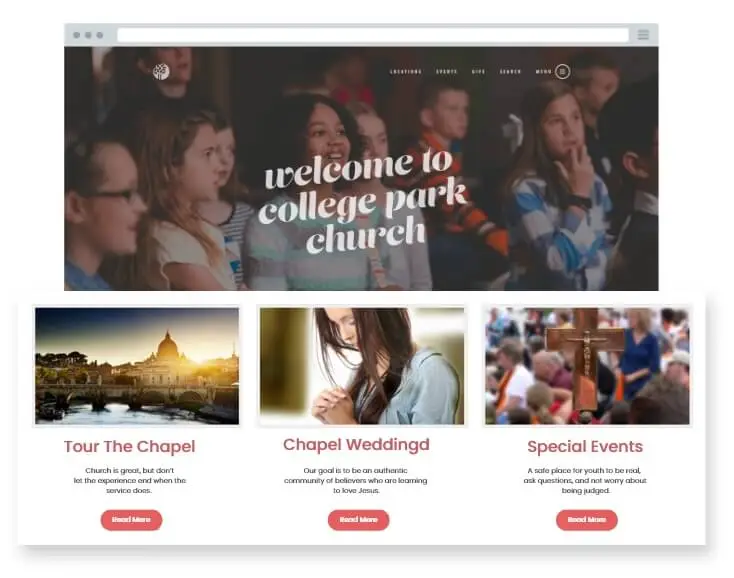 Service Information
Build church website with simple, bold and responsive service segmentations. Promoting all set of your services to get high website engagement and responses.
Assists in Converting Visitors Into Members
By Practicing So, It Creates An Awareness Series
Finalizes Amazing Outcomes- Overall Ritual Persists
Live Events & Announcements
This column features recurring live events & gatherings at your Church Ministry. Whether it is an upcoming event, current gathering or new announcement, share them actively with your community without any hassle.
Increased Mutual Participation
Engaging Holy Sermons & Sayings From Bible
Membership Benefits Section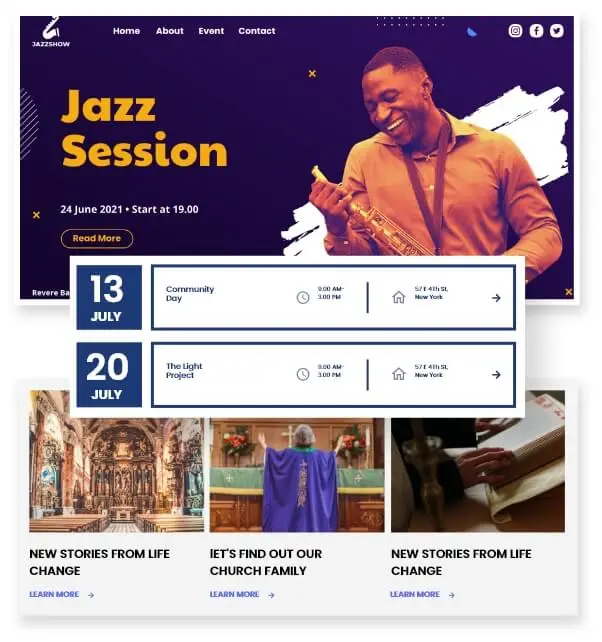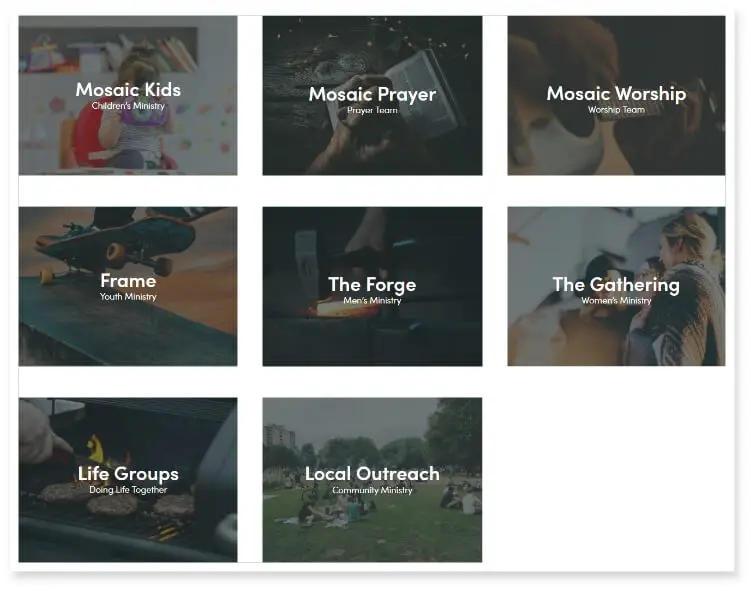 Ministry-Specific Pages
Inform website visitors about each of your church's distinct ministries. Each of these pages ought to provide a general-impressive overview of that ministry.
Goals of the Ministry
Details of the Particular Event
Contact Information of the Staff
Podcasts, Videos, Playlists, and More
By interactively posting your live sermons online, we give visitors a clearer indication of what to expect and make the gospel message accessible to anybody interested in participating.
Video & audio of sermons
Details about the sermon series
Filters for sermon date (To Search By Theme, Preacher, Etc.)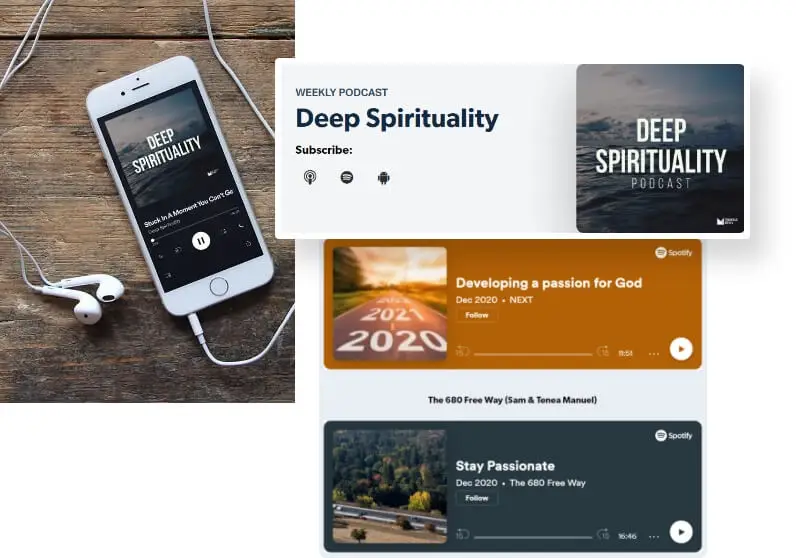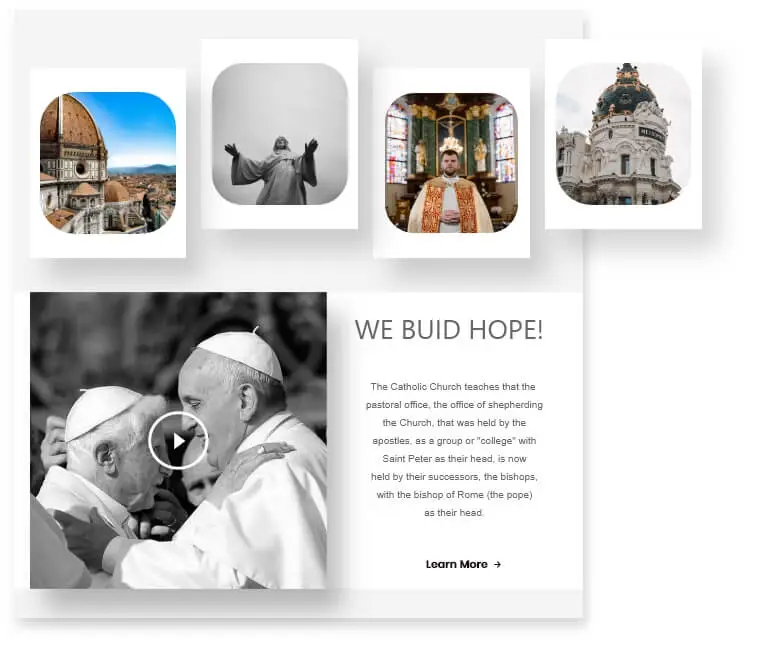 Strong Visual Storytelling
Engage people with people-centric images & interactive storytelling methods. Working to convey the necessary message, in a style that is also aesthetically pleasing.
Improves Inter-Personal Communication
Integrated and Interactive Approach
More Attractive Than Traditional
Church Website Giving Page
Attaching an easy-going and short donation page to let people easily donate funds. Your church's donation page should explain what the funds are used for by making it easy for people to donate online.
A Thank You Page
Less Information Is Required
Simple Buttons & Distraction-Free Donation Forms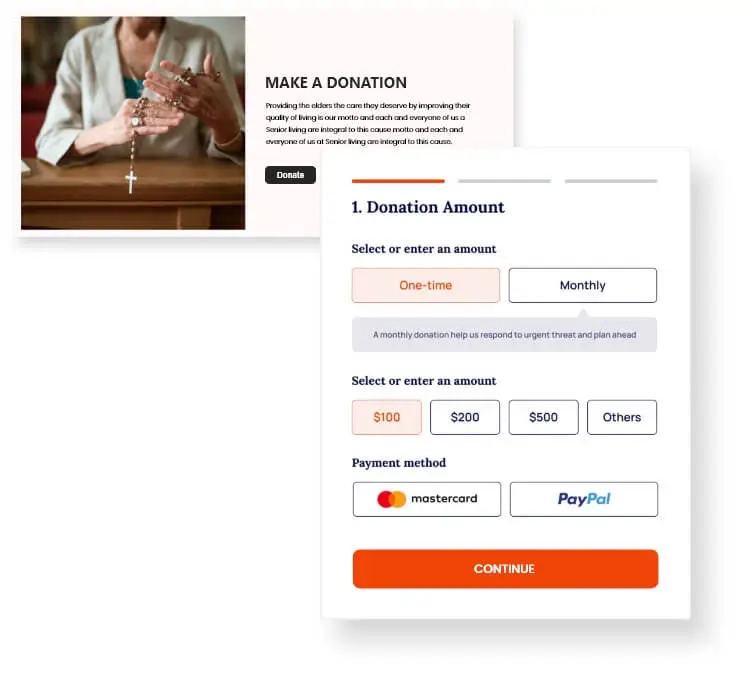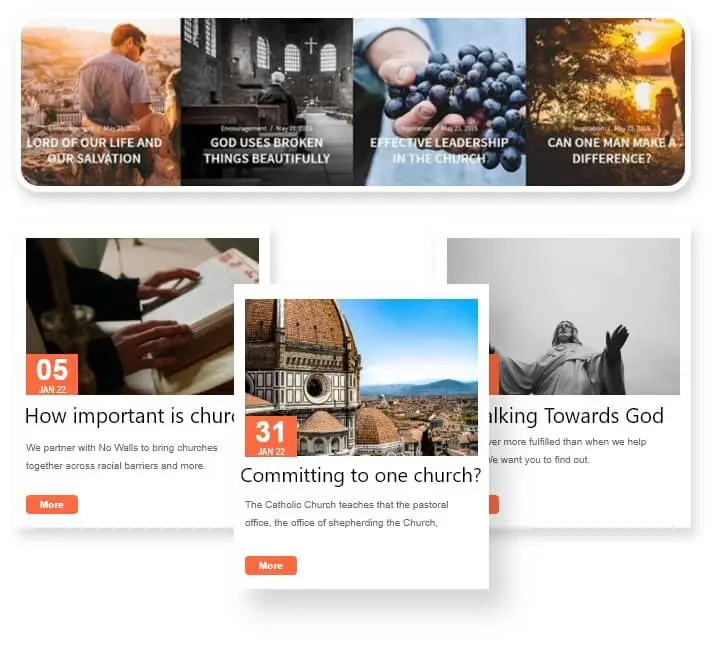 Church Blog Platform
Adding a community-centric and insightful blog can enlarge your community services. The blog which educates readers about spirituality, relevance of good services, life-lessons, church events and happenings altogether.
Improves the SEO of Your Website
Manages Online Identity and Establishes Trust
Generates Long-Lasting Effects
Digital Marketing
By utilizing social media marketing, PPC, Ads, SEO, content marketing, and emails, you can easily & effectively promote your Church Services. We offer failproof digital marketing services to easily connect you with Church followers and potential members.
Fantastic Church Community Relations
Active Participation In Events
Increased Donators- Improved Loyalty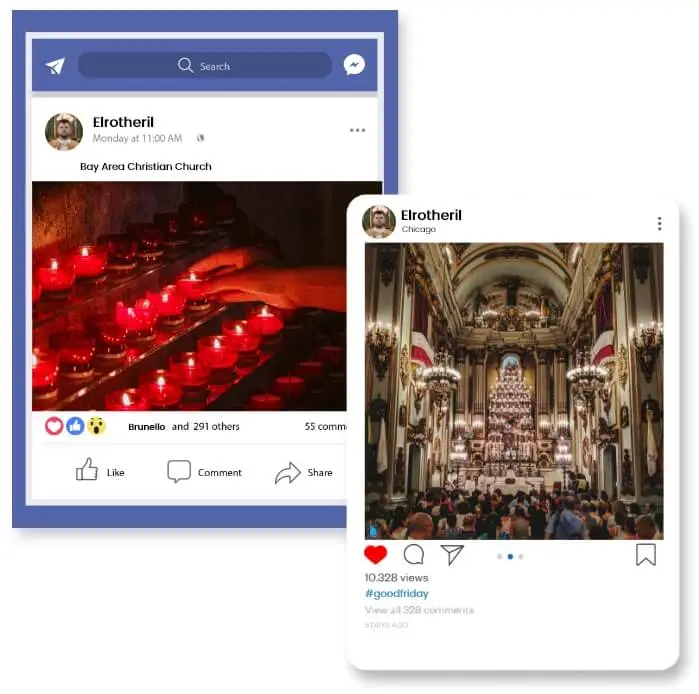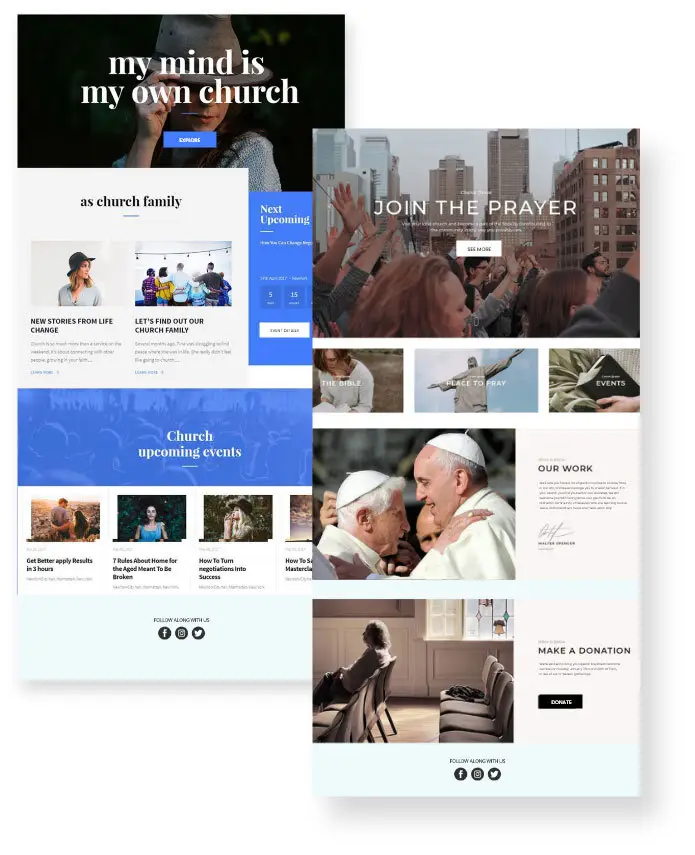 Email Marketing
In contrast to specific other strategies, emails allow you to contact visitors or potential members more often. Now spread your messages through actionable emailers, newsletters, brochures and much more.
A Low-Cost Strategy
Directly Sends Messages
Higher Engagement on Emails
Wide Multichannel Communication
Full-Proof Lead Generation
Plan For Your Church Website
Search Engine Optimization (SEO)

With our smart search engine optimization techniques, get recognized by search engines and your global-local visitors. Helping searchers find your services within seconds with superfast page landing and full-on page optimization.

Deep Keyword Research

Mobile-Responsive Website

Resourceful Site & Backlinks

Organic Lead Conversion
Content Management System (CMS)

Utilize our strong content management platform to take your services to the next level in the profound content field. The CMS team is adept at writing keyword-rich and well-managed content for your services at their best creative end.

Lead-Generating Links Wrapped

Complete Content Optimization

Increased Conversion Potential

Improved Brand Recognization
Targeted Pay-Per-Click (PPC)

We don't leave your custom PPC Ads just floating on the web but also retarget the users to multiply every click. By placing your ads on popular sites, your browsers become buyers.

Real-Time User-Targeted Ads

User Tracking and Analysis

Garner Immediate Results

Attractive Visual Elements
Lead Generation Magnet

Our lead generation magnet offers your visitors free assets and special deals like free webinars, e-books, discounts, and whitepapers to exchange their email/contact details significantly.

Drives Instant Sales

Spreads Brand Voice

Shared Interests & Goals

Builds User Community
Responsive Church Website
Design Helps Unify User Experience
Attract Wider Audience
With our highly-responsive web designs, secure new visitors and members as they get attracted to your gospel services laid down on a featureful & attractive website.
Easier Monitoring Analytics
With easy monitoring, analyze your audience without huddling up with technicalities. Our fully-equipped website backs up every element.
Increase Leads Generated
As more clients equal more ROI, generate ever-growing leads with the help of our uniquely blended designs made to speak for your services.
Lower Bounce Rates
More engagement results into lower bounce rates. Equip your website with our latest designs and strategies to gain consistent participants.
Easy Maintenance
Maintain only what is needed, we don't put extra weight on your Church Website. As our effort is to prioritize your website requirements for a hassle-free user experience.
Boost For SEO
The overall trackable web traffic coming from organic searching is 53%. With the use of advanced keyword research and SEO techniques, we make sure that users search your naturally and organically.
How We Plan &
Build Church Website
The Innovative Design Process
STEP 1
DISCOVER
Our team engages in extensive research to discover your specific needs and provide you with tailored solutions.
STEP 2
PLANNING
The planning involves robust mapping and preparing a blueprint for the entire project and procedures.
STEP 3
DESIGN
During the design phase, our UI/UX design team prepares a user-friendly design for delighting your users.
STEP 4
DEVELOPMENT
Our back-end developers integrate and optimize your systems, our front-end developers are bringing creative and user experience to life.
STEP 5
TESTING & LAUNCH
We perform extensive system testing to validate that our deliverables are ready for the real world and your users.
FAQs About Keyideas
Build Church Website Design
In the ever-growing web world, everyone is expanding its services & reputation. We build church website that is highly-functional, inspired by our UI/UX design work and SEO strategies. So that it will incorporate directly with your Church Service goals while flourishing them online.
With Keyideas on board, you don't have to worry about the maintenance of your website. We furnish your website with all-in-advanced features such as SEO, UI/UX, Advanced plugins & integrations, etc. maintained by our web experts. We also offer 100% post-website maintenance & support.
We understand your budget needs that is why we have provide different affordable packages available according to your website requirements. From small-size services to large organizations, our Website Design and Development Company provides quality and affordable Church Website Design facilities for all.
Yes, after building your church website design and launching it successfully, we can also promote it along with your services and recent works. You can check out our Digital Marketing Agency Services page for more info.
Mordy Karsch
Giving Back Promotions, San Francisco, CA
I had an amazing experience working with Keyideas - an excellent team of developers.

Isaac Gottesman
dimendSCAASI, Chicago
I would not hesitate to recommend Keyideas as a superior development house.

Lets Do Great Work Together!
Discuss your ideas. Connect now
We've successfully delivered over

leads for the client