Develop Online Auction
Website

& Get Highest Bids!
Be On-Demand with your highly-active Auction Website Design and Development. Whether to boost your business capabilities or hit the revenue bars, we help you with our onboard web services. Develop Online Auction Website to get feature-rich and sales-centric auctioneers website.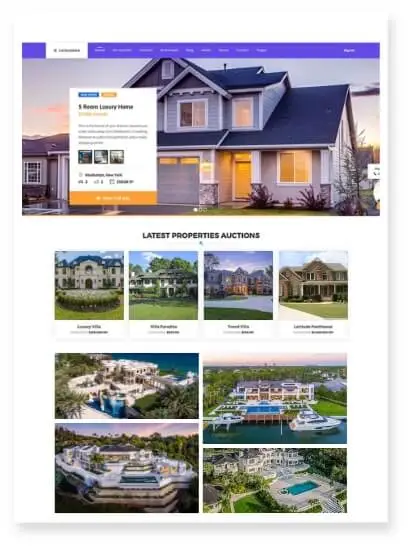 Intriguing

Content
For A Perfect Auction Website
Thoughtful Design In Every Theme
Get custom-made designs weaved to match your brand identity. Thanks to gorgeous themes made by renowned designers, your Auction Website will look polished and professional on every device.
Supports Your Business Goals Directly
Conversions are Up
100% Original Designs
Enhances Brand Awareness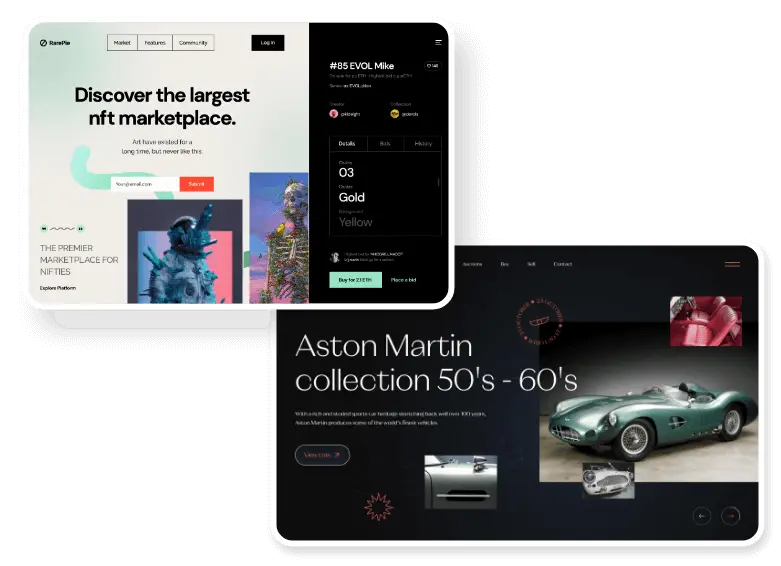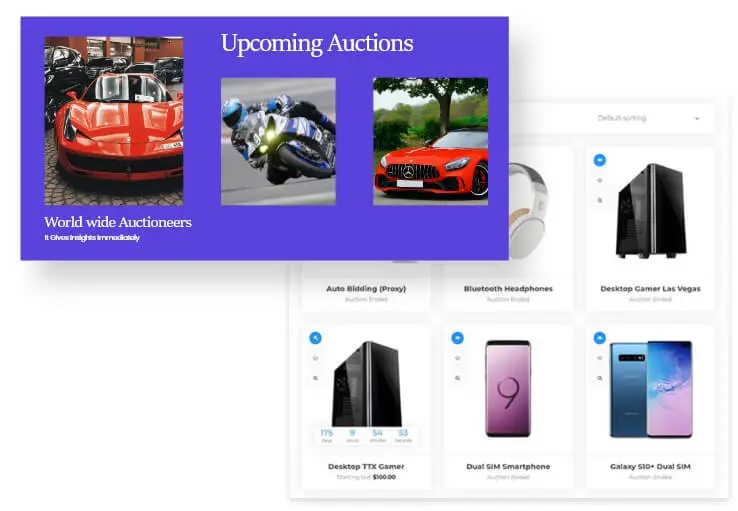 Start Your Shop With A Perfect Layout
Do you know most of the users prioritize UX/UI designs that are highly personalized and intuitive? To serve a large set of customers, get our customer-focused UI designs for a seamless user experience.
Aids in Turning Traffic Into Leads
It Drives Conversion- Boosts Even Satisfaction
Affordable & High-Quality
Sharpens Your Business Voice
Advanced Filter System
Adding advanced filter and search options on your website to get faster conversions. The impressive tag features highlight the key specifications and showcase your specific offerings.
Active Bidders
Filter By Price
Auction Time
Product Type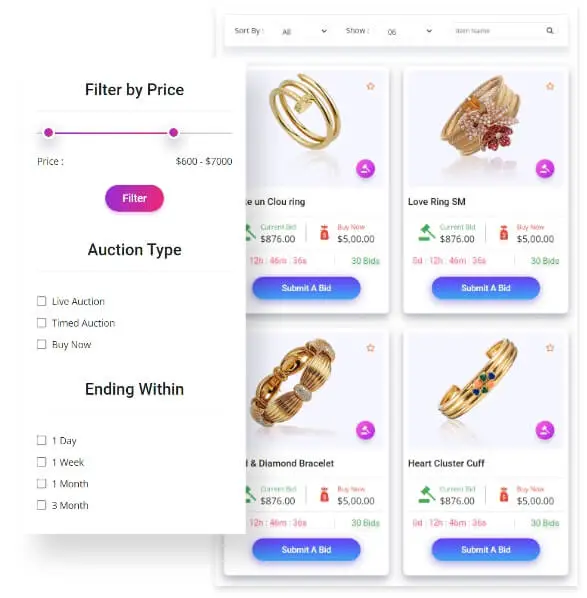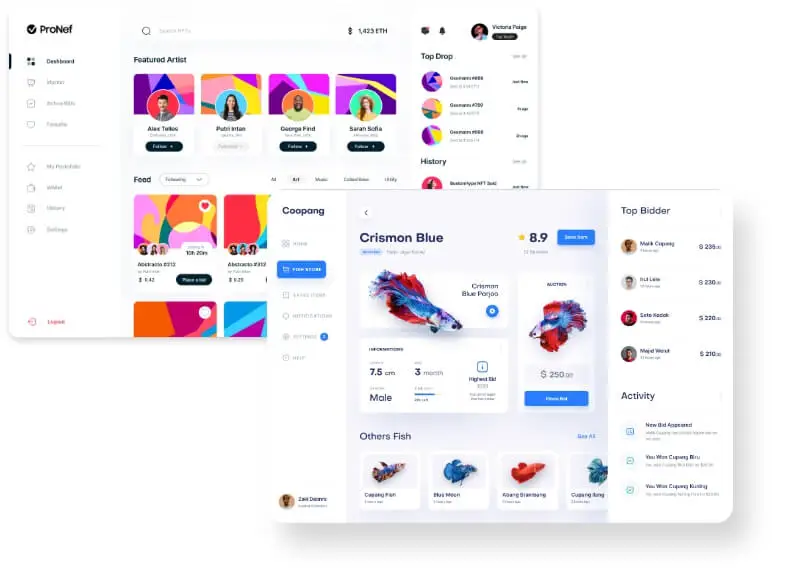 Dashboard To Make More Informed Decisions
Use clean & responsive dashboard features to derive better and informed decisions. It lets you to track performance, generate reports, and set budgets and goals for upcoming tasks.
Gauge effectiveness
Spot Trends in a Simple Approach
With One Click, Create Detailed Reports
Cherish Transparent Systems, Initiatives, and Operations
Product Auction Information
Creating a flawless and bold auction product specifications with 3-D product images. Share distinctive product offerings and updates effectively.
Long-Term Results
Aids in Turning Traffic Into Leads
Creates an Information Hierarchy
Retains Audience Interest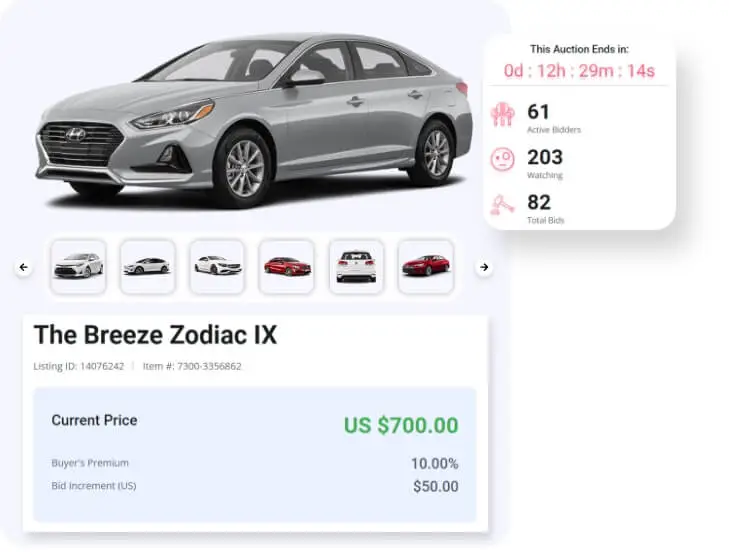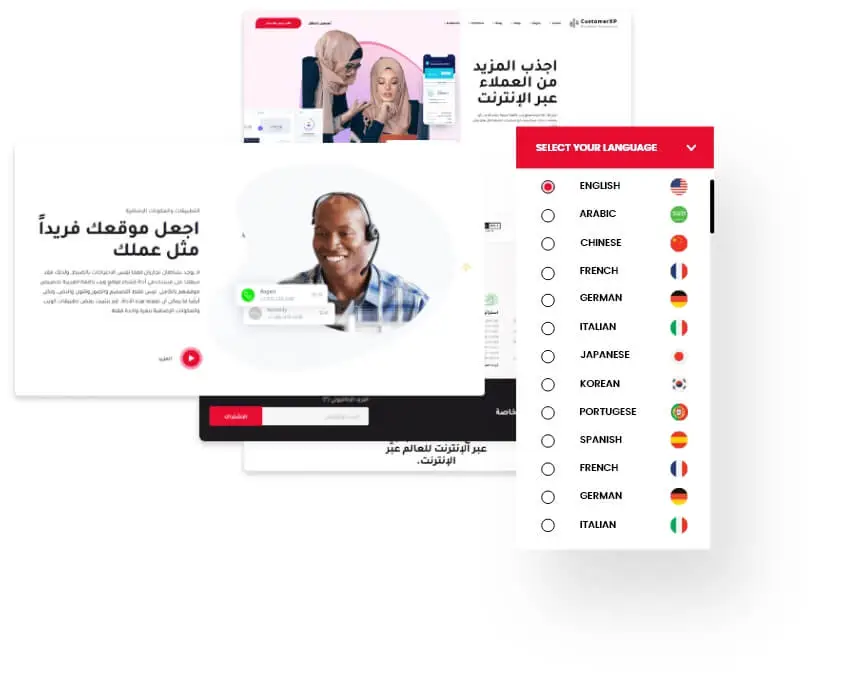 Multiple-Language Support
Equip your auction website with over 100 global languages. This is your most reliable method to attract multi-lingual customers with a multi-lingual website.
Expands Potential Market
Productivity in Finance
Builds Brand Recognition and Trust
Increases in Cost-Effectiveness of Website Translation
Latest News, Articles & Blogs
Surround your auction website with the right community and events. Expand your wide range of services with engaging blogs, news and articles.
Boosts Website's SEO
Traffic Converts Into Leads
Promotes Long-Lasting Outcomes
Popularizes Online Identity, Establishes Trust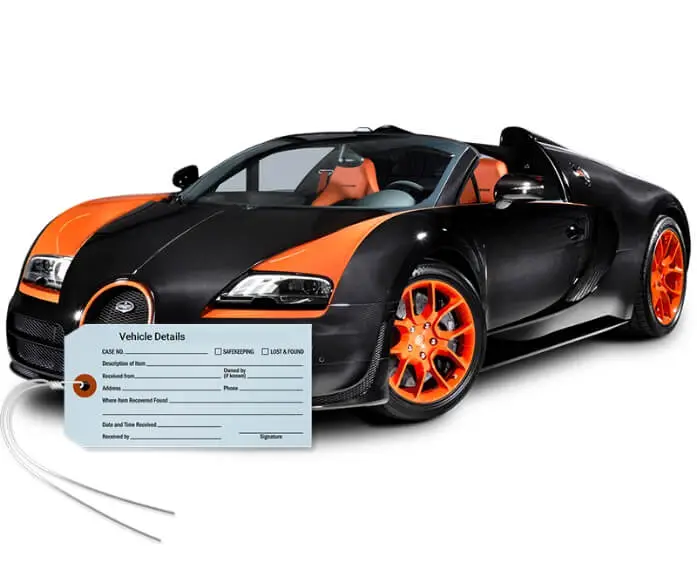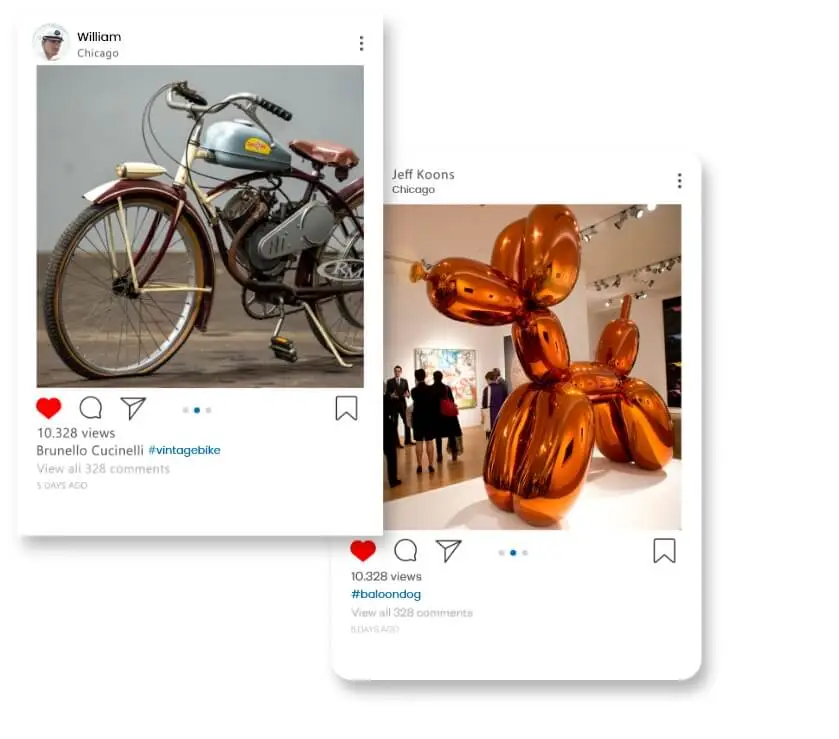 Digital Marketing
With Digital Marketing, all sizes of auctions can effectively reach out to various clients via multi-marketing channels. Such as Social Media, Ads, Content Marketing, PPCs, Emails, etc.
Vast Customer Loyalty
Outstanding Client Service
Newsjacking-Based Engagement
Recreational Buying Decisions
Email Marketing
This power tool enables you to communicate with your customers consistently and frequently. Get beautiful and customized brochures, pamphlets and newsletters with cost-friendly Email marketing services.
A Cheap Marketing Avenue
Send Specialized Messages
Emails Enjoy High ROI
Superb Omnichannel Marketing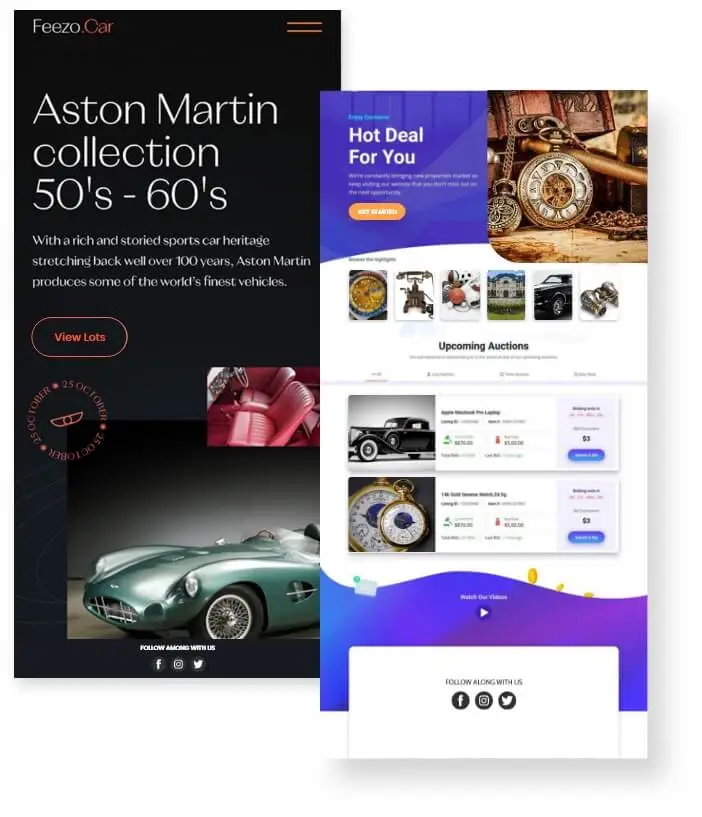 Auction Web Design Agency
To Make Your Business A Success
Develop Cutting-Edge Web Design Solutions

Whether you need a website built from scratch or a brand refresh, our team of expert designers can provide beautiful and well-designed websites that will captivate your audience from the very beginning.

An Investment Worth Making

Your professionalism will shine when customers will appreciate how specifically we have put value in your auction website design.

Increases Your Brand Value

Get your unique brand identity and an innovative web design that lands your business as an instinctive experience that customers desire to visit back & again.
Keep Traffic Flowing

Be the topper of the SERP world where you rank higher by implementing the SEO best techniques and practices on your auction website.

Drive More Business

Boost leads generated with a content strategy fabricated by us around keyword research to easily convert potential buyers into actual buyers.

Get a Custom Design

Designing a site might not sound glamorous but it will make or break how people view your business as a whole!
Responsive Auction

Website
Have Competitive Advantages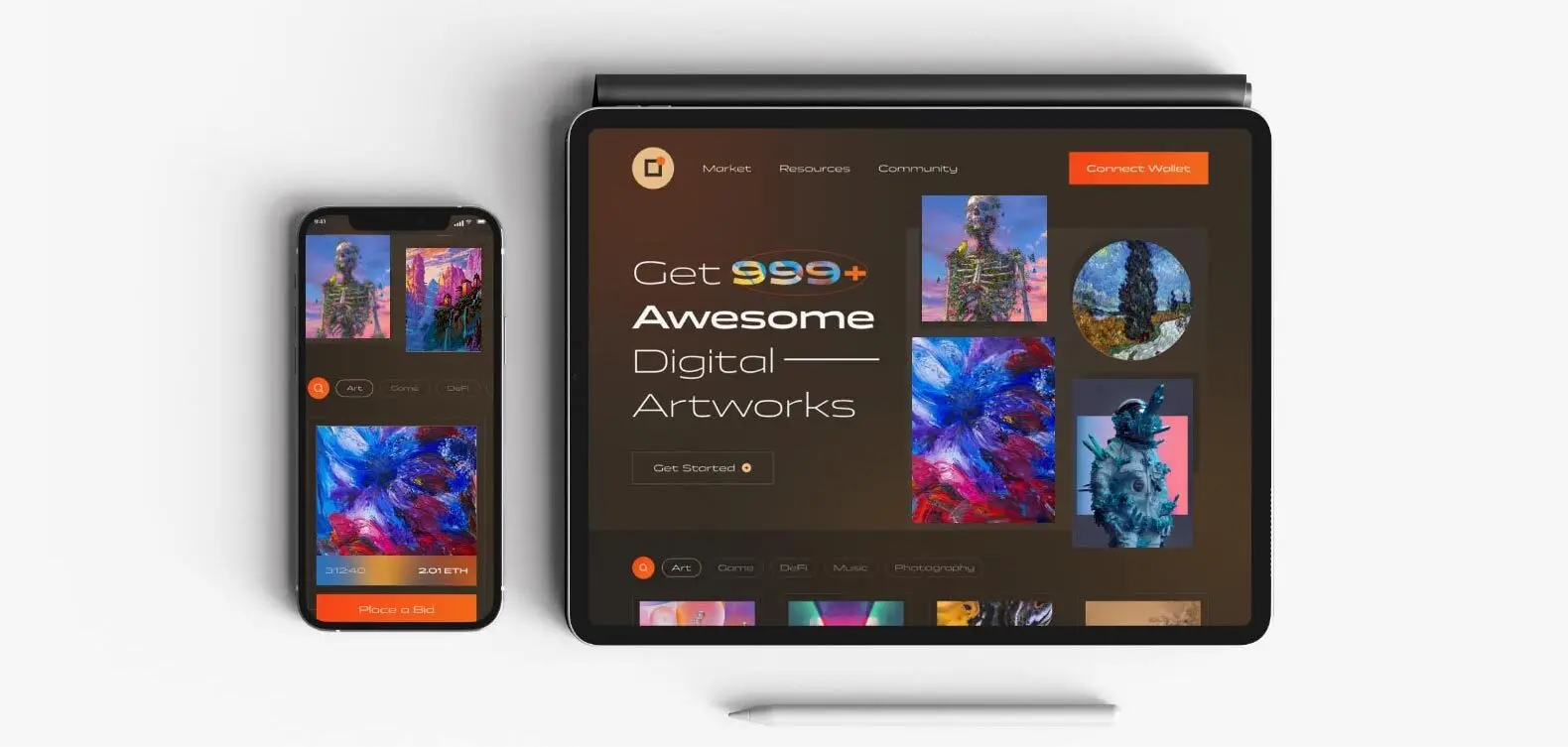 Boost Search Rankings

Do you know most of the businesses across the world are spending over $5,000 monthly on SEO services? With the right SEO, find your auction website ranking in the top 10 in every search engine and increase your customer base.

Consistency In Design And Brand

Through consistency, flourish your customer loyalty base which returns for more.
Reach More Customers

With us on board, it's only a matter of time before your customer base starts booming.

Optimize Page Experience

An optimized page experience is necessary to retain and increase customers organically.
How We Make And Serve
Your Auction Website
The Innovative Design Process
STEP 1
DISCOVER
Our team engages in extensive research to discover your specific needs and provide you with tailored solutions.
STEP 2
PLANNING
The planning involves robust mapping and preparing a blueprint for the entire project and procedures.
STEP 3
DESIGN
During the design phase, our UI/UX design team prepares a user-friendly design for delighting your users.
STEP 4
DEVELOPMENT
Our back-end developers integrate and optimize your systems, our front-end developers are bringing creative and user experience to life.
STEP 5
TESTING & LAUNCH
We perform extensive system testing to validate that our deliverables are ready for the real world and your users.
FAQ About Keyideas Auction Website Design
Mordy Karsch
Giving Back Promotions, San Francisco, CA
I had an amazing experience working with Keyideas - an excellent team of developers.

Isaac Gottesman
dimendSCAASI, Chicago
I would not hesitate to recommend Keyideas as a superior development house.

Lets Do Great Work Together!
Discuss your ideas. Connect now
We've successfully delivered over

leads for the client