Law Firms Website Design
Law Firms Website Development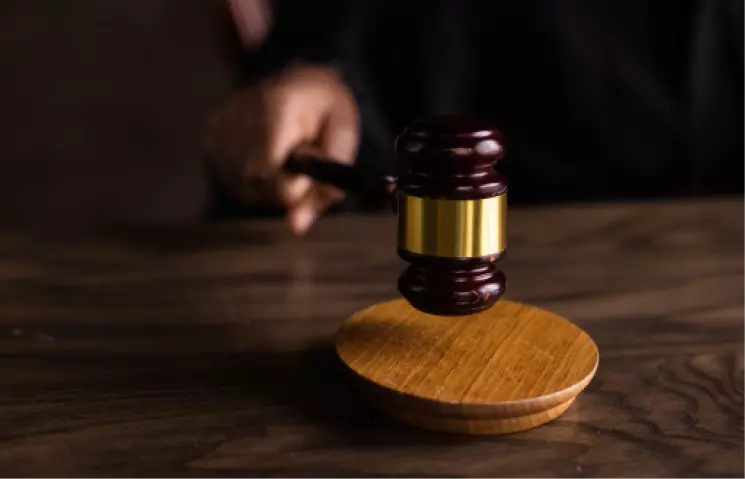 Build a Law Firms Web Design
Law Firms Web Design and development builds high-performance websites for lawyers in all practice areas
Get Our Top Expertise For Your Law Firms Web Design
Elevate your law firm's online presence with our premier web design expertise.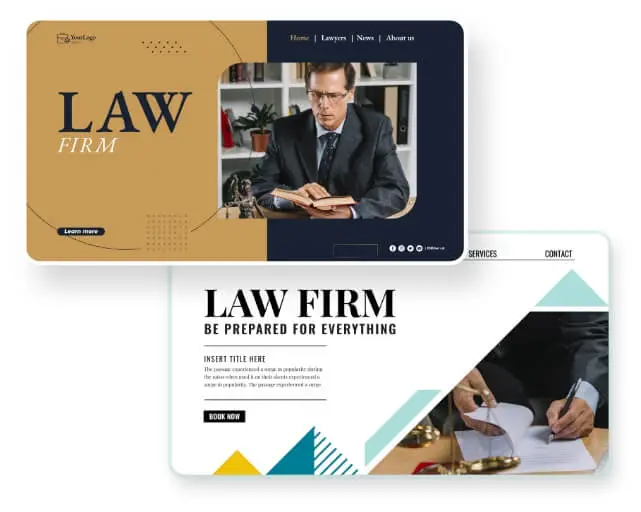 Law Firms Web Design
We work with law firms in various fields of expertise and will make sure that your website is fast and accessible so that it can connect with your ideal client.
Simple website maintenance and deployment
Create a website to increase your visibility and audience
No matter the device, easily connect with potential customers
A website that is optimized for search engines will help you outrank your rivals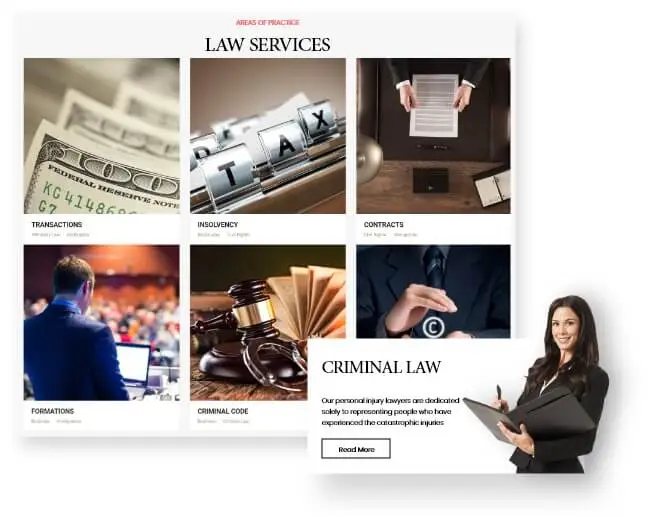 Easily Accessible Legal Practice Areas
The most useful pages for the law firm's website are the practice area pages. A list of practice areas like Injury,Criminal Protection,Estate Preparation,Family law, divorce, and eminent domain that may be accessed via a drop-down menu must be part of a standard navigation menu.
Highlight your accomplishments
Preserve your brand's personality
Easy-to-use navigation
Use images of high resolution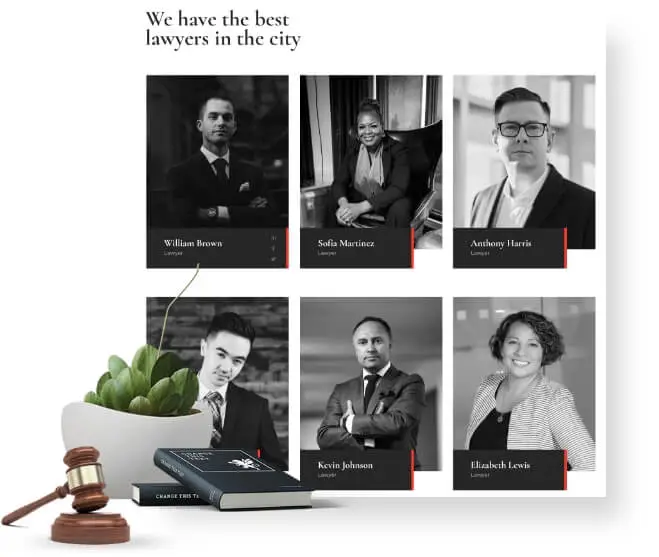 Meet The Professional Lawyers
Visitors may be impressed by firm bio pages that feature each lawyer's professional photograph. To give the visitor all the information, you need add a separate page for each lawyer.
Keep your page updated
Visitors can access this quickly
A conventional lawyer bio page
Establishes your legitimacy as a business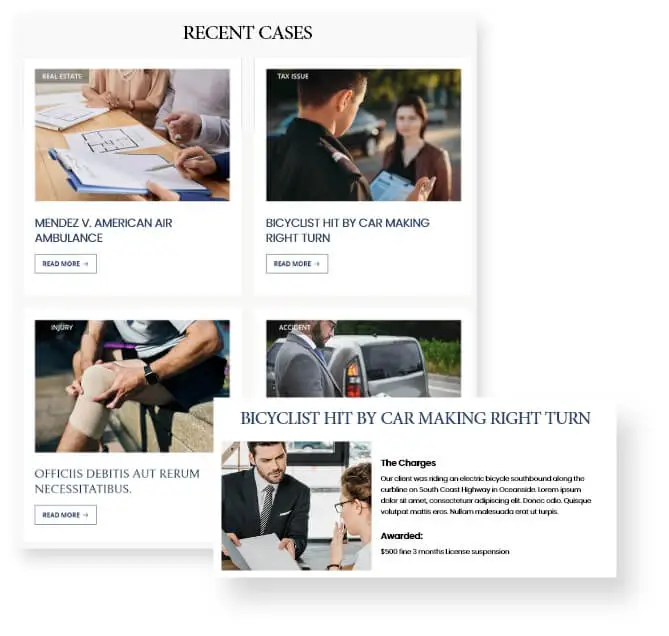 Case Results
Case results give lawyers a special chance to reflect themselves in front of potential clients, enabling them to see a successful outcome with your assistance.
Make a good impression on potential customers
Understand the clients needs
Be persuasive and provide a great deal of context
Improves Chances Of Gaining Customers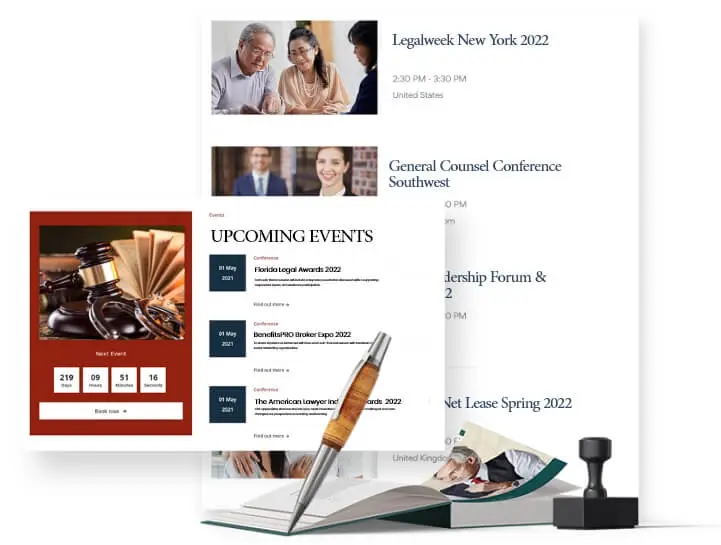 Create Legal Events
With the help of an events module, law firms can easily establish event pages, provide comprehensive details about the event, and enable website users to register for the event.
Boost participation and involvement
Information About The Contact Information And Schedule
Ease of use for signing up and receiving reminders
Exhibit pictures, videos, or summaries of previous events to advertise them.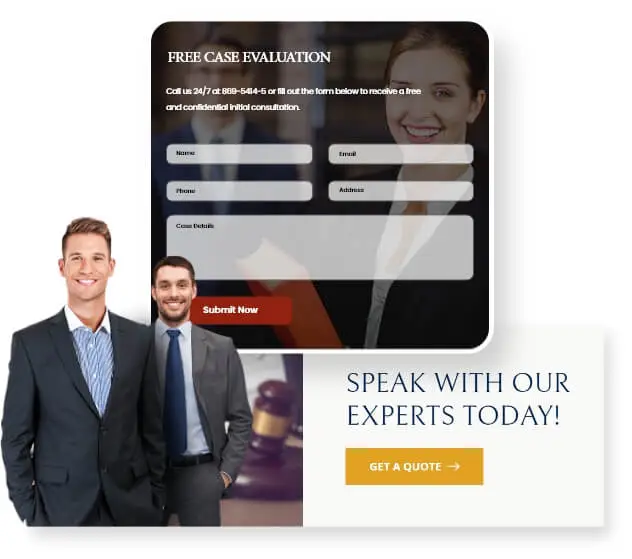 Case Consultation page
A call to action nudges site visitors to take an action, like getting in touch with you for a consultation. It can be added to your homepage, contact page, service pages, and other pages as well at the end of blog posts.
Simplified Booking Process
Push clients to seek legal counsel
Make sure the website's contact form is simple to find
Increasing the website's effectiveness for a law firm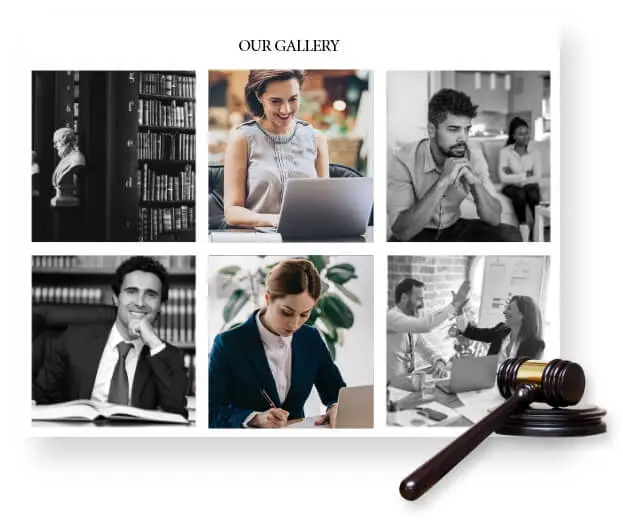 Clients Testimonials
You can add reviews from Google Business Profile, social media, listings, and other ads while creating a website for your law company. On the practice area pages and the home page, add a review section and emphasize it.
Update dynamically
Appeal SEM (search engine marketing)
Increase Using Social Media
Positivity in Expression or Response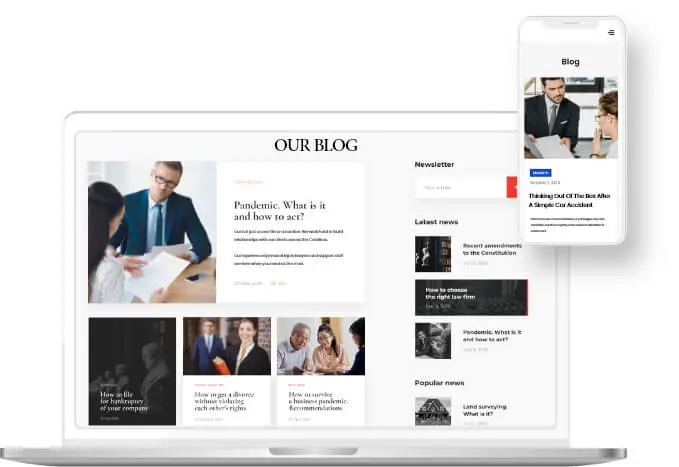 Latest News and Blogs
Lawyers can inform their clients and demonstrate their legal skills through the blog area of the law firm's website. It also provides a platform for increasing brand recognition.
Appear higher on search engine results
Increase visibility to bring targeted visitors
Easy accessible to visitors
Side bars can be added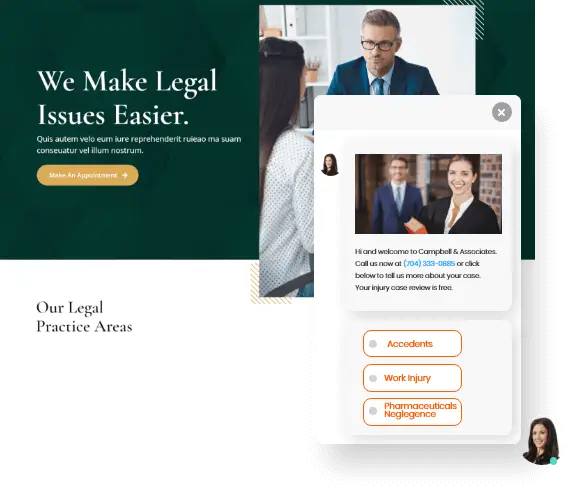 Automated Messages
You may enhance the customer care experience for visitors to your website by providing real-time chat.You will find it much easier to receive comments, gather insights, and learn what people want and need because live chat has already attracted people's attention.
Saves Time & Gets Better Results
Structured Plan & Fewer Mistakes
Instant Communication
Enhances the customer care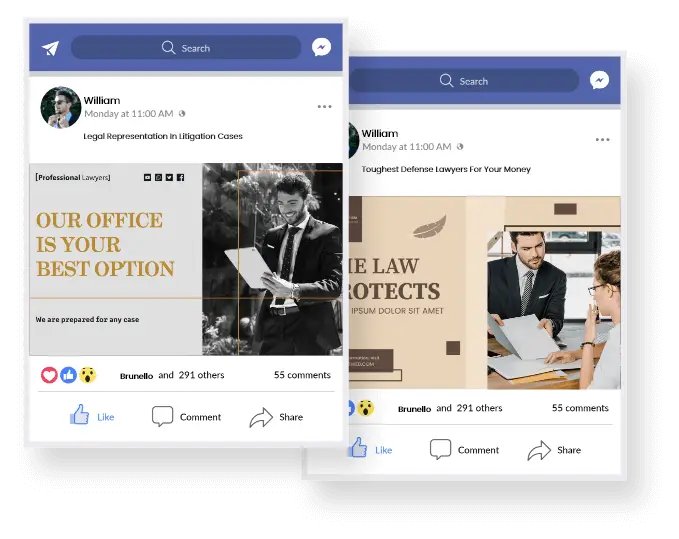 Law firm Technical SEO
For organic rankings, you need to have high-quality content that is designed to address the consumers' inquiries as well as backlinks from reputable websites like news sources, government agencies, law firms, legal directories, and other legal entities.
Amplify the visibility of your business
Keep your website up and functioning smoothly
Increases leads or revenue
Decreased bounce rate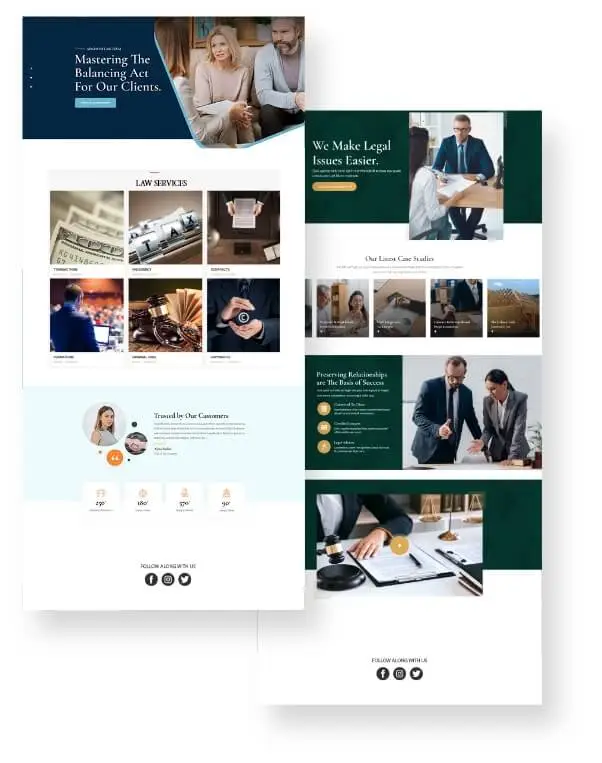 Email Marketing
A law practice can utilize email target marketing to advertise events, provide news and articles, and strengthen its brand.
Cultivate client relationships
Individual legal messaging
Reasonably priced marketing
Higher return on investment
Solid Lead Generation Plan For Law Firms Website Design
Website Design
Great first impression and user-friendly interfaces
Cross device Compatibility
Seamless user experience across devices
Review and Rating System
Builds users trust and adds more credibility
Maintenance and Support
Ensuring minimal downtime and optimal performance
Search Engine Optimization
Improves Search Rankings
Content Marketing
Builds users trust and adds more credibility
Conversion Rate Optimization
Marketing Services to grow business 200%
Affordable Pricing
Lower Total Cost Of Ownership & Higher Return on Investment
FAQ About Keyideas Law Firms Web Design
In the ever-growing web world, everyone is expanding its brand footprint & reputation. With a highly-functional legal website designed by our web developers, your website will successfully run your business as you intended.
The costs for having Keyideas create your website will differ based on your unique requirements and the size of the project. Then, we offer reasonable prices that are in line with the level of our job. Even so, if you choose our services, you can be certain that you are getting value for your money.
Any website we build comes with complete assistance, and we are always available if you need any adjustments or problems fixed. We provide website upkeep so that your website won't ever become outdated. Check out our Ecommerce Developers for more info. Click on our Keyideas portfolio page.
After the successful launch of your website, we promote your website on popular digital platforms like social media ( TikTok, Instagram, Facebook, Twitter), emails & newsletters, PPCs, Google ads, etc. to make your business a hit across the online sphere. Checkout our LinkedIn Web development company page for more info.
Mordy Karsch
Giving Back Promotions, San Francisco, CA
I had an amazing experience working with Keyideas - an excellent team of developers.

Isaac Gottesman
dimendSCAASI, Chicago
I would not hesitate to recommend Keyideas as a superior development house.

Lets Do Great Work Together!
Discuss your ideas. Connect now
We've successfully delivered over

leads for the client