Premium Financial Insurance

Website Design &

Development Agency
Whether you are an experienced insurance agent or not, having a website is a crucial tool that may generate online insurance leads, increase your credibility, and give your insurance company a more professional image. Since 2007, our team at Keyideas has focused on creating stunning financial insurance website design. We'll help you use the web to attract more clients with our financial insurance website development.
Get Our Top Expertise

For Your
Financial Insurance Website Design
Flexible Theme Options
Top designers create beautiful themes to make your website look polished and professional on any device. We used color intelligently on your website, which can direct people to particular pages and boost sales.
Directly Support Your Business Goals
Increases Conversions
Generate Data and Insights
Improves Brand Awareness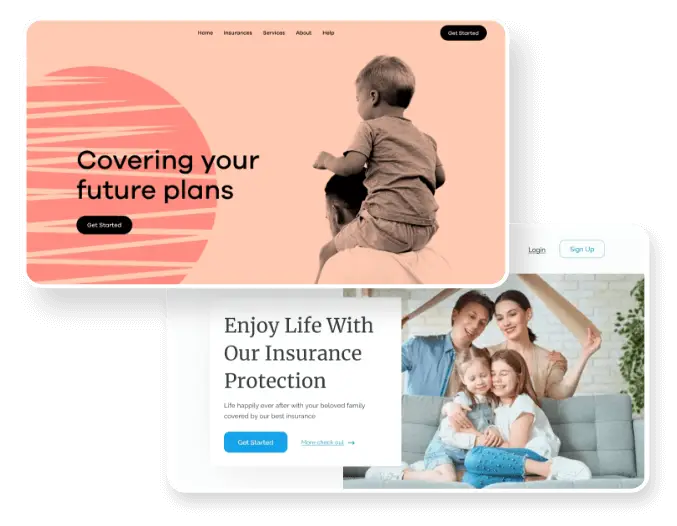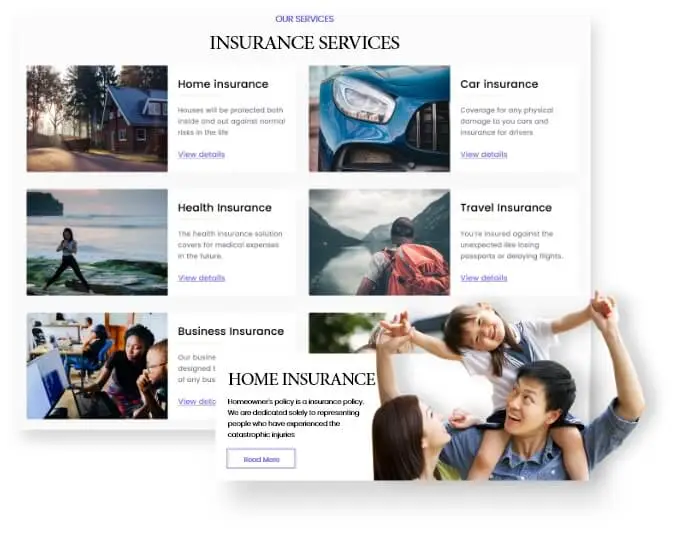 Client Portal of Financial Insurance Website Development
We create an online portal for your current clients so they can access their policies, coverage details, and other crucial documents from any device. You could also offer unique materials and training through your client portal to foster trust and free up your customer care personnel.
Improves Communication And Collaboration.
Easy For Clients To Buy Services.
Get Product Updates.
Track Client Activity And Performance.
Live Chat
We integrate an online chat feature on your website. You may assist your consumers with automatic responses or a real insurance agent by offering an online chat option. Customers enjoy this service to troubleshoot issues, receive prompt updates, and speak with a pleasant assistant.
Effective Tool For Communication
Increases Customer Satisfaction
Improved Customer Support
Establishes That You Are A Legit Company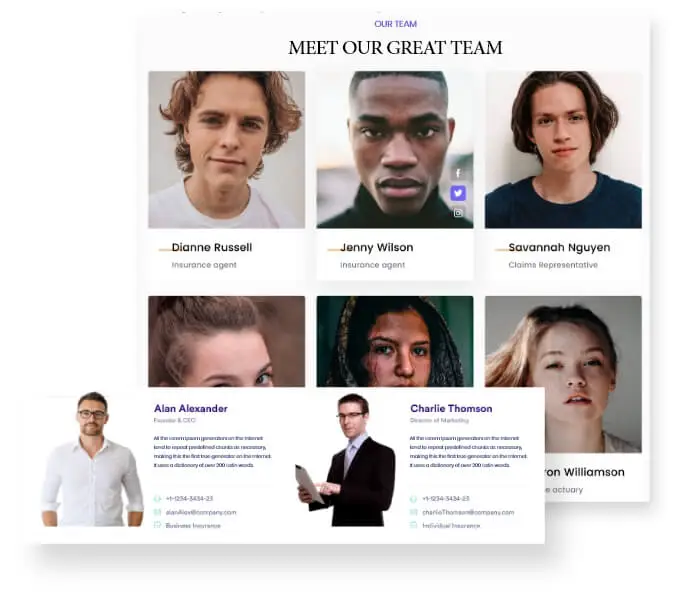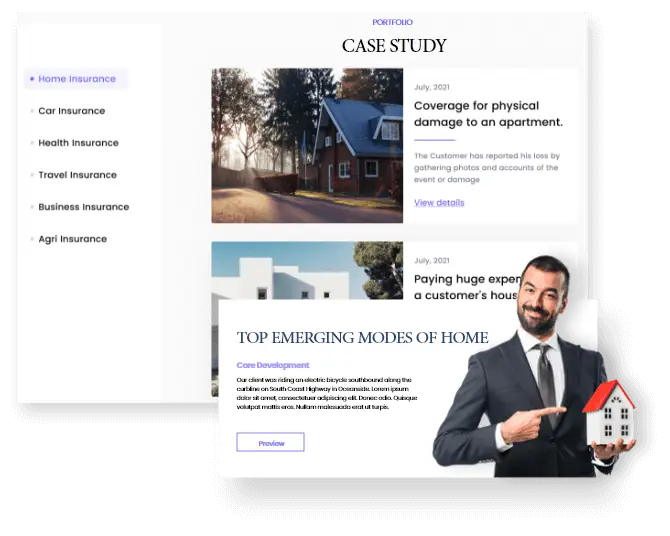 Search Bar Of Financial Insurance Website Development
We add a search bar through which your users can quickly locate everything they want. Doing this can raise user happiness, vital for attracting and retaining new clients. Users may stay on your website longer if you have a search bar.
Improved User Experience
People Come Back To Your Site
Fast Loading Pages
Improves Chances Of Gaining Customers
CTAs In Financial Insurance Website Design
We provide CTAs throughout your website. Users are prompted to execute a specific activity when they are ready by CTAs or calls to action. We might encourage visitors to fill out a form or contact you personally for further information if you provide a free online service for getting quotes.
Converts Visitors Into Potential Clients
Motivate Visitors To Act
Increases Revenue
Creates User Engagement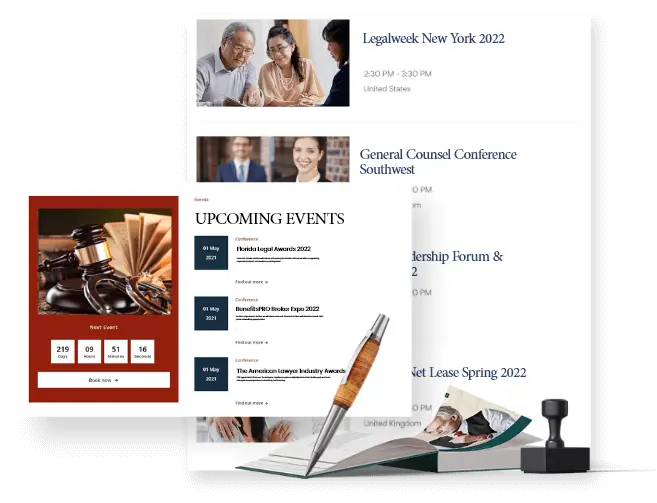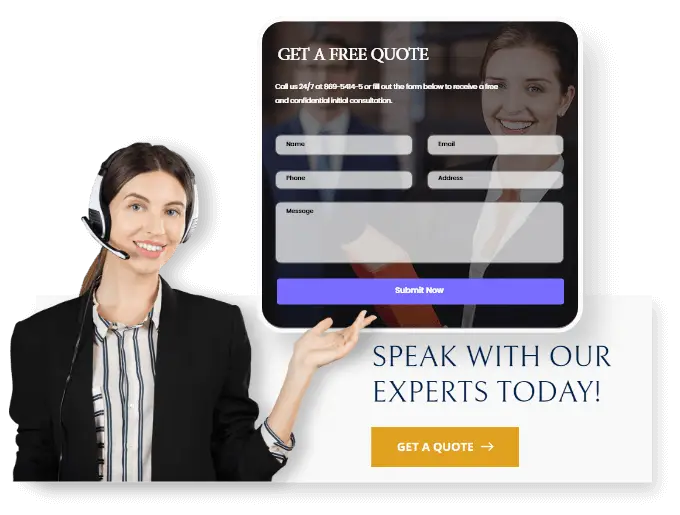 Contacts
We list your email address(es), phone number, physical address, and social media accounts so that customers or leads know how to contact you. Additionally, from a UX standpoint, a map with your office's location is marked on the contacts page.
Easy Communication
Effective Customer Support
Gets Higher Leads
Easy Tracking
Online Purchase Feature
We can provide your clients the option to buy whatever insurance you offer directly from your website. The majority of customers will probably call you before making a purchase. But keep in mind that they'll almost certainly start their study online.
Time Saving
More Convenient
Easy Accessible For Clients
Easy Management Of Policies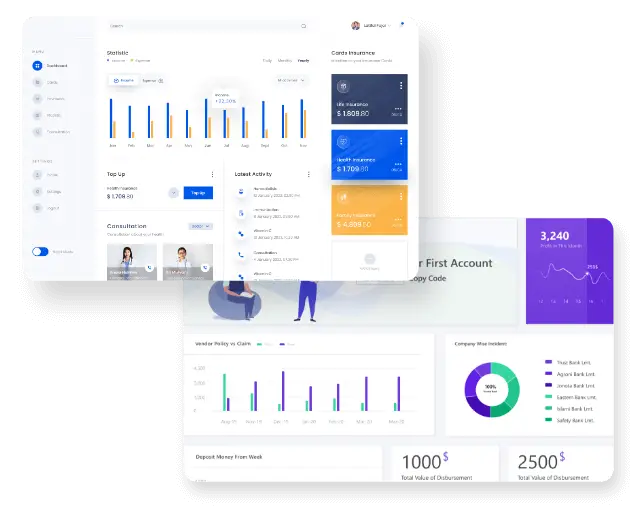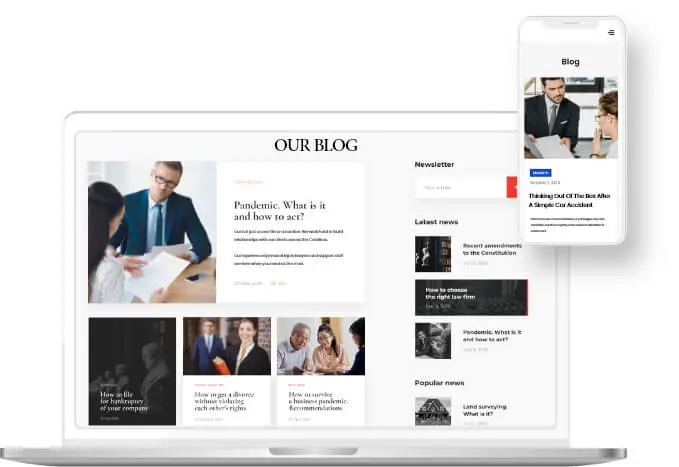 Blogs Of Financial Insurance Website Development
Our content writer will work with you to draft a blog post targeting readers at all sales points. We conduct in-depth keyword analysis and incorporate it into your post, helping your website rank higher.
Supercharge Website's SEO
Manage Online Identity And Build Trust
Helps Convert Traffic Into Leads.
Drives Long-Term Results
Financial Insurance Website Development Service Page
We include a clear and easily understandable service page on your finance insurance website. A thorough description of your products or services, such as Coverage, discounts, validity periods, and other aspects, are mentioned here.
Gain Competitive Advantage
Structured Menu
Filters To Locate Services
Conversion Rate Increases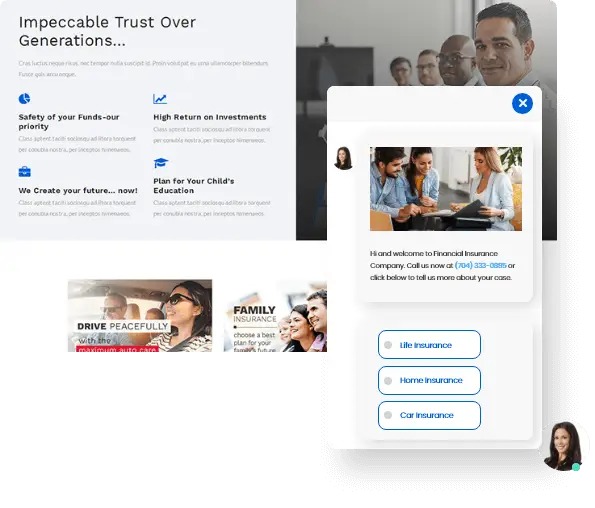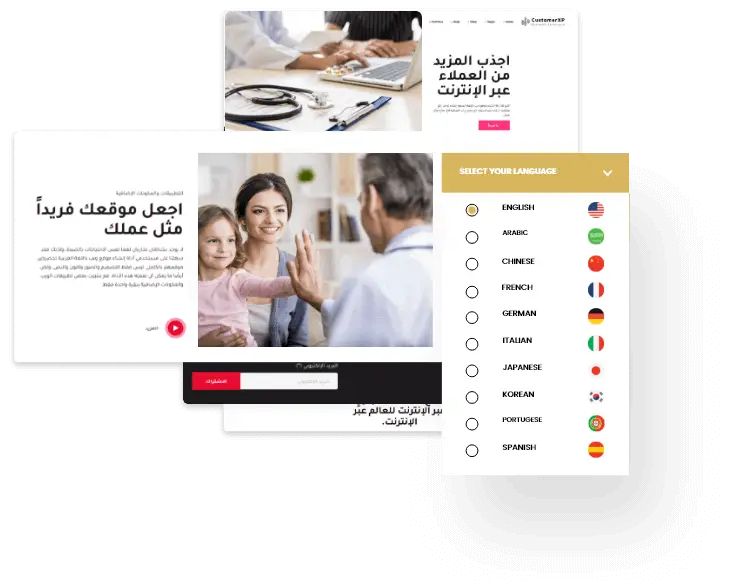 Financial Insurance Website Development Home Page
The truth is that your website's homepage may be both your first and last opportunity to get quality leads. We make it as appealing and packed with value as we can. Ideally, Our team includes a video, a general product description, a short subscription form, and a link to a knowledge center on your home page.
Showcases Your Services And Products
Provides Clear Navigation
Fresh Content To Attract Visitors
Builds Brand Recognition & Trust
User-Friendly Website
We create insurance company websites that make it simple for users to find what they want. We organize your website using headers, sections, and buttons to make it simple for visitors. It also includes color, graphics, and images to improve user experience.
Exceptional customer service
Attract More Visitors
Build Customer Loyalty
Impact Buying Decisions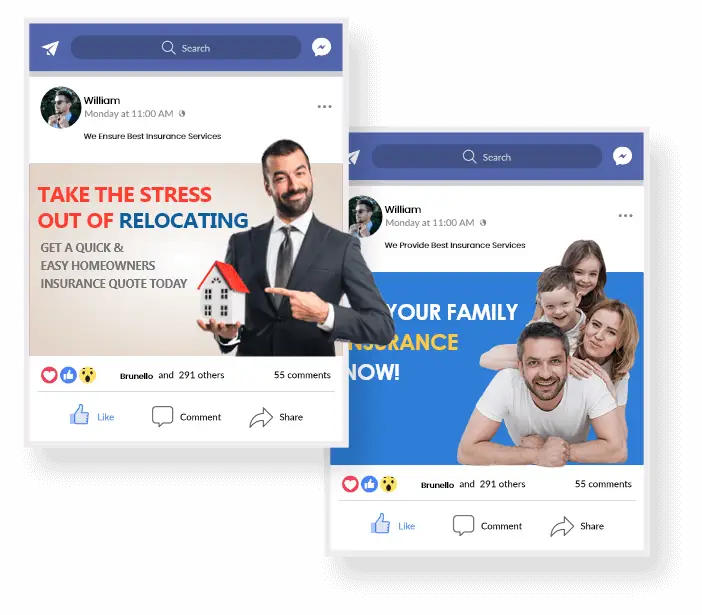 Get Our Solid Lead Generation Plan For
Financial Insurance Company
Search Engine Optimization (SEO)

With our smart search engine optimization techniques, get recognized by search engines and your global-local visitors. Helping searchers find your services within seconds with superfast page landing and full-on page optimization.

Deep Keyword Research

Mobile-Responsive Website

Resourceful Site & Backlinks

Organic Lead Conversion
Content Management System (CMS)

Utilize our strong content management platform to take your services to the next level in the profound content field. The CMS team is adept at writing keyword-rich and well-managed content for your services at their best creative end.

Lead-Generating Links Wrapped

Complete Content Optimization

Increased Conversion Potential

Improved Brand Recognization
Targeted Pay-Per-Click (PPC)

We don't leave your custom PPC Ads just floating on the web but also retarget the users to multiply every click. By placing your ads on popular sites, your browsers become buyers.

Real-Time User-Targeted Ads

User Tracking and Analysis

Garner Immediate Results

Attractive Visual Elements
Lead Generation Magnet

Our lead generation magnet offers your visitors free assets and special deals like free webinars, e-books, discounts, and whitepapers to exchange their email/contact details significantly.

Drives Instant Sales

Spreads Brand Voice

Shared Interests & Goals

Builds User Community
Responsive Financial

Insurance

Website Design Helps Unify

User Experience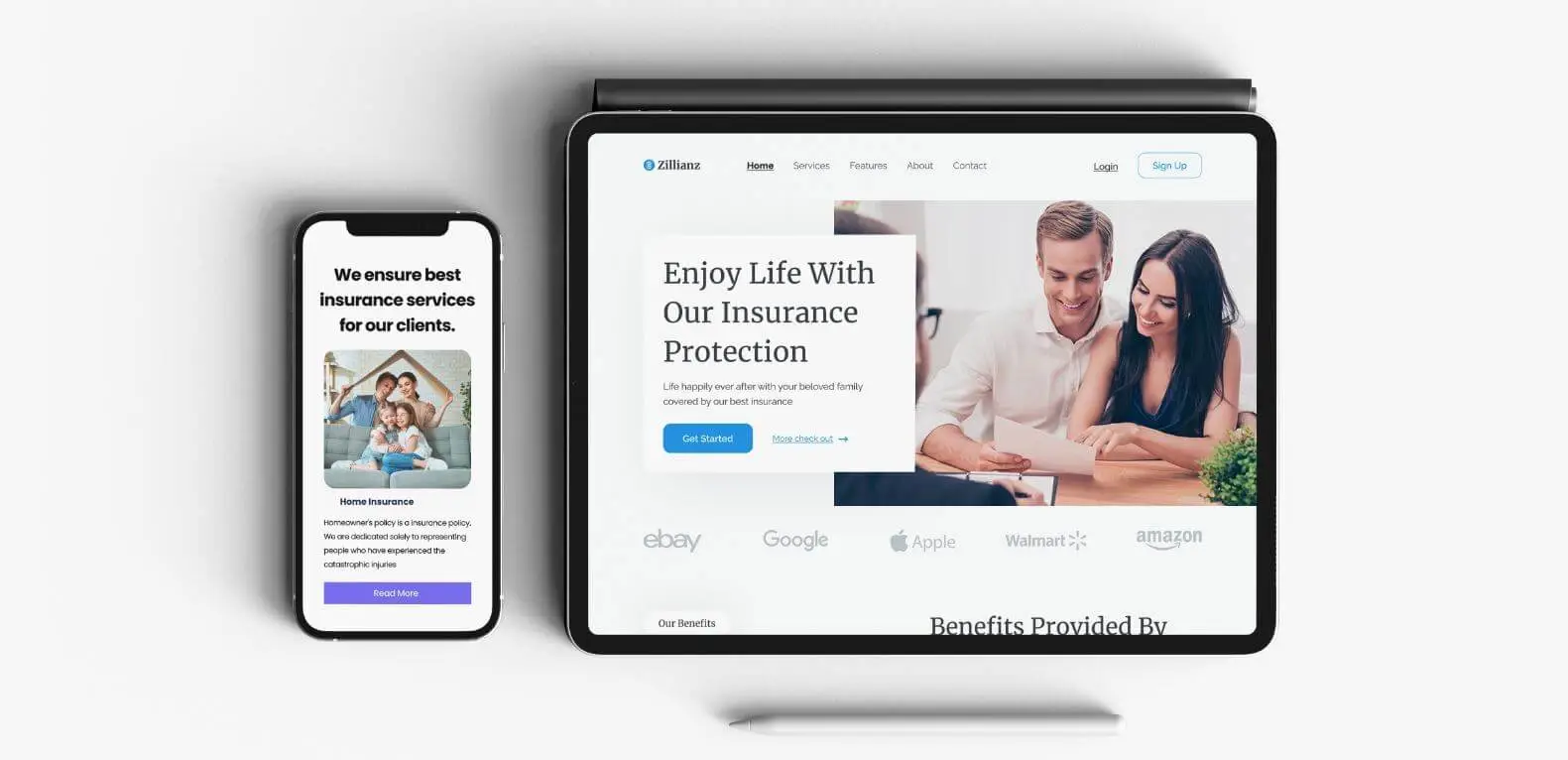 Save Time

Respond faster and engage customers on their terms across a range of devices with a mobile-friendly financial insurance companies website design.

Engage With Less Effort

Get started right away thanks to out-of-the-box responsive financial insurance companies' web design templates.
Save Money

Save time and reduce costs on a responsive web design without sacrificing any functionality or features.

Be Everywhere

A responsive web design ensures that everyone can navigate your site whether they're on their phone or on a desktop.
How We Make And Serve Your
Financial Insurance Companies Website
The Innovative Design Process
STEP 1
DISCOVER
Our team engages in extensive research to discover your specific needs and provide you with tailored solutions.
STEP 2
PLANNING
The planning involves robust mapping and preparing a blueprint for the entire project and procedures.
STEP 3
DESIGN
During the design phase, our UI/UX design team prepares a user-friendly design for delighting your users.
STEP 4
DEVELOPMENT
Our back-end developers integrate and optimize your systems, our front-end developers are bringing creative and user experience to life.
STEP 5
TESTING & LAUNCH
We perform extensive system testing to validate that our deliverables are ready for the real world and your users.
Frequently Asked Question About Our
Financial Insurance Website Design
No, Worldwide clients are part of our clientele. We can discover the very finest staff for our company because our entire team works remotely. Check our offshore software developers for more details.
The requirements of each specific project determine the cost of a website design. Since every website is unique and requires separate components, we design and develop custom websites for your company. We'll elicit much information from you to evaluate your demands and provide you with a quote. Check our Dealers And Distributors Website Agency for more details.
Typically, you are that. Since you are the company's subject matter expert, it is usually best to come from you. If you need help, we advise hiring content writers who will, in exchange for payment, edit or produce new content for your website.
A lot! Your suggestions and criticism are essential to the process. We'll ask you many questions about your requirements, preferences, and goals before working with you to create the ideal design. Visit our Finance website design agency for more details.
Mordy Karsch
Giving Back Promotions, San Francisco, CA
I had an amazing experience working with Keyideas - an excellent team of developers.

Isaac Gottesman
dimendSCAASI, Chicago
I would not hesitate to recommend Keyideas as a superior development house.

Lets Do Great Work Together!
Discuss your ideas. Connect now
We've successfully delivered over

leads for the client