Building Material Suppliers
Website

Development Agency
Your website is the hub of your building material supply company's online presence. To leave a great first impression, your building material suppliers website development should be exquisitely done. Choose our building material suppliers website design services to get hand-tailored web design and marketing solutions for 3X online conversions.
Get High-Value

Leads With
Building Material Suppliers Website Design
Custom Web Designs
Our UI designers and web engineers develop building material suppliers website design that serve as a resourceful showroom and warehouse of your building materials. Visitors can easily find what they're looking for, place their orders, and make effortless payments through high-end building material suppliers website development.
User Friendly Website
Responsive Layout
Visually Appealing Theme
Accessible UI Menus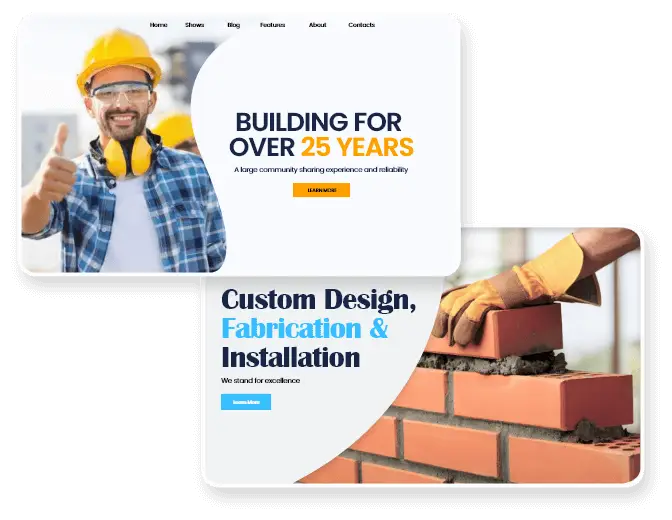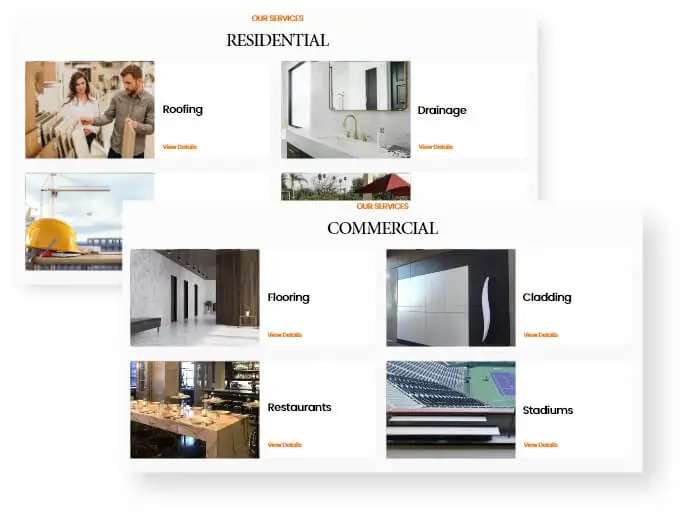 Shop Now Ecommerce Store
A great strategy to boost your income is to open a virtual store for your building material suppliers website development. On your website, we build a highly-functional e-commerce page. By looking at the photographs and product details on your e-store, you can assist your customers in placing orders for the items they want.
Easy Ordering Of Building Materials
Secure Payment Options
Tracking Orders
Customer Satisfaction
Location Finder
Visitors should be shown where to buy the products when they arrive at your website to make a purchase. We enable this through your website's where to buy page. Our team has created a location finder for the retailer, provider, or distributor of your goods.
Geolocation Tracker
Improves Local SEO
Generate Quality Leads
Closer Point Of Sales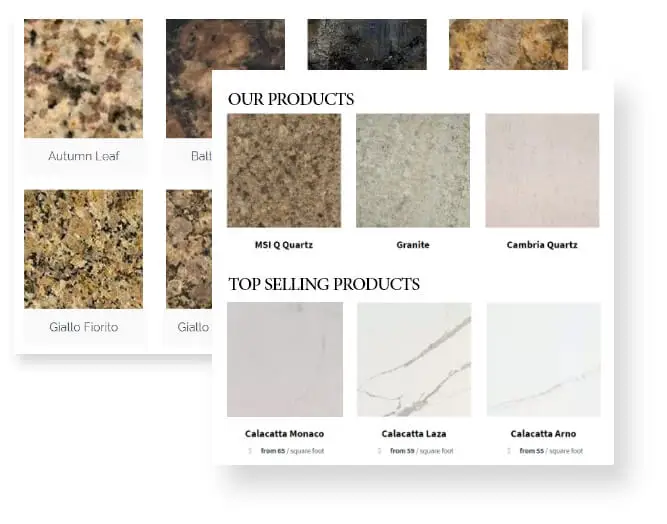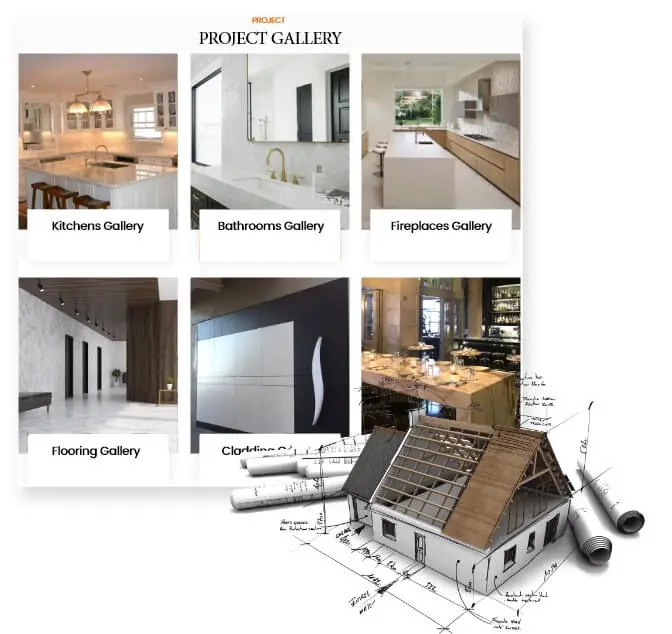 Suppliers About Us Page
Everyone is interested in learning about your team specialty. We write fantastic accounts of your team members in the industry and an uplifting account of the behind inspiration on your about page. Your contact details and your business principles, mission, and vision are significantly included.
Humanizes Your Business
Adding Photos And Biographies
Place To Tell About Your Story
Unique Value Proposition
Product Installation Videos & Guidance
We create a high-quality installation process video of your building supplies, together with a supply guide. While still highlighting your products, a customer-centric strategy that will show how you actually help your customers.
Helps Users To Stay Longer
Create Emotional Connections
Power of Experiential Retail
Reduces Bounce Rate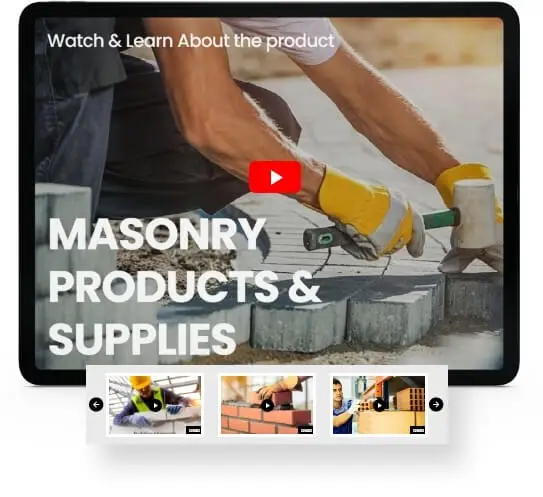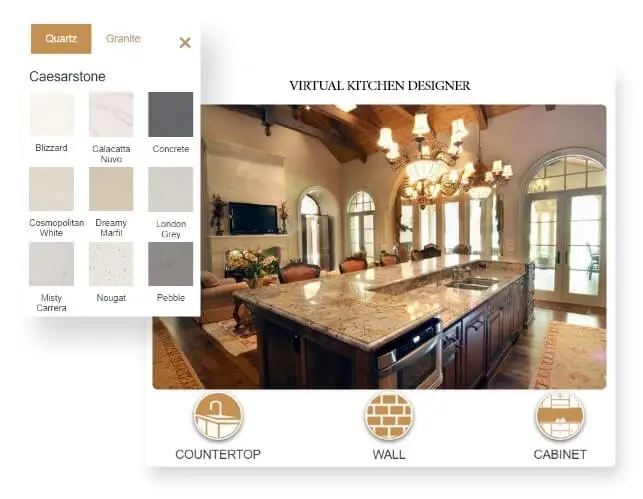 Building Material Visualizer
On your website, we present a precise-dynamic 3D rendering of the product's size, shape, dimensions, and features. Product visualizers allow potential customers to better understand how to use and install your products before they purchase them virtually.
Easy-To-Use Visualizer
Select From A Wide Range Of Options
Makes Your Website Attractive
Competitive Advantages
Internal Search Bar
Some visitors to your website have specific needs and are goal-oriented. Every page of your website should have an internal search bar. Additionally, we let users to enter their location in the given search field to identify products nearby.
Predictive Search Keywords
Better User Experience
Helps To Find The Destination
Advanced Search Filter Tags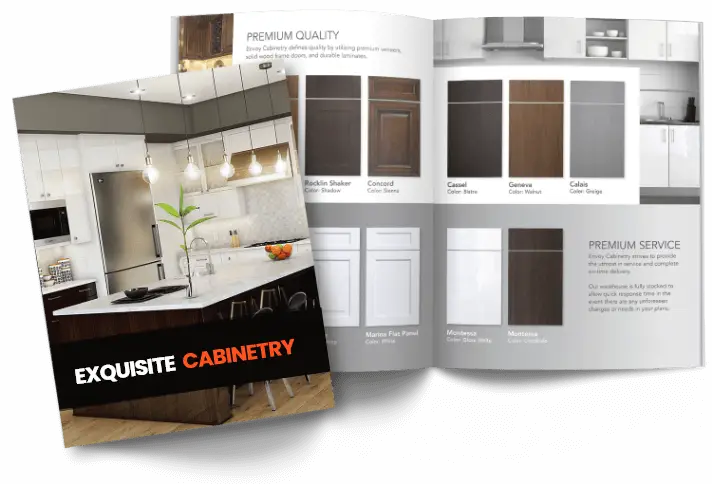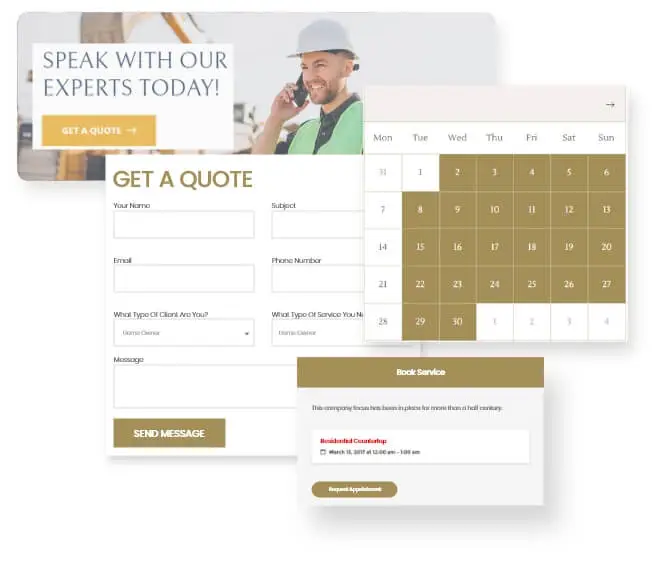 Live Chat Feature
When a visitor lands on your page, the chatbot on your website should appear instantly. We build an auto chatbot which reacts to common search queries or lets your team respond in real time during business hours.
Engages Your Visitors
Solves Customers Queries
More Responsive-Friendly
Builds Brand Loyalty
Cost Estimator Tool
The most often asked question in any industry is "How much does it cost?". We're utilizing this opportunity to serve your potential customers by giving them access to a useful cost estimator tool online. It productively helps them to analyze their budget and product cost estimations.
Gives Accurate Buying Point
Increases User Engagement
Improves Website SEO
Helps To Make Decision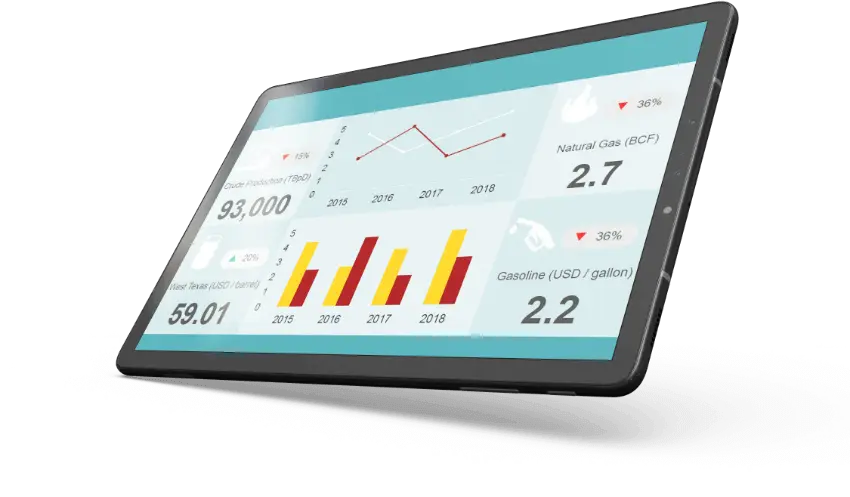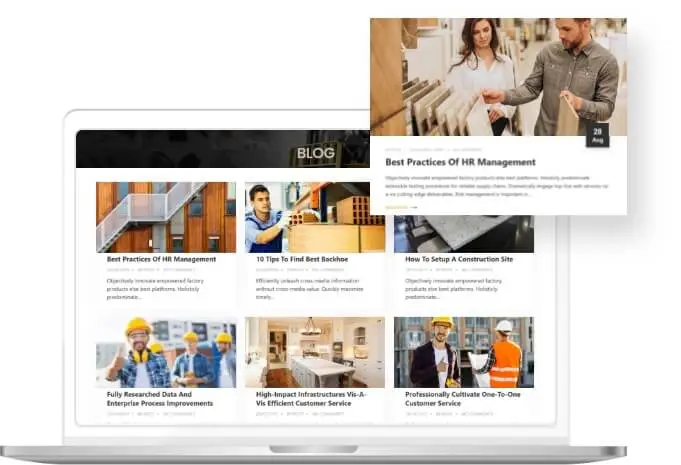 Marvelous Blog Management
Creating blogs about industry topics, relevant to your sector, such as how to raise the value of your property, frequent mistakes people make when renovating, problems with roof support, etc. Expertise in your field is evident through our SEO-rich and engaging blog posts which increases your site visibility on SERP.
Supercharges Website SEO
Manages Online Identity- Build Trust
Helps Convert Traffic Into Leads
Drives Long-Term Results
Suppliers Careers Page
Your website must have a relevant-clear career page for posting any employment openings in your company. Career pages have a lot of possibilities for increasing website traffic. Additionally, it allows the business to find the right talent while producing high-quality content and a simple user experience.
Generate Organic Traffic
Engage Talent
Get Easy Recruitment
Conversion Rate Increases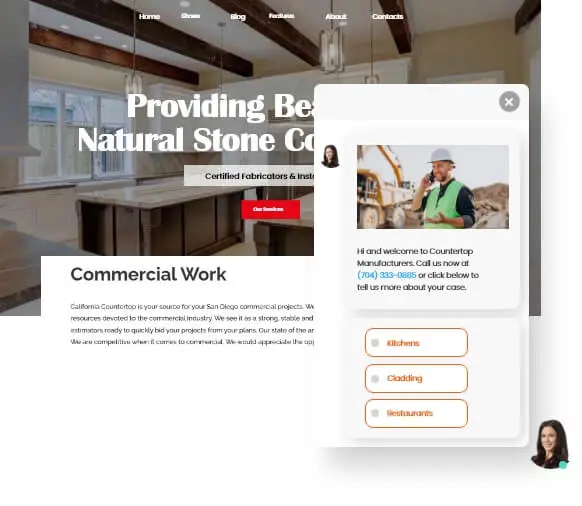 Solid Lead Generation Plan For
Building Material Suppliers Website
Search Engine Optimization (SEO)

With our smart search engine optimization techniques, get recognized by search engines and your global-local visitors. Helping searchers find your services within seconds with superfast page landing and full-on page optimization.

Deep Keyword Research

Mobile-Responsive Website

Resourceful Site & Backlinks

Organic Lead Conversion
Content Management System (CMS)

Utilize our strong content management platform to take your services to the next level in the profound content field. The CMS team is adept at writing keyword-rich and well-managed content for your services at their best creative end.

Lead-Generating Links Wrapped

Complete Content Optimization

Increased Conversion Potential

Improved Brand Recognization
Targeted Pay-Per-Click (PPC)

We don't leave your custom PPC Ads just floating on the web but also retarget the users to multiply every click. By placing your ads on popular sites, your browsers become buyers.

Real-Time User-Targeted Ads

User Tracking and Analysis

Garner Immediate Results

Attractive Visual Elements
Lead Generation Magnet

Our lead generation magnet offers your visitors free assets and special deals like free webinars, e-books, discounts, and whitepapers to exchange their email/contact details significantly.

Drives Instant Sales

Spreads Brand Voice

Shared Interests & Goals

Builds User Community
Responsive Building

Material Suppliers

Website Helps Unify

User Experience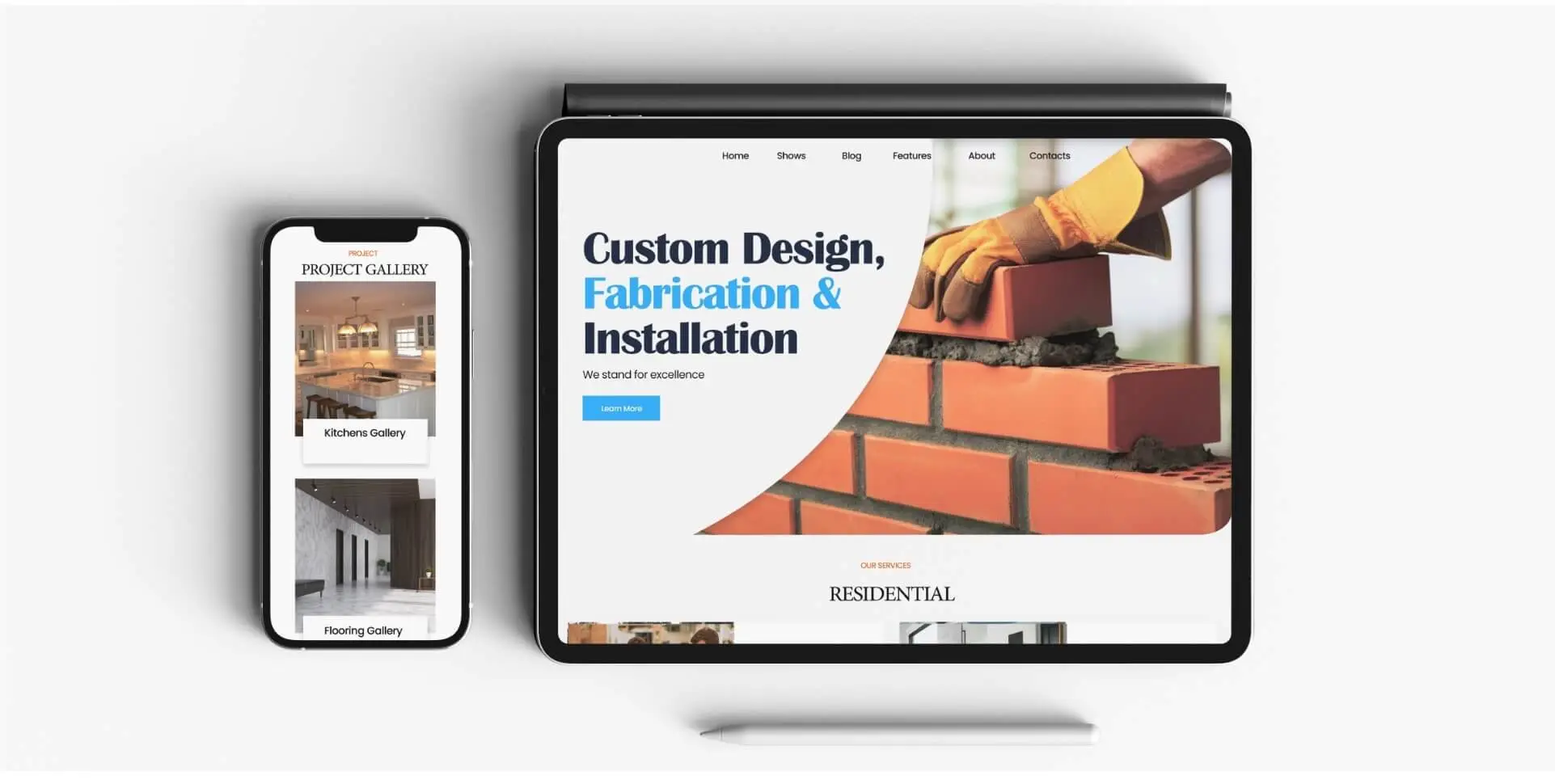 Boost Search Rankings

Adopt responsive building material suppliers website development so you can make your website more competitive by earning a higher ranking.

Consistency In Design And Brand

If visitors must do a lot of zooming, shrinking and pinching their screens during their first visit, they're likely to give up and try another website.
Reach More Customers

People don't even need to sit down at desktop or laptop computers to shop. They can find everything they want on their smartphones.

Optimize Page Experience

If a site isn't optimized for smartphones and tablets, it will also take more time to navigate, which can frustrate customers to a point of no return.
How We Make And Serve Your
Building Material Suppliers Website
The Innovative Design Process
STEP 1
DISCOVER
Our team engages in extensive research to discover your specific needs and provide you with tailored solutions.
STEP 2
PLANNING
The planning involves robust mapping and preparing a blueprint for the entire project and procedures.
STEP 3
DESIGN
During the design phase, our UI/UX design team prepares a user-friendly design for delighting your users.
STEP 4
DEVELOPMENT
Our back-end developers integrate and optimize your systems, our front-end developers are bringing creative and user experience to life.
STEP 5
TESTING & LAUNCH
We perform extensive system testing to validate that our deliverables are ready for the real world and your users.
Frequently Asked Question About
Building Material Suppliers Website Design
Without a doubt, among the most well-known websites nowadays are those that are SEO-friendly. To give you a higher SERP position, Keyideas makes sure that your building material suppliers website design aligns with search engine criteria and search engine friendly website practices. Check our Digital Marketing Agency Services for more details.
For the new website, you can keep utilizing your current domain name. But even before building your building material suppliers website design, we can get you a new domain name.
Yes, after successfully launching your building material suppliers website design, our team will take care that your website is regularly updated with SEO checks, plugin maintenance, bug removal, and much more to keep it healthy for the longer run. Check our Cabinet Manufacturing Website Design Company for more info.
We are aware that mobile devices account for the majority of website traffic. As a result, we ensure your website is usable across all devices, including desktops, laptops, tablets, mobile phones, etc. Visit our Web Design and Development Company for more info.
Mordy Karsch
Giving Back Promotions, San Francisco, CA
I had an amazing experience working with Keyideas - an excellent team of developers.

Isaac Gottesman
dimendSCAASI, Chicago
I would not hesitate to recommend Keyideas as a superior development house.

Lets Do Great Work Together!
Discuss your ideas. Connect now
We've successfully delivered over

leads for the client
© Copyright 2023. All Rights Reserved.