Best Wildlife Removal Website Services
Conversion-Friendly wildlife Removal Website Services
Web Design Services For Pest Control Companies
We design customer-friendly web design for pest control companies.
Now unlock the features of your brand-new website with our wildlife removal website services.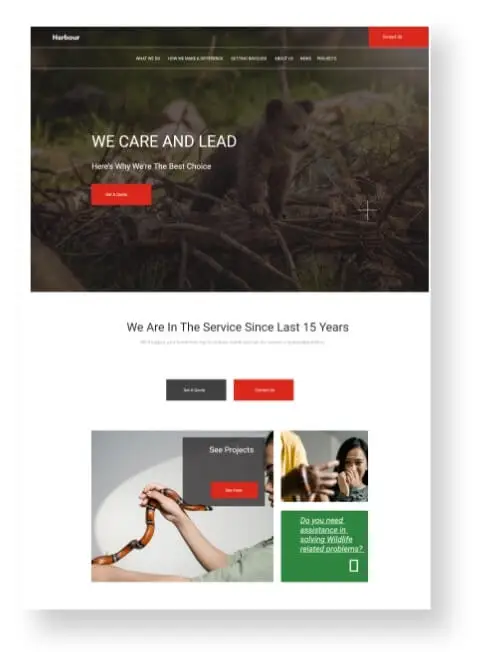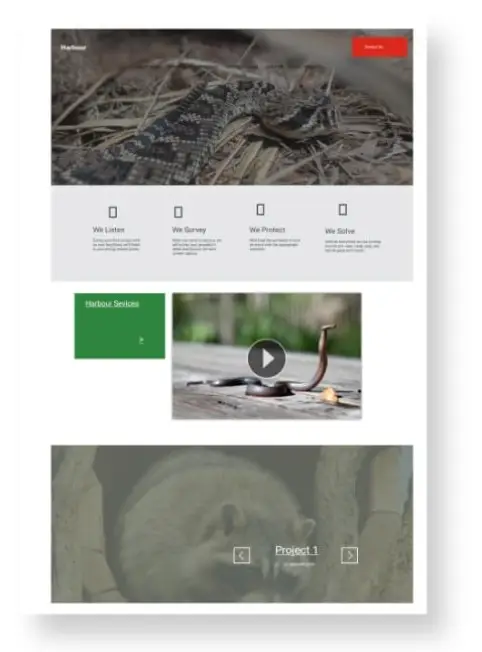 Professional Wildlife Removal Website Services
Customized Website Designs
From customized designs to latest upgrades and integrations, we furnish your website with each growth element that focuses in showcasing the quality of your wildlife removal services.
Represent your brand identity.
Get a top-quality professional web design.
Web design from industry experts.
Unique web designs to meet your industry needs.
Responsive Website Development
Make your website highly-responsive so you don't miss out on your potential customers. Get websites that works equally well on all devices especially the mobile phones, as 80% of the web traffic comes from mobile devices.
Brings in, acquires, and keeps customers.
Responsive designs for mobile.
Captures a lot of traffic and stimulates purchasing.
Each modification is created with your brand identity and look in mind.
Clean Service Segmentation
Covering a wide array of wildlife control services from small rodents to poisonous snakes. With bold and clean service segmentation, we project your safety skills to win customer trust.
User-friendly navigation.
Responsive headings and CTAs.
Eye catching elements and search bars.
Informative conversion.
Advanced Website Feature
We'll build your website to appeal to both first-time visitors and large set of followers. You'll have a website you can be pleased to call your own with captivating images, outstanding design elements, resourceful content and advanced website features.
Integrate Chatbots.
Customized appointment & scheduling feature.
Payment Gateway Integration.
Better visisbility elements
Systematic Booking Tool
With the help of our incredibly useful booking tool, plan your reservations and arrival times appropriately. A good timeline can help you manage your schedules and provide Wildlife services.
Better work management
Saves time and improves productivity
Quickly adjusts according to your needs
Reminds you of upcoming bookings
Track Location
You can easily locate your next pest control site within a click. Now reach your customers in a faster and smarter way!
Saves time and efforts
Advanced tracking and spotting
No skips or delays- exact positioning
Live location and tracking system
Image optimization
Show the world your act of bravery. We provide optimized images for your website that delights your customers and show them your work.
Increased webpage speed
Higher SEO rankings
Fast website backups
An increased total conversion rate for leads and sales
Live Chat Feature
Adding a live chat feature on your website will help clients and quicken the final bookings.
Seamless network.
Rescues time and efforts.
Solves problems quickly.
Better customer engagement.
Maintanance and Support
To keep your website active, safe, and completely operational, we offer ongoing maintenance and support by assisting you after the final launch.
Fixing Bugs and Errors post launch.
Maintaining website performance.
Performance evaluation and improvement.
Customizable packages.
Local SEO
To draw in new clients, increasing visibility is essential. A few clicks will get you to the top results thanks to our SEO-friendly design!
We create SEO tactics that advance you above your competitors.
Get access to the information you publish on your website.
You see an increase in traffic, leads, and sales when you work with SEO.
Join forces with us, and together, let's energize your online presence.
Great UI UX Designs
Over 50% of all website traffic comes from mobile devices, which denotes the importance of a healthy UI/UX design.
User-centric focused designs
All-device friendly layout
Super-fluid navigation
Made flexible- fits any screen
Responsive Wildlife Removal Website Design Boosts Your Customer Base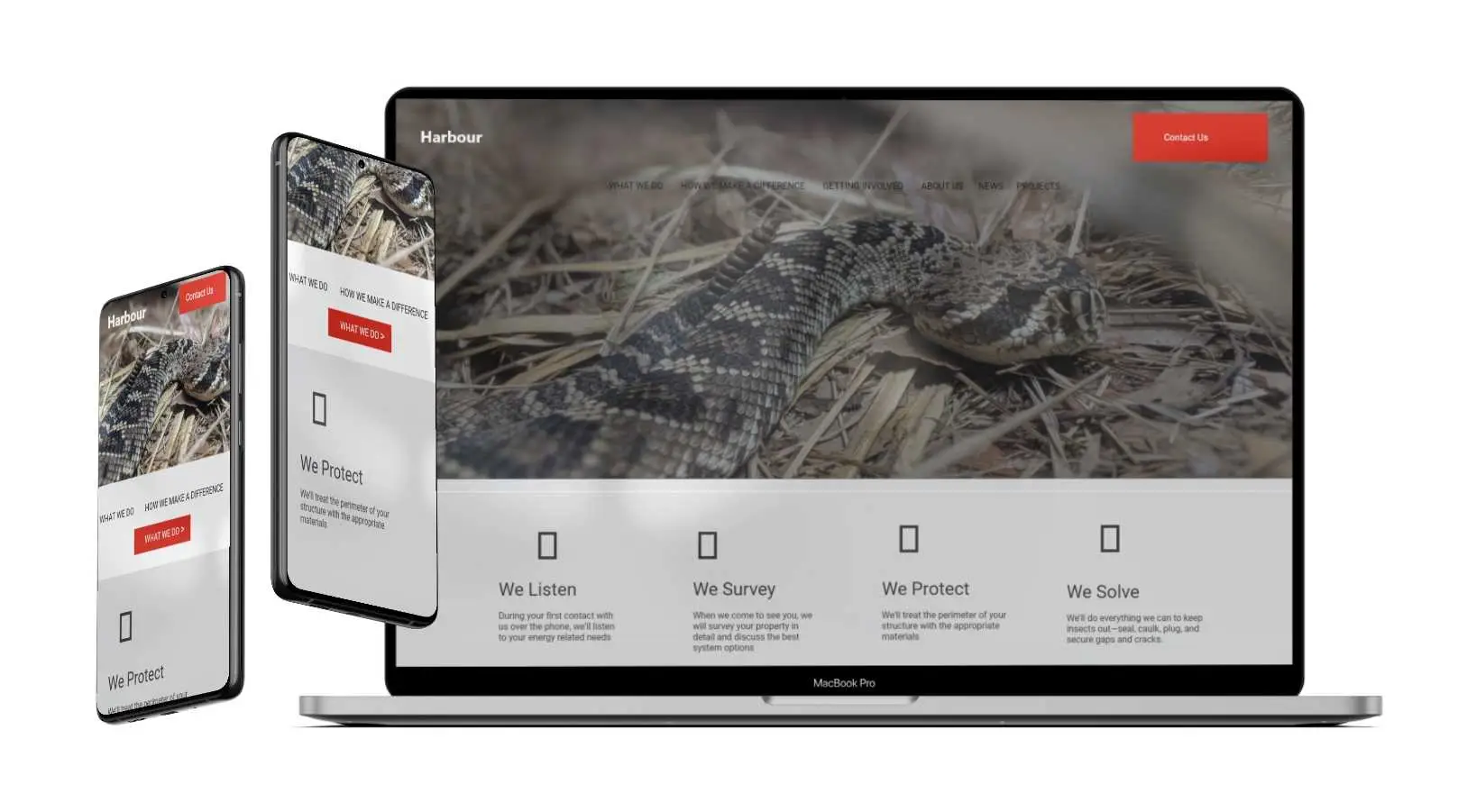 Boost Search Rankings

With efficient SEO methods and optimization procedures, you can increase your online presence and generate organic traffic.

Consistency In Design And Brand

If visitors must do a lot of zooming, shrinking and pinching their screens during their first visit, they're likely to give up and try another website.
Optimize Page Experience

Use our thorough research services to gain insightful information and identify trends for efficient online marketing campaigns.

Reach More Customers

Use our knowledge of digital marketing techniques to make the most of your online presence for business expansion.
How We Create and Publish Your Wildlife Removal Website
The Innovative Design Process
STEP 1
DISCOVER
Our team engages in extensive research to discover your specific needs and provide you with tailored solutions.
STEP 2
PLANNING
The planning involves robust mapping and preparing a blueprint for the entire project and procedures.
STEP 3
DESIGN
During the design phase, our UI/UX design team prepares a user-friendly design for delighting your users.
STEP 4
DEVELOPMENT
Our back-end developers integrate and optimize your systems, our front-end developers are bringing creative and user experience to life.
STEP 5
TESTING & LAUNCH
We perform extensive system testing to validate that our deliverables are ready for the real world and your users.
FAQ About Keyideas Wildlife Removal Website Services
Mordy Karsch
Giving Back Promotions, San Francisco, CA
I had an amazing experience working with Keyideas - an excellent team of developers.

Isaac Gottesman
dimendSCAASI, Chicago
I would not hesitate to recommend Keyideas as a superior development house.

Lets Do Great Work Together!