Top Tree Service Website Design
#1 Tree Service Website Design and Development Company
Tree Service Website Design And Development Agency
Let the web experts create a Tree Service website design and improve your digital infrastructure.To Help You Get More Clients on website for tree service companies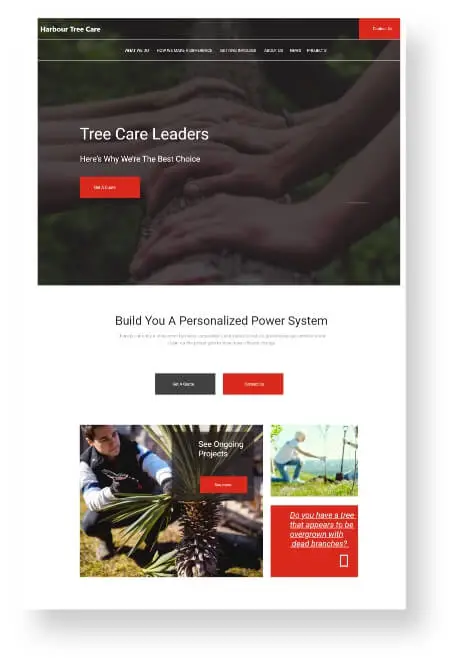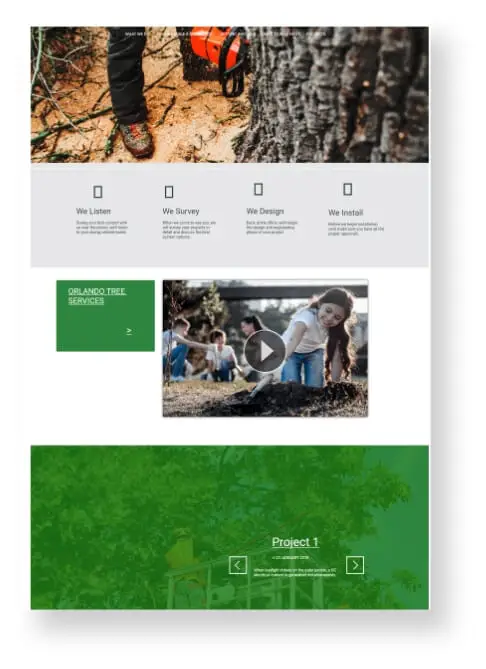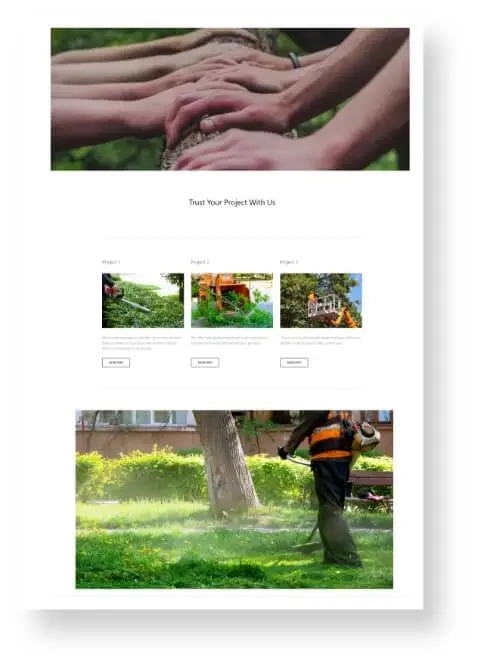 Get Our Top Expertise For Your Tree Service Website Design
Tree Service Website Design – Customized Web Application
We are professionals in creating websites for tree services and are aware of the positive effects a quality, carefully constructed website can have on your company.
Enhance the usability of your website.
Versatility and mobility.
Enhanced security measures.
Personalized User experience.
Top-Notch Tree Service
Let your customers book your Tree services beforehand from basic Tree cutting and tree trimming to full-service tree removal services. Upgrading your tree service website with neat & specified columns.
High-calling service segmentation.
Quirky layouts & sidebars.
Quickly adjusts according to your needs.
Convenient options.
Responsive Website Development
We make CTAs, visuals, content, and sliders responsive in addition to adding CTAs to them.
Each modification is created with your brand identity and look in mind.
Brings in, acquires, and keeps customers.
Responsive designs for mobile.
Captures a lot of traffic and stimulates purchasing.
Landing pages
Our developers and digital marketing team for tree services collaborate closely to create effective landing pages for your tree care website.
Determine the demands of your target audience.
Make sure the landing page has a clear purpose.
Make the landing page appealing and useful.
The landing page design be published and tested.
Easy Payment Method
Don't worry about your bills right now. Using our streamlined payment panel, get quicker and more sophisticated payments straight immediately. Without any disruptions, you can easily schedule your clients.
Billing management.
Invoice details and payment history.
Easier payment method.
Pending payment reminder.
Image Optimization
A reader's attention is captured by images. It has been the case for as long as anyone can recall.
Increased webpage speed.
Higher SEO rankings.
An increased total conversion rate for leads and sales.
Fast website backups.
Collaborative & Transparent Approach
We operate with total transparency. Expect free access to all the details of your projects, from the earliest campaign suggestions to the presentation of the reports.
Your Tree service website is clean and easy to use.
Get Information And Maintain Integrity.
Make the website efficient and still engaging.
Having a customer-first mentality entails being a transparent brand.
Client Testimonials Page
One of the key pages for demonstrating to clients the ideals you uphold in their lives is this one. On your page, include customer testimonials and emphasize favorable comments and opening hours.
Adds value to your page.
Builds trust and reliability.
Encourages new customers.
Shows your skills and expertise.
Local SEO
To draw in new tree removal service, increasing your visibility is essential. Our SEO-friendly design, you can access the top results with just a few clicks!
We create SEO tactics that advance you above your rivals.
Get access to the information you publish on your website.
You see an increase in traffic, leads, and sales when you work with us.
Join forces with us, and together, let's energize your online presence.
Tree Care Website Design Service With Strategic Advantage Over Your Competition
UI / UX Design

With the help of UI and UX design, you can gain the trust of your target audience by giving them what they need. Long-term user engagement on your website results from excellent UI/UX design.

Uniqueness And Branding

Your brand identity is a promise to your customers and your companys personality. Your product should impact your customers long after the transaction is complete.
Flexibility And Customization

Flexible websites will automatically adjust to fit different screen widths. Create a website with the precise components needed to engage visitors and satisfy their needs.

Better Security

A websites security can also be increased with a custom website design. Integrate cutting-edge security features into its design to ensure a website is safe from hackers and other security risks.
We Provide Web Design Solutions To Make Your Tree Care Business Successful
Search Engine Optimization

An SEO marketing strategy is a detailed plan for increasing the number of people who visit your website through search engines.

Customer Satisfaction

The level of customer satisfaction increases when you give on-time delivery. Customers are more inclined to continue with you through good and bad times if they are more satisfied with your services.
Affordable and Budget Friendly

Affordable web design does not equate to a low-quality design. Provide a professional website design with the best usability and utility while keeping costs Budget Friendly.

Business Experience

We have more than 16 years of experience in this business. Utilize our innovative and personalized website design solutions to stand out.
How We Create and Publish Your Tree Care Website
The Innovative Design Process
STEP 1
DISCOVER
Our team engages in extensive research to discover your specific needs and provide you with tailored solutions.
STEP 2
PLANNING
The planning involves robust mapping and preparing a blueprint for the entire project and procedures.
STEP 3
DESIGN
During the design phase, our UI/UX design team prepares a user-friendly design for delighting your users.
STEP 4
DEVELOPMENT
Our back-end developers integrate and optimize your systems, our front-end developers are bringing creative and user experience to life.
STEP 5
TESTING & LAUNCH
We perform extensive system testing to validate that our deliverables are ready for the real world and your users.
FAQs About Keyideas Tree Service Website Design
With more than 15 years of experience in the field, Keyideas is one of the most reputable web designers for cleaning company website design. Your business is boosted by this. In fact, Keyideas offers a wide variety of services, such as custom website creation, e-commerce, graphic design, and SEO optimization. In order to keep your website current and functional, we also offer continuous maintenance and support. Checkout our latest trending web development company posts on LinkedIn. To know more about our services, check Website Design and Marketing Company page.
We also create modern Home Repair Website Design for various industries including Pest Control Website design. many designers use pre-made templates, add your logo to the main page, alter a few colors, and declare the work complete. although the template has been "customized" for the tree care sector, the final product is unlikely to satisfy your particular requirements. It frequently presents as sloppy and unprofessional. Be sure the website was specifically created with your brand and business objectives in mind.
Some website creators only do design. To actually construct the website and launch it online, others handle design, development, and programming. Others provide a variety of services, such as email marketing, newsletters, social media, internet marketing, logo creation, and digital strategy.
All website Keyideas created is responsive, so it looks really good on desktop devices such as tablets in addition to being mobile-friendly.
Mordy Karsch
Giving Back Promotions, San Francisco, CA
I had an amazing experience working with Keyideas - an excellent team of developers.

Isaac Gottesman
dimendSCAASI, Chicago
I would not hesitate to recommend Keyideas as a superior development house.

Lets Do Great Work Together!
Discuss your ideas. Connect now
We've successfully delivered over

leads for the client