Modern Landscape Website Designer
Cherish High-Class Lawn Care Web Design
Are you facing slow conversions and clicks? Then choose the right platform and strategies to boost your website conversions. With our Landscape Website Designer, you'll get the latest and contemporary designs and smart SEO techniques. Now harness your revenue & sales power with a furnished Lawn Care Web Design.
From customized designs to latest upgrades and integrations, we develop your website with each growth element in focus. Our designers care about the value you want to put into your website. Let's start your Landscape Website Design Journey!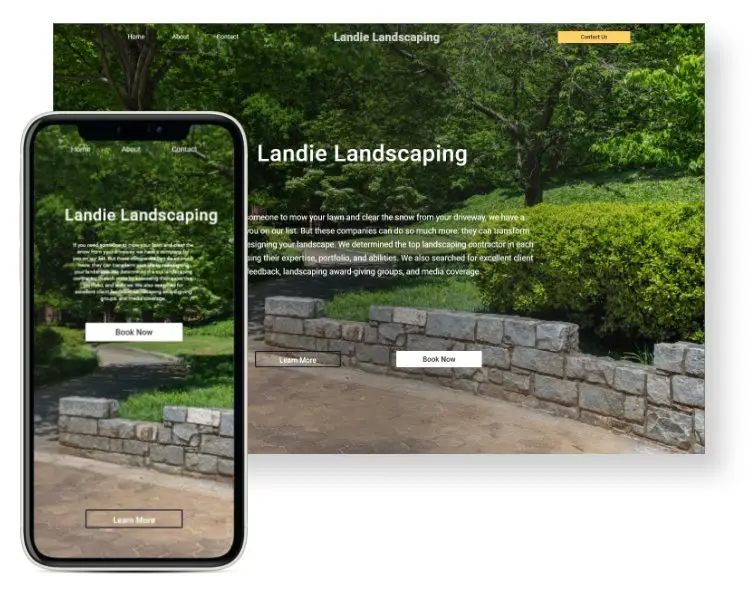 Get The Best Features With Landscape Website Designer
Advanced Booking System
Arrange your tasks and timings according to your schedule. With an advanced booking tool, manage your updates and tasks as per your preferences.
Better working management
Saves time and boosts productivity
Quickly adjusts according to your needs
Reminds you of upcoming appointments
Clean Service Segmentation
Show your professional landscaping services at the top. Place each service clearly, from small-big landscaping to additional benefits. With bold and clean service segmentation, we project your skills & expertise. Now missing a potential client is no more an issue!
Gains new customers & conversions
Responsive headings and CTAs
Customer-friendly navigation
Firsthand conversions
Spot Your Next Location
With an in-built location tool, you can easily locate your next construction site with a click. Now reach your customers in a faster and smarter way!
Live location and tracking system
Saves time and efforts
Advanced tracking and spotting
No skips or delays- exact positioning
Monitor With Smart Analytics
Analyze your progress as you accomplish new landscaping projects. With inbuilt responsive analytics, you can easily monitor your website traffic, and upcoming tasks, or compare sales figures.
Reminds upcoming tasks
Synchronizes according to tasks
Creates information hierarchy
Boosts all-round productivity
Service Image Gallery
Let your successful landscaping projects and beautiful creations stand out as we place them in an attractive portfolio & image gallery. The way to collect more ROI and clicks is right away!
Greater leads and ROI
Enhanced trust and reliability
Original videos- before/after images
Higher customer satisfaction
Live Chat Tool
Adding a live chat feature on your website will help clients quickly book your services. Now bring and solve customer queries directly on your roofing company website.
Seamless communication network
Rescues time and efforts
Solves problems quickly
Better customer engagement
Seamless Payment Process
Now get faster and more advanced payment options right away with simplified payment integration. It lets your clients book your services right away, without any interruptions.
Easier payment method
Billing management
Invoice details and payment history
Pending payments reminder
Client Testimonial
Don't forget to add client reviews and stars to your website. As we place your reviews section just after your services so that your professionalism shines on your page from the very start.
Builds positive impression
Explains your skills & services
Builds trust & authenticity
Reviews act as referrals
Great UI UX Designs
Over 50% of all website traffic comes from mobile devices, which denotes the importance of a healthy UI/UX design. With more than 15 years of experience, our web designers hold seasoned expertise in device-friendly UI designs. To make your Roofing company website design responsive & beautiful.
User-centric focused designs
All-device friendly layout
Super-fluid navigation
Made flexible-fit to screen
Digital Marketing
We don't leave you after the website launch but also carry forward and handle your post-website promotion tasks with our best digital marketing services. By promoting your services and recent works through social media, ads, content marketing, emails, PPC, etc.
Amplifies your brand voice
Expands your large services
Uplifts brand identity & voice
Engages, and attracts new customers
Landscape Website Designer

Gives Competitive Advantages
UI / UX Design

With the help of UI and UX design, you can gain the trust of your target audience by giving them what they need. Long-term user engagement on your website results from excellent UI/UX design.

Uniqueness And Branding

Your brand identity is a promise to your customers and your companys personality. Your product should impact your customers long after the transaction is complete.
Flexibility And Customization

Flexible websites will automatically adjust to fit different screen widths. Create a website with the precise components needed to engage visitors and satisfy their needs.

Better Security

A websites security can also be increased with a custom website design. Integrate cutting-edge security features into its design to ensure a website is safe from hackers and other security risks.
We Provide Web Design

Solutions To Make
Your Landscaping Business Successful
Customer Satisfaction

The level of customer satisfaction increases when you give on-time delivery. Customers are more inclined to continue with you through good and bad times if they are more satisfied with your services.

Search Engine Optimization

An SEO marketing strategy is a detailed plan for increasing the number of people who visit your website through search engines.
Affordable and Budget Friendly

Affordable web design does not equate to a low-quality design. Provide a professional website design with the best usability and utility while keeping costs Budget Friendly.

Business Experience

We have more than 15 years of experience in this business. Utilize our innovative and personalized website design solutions to stand out.
How We Create And Launch
Your Landscape Web Design
The Innovative Design Process
STEP 1
DISCOVER
Our team engages in extensive research to discover your specific needs and provide you with tailored solutions.
STEP 2
PLANNING
The planning involves robust mapping and preparing a blueprint for the entire project and procedures.
STEP 3
DESIGN
During the design phase, our UI/UX design team prepares a user-friendly design for delighting your users.
STEP 4
DEVELOPMENT
Our back-end developers integrate and optimize your systems, our front-end developers are bringing creative and user experience to life.
STEP 5
TESTING & LAUNCH
We perform extensive system testing to validate that our deliverables are ready for the real world and your users.
Frequently Asked Question About Our Landscape Designer Website
We offer a wide range of features for your Lawn Care Web Design that drives more web traffic & converts visitors into buyers. Our developers provide your website with mobile-responsive UI, tight web security, powerful SEO, easy-to-use tools, smart backlinks, and more. Check our UI UX Design Agency for more details.
After the successful launch of your website, we promote your website on popular digital platforms like social media ( TikTok, Instagram, Facebook, Twitter), emails & newsletters, PPCs, Google ads, etc. to make your business a hit across the online sphere.
We consider all of our clients equally, so we have different budget-friendly packages available according to your requirements. From small-size services to large organizations, we provide Landscape Website Designer services to all. Check our WordPress Development Agency for more details.
Yes, Keyideas team provides you with free consultations to solve your business/project-related queries. You can easily contact Keyideas or email us at sales@keyideasinfotech.com. Take a look at our latest portfolio to learn more about our web design services. Visit our App Development Services for more info.
Mordy Karsch
Giving Back Promotions, San Francisco, CA
I had an amazing experience working with Keyideas - an excellent team of developers.

Isaac Gottesman
dimendSCAASI, Chicago
I would not hesitate to recommend Keyideas as a superior development house.

Lets Do Great Work Together!
Discuss your ideas. Connect now
We've successfully delivered over

leads for the client