Premium HVAC Website Design And Development Agency
Well-Executed Information Architecture
With a HVAC Website Design , you'll receive professional service and quality. With your new site, take pleasure in the appealing design and polished information. Increase customer confidence through reliable website for HVAC Companies that are optimized for search engines to give customers quick access to all the information they need about your services.
Our team will do all the heavy lifting on getting potential customers onto your website through a highly-functional website design, implementing SEO strategies and content management, lead generation, and even integrating analytics.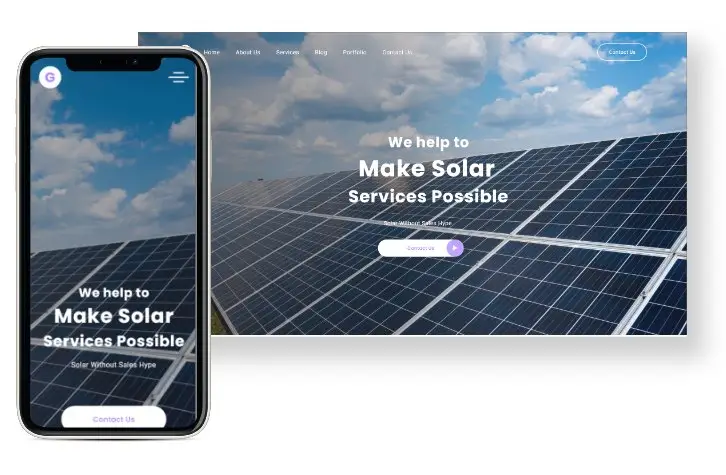 HVAC Website Design We Create Powerful HVAC Websites.
Dynamic Website Design
With the help of our specialized HVAC design services, our web design agency can help you keep one step ahead of the competition and give your customers a compelling online experience.
Increasing your search results
Enhancing a brand's reputation
Lowering the cost of maintaining a website
Improving conversion rates and marketing reach
Custom HVAC Website Services
Let customers to make reservations for all HVAC system services, from straightforward installs to comprehensive services. providing tidy, precise columns to upgrade your HVAC website.
Build your position in the industry
Maintain your brand's reputation
Increase the scalability of your website
Showcase your standout value offers
E-commerce Website & Application
A customer-centric design has a natural flow and structure that is easy to utilize for customers of all demographics.
Consistent brand identity
Keep up with the latest trends
Enhance for Mobile Users
Streamline the checkout procedure
APIs Integration
For small and large enterprises, we offer specialized commercial HVAC services for integrating third-party web APIs with websites and applications.
Saves you a lot of time
Developing distinct features
Get benefits from high-quality features
Construction and integration testing be done
A Fascinating Portfolio
To impress potential customers with your expert skills, create an appealing portfolio of perfection. Portfolio with stunning images of your latest HVAC repair, HVAC Technician, HVAC system.
Develops trust and authenticity
Better have a look at your offerings
Brings in additional clients
Provides information about the functioning process
Client Testimonial
As we place your reviews section just after your services so that your professionalism shines away from the right admirers .
Builds positive impression
Reviews act as referrals
Builds trust & authenticity
Explains your skills & services
Protect Your Site
Your website will be kept up to date and maintained by our experts. It removes all the obstacles that come your way to success to protect your HVAC company.
Quickly fix the errors
Timely software update
Keeping your website safe and secure
Better performance for a long time
UI/UX Design
Users come first on effective websites. This is made possible by combining user interface (UI) and user experience (UX) design.
Design with a user-centric approach
We provide our clients with the finest standards for UX design
To create an application that is pixel-perfect, a group of front-end engineers takes control
To create engaging user experiences, our own team of UX designers works diligently
Local SEO
To draw in new HVAC contractor, increasing visibility is essential. Our SEO-friendly design will get you to the top results in only a few clicks!
We create SEO tactics that advance you above your rivals
You see an increase in traffic, leads, and sales when you work with us.
Get access of the information you publish on your website
Join forces with us, and together, let's energize your online presence
Social Media & Content
We start with our client's marketing goals and work backward while keeping that client's target market in mind. Blogging is an excellent technique to inform potential clients about your cutting-edge services.
Get a New Fresh Look
Changes Beyond Existing Layouts
Dive into New Technology
Get access to Expertise
Email Marketing
With the assistance of our qualified experts, you can get the best email marketing for your website at a reasonable price.
Website Design that gets results
You'll never lose another customer
Personalized for every customer
Increases conversion rates by 25%
HVAC Website Design Comprehensive Resource That

Improves Their Customer Acquisition Process
UI / UX Design

With the help of UI and UX design, you can gain the trust of your target audience by giving them what they need. Long-term user engagement on your website results from excellent UI/UX design.

Uniqueness And Branding

Your brand identity is a promise to your customers and your companys personality. Your product should impact your customers long after the transaction is complete.
Flexibility And Customization

Flexible websites will automatically adjust to fit different screen widths. Create a website with the precise components needed to engage visitors and satisfy their needs.

Better Security

A websites security can also be increased with a custom website design. Integrate cutting-edge security features into its design to ensure a website is safe from hackers and other security risks.
We Provide Web Design

Solutions To Make
Your HVAC Business Successful
Customer Satisfaction

The level of customer satisfaction increases when you give on-time delivery. Customers are more inclined to continue with you through good and bad times if they are more satisfied with your services.

Search Engine Optimization

An SEO marketing strategy is a detailed plan for increasing the number of people who visit your website through search engines.
Affordable and Budget Friendly

Affordable web design does not equate to a low-quality design. Provide a professional website design with the best usability and utility while keeping costs Budget Friendly.

Business Experience

We have more than 15 years of experience in this business. Utilize our innovative and personalized website design solutions to stand out.
How We Make And Serve
Your HVAC Website
The Innovative Design Process
STEP 1
DISCOVER
Our team engages in extensive research to discover your specific needs and provide you with tailored solutions.
STEP 2
PLANNING
The planning involves robust mapping and preparing a blueprint for the entire project and procedures.
STEP 3
DESIGN
During the design phase, our UI/UX design team prepares a user-friendly design for delighting your users.
STEP 4
DEVELOPMENT
Our back-end developers integrate and optimize your systems, our front-end developers are bringing creative and user experience to life.
STEP 5
TESTING & LAUNCH
We perform extensive system testing to validate that our deliverables are ready for the real world and your users.
FAQ About Keyideas HVAC Website Design
Your choice between a template and custom web design will determine the price of your HVAC website design. Despite the fact that templated web designs are inexpensive, their limited nature prevents flexibility and will inevitably cost you much more than you had anticipated for all the corrections and eventual redesign. To know more about our services, check Website Design and Marketing Company page.
Simple, custom HVAC websites with five or fewer unique pages and basic functionality can take 2-3 months to develop. On the other hand, larger, more complex HVAC websites can take four months or longer to complete
Creating and maintaining high-performing websites for numerous electrical contractors for more than ten years. a driven group of web developers, designers, and SEO experts committed to creating for you a website that increases leads and sales. Website created just for you and your brand. Full-service website design solutions, including copywriting, SEO, and web design & development a group that shares your passion for business. regular upkeep and conversion rate optimization. We also offer best Handyman website design services.
Investing in a Top-notch website has many advantages. Your website may help you create credibility and win clients' trust in addition to being a great marketing tool. Contact the Keyideas team right away if you want to learn more about how this might benefit your business. Checkout our LinkedIn Web development company page for more info.
Mordy Karsch
Giving Back Promotions, San Francisco, CA
I had an amazing experience working with Keyideas - an excellent team of developers.

Isaac Gottesman
dimendSCAASI, Chicago
I would not hesitate to recommend Keyideas as a superior development house.

Lets Do Great Work Together!
Discuss your ideas. Connect now
We've successfully delivered over

leads for the client