Higher Education
For

Website Design
Do you want to expand your target audience reach?
Higher Education Website Design helps you to increase your overall online conversions through different SEO techniques. Takeover website design for educational institutions for an enriched and student-focused website content.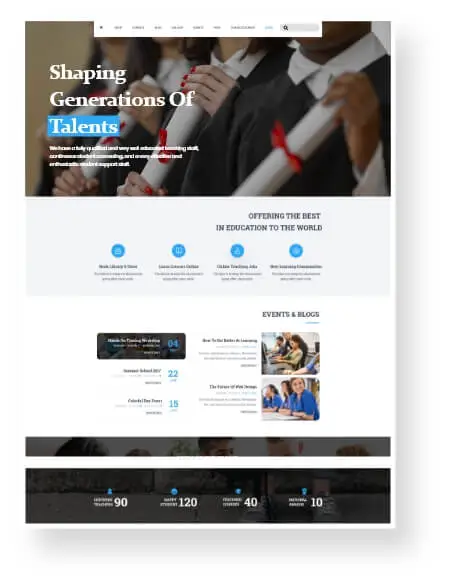 Interactive Elements
To Boost
Your Higher Education

Website Design
Mobile-Friendly Layout
Whether it is the staff or the students, everyone should be comfortable interacting with your higher education website design. Our UI/UX design team excels in offering you hand-tailored custom designs which are solely mobile-focused and all-device friendly designs.
Adapts to any screen without hampering the design
Aesthetically unique and pleasing UI designs
Seamless navigation and content scrolling
Tunes perfectly with your brand image and voice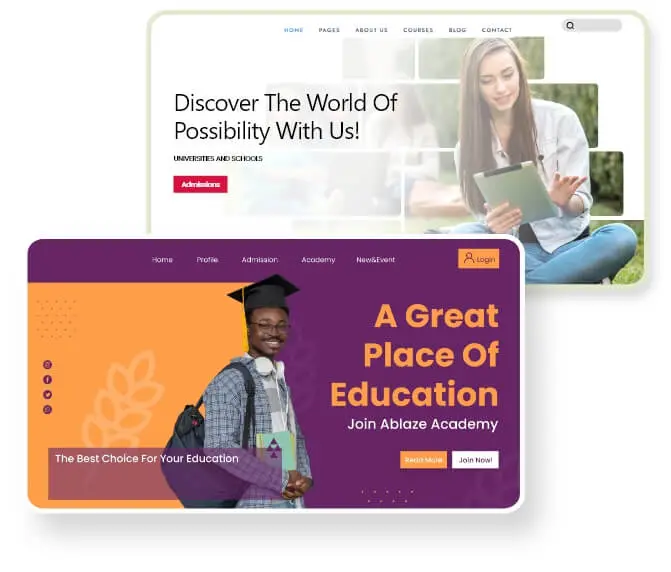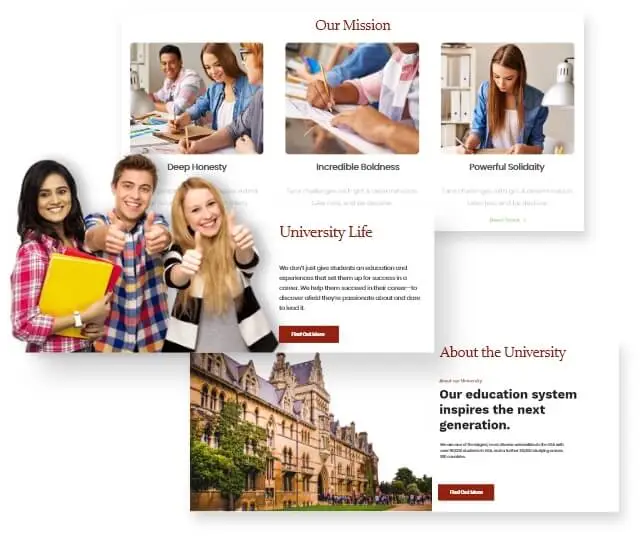 School Virtual Tour
To give students better idea of your educational institution, virtual tour is the best option. With our 360° school virtual tour feature, you can easily display your institute impactfully while engaging more users on your website.
Highly-optimized tour experience
Engaging photos and videos
Proves as a better school guide
Creative captions for each faculty
Predictive Search Bar
Now browsing categories or answers is simple. For an intuitive learning experience, students can use our predictive search option where they get accurate answers to their queries with in-built predictive keywords.
Saves time and efforts
Separate category/listings
Faster result loading time
Advanced filter/tag option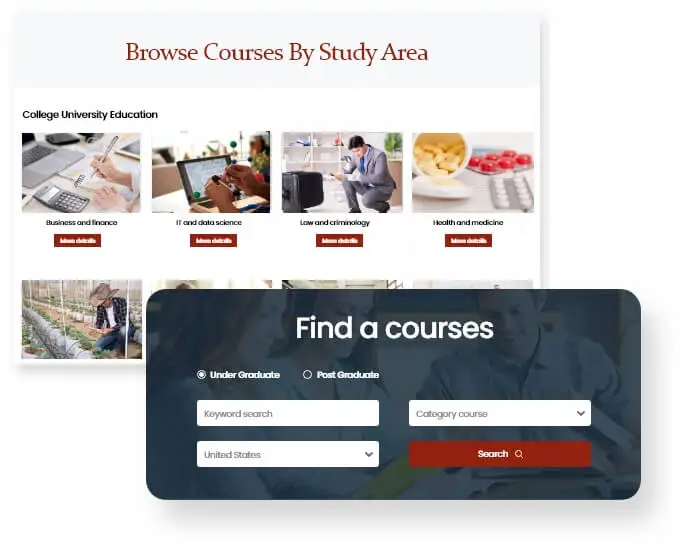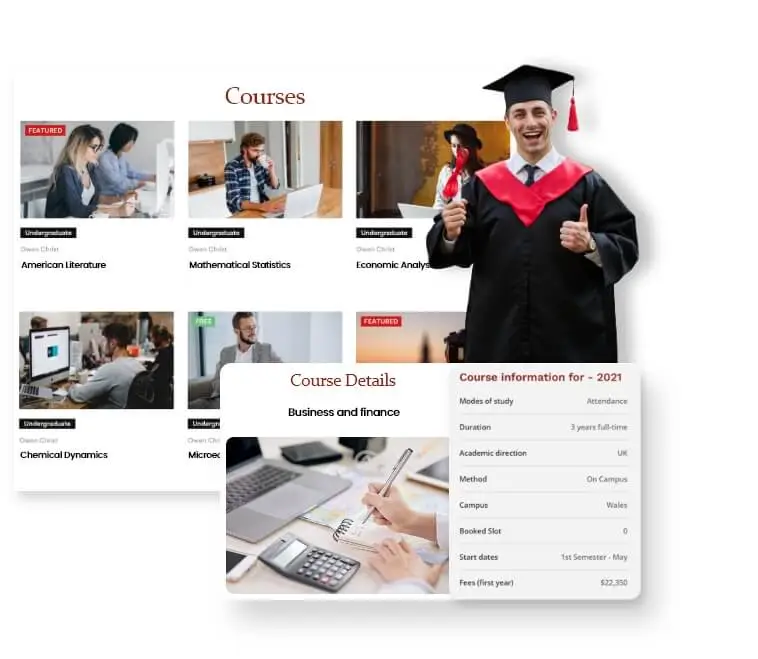 Education Dashboard
This is the top-most part of your education website design and should be well-presented. With clean, engaging and responsive dashboard sections, we can represent your key offerings impactfully while being specific to your services.
Drop-down service folder
Clean, actionable CTAs
Healthy dashboard features
Easy to edit & customize
Custom Online Prospectus
Students often face difficulty remembering school guidelines and syllabus. With our easy-to-download and customized online prospectus, students can engage with the prospectus anytime in offline mode.
Engaging, minimalist designs
PDF-generated format
Occupies lesser space
Interactive visuals and text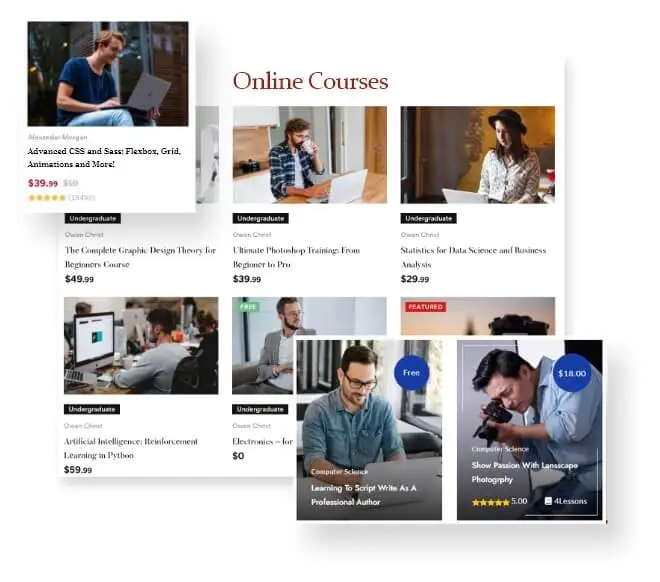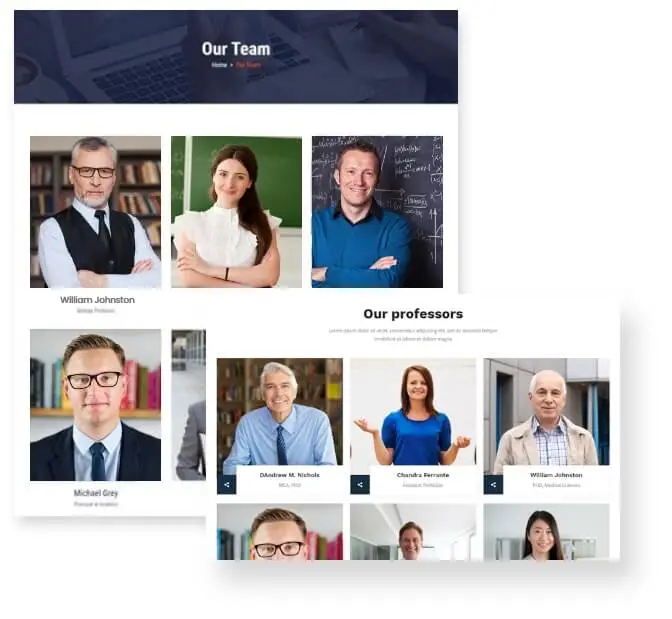 About School & Faculty
Presenting your key motive, staff members specifications along with their qualifications builds a sense of familiarity and trust among the students/parents. We use catchy storytelling approach to represent your school ideology and unique facets.
Highlighting key measures
Rich school history section
What's your education philosophy?
Unveiling your school success events
Program Registration Tool
Let students easily enroll and participate in various school programs with the help of a program registration tool. This is an optimized win-win feature which can save time and efforts of both school faculty and students.
Easy to book and stay updated
Quick registration- faster loading
Registration reminder and status
Stores large volume of data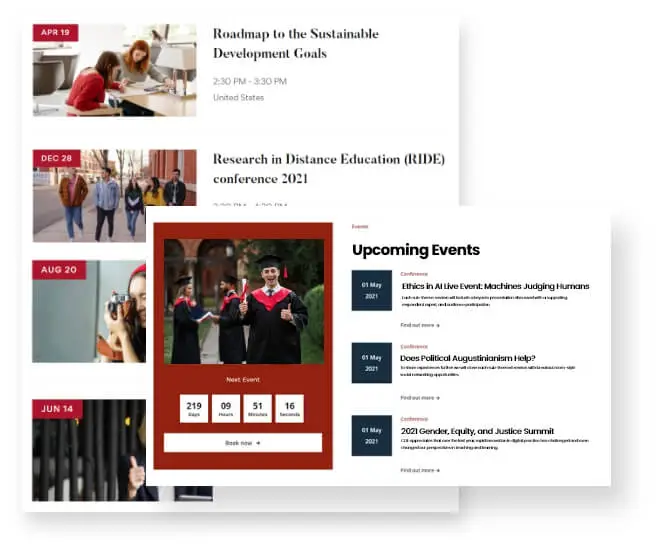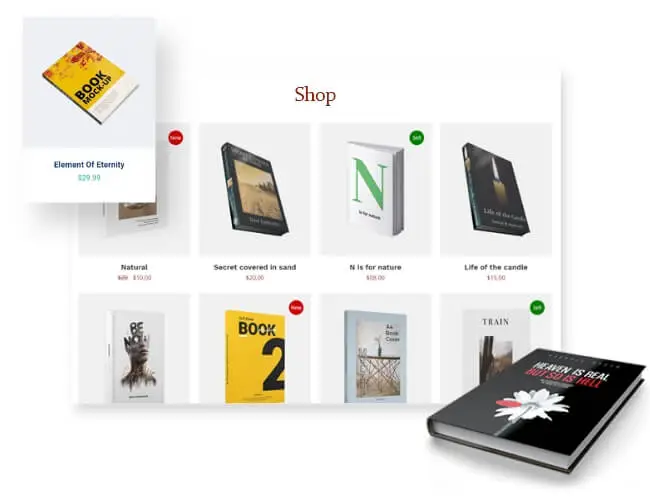 100% ADA Compliant
Get in-built accessibility options such as alt tags, custom URLs, and much more on your higher education website design. With our intuitive accessibility widget, students with disability issues can increase font size, change site colors, highlight links, and more.
3rd party tools to audit and optimize
100% ADA compliant design
Change alt tags, descriptions, URLs
Update and edit with backend access
Optimized Payment Gateway
With an optimized online payment path, parents/students can easily pay their fee without any delay. With our seamless payment integration, payments become fast, accurate, and secure. Now no more payment distractions or excuses!
Leading payment providers
Quick 2-step payment system
Payment history & reminder
100% secure payment procedure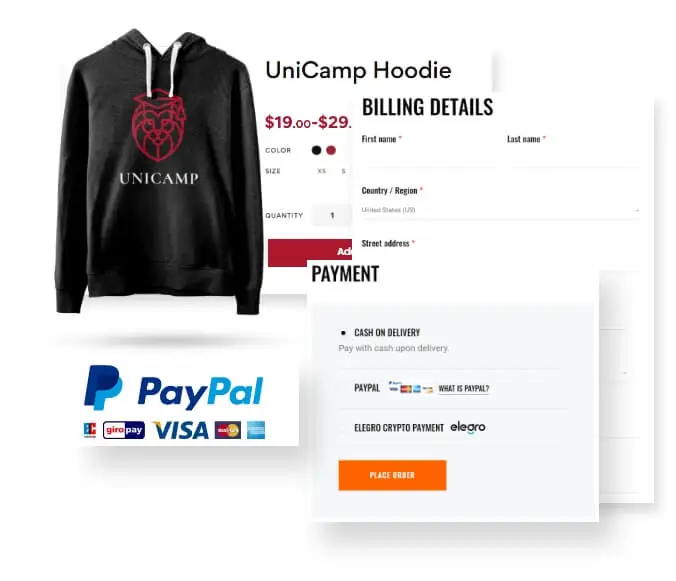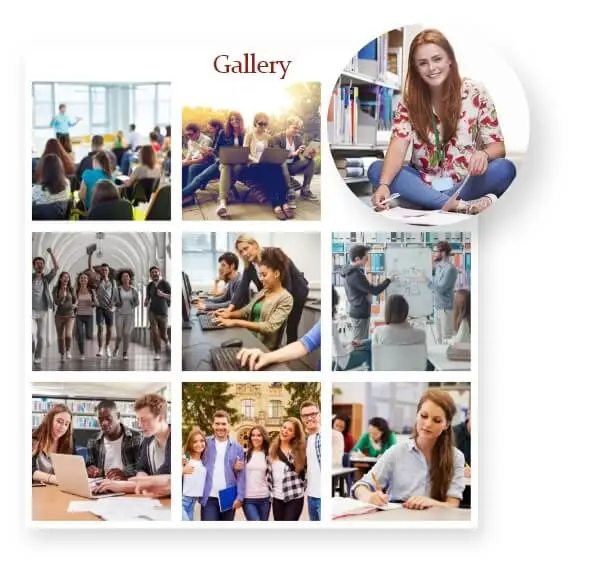 Attractive Event Gallery
Show off your amazing campus events with the stunning visual elements. Get our distinctive customized layouts for your event gallery announcements and key messages, portraying event timings, dates and location.
High-definition visuals
Latest event updates
Event reminder and history
Highlighting featured, important events
Student-Focused CMS
What is the better and cost-effective marketing than CMS? With a creative and optimized CMS platform, we highlight your best-learning environment and pedagogy methods with student success records. While nurturing your website with SEO-focused content.
Keyword-rich blogs/articles
Regular content updates
Best lead-building method
Drives in long-term results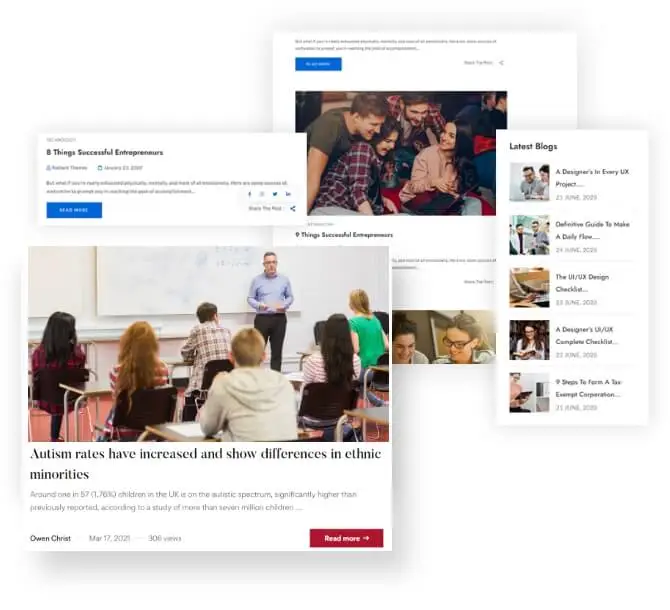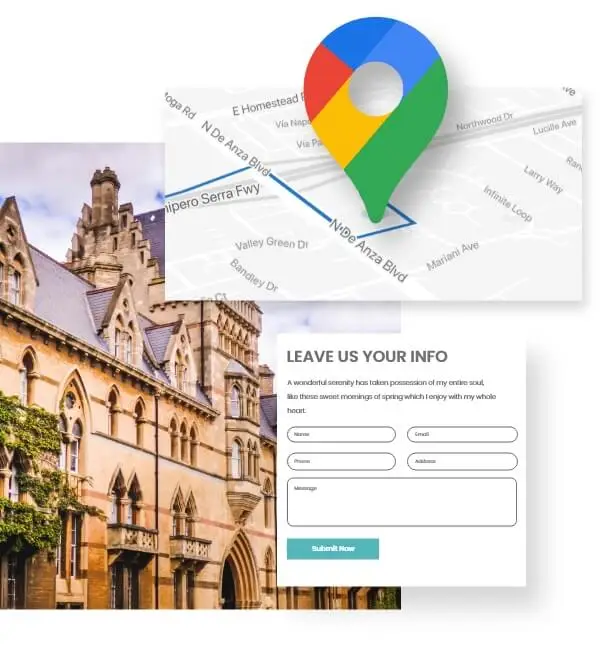 Custom School Sites
Get custom higher education website design for your main school branch as well as for other branches. We create different UI/UX design structures and color palettes for each site. Now empower students with custom site designs.
One domain management
Reputation building
Improves search ranking
Easy multi-tasker tool
What's In Digital Marketing?
Do you know 72% of online marketers state that content creation is their most effective SEO tactic? Digital marketing is a vast opportunity for high schools to represent their faculty features in a meaningful way with the help of a creative digital marketing team.
Marketing automation strategies
User-focused posts and emails
Online PPC ads and SEO marketing
Customized flyers, logo and banner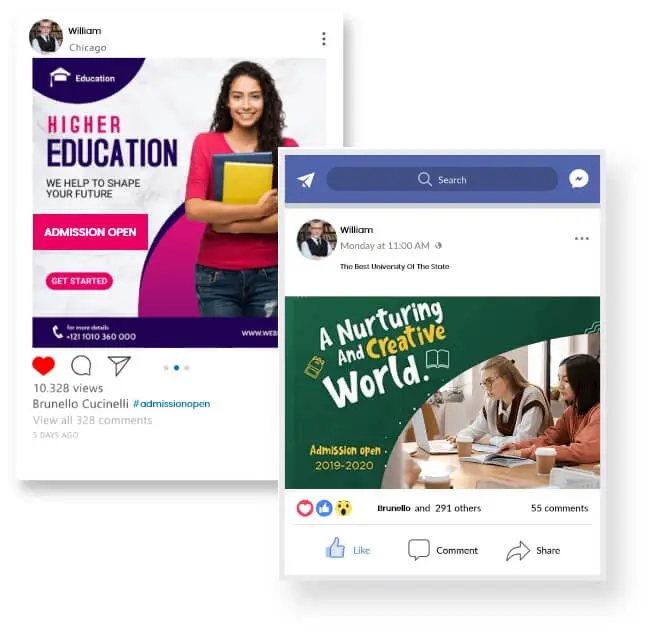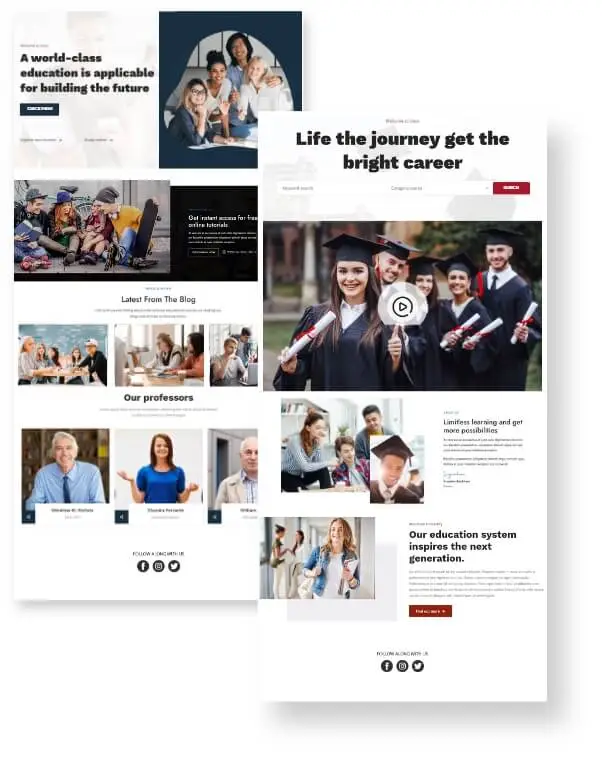 Student Multilanguage Support
Being a higher education provider, you must be receiving thousands of student applications from diverse locations and for a seamless learning ecosystem, it should not get lost into translation. By integrating our global multilanguage support on your website, multiple users can interact on your website.
Translates to any global language
Increases financial productivity
Encourages potential students
100% accurate & complete translation
Solid Lead Generation Plan For
Higher Education Website Design
Search Engine Optimization (SEO)

With our smart search engine optimization techniques, get recognized by search engines and your global-local visitors. Helping searchers find your services within seconds with superfast page landing and full-on page optimization.

Deep Keyword Research

Mobile-Responsive Website

Resourceful Site & Backlinks

Organic Lead Conversion
Content Management System (CMS)

Utilize our strong content management platform to take your services to the next level in the profound content field. The CMS team is adept at writing keyword-rich and well-managed content for your services at their best creative end.

Lead-Generating Links Wrapped

Complete Content Optimization

Increased Conversion Potential

Improved Brand Recognization
Targeted Pay-Per-Click (PPC)

We don't leave your custom PPC Ads just floating on the web but also retarget the users to multiply every click. By placing your ads on popular sites, your browsers become buyers.

Real-Time User-Targeted Ads

User Tracking and Analysis

Garner Immediate Results

Attractive Visual Elements
Lead Generation Magnet

Our lead generation magnet offers your visitors free assets and special deals like free webinars, e-books, discounts, and whitepapers to exchange their email/contact details significantly.

Drives Instant Sales

Spreads Brand Voice

Shared Interests & Goals

Builds User Community
Responsive

Higher

Education
Website Design Expands User Experience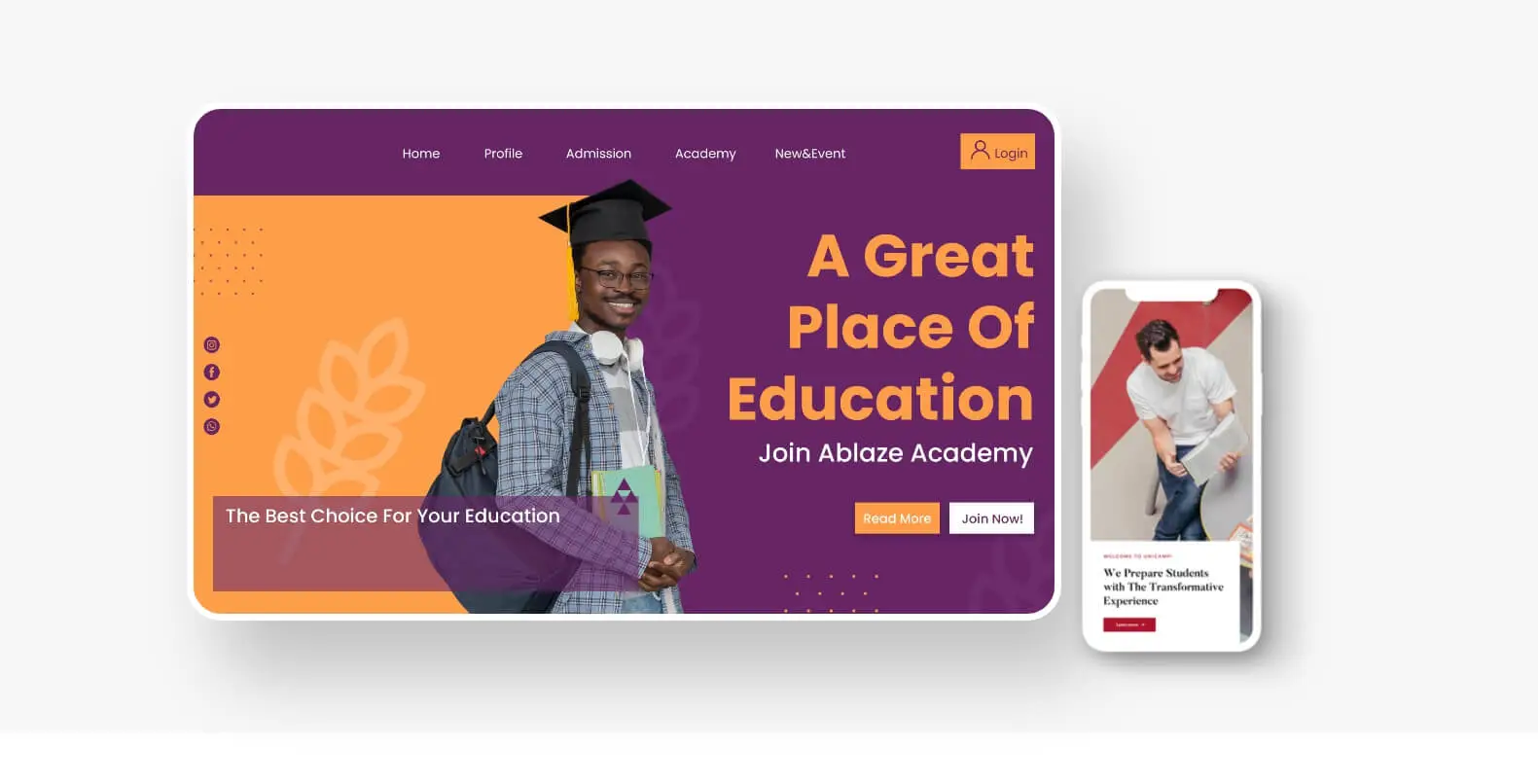 Boost Search Rankings

SEO is the most powerful way to drive more high-converting traffic to your website. With the right SEO practice, users can easily find your website on the first page of SERP.

Consistency In Design And Brand

Through our brand-fit UI-UX design elements, you can showcase new learning opportunities, expand your brand voice and keep growing your loyal student base who keeps contributing more.
Reach More Customers

Your 1st step to reach more students is your 24/7 active online website. Our CMS team smartly furnishes active backlinks and content part of your website. Now it's only a matter of time before your higher education website gets up and keeps running.

Optimize Page Experience

With innovative designs & graphics, friendly user interface, responsive CTAs and engaging content, your website can deliver rich learning experience to the students throughout the page.
How We Make And Serve
Higher Education Website
The Innovative Design Process
STEP 1
DISCOVER
Our team engages in extensive research to discover your specific needs and provide you with tailored solutions.
STEP 2
PLANNING
The planning involves robust mapping and preparing a blueprint for the entire project and procedures.
STEP 3
DESIGN
During the design phase, our UI/UX design team prepares a user-friendly design for delighting your users.
STEP 4
DEVELOPMENT
Our back-end developers integrate and optimize your systems, our front-end developers are bringing creative and user experience to life.
STEP 5
TESTING & LAUNCH
We perform extensive system testing to validate that our deliverables are ready for the real world and your users.
FAQs About Higher Education Website Design
We offer a wide range of features for your higher education website that drives more web traffic & converts visitors into members. Our developers provide your website with mobile-responsive UI, tight web security, powerful SEO, easy-to-use tools, smart backlinks, and more. To know more about our services, check our latest portfolio page.
After the successful launch of your website, we promote your website on popular digital platforms like social media ( TikTok, Instagram, Facebook, Twitter), emails & newsletters, PPCs, Google ads, etc. to make your educational platform a hit across the online sphere.
We consider all our clients equally, so we have different budget-friendly packages available according to your requirements. From small-size services to large organizations, we provide higher education website design services to all. We also provide online education website design services.
Yes, our Keyideas team provides you with free consultations to solve your business/project-related queries. You can easily contact Keyideas or email us at sales@keyideasinfotech.com. Take a look at our latest portfolio to learn more about our web design services. Checkout our LinkedIn Web development company page for more info.
Mordy Karsch
Giving Back Promotions, San Francisco, CA
I had an amazing experience working with Keyideas - an excellent team of developers.

Isaac Gottesman
dimendSCAASI, Chicago
I would not hesitate to recommend Keyideas as a superior development house.

Lets Do Great Work Together!
Discuss your ideas. Connect now
We've successfully delivered over

leads for the client