Truck and Trailer Companies Website Design
Truck & Trailer Companies Website Development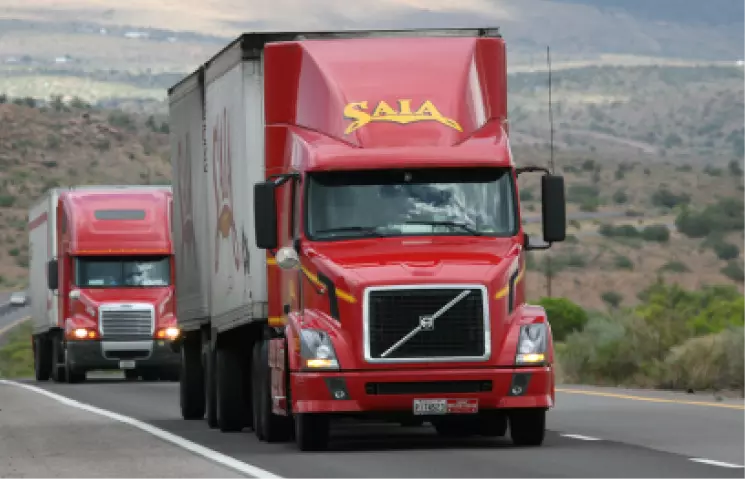 User-Driving Trailer Website Design
Need more quality lead engagement on your trailer company website design? We provide you more than that. Get responsive truck company website development to blow your revenue bars with our customer-centric web design and marketing solutions!
Convert Quality Leads With Truck Company Website Development
Revolutionize your automotive brand with our bespoke design services, seamlessly integrating cutting-edge technology for a dynamic online presence, setting new standards in the transportation industry.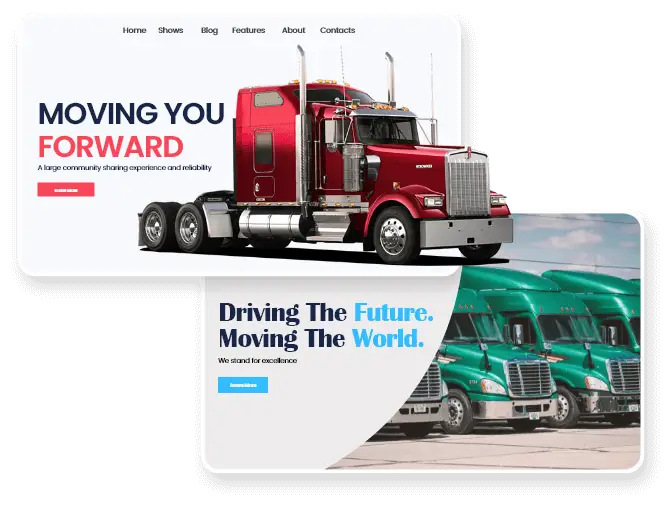 UI UX Design Pickup
Do you know every $1 invested in your UX design returns you an ROI of about $2 to $100? Such is the importance of your website functionality and aesthetics. Our responsive truck company website development is custom UI UX design-focused while taking care of the user needs and reflecting your trailer services rightfully.
Mobile-first UI themes/graphics
Adaptable to different screens
Actionable CTAs and contacts
Seamless navigation paths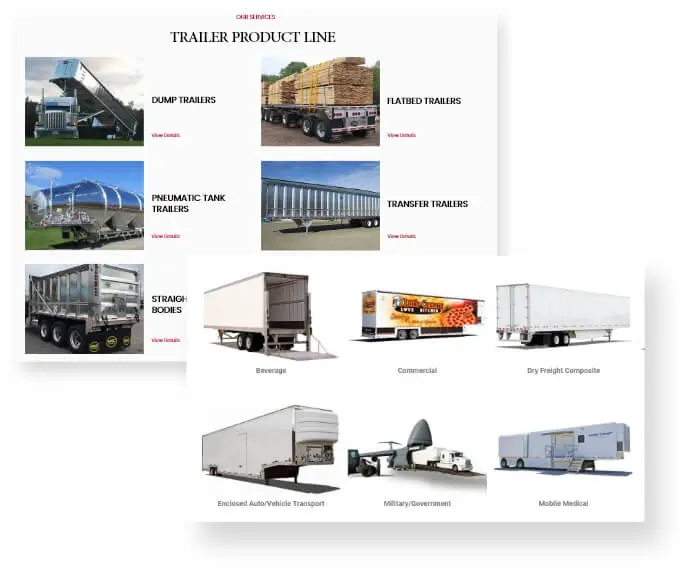 Well-Presented Logistic Services
With our clean and approachable service slides, visitors can easily select the type of service they want. We well-present your logistic services with responsive UI service page design. Highlighting your Less Than Truckload, FTL or Full Truckload, Flatbed Trucking or Refrigerated Trucks Services.
Standard list layout with descriptions
Visually appealing slider list templates
Buttons, forms, shipment tracking options
Layout with customizable side information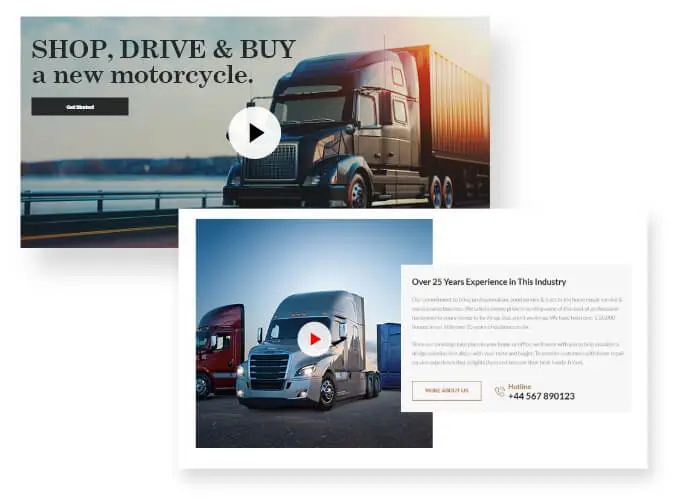 Engaging Logistics Video
According to a study, there are 69% of buyers who are influenced by YouTube over TV and print media. In the light of this, we attach engaging and informative logistics videos with truck company website development while spotlighting the distinctive features and functionalities of each model.
Short clips- more information
HD videos and motion graphics
Creative caption for each model
Sets your services apart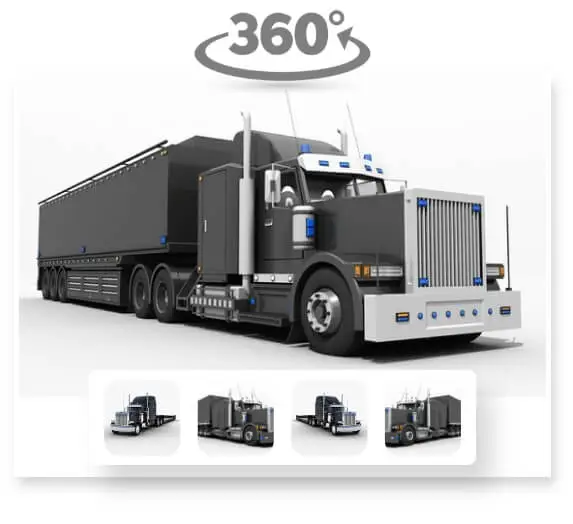 Real-Time Order Tracking
Real-time order tracking is one of the essential features we add in truck company website development. All your customers need to do is, enter the shipment ID into the given tracking field and track the real-time order progress.
Delivery statuses and notifications
Reduce the risk of accidental delays
Order tracking progress bar with time-date
Streamlines and eases your delivery tasks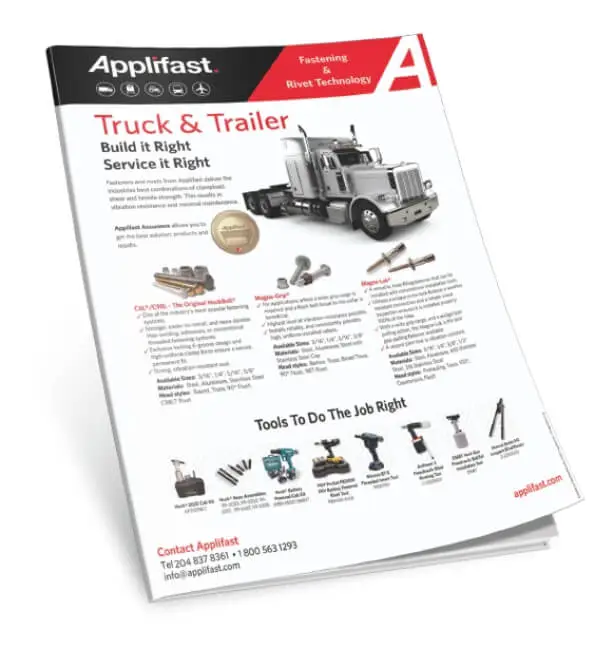 24/7 Billing Dashboard
Best truck company website development enables your customers to book their shipments 24/7 from any device with a simple booking form. With our 24/7 billing dashboard, get centralized order and billing management admin dashboard on your website with complete order details so that you get instant orders anytime, anywhere.
Increases customer engagement
Improves operational efficiency
Multiple secure payment options
Billing history and payment invoice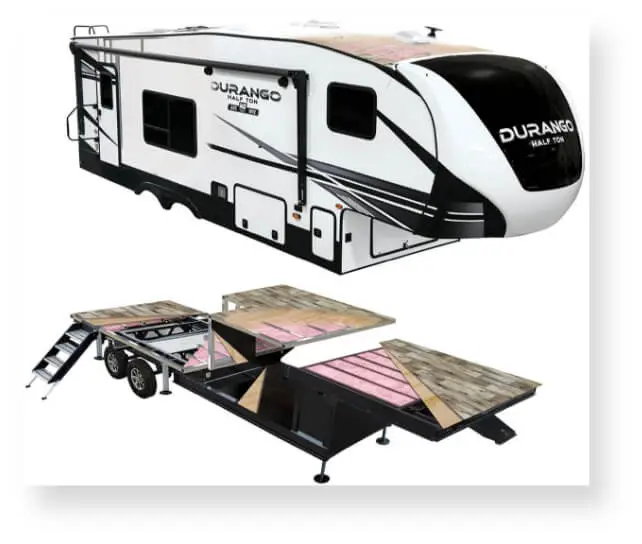 Significant Carrier Profiles
Registering your transportation carriers profiles containing the details about their services, prices, capacities, fleet photos makes your trailer website design even better. We attach descriptive carrier profiles on your website to showcase the features and conditions of each carrier while customers can still compare their estimated delivery times, rates and other conditions.
Model-based cost estimation
Easy to update/customize profile
High-quality fleet photographs
Suggested orders and loadings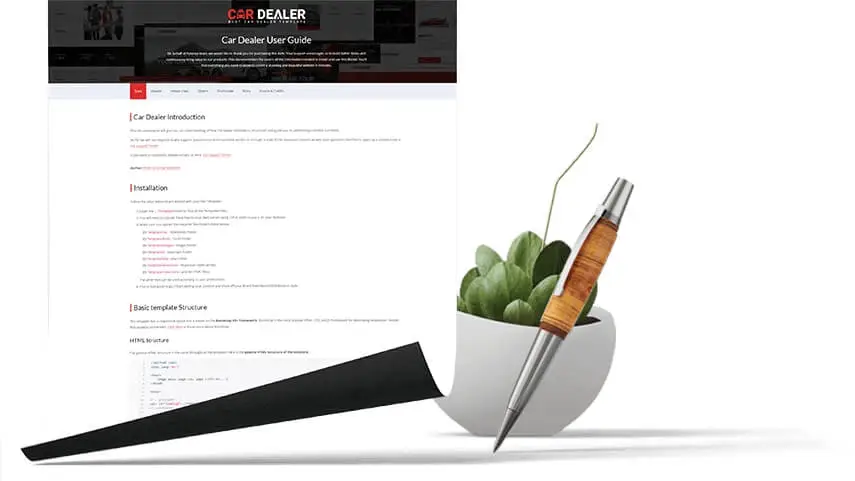 Shipment Cost Calculation
Customers calculating their transportation costs which is based on the shipment weight, distance, region, taxes and other factors makes the order process super-easy and fast. With our shipment cost and time calculator, you can get prospective customers to carry forward their orders pretty fast under your logistics business model.
Increases customer reliability
Easier and predictable orders
Saves time- avoids order delay
Accurate shipment calculation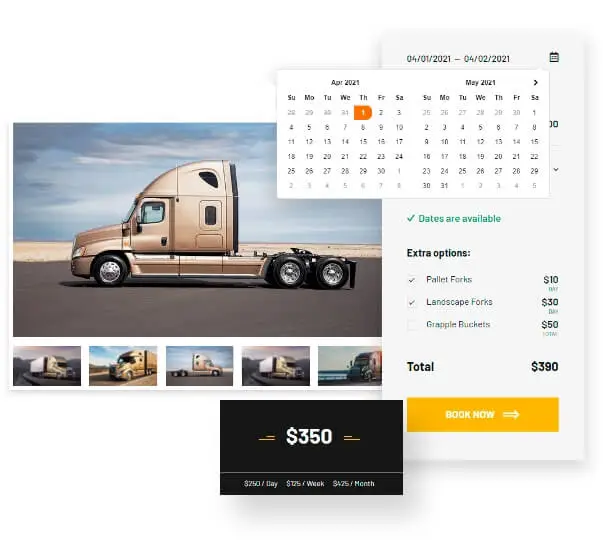 Amazing Customer Reviews
Highlighting your best customer reviews with your truck company website development is one of the crucial step to capture user attention and trust. That's why we formerly feature engaging customer feedback and stars as well as your reputed awards and certificates on your website main page.
Grabs more website traffic
Best referral marketing
Showcase your expertise
Customer review management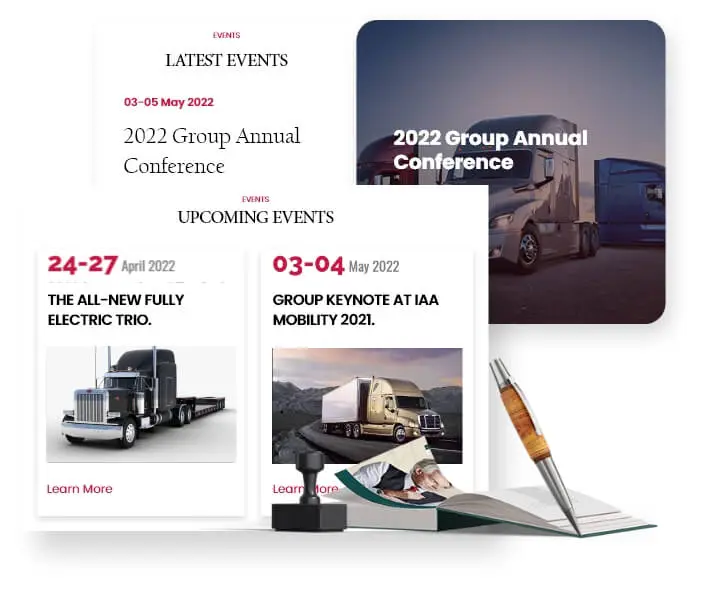 ADA Compliant Website
Taking care of the ADA standards in your truck company website development, makes your website flawless and accessible. Let our web developers design a 100% accessible website for you which allows users to easily place or track orders with clear semantic markup tools.
Accessible screen readers
Proper error validation
Easy lead transition
Bold-custom fonts/colors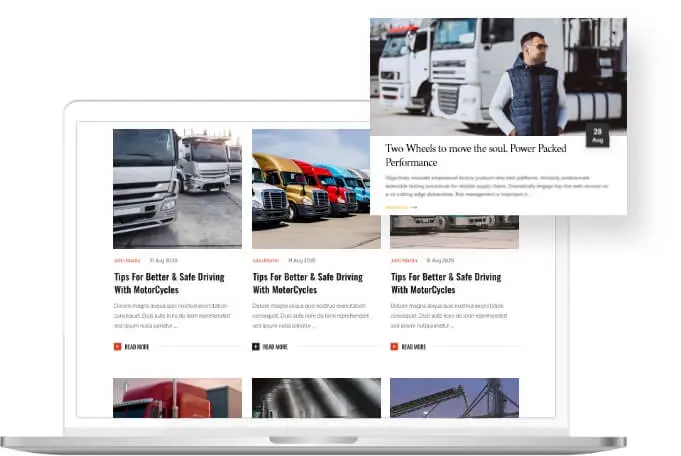 Logistic Blog Activation
Actively adding unique SEO-content to your website helps Google and other search engines to rank your page higher. With our engaging logistics blogs and articles, you can stand out from your competitors. How's that even possible? Our diligent CMS team writes valuable and educational SEO-optimized content.
Supercharges your SEO ranking
Knowledgeable resource hub for users
Keyword-rich blogs, tags, links
Regular blog post optimization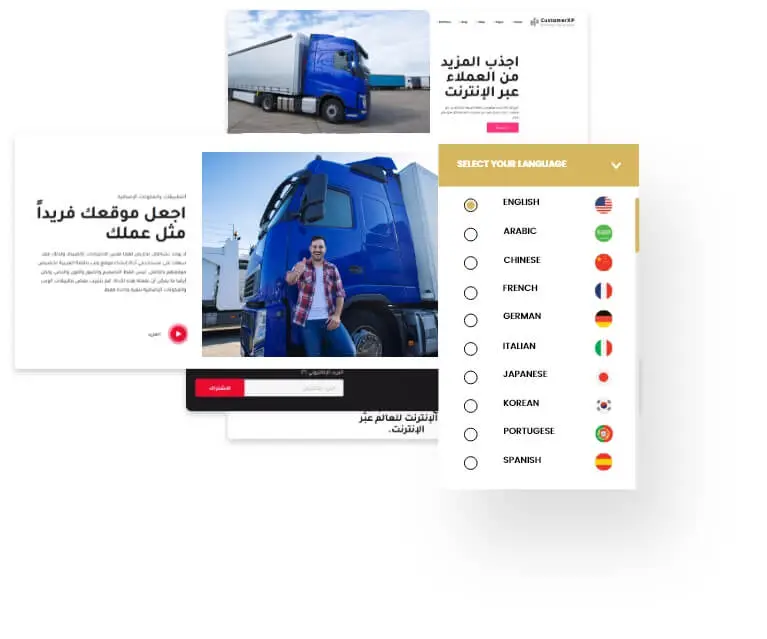 Multilanguage Support Gear
Do you know compared to emails, live chat bots are more preferred by customers with over 46%? It is the latest leading digital contact channel to bridge the gap between users and companies. Our all-in-one multilanguage chat bot takes you one step ahead in that by solving customer queries in different languages with trailer company website design services.
Speaks 50+ global languages
Gives immediate query solutions
Automatically leads to the right page
Integrated personalized human factor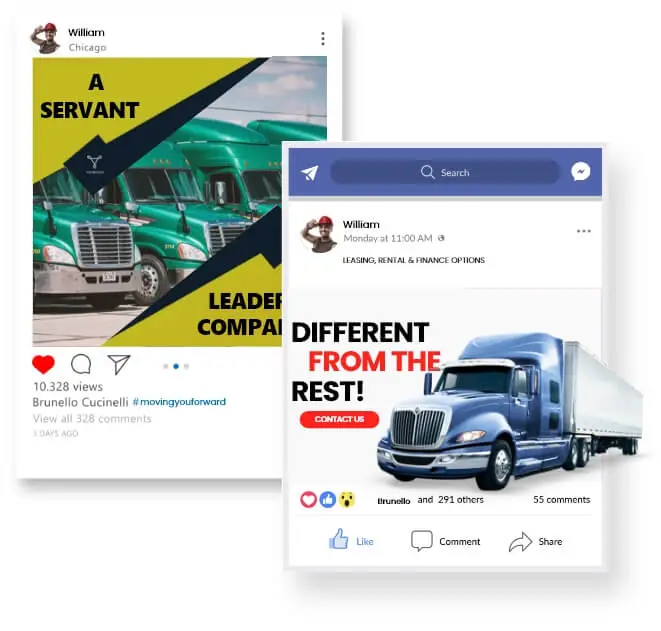 Digital Marketing Trail
Grab this amazing digital platform to cite your different truck services and shout-out new announcements. Our creative digital marketing team helps you to utilize digital channels like content marketing, PPC, SEO marketing, emails, etc. to propagate your logistic services before your target market.
Customer-lead analysis
Marketing automation strategy
Engaging emails/ brochures
Impacts buying decisions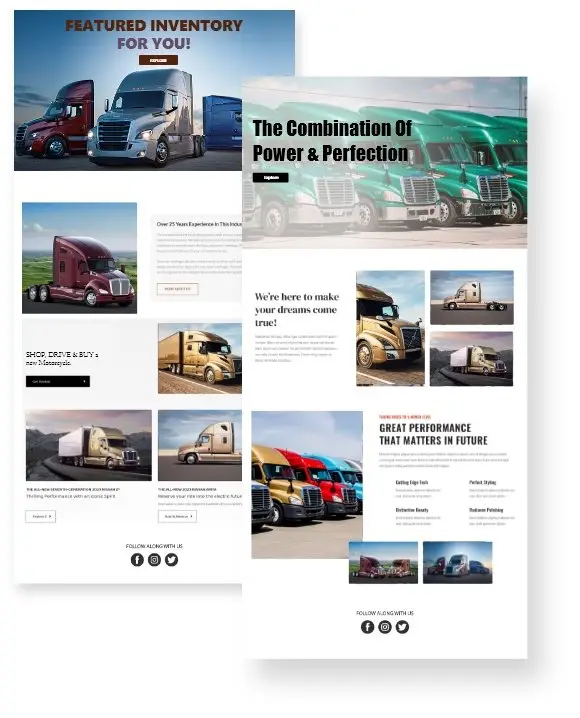 Customer Analysis Drive
Improve your website performance by generating user statistics and data. With our smart customer analytics tool, we analyze user searching behavior, service preferences and their searching history to preplan the right strategies. Use this tool to optimize your website performance & capture organic leads.
Analyze, track & update data
Produces better results
Helps in planning strategies
Saves additional resources & time
Solid Lead Generation Plan For Truck Company Website Design
Website Design
Great first impression and user-friendly interfaces
Cross device Compatibility
Seamless user experience across devices
Review and Rating System
Builds users trust and adds more credibility
Maintenance and Support
Ensuring minimal downtime and optimal performance
Search Engine Optimization
Improves Search Rankings
Content Marketing
Establishes Strong Online Presence
Conversion Rate Optimization
Marketing Services to grow business 200%
Affordable Pricing
Lower Total Cost Of Ownership & Higher Return on Investment
FAQs About Truck Company Website Development
Mordy Karsch
Giving Back Promotions, San Francisco, CA
I had an amazing experience working with Keyideas - an excellent team of developers.

Isaac Gottesman
dimendSCAASI, Chicago
I would not hesitate to recommend Keyideas as a superior development house.

Lets Do Great Work Together!
Discuss your ideas. Connect now
We've successfully delivered over

leads for the client