Get Customer-Centric
Senior Living Web Designs
At Senior Living Website Design, we utilize the latest features of web design & SEO techniques to reach out to your potential customers.
Now drive new conversions with sales-friendly Assisted Living Web Design!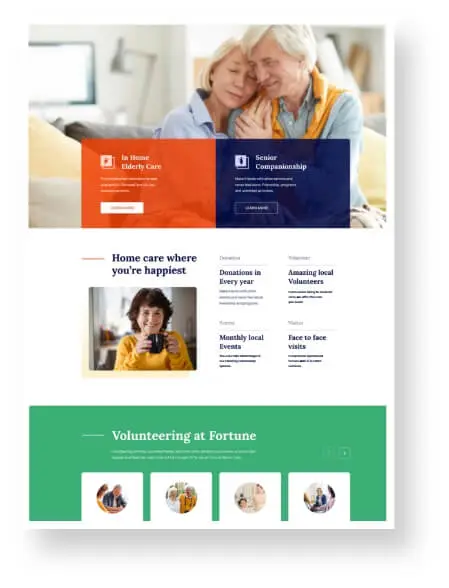 Design Professionally
For Your Senior Living Facilities
Easily Accessible Service Portal
With senior living website design, uplift your business to attract new and engaging clients. Use clean service segmentation and sliders to allow them easily understand & book your professional services.
Aids in Turning Traffic Into Leads
Establishes Regular Information Hierarchy
Drives Back Long-Lasting Outcomes
Beholds the Audience Attention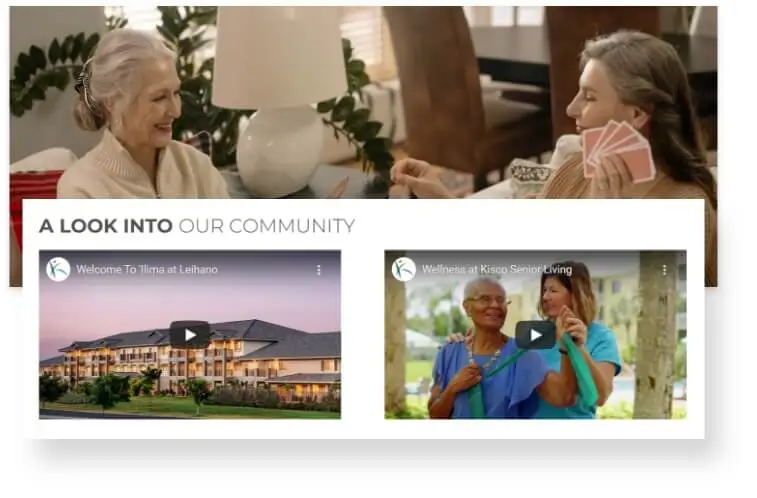 Community Features
Seniors like to listen to like-minded companions. They would love to personally interact with them. Let's present them with what they want or need right there on your website.
Makes Real-Time Connections
Welcomes New Members
Drives In Long-Lasting Outcomes
Booms Your Organization
Auto Messaging
Many companies use the Auto Messaging system to solve different queries of their customers. Use this awesome feature to different extents and get bigger leads
It Saves Time and Produces Better Outcomes
Fewer Errors & A Structured Plan
Communication in Real-Time
Increase in Conversion Rate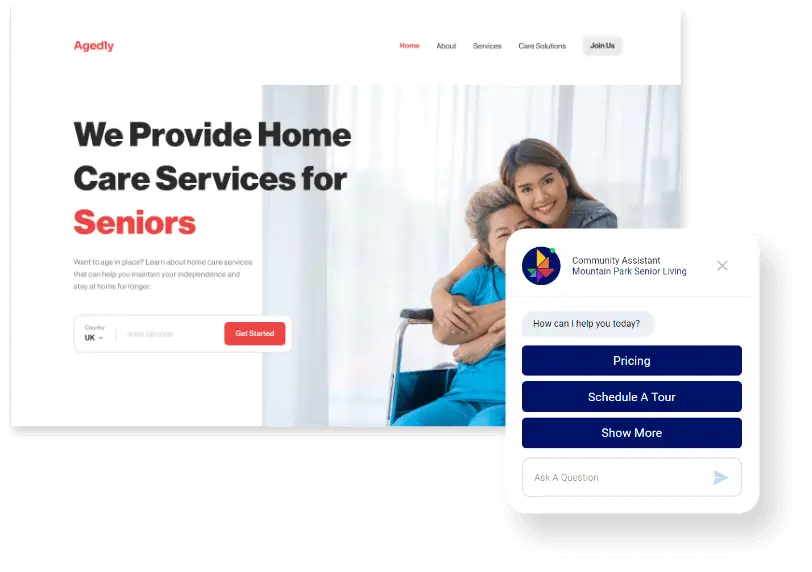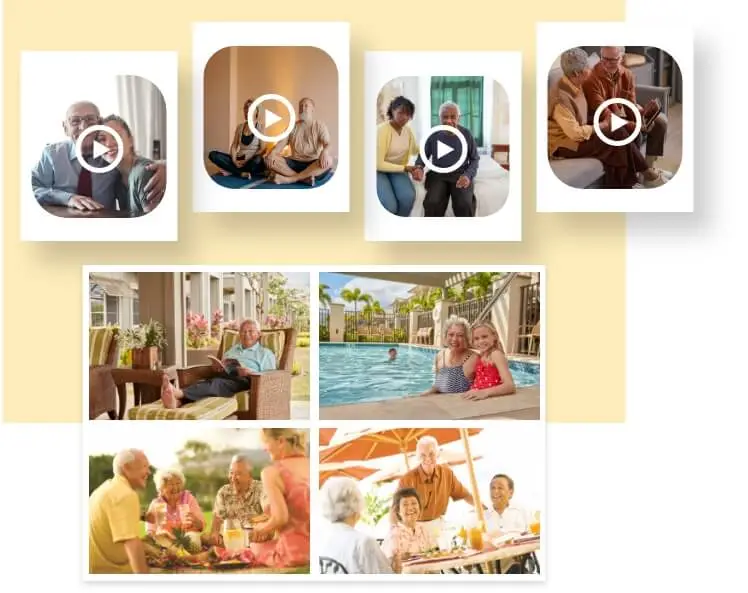 Engage Visitors Via Multimedia
Multimedia of this variety can be a walking stick for those site visitors who have certain issues. Like reading, vision, audio or cognitive disabilities.
Widely Appealing Over Traditional
Conveys Information
Improves Personal Communication
Integrating and Interacting
Donations & Sponsorships
Spending your precious time and money to create a special donation slide can have a big impact on donators. We attach high-calling and simple donation forms on your website.
Locate Easy To Donate Buttons
No Distraction Donation Forms
Lesser Information Field
Gratitude Page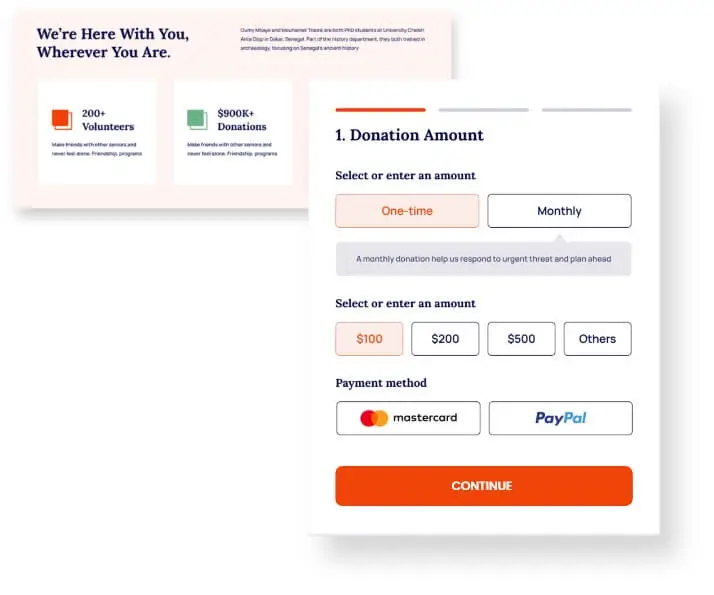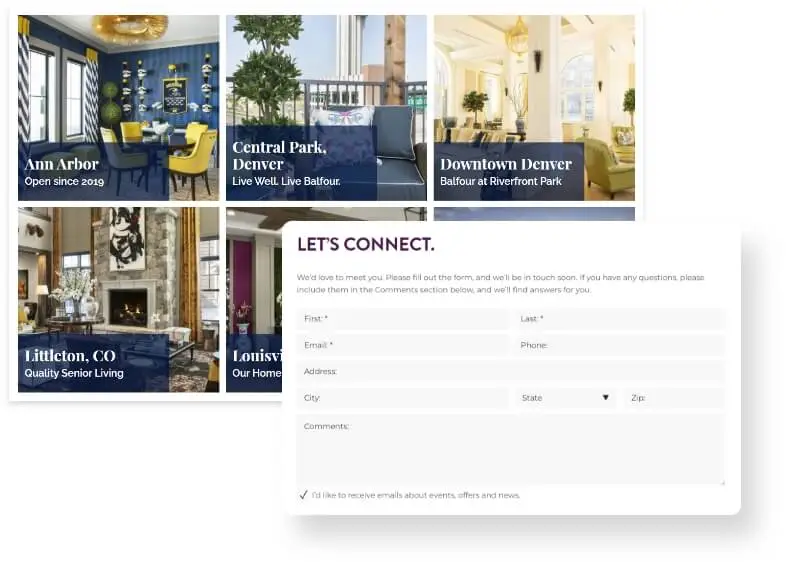 Address & Contacts
Creating a contact page might sound hard but an easy to fill contact page actually accelerates your business wheels. Now get actionable CTA buttons and convertible clicks.
Boosts Your SEO
Interaction With Your Audience
Strengthens Personal Communication
Win Brand Loyalty
Blogging Platform
Share your stories with the world through a professionally-designed blog that matches your brand. Establish a wide blog community around your Senior Living Facilities.
Supercharges Website's SEO
Manages Online Identity And Builds Trust
Helps Convert Traffic Into Leads.
Drives Long-Term Results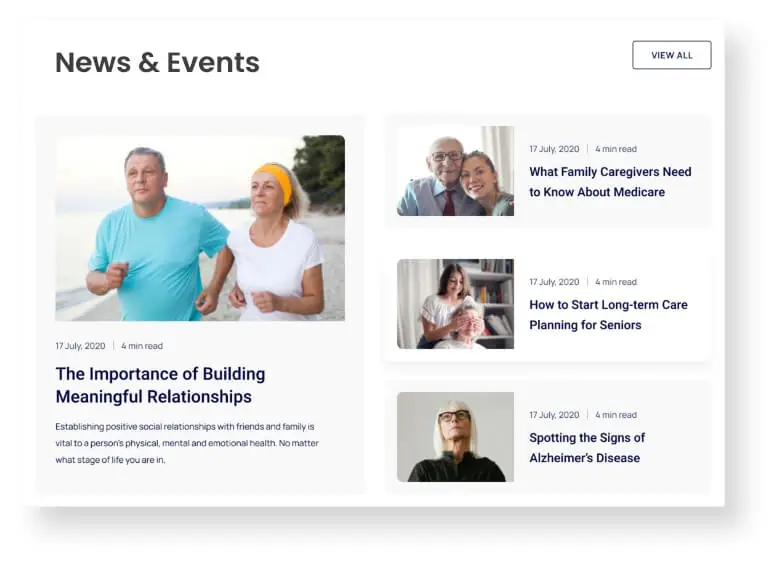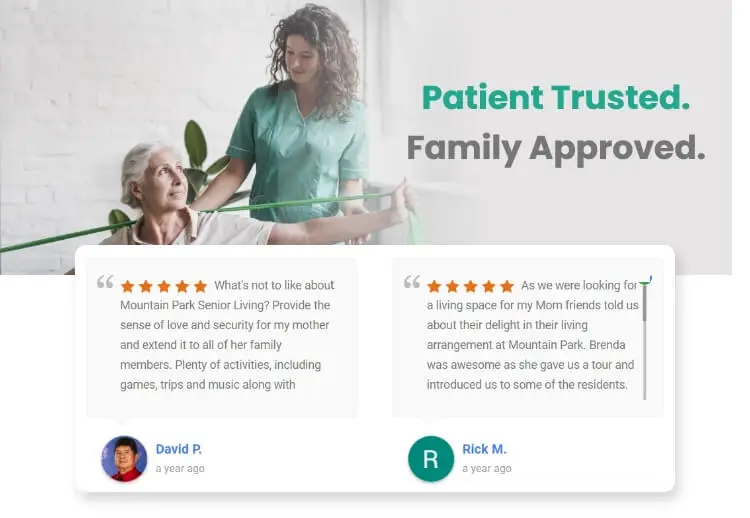 Testimonials And Reviews
If you add a review page on your site it will draw in both new as well as old clients. Moreover, it will boost the credibility of your genuine services.
Star Reviews Offer Myriad Of Advantages
Helps In Building Trust, Creates Credibility
Beats Skepticism & Reluctance
More Visibility As A Business
Together We Build A Strong
Social Media Presence
Social Media Marketing plays a huge role in reaching out to large company prospects and customers. We use different social media and digital marketing tactics to raise your brand's awareness.
Overall Engagement
Flows Website Traffic
Authenticity Binds Trust
Reputation Management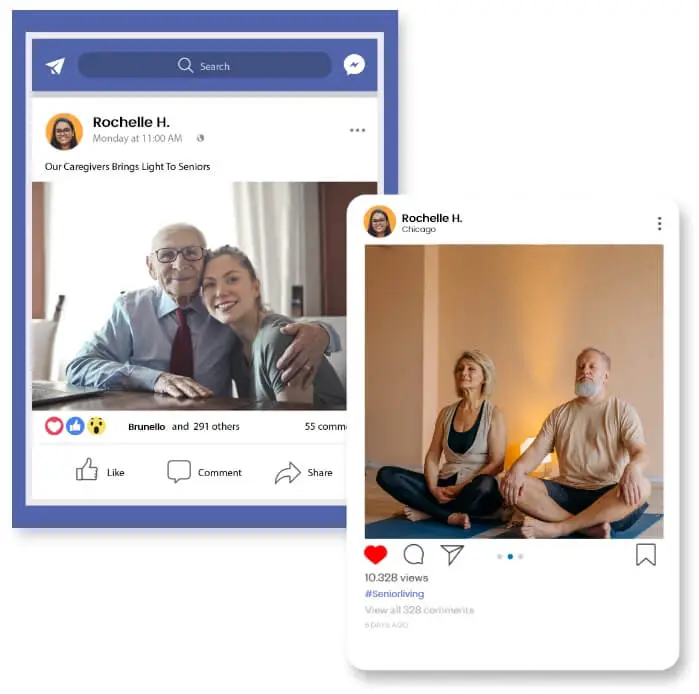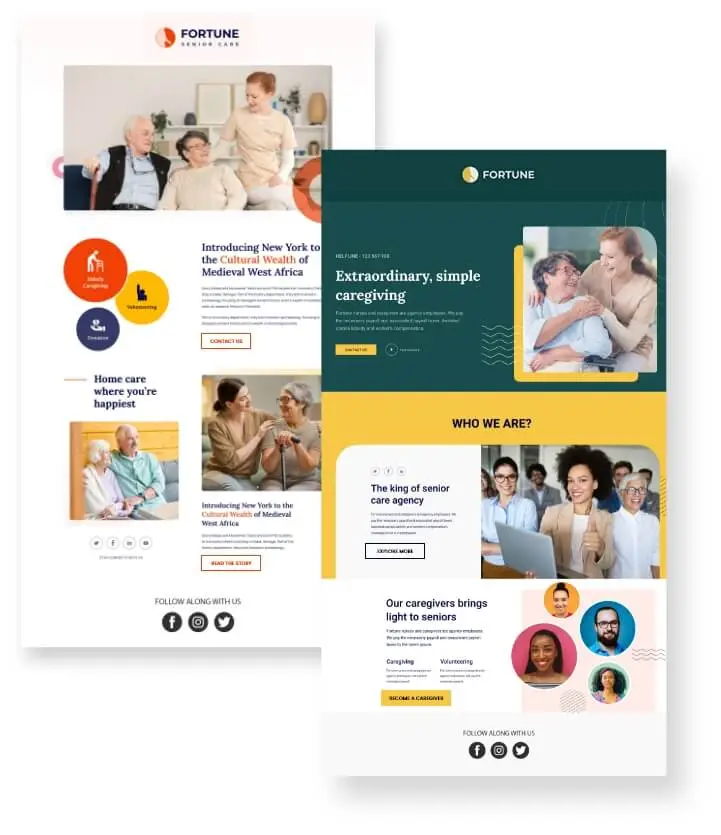 Email Marketing
Email marketing offers you to keep in touch with your customers consistently. We design beautiful and engaging brochures and newsletters to drive business on your table.
A Cheap Marketing Avenue
Sends Specialized Messages
Emails Enjoy High ROI
Improves Your Omnichannel Marketing
Solid Lead Generation Plan For
Senior Living Website
Search Engine Optimization (SEO)

With our smart search engine optimization techniques, get recognized by search engines and your global-local visitors. Helping searchers find your services within seconds with superfast page landing and full-on page optimization.

Deep Keyword Research

Mobile-Responsive Website

Resourceful Site & Backlinks

Organic Lead Conversion
Content Management System (CMS)

Utilize our strong content management platform to take your services to the next level in the profound content field. The CMS team is adept at writing keyword-rich and well-managed content for your services at their best creative end.

Lead-Generating Links Wrapped

Complete Content Optimization

Increased Conversion Potential

Improved Brand Recognization
Targeted Pay-Per-Click (PPC)

We don't leave your custom PPC Ads just floating on the web but also retarget the users to multiply every click. By placing your ads on popular sites, your browsers become buyers.

Real-Time User-Targeted Ads

User Tracking and Analysis

Garner Immediate Results

Attractive Visual Elements
Lead Generation Magnet

Our lead generation magnet offers your visitors free assets and special deals like free webinars, e-books, discounts, and whitepapers to exchange their email/contact details significantly.

Drives Instant Sales

Spreads Brand Voice

Shared Interests & Goals

Builds User Community
Responsive Senior Living Website
Design Diversifies User Experience
Attract Wider Audience
According to a U.S. report around 810,000 Americans are currently residing in assisted senior living facilities. With this booming figure, a responsive web platform is what your audience desires.
Easier Monitoring Analytics
With easy monitoring, analyze your audience without huddling up with technicalities. Our fully-equipped website deliveries will process everything.
Increase Leads Generated
As more clients equal more ROI, generate ever-growing leads with the help of our uniquely blended designs made to fit your brand.
Lower Bounce Rates
More engagement results into lower bounce rates. Equip your website with our latest designs and strategies to gain regular visitors.
Easy Maintainance
Maintain only what is needed, we don't put extra weight on your website. As our effort is to prioritize your website requirements for a hassle-free experience.
Boost For SEO
With the use of advanced keyword research and SEO best techniques, we make a boost out of SEO to easily reach out to your potential and existing customers.
How We Make And Serve Your
Senior Living Facility Website
The Innovative Design Process
STEP 1
DISCOVER
Our team engages in extensive research to discover your specific needs and provide you with tailored solutions.
STEP 2
PLANNING
The planning involves robust mapping and preparing a blueprint for the entire project and procedures.
STEP 3
DESIGN
During the design phase, our UI/UX design team prepares a user-friendly design for delighting your users.
STEP 4
DEVELOPMENT
Our back-end developers integrate and optimize your systems, our front-end developers are bringing creative and user experience to life.
STEP 5
TESTING & LAUNCH
We perform extensive system testing to validate that our deliverables are ready for the real world and your users.
FAQs About Senior Living Website Design
Mordy Karsch
Giving Back Promotions, San Francisco, CA
I had an amazing experience working with Keyideas - an excellent team of developers.

Isaac Gottesman
dimendSCAASI, Chicago
I would not hesitate to recommend Keyideas as a superior development house.

Lets Do Great Work Together!
Discuss your ideas. Connect now
We've successfully delivered over

leads for the client