Inevitable Shooting Range

Website Design
With our customized and responsive shooting range website development, lock new clients & stay active! Now expand your Gun Club with conversion-driven shooting range website design.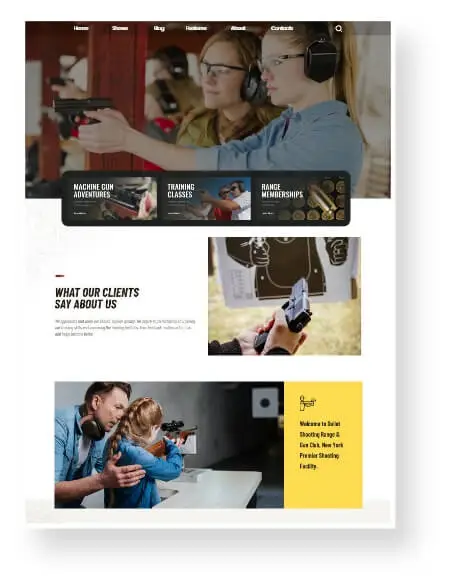 Website Design That Reflects
Your Shooting Range
Customizable & Flexible Themes
Highly-responsive and customized designs that express your shooting services rightfully. 100% original designs crafted by UI UX designers to blend perfectly with your brand.
Improves brand awareness
Increases conversions
Generate data and insights
Directly supports your business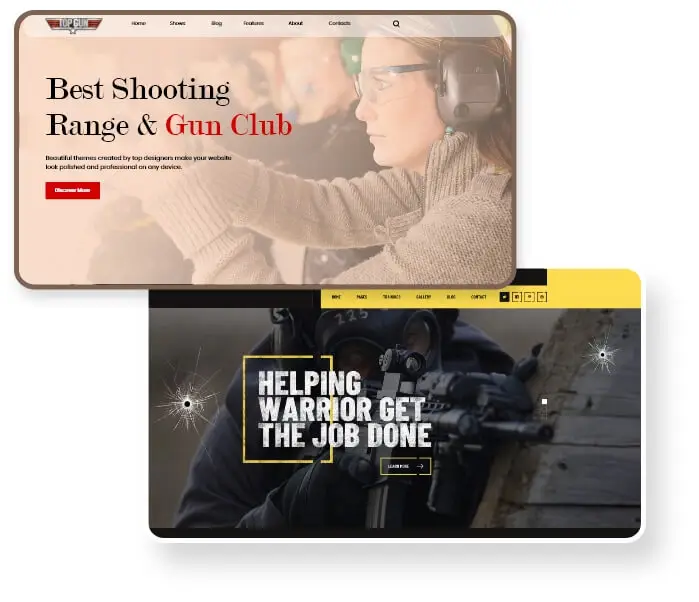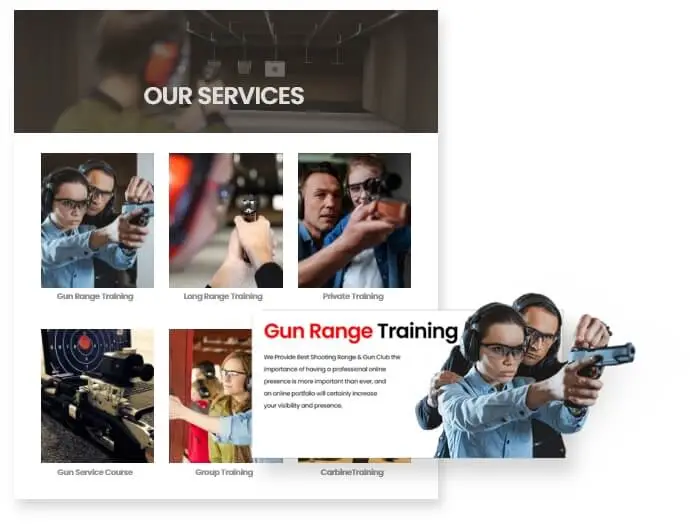 Easy Service Segmentation
From group to private trainings, we present your training skills with our smart and sleek service segmentation. This lets your customers book your services firsthand.
Converts traffic into leads
Conveys clear information
Drives long-term results
Builds user loyalty
Latest Events Information
Inform about your exciting events with bold event listings and high-calling action notes & layouts. Organize, add and welcome new participants on your website.
Keep informed & updated
Encourages new participants
Builds trust and authenticity
Crates information hierarchy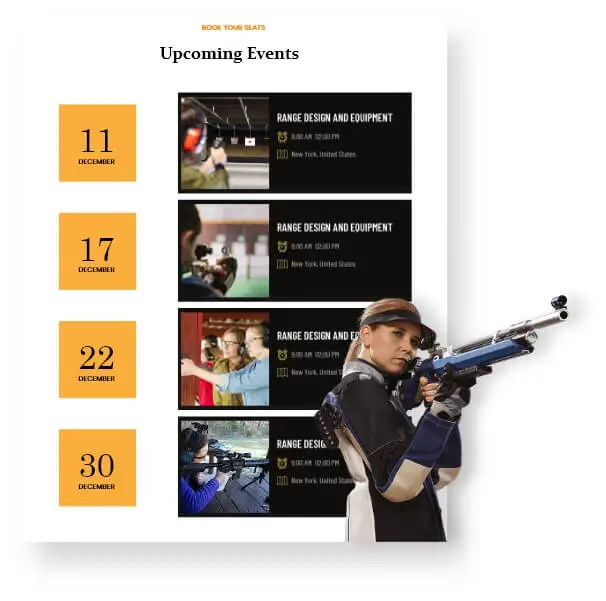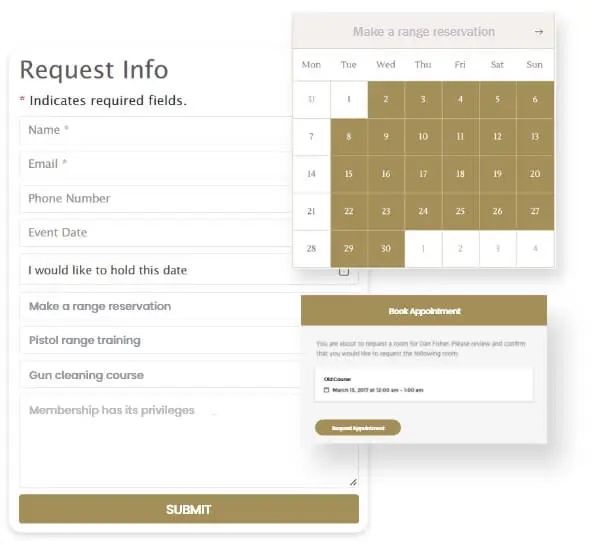 Appointments & Booking
Let your customers quickly book shooting courses & trainings with a seamless booking tool and calendar. Designed and launched to suit your custom needs.
Sends confirmation email to each customer
Accept direct bank transfers, checks
View booking status
Edit reservation details
Informative Training Multimedia
Inform, appeal visitors with interactive training previews and video headers. Retain them with actionable CTAs and hookup lines.
Informs about your brand
Create emotional connections
Tap into the power of experiential retail
Excites their curiosity to learn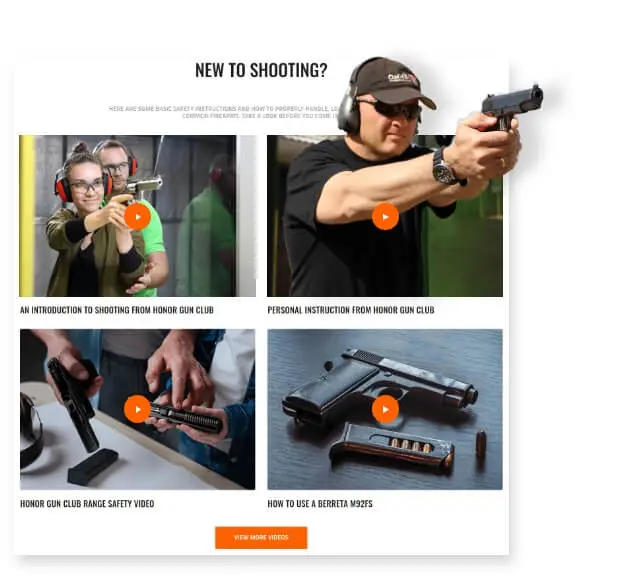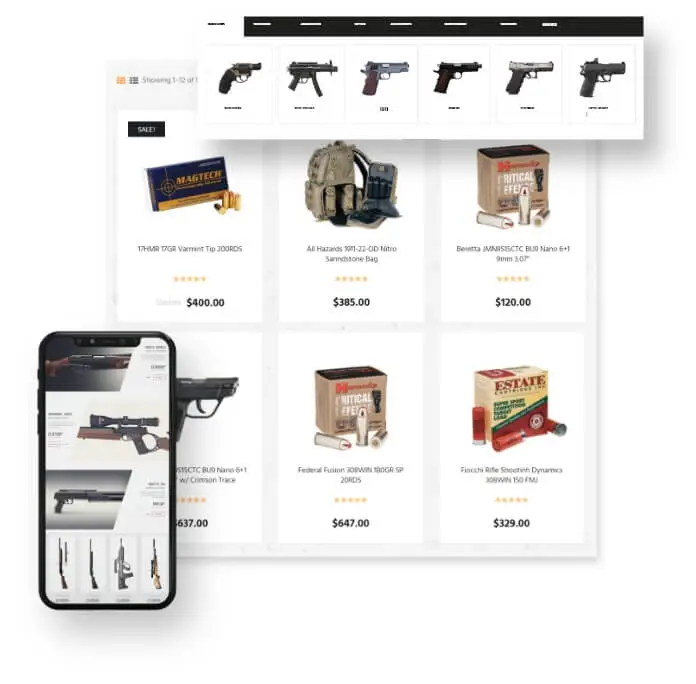 Unlimited Categories, Listings & Pricing
Draw in new customers and offer your services with advanced search filters & responsive category listing and diverse pricing sections.
Improves brand narrative
Promotes sales & announces collections
Converts visitors into leads
Fills in-between gap
Optimized Online Payment
By using an optimized ordering option, you can run faster product carts, and the products to buy now section. Now don't let them just wait by the wish list!
Automatic emails
Lookup- order status
Seamless order experience
Quick 2-step payment gateway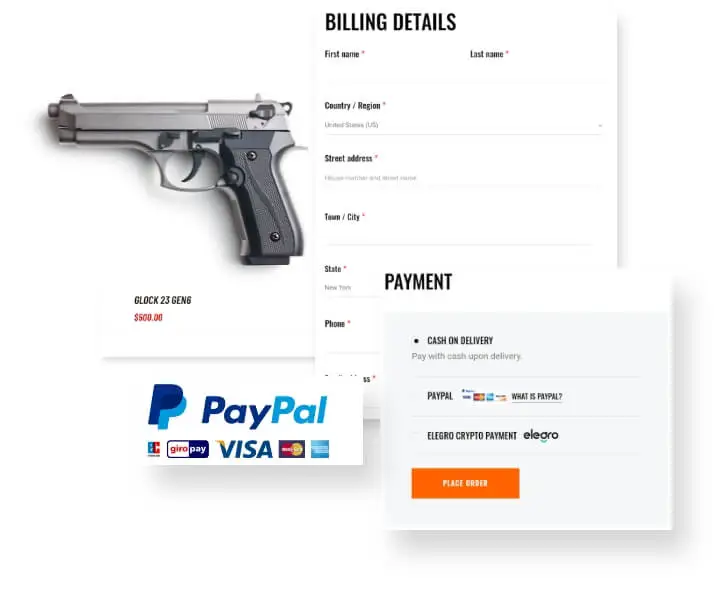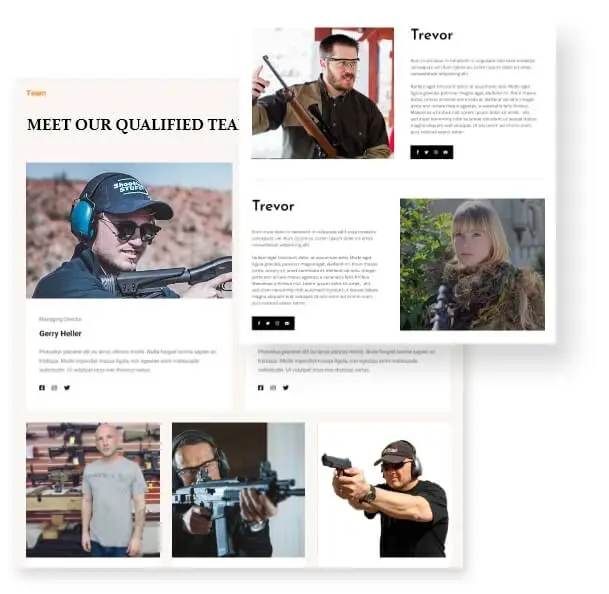 Meet The Team In Shooting Range Website Design
Customers choose and trust shooting websites which are professionally designed & user-friendly. A "Meet the Team" page helps potential members to understand your specific services and what value you can add into their lives.
Showcase your team skills
Increases website authenticity
Add personal touch
Get right traffic & clients
Latest News & Blogs
Create a community around your Shooting website by feeding visitors with latest news and blogs. Now get the most stunning posts & content to raise your brand.
Supercharge website SEO
Manage online identity and build trust
Traffic converts into leads
Drives long-term results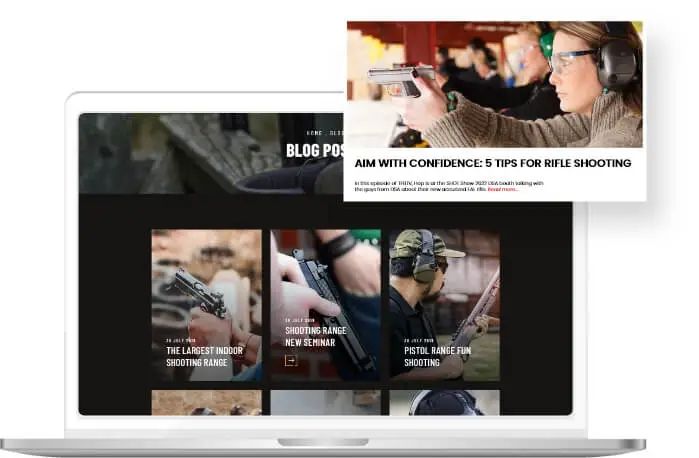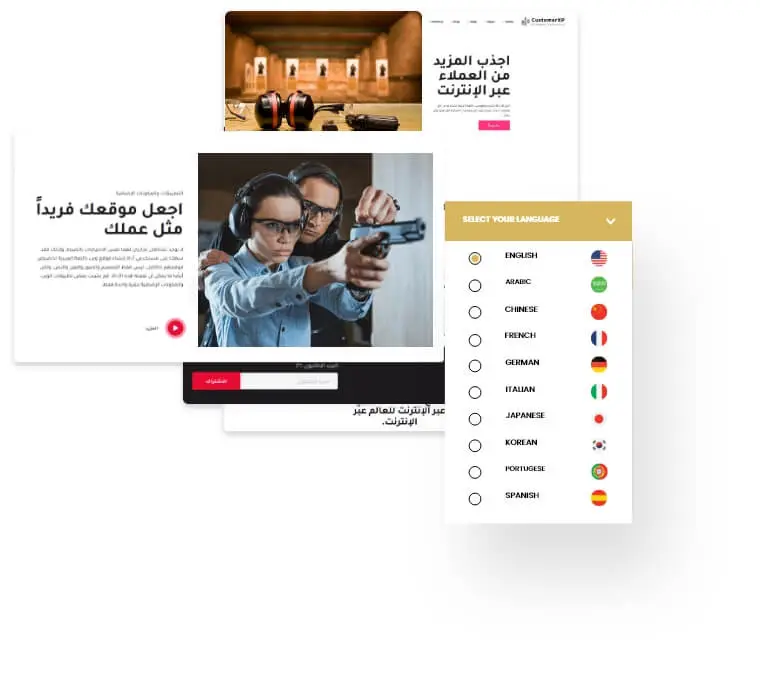 Multi Language & Translation Support
Translate your website to any global language. A multilingual website is the most reliable way of engaging & getting diverse customers and visitors.
Translating website is cost-effective
Increases financial productivity
Expands potential market
Builds brand recognition & trust
Automated Messages
On their websites and social media accounts, many firms now use automated messages. Amazing auto messaging features can be used to assist in resolving client inquiries.
Saves time & gets better results
Pre-planned messages- fewer mistakes
Instant communication
Conversion rate increases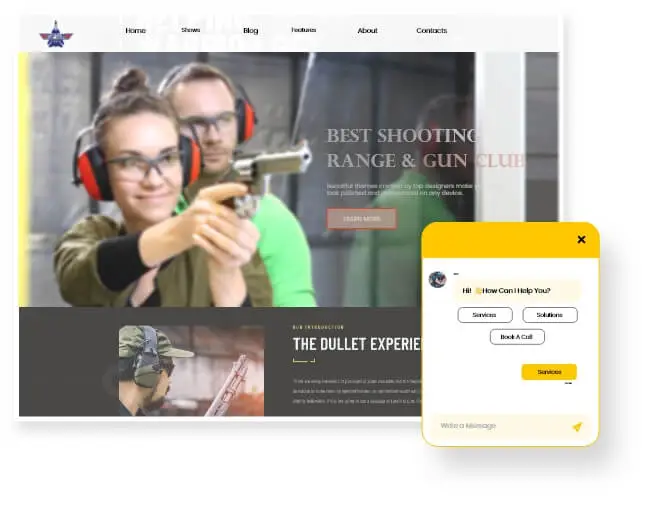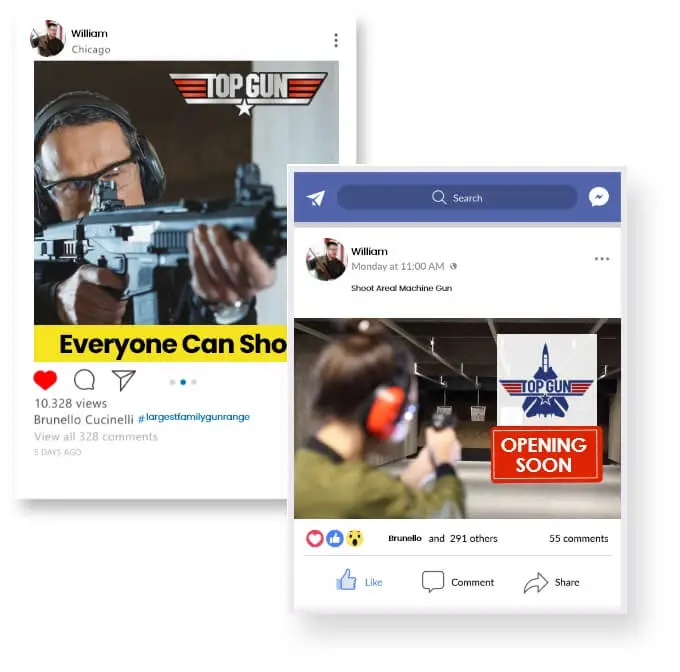 Digital Marketing Era
A highly effective way for shooting range owners to reach out to new prospects and vast audiences through emails, social media, PPC, ads, etc.
Exceptional customer service
Engagement via newsjacking
Amplifies business voice
Impacts buying Decisions
Email Marketing
Email marketing is another convenient & effective way to spread your shooting business & target the audience.
Cost-friendly marketing
Simple & effective tool
Retains larger audience
Higher ROI- low investments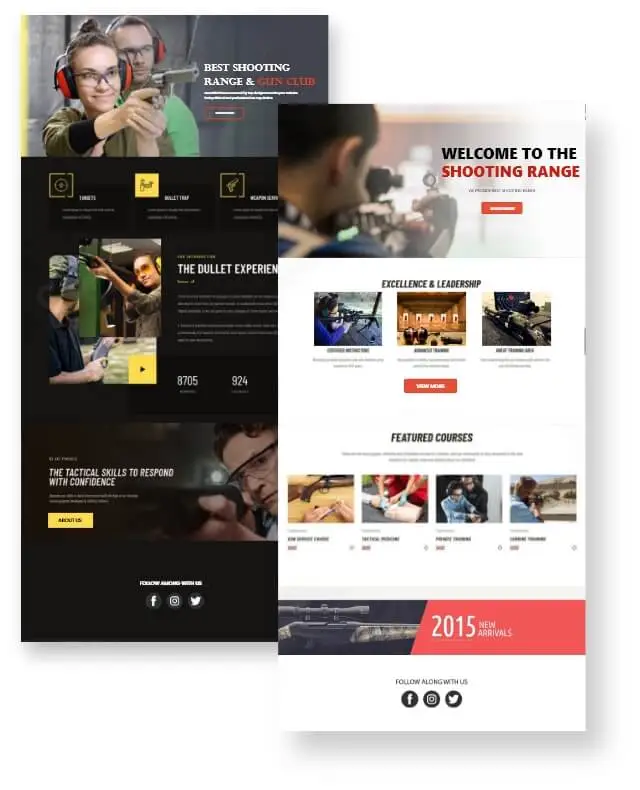 Solid Lead Generating Plan For
Shooting Range Website Design
Search Engine Optimization (SEO)

With our smart search engine optimization techniques, get recognized by search engines and your global-local visitors. Helping searchers find your services within seconds with superfast page landing and full-on page optimization.

Deep Keyword Research

Mobile-Responsive Website

Resourceful Site & Backlinks

Organic Lead Conversion
Content Management System (CMS)

Utilize our strong content management platform to take your services to the next level in the profound content field. The CMS team is adept at writing keyword-rich and well-managed content for your services at their best creative end.

Lead-Generating Links Wrapped

Complete Content Optimization

Increased Conversion Potential

Improved Brand Recognization
Targeted Pay-Per-Click (PPC)

We don't leave your custom PPC Ads just floating on the web but also retarget the users to multiply every click. By placing your ads on popular sites, your browsers become buyers.

Real-Time User-Targeted Ads

User Tracking and Analysis

Garner Immediate Results

Attractive Visual Elements
Lead Generation Magnet

Our lead generation magnet offers your visitors free assets and special deals like free webinars, e-books, discounts, and whitepapers to exchange their email/contact details significantly.

Drives Instant Sales

Spreads Brand Voice

Shared Interests & Goals

Builds User Community
Shooting Range Website
Design Magnifies User Experience
Attract Wider Audience
To cover a large section of the audience and achieve bigger business goals, you need a highly-responsive shooting range web design.
Easier To Monitor Analytics
With our inbuilt responsive analytics, easily monitor your site status with a perception to meet daily goals and stay updated.
Increase Leads Generated
Shooting range revenue has bloomed at a CAGR of 2.2% to $4.3B over the past 5 years with a boost of 1.1% in 2023. With such a huge industry impact, generate more leads with our advanced lead-generating strategies and get higher ROI in low investments.
Lower Bounce Rates
By delivering a glorifying user experience, keep your website flowing with clicks & purchases while your Bounce Rate goes down.
Stunning UI UX In Shooting Range Website Design
With our clean & unique UI/UX features, your website will be smooth to maintain & run. Now no more navigation interruptions will hustle your website!
Boost For SEO
Do you know more than $5,000 businesses are spending on SEO monthly? Search engine optimization is crucial for your business ranking that is why we make sure to fuel your website with the best SEO for an impactful Shooting Range Website.
How We Make And Serve Your
Shooting Range Website
The Innovative Design Process
STEP 1
DISCOVER
Our team engages in extensive research to discover your specific needs and provide you with tailored solutions.
STEP 2
PLANNING
The planning involves robust mapping and preparing a blueprint for the entire project and procedures.
STEP 3
DESIGN
During the design phase, our UI/UX design team prepares a user-friendly design for delighting your users.
STEP 4
DEVELOPMENT
Our back-end developers integrate and optimize your systems, our front-end developers are bringing creative and user experience to life.
STEP 5
TESTING & LAUNCH
We perform extensive system testing to validate that our deliverables are ready for the real world and your users.
Frequently Asked Question About Our Shooting Range Website Design
We offer a wide range of features for your Shooting Range Website Design that drives more web traffic & converts visitors into buyers. Our developers provide your website with mobile-responsive UI, tight web security, powerful SEO, easy-to-use tools, smart backlinks, and more. Also checkout our Radio Station website design.
After the successful launch of your website, we promote your website on popular digital platforms like social media ( TikTok, Instagram, Facebook, Twitter), emails & newsletters, PPCs, Google ads, etc. to make your business a hit across the online sphere. To know more about our services, check Website Design and Marketing Company page.
We consider all of our clients equally, so we have different budget-friendly packages available according to your requirements. From small-size services to large organizations, we provide Shooting Range Website Design services to all.
Yes, our Keyideas team provides you with free consultations to solve your business/project-related queries. You can easily contact Keyideas or email us at sales@keyideasinfotech.com. Take a look at our latest portfolio to learn more about our web design services. Check out our blog on linkedIn page Able commerce development services
Mordy Karsch
Giving Back Promotions, San Francisco, CA
I had an amazing experience working with Keyideas - an excellent team of developers.

Isaac Gottesman
dimendSCAASI, Chicago
I would not hesitate to recommend Keyideas as a superior development house.

Lets Do Great Work Together!
Discuss your ideas. Connect now
We've successfully delivered over

leads for the client