Customer-Centric

Vacation
Rental Website Design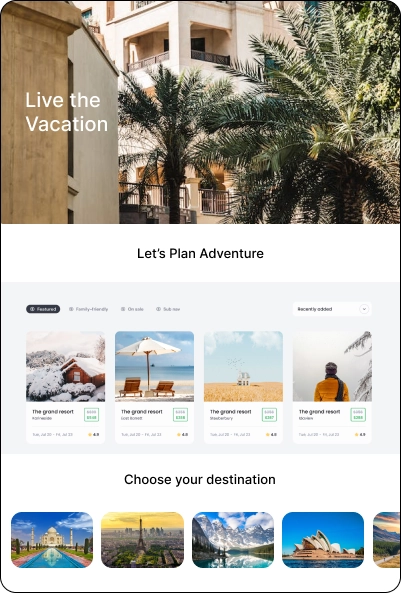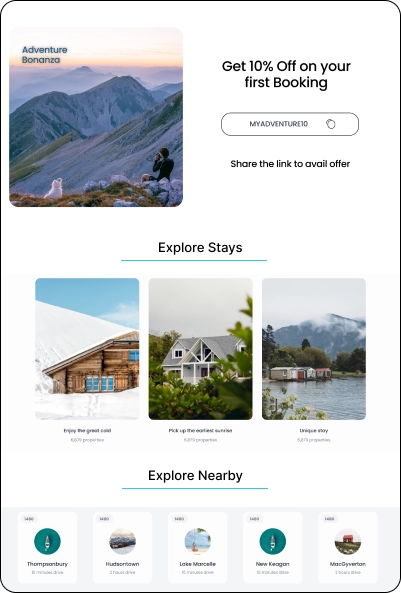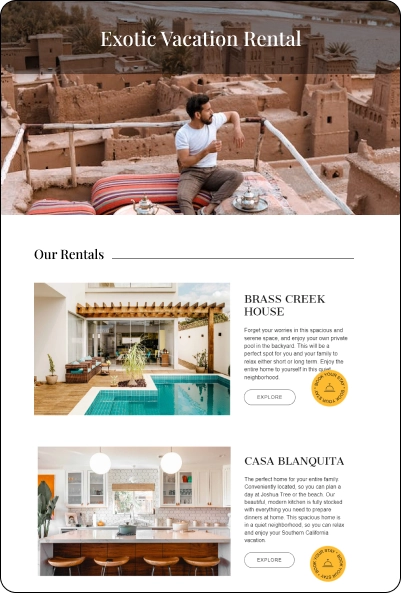 Get Your

Custom-Made
Vacation Rental Website
Dreamy Design In Every Theme
Vacation rental website design attracts a wide scope of audience with dreamlike design themes weaved for your vacation rental website development and management.
Compatible for the users
On-point responsiveness
Trendy layouts and themes
More customer engagement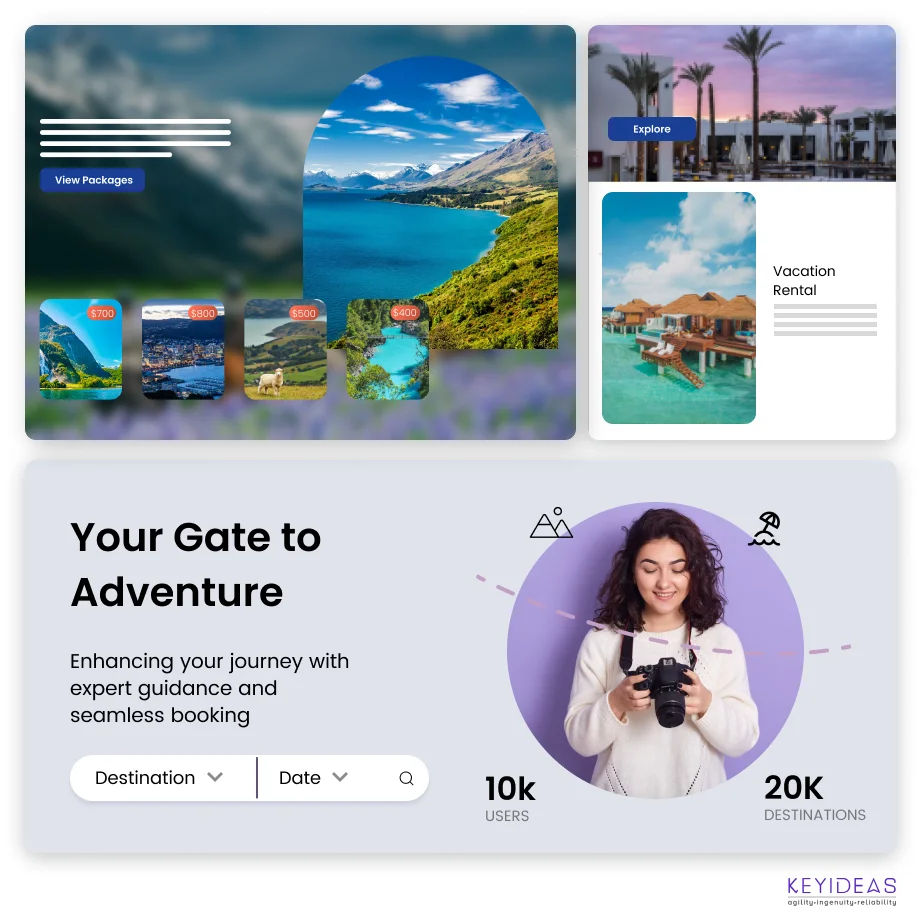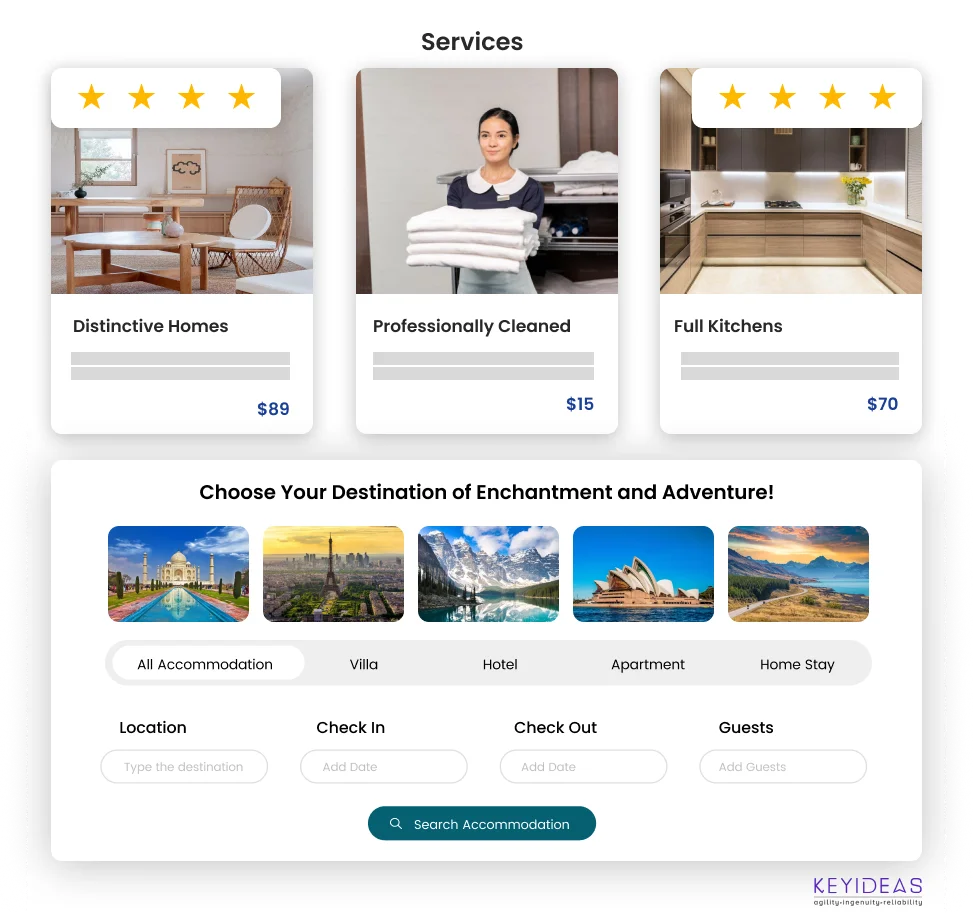 Rental Segmentation
With tidy rental service segmentation, we bring great features to your vacation house including homes/kitchen types, wi-fi, yummy dishes, seamless payment, etc.
Gives proper services insight
Mentions varieties of services
Easy to understand to suit the best
Destination dashboards
Destination Dashboard
Our destination dashboard filters top-rated destinations and listings to recommend your customers the best-famous spots. Now get enticing destination images and creative descriptions at one platform.
Peeks into the spot-scene
Eases decision-making and planning
Builds customer trust & liking
Highlights the key place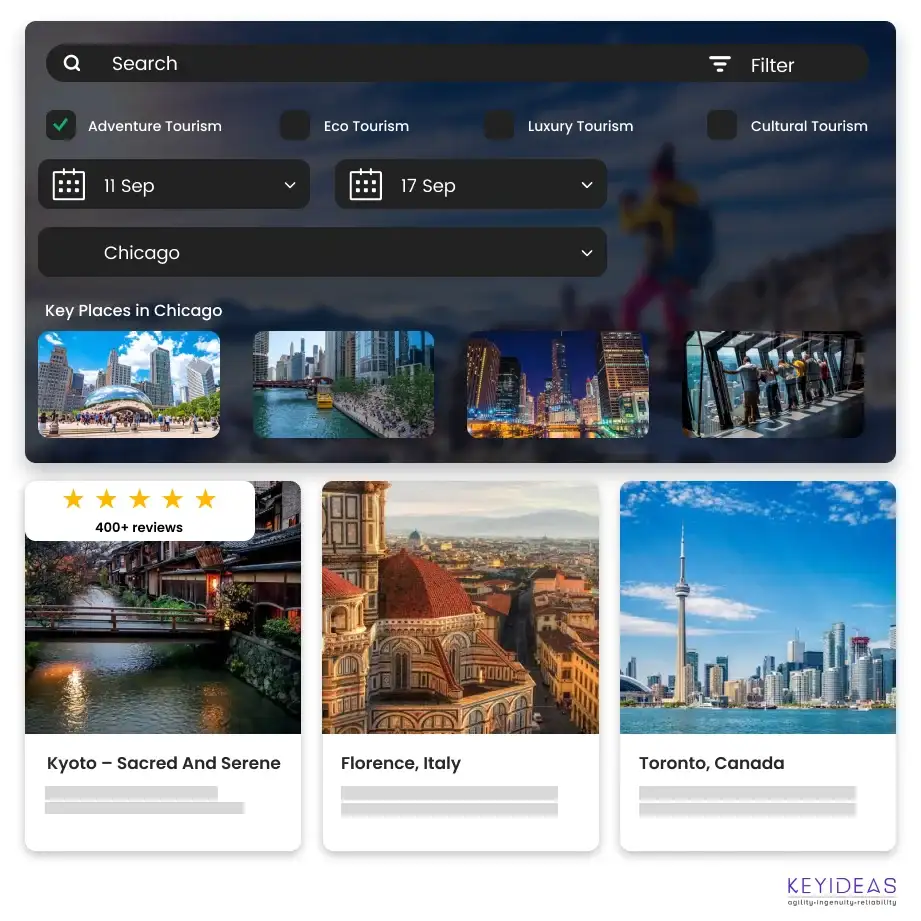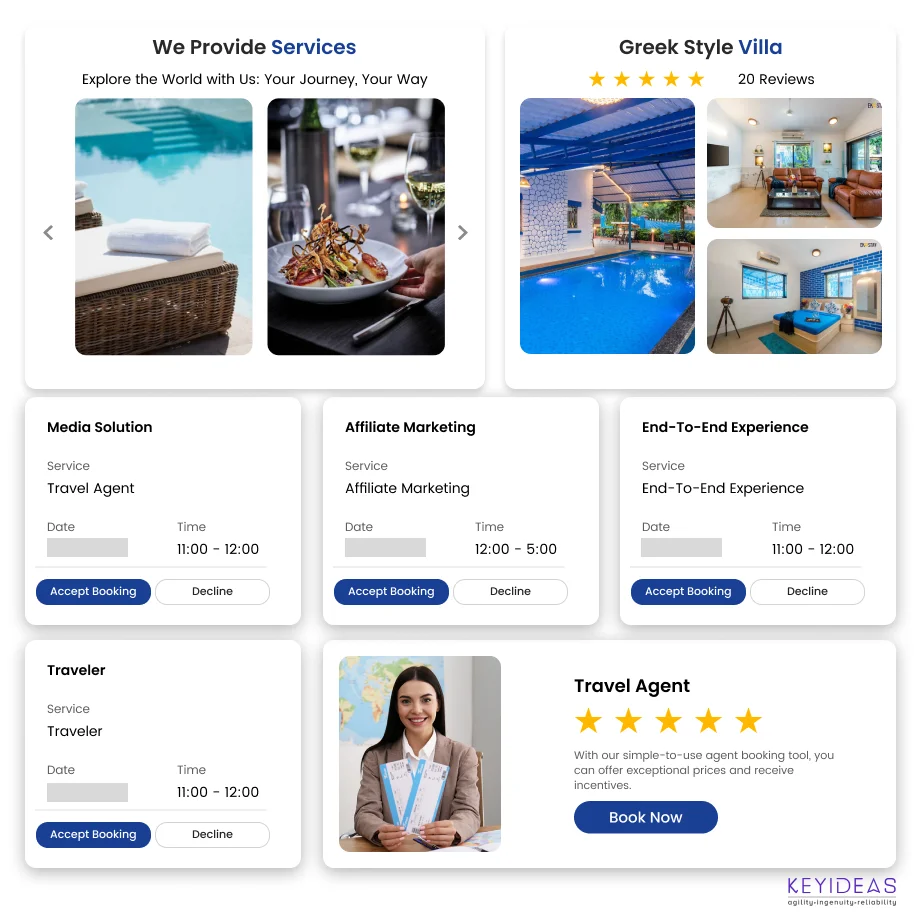 Travel Buddies
With our simple-to-use travel agent booking tool, you can offer exceptional prices and receive incentives. Now no more worries, we have got you travel buddies!
Superb rental referrals passed
Highlights your business at the top
Focuses on customer needs
Enhanced customer satisfaction & demand
Customized Rental Packages
Serve different kinds of booking packages from couple to family packages, cover all to provide an exquisite experience. With our customized packages section, you can range accommodation packages from basic to premium to suit each customer's budget needs.
Targets wider audience
Speedy promotions
Valuable reviews
Increases brand awareness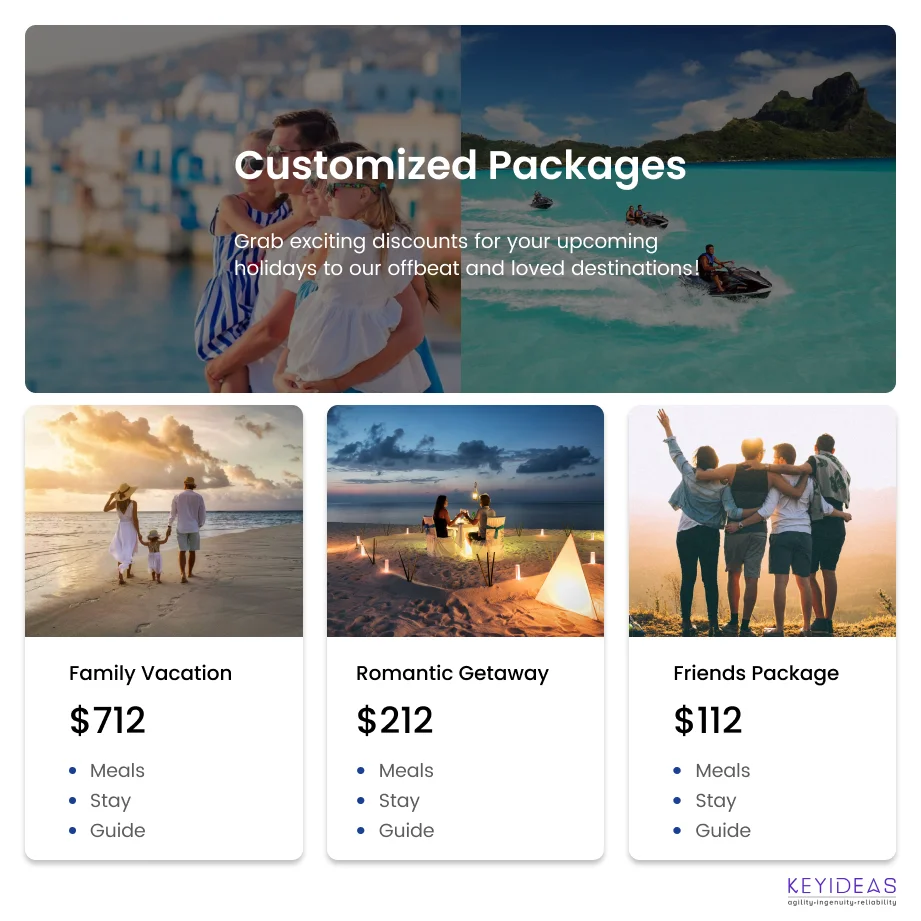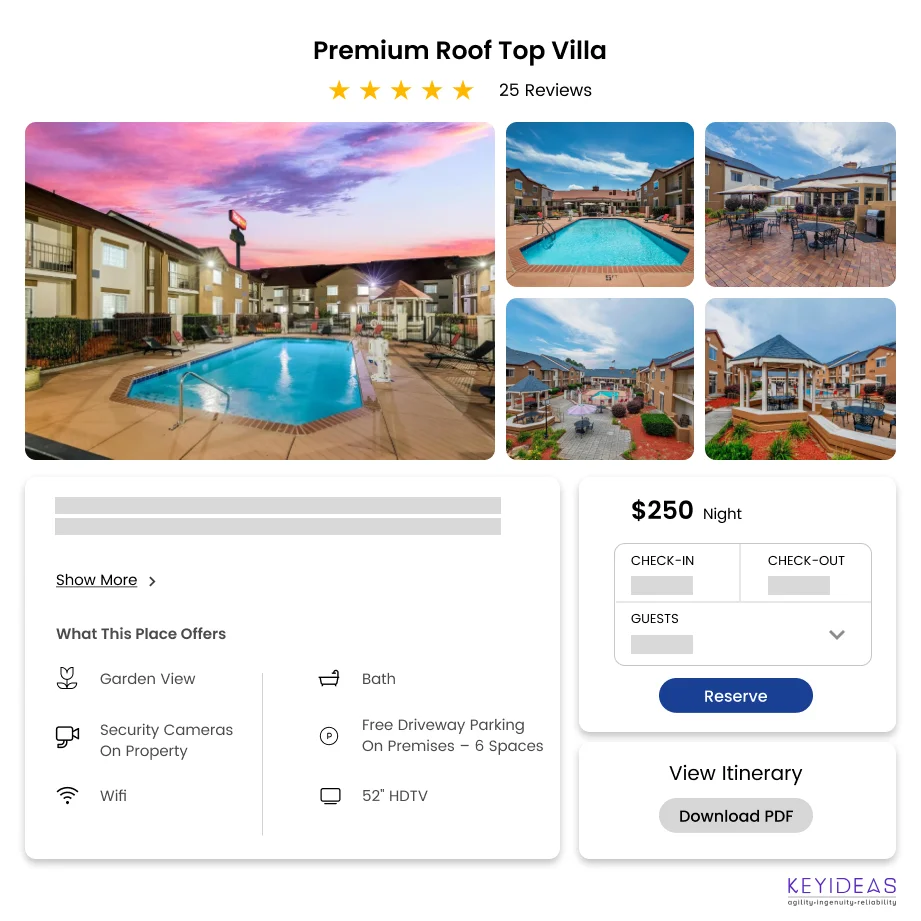 Vacation Itinerary Downloader
We all know that some places don't have a good network system and the user that time feels skeptical and helpless. To aid this, we provide Itinerary on your website to let users check your destination details even if the network sucks.
Offline Itinerary Service
PDF Generated Format
Works As A Guide
Works As A Guide
Google Maps Integration
If you attach map of your location then it will convince users to see your location. With our interactive Google Map Integration, you can lay out the available trips/packages along with the destination HD images.
Builds Customer Trust
Preserves Plenty Of Time
Helps To Locate Your Services
Increases Traffic To The Website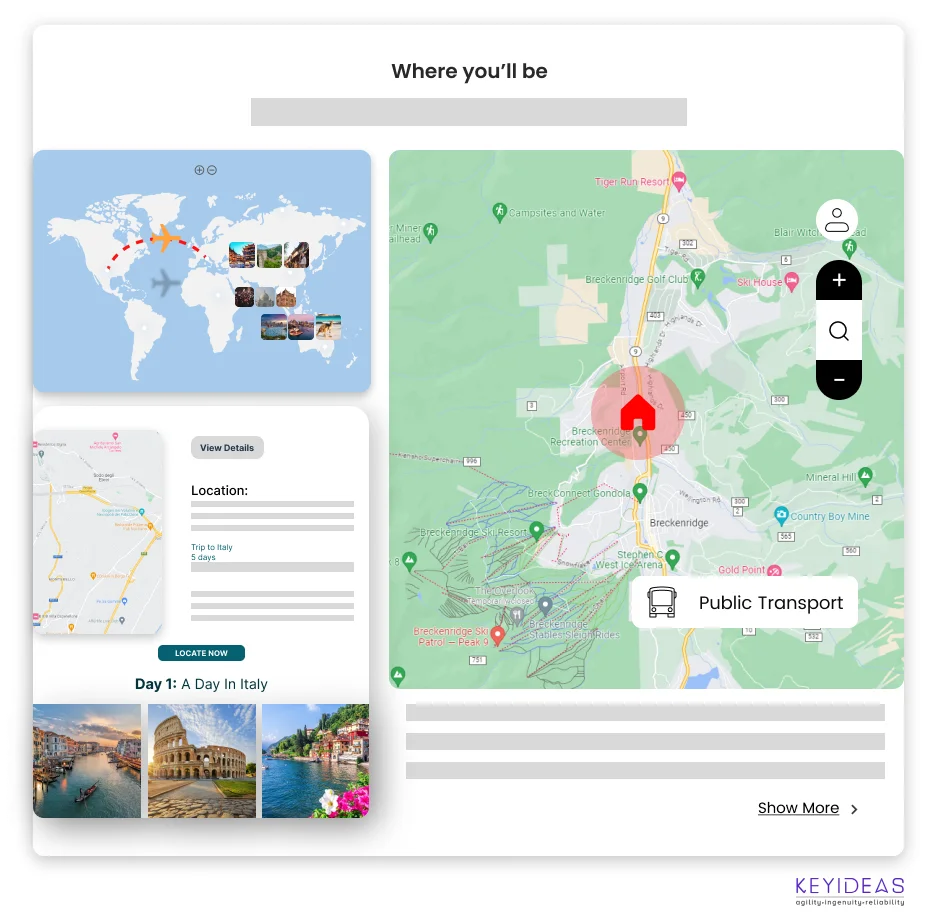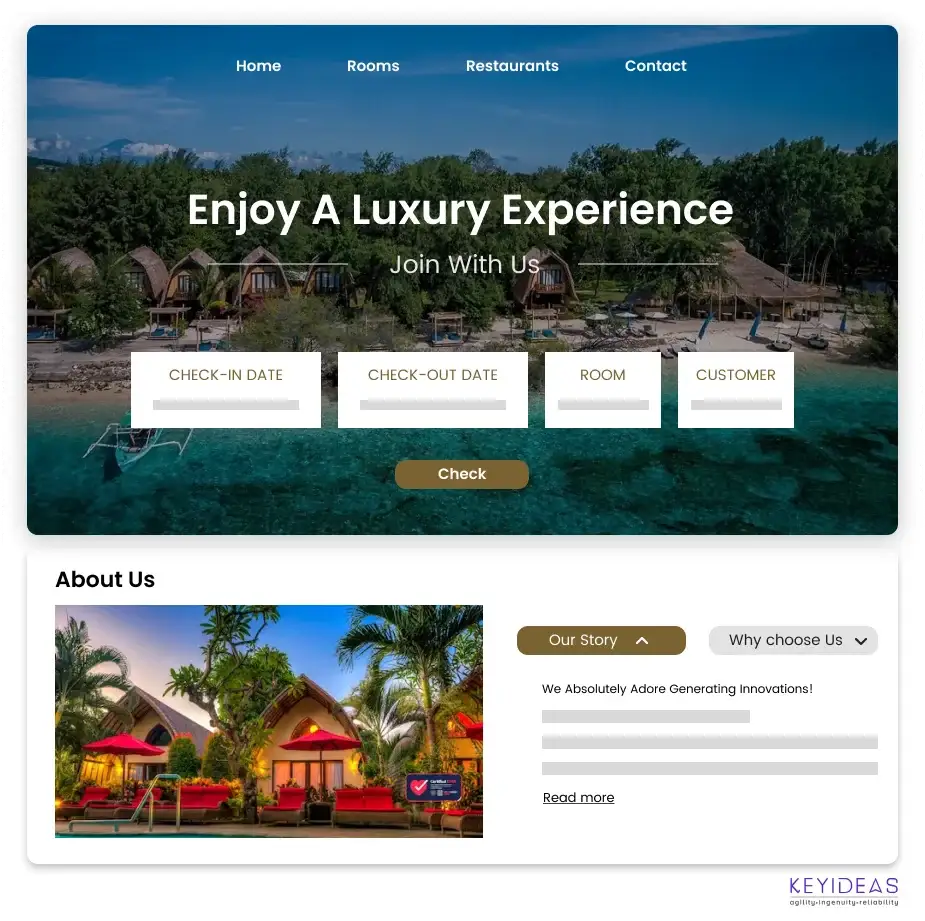 Gateway To Feedback Form
Let your customers rate you 5 stars by requesting their valuable feedback while we land those shining reviews on your home page. With a short and simple feedback form, you can convince your customers to rate your services after the takeoff.
Strengthens loyalty bond
Customer testimonials work like referrals
Explains your services better
Convinces even your most reluctant visitors
Rental Contact Page
A clean contact page with a responsive CTA is the most important feature of your website. Placing the action buttons rightly to let your customers book you first!
Rich user experience
On-top service CTAs
Increases visibility
Floating CTA feature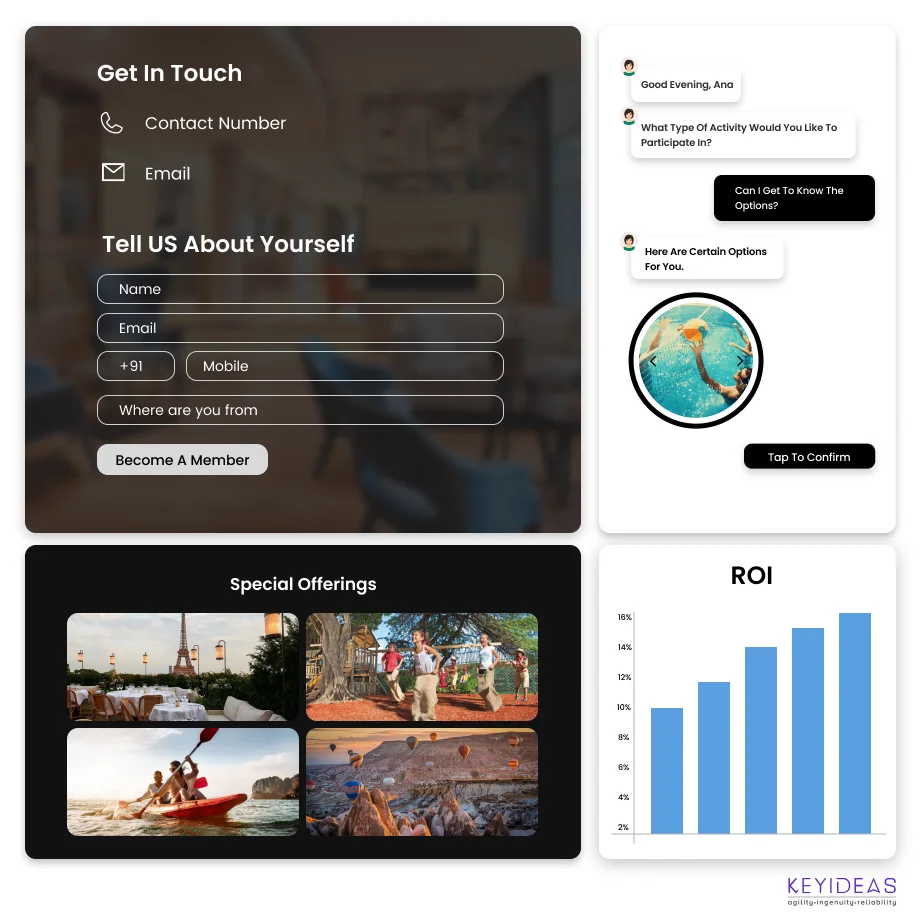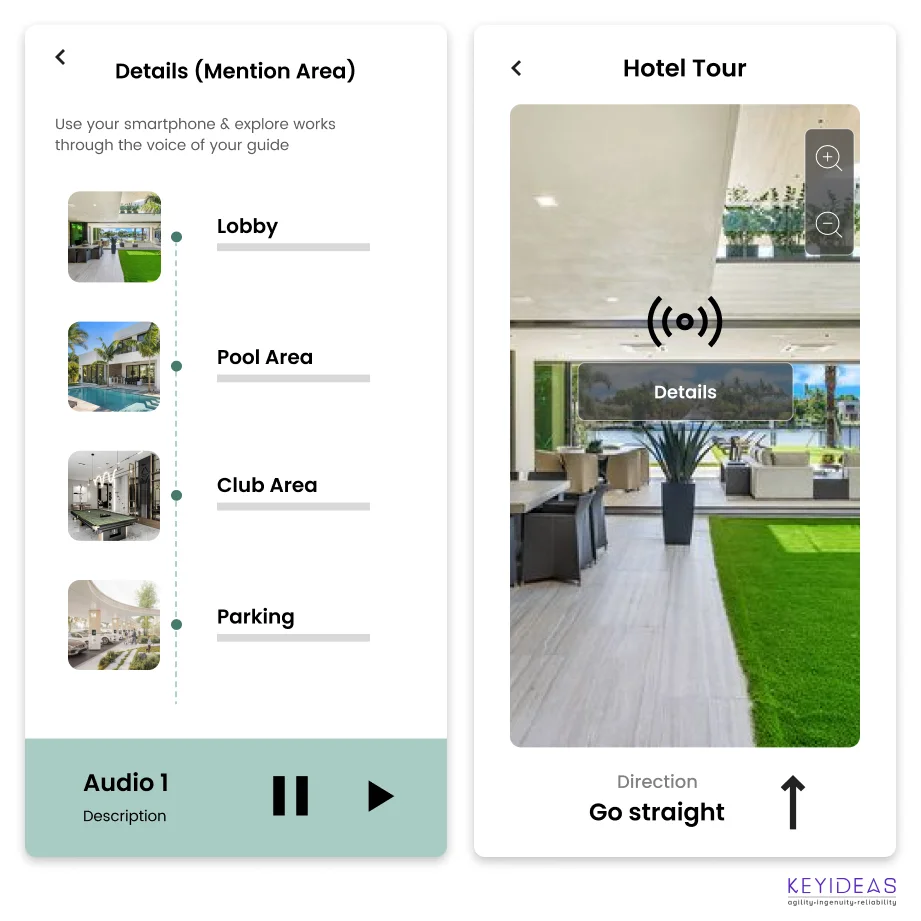 Smart Customer Analytics
With our customer analytics tool, you can easily navigate and analyze your user's booking history, preferences and search patterns. Now plan, customize your vacation rental website design & tasks according to customer's search pattern.
Smart planning tool
Customer demographic info
Ease of understanding
Productive and time-saving
Vacation Blogs
By adding a myriad of blogs you not only provide great exposure to your audience but also rank higher on search engines without sacrificing your brand visibility and money. Our expert CMS team writes, manages and optimizes each blog creatively while considering your brand identity and trendy industry topics.
Increases Website Traffic
Shares wonderful stories & services offered
Welcomes guest writers and customers
Drives in long-term results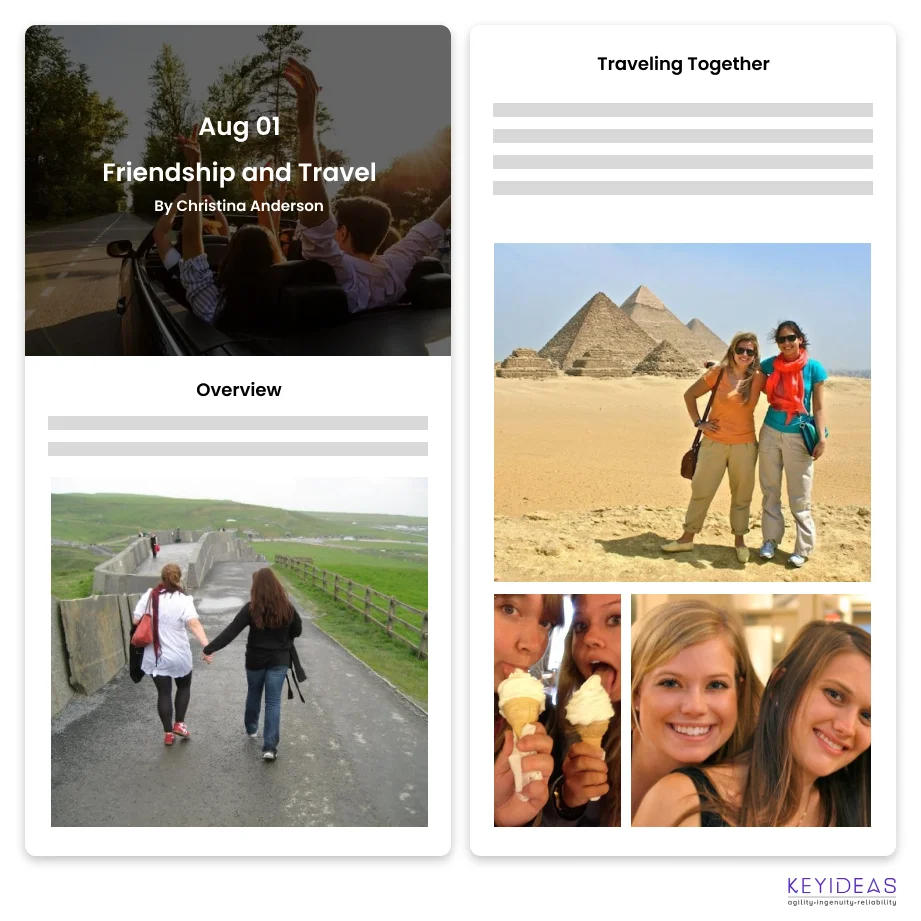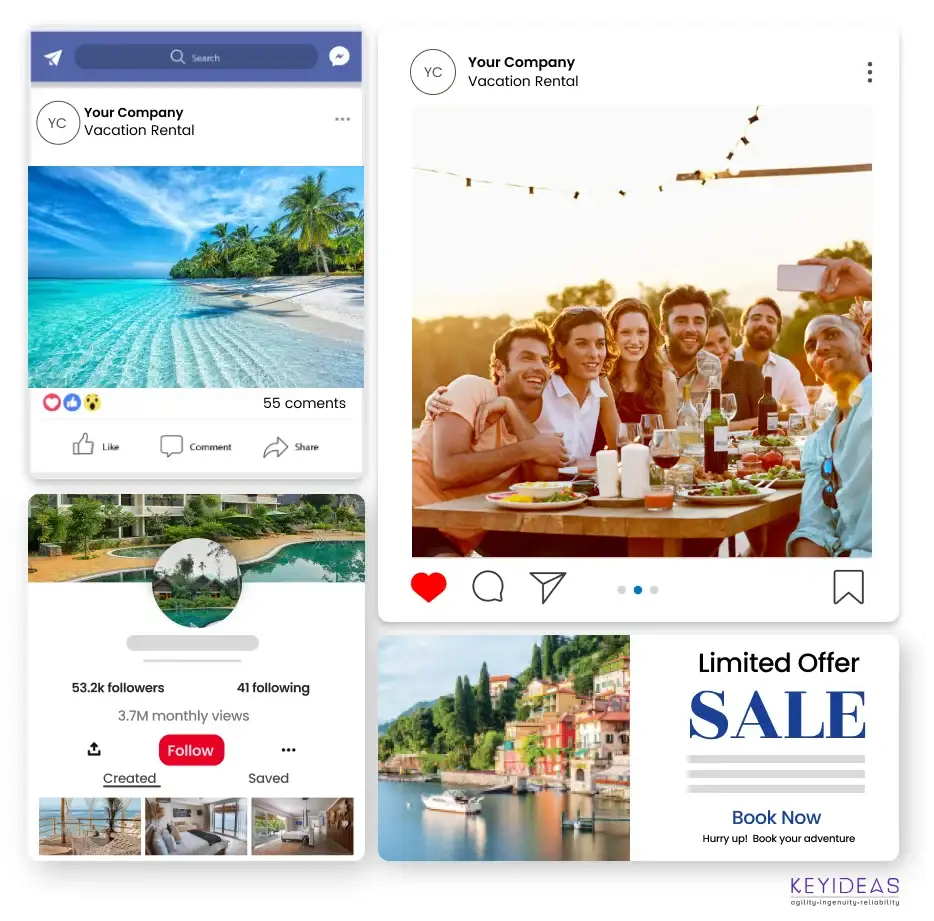 Shout-out: Digital Marketing
We creatively deliver your recent adventures and works through popular social media platforms, content marketing, Google Ads, Emailers, PPC, etc. Digital Marketing is one of the powerful and latest tools to cite your marketing skills and post consistently to deliver a higher ROI.
It Drives High Revenues
Easy & creative way to start with
Can reach a global audience
Audience gets aware of the brand's activities
Rich Portfolio
By showcasing a beautiful portfolio of your vacation rental, you can convey customers about your recent successful destinations, trips & awesome services. With our organized and creative portfolio section, you take an edge to impress your audience.
Increases Trust & Authenticity
Drives In Long-Term Results
A better peek into your services
Shares Wonderful stories/services offered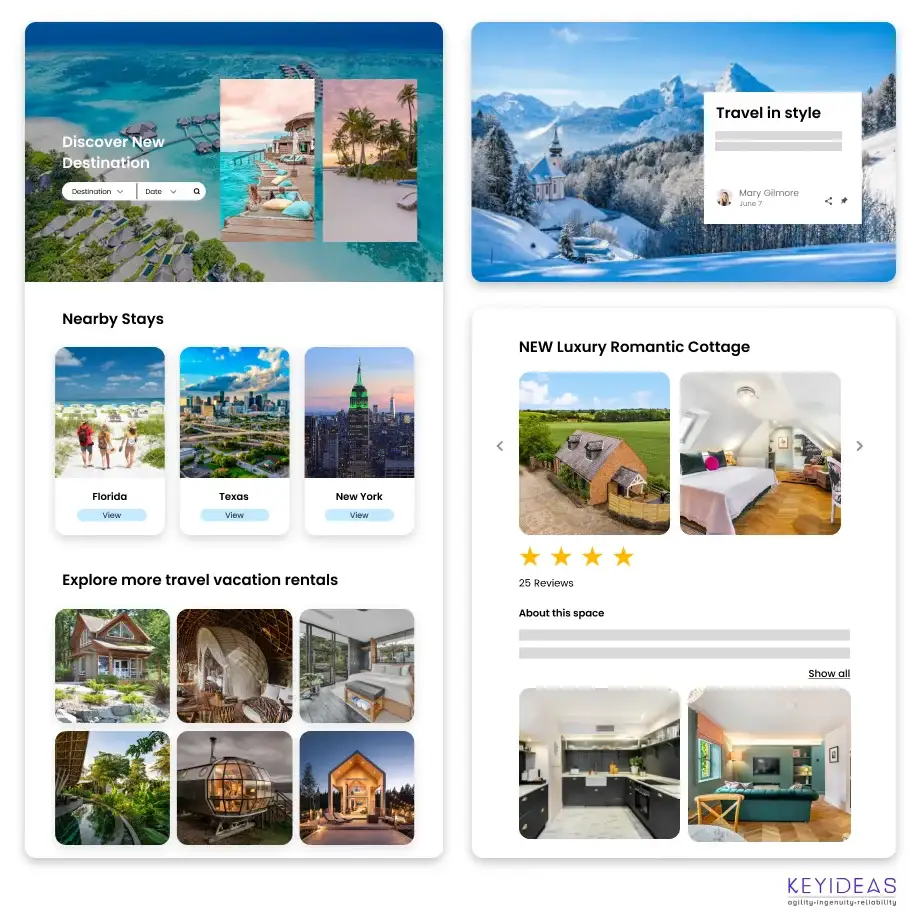 Frequently Asked Question About Our
Vacation Rental Website
Not more than a thousand but there are numerous benefits of having a highly credible website which can derive more website traffic & visitors to your website. With a highly-responsive website by our web graphic design services, your vacation rental website will flourish with a considerable increase in your ROI.
Our website design and development company experts & executives organize regular meetings/calls over Skype, GoToMeeting, and Google Hangout. They impressively carry out each project detail and deal with the clients successfully.
Our team has a major focus on your content's SEO to rank it higher on popular search engines like Google, Yahoo, and Bing. We follow all SEO-friendly practices to get exceptional results.
A well-crafted vacation rental website consists of multiple web pages that serve various purposes. These include a captivating homepage, an about page, a comprehensive services page, and a good-to-go contact page designed as per your needs. Deep dive into our LinkedIn article Unlocking the Formula for a Beloved Travel and Hospitality Website Design for more insights.
Mordy Karsch
Giving Back Promotions, San Francisco, CA
I had an amazing experience working with Keyideas - an excellent team of developers.

Isaac Gottesman
dimendSCAASI, Chicago
I would not hesitate to recommend Keyideas as a superior development house.

Lets Do Great Work Together!
Discuss your ideas. Connect now
We've successfully delivered over

leads for the client